Costco Frozen Acai Bowls + Flavor Hack & Topping Ideas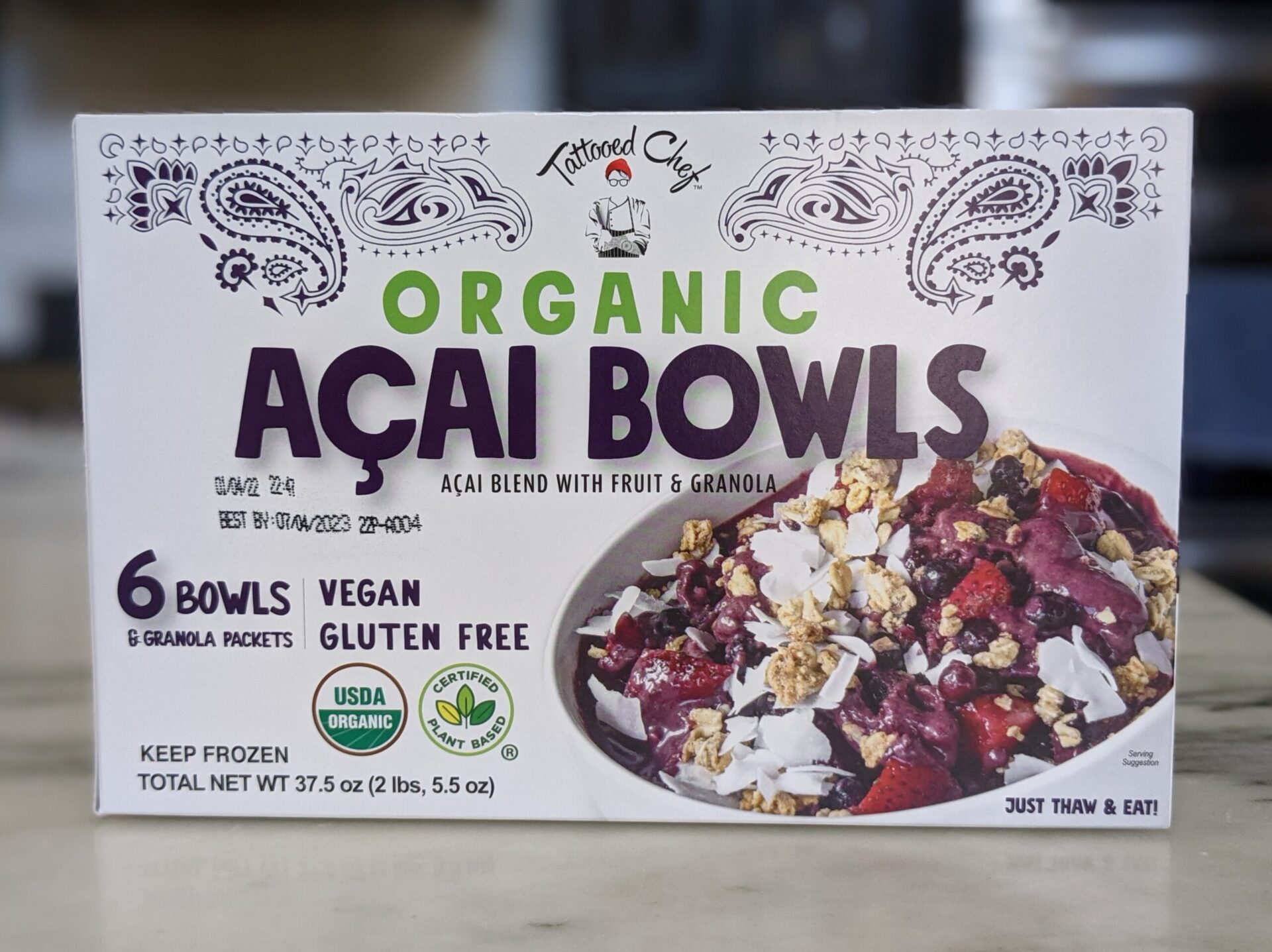 Tattooed Chef Frozen Acai Bowls at Costco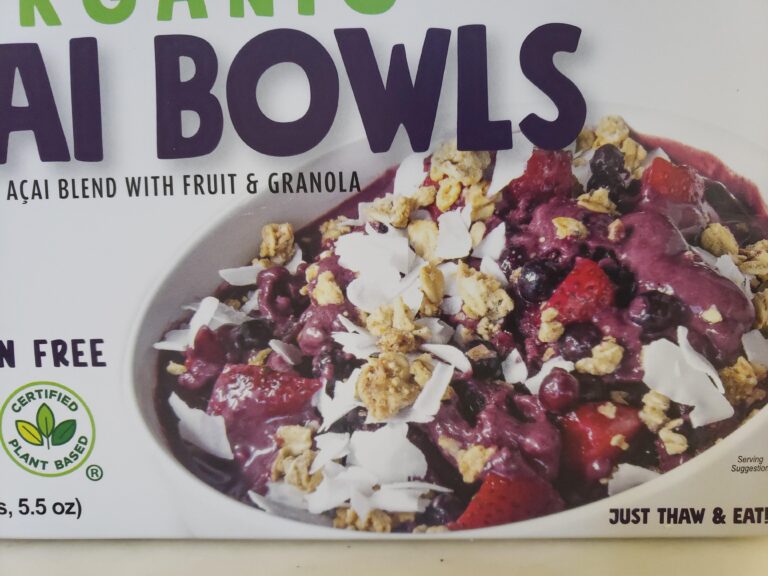 Each Acai Bowl comes with a granola coconut topping and combined they weigh 6.25 ounces. The Tattooed Chef Acai Bowls from Costco are vegan, organic, gluten free, and certified plant based.
Costco also sells an Acai Berry Juice.
Have You Tried Costco's Acai Bowls?
Let the rest of the Costco Food Database community know what you thought of this product. Results and reviews are at the bottom of this page.
Please allow 24 hours for review moderation and approval.
Tattooed Chef is a California plant-based food company. They sell a variety of vegan plant products, and have had quite a few items in Costco. 
I personally have tried their Mexican street corn, spanish rice, and cauliflower rice.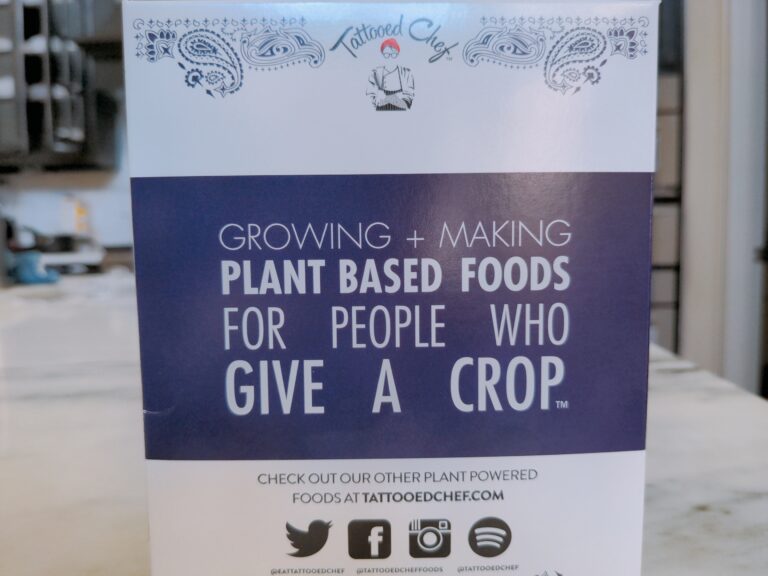 Their Goal is to bring unique flavors and great taste to food that makes you feel good. The recipes revolve around organic natural plant ingredients. 
They even grow their own crops whenever possible. They make their plant based foods in plants with plants they planted themselves.  
Acai is a species of palm tree that produces acai berry fruits. Like many other berries, Acai berries contain an ample amount of antioxidants and fiber. 
Sometimes Acai berries are even considered a superfood because it's believed they can help with arthritis, weight loss, cholesterol, and even erectile dysfunction amongst other conditions.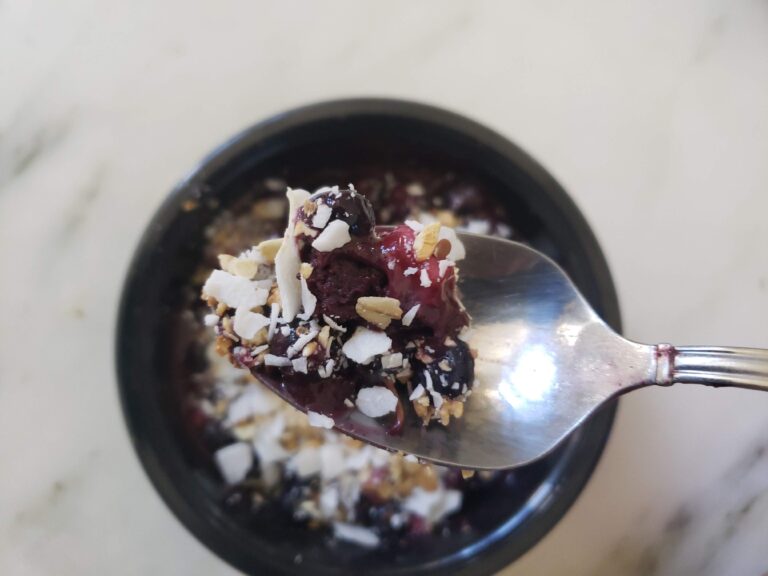 While these claims haven't been scientifically proven, acai berries are safe to eat and will provide you with at a minimum some antioxidants.

Costco Cost Comparison - Tattooed Chef Acai Bowls
How Much do the Acai Bowls at Costco Cost?
Costco retails the Tattooed Chef Acai Bowls for $11.59, but they also can be found on sale for $7.99. This is a $3.60 discount or a little more than 30% off.
Each Costco acai bowl cost $1.93 at full retail and drops to $1.33 per bowl when on sale.
One thing to note with the frozen acai bowls from Costco is that they only weigh 6.25oz with toppings. 
The normal size for a Tattooed Chef Acai Bowl is 8 ounces. These bowls will be about 25% smaller than their typical offering.
Costco vs The Competition
For a proper comparison, I will have to use the per ounce price which is $0.31 at retail and $0.21 when on sale.
Sam's Club sells a 4 pack of 8 ounce Tattooed Chef Acai Bowls for $10.99. This is a price per bowl of $2.75 and the price per ounce is $0.34. This is just a touch higher than Costco's retail price, but over 50% higher than Costco's Acai bowl sale price. 
And just for fun, Target sells one 8oz Tattooed Chef Acai Bowl for $4.99. Target's per ounce price is $0.62.
This is double of Costco's retail price and nearly triple of Costco's sale price for Acai bowls. Absolutely ridiculous!
Costco Frozen Acai Bowl - Taste Test
Tatooed Chef Overdelivers!
Before I get into the taste of the frozen acai bowls, I want to talk about their weight. The nutritional information lists each bowl with granola topping at 6.25 ounces.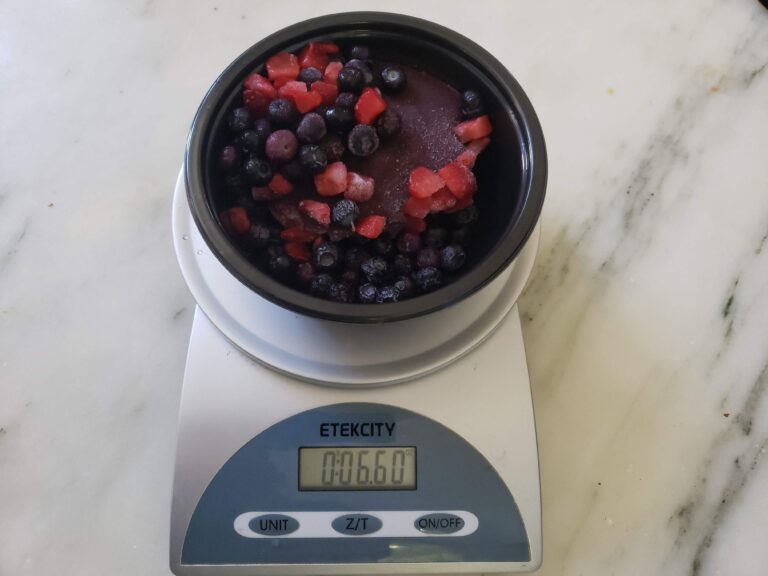 When weighing the acai puree with berries and the bowl, the total weight varied between 6.55 ounces and 7 ounces.
The bowl itself weighs .55 ounces, meaning the actual acai puree and fruit toppings weigh at least 6 ounces.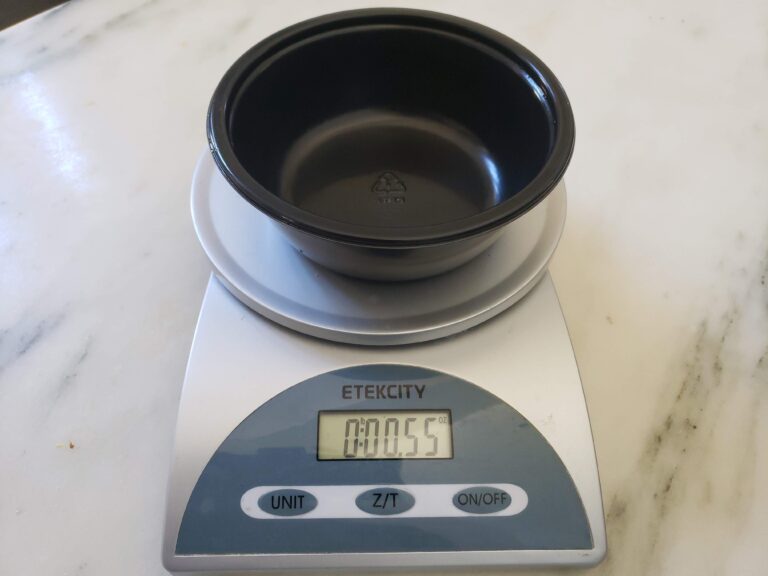 The coconut granola with wrapper weighs .85 ounces. Each Costco acai bowl with granola is going to weigh at least 6.75 ounces or more.
It's always nice when a company provides such a discernible amount more than advertised.
The Acai Bowls Need to Defrost
You will have to "heat" the bowls before consumption. They aren't recommended to be eaten in their frozen state. You have the option to microwave for 40 seconds or let the acai bowls sit out at room temperature for 45 minutes. 
I like to avoid the microwave at all cost, and have opted to let the frozen bowls thaw on the counter.
It took my bowl about 55 minutes to defrost to a level where I felt it could be optimally enjoyed. Of course this will vary depending on your house temperature, so no complaints here.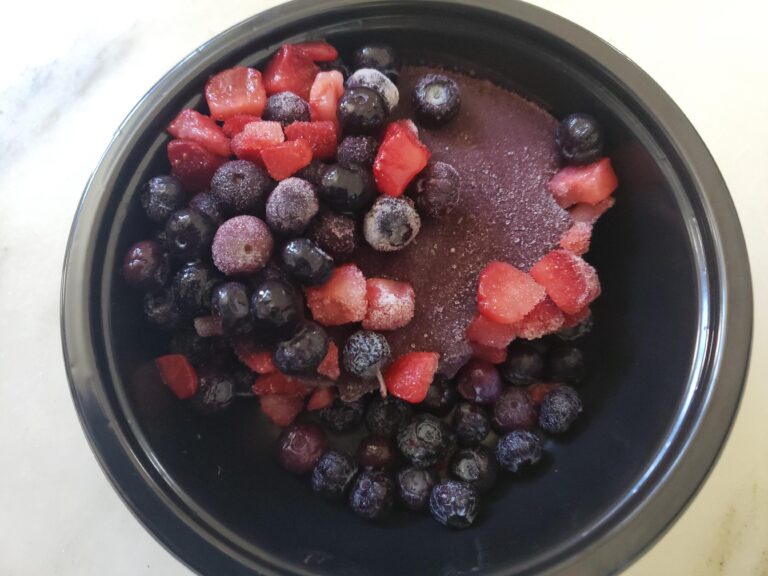 If you are pressed for time, try a hybrid method of microwaving for 20 seconds and letting the bowl sit out until fully defrosted. 
Now, the acai bowl when mixed comes out as a dark brownish red color that doesn't look super appetizing. The coconut granola topping adds some lighter colors, textures, and most importantly a nice crunch to each bite.
I don't care much for the taste of coconut, but it's a must add to this Costco acai bowl.
Are Costco Acai Bowls Good?
The acai puree is just ok. There is definitely the acai flavor, but it's not going to wow you. The fruit, on the other hand, was much better than expected.
There are organic strawberries, organic blueberries, and allegedly organic bananas.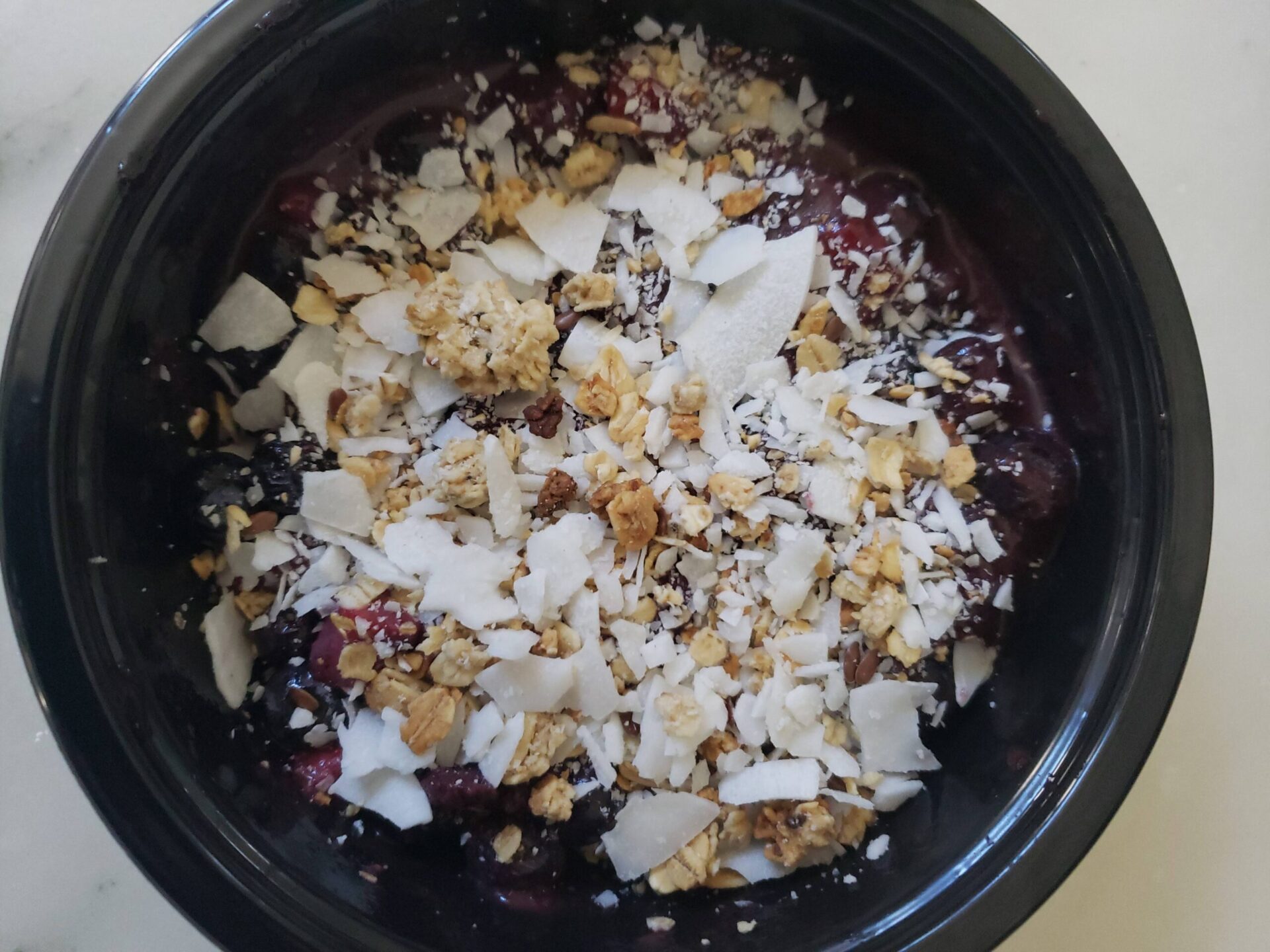 I didn't see any bananas, didn't taste them, or notice any in the bowls that I have eaten, but they are listed on the ingredient list. It must be mixed with the puree.
These Acai Bowls Offer Excellent Value!
You do get an ample amount of fruit and I am pleasantly surprised with the portion of chopped fruit in each bowl. 
Overall the acai bowl is good, but not great. The size is perfect for me and you get an adequate amount of chopped strawberries and blueberries. 
Most places sell acai bowls in the $10 or more range, but will include a lot more fruit and different toppings. These are great bowls in the $1 and change range. 
They don't have the look or the fruit toppings to compete with a store bought acai bowl, but these are tasty for what they are.
Acai Bowl Flavor Hack/Tips
Improving Tattooed Chef's Acai Bowl
These acai bowls are already a great snack or treat with the included ingredients, but the bowl can still be significantly improved! 
By simply adding some fresh fruit such as bananas, kiwis, pineapple, or raspberries, you can transform this basic acai bowl into a acai shop replica. The calories can still be kept to a minimum while adding a big boost in flavor. 
Give it a try, you are going to love it! 
Fresh Fruit – Bananas, kiwi, pineapple, mango chunks – Most fruits are going to be a great addition to these Acai Bowls
Granola – The included coconut granola is not my favorite for this acai. I prefer Costco's Ancient Grain Granola. Healthy and Tasty!
Chocolate Chips – Believe it or not, chocolate goes amazingly well with the acai berry. Throw a few choco chips in to really enhance the bowl
Peanut Butter – People swear by peanut butter, Nutella, or other kinds of butter in the acai bowls. 
Acai Bowl Costco Directions & Heating Instructions
Acai Bowl Prepartion Instructions
Tattooed chef keeps it simple with their Acai bowls and lists two different preparation options.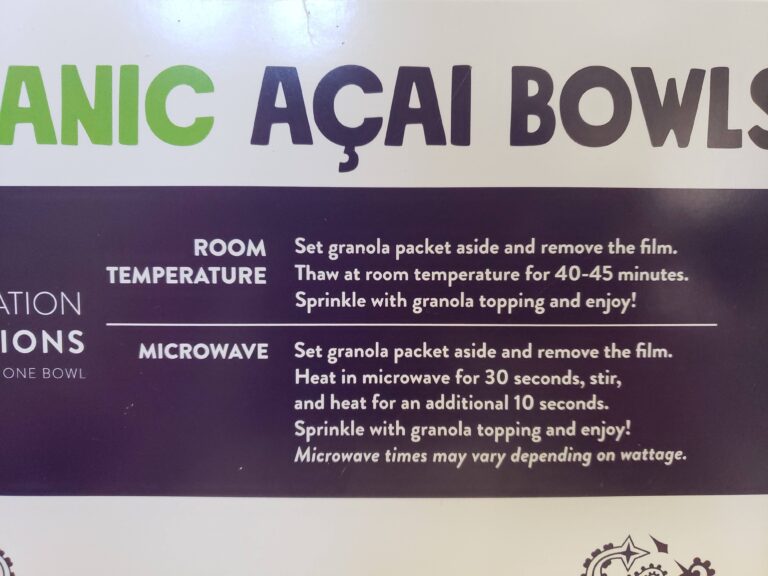 Set granola packet aside and remove the film.
Thaw at room temperature for 40-45 minutes.
Sprinkle with granola topping and enjoy!
Set granola packet aside and remove the film.
Heat in microwave for 30 seconds.
Stir, and heat for an additional 10 seconds.
Sprinkle with granola topping and enjoy! 
Microwave times may vary depending on wattage. 
I personally like to use the room temperature defrost method for these frozen acai bowls from Costco. I don't mind planning ahead and waiting 45 minutes if I can avoid the microwave.
Tattooed Chef Acai Bowl Nutritional Information
How Many Calories in Each Acai Bowl?
Each of Costco's Acai Bowls weighs 6.25 oz with granola topping and contains 180 calories. There are 8 grams of fat, 29 grams of carbohydrates with 12 grams of sugar, and 3 grams of protein. 

Nutrition Facts
Costco Acai Bowl - No Granola
Amount per Serving
% Daily Value*
* Percent Daily Values are based on a 2000 calorie diet.
Nutrition Facts
Super Healthy Costco Acai Bowl + Granola
Amount per Serving
% Daily Value*
* Percent Daily Values are based on a 2000 calorie diet.
If you are to eat just to the acai bowl without any additional granola toppings, the calorie count drops to 100 calories. The fat decreases to just 2 grams, with 19 grams of carbohydrates, and 1 gram of protein.
Is the Coconut Granola Worth Adding?
These bowls make an excellent healthy snack when are you just eating the Acai puree and the fruit. If you add the coconut granola, there is a significant increase in calories, carbs, and fat.
When you just eat the acai alone with no additional toppings, the bowl actually becomes a fairly nice dessert or snack.
The bowls have a decent size at 6 ounces each, and at only 100 calories, that is pretty darn decent. The 2 grams of fat are more than acceptable and the 19 grams of carbs that are made up of fruit are tolerable. 
If your goal is weight loss, then the Tattooed Chef acai bowls without the additional coconut granola are the way to go.
What are Costco Acai Bowls made of?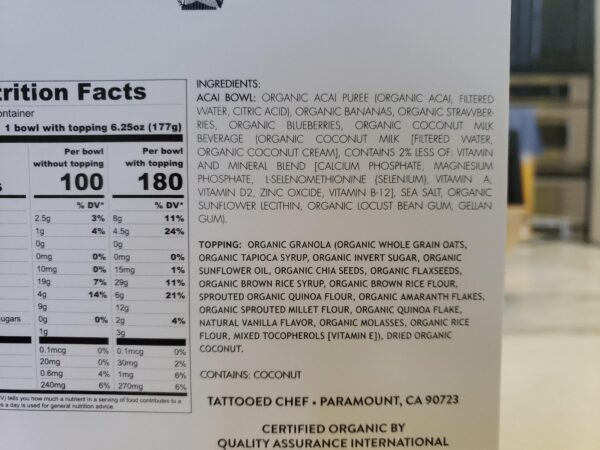 The Tattooed Chef Acai Bowls sold at Costco are going to consist of an acai puree, bananas, strawberries, blueberries, and coconut milk. Of course, you can top the Costco Acai Bowl with the included coconut granola.
Are Tattooed Chef Acai Bowls healthy?
Yes, these Tattooed Chef Acai Bowls are moderately healthy! When eaten without the granola topping, the 6 ounce bowl of fruit and acai puree contains only 100 calories. 
This is an acceptable amount of a calories for a frozen acai bowl dessert that tastes good and provides antioxidants.
Tattooed Chef's Acai Bowls at Costco seem to get mixed reviews, but I don't hate them. They are "junior" Acai Bowls as they are missing a few key toppings but come in at about 15% of the price of a store bought bowl. 
I'm sure it's possible to top with additional ingredients such as bananas and kiwis to bring a more traditional acai feel to these bowls.
For what these are and the price that Costco is selling them at, I easily consider them a buy. When these are on sale, there is no doubt the value is there. 
As long as you understand these aren't going to replicate an acai bowl from an acai shop, these are enjoyable for what they are.
Costco Food Database User Reviews
Have you tried this item? Let the rest of the Costco Food Database community know what you think. Leave a rating and review for this product.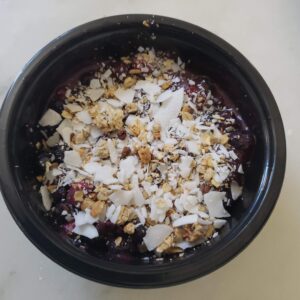 Super Healthy Costco Acai Bowl + Granola
The Tattooed Chef Acai Bowls at Costco are a healthy guilt free treat.
Ingredients
1

Costco Acai Bowl by Tattoed Chef

1

Pack of Coconut Granola (included)

1/2

Banana
Instructions
Remove plastic top from the Costco Acai Bowl

Microwave Acai Bowl for 30 Seconds

Stir Contents of Acai Bowl

Microwave for an additional 10 seconds.

Chop 1/2 a Banana into slices (while acai bowl is microwaving)

Add sliced banana to the Costco acai bowl and sprinkle with granola topping
Notes
Add chocolate chips or even peanut butter for more delicious goodness. 
Nutrition
Serving:
1
bowl
Calories:
180
kcal
Carbohydrates:
29
g
Protein:
3
g
Fat:
8
g
Saturated Fat:
4.5
g
Trans Fat:
0
g
Cholesterol:
0
mg
Sodium:
15
mg
Fiber:
6
g
Sugar:
12
g