Costco Canned Chicken (Kirkland) - Is It Worth It?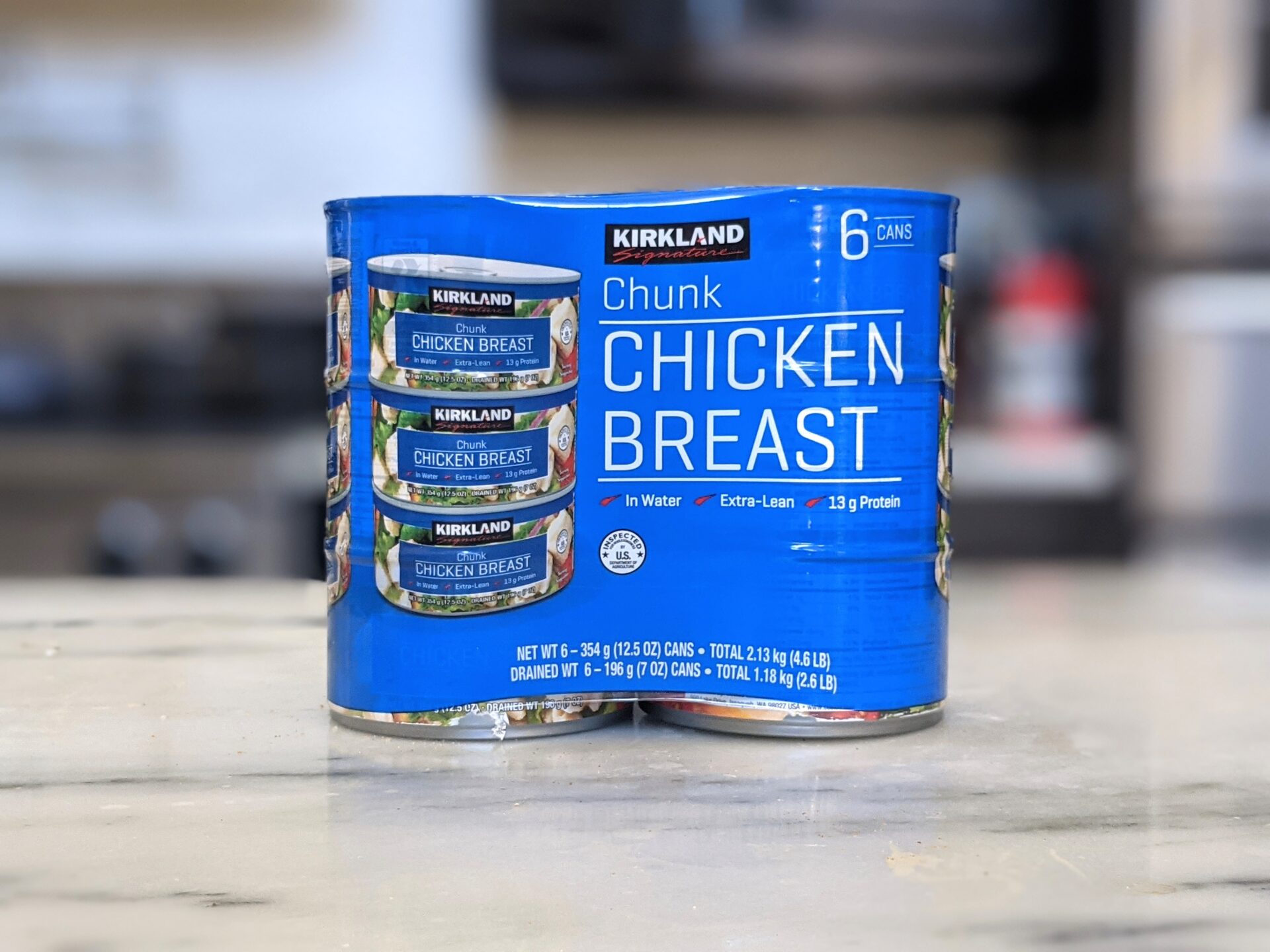 Kirkland Signature Canned Chicken at Costco
Costco sells a 6-pack of Kirkland Signature Chunk Canned Chicken Breast for $12.99 (When written the price of the canned chicken was $14.99). The canned chicken can be found in the pantry and dry goods area of the warehouse near other items such as the chicken bone broth, Tonkotsu ramen noodles, and the canned salmon.
Check out our full Costco chicken guide for information, up-to-date prices, and tips and tricks. 
Each Costco pack of canned chicken contains 6 cans each, with 7 ounces of extra lean chicken breast (drained weight). With liquid, each can of chicken weighs 12.5 ounces.

Have You Tried Costco's Canned Chicken?
Let the rest of the Costco Food Database community know what you thought of this product. Results and reviews are at the bottom of this page.
Please allow 24 hours for review moderation and approval.
Canned Chicken as an Emergency Prep Food?
What I like about the Kirkland Signature Canned Chicken is just how versatile and valuable it is in an emergency prep situation.
A lot of people automatically assume hoarding/hoarders when I talk about emergency prep, but this canned chicken breast can even be a simple pantry protein that is immediately available anytime of the day or during minor emergencies.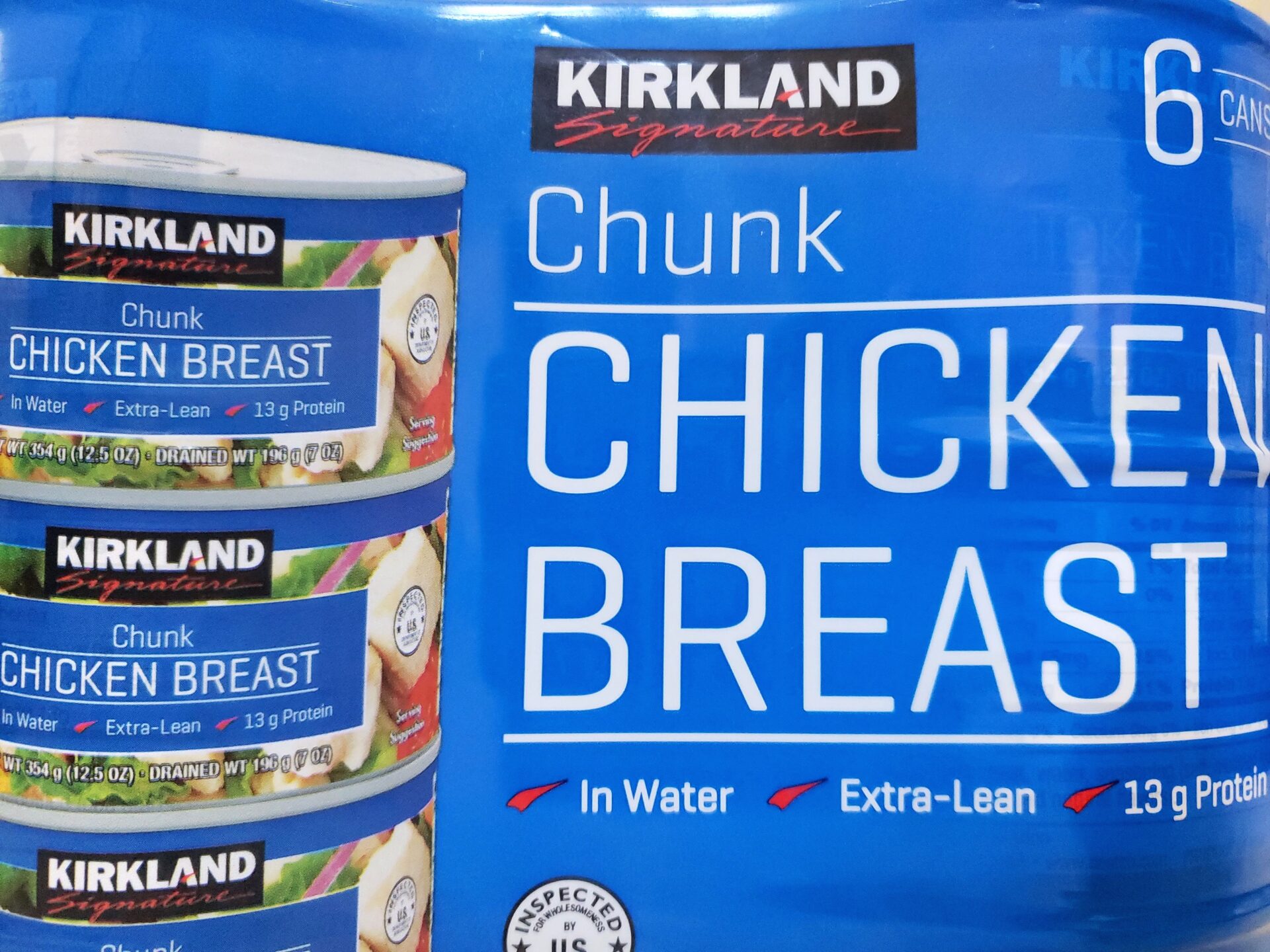 It's always good to have extended food preparations, and this chicken plays this role as well as a quick addition to any meal whenever you need protein. For that reason alone, I usually keep a 6 pack of this canned chicken at home at all times.
Is Costco's canned chicken fully cooked?
This canned chicken is fully cooked and can be eaten directly from the can. It can be but does not need to be reheated to be enjoyed. 
I open it, drain the water, and then enjoy this beautiful Kirkland Signature chicken.
Is canned chicken safe to eat?
Yes, Canned chicken is perfectly safe to eat. The chicken is cooked and preserved during the canning process. The chicken will be good up until its use-by date and then some. The Costco canned has a use-by date that is usually at least 2-3 years away.
Do you need to rinse the chicken?
No, Costco's canned chicken will not have to be rinsed. Everything is sterilized in the canning process, so the chicken will not need to be modified in any way whatsoever.
It is recommended to rinse the top of the can to prevent any germs or bacteria from possibly entering the can when opening.
Why is Canned Chicken not more popular?
I don't have the answer to this question, but I find it funny that some people are turned off by canned chicken. I was too, when I first learned about canned chicken, but then I realized I have no problem eating canned tuna, sardines, clams, or even oysters.
As a society we have accepted seafood in a can, but there is a stigma with canned chicken.
How Long Does Costco's Canned Chicken Last Before It Expires
Costco's Kirkland Signature Chicken will usually have a best-if-used-by date of about 3 years from the date of purchase. These will last a long time in a cool, dry pantry.
How Much Does Costco's Canned Chicken Cost?
Costco currently sells the 6-pack of Kirkland Signature Canned Chicken Breast Chunks for $12.99. This breaks down to a per can price of $2.17.
At the old more expensive price of $14.99, each can cost $2.49.
Just a few months ago, this same canned chicken was priced at $9.99, which is a staggeringly low price of $1.66 a can.
This was a spectacular deal for canned chicken breasts, but unfortunately, the price has significantly increased. I think I can speak for all of us when I say that we would much rather be paying $1.66 a can rather than $2.17 or $2.49.
Costco vs The Competition
Sam's Club sells a same-sized package of their Member's Mark canned chicken for $16.98 or $2.83 per can. This is slightly higher than Costco's price.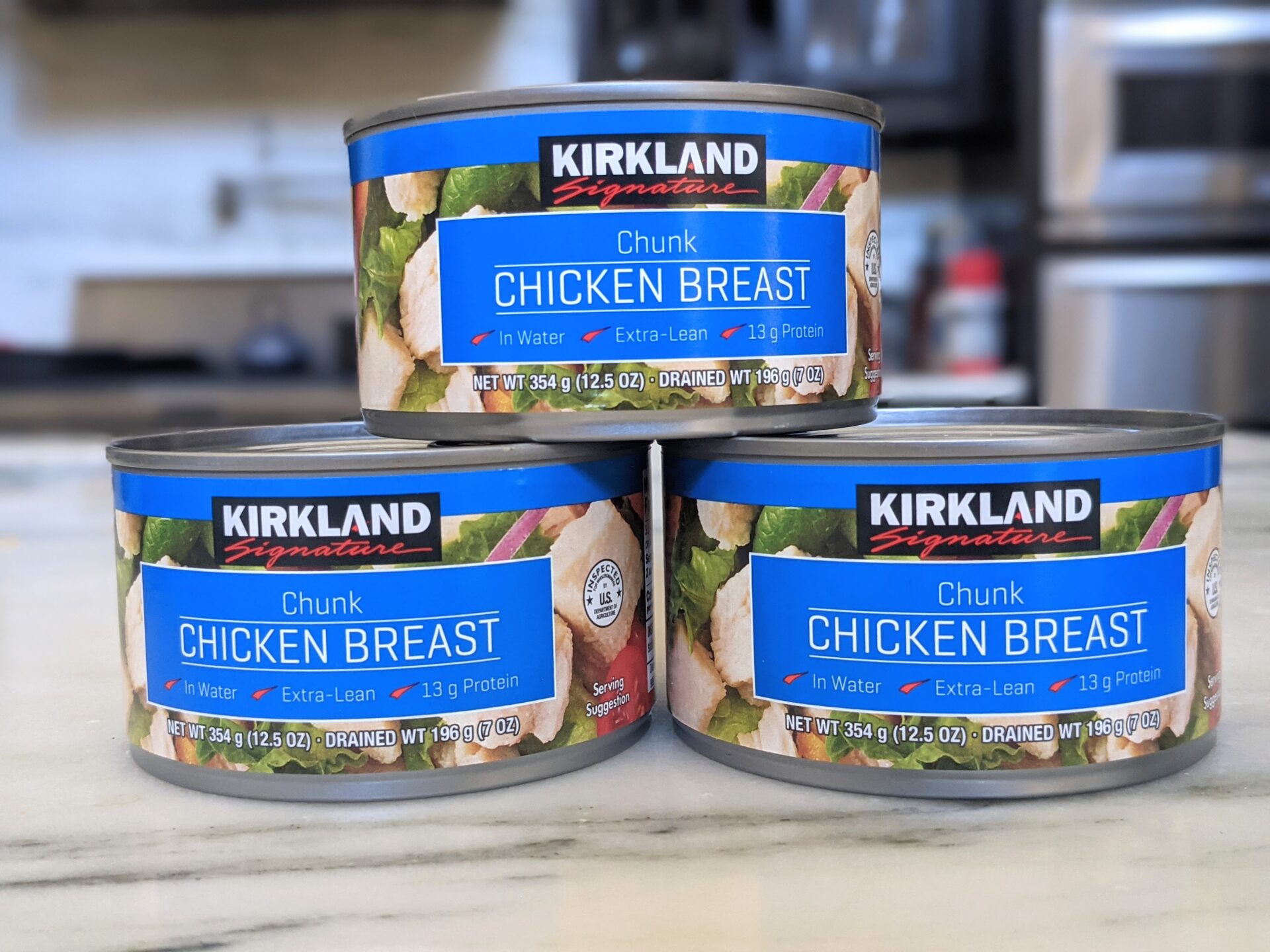 Target also sells a 12.5-ounce can of chicken breast chunks for $3.69. You only have to buy one can, but it is nearly 50% more expensive than Costco's price. 
Costco has raised its price but is still significantly less expensive than other options. My go-to option is still going to be the Kirkland Signature Canned Chicken. 
Canned Chicken - Taste Test
Plain Taste, But Versatile
For taste, canned chicken is very plain by nature. The chicken is moderately salted but doesn't have much flavor. The flavor it does have is that of a natural chicken.

I like the blandness because it makes the chicken rather versatile, and it can be used in a variety of dishes. The meat is very flavorful, juicy, and easy to eat. I even like eating it directly out of the can with just a little seasoning or sauce.
The biggest difference between canned chicken and traditionally cooked chicken is the texture. I find the texture of Costco's canned chicken meat to be a bit softer than regular cooked chicken and to be quite tender.

The chicken chunks are a good size and can even be sliced and broken down into smaller pieces.
I'm not kidding you when I say this chicken is versatile, and you will have your pick of options on how to use it.
It is obviously canned chicken, but that doesn't detract from the overall taste. 
The key to enjoying and making the most of the chicken will be to use it in recipes with moderate to no cooking and have the other components of the dish really bring the flavor.
Canned Chicken Recipes & Serving Suggestions
The chicken is plain flavored and already cooked, making it super versatile and great for various dishes.
You can take the chicken out of the can and combine it with salad, put it in a quesadilla, or even make some fantastic buffalo sauce chicken dip. I like to use the chicken as an easy addition to a quick weeknight pasta or rice dinner.
24 Costco Canned Chicken Recipes
The options are essentially endless, and the chicken is a great substitution for any dish that calls for chicken. Here are 24 great uses for canned chicken from Hey That Tastes Good.
Chicken Chili with White Beans

Dill Pickle Canned Chicken Salad

8 Can Chicken Taco Soup

Keto Chicken Salad

Canned Chicken Parmesan Balls

Chicken Waldorf Sandwiches

Buffalo Chicken Dip

Homemade Chicken Noodle Soup

Chicken Macaroni Salad

Crisp Chicken 

Chimichangas

Broccoli, Rice, Cheese, Chicken Casserole

Canned Chicken Cakes

BBQ Chicken Roll-Ups

Bacon Ranch Chicken Salad Cucumber Boats

Chicken Crust Parmesan Pizza

5 Ingredient Chicken Taquitos

Chicken Pot Pie

Pantry Chicken Spaghetti

Chicken and Chip Casserole

Chicken Tinga Tacos

BBQ Chicken Sliders

Chicken Sandwich Melts
Costco Canned Chicken Nutrition and Calories
How Many Calories in Kirkland Signature Canned Chicken?
Each can of Costco canned chicken will contain 7 ounces of chicken breast. One serving will be 2 ounces of chicken breast chunks and contain 60 calories from 1 gram of fat, 0 grams of carbs, and 13 grams of protein.

This is just pure chicken, so the nutritional profile will be fantastic. This is a great healthy canned food to keep tucked away in your pantry. I always love shelf stable foods that offer great tastes and a healthy nutritional profile.
There is a solid amount of protein, and is a great option for almost any type of diet. The zero carbs make these an excellent keto friendly option at Costco.
If there were one issue with the Costco canned chicken, it would be the amount of sodium in each can. Each serving is only 2 ounces but will contain 270 mg or 11% of the daily recommended value.
It is fairly easy for me to eat the entire can of chicken, which would add up to 945 mg of sodium or 38.5% of the daily recommended sodium intake. This will be from the canned chicken alone, and if combined with other food items, the sodium can compound.
Costco Food Database User Reviews
Have you tried this item? Let the rest of the Costco Food Database community know what you think. Leave a rating and review for this product.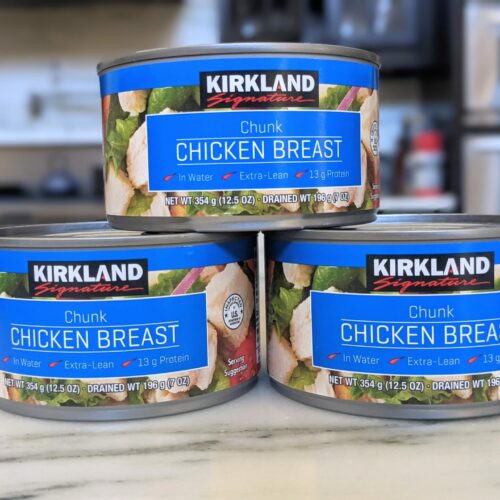 10 Best Recipes for Costco's Canned Chicken
Costco's Kirkland Signature Canned Chicken is one of my favorite items from the warehouse. It has a great shelf life and is super versatile. Here are my 10 favorite uses of Costco's canned chicken.
Ingredients
Kirkland Signature Canned Chicken

Seasonings of your choice
Nutrition
Serving:
2
oz
Calories:
60
kcal
Carbohydrates:
0
g
Protein:
13
g
Fat:
1
g
Saturated Fat:
0
g
Trans Fat:
0
g
Cholesterol:
45
mg
Sodium:
270
mg
Fiber:
0
g
Sugar:
0
g