Costco Chicken Sandwich Patties - Chick-Fil-A Copycat?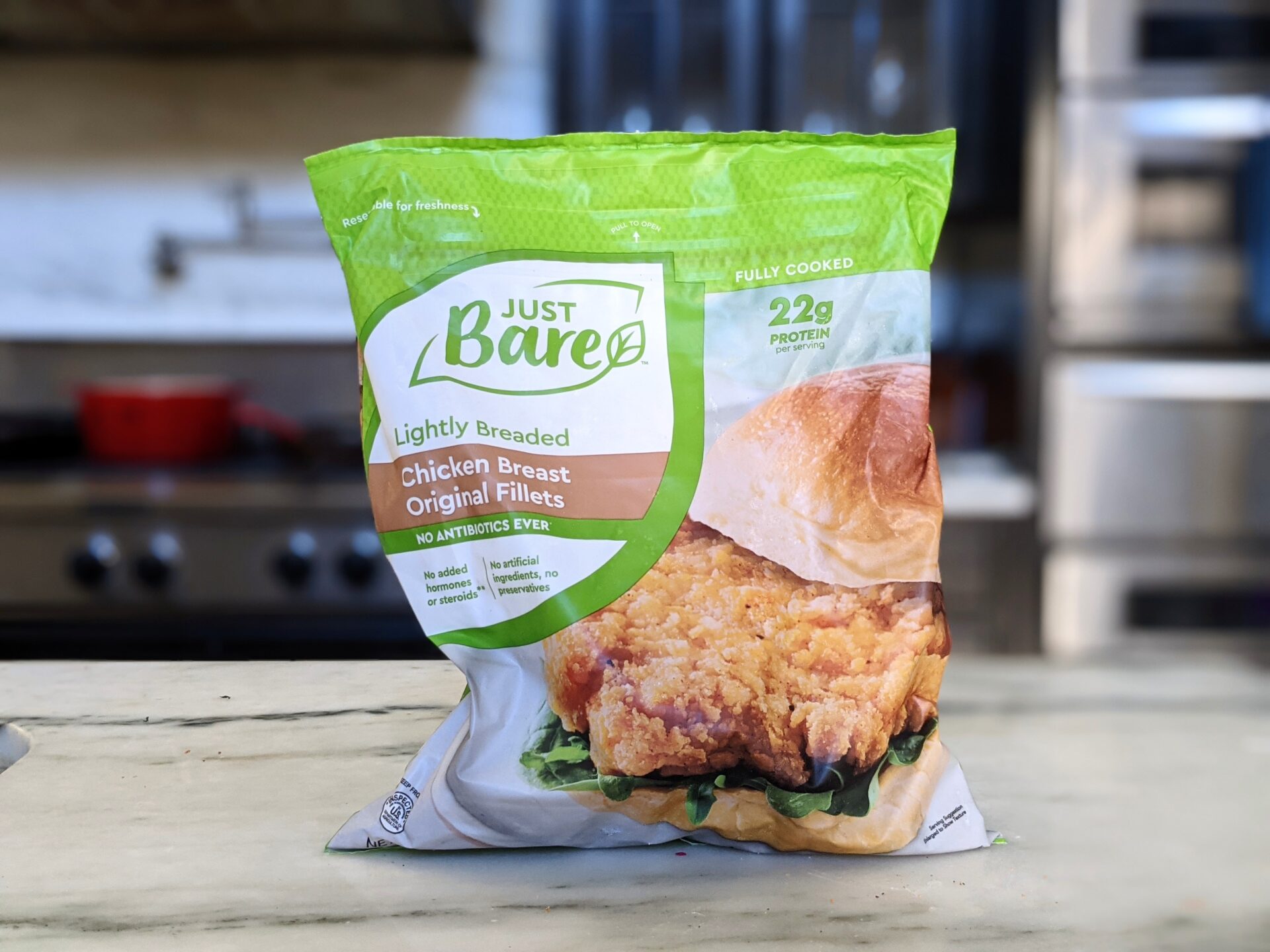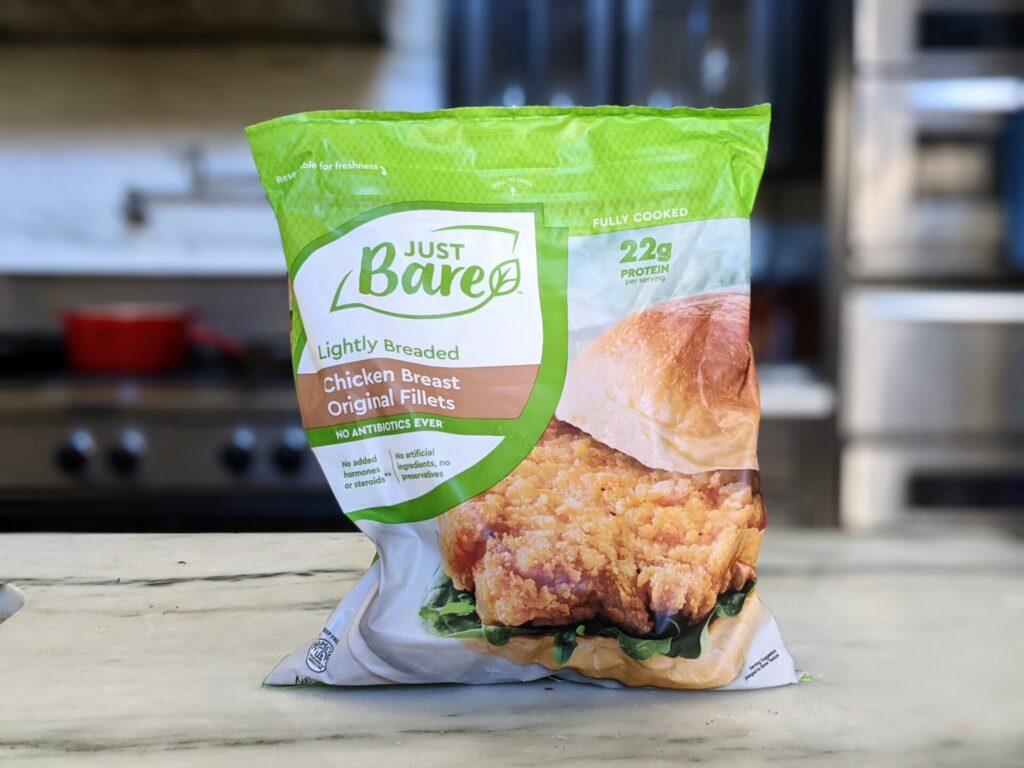 Just Bare Chicken Breast Fillets at Costco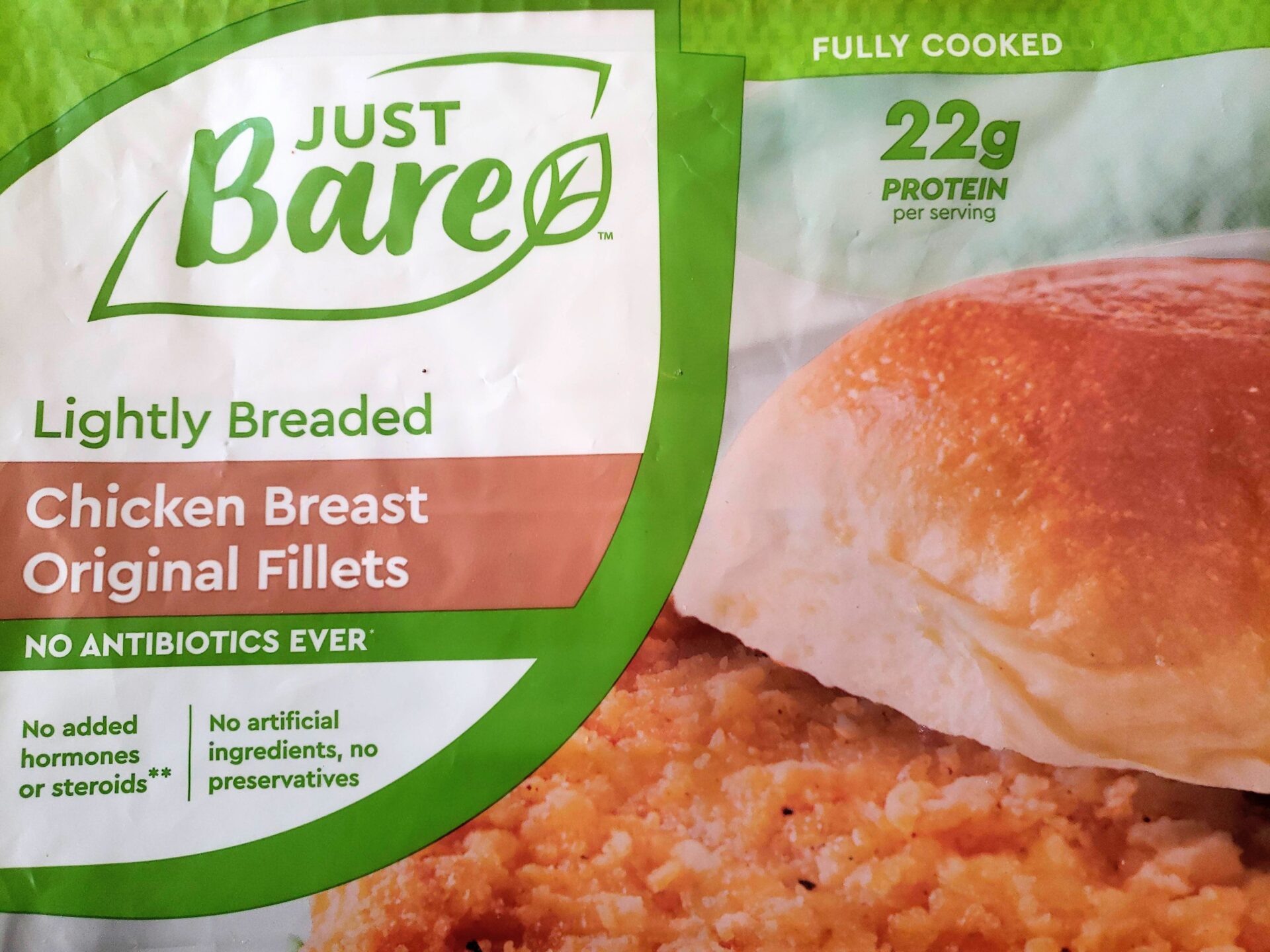 The Just Bare Chicken Fillets are sold in 3-pound bags and will contain 11-12 chicken breast patties per bag. Each of the chicken sandwich fillets is made with full chicken breast pieces.
The chickens are raised with no antibiotics, have no added hormones or steroids, and contain no artificial ingredients or preservatives.
Have You Tried Costco's Chicken SAndwich Fillets?
Let the rest of the Costco Food Database community know what you thought of this product. Results and reviews are at the bottom of this page.
Please allow 24 hours for review moderation and approval.
This isn't the only item that Just Bare has at Costco. They also have the ever-popular Lightly Breaded Chicken Chunks, which I consider the best chicken nugget option at Costco and a suitable copycat of Chick-Fil-A's chicken nuggets.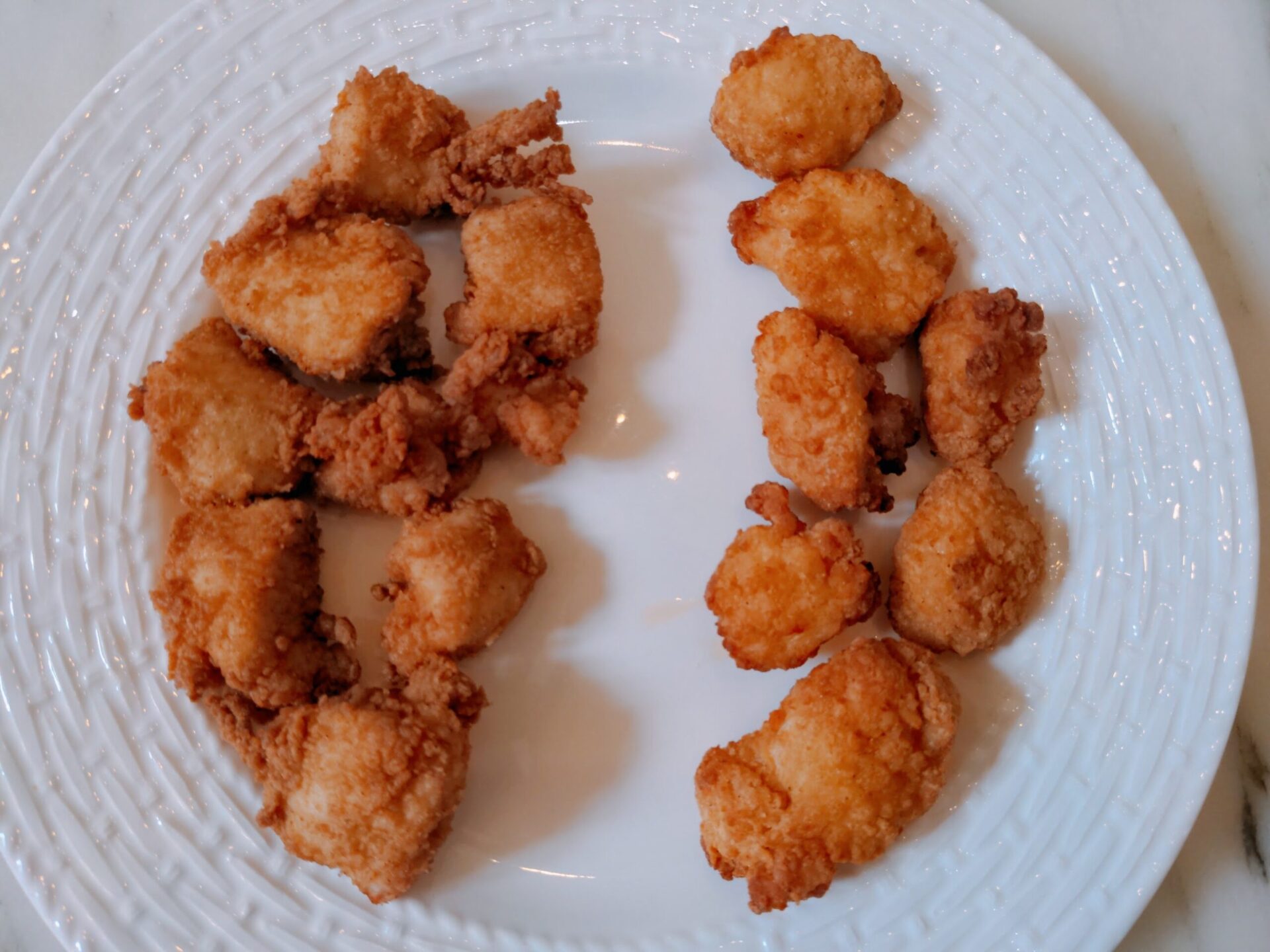 The Just Bare chicken chunks are hands down my favorite breaded chicken item at Costco, as they are also made with full chicken chunks and not chicken filling and have a top-tier breading that is crispy, crunchy, and extremely flavorful.

How Much Do The Chicken Sandwich Patties Cost at Costco?
The Just Bare Chicken Breast Fillets are sold in a 3-pound bag and cost $16.99 at Costco. This breaks down to a per-pound price of $5.66.
This is slightly more expensive than their Just Bare Chicken Chunks Nuggets ($5/per pound), which are very similar but just in a different form.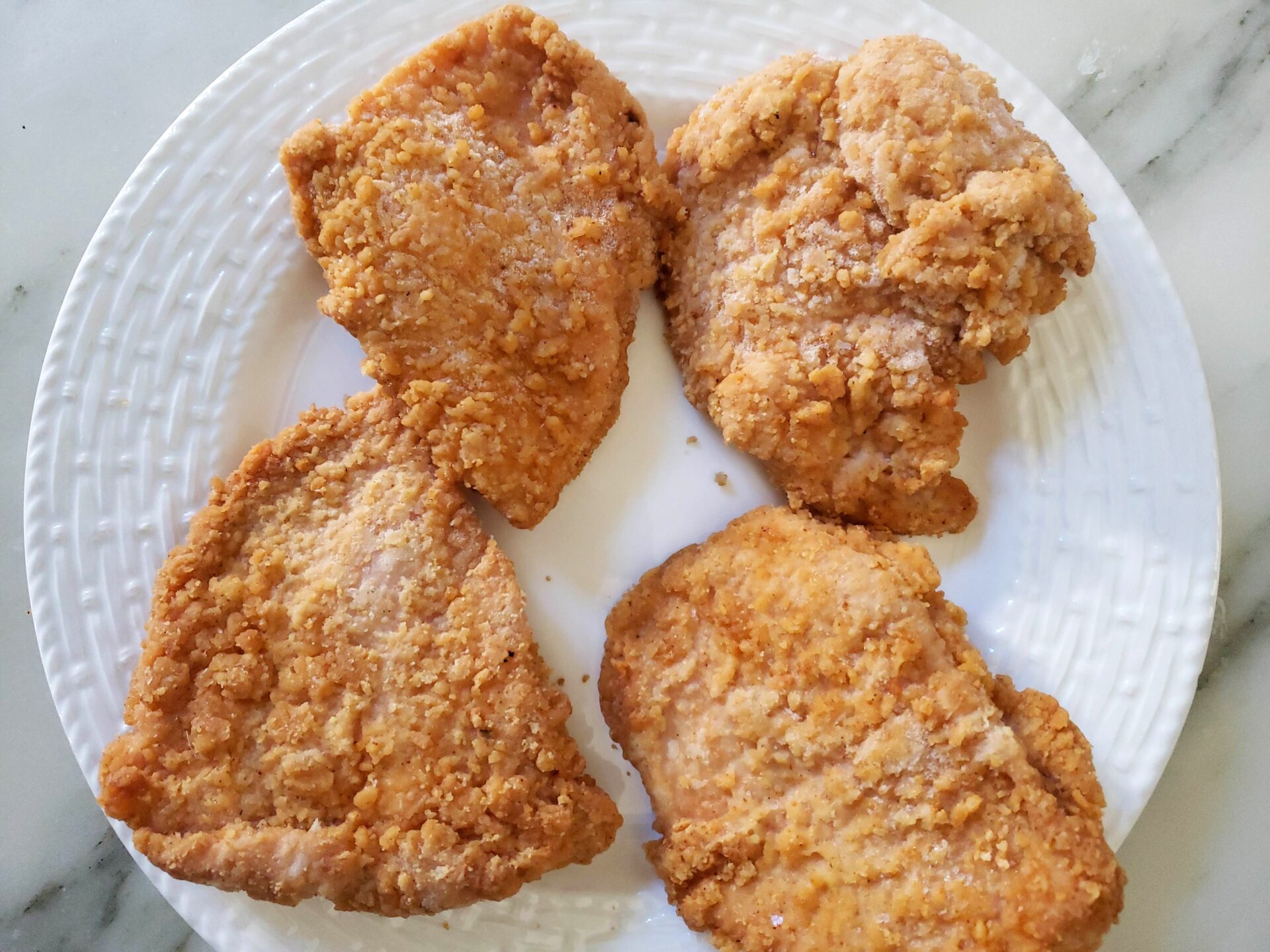 I received 11 breaded chicken patties in my bag, and each chicken patty fillet cost $1.55. Looking at the patty price, it seems a little more reasonable.

Compared to some of the other breaded chicken items or even a full on chicken sandwich, the Just Bare Chicken Sandwich Fillets offer great value considering the quality.
On the low end, the panko breaded chicken patties cost only $0.60 each but are made with ground chicken and chicken pieces.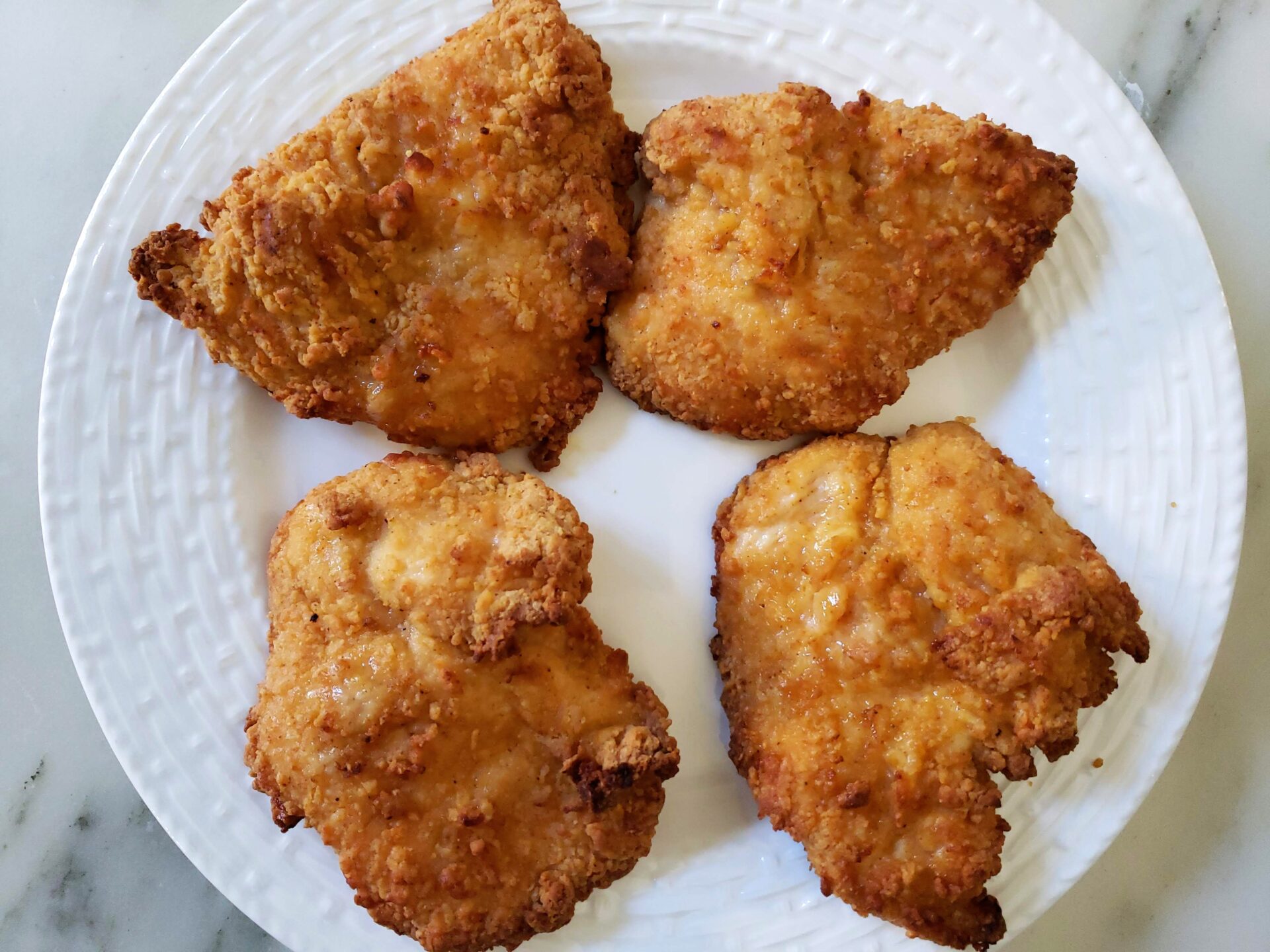 The La Boulangerie Chicken sandwich costs $2.16 each and will include the bread (which is excellent), but the patty is on the smaller end at 3 ounces.
And a 3-ounce non breaded chicken patty made by AmyLu goes for $1.88.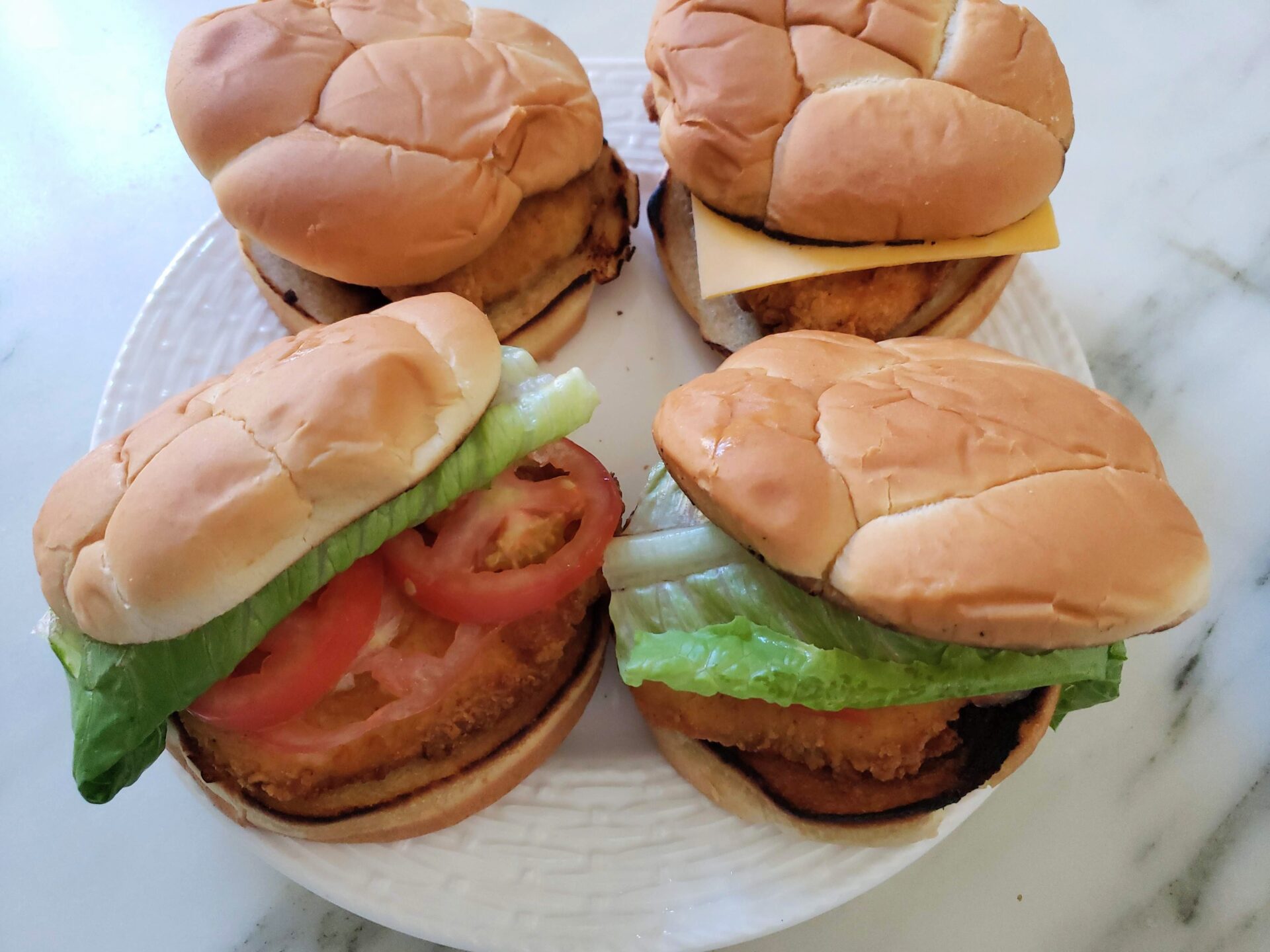 Out of the Costco options, I consider the Just Bare chicken sandwich patties to be the best combination of quality and price.
I made 4 crispy chicken sandwiches to feed my family, which cost less than $10. That is going to be hard to beat.
Costco vs, The Competition
Costco isn't the only place to purchase the chicken fillets; some regular grocery stores will carry them.
From the two grocery stores that I checked that had the Just Bare chicken sandwich patties in stock, they were sold in 24-ounce bags for $14.99. This is a per-pound price of $7.50, which is nearly 50% more than Costco's price.
Costco does win on price, which is expected, but the big difference is that the grocery stores will carry the original flavor and the spicy chicken patty fillets.
I'm not sure the spicy chicken breast fillets are worth $2.50 more per pound, but that might be the price to pay if you want spicy.
Just Bare Chicken Sandwich Patty - Taste Test
Extra Crispy In The Air Fryer
I opted to heat the chicken sandwich fillets in the air fryer as that is usually the best option to create super crispy breaded chicken in a reasonably timely manner.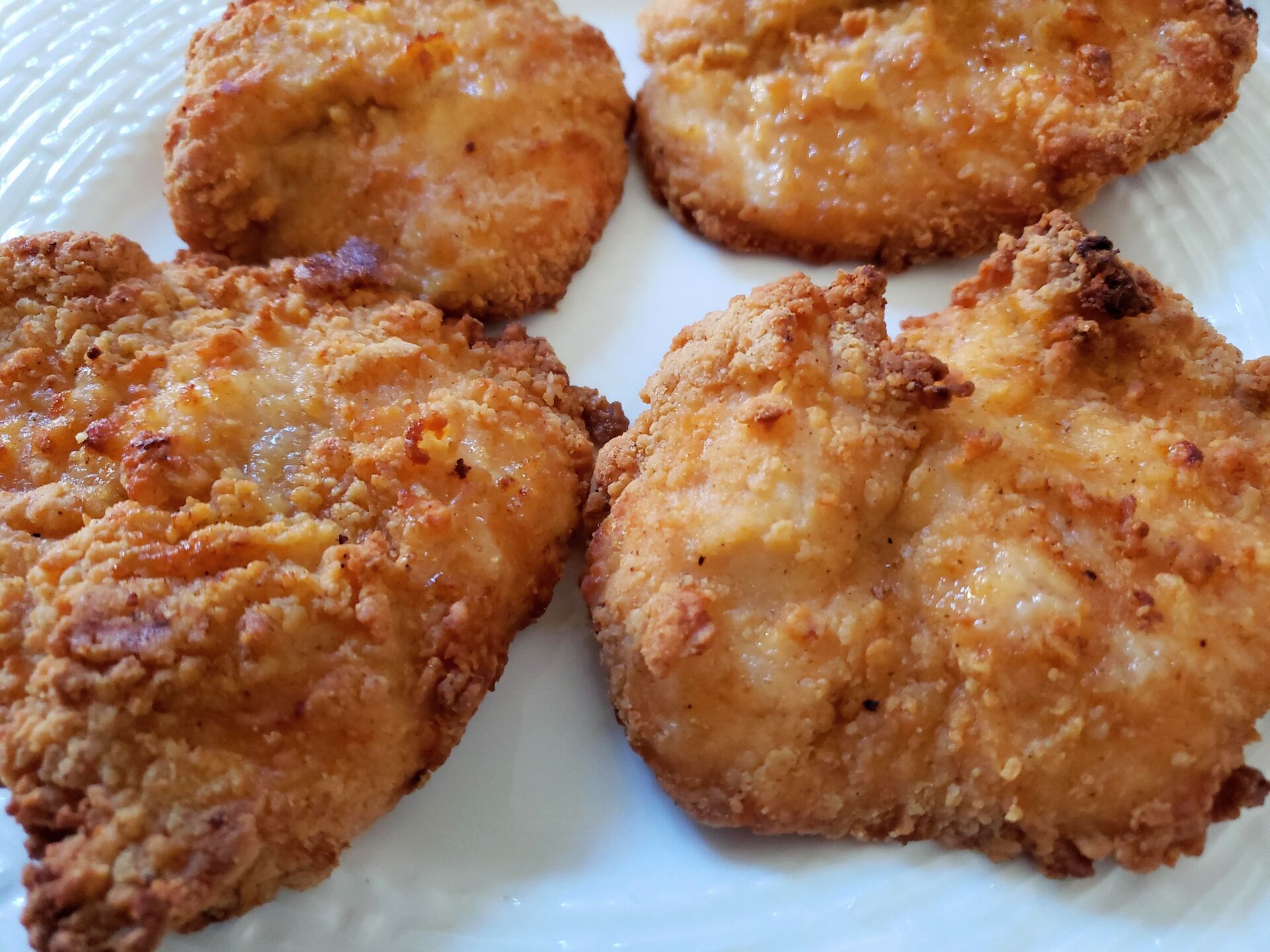 After cooking for 17 minutes per the directions, the breaded chicken breasts came out amazingly crispy and crunchy and had a beautiful golden brown color. 
Visually, the chicken breast fillets were exceptional.
The breading was super crispy, as expected, and also lived up to its lightly breaded name. The chicken fillets have the perfect amount of breading, which gives them a nice crunch but still allows the chicken breasts to be the star of the show.
The flavor was on point, and the sandwich was not overly salty.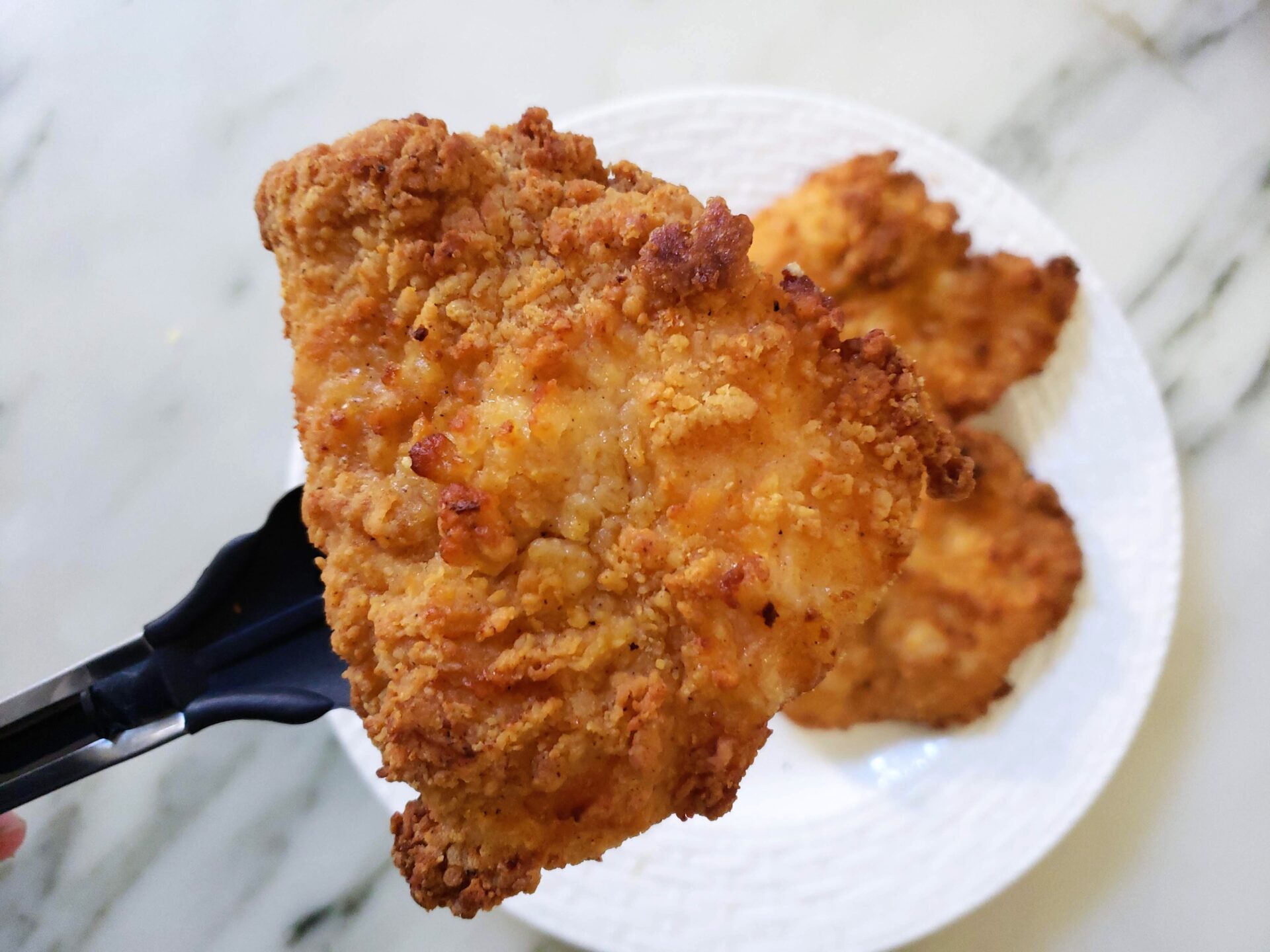 The chicken breast fillet is what makes this breaded chicken patty so unique. Just Bare doesn't grind up their chicken and doesn't use put-together leftover pieces to form their patties. 
They instead do it how it should be done and use full chicken breast slices.
Exceptional Chicken Sandwich
The final product is a quality chicken breast fillet that is appropriately breaded and tastes great. The chicken is very moist, juicy, and fantastic for a frozen product. It's going to be tough to find a better frozen chicken patty than this one.
Chick-Fil-A Chicken Sandwich Killer?
There is a lot of comparison between the Just Bare Nuggets and the Chick-Fil-A nuggets, and the comparison is warranted. 
The Just Bare chicken sandwich fillets, while very, very good, just don't compare to a Chick-Fil-A chicken sandwich for me.
The breading is crispy, and the chicken is fantastic, but a Chick-Fil-A chicken sandwich is much better.
The Just Bare Chicken Sandwich fillets are an excellent home replacement at a great price, but they won't beat out the oil-fried chicken breast patty from Chick-Fil-A.
Costco Chicken Sandwich Fillet Cooking Directions
How to Cook Just Bare Chicken Breast Fillets
Just Bare offers three different cooking options for their chicken breast sandwich fillets. You can air fry them, bake them in the oven, or microwave them.
I will always opt for the air fryer option as it produces super crispy and crunchy breading and is much faster than heating in the oven.
Preheat the air fryer to 360°F.

Place frozen chicken pieces in a basket in a single layer.

Air Fry chicken for 17 minutes.
Preheat the oven to 400°F. 

Place frozen chicken pieces in a single layer on an ungreased baking pan.

Bake uncovered for 15 minutes. TURN. Bake for an additional 15 minutes. Total time 30 minutes.
Place frozen chicken pieces in a single layer on a microwavable safe dish.

Microwave on high for 3 minutes. Add 1 minute and 45 seconds for each additional chicken patty fillet.

Let stand for 2 minutes before serving.
Nutritional Information and Calories
Lightly Breaded Chicken Breast Fillets Calories
One serving will be one breaded chicken breast patty and weigh approximately 118 grams or 4 ounces each.
Each chicken breast fillet will contain 210 calories coming from 8 grams of fat, 13 grams of carbs, and 22 grams of protein.
This is a fairly solid nutritional profile for a breaded chicken item. The carbs are kept in check, most likely due to the lighter breading, and the fat content is reasonable. 
Additionally, the protein count of 22 grams is great, and I'm always happy to see the protein outnumber the combined fat and carbs.
I will express some caution with the sodium content. Each breaded chicken sandwich patty will have 780mg of sodium, or 34% of the daily recommended value.
This is fairly high considering the chicken patties are not the largest, and you might have to eat more than 1 or combine the meal with side dishes that also have sodium.
Costco Food Database User Reviews
Have you tried this item? Let the rest of the Costco Food Database community know what you think. Leave a rating and review for this product. 
Costco Just Bare Chicken Sandwiches
Costco has started selling Just Bare Chicken Sandwich fillets and they are perfect for your at home chicken sandwiches. Super crispy and extra delicious!
Ingredients
1

Just Bare Fillet

1

Bun

Lettuce

Tomato

Mayo

Ketchup
Instructions
Toast Bun to desired doneness

Preheat the air fryer to 360°F.

Place frozen chicken pieces in a basket in a single layer.

Air Fry chicken for 17 minutes.

Spread ketchup and mayo on chicken sandwich

Place cooked chicken sandwich fillet on bun and dress with lettuce and tomatoes
Nutrition
Serving:
1
Chicken Sandwich
Calories:
400
kcal
Carbohydrates:
30
g
Protein:
24
g
Fat:
8
g
Saturated Fat:
1.5
g
Polyunsaturated Fat:
4
g
Monounsaturated Fat:
1.5
g
Trans Fat:
0
g
Cholesterol:
60
mg
Sodium:
780
mg
Fiber:
1
g
Sugar:
2
g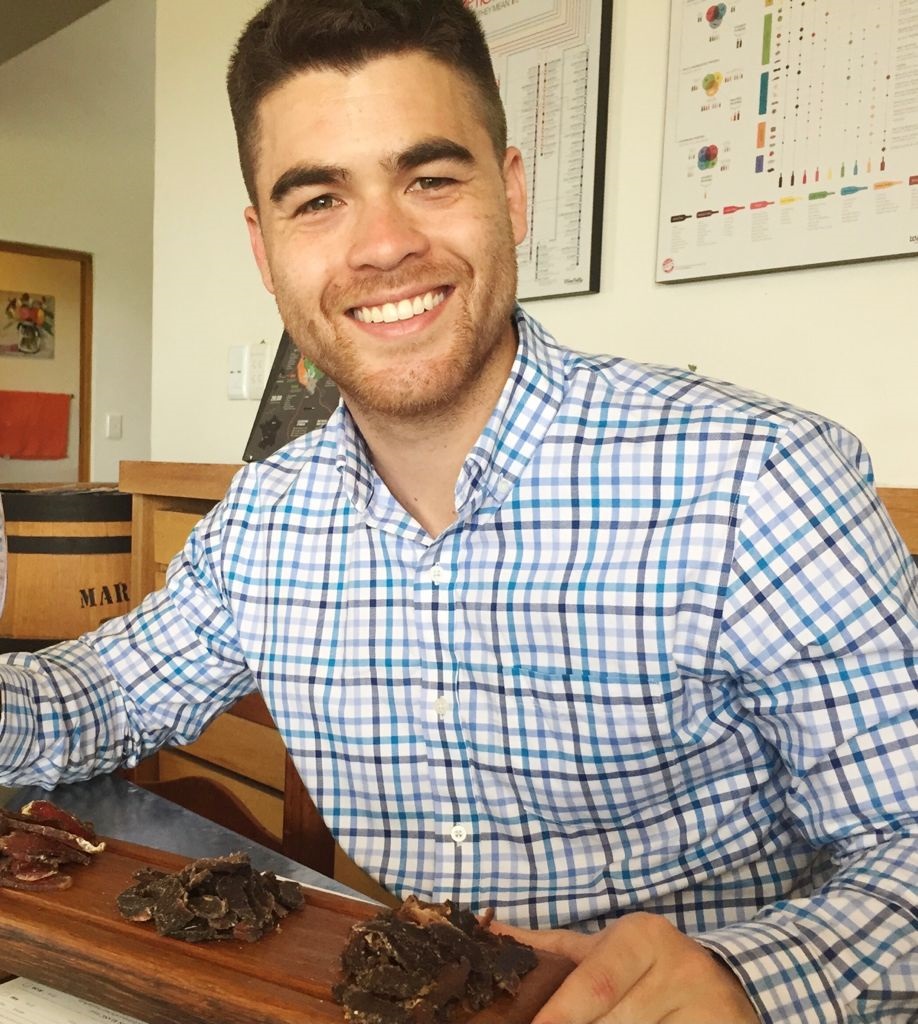 Greg Larkin is the founder and managing editor of Costco Food Database, the premiere site for honest takes on all things Costco food. A self-proclaimed Costco super-fan since childhood, Greg turned his obsession in a mission to properly rate and review all of Costco's delicious buys. When he's not busy navigating Costco aisles, you can find Greg smoking Kirkland Signature meats, meal prepping, or perfecting his homemade jerky recipes.