Costco Egg Bites (Starbucks CopyCat) Review + Recipe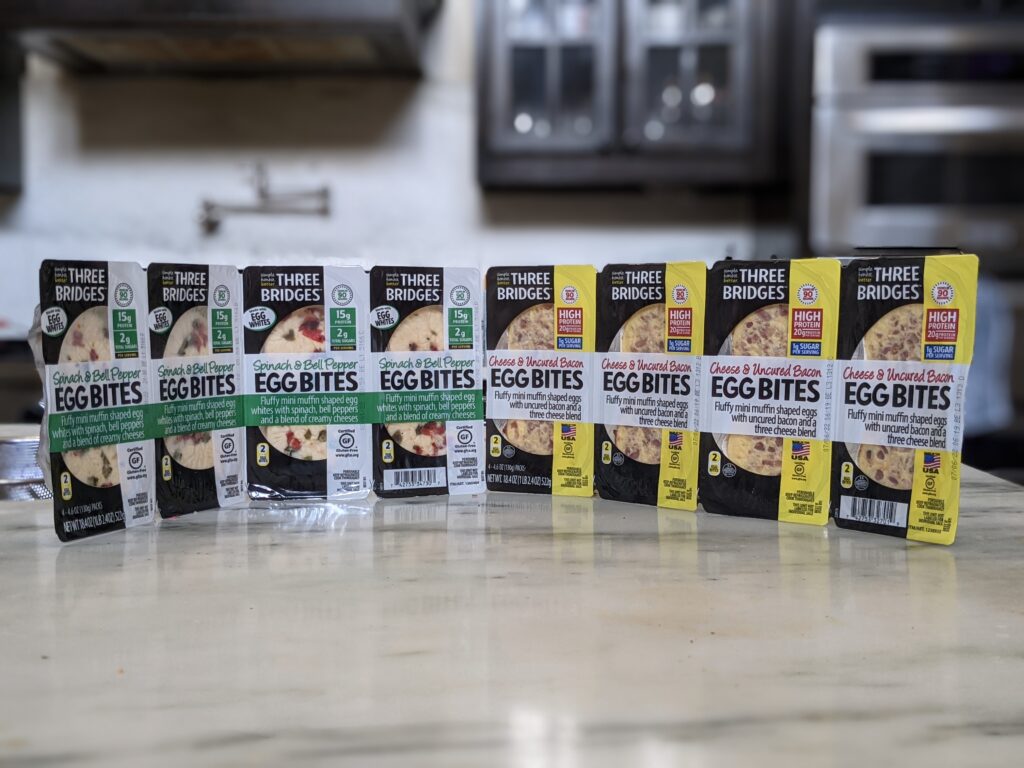 Three Bridges Egg Bites at Costco
Costco sells an 8 count of Three Bridges Egg Bites for $10.99. The Egg Bites can be found in the refrigerated deli area of the warehouse near other items such as the lobster bisque, Healthy Noodle, Cheese Bread.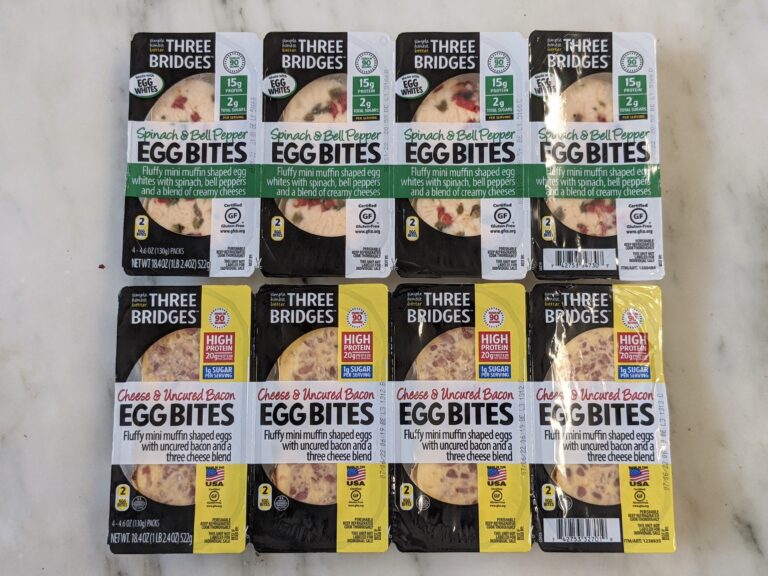 Costco offers two flavors of egg bites, each of which is sold separately.
The Cheese and Uncured Bacon Egg Bites include fluffy mini muffins shaped eggs that are filled with uncured bacon and a three cheese blend. 
The second option at Costco is the Spinach and Bell Pepper Egg Bite that includes mini muffin shaped egg whites with bell peppers and a blend of creamy cheeses. 
The spinach bell pepper egg bite is going to be the healthier option that includes less calories and less fat.  
Both Egg Bite Options are Gluten Free and Made in the USA. Kudos to Three Bridges!
Why Egg Bites are a Great Breakfast Solution
There are three factors that are extremely important for any breakfast option and they are taste, convenience, and the ability to satiate (how filling a food is).
Three Bridges Egg Bites check all the boxes and I don't see any major flaws or have any major complaints.

Costco Cost Comparison - Breakfast Egg Bites
How Much Do Egg Bites Cost at Costco?
Costco sells an 8 count of both Three Bridges Egg Bite options for $10.99 each. Each twin pack breaks down to $2.75 or $1.37 per individual egg bite. 

This does seem a little expensive to me for an egg muffin, but the convenience will be hard to beat.

Costco will also occasionally sell the egg bites at a discounted price of $7.69. This is a massive discount of $3.30 or 30%.
This drops the per egg bite price down to $0.96 which is an amazing price!
Costco vs The Competition
Target sells a 2 pack of Three Bridges Cheese & Bacon Egg Bites for $4.49. The per egg bite price is $2.25 which is 63% more expensive than Costco's price. 
Safeway sells the same pack of Egg Bites for $4.49 as well. 
Costco's egg bites come out way ahead in price. If you like these Egg Bites, it's going to be hard to beat Costco's price which is nearly 40% less than retail stores.
Three Bridge Egg Bites - Taste Test
I've made my own egg muffins in the past, but this is the first time I've ever had a store bought one and I have to say they are fantastic. 
The egg did not taste rubbery and was actually quite creamy because of the cheese. The toppings were tasty and surprisingly, two egg bites were pretty filling.
The Egg Bites are super easy to cook which is great for a quick morning breakfast. The Egg Bites only need 90 seconds in the microwave and they come out perfectly. 
There is nothing worse than a breakfast food item requiring multiple steps and taking a total of 15 minutes to cook like Costco's Bacon Gouda Egg Sandwich.
For both egg bite flavors, the egg itself was very good. For a pre-produced egg product, Three Bridges really surprised me with the quality and texture. The egg portion was moist and very delicious.
My Only Complaint - The Cheese
My only complaint about the eggs would be the creamy cheese. I don't have a problem with adding cheese/cream/yogurt to the eggs as it will help with flavor and texture, but I feel Three Bridges went just a touch overboard. 
The cheese tastes amazing and definitely belongs, but It's obvious with every bite that there is a lot more than just eggs in the egg. 
There is so much cream/cheese that there isn't a huge difference in taste between the egg white egg bites and the regular bacon egg bites. 
The egg white bites should be quite a bit less flavorful than the egg bites made with yolk, but that isn't the case here. They are equally tasty due to the added cheese.
The additional ingredients used to flavor the egg bites aren't mixed into the egg bites themselves but mostly reside just on top.

Visually this is impressive as the egg bite looks full of ingredients and flavor, but once you take a bite, you can see that they are just toppings for the egg bites.
I didn't expect a lot from two little egg bites, but they are filling. It's not a large amount of food, but the calories come from fat and protein, which makes you feel full. 
A cup of coffee, and two egg bites could easily keep me full until lunch time.
Costco Egg Bites vs Starbucks Egg Bites
A similar version of both egg bites is sold at Starbucks. Starbucks sells Egg White & Roasted Red Pepper Egg Bites as well as Bacon & Gruyere Egg Bites. These are nearly identical to the Three Bridges Egg Bites from Costco.

This doesn't surprise me, as Starbucks does well at breakfast, and this isn't the first copycat item as the Bacon Gouda Cheese Breakfast Sandwich Clone is also sold at Costco.

The pair of Egg Bites offered from Starbucks sell for about $4.50 which is about the same as what Three Bridges sells for in other retail stores. 
Egg Bite Recipes & Serving Ideas
The Egg Bites are simply mini egg quiches and can be eaten with a variety of other foods. They don't have to be simply a one bite breakfast. Here are some other ways to add the egg bites to your diet.
The most interesting options to me are the Egg Bite Musubi as well as the Sweet & Savory Egg Bite Breakfast Burrito.
The egg bites would also be a great addition to pair with Health Warrior Oatmeal or some overnight oats.
Three Bridge Egg Bite Cooking Instructions
One of the major selling points of these egg bites is how fast and convenient they are for breakfast. Three Bridges only recommends one cooking method for the egg bites and that will be in the microwave.
Both flavors of egg bites require the same amount of cook time. 
Peel back film and remove paper tray.

Discard outer packaging.

In paper tray, microwave the egg bites uncovered on high for 90 seconds. 

Ensure internal temperature reaches 165°F. 

Let rest 1 minute before serving the Costco Egg Bites.
You may look at these egg bites and wonder what the big deal is. How can these little egg muffins sell for over $2 each at Target and other retailers? This is an item that should cost less than $1 each when being made at home. 
There are plenty of options and recipes available if you want to make your own version of Egg Bites. The ingredients are simple and the ability to customize the egg bites exactly to your liking is well worth the time investment. 
This recipe from The Girl on Bloor will show you everything you need to do to make your own personal egg bites for about $0.75 each.
Costco Egg Bites Review
Product Name: Three Bridges Egg Bites - Cheese & Bacon and Spinach & Bell Pepper
Product Description:
Price: $10.99
Quantity: 8 Count
Location Within Costco: Refrigerated Deli Area
Price Per Egg Bite:$1.37
Summary
I'm impressed! I didn't expect much from Three Bridges Egg Bites but they are an excellent breakfast food. They are super tasty and composed mostly of fat and protein which helps keep you feeling full. 
The Egg Bite's nutrition is great, they taste amazing, and are super convenient to make. What else can you ask for?
Value -

8/10

Convenience -

9/10

Taste -

8/10

Nutrition -

10/10

CFDB Score -

8/10
Pros
Tasty
Convenient
Good nutritional profile
Cons
Average value
A touch too creamy
Egg Bite Bacon & Cheese - Nutrition
Three Bridges Egg Bites make for a quick, easy, and healthy breakfast. Here are the macronutrients for the Egg Bites from Costco. Each serving will consist of two egg bites.
Costco Egg Bite Nutrition

Item
Calories
Fat
Carbs
Protein
Cheese & Uncured Bacon Egg Bites
310
25 grams
2 grams
20 grams
Spinach & Bell Pepper Egg Whites Egg Bites
220
16 grams
7 grams
15 grams
The Spinach Bell Pepper Egg White Bites are the lower calorie and lower fat option coming in at 220 calories and 16 grams of fat. The Cheese and bacon Egg Bites are not unhealthy, but will contain more calories and a moderate amount of fat per serving.
Which Egg Bite is Better For Weight Loss?
If the goal is weight loss, then go with the Egg Bites made with Egg Whites and Spinach and Bell Pepper. 
If you are looking for a tasty and filling breakfast option, then the Cheese and Uncured Bacon Egg Bites will be the pick for you.
I love the Egg Bites from Costco! They are a little on the pricier side for a breakfast food, but the taste is there and these more than do the job. 

Surprisingly, these two little mini muffin sized Egg Bites kept me full and I really don't have any major complaints about them. These are a Costco winner.