Costco Fresh Mozzarella Cheese - Amazing Flavor!
Kirkland Signature Fresh Mozzarella Cheese at Costco
Costco sells 36 ounces of Kirkland Signature Fresh Mozzarella Cheese for $7.99. The fresh mozzarella cheese can be found in Costco's deli area near the other cheeses or items such as the spinach and cheese ravioli, garlic and cheese herb bread, and the quiche.
Each package of Costco Mozzarella contains two 18-ounce pre-sliced logs of Fresh Mozzarella. No whitening agents are added, and the mozzarella is produced without artificial growth hormones (rBST).
Kirkland Signature Fresh Mozzarella Cheese is made in the USA and is pre-sliced for convenience.
Have You Tried The Costco Fresh Mozzarella?
Let the rest of the Costco Food Database community know what you thought of this product. Results and reviews are at the bottom of this page.
Please allow 24 hours for review moderation and approval.
Mozzarella is a popular Italian cheese with a delicate and milky flavor and is unlike other cheeses for a few reasons. 
First, Mozzarella is eaten very quickly after it is made and isn't aged like other cheeses. Mozzarella is also one of the healthier cheeses due to its low fat and sodium content.
Typically Costco and Kirkland Signature are pretty good about their packaging, but one issue with this Fresh Costco Mozzarella is that the 2 pack tears apart extremely easily. 
I hate to admit this, but when I went to grab the pack of mozzarella, I accidentally tore the tear away dotted line and separated one Mozzarella log from the other. I felt terrible but then noticed there were multiple other "single" Mozzarella logs lying around in the box.
I did some testing at home with my Mozzarella pack, and it is extremely easy to tear, and this seems to be an issue with the mozzarella packaging. 
When you buy this, make sure you grab two full mozzarella logs and not just one of the 18-ounce packages.
Other Mozzarella Options at Costco
Mozzarella cheese is a fan favorite, and Costco carries wide varieties of it. In addition to this Kirkland Signature Fresh Mozzarella Cheese, Costco also sells Galbani Marinated Mozzarella (40 oz for $12.99) and BelGioioso Fresh Mozzarella Snacking Cheese (24 oz for $10.49). 
Outside of the fresh mozzarella, Costco also has their Kirkland Signature Shredded Mozzarella, String Cheese, and Frozen Mozzarella Sticks.
How Much Does Costco's Fresh Mozzarella Cost?
The 36-ounce twin pack of Costco Mozzarella sells for $7.99 or $4 per 18-ounce log. On a per-pound basis, this is $3.35 per pound, which is a fair price for Mozzarella.
This is also one of the least expensive cheeses at Costco.
Costco Vs. The Competition
Sam's Club sells a 32-ounce pack of BelGioioso Pre-Sliced Fresh Mozzarella for $8.68 or $4.34 per pound. 
This is more expensive than Costco's price, but it is the brand that many people consider to be at the top of the industry. Is the extra $0.80 a pound worth it?
Fresh Mozzarella Taste Test
I'm a big fan of Mozzarella Cheese, and Costco's fresh Mozzarella doesn't disappoint. The cheese is soft, moist, milky, and savory. It tastes incredibly fresh and has an amazing flavor.
My wife and I loved it on our homemade pizza, as fresh mozzarella always turns a mundane pizza into a gourmet masterpiece. The cheese was perfect, and does anything really beat a nice stretchy piece of mozzarella on a slice of pizza?
Pro Tip: If you do bake the Costco mozzarella cheese it is recommended to pat the slices dry before use.
Ultra Flavorful Sandwiches
We also enjoyed the fresh Costco mozzarella cheese on a classic prosciutto sandwich. 
The Mozzarella balances out the saltiness of the prosciutto and goes so well with the fresh flavors of the tomato and argula. The sandwich was an absolute treat.
Have a Plan For The Mozzarella
You can't go wrong with Costco's mozzarella cheese, but be sure to have a plan for it. My Mozzarella cheese has a use by date that was about a month after I bought it, but once opened, the mozzarella should be used within 5 days!
Costco Fresh Mozzarella Nutrition and Calories
One serving of the Kirkland Signature Fresh Mozzarella is 1 pre-sliced portion (1 ounce) and will have the following nutritional information:
Calories:

70

Total Fat:

5g (7% DV)

Cholesterol:

15mg (6% DV)

Sodium:

100mg (4% DV)

Total Carbohydrate:

0g (0%DV)

Protein:

5g (10% DV)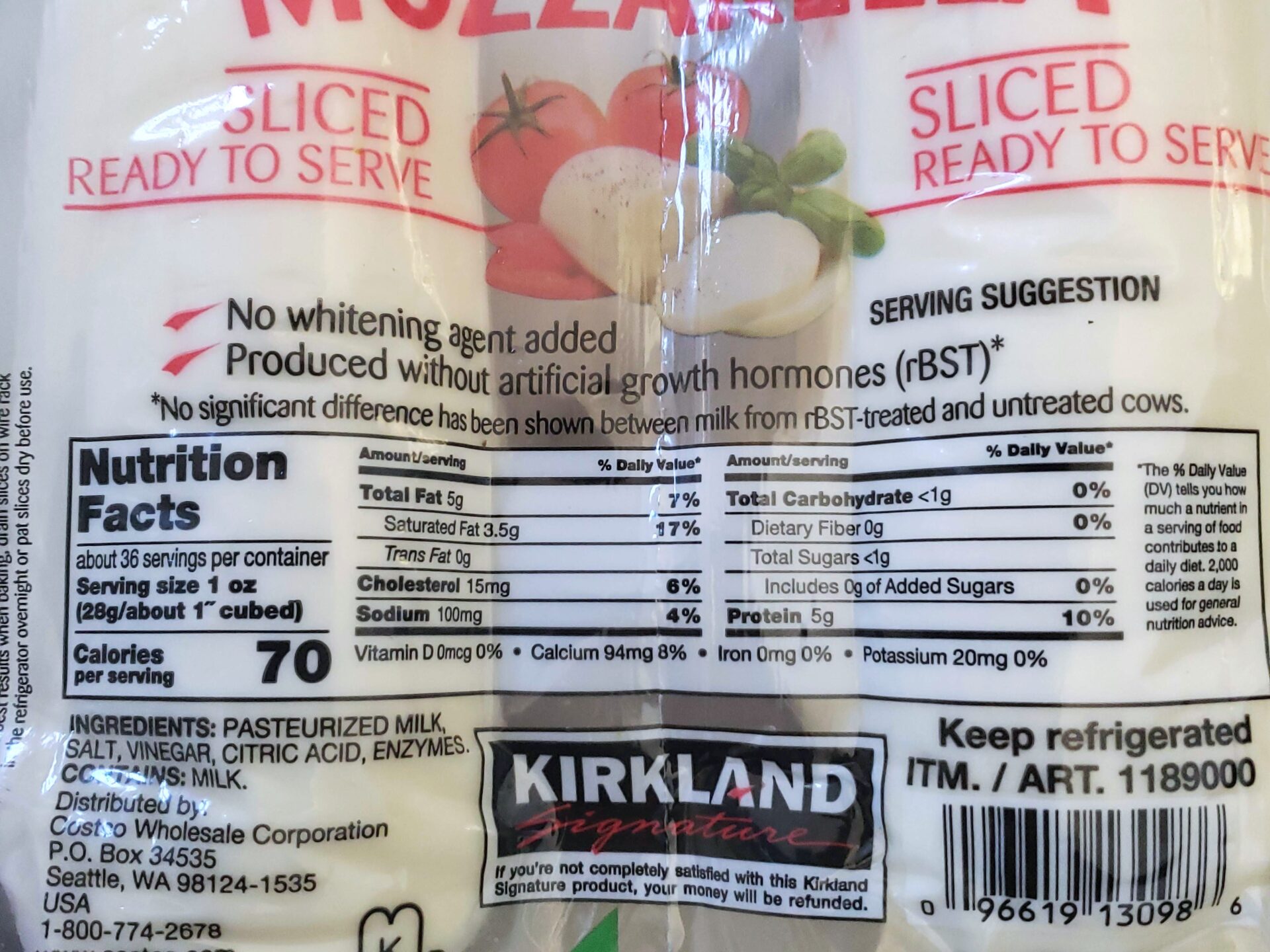 This is an excellent nutritional profile for cheese. The Mozzarella's Fat and Protein content is exceptional, and it is one of the healthier cheeses to eat. 
For reference, 1 ounce of cheddar cheese will contain 114 calories, and 1 ounce of parmesan cheese will have 122 calories. Mozzarella has nearly 60% fewer calories than other famous cheeses.
Costco Food Database User Reviews
Have you tried this item? Let the rest of the Costco Food Database community know what you think. Leave a rating and review for this product.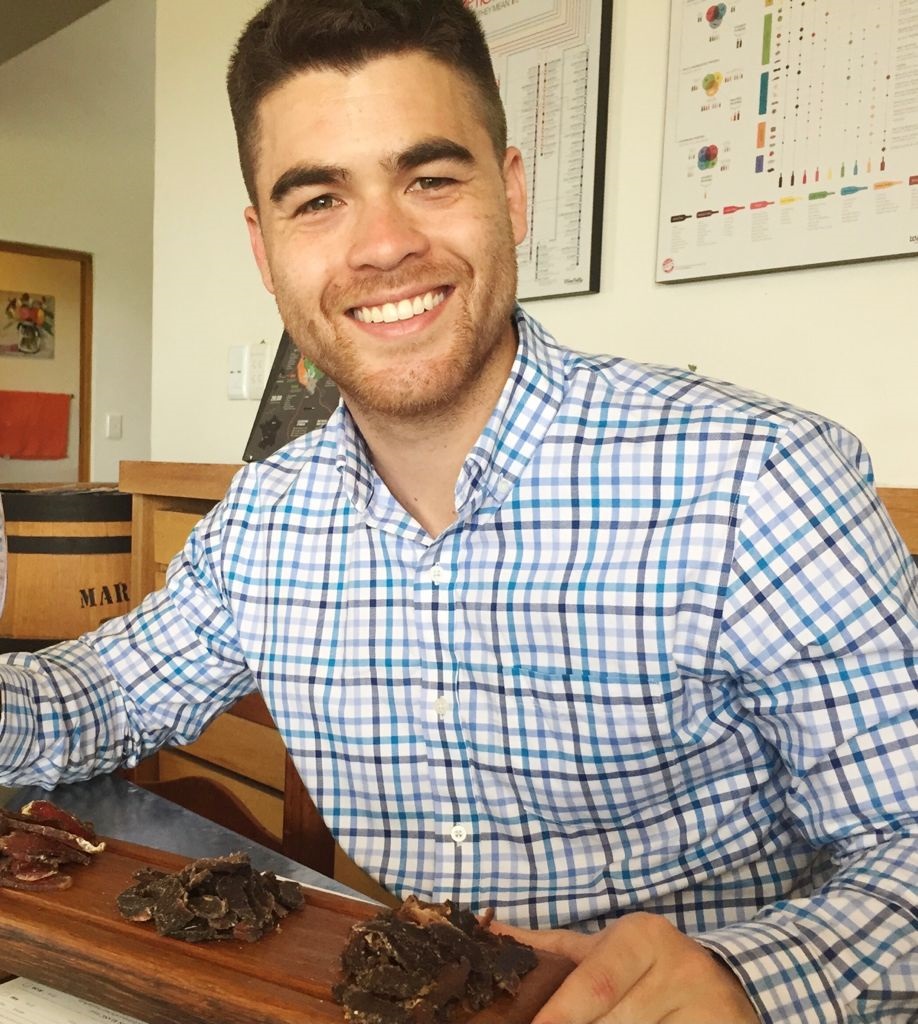 Greg Larkin is the founder and managing editor of Costco Food Database, the premiere site for honest takes on all things Costco food. A self-proclaimed Costco super-fan since childhood, Greg turned his obsession in a mission to properly rate and review all of Costco's delicious buys. When he's not busy navigating Costco aisles, you can find Greg smoking Kirkland Signature meats, meal prepping, or perfecting his homemade jerky recipes.