Costco Pizza (Frozen) - Kirkland Pepperoni + Cooking Instructions!
Costco has a large selection of frozen pizzas ranging from your run of the mill pepperoni pizza to Detroit style pizza and cauliflower crust pizza. But today, I'll be taking a look at the Costco's classic Kirkland Signature Frozen Pepperoni Pizza.

In This Article I will discuss:

Costco Value
Taste Test
Cooking Instructions
Taste Improvement Tips
Nutrition and Calories
Kirkland Signature Frozen pepperoni pizza at Costco
Costco sells their 4 pack of frozen pepperoni pizza for $13.49, and these can be found in the frozen food section of the warehouse near the other pizzas such as the gluten free pizza or the mini personal pizzas. 
These pizzas cost $3.37 each which is on par for what you would pay for a frozen pizza from a typical grocery store. Maybe a little less, maybe a little more depending on the quality of the frozen pizza.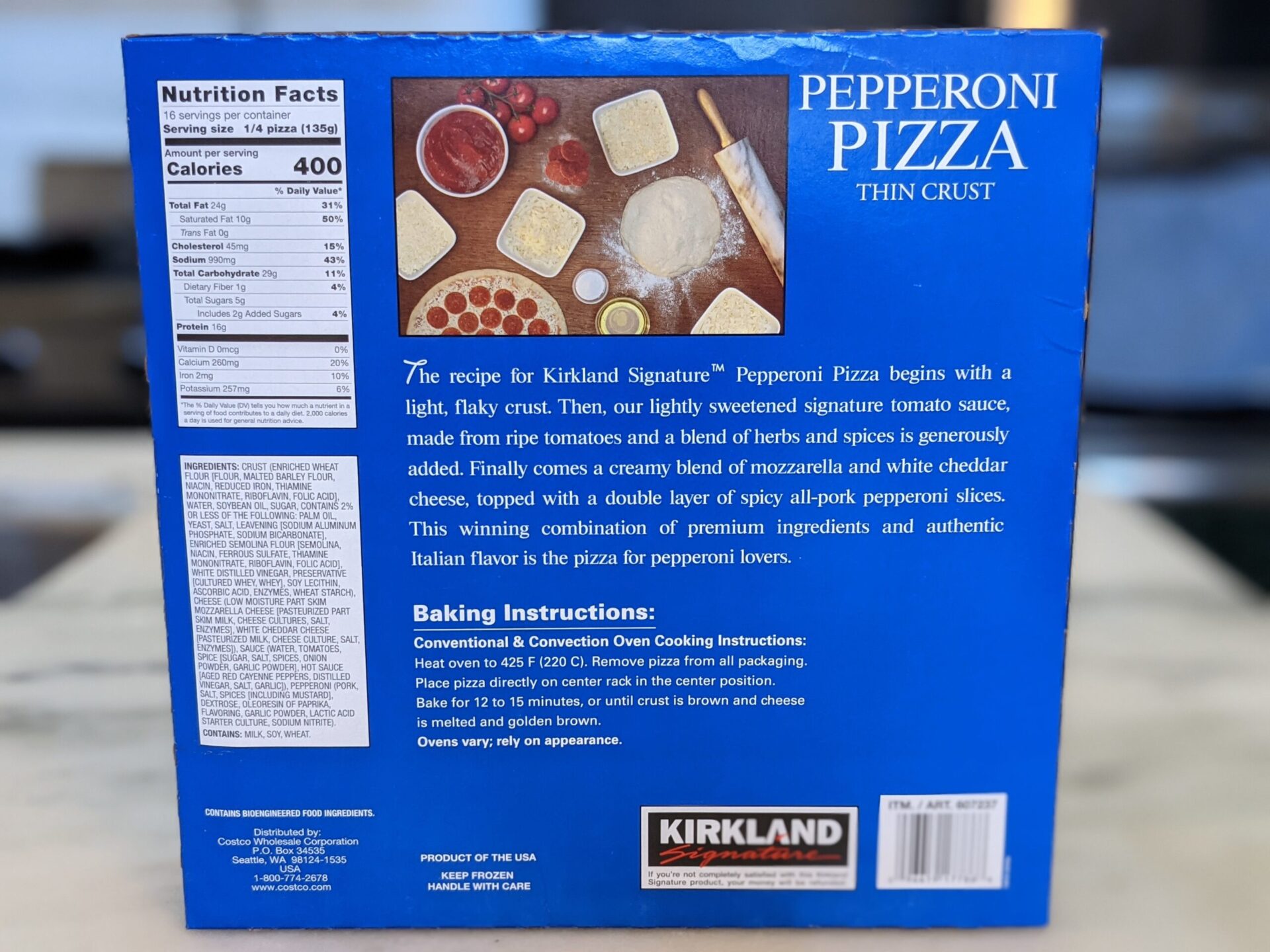 Each Kirkland Signature frozen Pepperoni Pizza is made with a light flaky crust and then topped with their lightly sweetened tomato sauce made from ripe tomatoes and their secret blend of herbs and spices. 
Then it's topped with creamy mozzarella and white cheddar cheese as well as a double layer of spicy all-pork pepperoni.
One interesting thing about these pepperoni pizzas is that there is very little marketing on the box for these. The box simply says Pepperoni Pizza Thin Crust – 100% Real Cheese and a picture of a pepperoni pizza that takes up 75% of the box.
I guess if you have a winning product, then it will sell itself and you can keep the buzzwords to a minimum.
Costco Frozen Pizza Taste Test
This is one of the few reviews that I have done from Costco where the item actually looks like the picture on the box. Generally, what you see on the box is the very very best the product or item can be. 
In this case, it's not hard to take these frozen pizzas and make them the very best they can be. I simply followed the cooking instructions and took the pepperoni pizza out when the cheese was melted and slightly golden brown. The results were very good.
The second factor that made the pizza look just like the picture on the box is the amount of pepperoni. Again, the packaging can be misleading, but in this case, you really do get that much pepperoni. 
The pepperoni on this pizza is abundant, and the pizza is literally covered with pepperoni. Many of them are even overlapping! Costco has delivered with these pizzas. 
If I were to have one complaint, it would be the amount of oil that was present when I finished baking this frozen pizza.
The pepperoni's glistened with oil. Normally, I don't mind a little bit of excess oil, but with these Costco pizzas, I had to take a paper towel and pat them down.
Standard Frozen Pizza Taste
For taste, the cheese and pepperoni are about what you would expect. I thought the pepperoni was delicious. I didn't find it spicy at all, but it was a higher quality pepperoni than most other frozen pizza companies. 
I wouldn't be surprised if this pepperoni was actually used in pizza shops. It was good and the star of the pizza.
The cheese was more typical of that of a frozen pizza. When melted, the cheese was extremely easy to pull off and separate from the pizza – I'm not a fan of that. 
When you take a bite of this pizza, the cheese won't stretch and pull, but instead will separate from the sauce and you could potentially pull all the cheese off your slice of pizza with one bite.
The Thin Crust Was Decent
The crust was above average, but it was still a dead giveaway that this was a frozen pizza. I didn't find it to be a positive or a negative. It tasted less cardboard-y than other frozen pizzas, but it's not a pizza that you share with true pizza lovers. 
The crust was thin as advertised but also bland. It was simply there to deliver the cheese and pepperoni to my mouth. 
The pizza as a whole is good, not great. For $3 and change, I don't think you can find a significantly better pizza, but you can definitely find a significantly worse pizza.
Costco Pepperoni Pizza Heating Instructions
How to Cook Costco Frozen Pizza
The box lists only one heating method for these frozen pepperoni pizzas and that is to bake them in the oven. Oven baking the Costco pizza is going to be the best option, but you can also air fry them if you have a oven style air fryer. I will provide both cooking instructions below.

Need Cooking Instructions for a different pizza? All 7 of Costco's Frozen Pizza Cooking Instructions.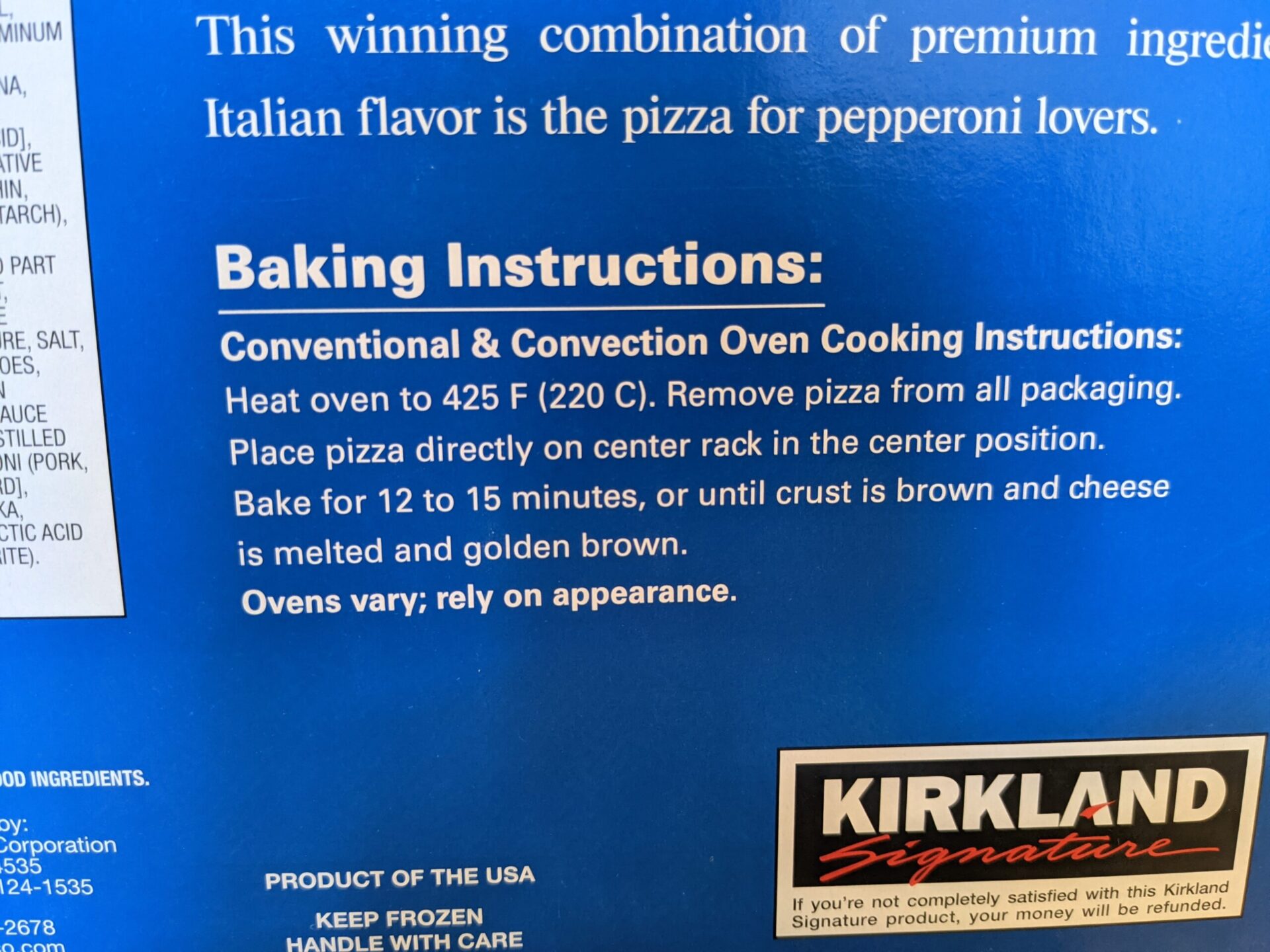 Costco Frozen Pepperoni Pizza Instructions - Conventional Oven
Preheat Conventional Oven to 425°F

Line baking pan with foil and spray with cooking oil.

Place pizza on pan and place pan directly on center rack in the center position.

Bake for 12 to 15 minutes, or until crust is brown and cheese is melted and golden brown.
Of course, all ovens will vary slightly. After 12-15 minutes, rely on appearance to determine if the pizza is done. You should be looking for the crust to be brown and the cheese to be melted
Costco Pepperoni Pizza Convection Oven Instructions
These are not official cooking instructions for this Costco pizza, but they should work just fine and cook the pizza a little quicker. The pizza may also develop a more toasted and delicious crust. 
Preheat Convection Oven to 425°F
Line baking pan with foil and spray with cooking oil. 

Place frozen pizza on pan and place pan directly on center rack in the center position.

Bake for 11 to 14 minutes, or until crust is brown and cheese is melted and golden brown. 
Again, ovens will vary, so determine doneness of the pizza by appearance. 
Costco Frozen Pizza Air Fryer Instructions
The Air Fryer will be my favorite way to heat these Costco frozen pizzas. It will be extremely fast, and the food will be hot and crispy. 
Preheat Air Fryer to 400°F
Place frozen pepperoni pizza in the air fryer 
Heat for 8-11 minutes or until cheese and crust are both golden brown. 
This shouldn't have to be said, but no need to shake the pizza or flip the pizza when its in the air fryer. 
Costco Frozen Pepperoni Pizza Nutritional Information
How Many Calories in Costco's Frozen Pizza?
Kirkland Signature suggests that a serving of pizza is one quarter of a pizza. Each Costco Pizza will have the following nutritional information:
Serving Size:

1/4 Pizza (135g)

Calories:

400

Total Fat:

24g (31% DV)

Cholesterol:

45mg (15% DV)

Sodium:

990mg (43% DV)

Total Carbohydrates:

29g (11% DV)

Dietary Fiber:

1g (4% DV)

Total Sugars:

5g

Added Sugars:

2g (4% DV)

Protein:

16g
 I personally will eat a minimum of 3 servings (3 quarters of a pizza) and I would say that the recommended one quarter of a pizza is on the smaller end.
It is pizza, so the nutritional information isn't too surprising. This isn't meant to be a healthy food to eat, instead it's a quick and delicious snack or meal. The sodium is astronomically high so eat in moderation and stay hydrated with your favorite sparkling water.
Like most frozen foods, the sodium is going to be high. For one serving, there is 990 mg of sodium which is 43% of the Daily Value. This is an extremely high amount for only one-quarter of a pizza.
I ate the entire Costco frozen pizza and I consumed almost 4000 mg of sodium and nearly 175% of my recommended daily value. Whoopsies.
Costco Frozen Pepperoni Pizza
Product Name: Kirkland Signature Pepperoni Pizza
Product Description:
Price: $13.49
Quantity: 4 Pizzas
Location Within Costco: Frozen Food Aisles
Price Per Pizza: $3.37
Summary
The pepperoni is very good and one of the best all-around pizzas in the $3 range. Not a bad pepperoni pizza by any means, but still a frozen pizza with a frozen pizza crust. It's a very enjoyable pizza for what it is.
Value -

8/10

Convenience -

8/10

Taste -

7/10

Nutrition -

5/10

CFDB Score -

5/10
Pros
Lots of good quality pepperoni
Priced fairly
Cons
Still a frozen pizza
Don't look at the nutritional label
Overall, this frozen pizza from Costco is above average. It's a very fair price of $3.37 per pizza, but I wouldn't pay much more than that. Personally, I purchase this 4 pack of Costco pizza, maybe 3-4 times a year. 
It's a great product to have on hand in case of a dinner emergency. It's not a replacement for a delivery pizza, but for a quick and easy weeknight meal, it gets the job done.