Costco Guacamole Cups - Full Comparison + Review (Organic)
Kirkland Signature Guacamole Cups at Costco
Costco sells a 16 pack of Kirkland Signature Guacamole Cups for $17.49. The guacamole can be found in the refrigerated deli area of the warehouse near other items such as the street corn dip, hummus, and pesto.
The guacamole cups are also served in Costco's prepared meal chicken quesadilla kit.
Have You Tried Costco's Guacamole Cups?
Let the rest of the Costco Food Database community know what you thought of this product. Results and reviews are at the bottom of this page.
Please allow 24 hours for review moderation and approval.
Whats Included in Costco's Guacamole Cups?
I think that Costco does a great job with guacamole cups by keeping the ingredients organic, simple, and true to traditional Mexican cuisine. 
The guacamole cups will include Hass avocados, tomatoes, onions, red onions, lime juice, cilantro, garlic, sea salt, and jalapeno peppers.  
The Costco guacamole uses only hand scooped hass avocados and has no artificial colors or flavors. Each cup contains 2.5 ounces of guacamole.
How Long Do The Guacamole Cups Last
These cups are pre-portioned and designed for individual servings over an extended period of time, and my package of the Kirkland Guacamole Cups has a best by date of about 2 months from the date that I purchased them. 
I love guacamole and consider it a treat so I'm not going to have any trouble finishing the 16 individual guacamole cups or 2.5 pounds worth of guacamole before they go bad. 
How Much Do The Guacamole Cups Cost at Costco?
The 16 pack of Kirkland Signature Guacamole Cups go for $17.49 and each of the 2.5 ounce cups will cost $1.09. The per pound price for Kirkland Signature Guacamole is $6.99.
I consider this to be an average price for guacamole, but the big selling point here will be the convenience and the pre-portioned cups. 
If I were to purchase a large tub of guacamole, I would be compelled to eat it quickly to prevent the guacamole from turning brown and going bad. These cups eliminate that problem and allow me to eat the guacamole at my own pace. 
Costco Guacamole Alternatives - Wholly Avocado
Costco sells 16 Wholly Avocado Cups for $12.79. Each cup contains 2 ounces of avocado and will cost $0.80. Wholly Avocado Cups cost $6.40 per pound.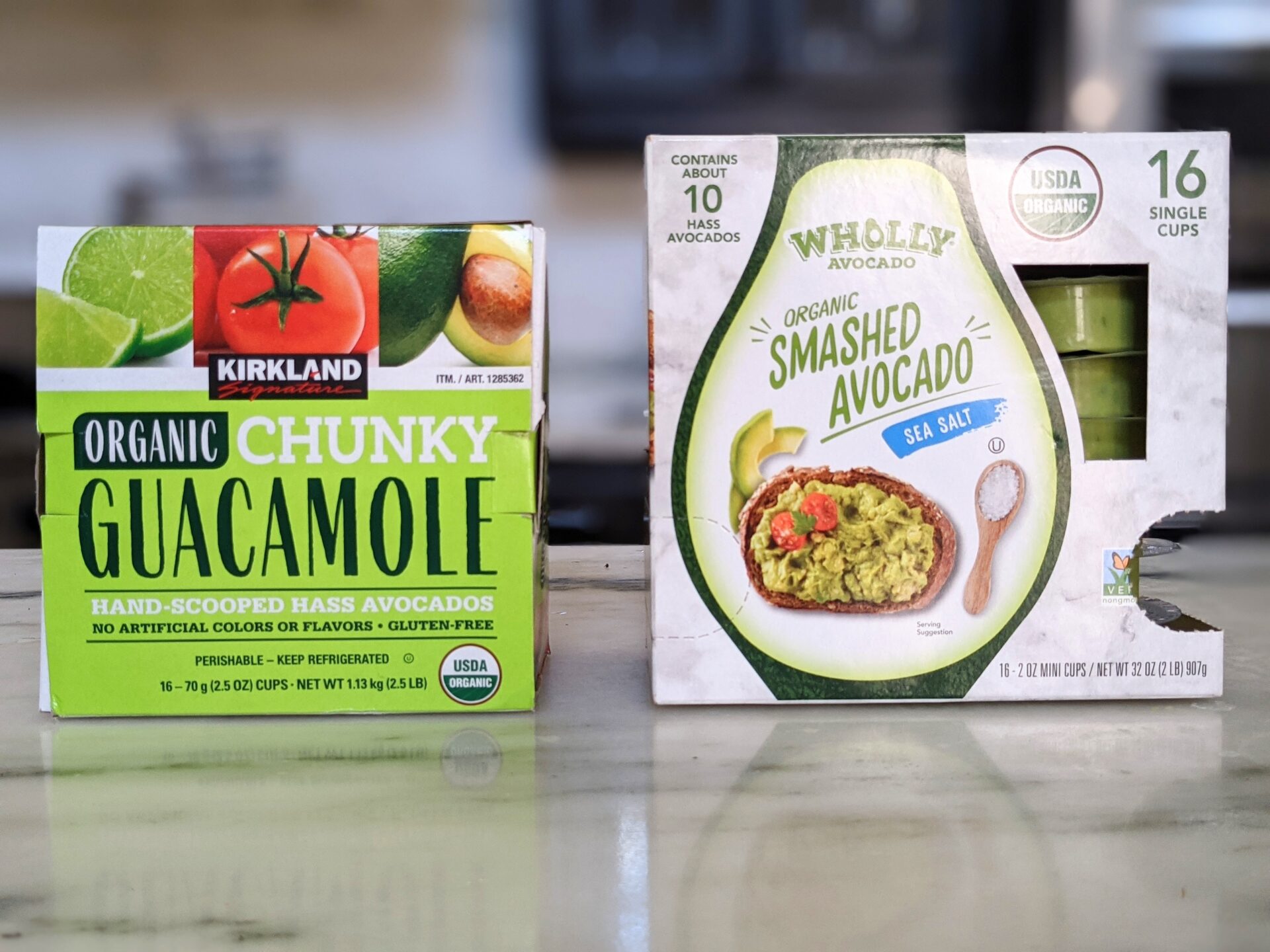 This is a better price than Kirkland Signature's price, but the Wholly Avocado Cups contain just smashed avocado and sea salt instead of real traditional guacamole.
I do taste test and compare the two avocado options below.
Costco Chunky Guacamole Cups - Taste Test
Visually, Costco guacamole looks very good. This is a chunky guacamole and I can easily spot mini pieces of avocado floating throughout as well as an abundant amount of cilantro and tomato pieces.
The green color could be a little more vibrant but this isn't enough to detract from the guacamole.
Smells Fresh and Fantastic
One of the first things I noticed, was how great and fresh the guacamole smelled considering it's been packed and stored in a little cup. 
There is still a very strong and pleasant avocado smell.
Eaten with Costco's Cilantro Lime Shrimp 
The texture is great and gives it a homemade feel. The chunks of avocado as well as tomato are very much appreciated. 
If a guacamole doesn't have pieces of avocado or other vegetables it can feel more like a puree which isn't the desired texture.
I really enjoyed the guacamole cups and there is a lot of flavor in each bite. I could easily taste the ingredients of onion, tomato, garlic, and jalapeno all come together. Costco really over delivered with this guacamole.
There is a very very slight kick from the jalapeno which is also a great addition and perfect for a guacamole.
Overall, these Kirkland Guacamole Cups are a winner. The flavor is excellent for a pre-portioned on-the-go cup and is still a very high quality and amazing tasting guacamole as a whole. 
These are fantastic and very enjoyable!
Kirkland Signature Guacamole Cups vs Wholly Avocado Cups
There are two options of guacamole or avocado cups at Costco, the Kirkland Signature Guacamole Cups and the Wholly Avocado Cups.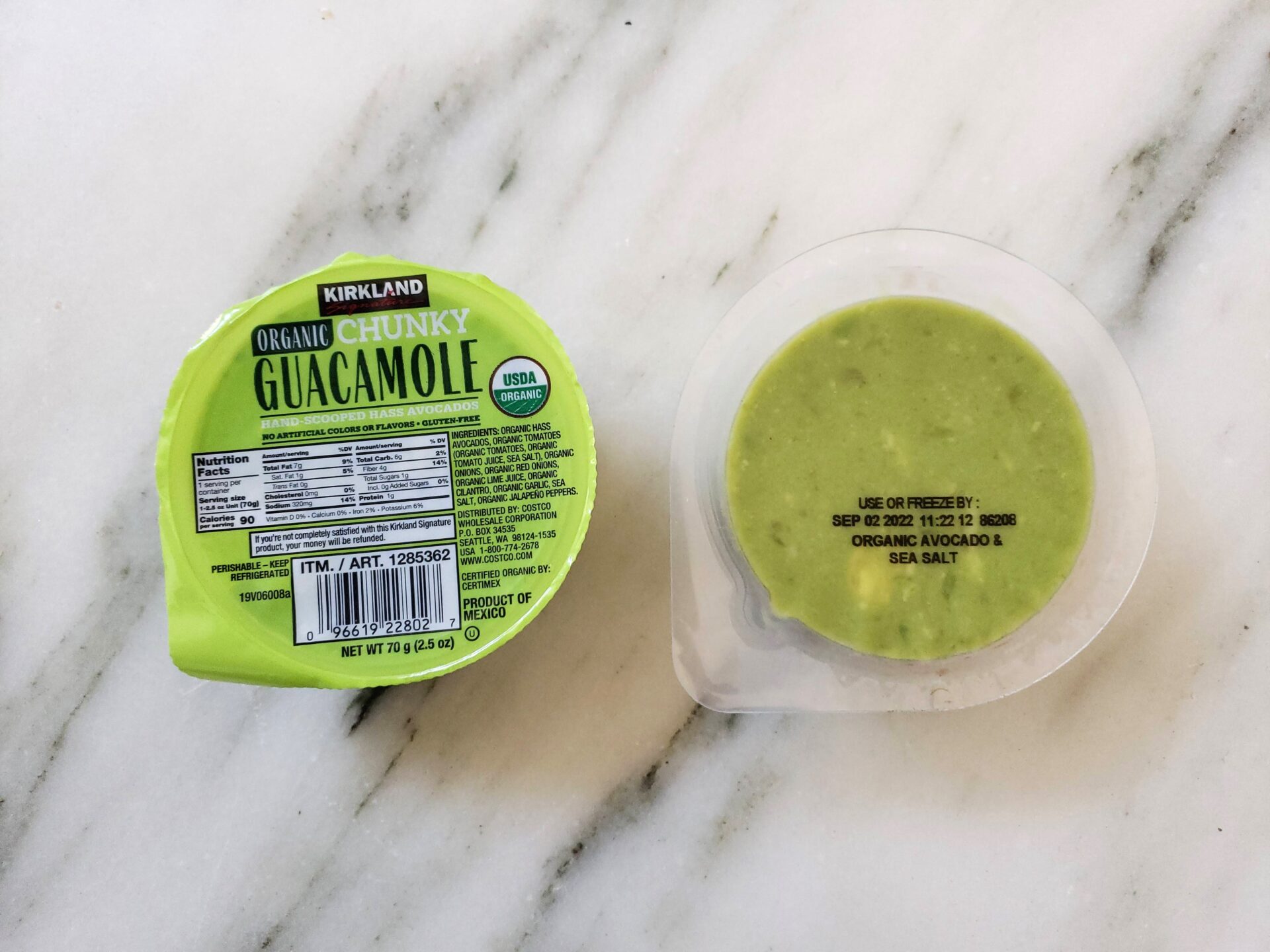 Before I get into the product info and price comparison, I do need to point out that Wholly Guacamole's Cups are made with just avocado and sea salt and technically are smashed avocado instead of guacamole.
The Kirkland Signature cups will contain additional ingredients such as onion, tomato, jalapeno, cilantro, and garlic.
Kirkland Signature Guacamole vs Wholly Guacamole

Costco Guacamole Cups
Wholly Avocado Cups
Price
$17.49
$12.79
# of Cups
16
16
Size of Cups
2.5 Ounces
2 Ounces
Price Per Cup
$1.09
$0.80
Wholly Guacamole's Avocado Cups do come out ahead in price, but they are significantly different and lacking in flavor compared to Costco's guacamole cups.
Wholly Guacamole with a Costco Grilled Chicken Burger
The smashed avocado was rather bland, and I didn't enjoy it nearly as much as I did the guacamole. They would be great if I wanted to add a little bit of creaminess to my food, but they don't pack a lot of flavor that is going to transform and elevate the meal.
I'm a much bigger fan of the Kirkland Guacamole as it is bursting with flavor and can be a great addition to a large variety of foods.
Guacamole Serving Suggestions
These mini guacamole cups are super convenient, appropriately sized, and go great with a variety of food items.
My favorite use is as a more affordable guacamole option for Chipotle meals. I hate paying extra for guacamole from Chipotle, so it's nice to open one or two of these packs at home for a less guilt inducing splurge.
The guacamole is also great to keep on hand to use with tortilla chips, on taco night, on burgers, and to throw in salads. Their proportions are perfect and really can be a nice addition to a variety of meals. Usually, one 2.5-ounce cup of the Kirkland Signature Guacamole is enough to satisfy.
My favorite Costco meals to use the guacamole cups would be the mini tacos, pre-packaged arrachera tacos, and the chicken burgers.
Costco Guacamole Cup Nutritional Information
How Many Calories in Costco's Guacamole?
One serving of Costco guacamole is going to be one cup. Each cup will have 2.5 ounces of guacamole and contain only 90 calories. Those 90 calories come from 7 grams of fat, 6 grams of carbs (4 grams of fiber), and 1 gram of protein.
Benefits of Avocados - Healthy Fats
I can understand how looking at this nutritional profile and seeing the 90 calories and 7 grams of fat per cup could be a turn off of these guacamole cups from Costco, but really they are quite healthy.
There are plenty of benefits to eating avocados which include taking in the great fats that avocados contain.
Avocados are a great source of monounsaturated fats which excel at lowering bad LDL cholesterol without affecting good HDL cholesterol.
According to Harvard Health, eating just two servings of avocados a week can lower cardiovascular disease by 16% and reduce heart attacks by 21%.
Very rarely do good tasting foods also provide great health benefits.
Additional Avocado Benefits
In addition to improving cardiovascular health, avocados are a great source of vitamins and nutrients. 
Avocados and in turn, guacamole, are great sources of vitamin C, E, K, and B6. Riboflavin, folate, magnesium, and potassium are also heavily present in guacamole.
Is Guacamole a Good Diet Food?
Believe it or not, while guacamole is high in calories and fats, it is also a solid food to eat on a diet. The fat in the guacamole helps keep us full longer which will lead to less overeating. 
Fats are essential even when dieting and there really are many better sources of healthy fats than avocados.
Costco Food Database User Reviews
Have you tried this item? Let the rest of the Costco Food Database community know what you think. Leave a rating and review for this product. 
10 Best Uses for Costco's Guacamole Cups!
Costco's super portable guacamole cups are a fantastic way to bring delicious avocado goodness with you anywhere you go. Here are our 10 favorite uses for Costco's avocado cups.
Ingredients
1

Pack

Costco Guacamole Cups
Instructions
Guacamole Chicken Sandwich
Nutrition
Serving:
1
Cup
Calories:
90
kcal
Carbohydrates:
6
g
Protein:
1
g
Fat:
7
g
Saturated Fat:
1
g
Trans Fat:
0
g
Cholesterol:
0
mg
Sodium:
320
mg
Fiber:
4
g
Sugar:
1
g