Island Way Sorbet in Fruit Shells - Costco + Flavor Ranking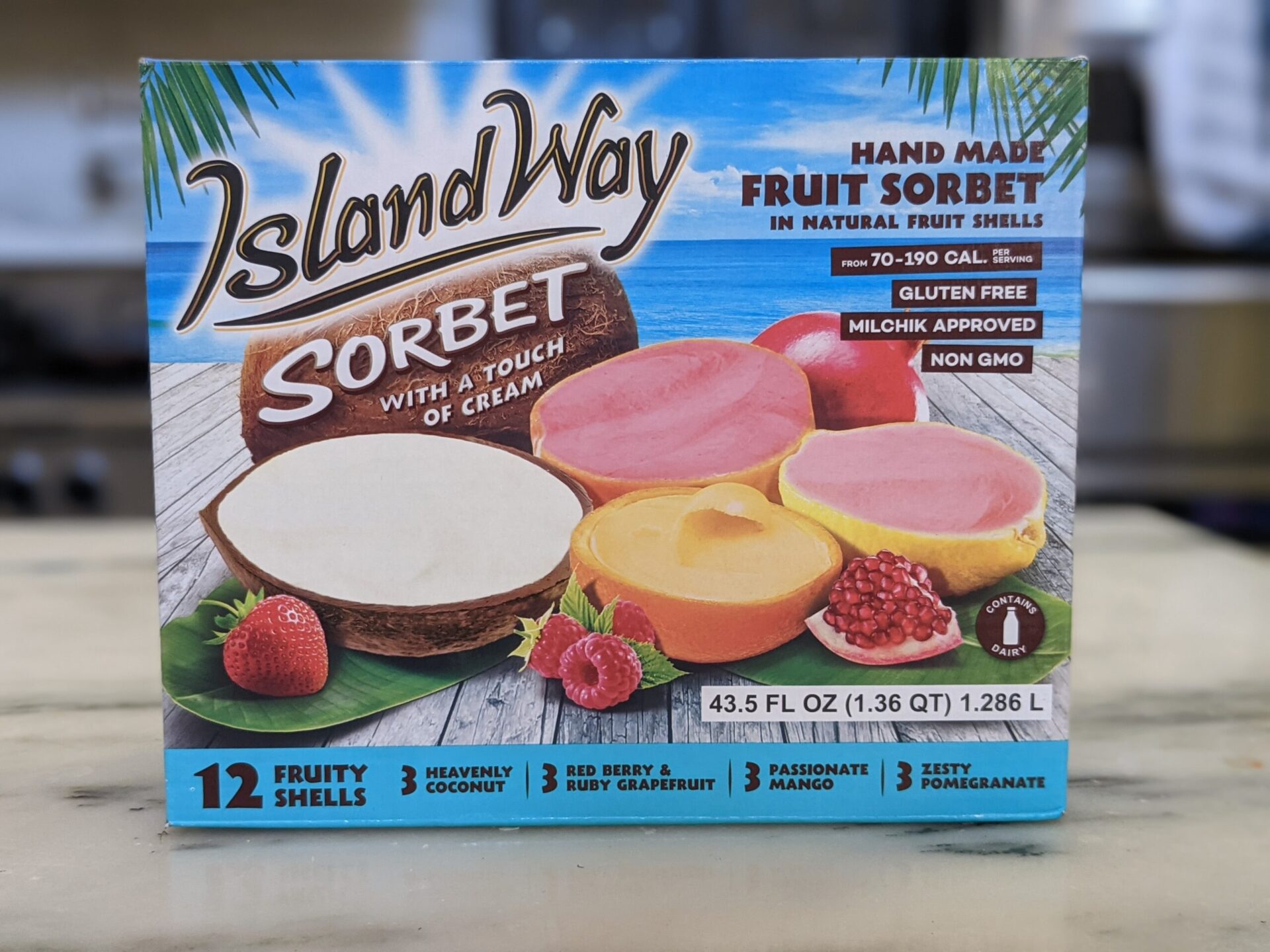 Island Way Sorbet at Costco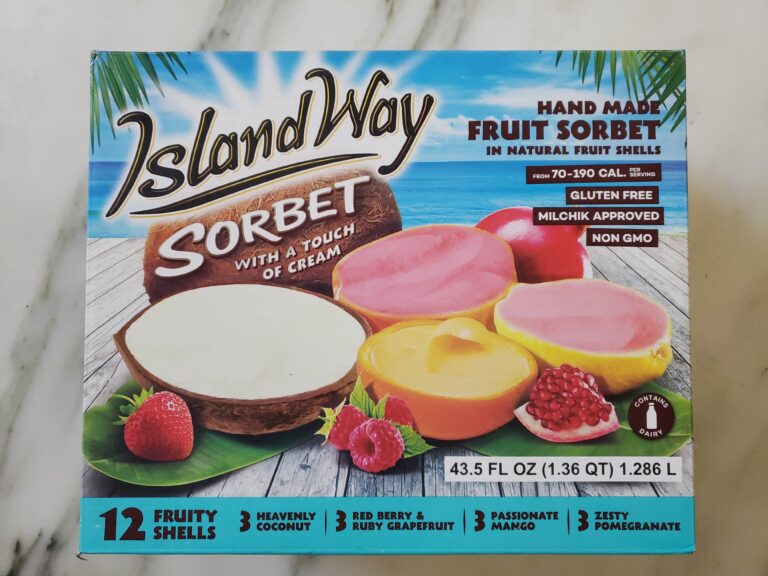 The Island Way Sorbet Fruit Shells from Costco comes in a 12 pack with 4 different flavors: Heavenly Coconut, Red Berry and Ruby Grapefruit, Passionate Mango, and Zesty Pomegranate
Each and Every Sorbet is Hand Cut and Hand Filled
The sorbet is served in various fruit shells such as a coconut, an orange, or a lemon and because of the varying and unique sizes of the fruit, each one will have to be hand cut and then hand filled. 

Nowadays, It's always a nice touch when anything is made by hand, especially when it can't be done or is too costly to be done by machines. Chalk one up for the good guys!
Thing to Note: Not all fruit cups are the same size. The largest ones are the Coconut and Grapefruit flavors at 3.5 ounces+ of sorbet each, while the Mango and pomegranate flavors contain only 2 ounces of sorbet.
Island Way Sorbet - Seasonal Costco Item
Given the nature of the item, these are seasonal and only available in late spring and summer.
Obviously, this makes the most sense, but I would bet these would even sell in the winter time. I know I would be a buyer.
Don't let the name fool you. It appears that Island way is a importer/exporter of gourmet foods that is based in Florida. 
The name Island way combined with the product and the image of these half shells filled with sorbet really led me to believe that this was a Hawaiian product, but that doesn't appear to be the case. 

The most surprising thing is these fruit sorbets shells are actually a product of South Africa.
Costco Cost Comparison - Island Way Sorbet
How much is Island Way Sorbet at Costco?
Island Way Sorbet in Fruit Shells retail for $14.99 at Costco, but can be had on sale for $10.99. This is a huge discount of $4 or 27%.
This breaks down to $1.25 per sorbet fruit shell at retail and only $0.92 when on sale.

Just based on the amount of sorbet and the unique bowl that it is served in, this easily seems to be worth the price tag. 
The sorbets are similarly priced to Costco's Tiramisu cups!
If I saw this at an ice cream truck, I would expect it to sell for at least $4 and I wouldn't be surprised if it went for more.
Costco vs the Competititon
Island Way Fruit Shell Sorbet is only available in limited stores nationwide. Bj's Wholesale sells a 10 pack of Island Way Fruit Sorbet for $12.79 or $1.28 per shell.
This is essentially the same price as Costco's. Smart & Final sells the same 10 pack for $14.99 or $1.50 per sorbet filled shell.
There doesn't seem to be a large discrepancy in price amongst the retailers, but one thing to keep in mind is that it seems the flavors vary depending on the store. 
BJ's and Smart & Final have flavors like pineapple-coconut, mandarin orange, and tangy lemon.
Because retail pricing is fairly similar, your best option might be to pick the store that provides the sorbet flavors that you will most enjoy.
I'm loyal to Costco all the way and will trust that Costco has secured the best flavors for its members.
Island Way Hand Made Fruit Sorbet - Taste Test
There are a lot of foods that I would consider "fun" at Costco, but this one might top the list. 
The Island Way Sorbet is so unique with the hand cut shell that it really does feel like it's transporting me to an island.
Red Berry & Ruby Grapefruit
This sorbet is made from raspberry, strawberry, and passionfruit flavors all contained in a ruby red grapefruit shell. 
The berry flavors mix together very nicely and create a delicious berry blend sorbet.
Between the small amount of grapefruit in the berry sorbet and the grapefruit rind, the grapefruit flavor is present throughout. Very refreshing!
Zesty Pomegranate Lemon Sorbet
Wow! The pomegranate lemonade is spot on. The sorbet has a very nice rose pink color and is in a medium-large size lemon shell. 
The sorbet has a very nice blend of tartness and sweetness and the lemon flavor clearly shines through. 
This one tastes super fresh and I would say its my favorite of the four flavors available at Costco.
Island Way Heavenly Coconut Sorbet
Coconut, the largest of the Island Way Sorbets lives up to its heavenly coconut name. The coconut shell is a nice touch and the sorbet is creamy and so delicious.
The coconut flavor is mild but the sorbet is perfectly sweetened. I'm not even a coconut fan and I dig it.
The passionate mango flavor is the most average of the sorbets. It's not bad, but it is a typical mango flavored sorbet. 
The passionate Mango lacked passion but has a nice balanced flavor with just a touch of sweetness. The orange shell also does provide a little taste of citrus which is pleasant.
Ranking the Sorbet Flavors
These are just my own personal preference rankings, this list will vary by person and by no means is a ranking on which flavor is actually best. 
Pomegranate Lemon

Ruby Grapefruit

Heavenly Coconut

Passionate Mango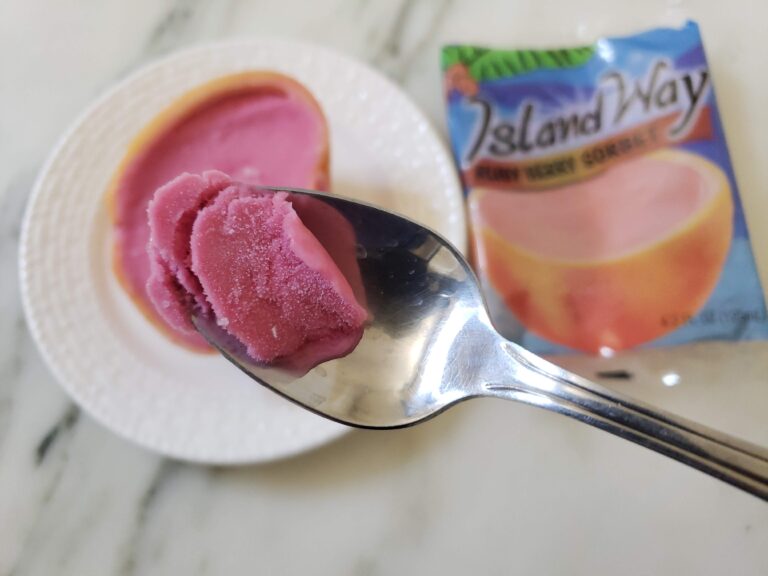 Overall, I really enjoy this little sorbet in a shell treat. The sorbet is creamy and delicious, and they are super fun to eat. I enjoy them, and my kids love them. 
One thing I do wonder about is that maybe this sorbet is actually terrible, but the delight of the shell masks it all. Who really knows?
Either way, at the end of the day, I'm consuming a small amount of calories and having a good time while enjoying this dessert. 
Nutritional Information - Island Way Sorbet Shells
How Many Calories in Island Way Sorbet?
Island Way Sorbet in Fruit Shells has a rather interesting nutritional label. Usually when a product has multiple flavors or varieties, they are all going to have roughly the same amount of calories.
In this case, the calories range from the low end of 70 up to nearly triple that at 190 calories.

I'll start with the lower calorie flavors which are the Passionate Mango, and the Zesty Pomegranate. Each of those shells contain 65 grams (2.3 ounces) of sorbet and 70 calories, with 1 gram of fat, 15 grams of carbs, and 0 grams of protein. Absolutely fantastic nutritional profile for a dessert!
The "Reb" Berry & Ruby Grapefruit shell holds 105 grams (3.7 ounces) and contains 120 calories with 1.5 grams of fat, 26 grams of carbs, and 0 grams of protein. 

The big outlier is going to be the Heavenly Coconut shell which holds 123 grams or 4.3 ounces of sorbet. The sorbet contains 190 calories with 9 grams of fat, 24 grams of carbs, and 3 grams of protein. 
This is both the largest shell of sorbet as well as the shell with the most calories.
Nutritionally, I love the Zesty Pomegranate and Passionate Mango. For over 2 ounces of sorbet, this is a minimal amount of calories. 
Even the Reb/Red Berry & Ruby Grapefruit flavor is tolerable at 120 calories. For reference, each 1.5 ounce Costco Mochi Ice Cream contains 100 calories.
Costco Island Way Sorbet - Fruit Shells Review
Product Name: Island Way Sorbet Fruit Shells
Product Description:
Price: $14.99 Retail / $10.99
Quantity: 12 Count
Location Within Costco: Frozen Food Aisles
Price Per Sorbet Fruit Shell: $1.25 / $0.92
Summary
Plain and simple, these fruit shell sorbets at Costco are a winner. Island Way Sorbet is a seasonal item at Costco, and one that I pick up every year.
The fruit shells are super fun for all ages and the sorbet is pretty darn tasty too. Give these a try on your next Costco trip.
Value -

9/10

Convenience -

10/10

Taste -

8/10

Nutrition -

8/10

CFDB Score -

9/10
Pros
Fun fruit shells
Great nutritional profile for a frozen treat
Flavors are great
Cons
Varying sizes between sorbet flavors
I absolutely love these Island Way Fruit Sorbets from Costco. They are a tasty and unique dessert that is super fun to eat. My daughters love them and it really does feel like a treat when I have one of these sorbets in front of me.
These are a seasonal item that appears only in late spring to summer, and I make sure to get my hands on them every time I see them at Costco. You will like them.