Costco Low Carb Keto Granola - Amazing Taste!
Low Carb Keto Nut Granola at Costco
Costco sells a 22-ounce bag of NuTrail Low Carb Keto Nut Granola Blueberry Cinnamon flavor for $13.99. 
The keto granola can be found in Costco's pantry and dry goods area near other items such as the ancient grains granola, aussie bites, and the keto crackers.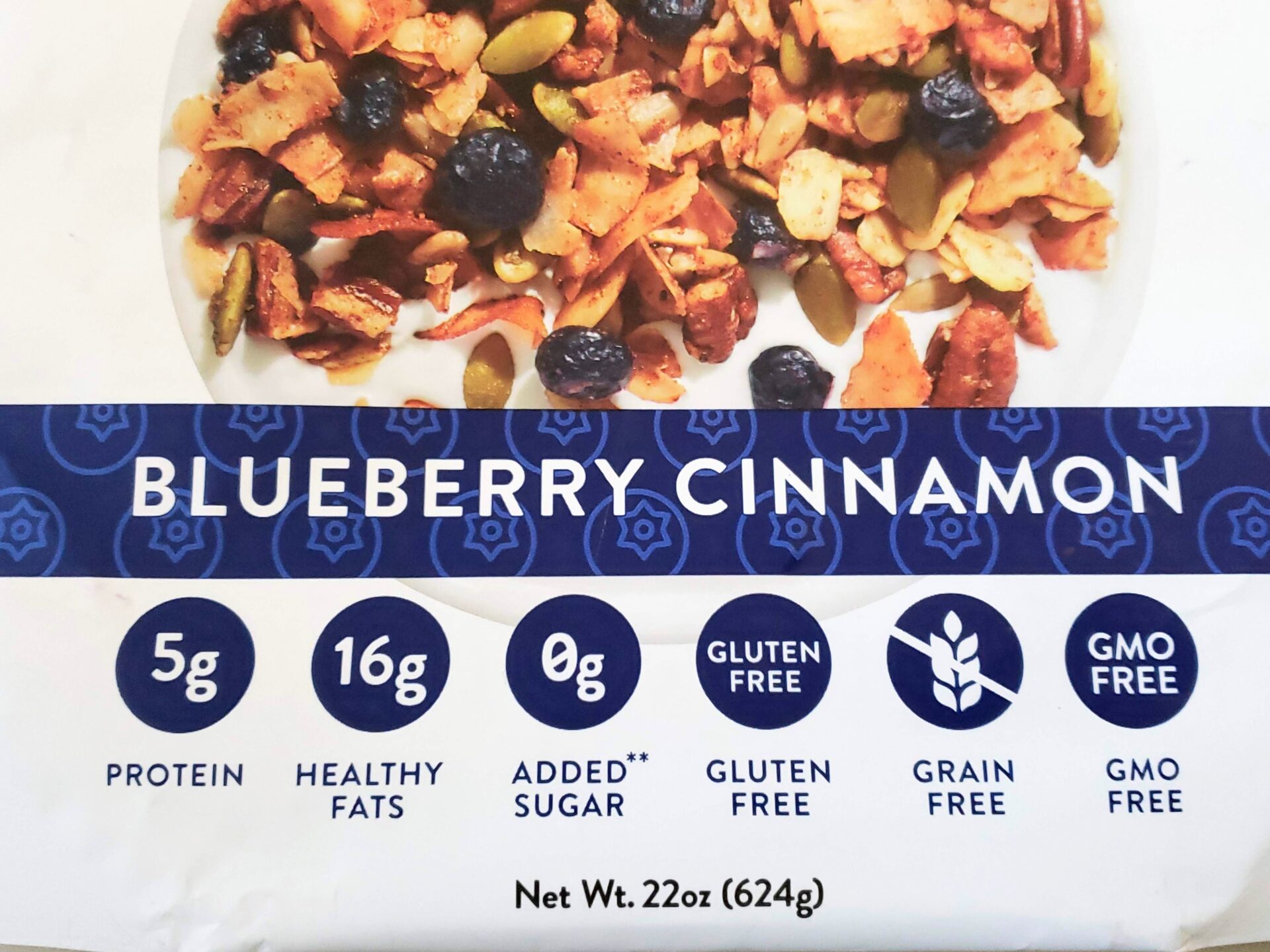 Costco's blueberry cinnamon keto granola is gluten-free, grain-free, and GMO-free and will contain 5 grams of protein, 16 grams of healthy fats, 0 grams of added sugar.
Have You Tried Costco Keto Granola?
Let the rest of the Costco Food Database community know what you thought of this product. Results and reviews are at the bottom of this page.
Please allow 24 hours for review moderation and approval.
What's Included in the Costco Keto Granola?
Costco's low carb keto granola will be made with sunflower seeds, pumpkin seeds, coconut chips, almonds, pecans, dried blueberries and all covered in cinnamon. 
Only 1 Flavor Option at Costco
Costco only carries the blueberry cinnamon keto granola flavor. Nutrail.com will have additional flavors such as: 
Cinnamon Pecan

Vanilla Strawberry

Vanilla Raspberry

Cacao

Birthday Cake
How Much Is Costco Keto Granola?
22 ounces of the Low carb granola sells for $13.99 or $10.17 per pound. 
I was able to pick up the bag of keto granola from Costco when they were on sale for $9.99 or $4 off. This massive discount of 28% brings the price per pound down to $7.27.
This is a solid price for keto granola, as most keto options are quite a bit more expensive than their non-keto counterparts. 
For example, Costco's ancient grain granola can be had for as low as $2.95 a pound.
Costco Vs. The Competition
Sam's Club sells 22 ounces of Nutrail Keto Nut Granola Chocolate Cupcake Flavor for $13.98, the same price as Costco. Sam's Club carries the Chocolate Cupcake flavor and Cinnamon Pecan flavor. 
Nutrail.com sells 11 ounces of the Keto granola for $12.99 or $18.90 a pound. This is significantly more expensive than Costco but all the flavors are available.
Keto Nut Granola (Blueberry Cinnamon)- Taste Test
Usually, the keto version of items can be hit or miss, but I have to say that I am blown away by this keto nut granola. 
The flavor is impressive without being overly sweet, and I never would have known that this was a low carb granola.
The combination of seeds and sliced nuts is amazing, and the dehydrated blueberries are a very nice touch. If anything, I would have liked a few more blueberries, but that is just a minor complaint.
The cinnamon made every bite enjoyable, and honestly, I couldn't stop eating the granola. It was so good that I would grab handfuls when I wasn't even hungry. 
This is excellent granola and a great buy for those on a keto diet.
I also very much enjoyed eating the low-carb granola with some Costco greek yogurt and frozen berries. Not exactly a low-carb keto meal, but keeping carbohydrates to a minimum is always great with any type of dessert. 
How To Serve The Keto Granola
The keto granola is incredible, and my favorite way of eating it was just straight from the bag. It is very easy to eat by the handful.
Nutrail also recommends eating the granola with Almond Milk or Coconut milk to keep the carbs down. 
If strictly adhering to a keto diet isn't the main concern, then you can add some regular cow milk for a healthy breakfast cereal.
Costco Keto Nut Granola Nutrition and Calories
Nutrail Keto Nut Granola Calories
The whole purpose of this granola is the low carbs. One serving of the Costco keto granola is ⅓ cup, and each serving will have the following nutritional information:
Calories: 190

Total Fat: 16g (21% DV)

Saturated Fat: 5.6g (28%)

Polyunsaturated Fat: 4.6g

Monounsaturated Fat 5.5g

Cholesterol: 5mg (2%)

Sodium: 30mg (4%)

Total Carbohydrates: 11g (4%)

Dietary Fiber: 4g (14%)

Total Sugars: 2g

Sugar Alcohol: 4g

Protein: 5g (10%)
How To Calculate Net Carbs Per Serving
The big key with keto is calculating net carbs rather than all carbohydrates consumed.
This was a little confusing to me when I first started learning about keto, but it's actually quite simple and Nutrail provides a nice diagram explaining how to calculate the net carbs.
To calculate net carbs, take total carbs and subtract dietary fiber and sugar alcohol. The result is net carbs; in this case, there are 3 grams of net carbs per ⅓ cup serving of the Keto Nut Granola. 
This Costco granola contains erythritol, which is a popular sugar alcohol used in keto products. Sugar alcohols like erythritol are not included in net carbs as they exit the body before they can be metabolized.
Keto Granola Ingredient List
The Nutrail Keto Nut Granola contains the following ingredients: 
Sunflower seeds

Pumpkin seeds

Coconut Chips

Almonds

Pecans

Erythritol

Monk Fruit Extract

Butter

Blueberries

Cinnamon

Salt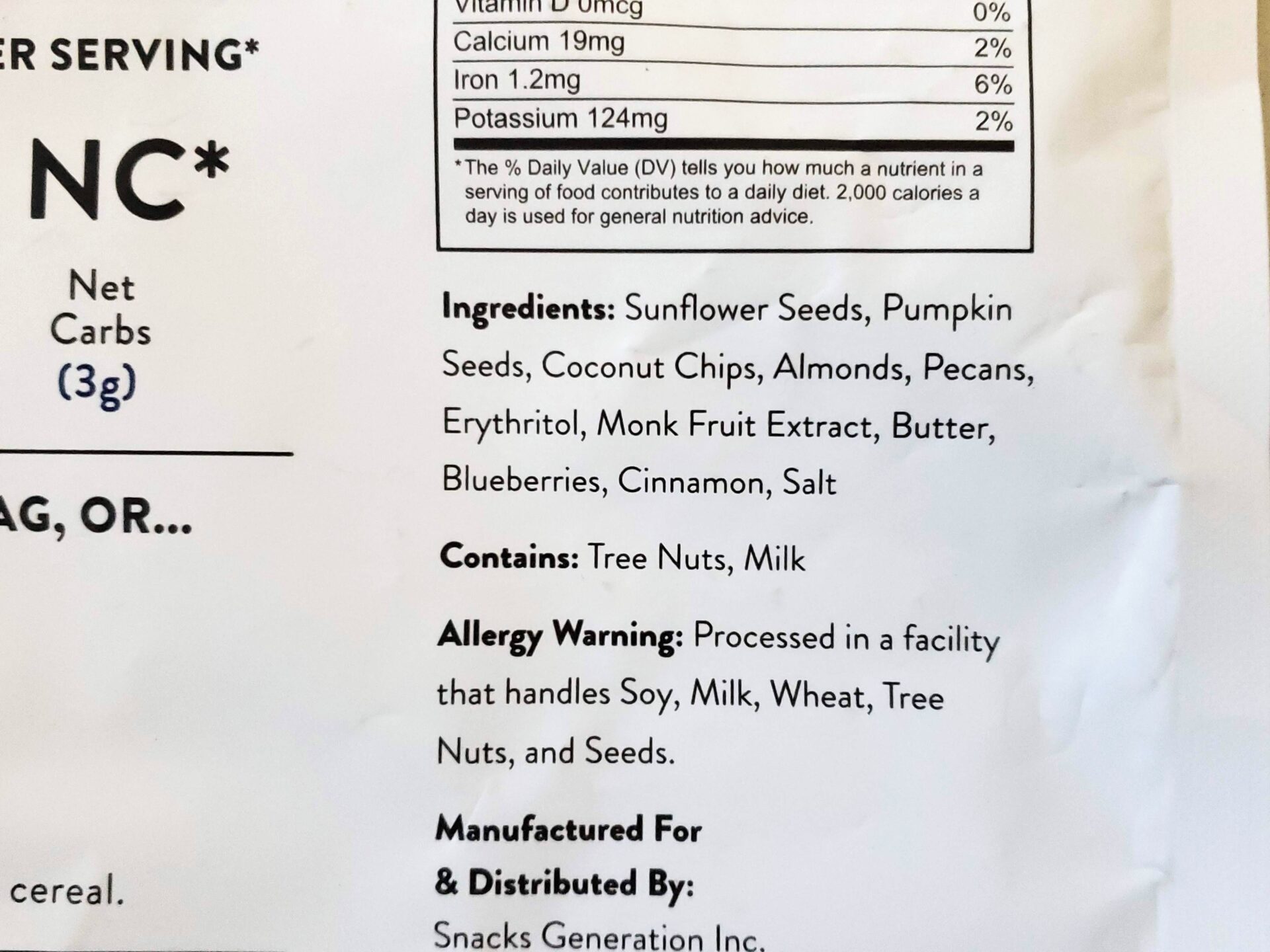 Costco Food Database User Reviews
Have you tried this item? Let the rest of the Costco Food Database community know what you think. Leave a rating and review for this product.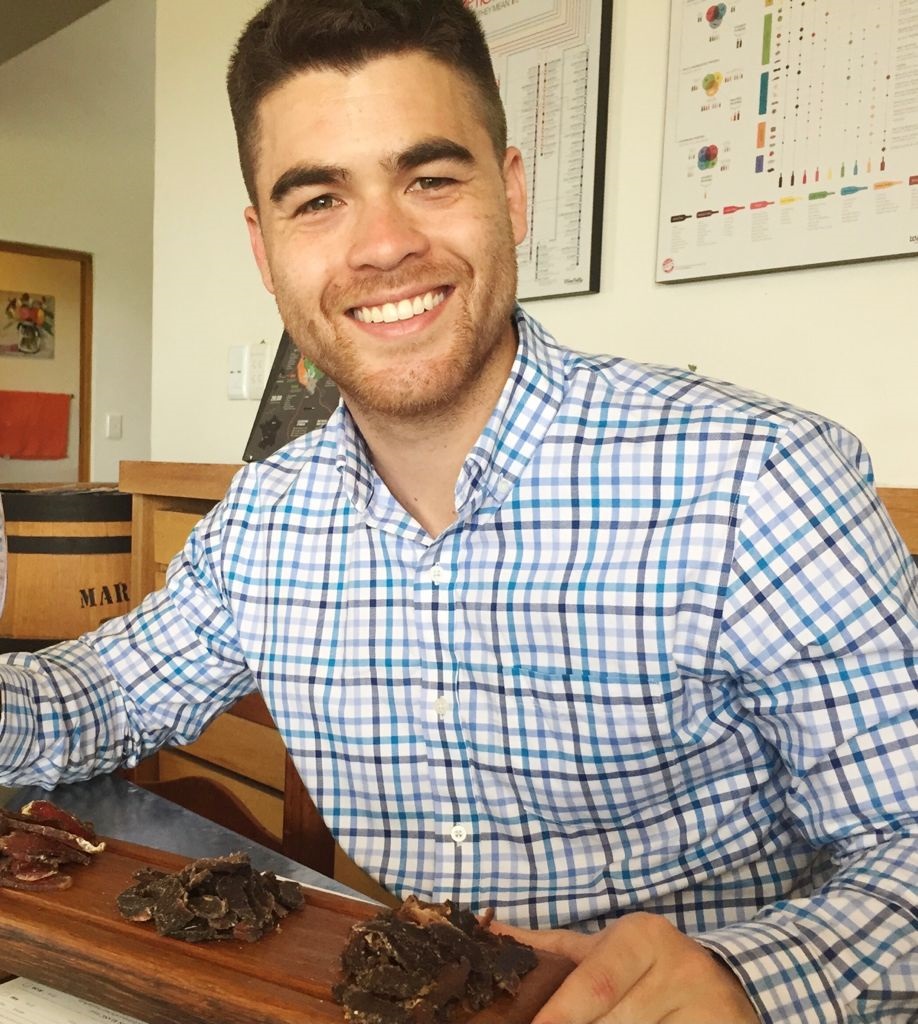 Greg Larkin is the founder and managing editor of Costco Food Database, the premiere site for honest takes on all things Costco food. A self-proclaimed Costco super-fan since childhood, Greg turned his obsession in a mission to properly rate and review all of Costco's delicious buys. When he's not busy navigating Costco aisles, you can find Greg smoking Kirkland Signature meats, meal prepping, or perfecting his homemade jerky recipes.