Costco Keto Friendly Ice Cream Keto Kups - Only 1g Net Carb!
No Sugar Company Keto Cups at Costco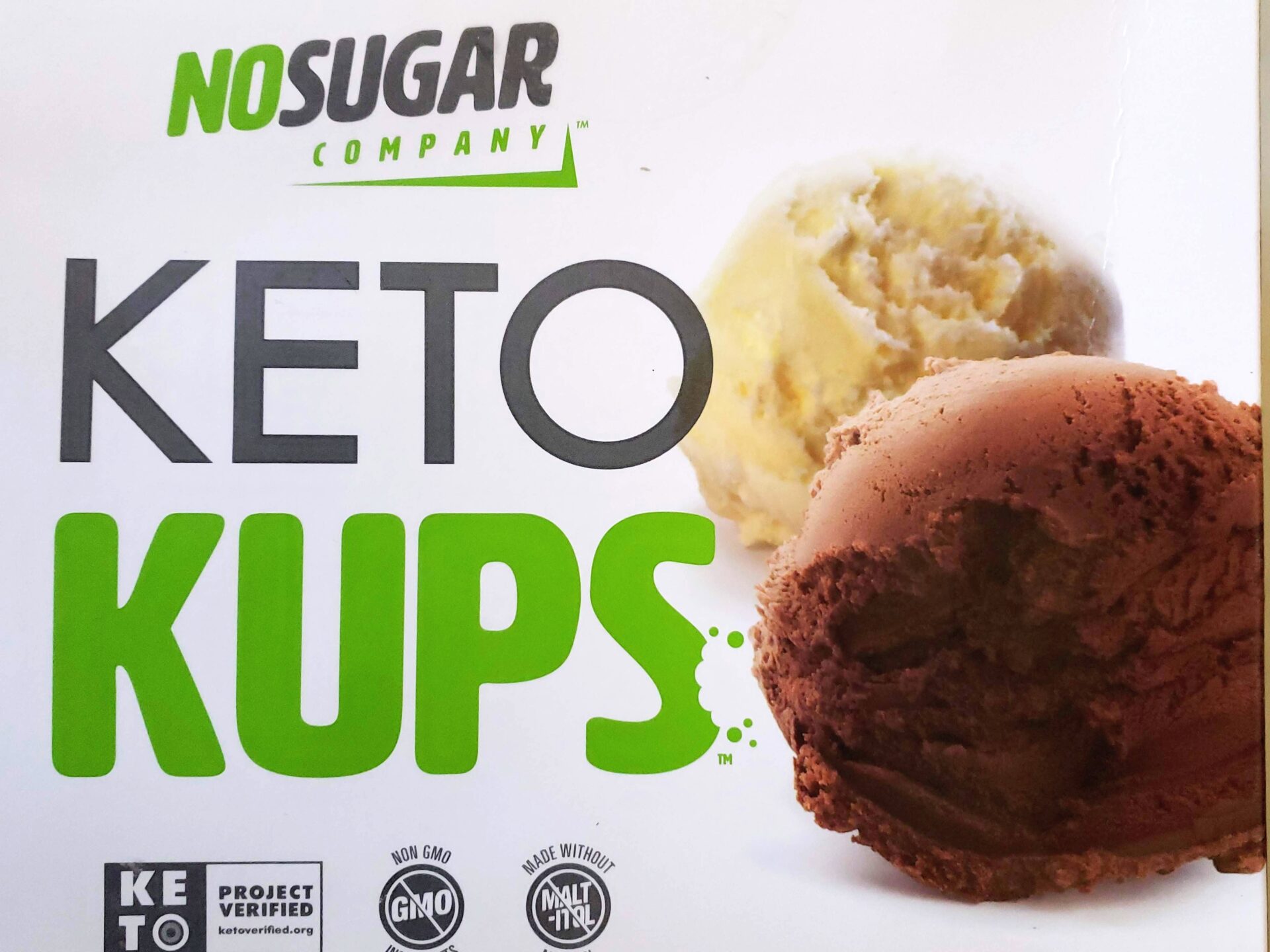 Have You Tried Costco's Keto Kups?
Let the rest of the Costco Food Database community know what you thought of this product. Results and reviews are at the bottom of this page.
Please allow 24 hours for review moderation and approval.
The box of Costco Keto Ice Cream includes 8 cups split between two flavors of chocolate and vanilla. Each cup weighs about 2.25 ounces and contains keto-friendly "ice cream" with only 1 net carb and 0 grams of sugar.

I go into further detail about the net carbs in the nutritional information section.
Frozen Dessert or Ice Cream?
These Keto Kups are not going to be considered ice cream, but instead are a frozen dessert. 
Keto Kup doesn't use the word ice cream at all on the packaging and only shows frozen dessert at the very bottom of the box.
The keto diet is essentially a high fat, low carb diet with the purpose of weight loss. Cutting carbs can be rather difficult because this usually means limited side dish options as well as very few dessert options.
The Keto Kups by No Sugar Company contain only 1 net carb and 0 grams of sugar. This cup of frozen dessert is designed to keep you in ketosis, all while being rich in flavor and fats. 

This item shouldn't be confused with No Sugar Company's Keto Cups which are the non frozen peanut butter style cups.
How Much Do Costco Keto Kups Cost?
Costco does sell the 8 pack of Keto Kups for $9.99 or $1.25 per Keto Kup. Costco does occasionally discount the item to $6.99. This is a savings of $3 or 30%. 
At the discount rate, each Keto Kup breaks down to a price of $0.88. This is a huge discount and an amazing price for low carb ice cream.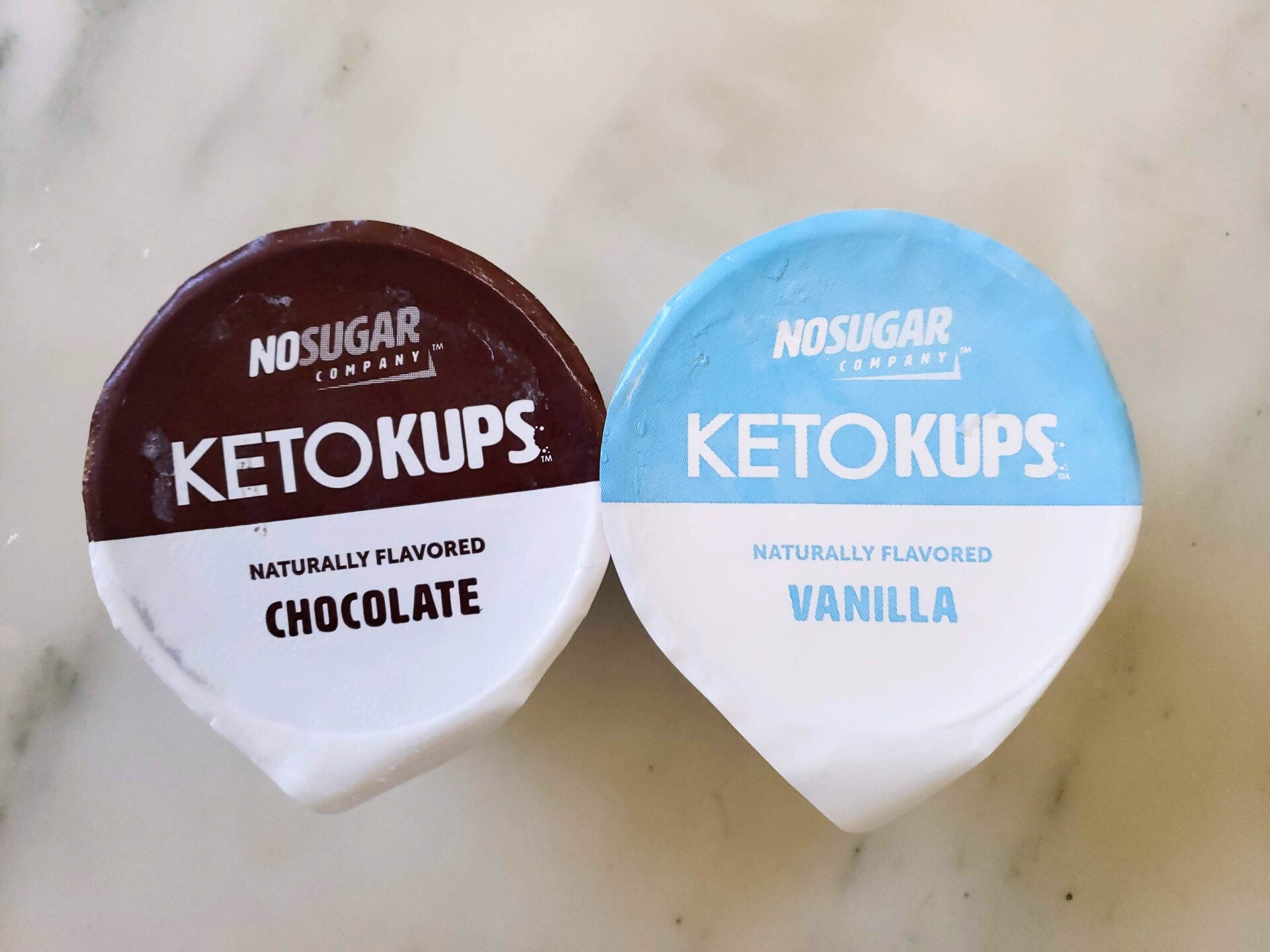 Considering this keto ice cream cup is tailored to a specific diet/lifestyle, the price is rather reasonable.
This isn't an ice cream, but instead is a frozen dessert. The Keto Kups are not going to compare in taste or creaminess to ice cream, and the flavor may be disappointing to some. 

The keto frozen dessert is light and thin. There isn't a lot of substance to this ice cream, The packaging claims bold flavors, but the flavor is just mediocre.
On the plus side, the keto-friendly frozen dessert is light and refreshing and enjoyable for those reasons.
Thing to Know: The keto ice cream does not fill up the entire cup. There is a layer of space or an air bubble underneath the ice cream that makes the cup appear more full than it really is.
The chocolate flavor is going to be the better of the two. There is a good chocolate presence and the taste is good. 
It's not overly sweet but a solid enough of a treat for what it is and what it is supposed to be.
It's not the greatest chocolate flavor in the world, but it also isn't the worst. You can easily find lower quality frozen ice cream desserts at your local grocery store.
The vanilla is without a doubt lacking in flavor. It's ice cream like, but there really isn't much flavor of vanilla or anything else. 
If anything, there is a light vanilla aftertaste.
The Vanilla Keto Kup isn't sweet and tastes more like a "plain" or "original" flavor.
Costco Keto Kup Nutritional Information
How Many Calories in Keto Kups?
For the most part the nutritional labels between the two flavors of chocolate and vanilla are going to be rather similar. 
Each cup of keto ice cream has 120 calories with 10 grams of fat, 10 grams of carbs (1 net carb) and 3 grams of protein.
Considering the purpose of the Keto Kup is to provide a dessert that is low in net carbs, I would have to say that this nutritional label is solid.
The fat is high at 10 grams, but that is acceptable for a keto diet, and the packaging even brags about the 10 grams of fat.
Its All About the Net Carbs
There are actually 10 grams of carbs in this keto kup, but the important number in keto diets is the net carbs.

To find the net carbs, you subtract the fiber and the sugar alcohol (Eryhitol & Allulose) from the total carbohydrates. 
If we look at the chocolate keto kup, we can take the 10 grams of carbohydrates and subtract the 2 grams of fiber, and 7 grams of sugar alcohol to get the 1 gram of net carbs.
We remove erythritol from the carb count because as a sugar alcohol it quickly passes through your system without being metabolized. It's not absorbed into your body and therefore not counted as a carb.

Another Costco product that uses erythritol is Body Armor Lyte. 
Costco Food Database User Reviews
Have you tried this item? Let the rest of the Costco Food Database community know what you think. Leave a rating and review for this product.