Costco Mini Quiche - Easy & Tasty Breakfast Option! ​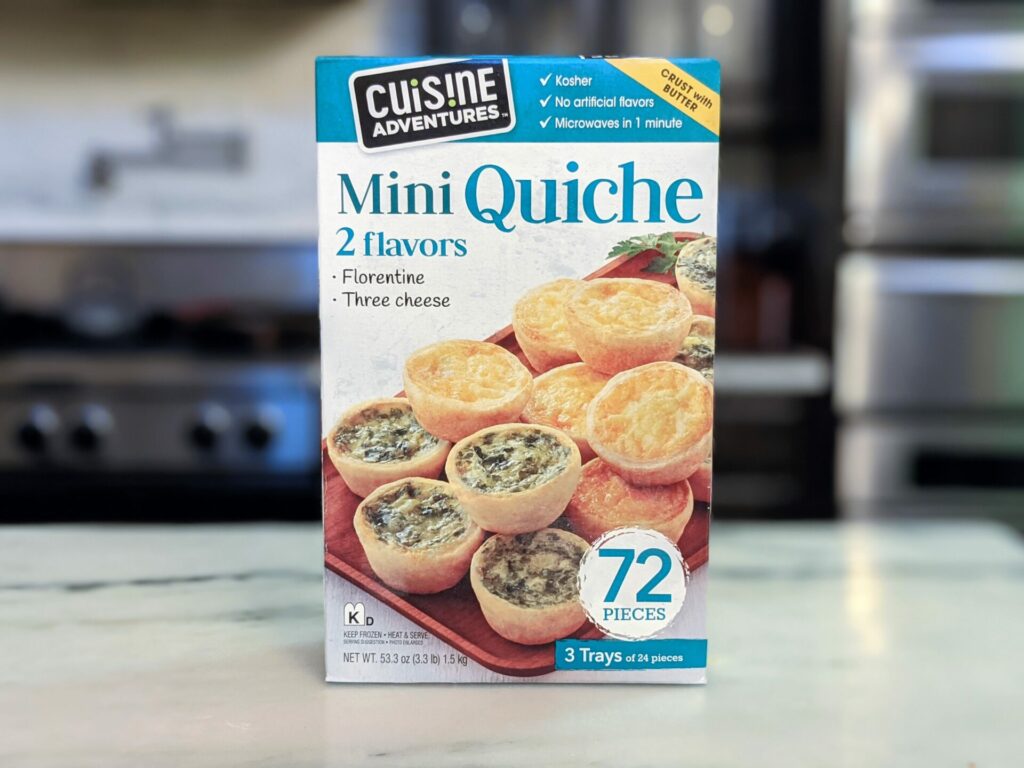 Cuisine Adventures Mini Quiche at Costco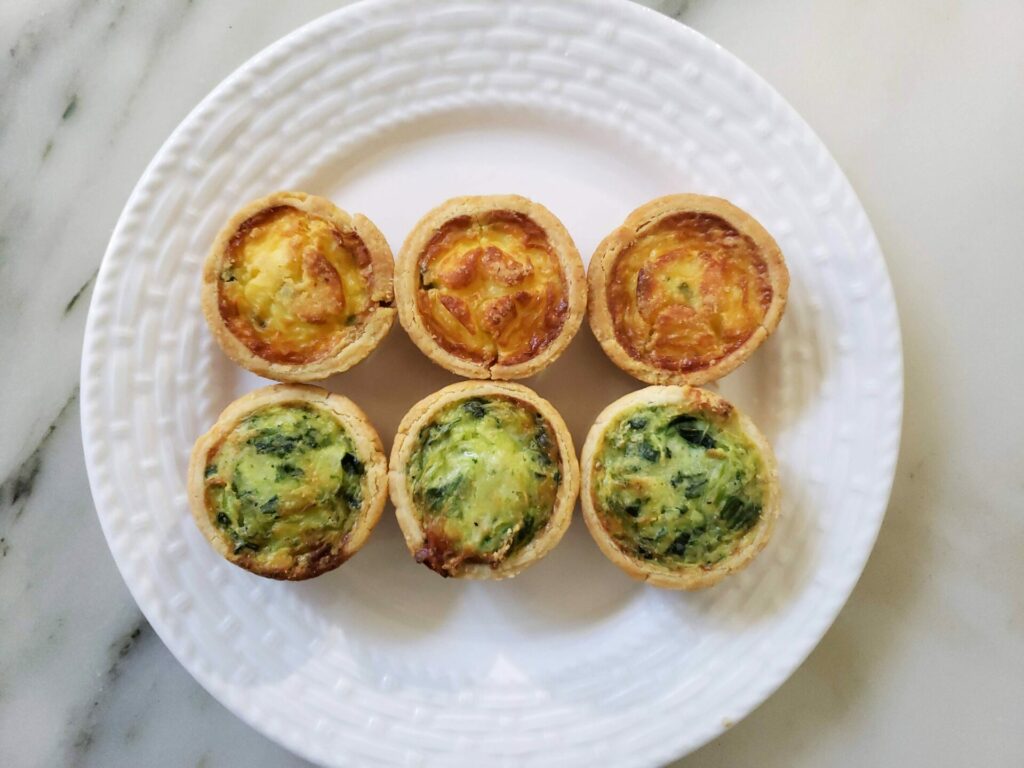 The frozen mini quiche are kosher, have no artificial flavors, and take 1 minute to microwave.
The Costco mini quiche comes in two flavors; Three Cheese and Florentine. The three cheese mini quiche is made with cheddar, mozzarella, and feta, and the Florentine mini quiche is made with spinach and mozzarella.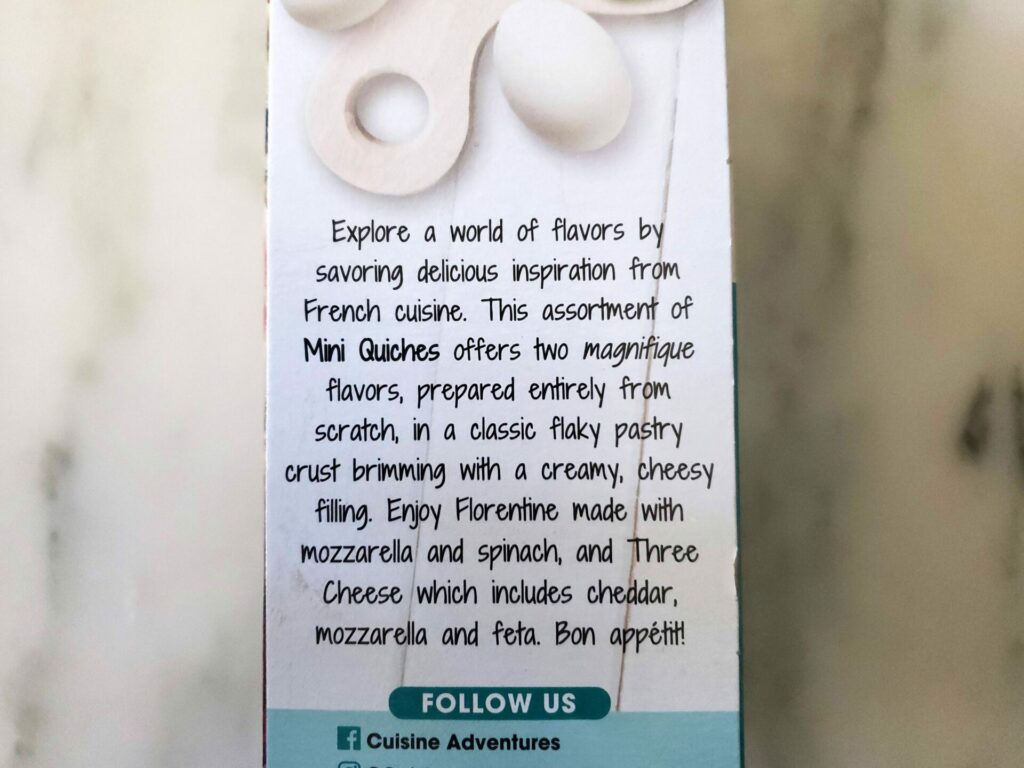 How Much Do Costco's Mini Quiche Cost?
The mini quiche at Costco sells for $17.69, but I was able to pick up this box on sale for $12.99. This is a massive discount of $4.70 or 26% that was too good to pass up.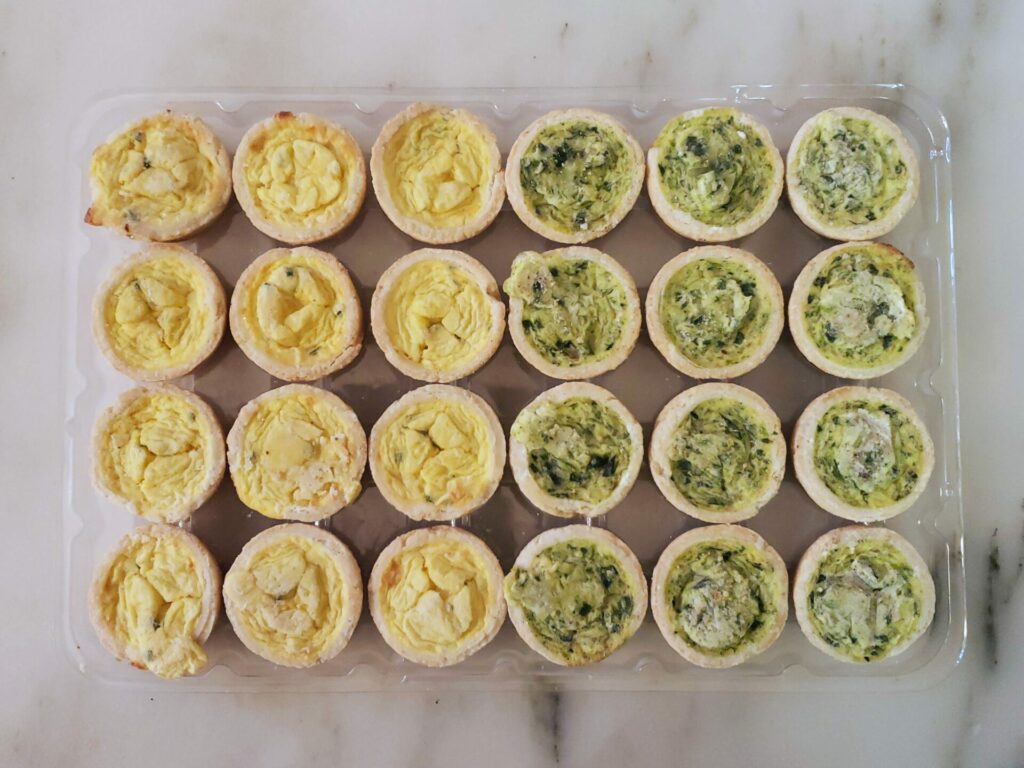 The price of each individual mini quiche at retail is $0.25, which drops to $0.18 when they are on sale.
I looked for other retailers that sold this Cuisine Adventures Mini Quiche, but I couldn't find them anywhere. I checked the Cuisine Adventures website, and they claimed to sell these at Trader Joes, but all I found at Trader Joe's was their generic store brand mini quiche.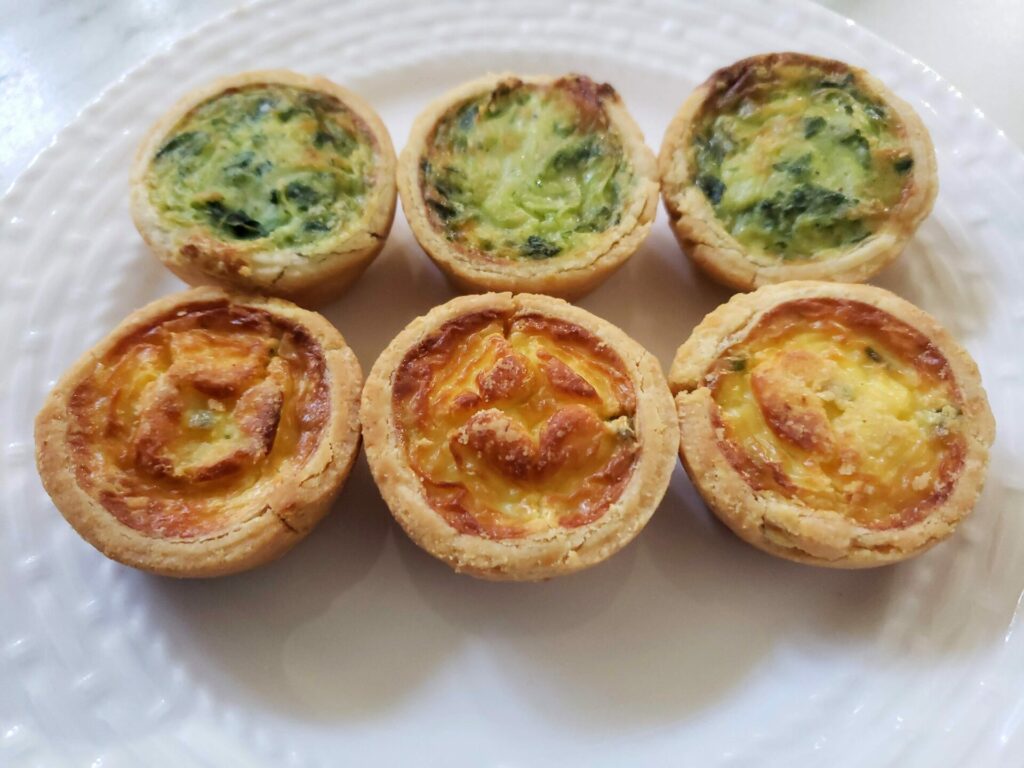 After closer inspection, the Trader Joe's mini quiche looks very similar to these Costco mini quiche, the nutritional label is nearly identical, and they are both made in Canada. 
I can't say for sure, but it appears the Cuisine Adventure mini quiches are sold under the Trader Joe's brand.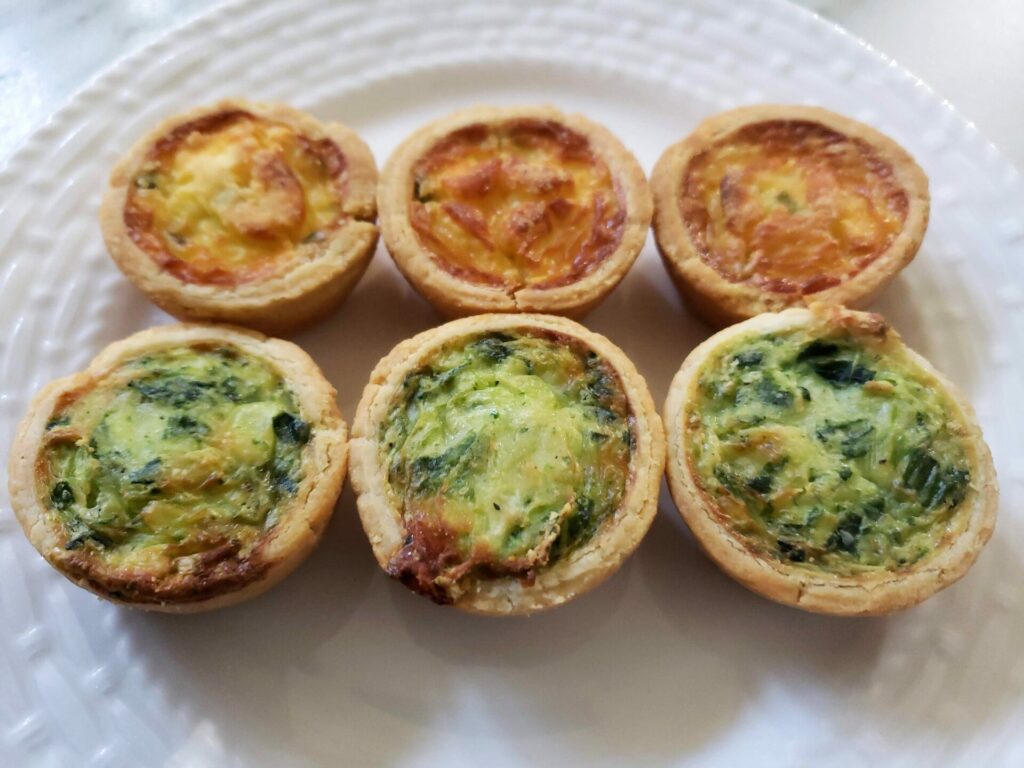 A 12-count of Trader Joe's mini quiche sells for $3.99. For 72 Trader Joe's mini quiches, the equivalent price would be $24 or nearly 50% more than Costco's price.
Cuisine Adventures calls these "mini" quiches, which is exactly what they are. Each quiche weighs about ¾ of an ounce and is a perfect two-biter; three bites if you are feeling fancy.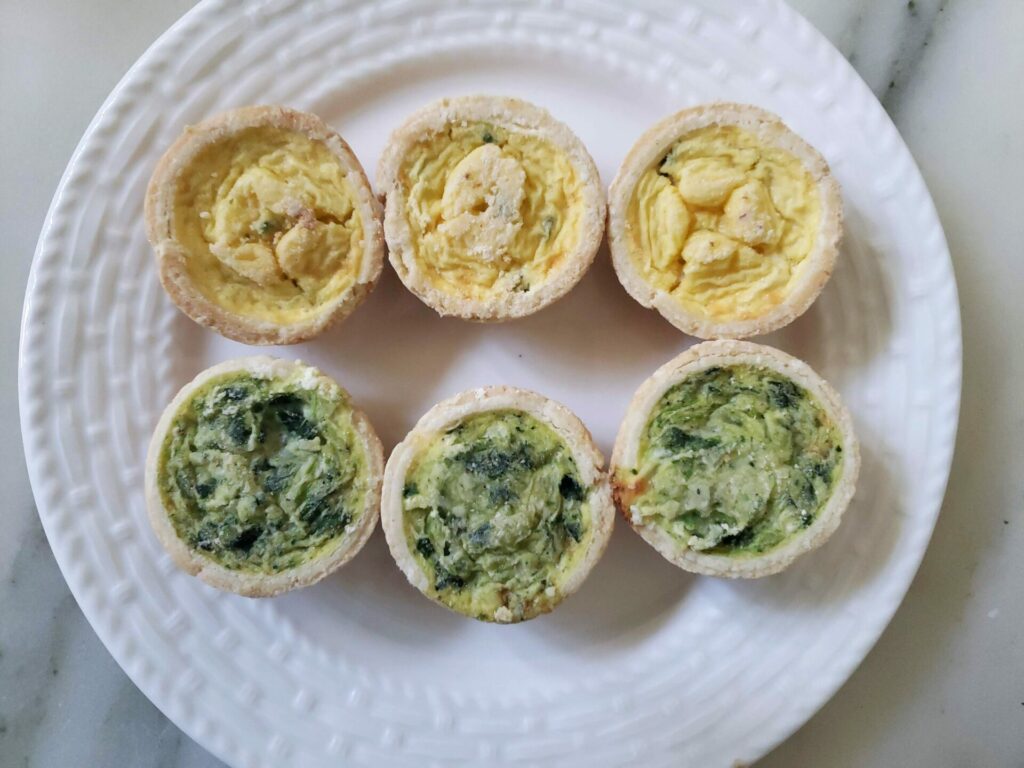 I cooked these in the air fryer as I wanted an extra crispy crust, and it turned out better than I expected. 
The crust was crispy, and the quiche came out a beautiful golden brown.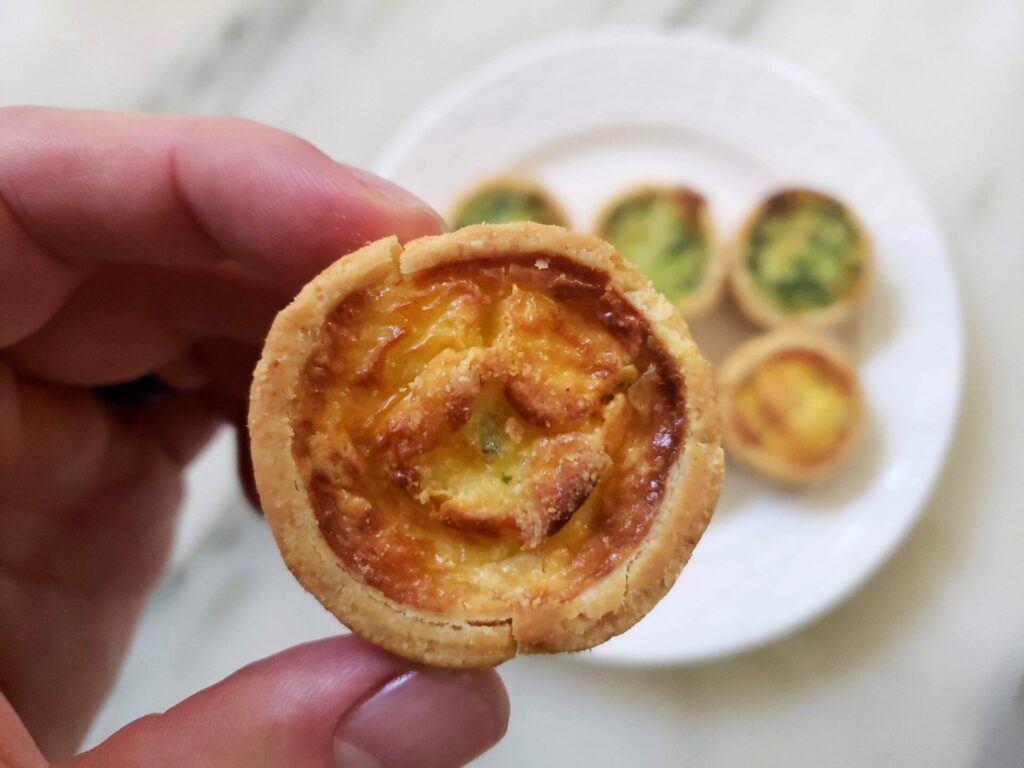 Sometimes these types of products have a subpar crust that does just enough to hold the food together, but this quiche crust was quite tasty in its own right. 
The quiche crust is a little thick at times but rich, buttery, and flavorful.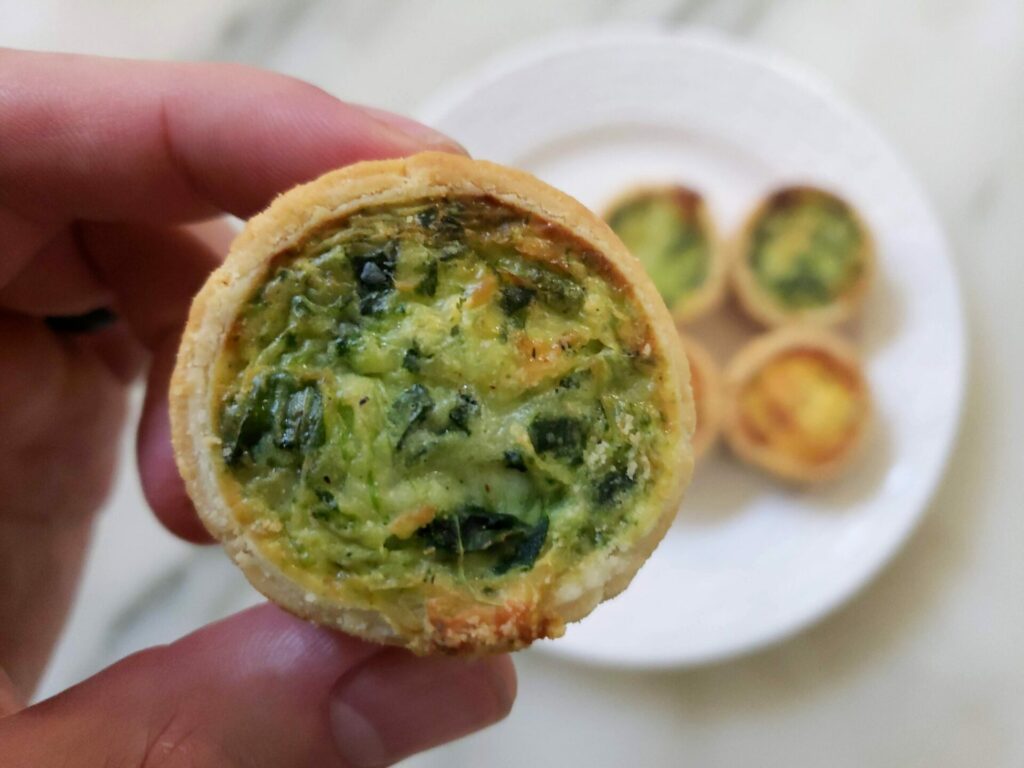 Both mini quiches had impressive egg flavor and texture, considering that these are a mass produced frozen product. 
The quiche wasn't overly creamy like some other breakfast egg options I have tried and was very well-balanced.
The Three Cheese Mini quiche was delicious and is my preferred mini quiche flavor. The egg was great and blended well with the cheese. 
I liked the chopped onions and chives, which were a nice touch and added some variety and textures.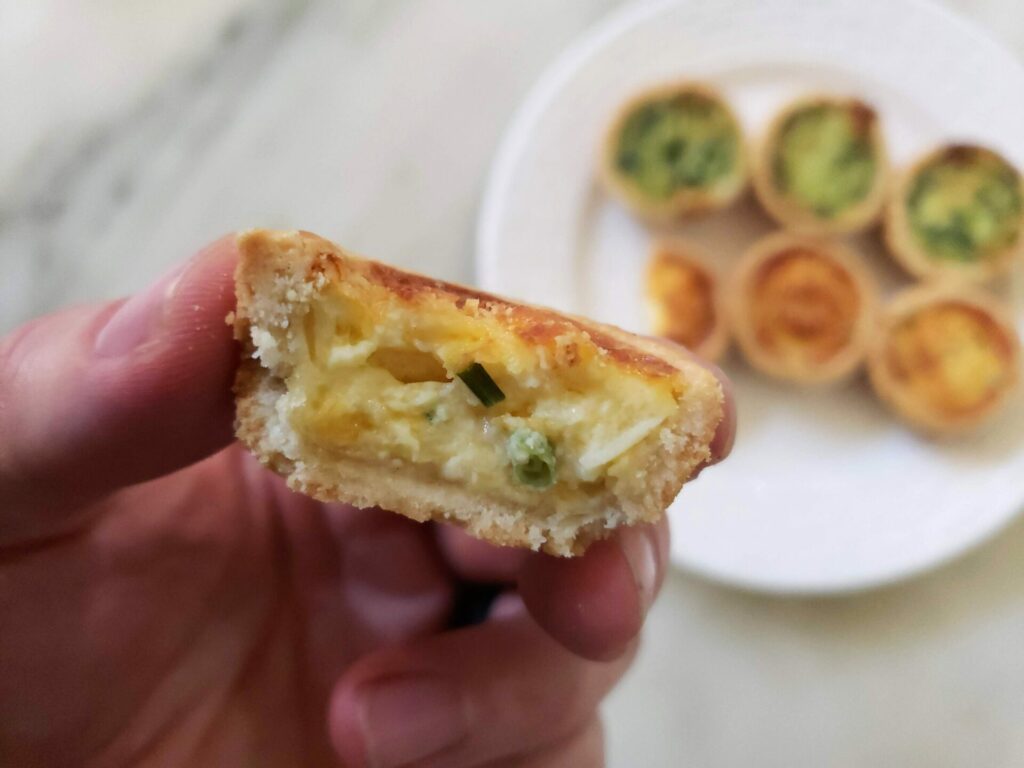 The florentine mini quiche is made with spinach and mozzarella and is savory and scrumptious. 
There are plenty of spinach pieces that give it the green colored look, but it is just a little less flavorful than the three cheese mini quiche.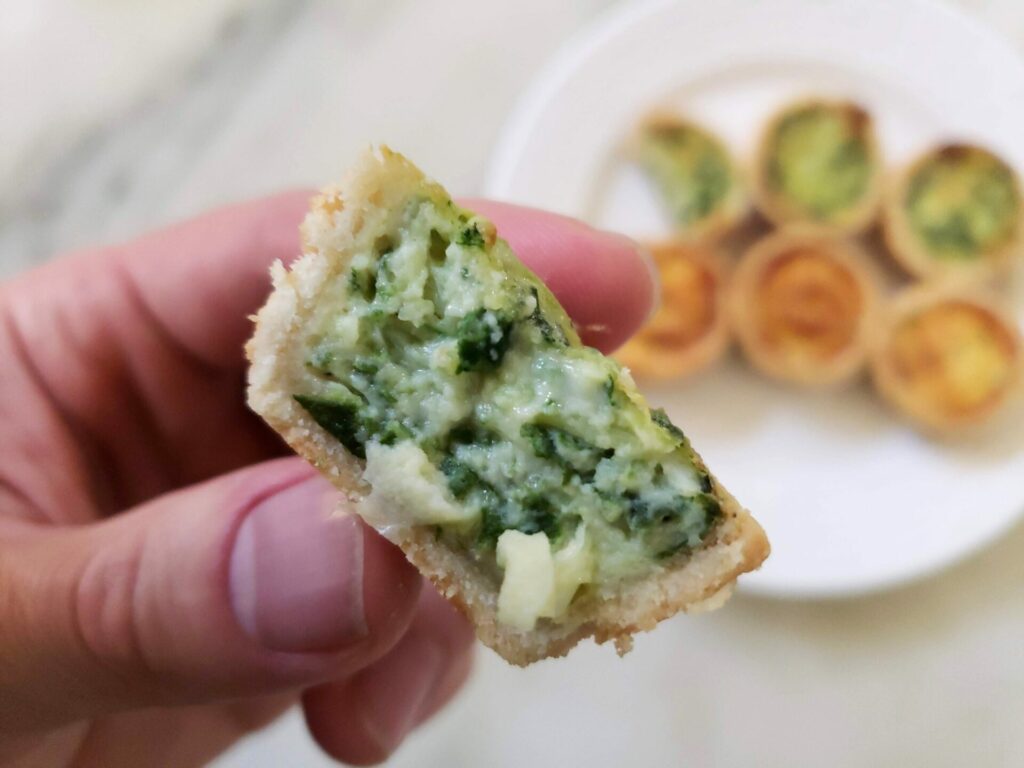 Both flavors are fantastic, and when eaten together, they make a great breakfast.
Mini Quiches Vs. Regular Quiche
I enjoyed these mini quiches more than La Terra Fina's full-sized quiches found in Costco's refrigerated deli area of the warehouse. 
These mini quiches were a little easier to prepare and actually were tastier.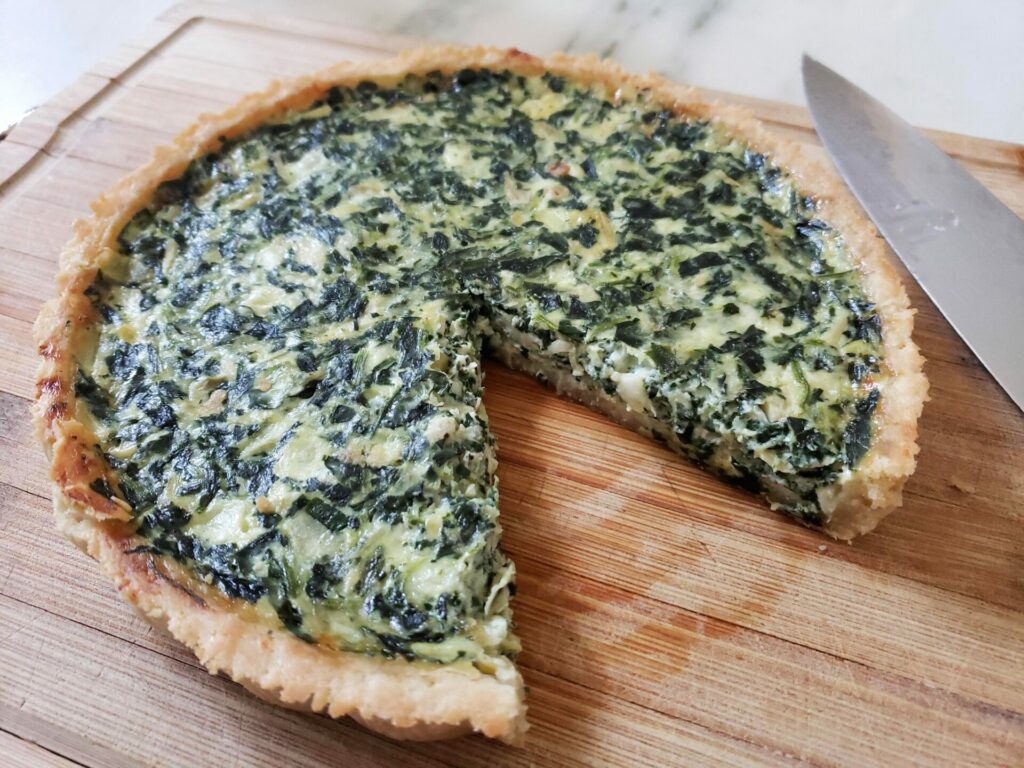 Unfortunately, Three Bridges Egg Bites are still my favorite of Costco's breakfast options. The egg bites are more pricey but are also more fresh and flavorful. 
The Cuisine Adventures mini quiche is not as tasty but is more affordable.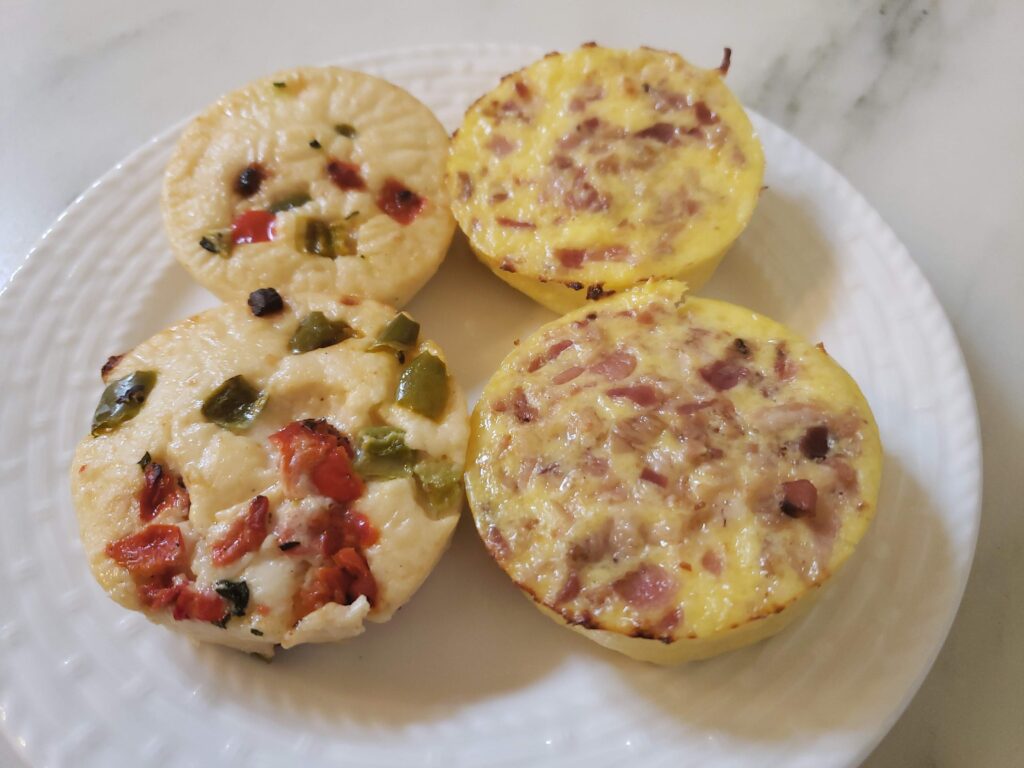 How to Cook Costco's Mini Quiche
There are three options for heating these Costco frozen mini quiche. They can be baked, microwaved, and air fried. 
The mini quiche should be kept frozen until ready to prepare and cooked to a minimum internal temperature of 165°F.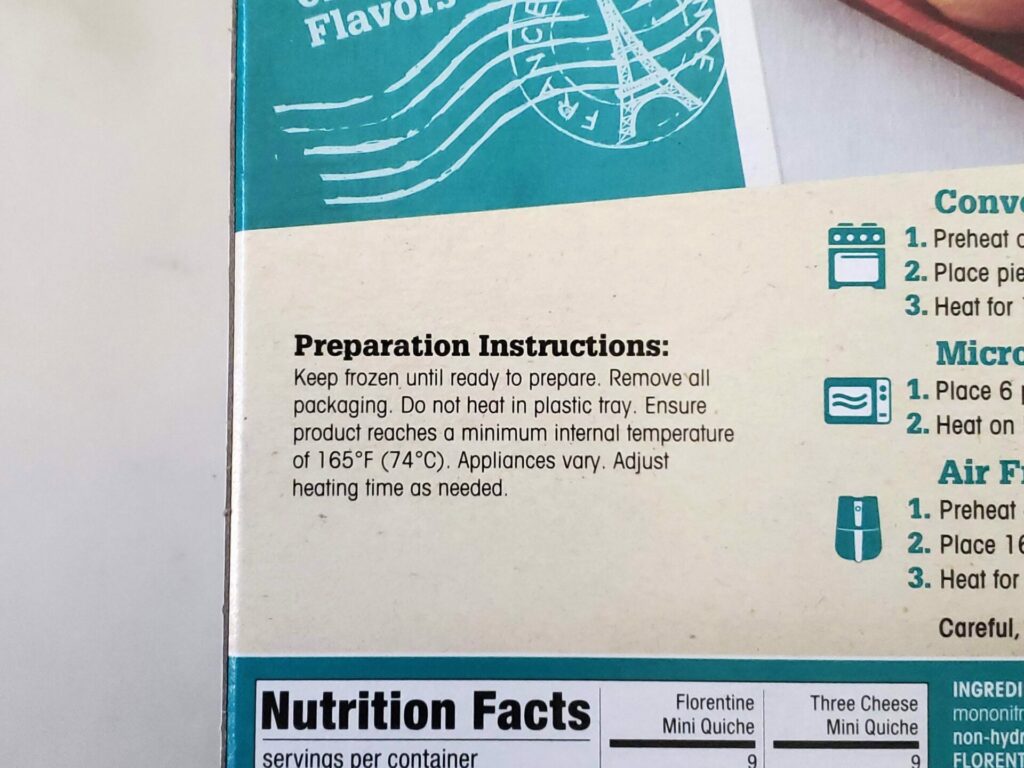 Conventional Oven Instructions
Preheat oven to 400°F (200°C)

Place pieces 1 inch apart on an ungreased baking sheet.

Heat for 12 to 14 minutes or until frozen mini quiches are golden brown.
Place 6 pieces in a circle on a microwave-safe plate. 

Heat on HIGH for 1 minute.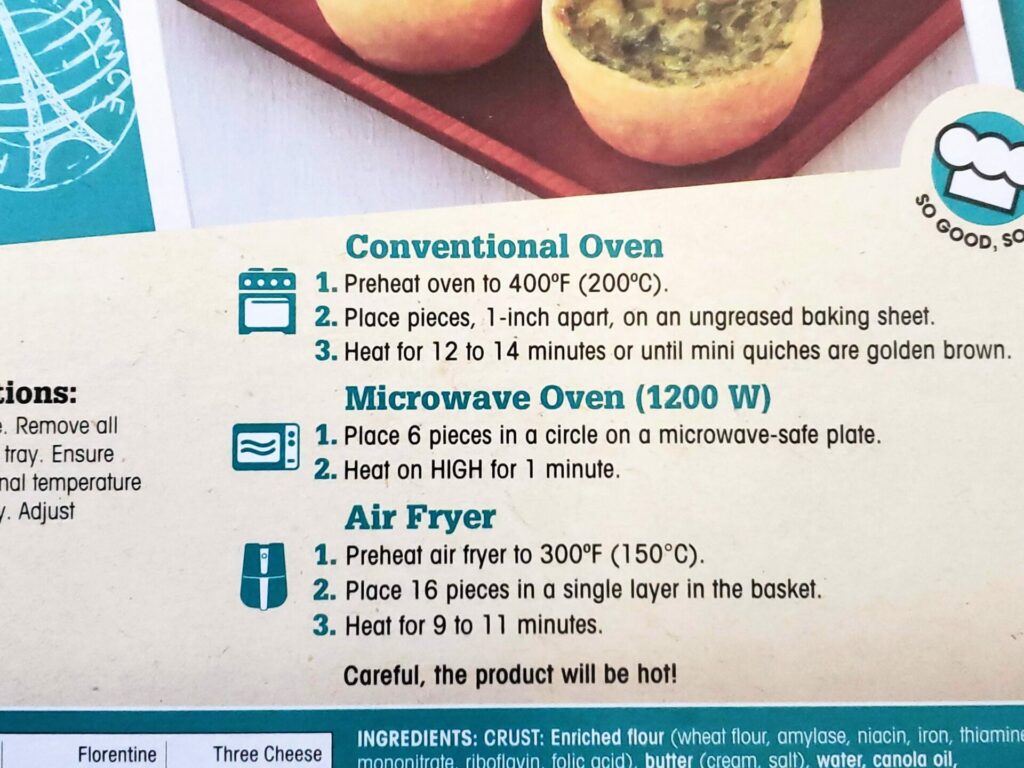 Mini Quiche Air Fryer Instructions
Preheat air fryer to 300°F (150°C)

Place 16 pieces in a single layer in the basket

Heat for 9 to 11 minutes. 
I cooked my mini quiche for about 10 minutes, but they weren't as golden brown as I would have liked, so I left them for a few minutes longer, and they were perfect. 
I would say 12 to 14 minutes would be better for these Costco mini quiches.
Costco Mini Quiche Calories and Nutrition
One serving will be 4 mini quiches. Each of the two flavors will have different calories per serving.
Florentine Mini Quiche Calories
Serving Size: 4 pieces

Calories: 250

Total Fat: 15g (19% DV)

Saturated Fat: 6g (30% DV)

Cholesterol: 75mg (25% DV)

Sodium: 530mg (23% DV)

Total Carbohydrate: 22g (8% DV)

Dietary Fiber: 1g (4% DV)

Total Sugar: 2g 

Added Sugars: 1g (2% DV)

Protein: 8g
Three Cheese Mini Quiche Calories
Serving Size: 4 pieces

Calories: 280

Total Fat: 17 (19% DV)

Saturated Fat: 8g (30% DV)

Cholesterol: 85mg (28% DV)

Sodium:470mg (20% DV)

Total Carbohydrate: 22g (8% DV)

Dietary Fiber: 1g (4% DV)

Total Sugar: 2g 

Added Sugars: 1g (2% DV)

Protein: 9g
Considering this is frozen food, I don't hate the nutritional label. There is a decent amount of carbohydrates, fat, and protein; depending on your appetite, one serving may be enough to keep you full.
I've had these a few times now, and I would eat between 6-8 mini quiches with my morning matcha tea, and it kept me full until lunchtime.
Mini Quiche Crust Ingredients
Enriched flour

Butter

Water

Canola Oil

Non-hydrogenated palm and soy oil shortening

Whey

Dextrose

Salt

Citrus Fiber
Florentine Filling Ingredients
Milk

Egg

Low-moisture part-skim mozzarella cheese

Onion

Spinach

Modified Corn & Corn starch

Salt

Garlic

Spice

Flavor
Three Cheese Quiche Filling
Milk

Egg

Cheddar Cheese

Low-moisture part-skim mozzarella cheese

Onion

Feta Cheese

Modified Corn & cornstarch

Chive

Onion & garlic powder

Flavor 

Salt.
Costco Mini Quiche Review
Product Name: Cuisine Adventures Mini Quiche (2 Flavors)
Product Description:
Price: $17.69 Retail / $12.99 Sale
Quantity: 72 Mini Quiche
Location Within Costco: Frozen Food
Price Per Mini Quiche: $0.25 / $0.18
Summary
I am a fan of Costco's mini quiche. They are "mini" but pack in a ton of flavor. 
The mini quiche makes for a convenient and filling breakfast and are well worth the buy.
Value -

8/10

Convenience -

9/10

Taste -

8/10

Nutrition -

7/10

CFDB Score -

7/10