Costco Mini Tacos (Chicken) + Super Crispy Air Fryer Recipe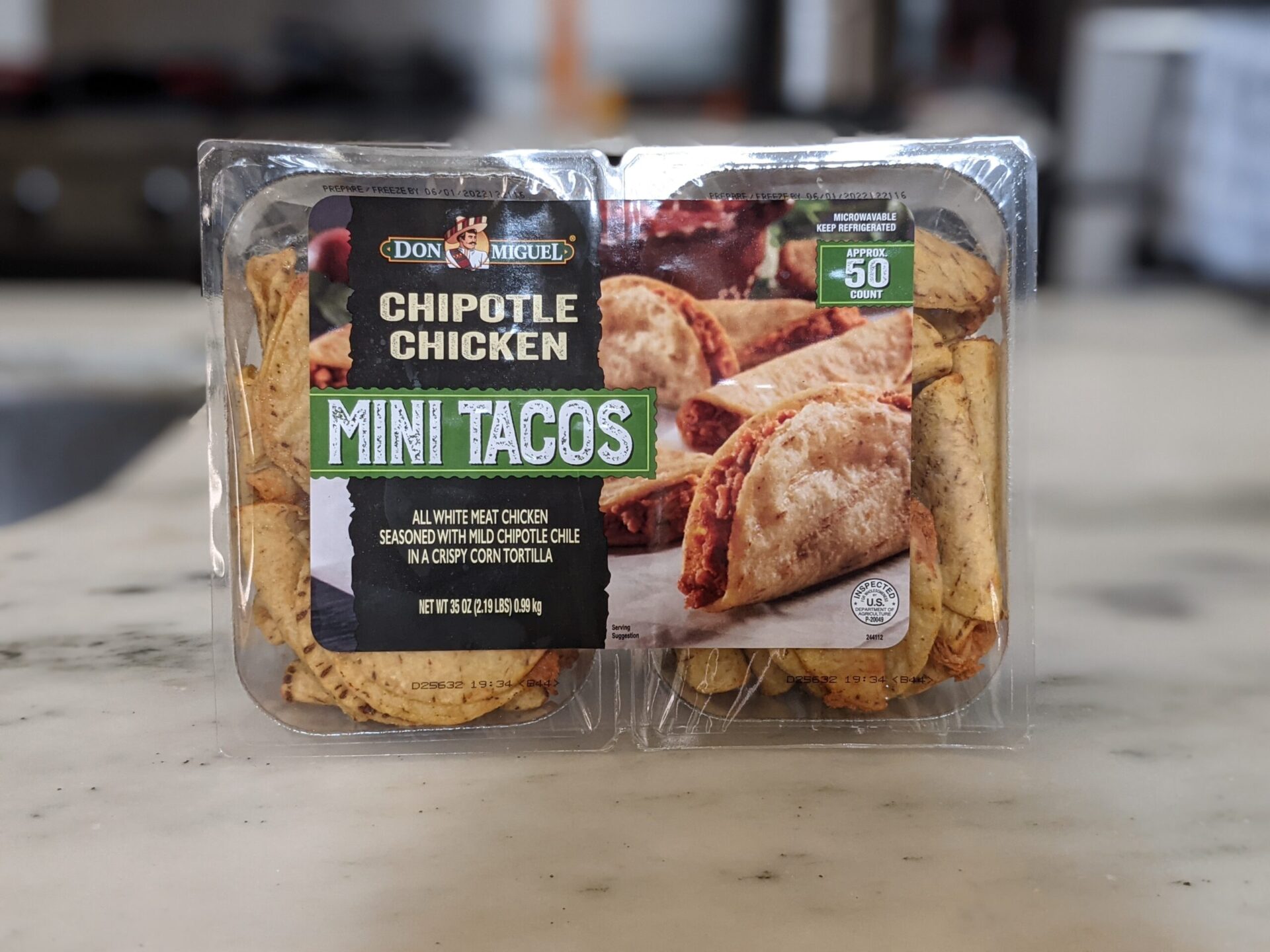 Don Miguel Mini Tacos at Costco
Each pack of Don Miguel's mini tacos includes 50 total tacos. The Costco mini tacos are made with all white meat chicken and seasoned with mild chipotle chile.
Have You Tried Costco's Mini Tacos?
Let the rest of the Costco Food Database community know what you thought of this product. Results and reviews are at the bottom of this page.
Please allow 24 hours for review moderation and approval.
Chicken Tacos - Fresh or Frozen?
These particular mini chicken tacos are a relatively new item at Costco, but are very similar to Costco's classic frozen mini tacos. 
The frozen mini tacos which are also made by Don Miguel have been around at Costco for many years. The quality has declined over the years and the product has faced such problems as a lack of chicken in the filling as well as a lack of filling overall. 
Can these chicken tacos save the Don Miguel brand?
I used to purchase Don Miguel's frozen tacos every time they went on sale, but they were extremely disappointing the last few times I had them. 
They were flavorless, lacked filling, and just overall not very good. 
I no longer purchase the Costco frozen mini tacos, but I'm hoping their refrigerated tacos can act as redemption for the brand. 
Don Miguel also sells refrigerated breakfast burritos at Costco.
Costco Cost Comparison - Don Miguel Chicken Tacos
How much are mini chicken tacos at Costco?
Costco sells a 50 count or 2.19 pounds of mini tacos for $8.99 ($0.26 per ounce). I recently purchased them when they were on sale for $6.49($0.19 an ounce), which is a discount of $2.50 or 28%. 
On a per taco basis, each little taco goes for $0.18 at retail and $0.13 when on sale.
While nobody else seems to sell this exact Don Miguel Chicken Mini taco package, Sam's club does sell Don Miguel's Chicken and Two Cheese Mini Tacos. 
They sell their 2.45 pound package with 56 tacos for $9.98. This is a price of $0.25 per ounce and $0.18 per taco. 
One thing to note is that for both items, the Costco mini tacos weigh about 0.7 ounces each. Costco's mini tacos do not include cheese while Sam's club's version does. 
I think it's fair to assume that the corn tortilla for each taco is about the same size, so therefore Costco's mini taco filling will include more chicken per taco than Sam's club's tacos.
Don Miguel Chicken Mini Tacos from Costco - Taste Test
The first thing I noticed with Don Miguel's Chipotle Chicken Mini Tacos is how much filling the tacos have compared to their old frozen version.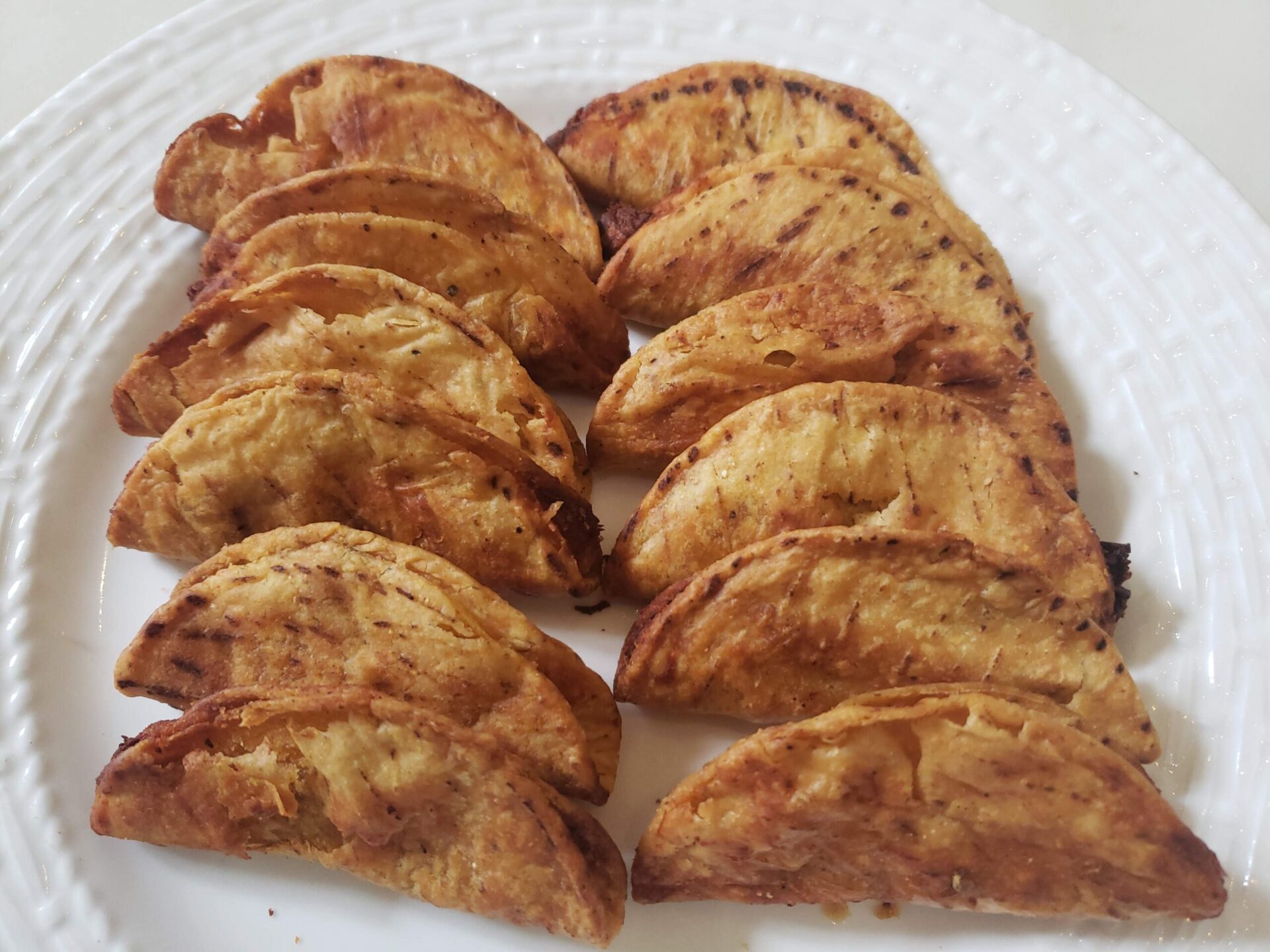 The new mini tacos from Costco aren't necessarily bursting with chipotle chicken filling, in fact they just have an average to an above average amount. 
It is just so refreshing to see a company produce a product (unlike their frozen mini tacos) that isn't trying to just get by at a minimum level.
The Costco mini tacos are better in the air fryer
I know if I cooked these in the microwave, I would end up with a soggy floppy lifeless piece of tortilla instead of a crispy sturdy corn tortilla shell, so I chose to cook these in the air fryer in order to maximize tortilla crispiness. 
Don Miguel doesn't provide any air fryer cooking instructions, so I improvised with 7 total minutes and flipping after 4 minutes. The mini chicken tacos came out hard, crispy, and very delicious. 
My full Costco mini chicken taco air fryer instructions are included in the heating/cooking instructions section.
I love the crispy taco shells
The mini taco tortilla shells came out super crispy with a nice crunch all throughout. The taco shell was flavorful and didn't detract from the taco in any way.
Sometimes with products like these, you may want to bite just the portion with the filling and leave the crust, but that wasn't the case with these refrigerated Don Miguel Mini tacos from Costco. 
The taco shell was actually delicious! 
Are the mini chicken tacos good?
The filling itself is just good, not great. The chicken is not the highest quality, but is tasty. They are much better than their neighbor in the refrigerated deli area, the chicken flautas.
I mentioned in that review that the flautas were filled with chicken nibble, while these Don Miguel tacos have mini chicken chunks.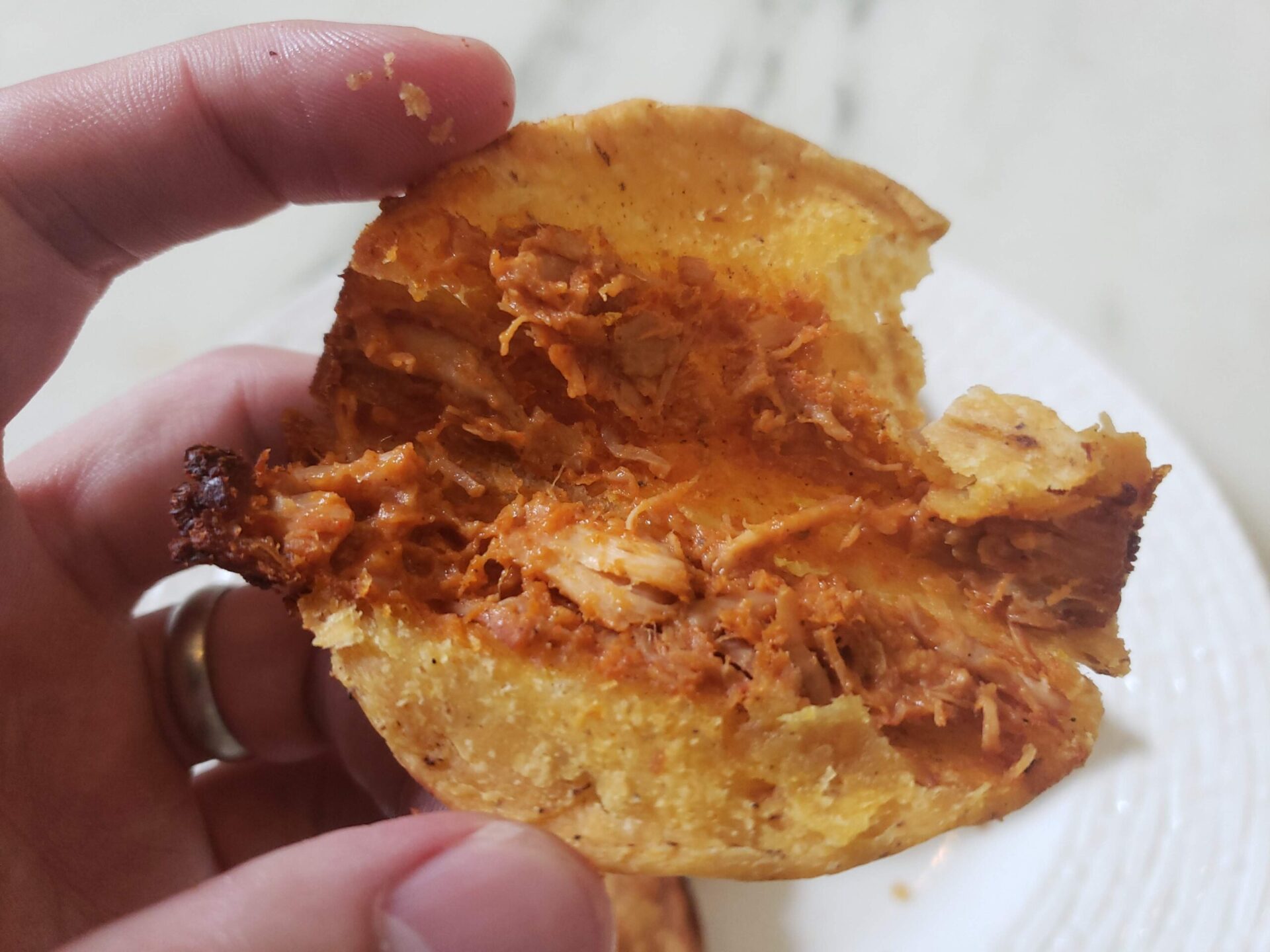 There is a very very slight kick from the chipotle flavoring. They are great to eat as is, but pair really well with salsa. 
I recommend Kirkland Signature Organic Salsa or Mateo's gourmet salsa to go with these tacos or any other Mexican style dish.
Overall, these tacos are pretty darn good for what they are. I enjoyed them and went through the whole package in less than a week. 
They aren't necessarily good enough to serve at anything more than a casual get together, but I don't mind pigging out on these tasty little tacos.
Costco Mini Tacos Heating/Cooking Instructions
How to Cook Costco Mini Chicken Tacos
Don Miguel lists two cooking methods for their mini tacos; a microwave option and an oven baked option. The microwave option is typically the worst way to heat any frozen or refrigerated food. Don Miguel's frozen tacos would always come out lackluster.
My preferred method for cooking the mini tacos will be in the air fryer. It only takes about 7 minutes in the air fryer, and the tacos come out super crispy.
Remove Costco mini tacos from the package and place on a microwave safe dish. 
Heat on high for 1 minute
Flip over every 30 seconds. Let stand 1 minute before serving. 
Preheat oven to 400°F 
Remove the Costco chicken tacos from package and place on cooking sheet. 
Heat for 12-15 minutes. Let stand 1 minute before serving.
Costco Mini Tacos in the Airfryer Instructions (Super Crispy)
Yes, these can be cooked in the air fryer and these are by far my favorite way to cook the Costco mini tacos! 
Don Miguel doesn't include air fryer instructions, but I've found this method creates super crispy and crunchy chicken tacos.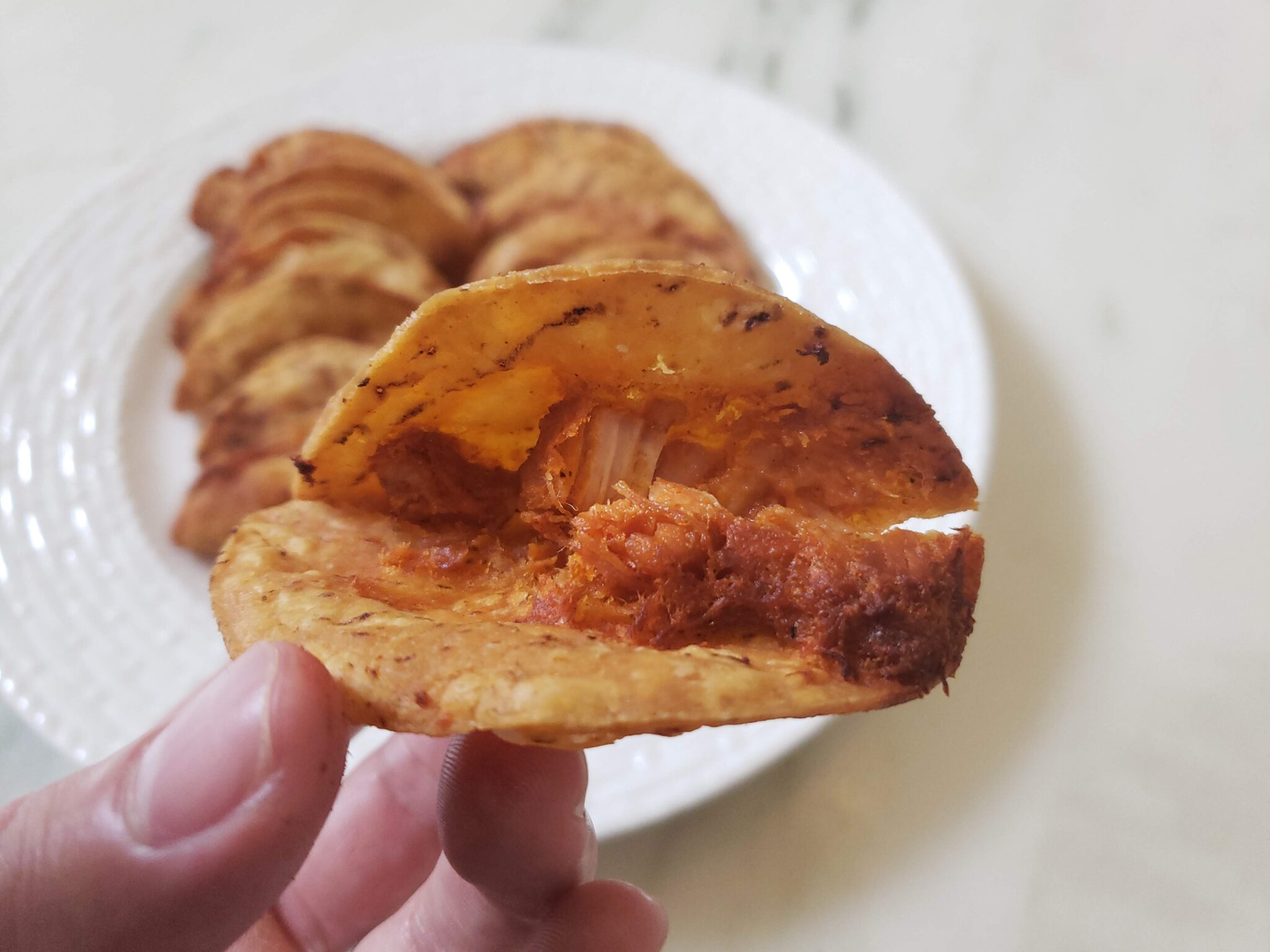 Preheat the Air fryer to 400°F 

Lightly spray mini tacos with cooking spray and cook in air fryer for 4 minutes.

Flip, spray, and cook for an additional 3 minutes.
If you have an air fryer, opt for this super easy method over any of the recommended ones listed on the package, you won't be disappointed!
The most obvious dip for these mini tacos is of course going to be salsa. Salsa always goes great with tacos and the sweetness of the salsa helps to balance out the saltiness of the tacos. 
Aside from salsa, other dip options that pair well with the tacos are Costco's cilantro crema and 505 Hatch Chiles. Both of these options will provide quite a bit of freshness and the chiles will provide a nice kick. 
Non Traditional Sauces & Dips
In addition to the above-mentioned dips, these tacos can also be paired with a classic bbq sauce. It may not be authentic, but it's a nice mix up and a tasty combination.
If you are in the mood for some heat, give buffalo sauce a try. It works surprisingly well!
Mini Taco Nutritional Information
How many calories in the mini tacos from Costco?
One serving of mini tacos from Costco is 4 mini tacos and contains 180 calories. The calories come from 7 grams of fat, 21 grams of carbs, and 9 grams of protein.
Nothing really stands out too much for me with this nutritional label. 
The 9 grams of protein is very nice. Typically foods that don't have high quality chicken or meat will have a lower protein count, but 9 grams of protein is respectable for 4 mini tacos. 
It's always a good idea to keep an eye on the sodium content. Each serving of Costco mini tacos has 350 mg of sodium or 15% of the recommended daily value. This will add up quick when eating multiple servings.
Mini Chicken Taco Ingredients
The filling of these Costco mini chicken tacos is made with:
Chicken Breast with Rib Meat

Water

Flavorings

Corn Starch

Oats

Contains 2% or less of: Tomato Paste, Vinegar, Salt, Chipotle Chile Pepper, Guar Gum
The Tortilla shell is made with: 
Corn Flour (Ground Corn)

Lime

Water
Contains 2% or less of: Salt, Corn Starch, Soybean Oil
Don Miguel has personally redeemed himself with these refrigerated chipotle chicken mini tacos. This product is much superior to the frozen mini tacos which are also sold at Costco. 
These tacos crisp up very nicely and the filling is more than adequate for an item like this. When these go on sale, the price is fantastic and they are worth a buy!
Costco Food Database User Reviews
Have you tried this item? Let the rest of the Costco Food Database community know what you think. Leave a rating and review for this product. 
Costco Mini Tacos - Super Crispy Recipe
Costco's Mini Tacos are filling and delicious. Follow this recipe for a super crispy tortilla!
Ingredients
10

Mini Crispy Tacos

Salsa of your choice
Instructions
Preheat the Air fryer to 400°F 

Lightly spray mini tacos with cooking spray and cook in air fryer for 4 minutes.

Flip, spray, and cook for an additional 3 minutes.

Serve with salsa and enjoy
Nutrition
Serving:
4
Mini Tacos
Calories:
180
kcal
Carbohydrates:
21
g
Protein:
9
g
Fat:
7
g
Saturated Fat:
1.5
g
Trans Fat:
0
g
Cholesterol:
25
mg
Sodium:
350
mg
Fiber:
2
g
Sugar:
1
g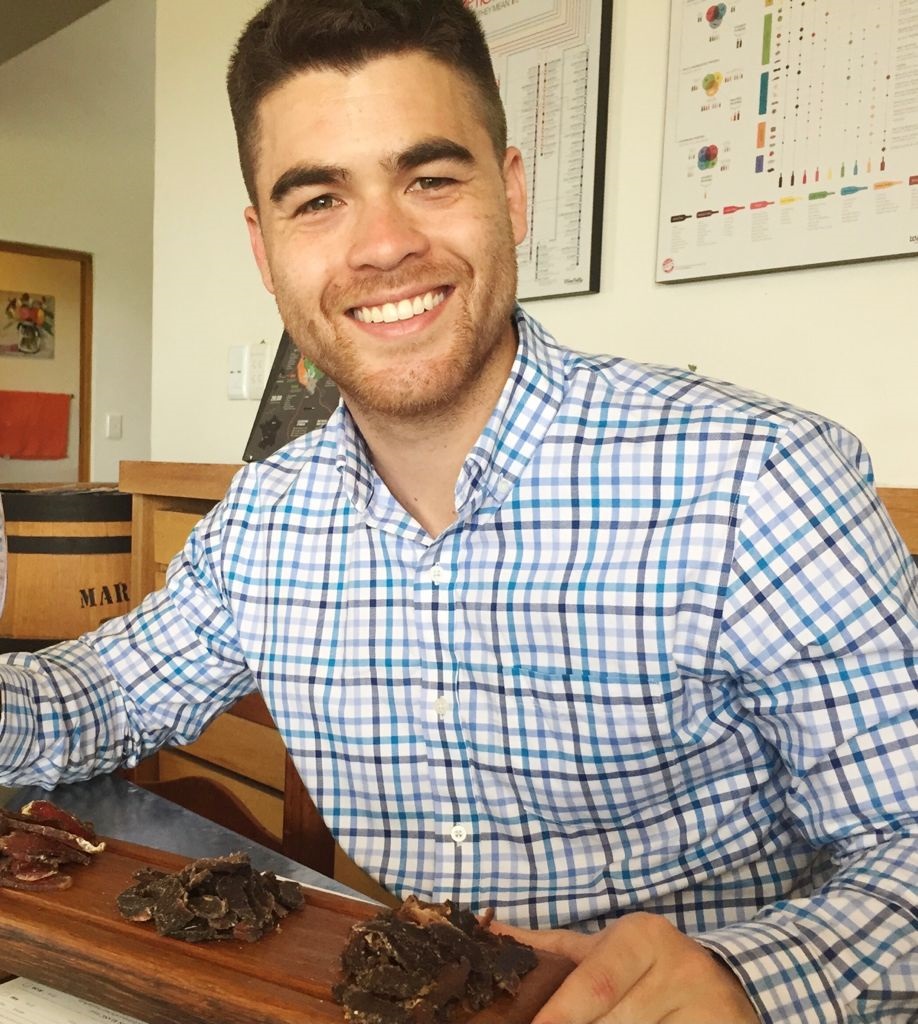 Greg Larkin is the founder and managing editor of Costco Food Database, the premiere site for honest takes on all things Costco food. A self-proclaimed Costco super-fan since childhood, Greg turned his obsession in a mission to properly rate and review all of Costco's delicious buys. When he's not busy navigating Costco aisles, you can find Greg smoking Kirkland Signature meats, meal prepping, or perfecting his homemade jerky recipes.