Costco Hoody's Peanut Butter Chocolate Mix (So Addicting) 44 Ounce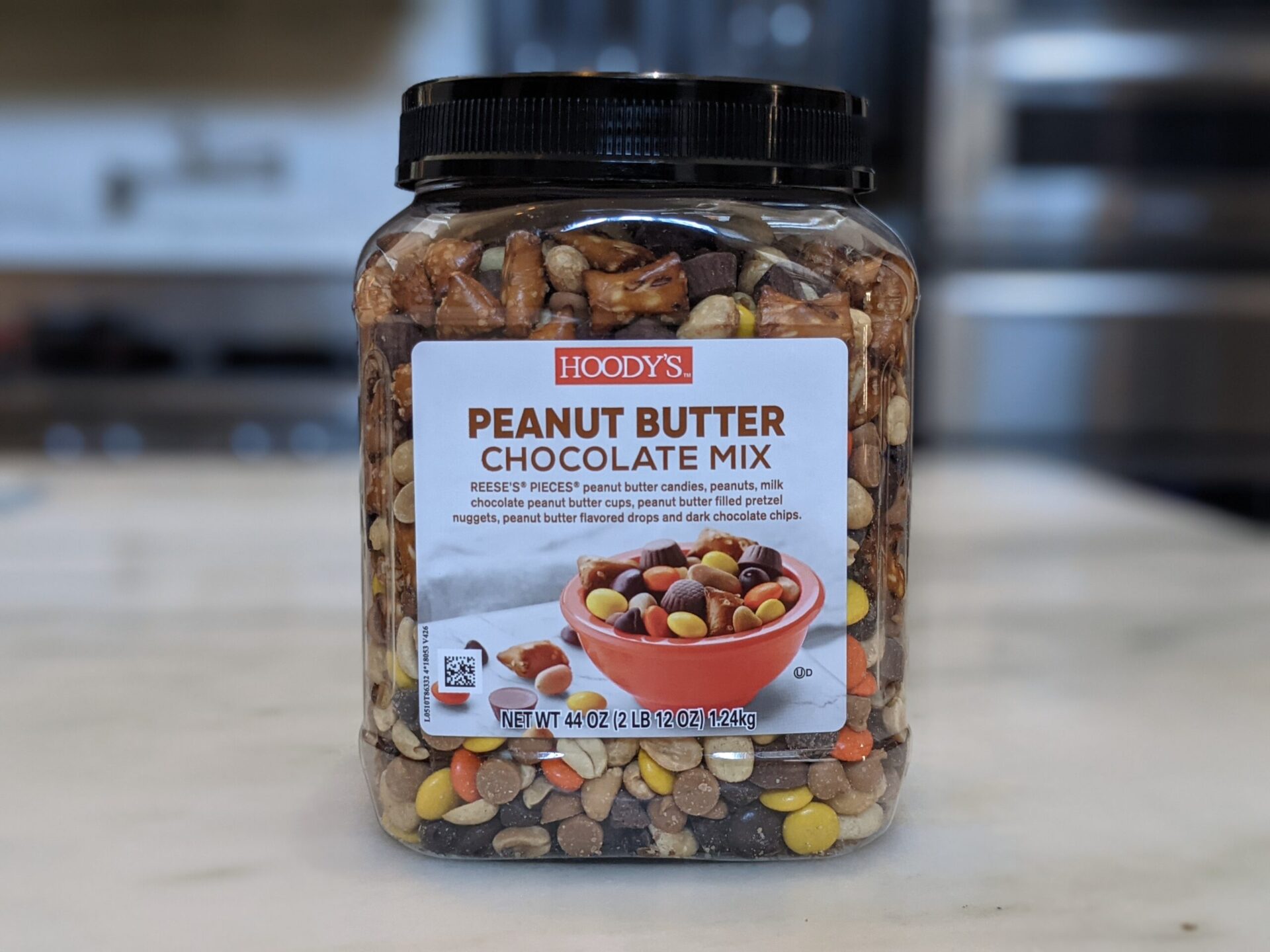 Hoody's Peanut Butter Chocolate Mix at Costco
Costco sells a 44 ounce (2 pound 12 ounce) jar of Hoody's Peanut Butter Chocolate Mix for $8.99. The peanut butter trail mix can be found in the snack section of the warehouse, often located near the cash registers.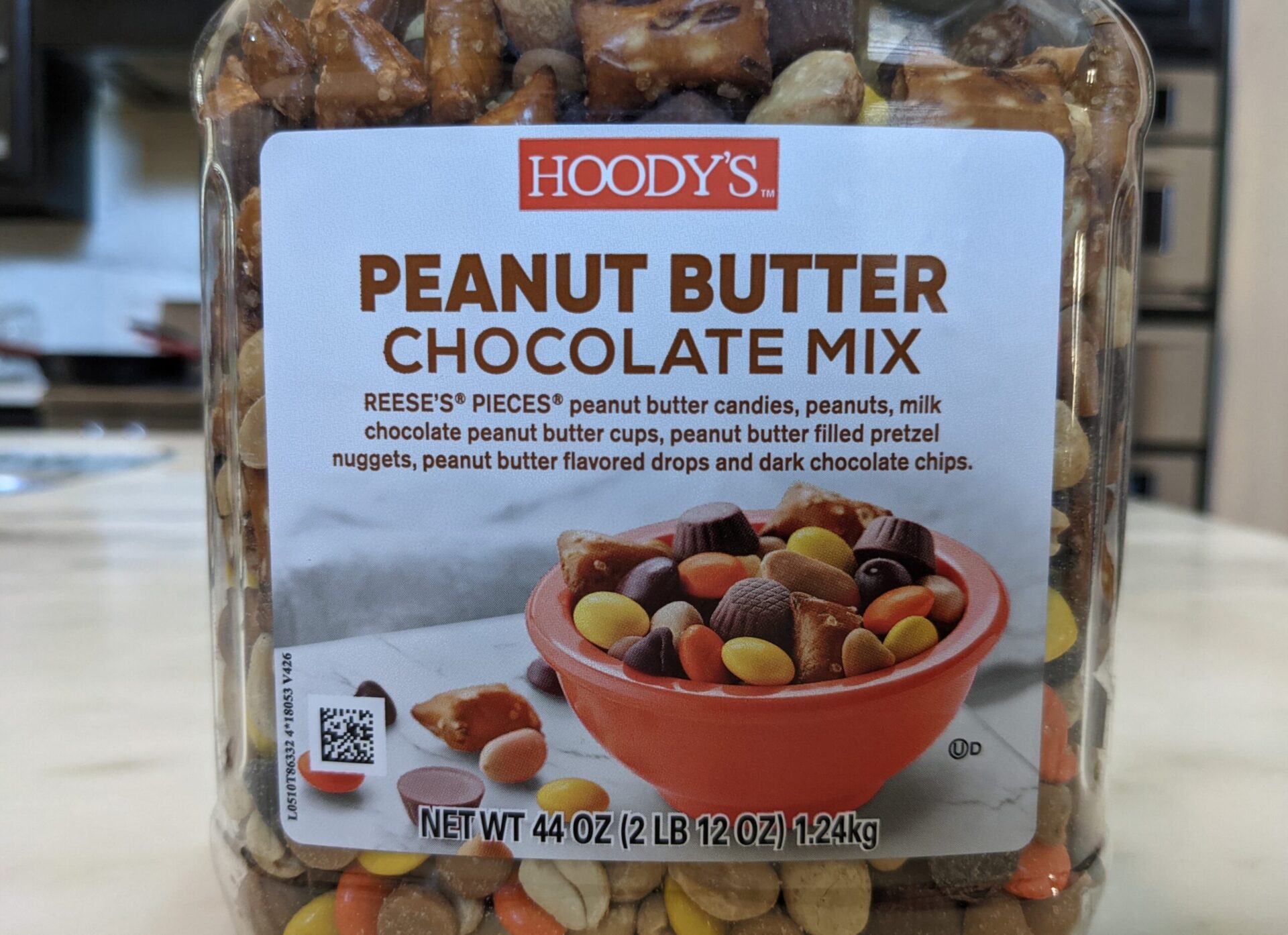 Have You Tried Costco's Peanut Butter Trail Mix?
Let the rest of the Costco Food Database community know what you thought of this product. Results and reviews are at the bottom of this page.
Please allow 24 hours for review moderation and approval.
What's in this Hoody's trail mix?
This trail mix is essentially peanut themed. The trail mix is made up of Reese's Pieces peanut butter candies, peanuts, milk chocolate peanut butter cups, peanut butter filled pretzel nuggets, peanut butter flavored drops and dark chocolate chips. 

Every single one of the items in this trail mix is either peanut related or chocolate. This is a peanut lovers dream trail mix.
Costco Cost Comparison - Peanut Butter Trail Mix
How much is Hoody's Peanut Butter Chocolate Trail Mix?
Costco sells Hoody's Peanut Butter Chocolate Mix for $8.99. For the 44oz tub, this breaks down to $0.20 per ounce. 
Costco's 64 ounce Kirkland Signature Trail Mix with Peanut M&M's sells for $12.49 or a rounded up $0.20 per ounce.

Hoody's Peanut Butter trail mix is essentially equal in price with Kirkland Signature's trail mix which is a pleasant surprise. 
Costco vs the Competition
No other major retailer seems to sell this exact Hoody's brand of peanut butter trail mix, but instead offers their own generic store brand version.
Sam's club sells their 22 ounce Great Value Chocolate Peanut Butter Mix for $6.98 or $0.32 an ounce. 
Target sells their 34 ounce Favorite Day brand Peanut Butter Monster Mix for $8.79 or $0.26 an ounce. 
Costco clearly comes out ahead again while Walmart is 50% more expensive and Target is 30% more expensive than Costco's price for peanut butter trail mix. 
Costco offers the best price on this peanut butter trail mix that includes official Reese's Pieces candies!
Peanut Butter Chocolate Mix - Taste Test
There are six different items in this peanut butter trail mix combo from Costco, and each of them helps make this trail mix such a tasty and addictive snack.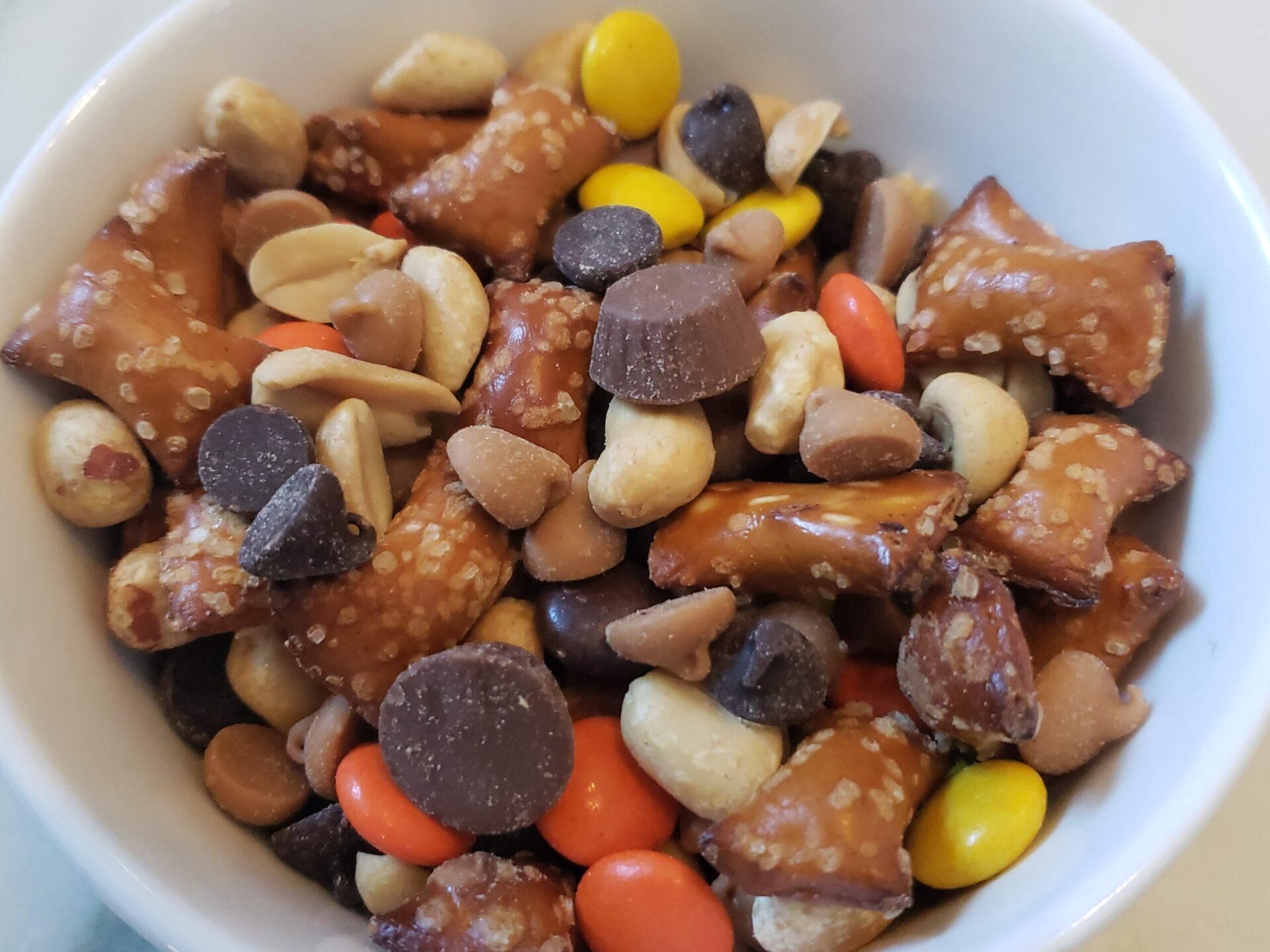 The peanuts and the chocolate chips are traditional trail mix items and found in most other trail mixes. They make a nice solid base for this PB chocolate trail mix. 
The pretzels are filled with peanut butter, but are my least favorite item in the trail mix. They only had a minuscule amount of peanut butter and were quite dry. 
Great Reese's Pieces Candies
The big differentiators here are going to be the Reese's Pieces brand peanut butter candy and the mini-mini peanut butter filled cups. 
The Reese's Pieces, come in three colors of brown, orange and yellow, and were fantastic as always.
Generic Peanut Butter Cups
I thought the mini peanut butter cups were a slight letdown, but still enjoyable. They aren't Reese's brand and it showed; the chocolate was weak and the peanut butter was runny.
I would have preferred a more creamy peanut butter texture.
All combined, the sweet and salty are perfectly balanced. The peanut butter flavor is strong and present in every bite.
The peanut butter pieces candies are a great addition and this is a very solid Costco buy.
Hoody's Peanut Butter Chocolate Mix Nutritional Information
How Many Calories in Hoody's Peanut Butter Trail Mix?
One serving of Hoody's Peanut Butter Chocolate Trail Mix is 3 Tablespoons or 1 ounce (28g). Each serving contains 150 calories coming from 9 grams of fat, 14 grams of carbohydrates, and 3 grams of protein.
This is essentially a peanut butter trail mix so this isn't going to be the healthiest food for you, and the nutritional profile is just average. There is a hearty amount of both carbs and fat in this peanut butter chocolate mix. 

One thing to note: there are some healthy fats in this trail mix. Of course, anything coming from the Reese's Pieces candies or the peanut butter/chocolate chips are not going to be healthy fats, but the actual peanuts will provide some good heart healthy mono and polyunsaturated fats.
There are way too dang many ingredients in this trail mix, which usually isn't a good sign. There are too many for me to list, so I'll leave you all with the photo.
This trail mix is delicious and might be one of the most addicting trail mixes that I have ever tasted. The combination of sweet and salty is perfect and the peanut butter candies amazing. The occasional pieces of chocolate are a nice mix up and go together so well with the rest of the items. 

I like it, but I'm not sure I can recommend it. One serving is one ounce of peanut butter chocolate mix and I'll tell you right now, it's really hard to stop at one serving. If I just have one little piece, I'll end up consuming 5+ servings or even more (Costco's 44 oz tub doesn't help). You've been warned!
Costco Food Database User Reviews
Have you tried this item? Let the rest of the Costco Food Database community know what you think. Leave a rating and review for this product.