Costco Ravioli Lasagna - How to Cook + Calories
Kirkland Signature Ravioli Lasagna at Costco
Costco sells its premade Kirkland Signature Ravioli Lasagna for $4.99 a pound. The ravioli lasagna can be found in the refrigerated deli area of the warehouse near premade items such as beef bulgogi, shepherd's pie, and chicken alfredo.
The ravioli lasagna is sold in approximately 3-pound packages. It contains pork beef bolognese sauce and four cheese ravioli (ricotta, asiago, parmesan, & romano) and is topped with a layer of shredded mozzarella and provolone cheese. This is a beefy, porky, cheesy Italian dish. 

The top layer of cheese is very similar to what you would find on a Costco food court pizza.
Have You Tried Costco's Ravioli Lasagna?
Let the rest of the Costco Food Database community know what you thought of this product. Results and reviews are at the bottom of this page.
Please allow 24 hours for review moderation and approval.
How Much Does Costco's Ravioli Lasagna Cost
Costco sells the Ravioli Lasagna for $4.99 a pound or about $16 per package. My ravioli lasagna retailed for $16.12, but Costco was running a $3 off promotion, and I picked up the pack for $13.12. This dropped my per-pound price down to $4.06, which is absolutely fantastic for a premade meal like this that includes meat.

For reference, Costco sells a Caesar salad kit for $3.99 a pound, and that does not include any meat.
Costco vs. The Competition
I wasn't even 100% sure what a ravioli lasagna was before I picked up this purchase from Costco, and it doesn't seem to be an extremely popular item that is sold in other grocery stores or retailers. 
It looks like ravioli lasagna is more of a fun at-home meal, and Costco is one of the only major retailers that sells a version of the dish.
Ravioli Lasagna Taste Test
I followed the recommended cooking instructions (listed below), and everything came out well. The cheese crust along the edges developed very nicely, and the meal was fully heated through. 
The instructions say to cover it with foil, and I recommend covering it with a loose layer of foil. I pulled my foil tight, and some of the shredded cheese stuck to the foil.
I'll be honest I didn't have high hopes for this premade ravioli lasagna. I thought it was just going to be a pasta carb bomb, but it actually had a solid amount of cheese and meat. 
Even though I lost a bit of cheese to the foil, I thought the meal was excellent and much better than expected.
Everything was cooked very well, and the pasta was nice and tender. Very easy to eat without feeling like you are eating just layers of pasta.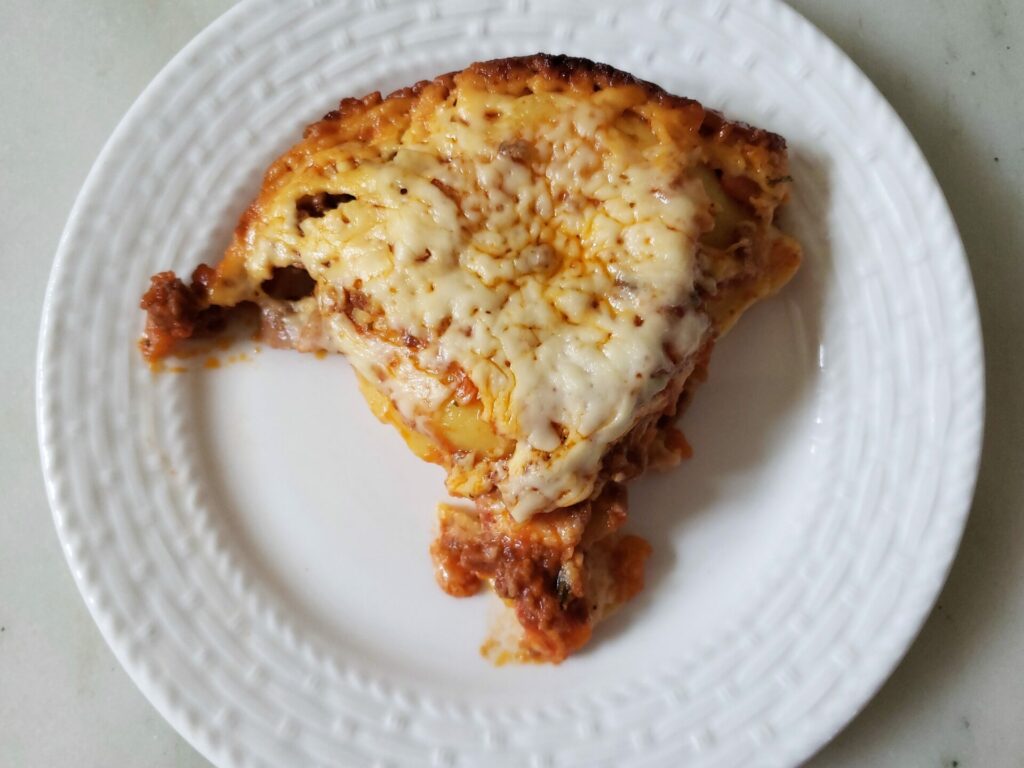 There was so much cheese that some of the bites were too rich for me. It was manageable but just a little cheesy. 
The bolognese sauce was great, and there was enough ground pork and beef that it didn't feel like a meatless dish.
It's not my favorite dish overall because there isn't an abundance of meat, but still very enjoyable for what it is. It's an easy to prepare meal for a lazy weeknight dinner.
How to Cook Costco's Ravioli Lasagna
Some of Costco's Kirkland Signature premade meals are instant eats with 5-10 minutes of prep, and others, like the meatloaf and this ravioli lasagna, will need to be cooked for 60 minutes+. Here are the cooking instructions for the Kirkland Signature Ravioli Lasagna.
Kirkland Signature Ravioli Lasagna Cooking Instructions
Preheat oven to 400°F 

Remove Clear Lid

Cover with Foil and Place on the center rack of the oven on a cookie sheet.

Bake for 60-70 minutes or until the internal temperature reaches 165°F.
Costco Ravioli Lasagna Calories and Nutritional Information
One serving of Costco's Ravioli Lasagna with Bolognese Sauce will be 6.6 ounces and contain 360 calories. The 360 calories will come from 19 grams of fat, 25 grams of carbohydrates, and 24 grams of protein. 
Costco doesn't include the calorie information on their packaging, but here is the full nutritional label for the Kirkland Signature Ravioli Lasagna.
Nutrition Facts
Costco Ravioli Lasagna
Amount per Serving
% Daily Value*
* Percent Daily Values are based on a 2000 calorie diet.
This is a pretty standard nutritional label, but I am quite surprised by the high protein count. The carbohydrates are a little less than I expected for a ravioli lasagna combination which is fantastic, and the protein count is a whopping 24 grams.
I wouldn't have been shocked if the protein per serving was closer to 7-10 grams, so 24 is a godsend. 
How Many People Can Costco's Ravioli Lasagna Serve?
Costco measures one serving as 6 ounces, so according to the serving size, there are 8 portions in each tray of the Ravioli Lasagna. I personally thought 6 ounces of ravioli lasagna was on the smaller side, especially if it's the main entree. A more reasonable serving is closer to 8 ounces which means the Ravioli Lasagna can feed about 6 people. 

I would even combine the dish with some oven-roasted vegetables to stretch the servings as well.
Costco Food Database User Reviews
Have you tried this item? Let the rest of the Costco Food Database community know what you think. Leave a rating and review for this product. 
Costco Ravioli Lasagna
Extra Cheesey Ravioli Lasagna
Ingredients
1

Package

Kirkland Signature Ravioli Lasagna

8

ounces

Mozzarella Cheese
Instructions
Remove and discard plastic Costco ravioli lasagna packaging

Spread an additional 8 ounces of Mozzarella Cheese on top

Bake for 60 minutes at 400° or until temperature hits 165°

Broil for 3 minutes to brown cheese on top
Nutrition
Serving:
6.6
ounces
Calories:
360
kcal
Carbohydrates:
25
g
Protein:
24
g
Fat:
19
g
Saturated Fat:
9
g
Trans Fat:
0
g
Cholesterol:
70
mg
Sodium:
850
mg
Fiber:
25
g
Sugar:
5
g