How To Cook Costco Salmon Burgers + Recipe Ideas
Salmon Burger Patties at Costco
Costco sells a 12 pack of Trident Seafoods Alaska Salmon Burger patties in the frozen food section. The samon burgers are near the other frozen seafood items such as the Marinated Alaskan Salmon and the Everything Seasoned Cod, and a great alternative to traditional beef hamburgers. 
Trident Seafood also sells Beer Battered Cod and Fish Sticks at Costco. In this article I will cover:
Salmon Burger Information
How Much Are Salmon Patties At Costco
How to Cook Costco Salmon Burgers
Costco's Salmon Burger Patty Calories & Nutrition
These salmon burgers are made with wild Alaskan salmon. You can obviously eat them in a bun, but you can also try them in wraps, pitas, tacos, open-faced sandwiches, or crumble them up into an omelet. 
They are a delicious and convenient frozen patty option that can be eaten in many different ways. 
Have You Tried Costco's Salmon Burgers?
Let the rest of the Costco Food Database community know what you thought of this product. Results and reviews are at the bottom of this page.
Please allow 24 hours for review moderation and approval.
Alaskan Salmon Burger Patty - Costco Price Comparison
How Much Do The Salmon Burger at Costco's Cost?
At Costco, the salmon burgers go for $17.99, and you get 3 pounds of wild caught Alaska salmon patties or 12 patties. The price per pound breaks down to $6 per pound and the price per salmon burger patty is $1.50. 
Each of the patties weighs a quarter of a pound.  
Priciest Burger Patty Option at Costco
I've already reviewed a few salmon products from Costco and one of the most interesting things I've learned was how expensive salmon is no matter what form it comes in. 
The $1.50 price for a quarter pound salmon burger patty is on par with Costco's 1/3 pound Grass Fed Burger Patty. 
The price per pound for the salmon burgers from Costco is $6. Even though the price has gone up recently, I would still say it's fairly priced for a delicious seafood patty. 
What jumped out to me in my canned salmon review was that Costco charged $7.11 per pound. I thought that was an astronomical price for canned salmon. 
Both fresh Atlantic Salmon and frozen salmon go for $9.99 a pound, so it becomes really hard to justify spending over $7 for canned pink salmon. 
I'm pleasantly surprised that the salmon burgers are the least expensive salmon option at Costco. The packaging says no fillers too, so you're just paying for pure salmon and seasoning. 
Considering how expensive food is getting (March 2022), $6 per pound for Costco salmon burger patties is palatable. 
Costco Salmon Burger Patty Review
With 12 patties per package, there was some opportunity to experiment with these Costco salmon burgers.
I normally prefer cooking frozen food in the air fryer, but these Trident Seafood's salmon patties can also be cooked in a pan, baked, or grilled.
Fantastic Burger Patty - Very Delicious
With the air fryer salmon patty, I decided to add it to a bun and make a salmon burger with it. 
I tried to mimic the image on the front of the package, but didn't have red onions or an avocado on hand. 
Overall, I thought the salmon burger was pretty tasty. It was a little dry but nothing to really complain about. The salmon burger is already preseasoned and thankfully it isn't overly salty. I very much enjoyed the salmon patty and will have no problem going through the entire bag.  
The salmon patty feels a lot lighter and refreshing than a typical beef burger and more akin to a ground turkey burger.
Great At Taking On Sauces
I also had a chance to enjoy a bbq cheddar salmon burger that I thought was delicious. A Kinder's Teriyaki Sauce salmon burger would also hit the spot. The plain flavor of the salmon burger acts as canvas for your favorite sauces. 
The Salmon Patty is More than Just a Burger
While most people including me are going to want to throw a salmon patty on a hamburger bun and call it a day, the salmon burgers can be served in a few different ways.
Trident seafoods recommends a few different serving options on the packaging, but I decided to slice up the salmon patty and mix it in some homemade leftover fried rice.
I will say, I really loved the diced up pan sauteed salmon burger in the fried rice. The flavors were excellent and pair well together. 
The Alaskan salmon patty was cooked perfectly and looked great on the outside as well as juicy on the inside.
The inside texture seemed to be a mix of flakiness and ground salmon. There were definitely more portions of ground salmon than I would have liked, but the texture of the burger is still very enjoyable. 
Wild, Natural & Sustainable
One thing I found interesting about Trident Seafoods and this product in particular is that they aren't heavily advertising this product as sustainable.
Most other seafood products will throw a bunch of logos on their packaging to show you how sustainable their fishing is.
With these salmon burger patties from Costco, they just included a little logo with some text near the bottom of the package. It's rather hard to see and I honestly only noticed because I was actively looking to see if this was a sustainable seafood product or not. 
Even the little logo and text doesn't specifically say sustainable fishing. It says "Wild, Natural, & Sustainable". It seems like that could just as easily be a tagline and not a declaration that this is a sustainable seafood package.
How to Cook Costco Salmon Burgers
Costco Salmon Burgers Cooking Instructions (4 Methods)
I've reviewed Trident Seafoods in the past and one thing they do much better than most other frozen food companies at Costco is providing multiple heating options. 
For these Costco Alaskan salmon burgers, they list 4 cooking methods.
One thing to note – These salmon burgers are meant to be cooked from frozen. You do not need to defrost the patties before heating with any of the cooking instructions below.
How to Cook Costco Salmon Burgers on the Grill or BBQ
Preheat the grill to 350°

Lightly oil grill or spray with cooking oil.

Costco the Costco frozen salmon burgers for 4-5 minutes with cover down.

Flip and cook for 4-5 minutes more or until internal temperature reaches 165°F.
I like the grill cooking option as it produces salmon burgers with some intense and flavorful grill marks.
Cook Salmon Burgers in the Conventional Oven
Preheat oven to 400°F
Place Costco salmon patties on lightly greased baking sheet
Place in salmon burgers in oven and cook for 9-10
Flip halfway through and cook for 9 more minutes or until internal temperature reaches 165°F. 
How to Pan Fry Costco's Salmon Burgers
Pre-heat pan on medium heat
Lightly oil with oil of your choice (vegetable, olive oil, avocado oil)
Cook frozen salmon burgers for 4-5 minutes
Flip and cook for 4-5 minutes more or until internal temperature reaches 165°F.
Costco Salmon Burger Air Fryer Directions
Preheat Air Fryer to 400°F
Place Costco salmon burgers in a single layer
Cook for 12-13 minutes.
Flip Halfway through. 
I love that Trident Seafoods gives 4 different cooking methods for their salmon patties. Depending on your mood or your equipment, you can still cook the salmon burgers your preferred way.
Salmon Burger Cooking Comparison
I followed the instructions best I could for both the air fryer and the pan saute, and I am super happy with the results for both.

I like that the air fryer cooking option is a little more hands off, and a doesn't require any additional oil, but I much prefer to cook the salmon burgers using the pan saute method.
I really enjoy the char marks that result from the pan saute and it adds a quit a bit more depth and flavor to the salmon patties. 
I go over all heating options and cooking directions for these salmon burgers in the section below.
Costco Salmon Burger Nutritional And Calorie Information
Only 170 Calories In Each Patty!
One serving size is one 4 ounce Alaskan salmon burger patty. Each patty contains only 170 calories with 9 grams of fat, 2 grams of carbs, and 20 grams of protein. 
This is a fantastic nutritional profile for these salmon patties, and it's going to be a hard one to beat.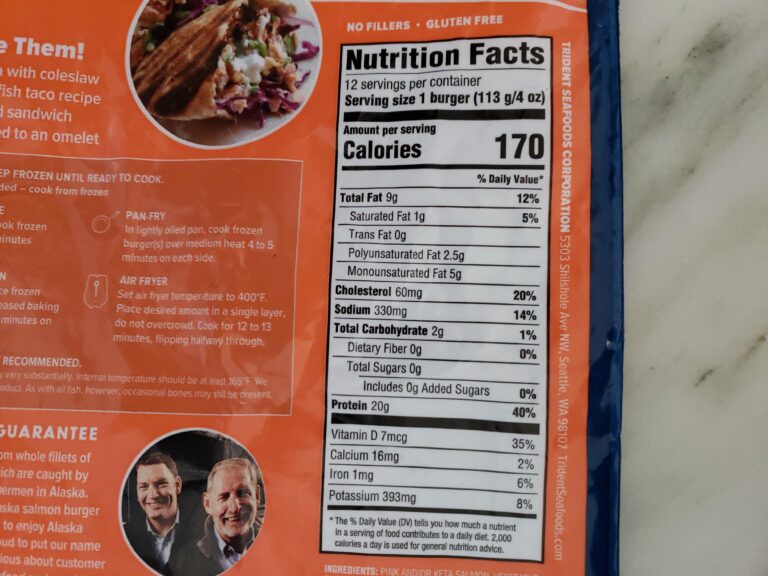 At only 170 calories per salmon burger, they are going to be a great option for most low-calorie diets or those looking for a low calorie filling meal. You could eat a whole pound of this salmon for the low price of 680 calories! Great for keto too! 
Full Of Omega 3 Fatty Acids
Aside from the lower fat content, one of the major benefits of eating salmon burger patties over beef patties is the high amount of Omega 3 Fatty acids. 
These have many health benefits such as reducing risk of cardiovascular disease, can promote brain health, and even fight depression and anxiety. These salmon burgers contain a whopping 1360mg of Omega 3 fatty acids each. Good Stuff! 
Much Healthier Than Beef Burgers
If you compare Costco's frozen Salmon Burgers to Kirkland Signature's Grass Fed Beef Burger Patties, you'll see that they are much healthier and have about ⅓ of the fat with nearly the same amount of protein. 
If you are watching what you eat, then go with the seafood salmon burgers. Do Keep in mind the salmon burgers are a quarter of a pound while the grass-fed beef patties are one third of a pound. 
Does Use Lower Quality Salmon
One thing to note about the ingredient list is that Trident Seafoods states that the salmon patties could come from either pink or keta salmon. 
Those are typically the cheapest salmon options, but this shouldn't be a surprise since these salmon burgers are the cheapest of all the salmon options in Costco.
The Salmon Burgers Are Super Healthy
Yes, Salmon burger patties are extremely healthy and a great burger option for those on a diet. They are low in calories at 170 calories per patty and they only contain 9 grams of fat with a whopping 20 grams of protein. These salmon patties are also packed with 1360mg of Omega 3 Fatty Acids.
Chuck's Personal Guarantee
They Stand By Their Product
Listed on the back of the packaging is a message from Chuck and Joe Bundrant from Trident Seafoods. It reads, "Our salmon burger is made from whole filets of wild caught Alaska salmon which are caught by independent hard working fishermen in Alaska. 
Seasoned to perfection, the Alaska salmon burger is a simple and convenient way to enjoy Alaska salmon anytime and we are proud to put our name on every package. 
We're as serious about customer satisfaction as we are about seafood and would love to hear from you. Please drop us a line. "
You can email Chuck at [email protected]. Does it actually get to him personally? Nobody knows, but they are at least willing to put their faces and names on this product. 
These Trident Seafoods frozen Salmon Burger Patties are the most economical option for salmon at Costco. They are convenient to make, extremely healthy, and taste great. 
I personally love them as a hamburger replacement, but the patties can also be altered and used in tacos, omelets, salads, or even in fried rice. 
These salmon burgers from Costco are great to have in the freezer as a quick and easy lunch or even serving these at a backyard bbq. 
Costco Food Database User Reviews
Have you tried this item? Let the rest of the Costco Food Database community know what you think. Leave a rating and review for this product. 
Costco's Salmon Burger Patties
A quick recipe for an easy lunchtime meal using Costco's salmon burger patties.
Ingredients
1

Costco Salmon Burger Patty

1

Bun

Lettuce

Tomatoes

Onion

Mayo
Instructions
Pre-heat pan on medium heat

Lightly oil with oil of your choice (vegetable, olive oil, avocado oil)

Cook frozen salmon burgers for 4-5 minutes

Flip and cook for 4-5 minutes more or until internal temperature reaches 165°F

Remove from pan and assemble salmon burger with desired toppings
Nutrition
Serving:
1
Burger
Calories:
170
kcal
Carbohydrates:
2
g
Protein:
20
g
Fat:
9
g
Saturated Fat:
1
g
Polyunsaturated Fat:
2.5
g
Monounsaturated Fat:
5
g
Trans Fat:
0
g
Cholesterol:
60
mg
Sodium:
330
mg
Fiber:
0
g
Sugar:
0
g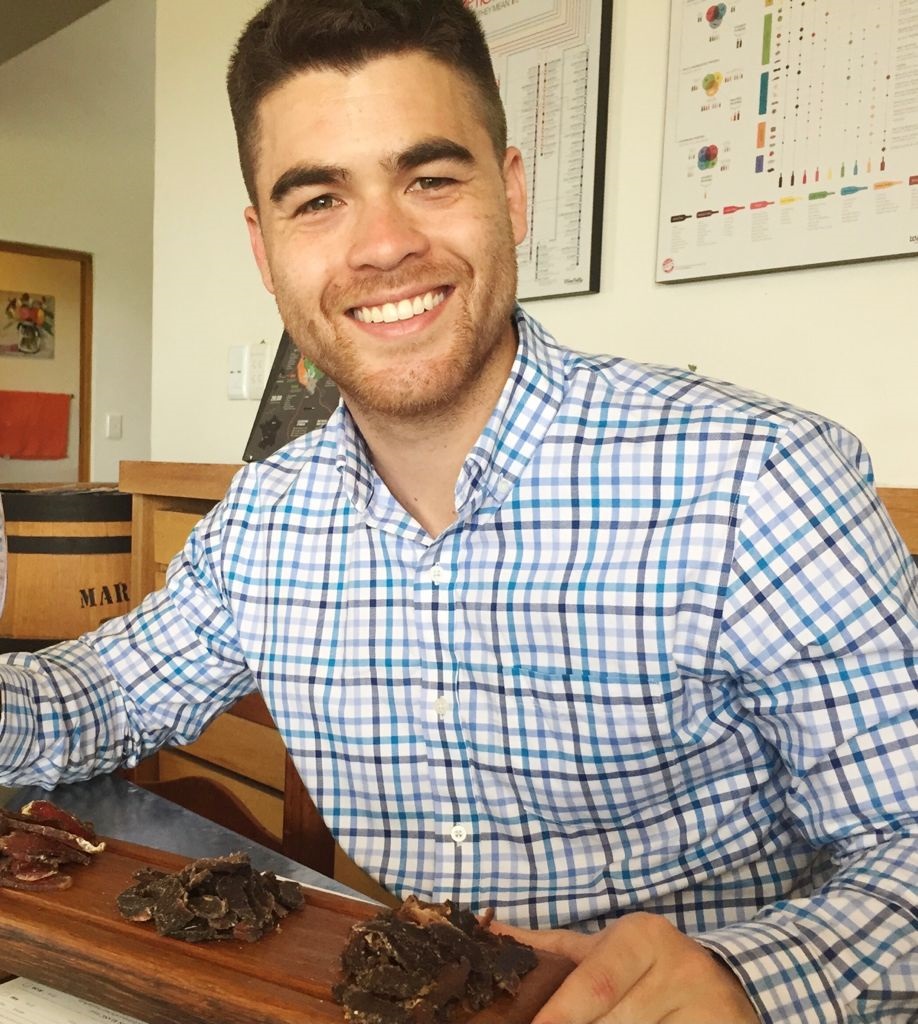 Greg Larkin is the founder and managing editor of Costco Food Database, the premiere site for honest takes on all things Costco food. A self-proclaimed Costco super-fan since childhood, Greg turned his obsession in a mission to properly rate and review all of Costco's delicious buys. When he's not busy navigating Costco aisles, you can find Greg smoking Kirkland Signature meats, meal prepping, or perfecting his homemade jerky recipes.