Costco Stuffed Peppers - Air Fryer Cooking Instructions + Calories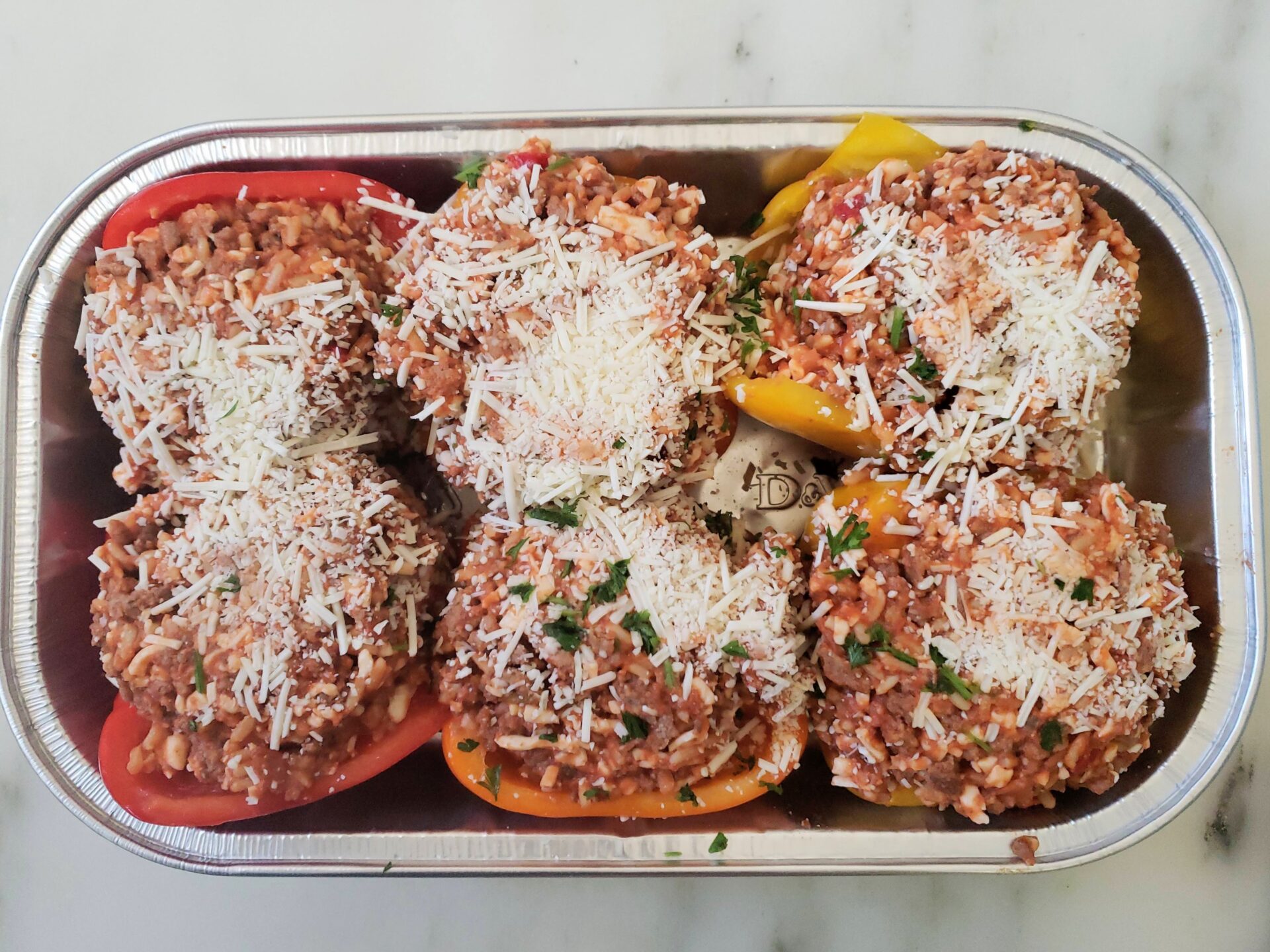 Kirkland Signature Ground Beef Stuffed Peppers at Costco
The stuffed peppers are sold in a pack of six and will contain approximately 3.75 to 4 pounds of food. The average price for the bell peppers will be about $20.
Have You Tried This Costco's Stuffed Bell Peppers?
Let the rest of the Costco Food Database community know what you thought of this product. Results and reviews are at the bottom of this page.
Please allow 24 hours for review moderation and approval.
What is included in Costco's Stuffed Bell Peppers?
Each package of Kirkland Signature stuffed bell peppers will contain 6 bell peppers (2 each of orange, red, and yellow) and a ground beef and rice combo filling.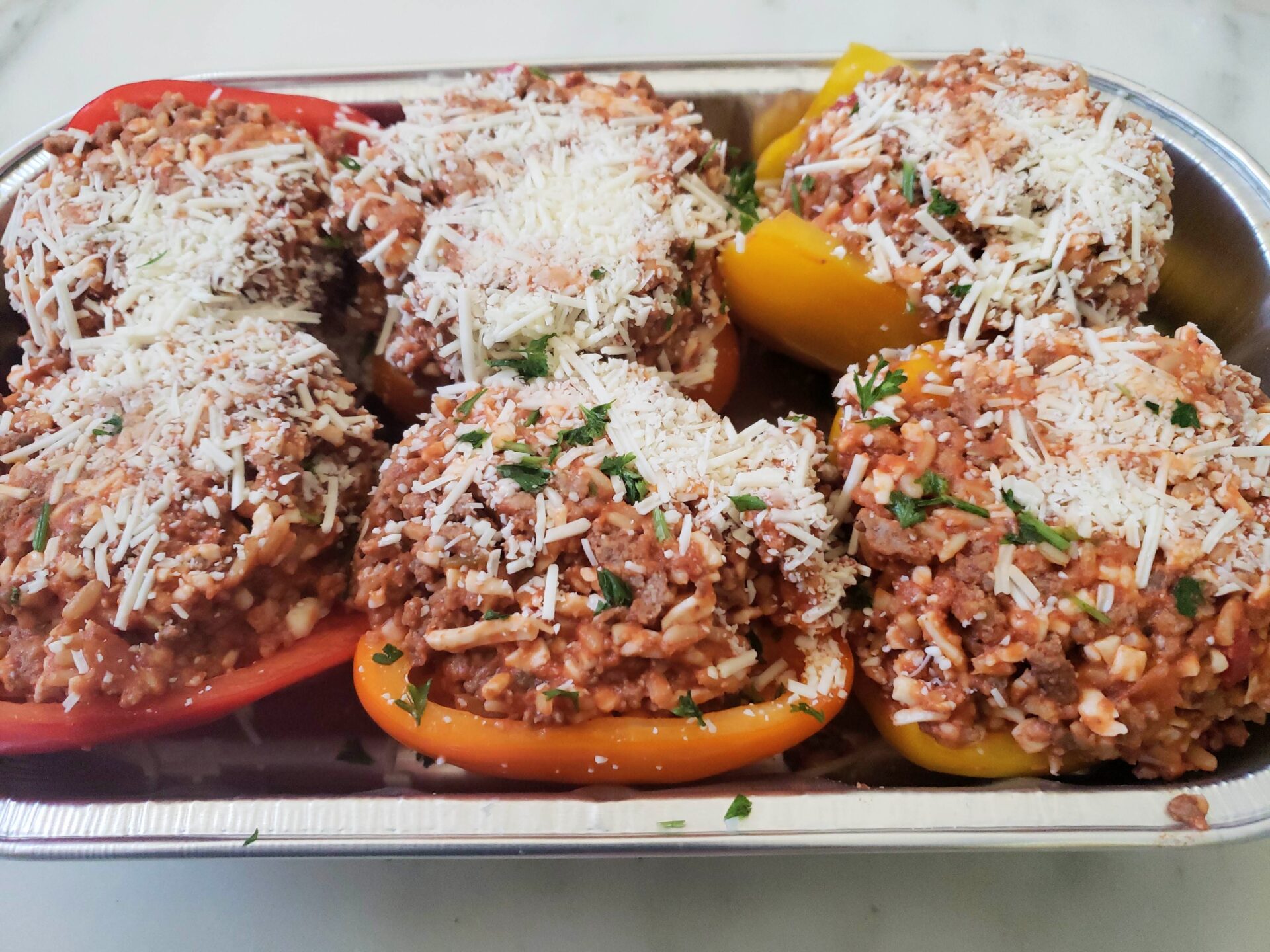 The ground beef filling will be seasoned with tomato paste, vinegar, sugar, salt, brown sugar, and garlic. The bell peppers will also include mozzarella, provolone cheese, and parmesan.
Are the Costco Stuffed Bell Peppers Precooked?
Yes, the stuffed ground beef bell peppers from Costco are pre-cooked. The ground beef is already fully cooked, while the rice is parboiled (partially cooked). 
The meal will still have to be heated and finished in the oven or the air fryer.
How Many People Can These Stuffed Peppers from Costco Feed?
Each package will come with exactly 6 stuffed peppers and can feed between 3-6 people, depending on how they are served. If served standalone, I recommend serving 2 per person.
In order to stretch out the servings, the bell peppers can be combined with sides such as salad, pasta, or green beans. The bell peppers can feed 6 people when combined with other food items.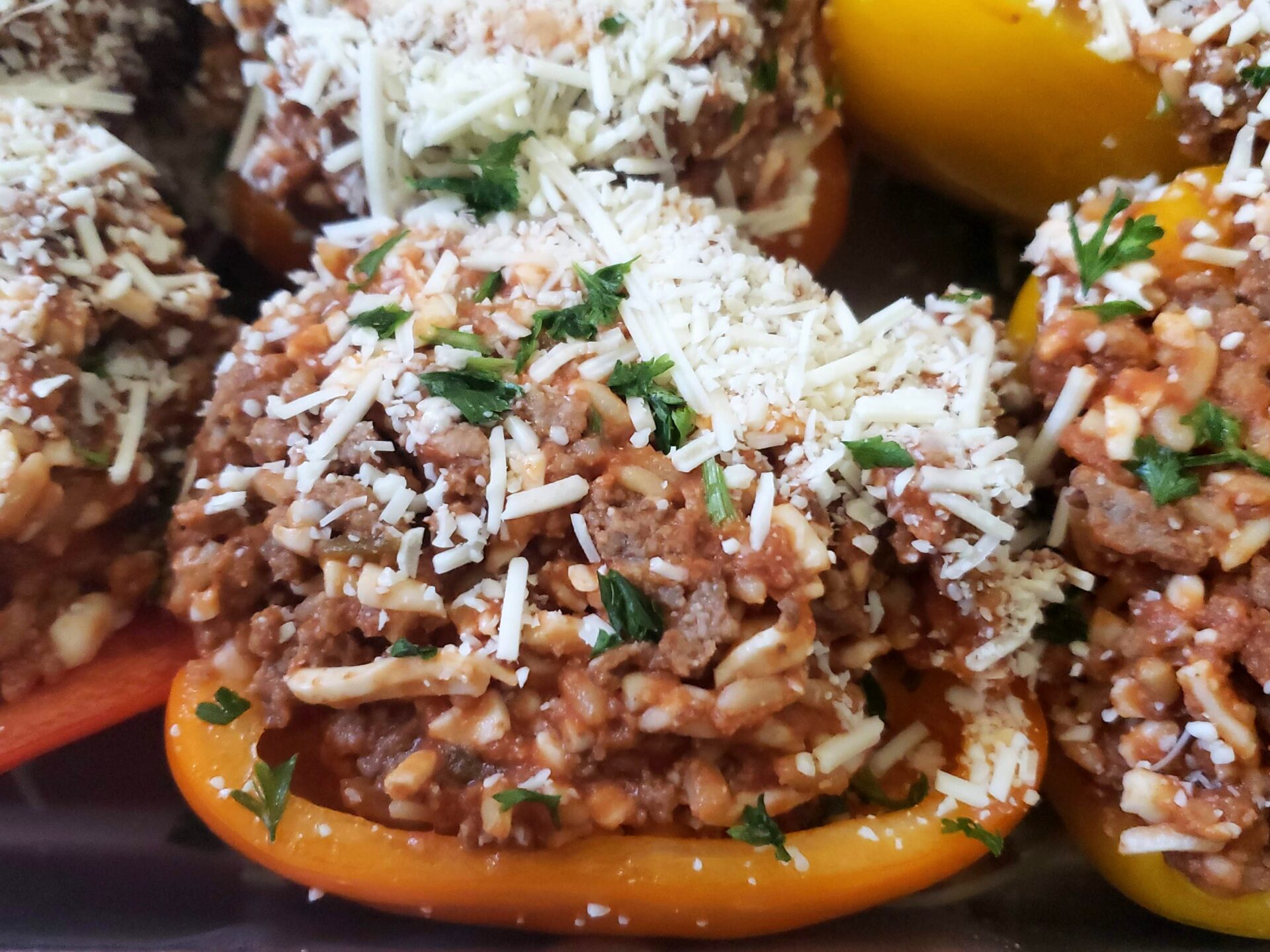 How Long Do The Stuffed Peppers Take To Cook?
According to the packaging, Costco's stuffed bell peppers can be cooked in the oven at 400°F for 50-60 minutes. This is a long cook time, so be sure to prepare accordingly. 
While not an official cooking direction from Costco, these stuffed peppers can also be cooked in the air fryer in about 15 minutes. This is my preferred method of cooking these stuffed peppers.
Outstanding In The Air Fryer
I'm a big fan of these Costco Stuffed Peppers, and cooking them in the air fryer is absolutely amazing. It's the only way I will cook them now, and I find them to be much tastier than when cooked in the oven.
They only take about 15 minutes in the air fryer, which is 1/3 of the time needed compared to oven baking them. 
The bell pepper will also char up, and the meat and cheese develops a crust that keeps the insides incredibly moist. The time savings is great, and the texture and flavor difference is amazing.
How Much Do Costco Stuffed Peppers Cost?
Costco sells its prepared stuffed peppers for $5.49 a pound. Each package costs approximately $20 for the 6 stuffed peppers. I was able to snag the bell peppers when Costco was running a $4 off promotion, bringing my price down to about $17.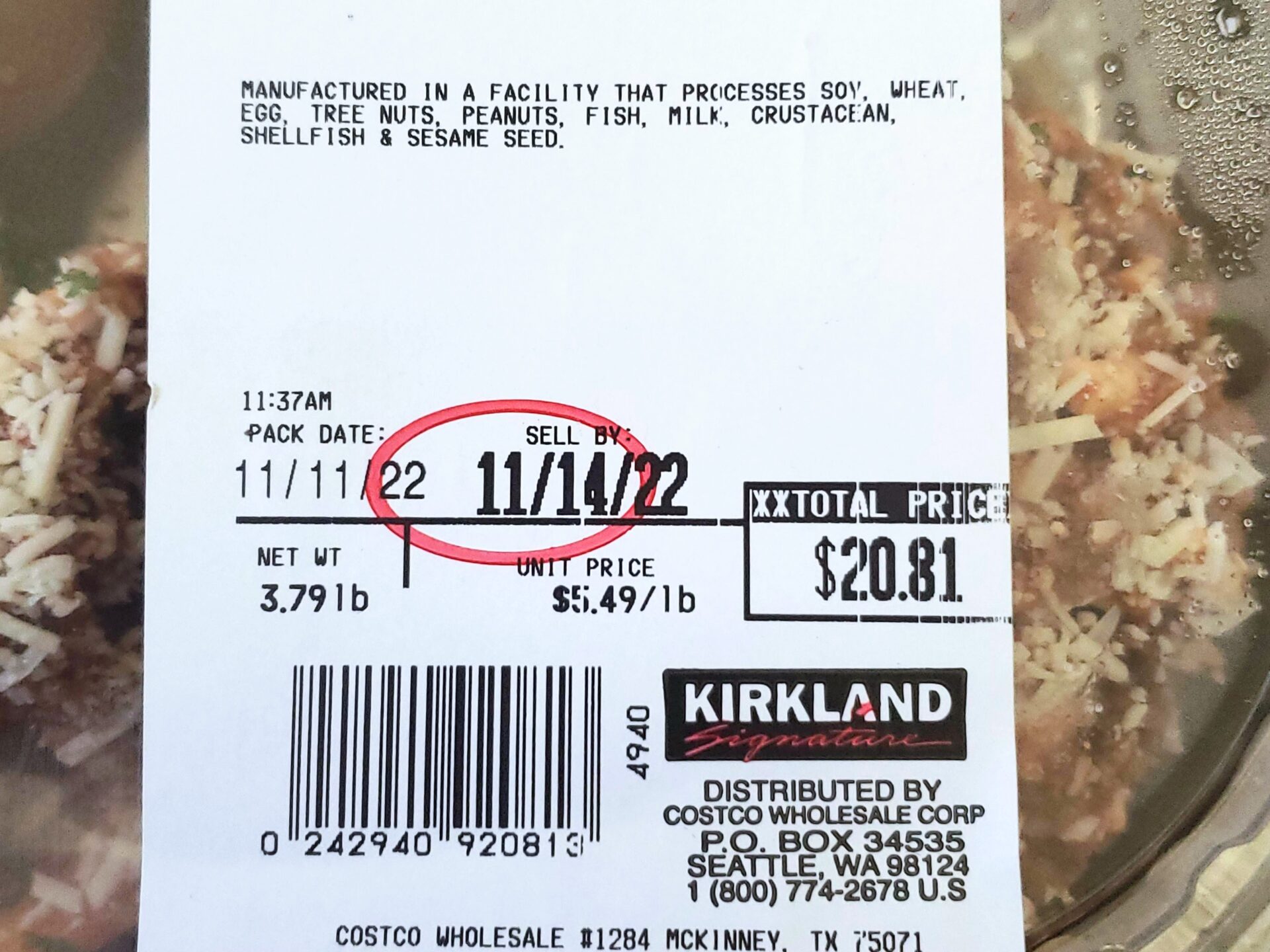 At retail, each stuffed pepper cost about $3.33 and when discounted, they went for about $2.85.
Are Costco's Stuffed Peppers Worth It?
Yes, the stuffed peppers are worth their price tag. The meal is easy to make but unique and fun. The ingredients themselves will cost about $1.50, but Costco has taken care of a lot of the time consuming preparation.
Costco vs. The Competition
Costco isn't the only retailer that sells premade stuffed bell peppers with ground beef. Sam's Club their version at $4.98 per pound. This is $0.50 per pound cheaper than Costco's stuffed peppers.
Target sells a 2-pound frozen package of stuffed peppers for $10.39. This breaks down to $5.20 per pound, which is better than Costco's price. These peppers are frozen, though, which brings the quality down.
Ground Beef Stuffed Peppers - Taste Test
I cooked the Costco stuffed peppers using a few different methods, and they came out great every single time. I already mentioned this, but my favorite cooking method is with the air fryer for various reasons, including taste.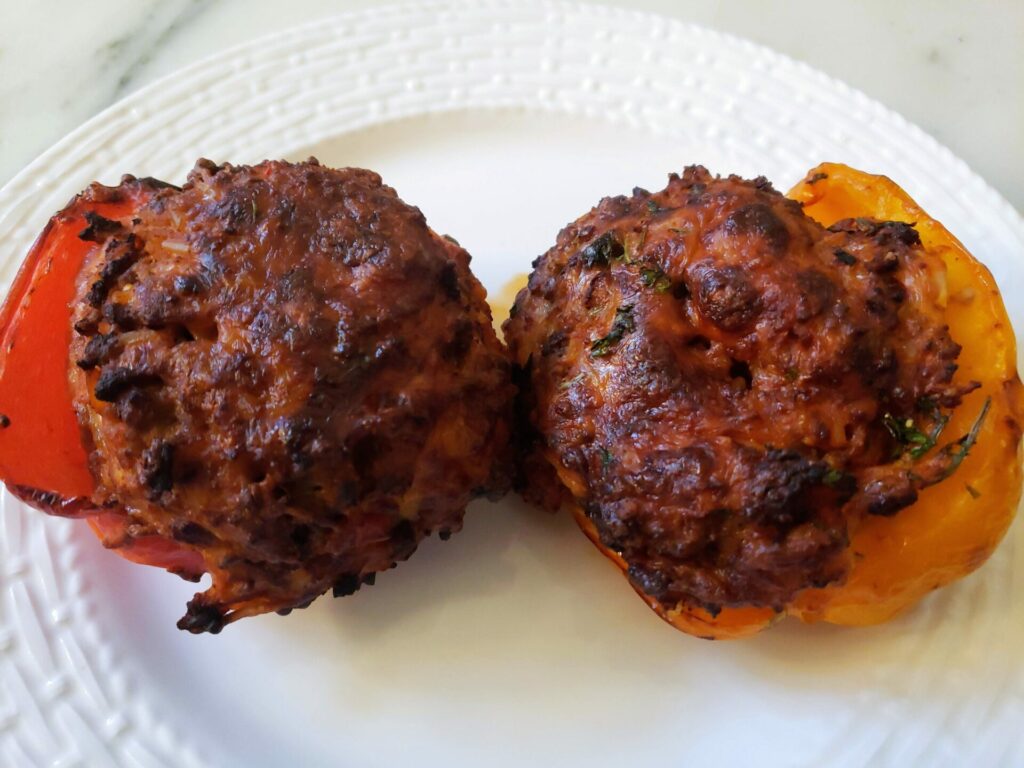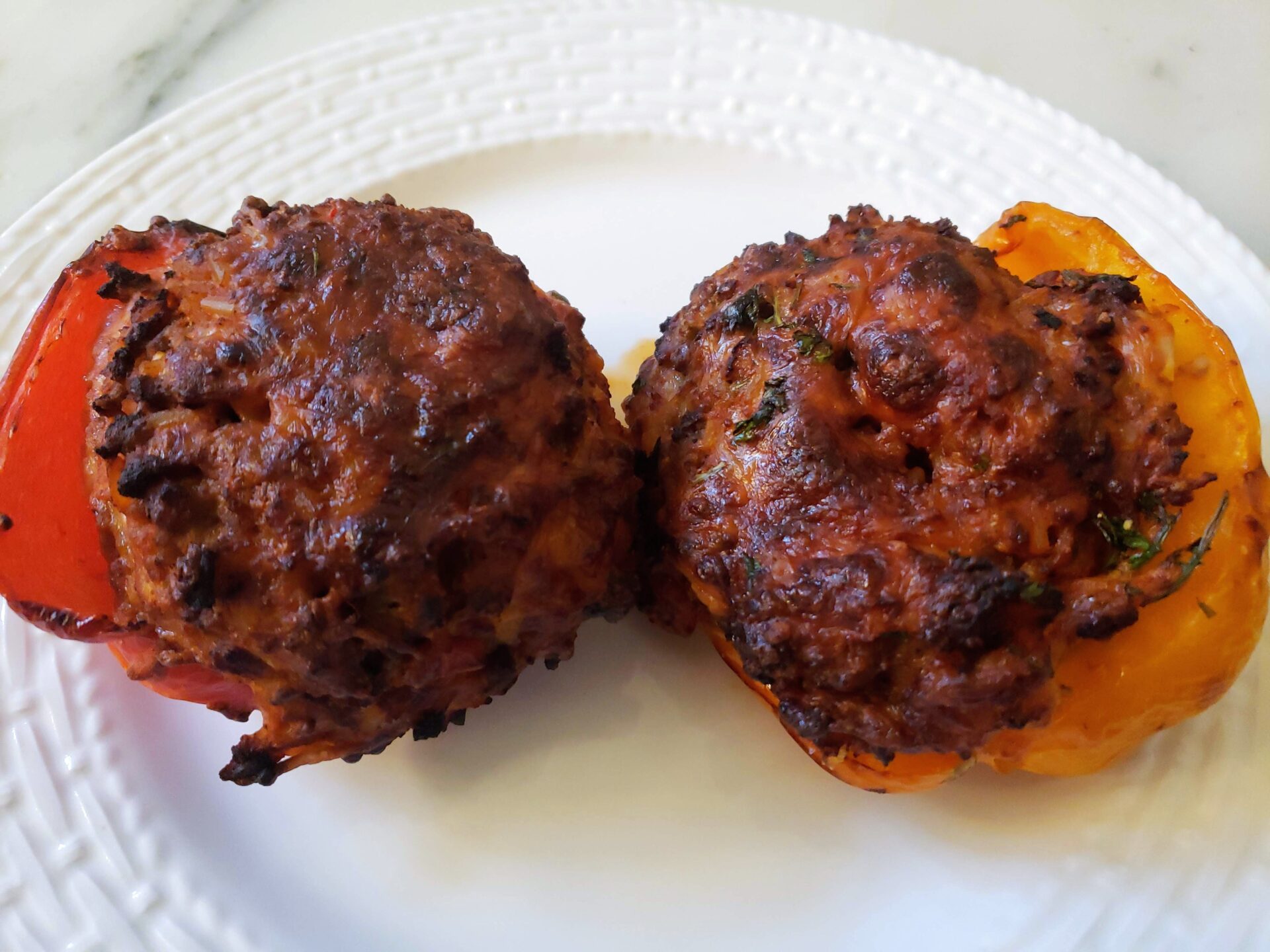 The bell peppers are great. They are fresh, and flavorful and do an excellent job holding in the filling.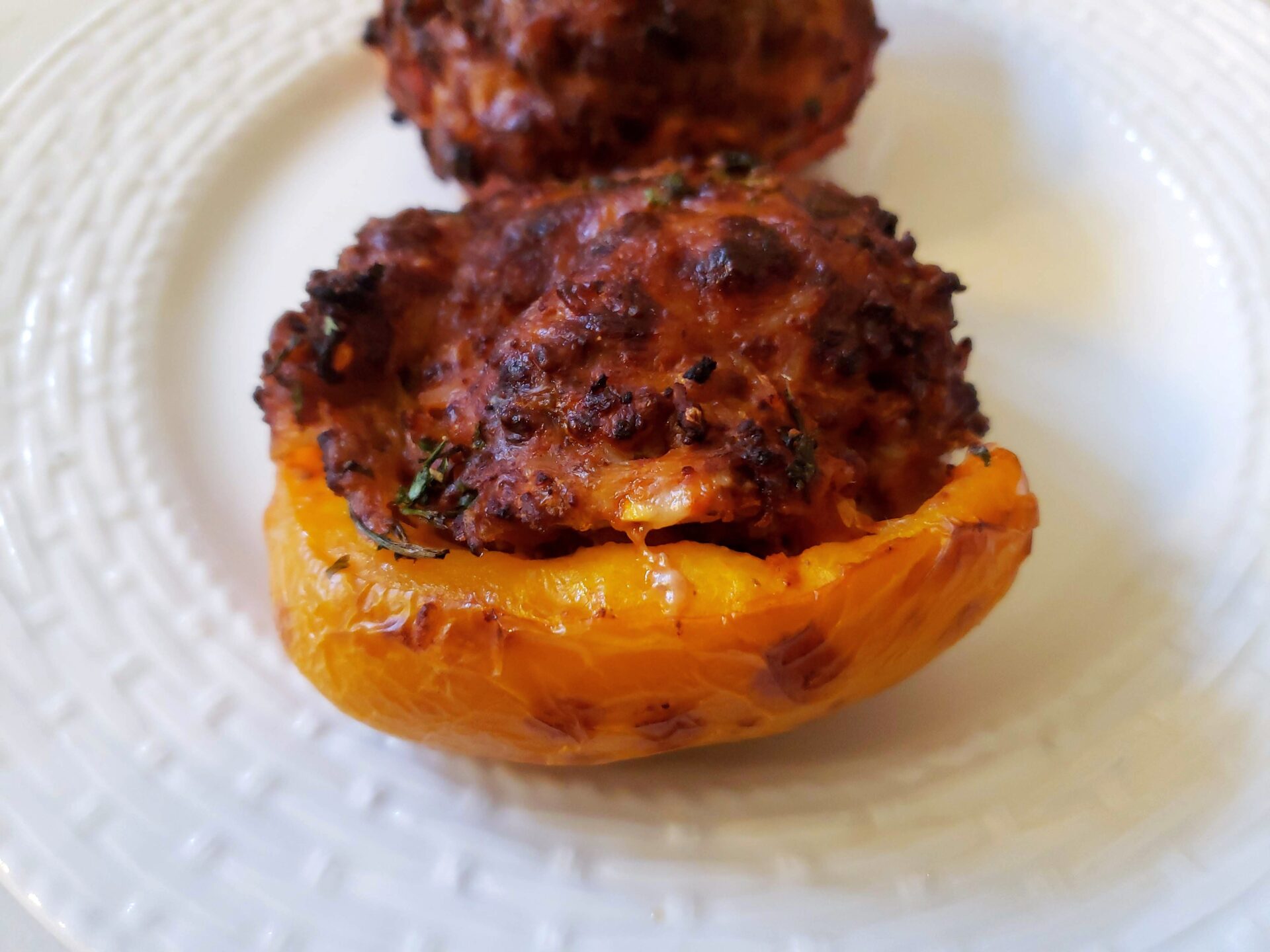 They are tender and delicious, and when cooked in the air fryer they get charred a bit, bringing out the delicious bell pepper flavor.
Filling Is A Little Sweet
The ground beef and rice filling is also very good. Sometimes these prepared meals will load up on rice and skimp on the meat, but Costco doesn't do that here. There is a hearty amount of ground beef in every bell pepper.
The ground beef and rice filling is on the sweeter side. Costco uses a tomato paste which gives it a nice flavor. 
There is sugar in these stuffed peppers, and when combined with the tomato paste, it gives it almost like a slight ketchup type flavor. There is also a noticeable sweetness from the brown sugar.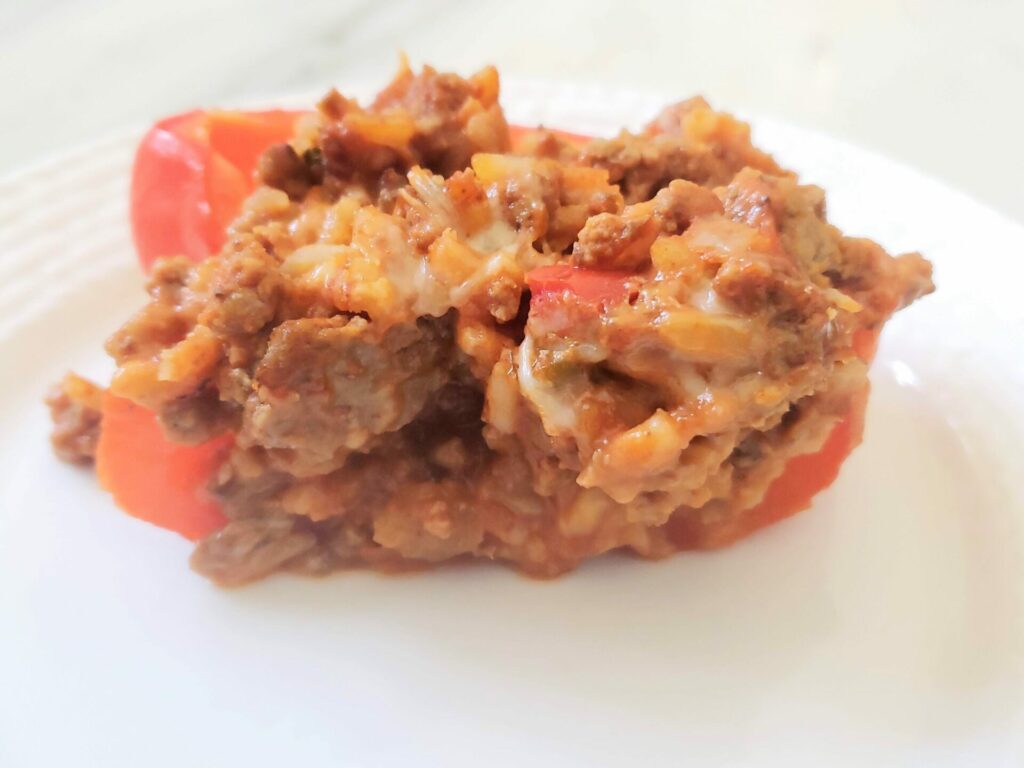 As a whole, I found these Costco stuffed peppers to be delicious. The freshness and flavor from the bell pepper were fantastic and the meat and rice filling was extremely tasty. I really enjoyed the stuffed peppers, and they make a great light and flavorful dinner option.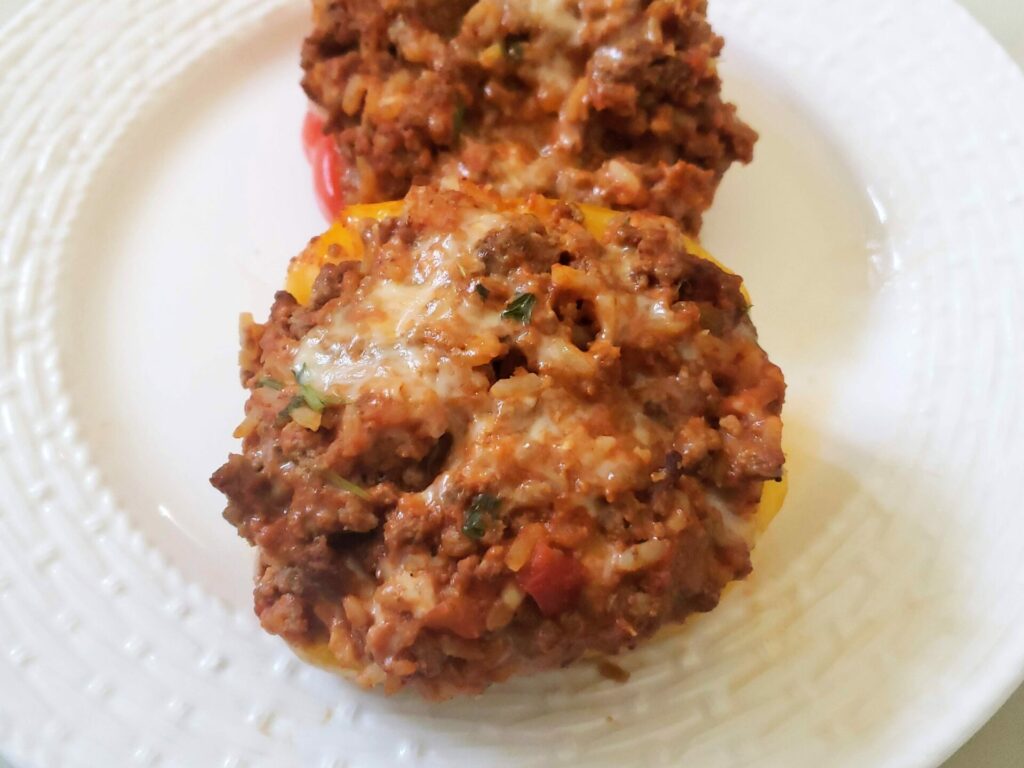 Pro Tip: The stuffed bell peppers can be spruced up a little more. Try adding in some chopped jalapenos or sprinkling on some additional cheese. 
How to Cook Costco Stuffed Peppers
Stuffed Peppers Cooking Directions
Costco only recommends one cooking option with these stuffed bell peppers, and that is to bake them in the oven. It's a suitable option, but some negatives include a long cooking time (60 Minutes).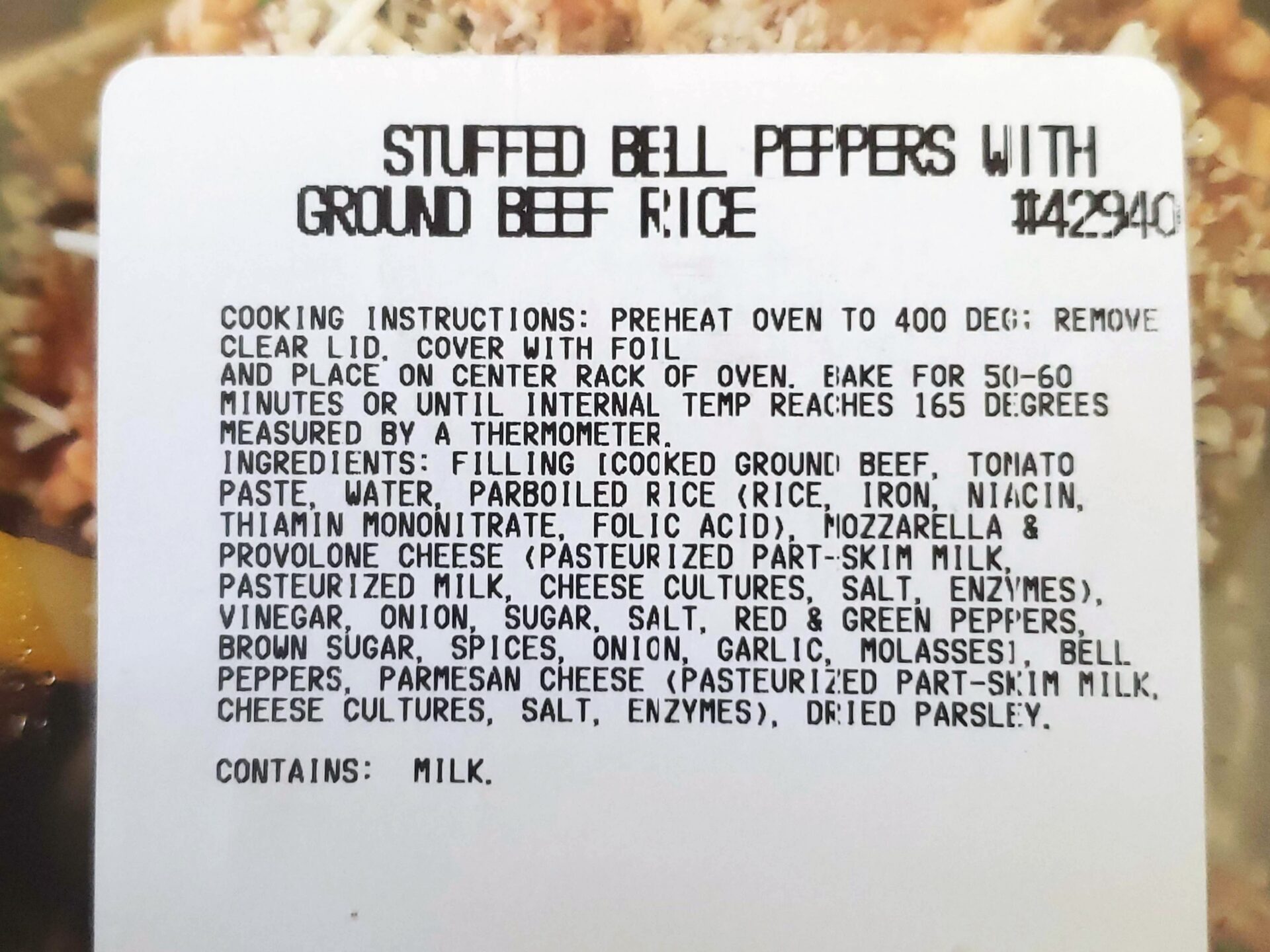 I much prefer to cook these ground beef bell peppers in the air fryer. The bell peppers roast up and char a bit, and the beef and cheese develop a nice crust. 
If you have an air fryer, I highly recommend using it.
Preheat Oven to 400°F.

Remove Clear Lid.

Cover with Foil.

Place on the Center Rack of the Oven. 

Bake for 50-60 minutes or until the internal temperature reaches 165°F. 
Pro Tip: Cook for 10-15 minutes longer for a softer, sweeter bell pepper.
Preheat Air Fryer to 350°F

Place Costco Stuffed Peppers in the air fryer for 12-14 minutes.
Can you Freeze Costco Stuffed Peppers?
Yes, you can freeze Costco's stuffed peppers. They will need to be defrosted before being cooked in the air fryer or oven.
Place the stuffed pepper tray in the freezer for 1 hour to harden the stuffed peppers and filling.
Remove the bell peppers and wrap them tightly with plastic wrap.
Place plastic-wrapped bell peppers in a Ziploc bag and freeze.
Either leave in the refrigerator overnight or if you are in a hurry, microwave them at 30% power for 90 seconds. Continue to microwave until fully defrosted.
Costco Stuffed Peppers Calories and Nutrition
How Many Calories in Costco's Stuffed Peppers
Each of Costco's stuffed peppers will have the following nutritional information: 
Calories: 310
Total Fat: 13g
Cholesterol: 65mg
Sodium: 950mg 
Carbohydrates: 24g
Dietary Fiber: 2g 
Total Sugar: 8g
Protein: 20g
Nutrition Facts
Costco Stuffed Bell Peppers
Amount per Serving
% Daily Value*
* Percent Daily Values are based on a 2000 calorie diet.
Are the stuffed peppers healthy?
Yes, the stuffed peppers are healthy for you. Ground beef and rice are great healthy options, and when combined with the bell pepper, there are immense benefits. Bell peppers are an excellent source of vitamin C, Vitamin A, and Fiber.
Each bell pepper is quite filling and only contains 310 calories. These are a great diet option for those who want to lose weight or keep calories down.
Each ground beef stuffed bell pepper will have 950 mg of sodium or 41% of the daily recommended value. This is quite a bit of sodium, considering how small the stuffed peppers are.
I need to eat at least two peppers or combine the stuffed peppers with other food items, which will also increase the sodium intake. These are on the moderately high end regarding sodium and should be something to watch out for.
Air Fryer Costco Stuffed Peppers (Crispy Cook)
An amazingly easy recipe to cook Costco's stuffed peppers in the air fryer.
Ingredients
1

Pack

Kirkland Signature Stuffed Peppers
Instructions
Preheat Air Fryer to 350°F

Place Costco Stuffed Peppers in the air fryer for 12-14 minutes.
Nutrition
Serving:
9.3
oz
Calories:
310
kcal
Carbohydrates:
24
g
Protein:
20
g
Fat:
13
g
Saturated Fat:
6
g
Trans Fat:
0
g
Cholesterol:
65
mg
Sodium:
950
mg
Fiber:
2
g
Sugar:
8
g
Costco Food Database User Reviews
Have you tried this item? Let the rest of the Costco Food Database community know what you think. Leave a rating and review for this product.