Costco Tortilla Crusted Tilapia - High Liner + Crispy Air Fryer Recipe
Costco Tortilla Crusted Tilapia is one of the hidden gems of the frozen food section. High Liner offers a healthy, tasty, and convenient tortilla crusted tilapia at Costco.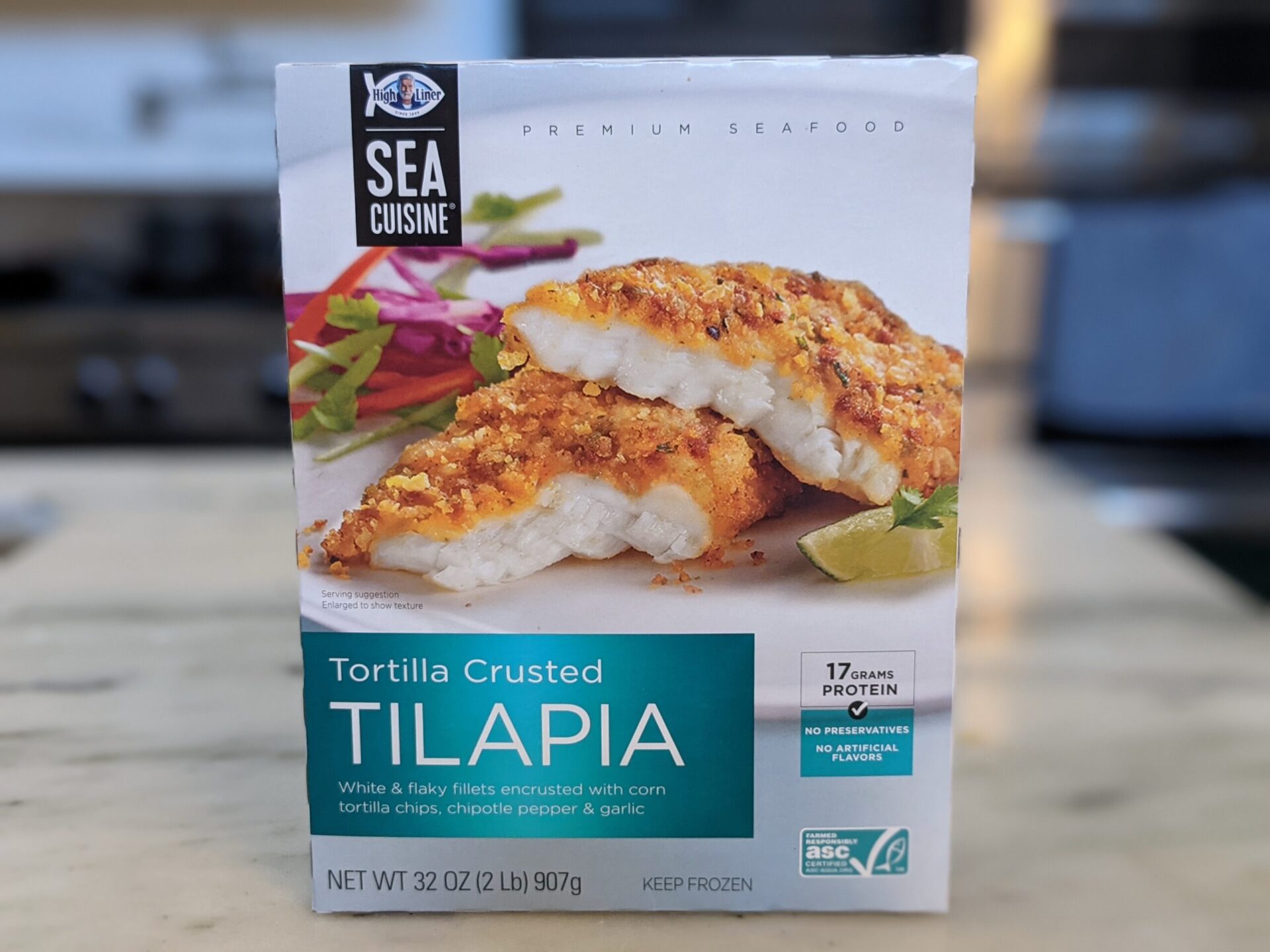 Tortilla Crusted Tilapia at Costco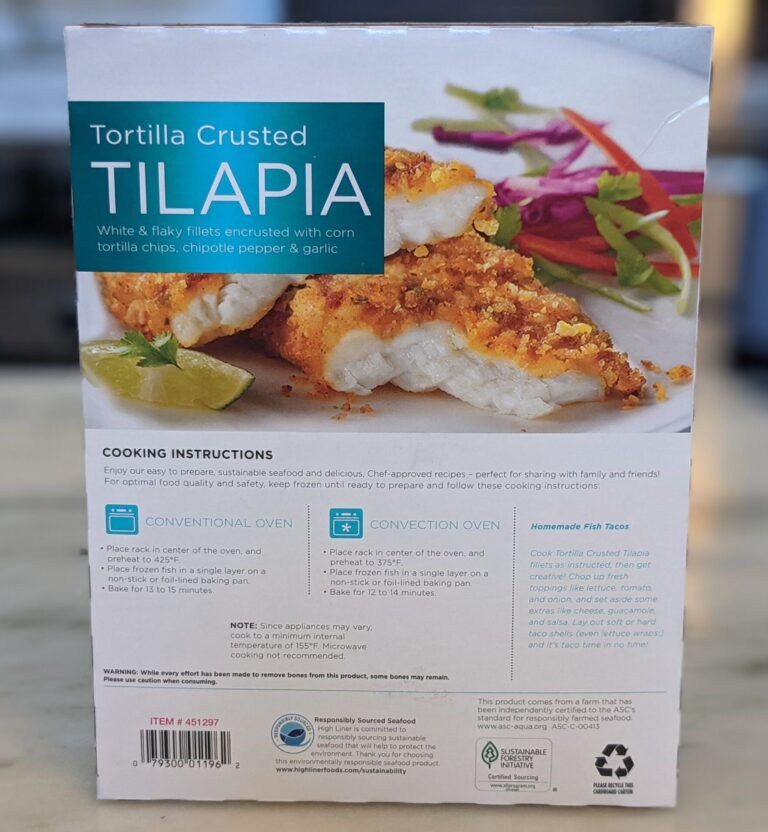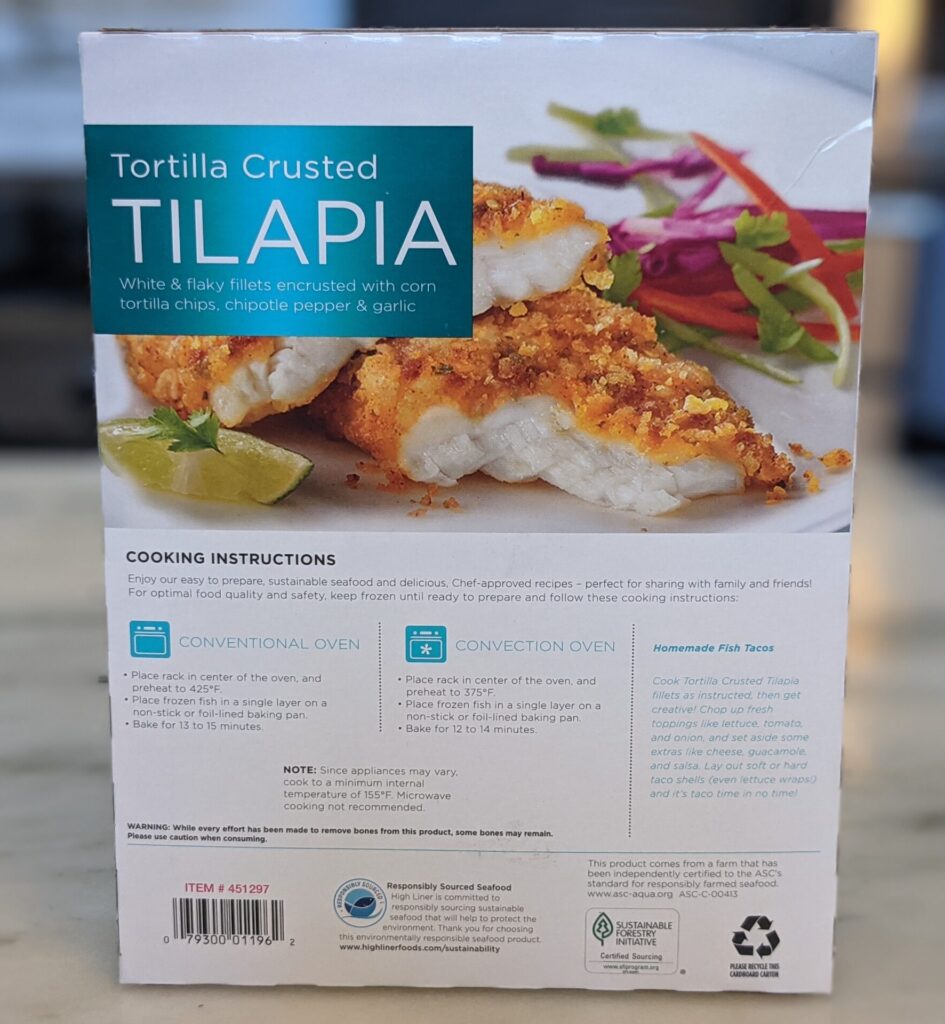 Tilapia is a very sustainable fish, and the packaging lets you know in multiple spots that these are responsibly fished tilapias. 
It's always good to fish responsibly and these tilapias are from an ASC responsible fish farm. High Liner is committed to responsible and sustainable seafood.  
How Much is the Tortilla Crusted Tilapia at Costco?
High Liner Tortilla Crusted Tilapia sells for $13.49 or $9.49 when the item is on sale. This breaks down to $6.75 per pound or $4.75 when the item is discounted. 
The sale price is amazing as Costco sells fresh tilapia filets for $4.99. Very rarely will a frozen prepared food item be cheaper than Costco's price for the same item when its fresh. 
Is the Frozen Tortilla Crusted Tilapia Worth it?
Yes, I easily think the tortilla crusted tilapia is worth the money. I usually don't like paying extra for food that I can make myself, but I never thought of using a tortilla crust on a tilapia before, nor do I know how to. 
Because of that, this purchase doesn't sting too much since it is bringing a new food item to the table. 
Update: Like most food items, the High Liner Tortilla Crusted Tilapia has gone up in price. The current retail price is $15.49 per two pound box. 
Once you open the box, all the tilapias are in a clear plastic bag. There appears to be around 11 or 12 individual tortilla crusted tilapias. 
Unfortunately the bag is not resealable, so you will have to either figure out how to seal the bag or eat any remaining pieces sooner rather than later.
The Tilapia Looks Amazing
The Costco tortilla crusted tilapias look amazing. The crust is a nice golden brown and much of the seasoning pieces on the crust are large and visible to the eye. There seems to be flakes of red and green mixed up into the tortilla crust and it looks very appetizing.
The product looks closer to being handmade than it does to being produced in a factory. They look so good, that I want to serve these and pass them off as my own, and I probably could too.
I'm unsure if it is just my batch that I got or if this is the intended product, but my tilapias were only crusted or breaded on one side. On the other side they were essentially naked. 
From how they appear on the box, there is no indication that these are only tortilla crusted on one side. It does look like there could be breading on both sides, but it isn't 100% clear. 
How to Cook High Liner Tortilla Crusted Tilapia
High Liner lists two different ways to cook these and both of them are in the oven. The instructions are listed below. Because all ovens vary, make sure to the tilapia is heated to a minimum internal temperature of 155°F.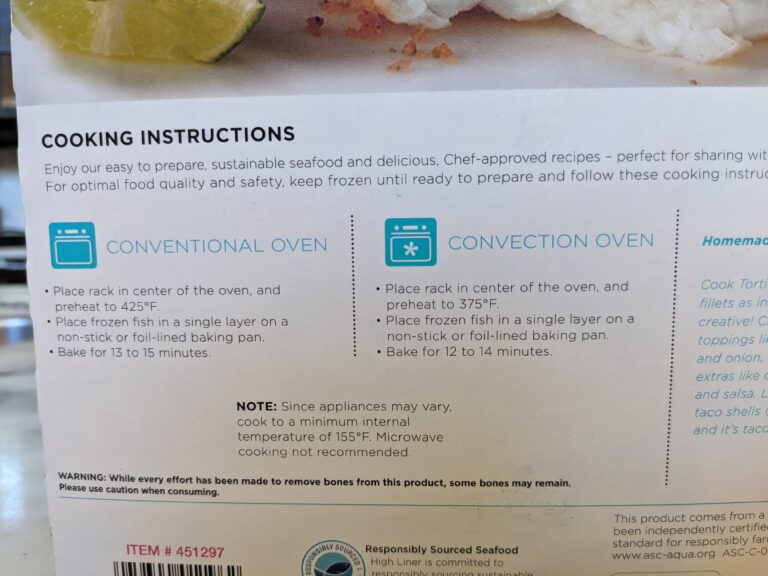 Place rack in center of the oven and preheat to 425°F. 
Place frozen fish in a single layer on a non-stick or foil-lined baking pan. 
Bake for 13 to 15 minutes
Place rack in center of the oven and preheat to 375°F. 
Place frozen fish in a single layer on a non-stick or foil-lined baking pan. 
Bake for 12 to 14 minutes
Super Crispy Air Fryer Recipe
Normally I like to follow the instructions to see how the company thinks their product should be eaten, but for this review I decided to air fry the tilapia pieces. 
I did 400° for 10-12 minutes and they came out perfect. The crust was crispy but not overdone, and the fish was cooked very well. 
Air Fryer Cooking Instructions
Preheat the air fryer to 400°F. 
Spray the air fryer basket or tray with cooking oil. 
Place fish in a single layer in tray/basket.
Cook for 10-12 minutes until tilapia reaches 155°F and exterior is crispy. 
Why I love the Air Fryer for Frozen Foods
 I personally like using my air fryer because the food usually comes out a little crispier and there is a substantial amount of preheating time saved. My air fryer heats up in about 3 minutes, while my oven can take 10-15 minutes to heat up. 
I'm one to experiment with food, but even on my second tasting of these, I again chose the air fryer. The crust literally glistens in the air fryer and the fish comes out perfectly flakey. 
Tortilla Crusted Tilapia - Taste Test
I am extremely impressed with these tortilla crusted tilapias. The crust came out very crispy and flavorful. The presentation of the fish is beautiful, and very appetizing. They were easy to eat and seasoned perfectly. 
The Crust is Crispy and Flavorful
The texture of the crust came out much better than your typical breading, and it was packed with flavor without being overly salty. The garlic and chipotle seasoning really shine through, making the tilapia taste wonderful. 
The One Sided Seasoning/Crust is Perfect
The one sidedness of the crust didn't seem to bother me as much as I thought it would. Breading on only one side was enough in this case. 
Some people may potentially want the other side to be breaded, but I've always thought less is more when it comes to seasoning for frozen food. 
These are seasoned and flavored so well. Much props to High Liner, because that is a difficult feat to achieve with frozen foods. I did not miss the second side being breaded or even notice when it came time to eat the fish. 
I thought there may be some texture inconsistencies if I am biting into the fish side vs biting into the crusted side, but honestly it wasn't a big enough problem to be concerned with.
Overall, I am very impressed with these Costco Tortilla Crusted Tilapia, and I will definitely be buying more. They are so good, I'm include to include pictures of the second batch that I made. 
Costco Tortilla Crusted Tilapia Nutritional Information
How Many Calories in the Tortilla Crusted ?
There are 9 servings per 2 pound box, so each serving is approximately 3.55oz or 3.4oz as they put it. Each serving contains only 180 calories including 7g fat, 10g carbs, and 18g of protein. 
This is an exceptional protein to carbs and fats ratio for a frozen food. 
Moderate Amount of Sodium
The only issue is of course going to be the sodium, coming it at 440mg per fish fillet. This is 19% of the daily recommended value. Not the worst, but not the best. 
Sodium is always higher on frozen foods, but regardless, this might have some of the best nutritional facts out of all the frozen foods at Costco. 
Great Nutritional Profile for a Frozen Food
High Liner wins on all fronts here. The food is good looking, delicious, and relatively healthy for you. 
Eating fish, in general, is pretty healthy, and in my mind, adding a tortilla crust still keeps these tilapias as one of the healthier frozen food options at Costco. 
Tortilla Crusted Tilapia Review
Product Name: High Liner Tortilla Crusted Tilapia
Product Description:
Price: $13.49 Retail / $9.49 Sale
Quantity: 2 Pounds
Location Within Costco: Frozen Food Aisles
Price Per Pound: $6.75 / $4.75
Summary
Costco's Tortilla Crusted Tilapia is one of my favorite frozen food items and one of the highest-scoring foods in Costco Food Database History.
The frozen tilapia checks off all the boxes and there isn't much to dislike about the item. The taste is amazing and these are a must try.
Value -

9/10

Convenience -

9/10

Taste -

10/10

Nutrition -

9/10

CFDB Score -

9/10
Pros
Great price
Easy to cook
Solid nutritional profile
This is a top tier frozen food at Costco. It may not have the overall popularity as a frozen pizza or some chicken nuggets, but this frozen tilapia is absolutely delicious. 
They are a little on the pricier side, but the quality is there, and this may be the food item that is closest to restaurant quality. 
These would blow anything out of the water at any chain restaurant (that's not saying much) but I wouldn't be surprised to find a food of this quality at a mid-tier seafood restaurant. This is just to give you an idea of the food comparison and what you can expect. 
Either way, these are a must buy and a must try, and one of the best items available in Costco's frozen food section.