Costco Unsalted Mixed Nuts - Kirkland (Healthy Delicious)
Do you prefer your Costco Kirkland Signature nuts to be salted or unsalted? For the unsalted fans, Costco's Unsalted Mixed Nuts are going to be quite the treat.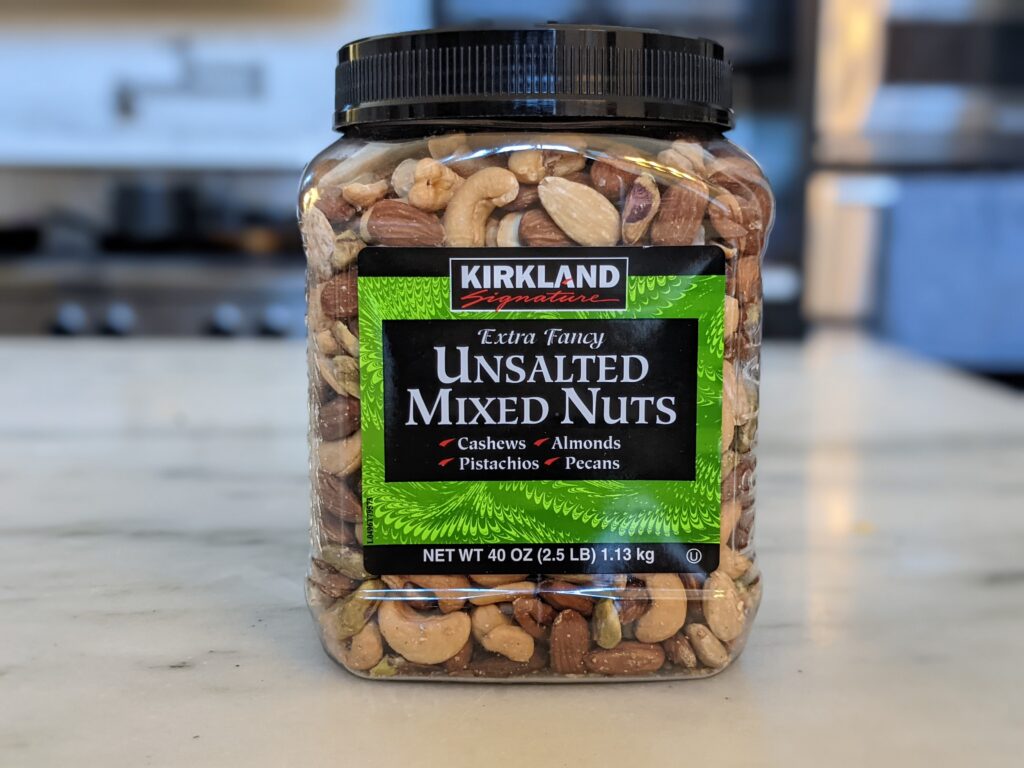 Kirkland Signature Unsalted Mixed Nuts at Costco
Costco sells their Kirkland Signature Unsalted Mixed Nuts for $14.79. These can be found in the snacks area of the store near the registers, and of course, will be placed near the other nut items like the Brazil Nuts, Almonds, and Trail Mix.
Have You Tried Costco's Unsalted Mixed Nuts?
Let the rest of the Costco Food Database community know what you thought of this product. Results and reviews are at the bottom of this page.
Please allow 24 hours for review moderation and approval.
The Kirkland Signature Extra Fancy unsalted mixed nuts include cashews, almonds, pistachios, and pecans. All of the nuts are unshelled, including the pistachio nuts.
All you have to do is simply reach into the jar and grab a handful. No extra work required! 
All the nuts are unsalted, which is just how I like them. The nuts themselves are already packed with flavor, and I don't need salt to enjoy them.
Salt may enhance the taste of the nuts, but that also leads to an increase in sodium and for me, that isn't necessary. 
Where do The Nuts Come From?
The Costco Mixed Nuts are processed and packaged in the USA, but the nuts can come from a variety of locations, including Benin, Brazil, Burkina Faso, Cambodia, Ghana, Guinea-Bissau, India, Indonesia, Ivory Coast, Mexico, Mozambique, Nigeria, Tanzania, Togo, USA, and Vietnam. 
As you can see, these nuts come from all over the world. I'm typically not a fan of having ambiguous product origin locations, but unfortunately, that is the case with these Kirkland Signature Unsalted Mixed Nuts.
Costco Unsalted Mixed Nuts Price
How Much Do the Unsalted Mixed Nuts Cost at Costco?
The 40oz jar of unsalted mix nuts from Costco cost $14.79. This breaks down to $5.92 per pound or $0.37 an ounce.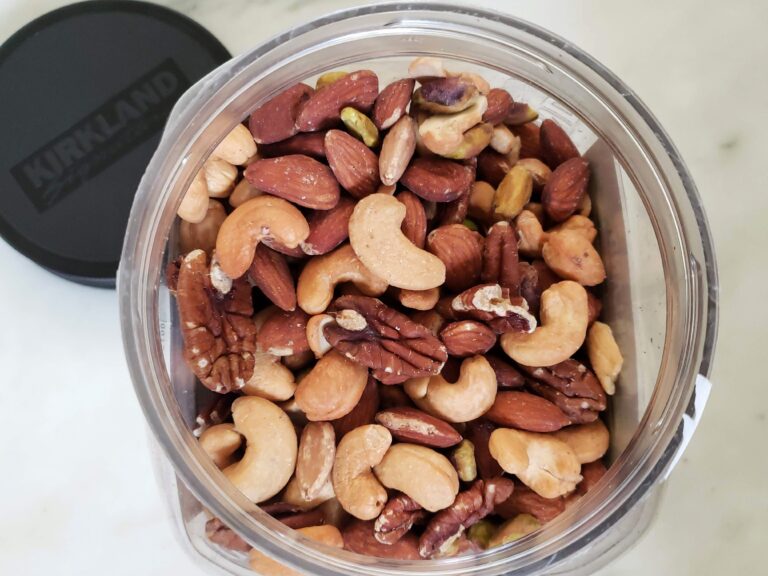 Costco Vs The Competition
Some of the nationwide competitors have their own store brand version of mixed nuts just like Costco. Here is how they stack up
| | Price | Price Per Pound | Price Per Ounce | Included Nuts |
| --- | --- | --- | --- | --- |
| Costco Unsalted Mix Nuts (40oz) | $14.79 | $5.916 | $0.37 | Cashew, Almond, Pistachios, Pecans |
| Target Roasted Unsalted Mixed Nuts (30oz) | $14.99 | $7.99 | $.50 | Almonds, Cashews, Hazelnuts, Pecans |
| Sam's Club Unsalted Mixed Nuts (34oz) | $13.98 | $6.58 | $0.41 | Cashews, Almond, Pecans, Pistachios, Hazelnuts |
Costco does barely edge out Sam's Club in price. You save a little more than $0.50 per pound with Costco's unsalted mixed nuts. Target is way out there on price and nearly charging 30% more than Sam's Club and Costco.
Costco's Unsalted Mixed nuts look great. The jar is designed beautifully and there is a wide mouth lid for easy access to the nuts. 
The Kirkland Signature logo is simple but effective. I've noticed that Kirkland Signature goes fairly plain with their logos, which is nice because I'm not bombarded with marketing claims about the product or item.  
It details what nuts are included – cashews, almonds, pistachios, pecans, but doesn't give any more information. 
Even Distribution of Nuts
From the looks of it, there seems to be an even distribution of nuts. It doesn't look like one type of nut dominates any others in this jar. 
If I'm buying mixed nuts, I want an even amount of the nuts, and this is exactly what this Kirkland Signature Unsalted Mixed Nuts provides. 
Inconsistent Presentation
One concern I do have with the presentation of the nuts is that some nuts are not as roasted as others. 
There are quite a few almonds in my jar that are a strange milky white color. It's almost like an albino almond.
They taste fine, and I can't blind taste test the difference between the two, but it does look odd.
Kirkland Signature Unsalted Mixed Nuts Review
Are Kirkland Mixed Nuts Good?
My wife is a big time grazer and she loves to snack all day. She is the one who first introduced the Kirkland Signature Unsalted Mixed Nuts to the CFDB household. 
I'm personally not big on snacks, but I have to admit these nuts are good. 
Extra Fancy or the Opposite?
It is interesting that they call these extra fancy nuts, because in my mind I would describe them as "nothing fancy about them". They are simply unsalted mixed nuts, with no added salt or flavors. But yet, they are so tasty.
When I am in the mood for a snack, I will go to town on these. I always go with the mindset that I'm just going to have a few to munch on, but next thing you know I have a handful and then some.
These nuts are tasty and fresh, so I can't really ask for more. My expectations were appropriate for these nuts, and they were met. They are great to snack on, and if you are feeling a little wild, they pair well with chocolate or dried fruits to make your own trail mix.
Costco Mixed Nuts Nutritional Information
How Many Calories in Costco Unsalted Mixed Nuts?
These are just unsalted nuts, so they will be as healthy as can be. Each serving is 1oz of nuts, so there are 40 total servings. There are 170 calories in each serving with 15g of fat, 7g of carbs, and 5g of protein. 
The calorie count may look a little high, but this is to be expected with nuts. They are high in fat and therefore a high-calorie food. 
Health Benefits of Consuming Nuts
According to Healthline.com, the nuts included in the Costco Unsalted Mix Nut pack make up 4 of their 5 healthiest nuts to eat. They are packed with vitamins and nutrients that can provide tremendous benefits to your body. 
These are their top 5 healthiest nuts :
Almond
Pistachios
Walnuts
Cashews 
Pecans
The walnut is the only nut in their top 5 healthiest nuts that isn't included in the mixed nut pack. If you are looking for more information about each nut's specific health benefits, check out the Healthline article here.
This is a solid Costco product. These Costco unsalted mix nuts are priced very fairly and they taste awesome. These are a good representation of the Kirkland Signature brand, and I have no problem buying 4-5 jars a year.
Costco Food Database User Reviews
Have you tried this item? Let the rest of the Costco Food Database community know what you think. Leave a rating and review for this product.