Costco Panko Chicken Nugget + Easy Spicy Nugget Trick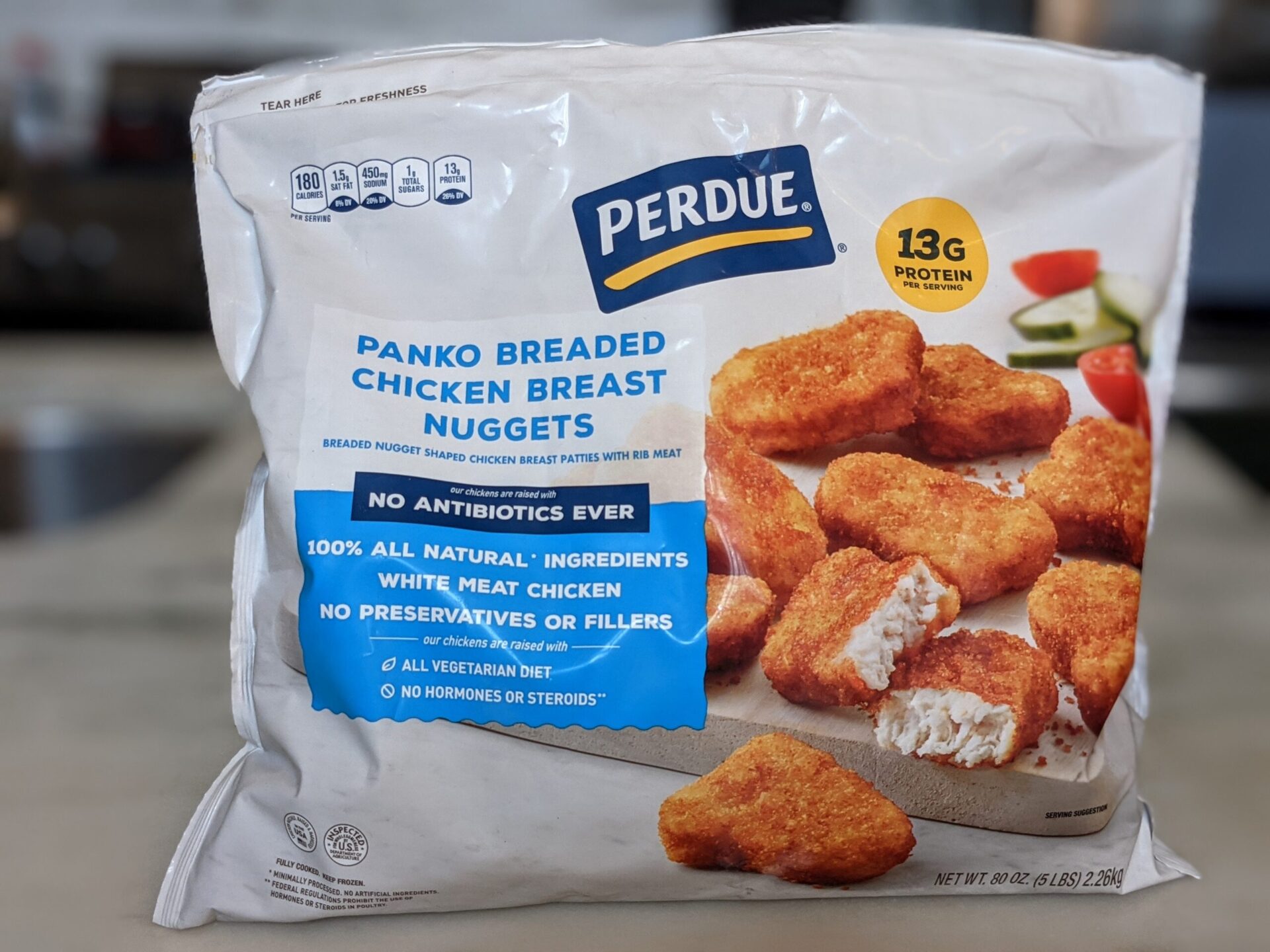 Have You Tried Costco's Chicken Nuggets?
Let the rest of the Costco Food Database community know what you thought of this product. Results and reviews are at the bottom of this page.
Please allow 24 hours for review moderation and approval.
Perdue Panko Breaded Nuggets at Costco
Not the first of Costco's panko breaded nuggets
This isn't the first panko breaded nugget that has been offered by Costco. 
Costco has sold a panko chicken nugget bag from another large poultry producer in the past, but that item was extremely salty to me and made the chicken nuggets nearly inedible.
Costco Cost Comparison - Perdue Panko Chicken Nuggets
How much do Costco Panko Breaded Nuggets Cost?
Costco sells the 5 pound bag of Perdue Chicken Nuggets for $12.99 and that breaks down to $2.59 a pound. Each bag contains 80 chicken nuggets which cost about $0.16 a piece.
Is this a good price for chicken nuggets?
Yes, this is a fantastic price for these Perdue Panko Breaded Nuggets. 
They aren't going to be the highest quality breading or chicken, but it's a great economical way to cover some snacks or meals.
Costco nuggets vs Sam's Club nuggets
Sam's Club sells Tyson Chicken Nuggets (that way too salty brand) for $11.96 or $2.39 a pound. 
This beats Costco's price but these nuggets aren't panko breaded and they are way way way too salty.
Costco Chicken Nugget Taste Test
My absolute favorite method for cooking frozen food from Costco is the air fryer. 
Air fryers properly heat up the food and help create an extremely crispy/crunchy exterior.
Breaded products like these chicken nuggets do very well in the air fryer and that is the only way I cook them.
At just $2.59 a pound, we have to really temper expectations with the quality of the nugget. The chicken, is of course, very low quality. The chicken is grounded up and heavily processed.
The chicken in no way resembles the texture of a chicken breast or thigh. There are times when I can't even tell where the breading ends and the chicken begins.
I feel very comfortable referring to the interior as filling rather than chicken.
Thanks to the air fryer, the breading comes out very crispy. The breading isn't made with typical panko bread crumbs that you would expect to see in a chicken katsu, tonkatsu, or a shrimp tempura, but nonetheless these still classify as panko breadcrumbs. 
The breading can get very crispy and this helps hide some of the low quality chicken. I wouldn't call the breadcrumbs panko, but they get the job done and are sufficiently tasty. 
The breading is crispy when heated and it's always nice to hear a crunch when biting through a golden brown chicken nugget. 
The flavor of the nugget itself is just ok. It's pretty good for $2.59 a pound standards, but it's not going to be winning any awards. 
The chicken filling is rather juicy and flavorful, but at times the nugget as a whole can be salty. 
The saltiness can be overbearing at times, but not to the point of being inedible. One thing is for sure, the chicken nuggets will make you thirsty. 

There is also a distinct sweet taste in the nuggets that does feel out of place. I can't pinpoint where the sweetness comes from, but I'm not a fan. It is an overarching flavor that is present in the nuggets. 
All of that being said, I don't absolutely hate the nuggets. They are low quality, but you get what you pay for.
The beauty of Costco is choice, and for those who are looking for quantity over quality, these chicken nuggets are a solid pick. 
If you want to check out other options, Costco offers better chicken nuggets with their nearly $5 a pound Just Bare Chicken Chunks.
Panko Chicken Nugget Flavor Hack (Spicy Chicken Nuggets)
Making Spicy Chicken Nuggets
Spicy Chicken Nuggets have taken the fast food world by storm, and many fast food restaurants now offer their own version of Spicy Chicken Nuggets.

Costco doesn't sell any spicy chicken nuggets, but it's possible to flavor these panko breaded chicken nuggets with the hot sauce of your choosing.
I only use this method with the air fryer, but I'm sure it will also work with the microwave and the oven. 
To make your own spicy chicken nuggets, cook the panko breaded nuggets in the air fryer until they are 75% done. (About 5 minutes)
Before they fully finish, pull the nuggets and coat them in the sauce of your choosing. Place them back in the air fryer for 2-3 minutes to allow the sauce to soak in and crisp up. 
The chicken nuggets will not be as crispy as if they had no sauce, but they are now flavored and much more delicious.
Experiment With Your Favorite Flavors
Spicy chicken nuggets are very popular, but you can add your other favorite flavors as well. I made a small batch of spicy chicken nuggets (buffalo), bbq chicken nuggets, and even teriyaki nuggets. 
The nuggets are much more flavorful and this adds quite a bit of versatility and customizability for these nuggets.
Panko Chicken Nugget Serving Suggestions
These nuggets are overly salty, and that can be a problem for some, especially if the nuggets are being eaten as is. 
To avoid a lot of the saltiness, the chicken nuggets can be eaten with side dishes. I like to chop up the chicken nuggets and mix them in a bowl of rice. This makes for a easy lunch that just takes a few minutes to prep.
Other great options to eat with these chicken nuggets are:
French Fries

Salad

Fried Rice

Coleslaw
The real fun with chicken nuggets is going to be dipping them. These nuggets are great for dipping and go well with a variety of sauces.
I've tried a few different sauces over the years for nuggets and some of my favorites are 
Buffalo

Ketchup

Honey Mustard

Sriracha Mayo

BBQ Sauce

Teriyaki

Ranch
Costco Panko Chicken Nugget Cooking INstructions
I always prefer to use the air fryer as I think that produces the crispiest and most tasty chicken nuggets, but the oven option is also viable. 
The microwave is the quickest option, but will also produce a soggy soft breading. 
Preheat air fryer to 350°F.
Place a single evenly spaced layer of frozen nuggets in the basket.
Heat for at least 6 minutes or until internal product temperature reaches 165°F.
Let stand for 2 to 3 minutes before serving.
Preheat oven to 425°F. Spray baking sheet with cooking spray.
Place frozen nuggets in a single layer on baking sheet.
Bake in oven for 14 to 16 minutes, flipping halfway through heating time.
Let stand for 2 to 3 minutes before serving.
Place 6 chicken nuggets on a microwave safe plate.
Heat, uncovered, on High for 60 to 70 seconds turning halfway through heating time.
Let stand 3 to 3 minutes before serving. 
Perdue Panko Breaded Chicken Nugget Nutritional Information
How Many Calories in Costco Panko Breaded Nuggets?
One serving of panko breaded chicken nuggets is going to be 4 pieces or 3 ounces of nuggets. Each serving contains 180 calories with 9 grams of fat, 15 grams of carbs, and 13 grams of protein. 
Each serving of 4 chicken nuggets is going to contain 450 mg of sodium or 20% of the recommended daily value. This is definitely on the higher end for just 3 ounces of food.
I would have no trouble eating 3-4 servings of these nuggets and really racking up the sodium intake. 
Costco Food Database User Reviews
Have you tried this item? Let the rest of the Costco Food Database community know what you think. Leave a rating and review for this product. 
Costco Spicy Chicken Nugget Hack
How to turn any of Costco's chicken nuggets into a delicious spicy chicken nugget.
Ingredients
8

oz

Chicken Nuggets from Costco

2

tbsp

Buffalo or Hot Sauce
Instructions
Preheat air fryer to 350°F.

Place a single evenly spaced layer of frozen nuggets in the basket.

Heat for at least 4 minutes or until internal product temperature reaches 165°F.

Transfer partially cooked nuggets to a bowl and cover in buffalo or hot sauce

Place Chicken nuggets back in air fryer and cook for 2-3 more minutes until sauce has dried and crisped up
Nutrition
Serving:
4
Pieces
Calories:
180
kcal
Carbohydrates:
15
g
Protein:
13
g
Fat:
9
g
Saturated Fat:
1.5
g
Trans Fat:
0
g
Cholesterol:
35
mg
Sodium:
450
mg
Fiber:
0
g
Sugar:
1
g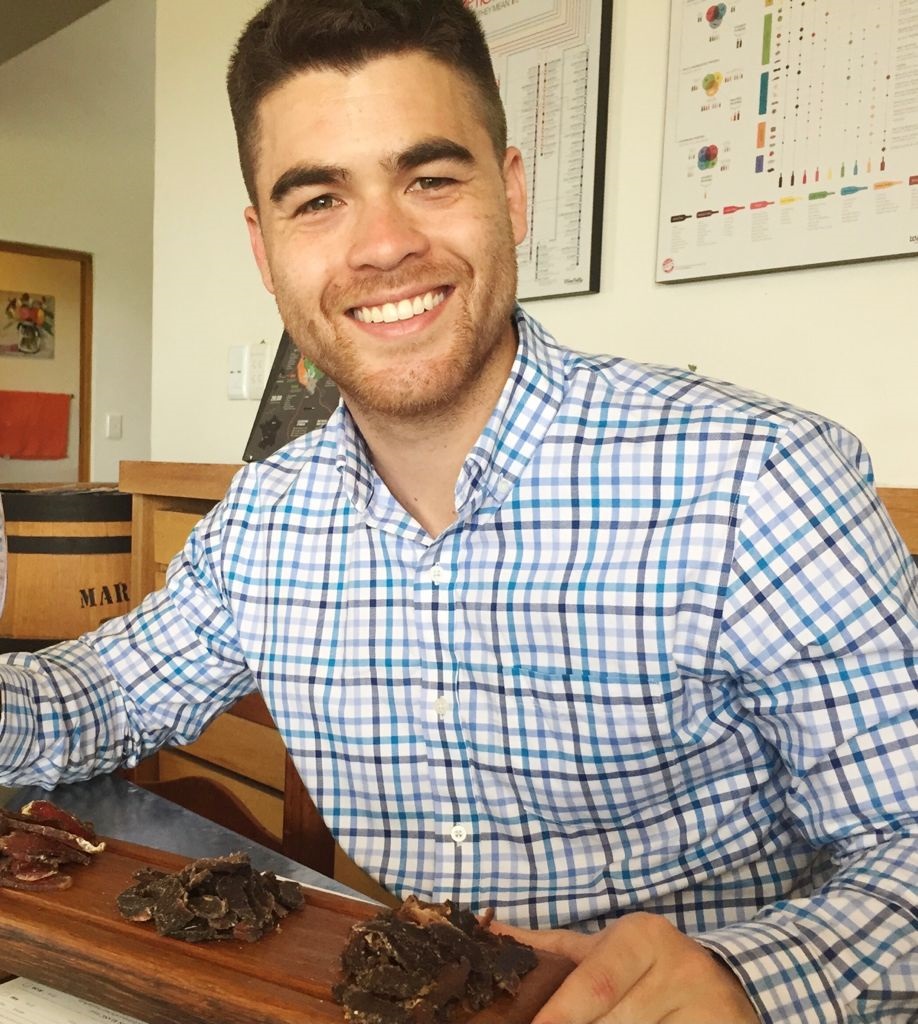 Greg Larkin is the founder and managing editor of Costco Food Database, the premiere site for honest takes on all things Costco food. A self-proclaimed Costco super-fan since childhood, Greg turned his obsession in a mission to properly rate and review all of Costco's delicious buys. When he's not busy navigating Costco aisles, you can find Greg smoking Kirkland Signature meats, meal prepping, or perfecting his homemade jerky recipes.