Is Costco's New Southwestern Wrap Worth a Buy?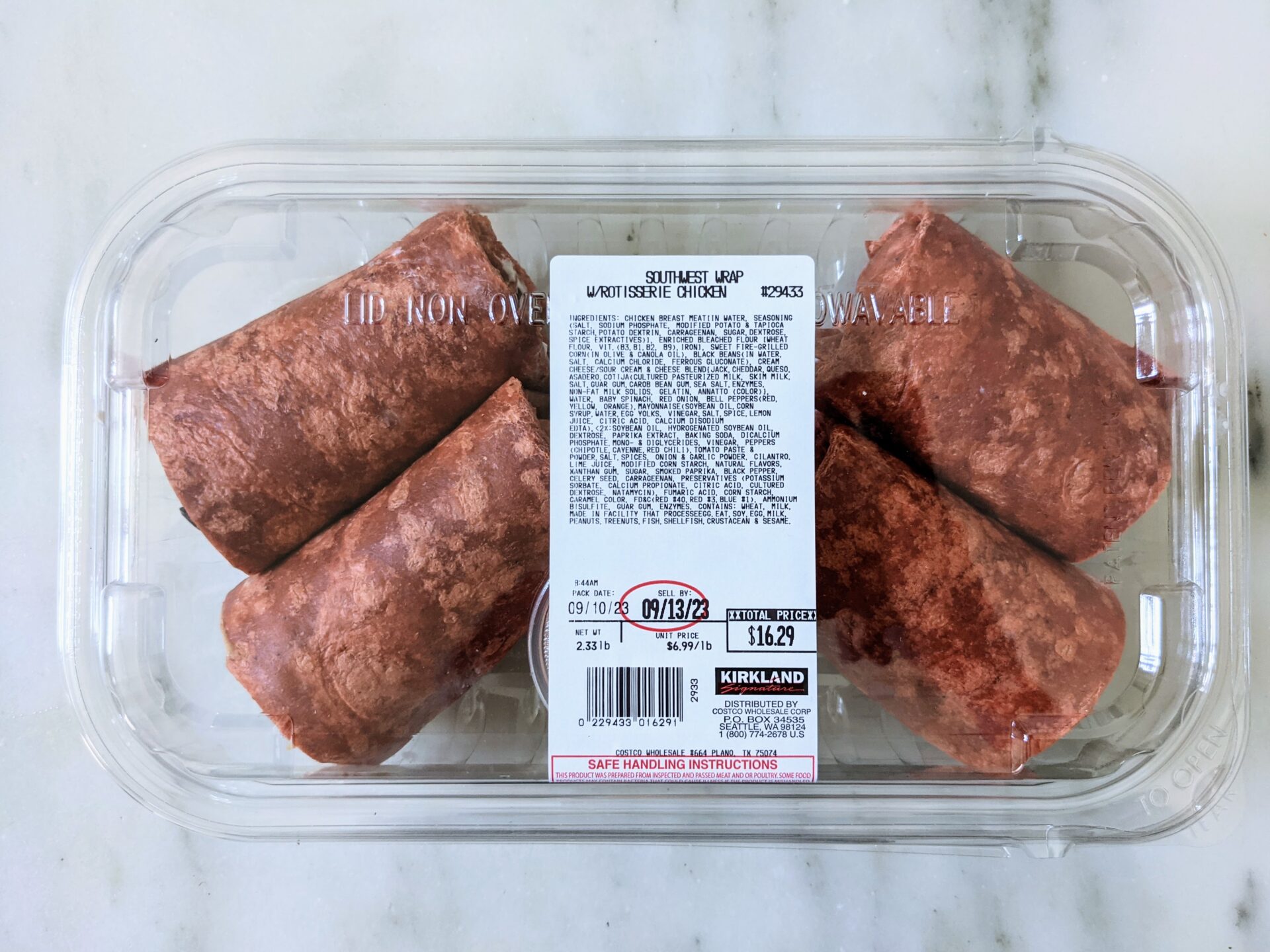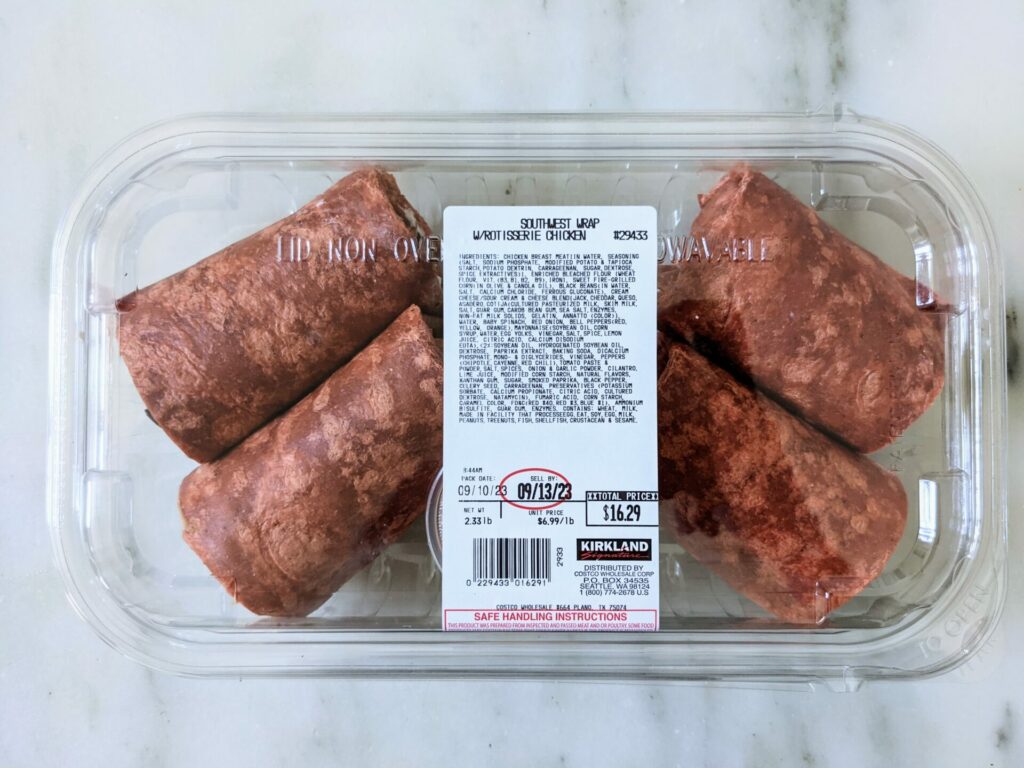 Southwest Wrap With Rotisserie Chicken at Costco
I finally found Costco's new southwest chicken wrap this weekend, and I had to buy it. It's a variation of the popular Asian Chicken wrap, which I thought was quite delicious. 
The southwest wrap is found in the premade deli area and is item number #29433.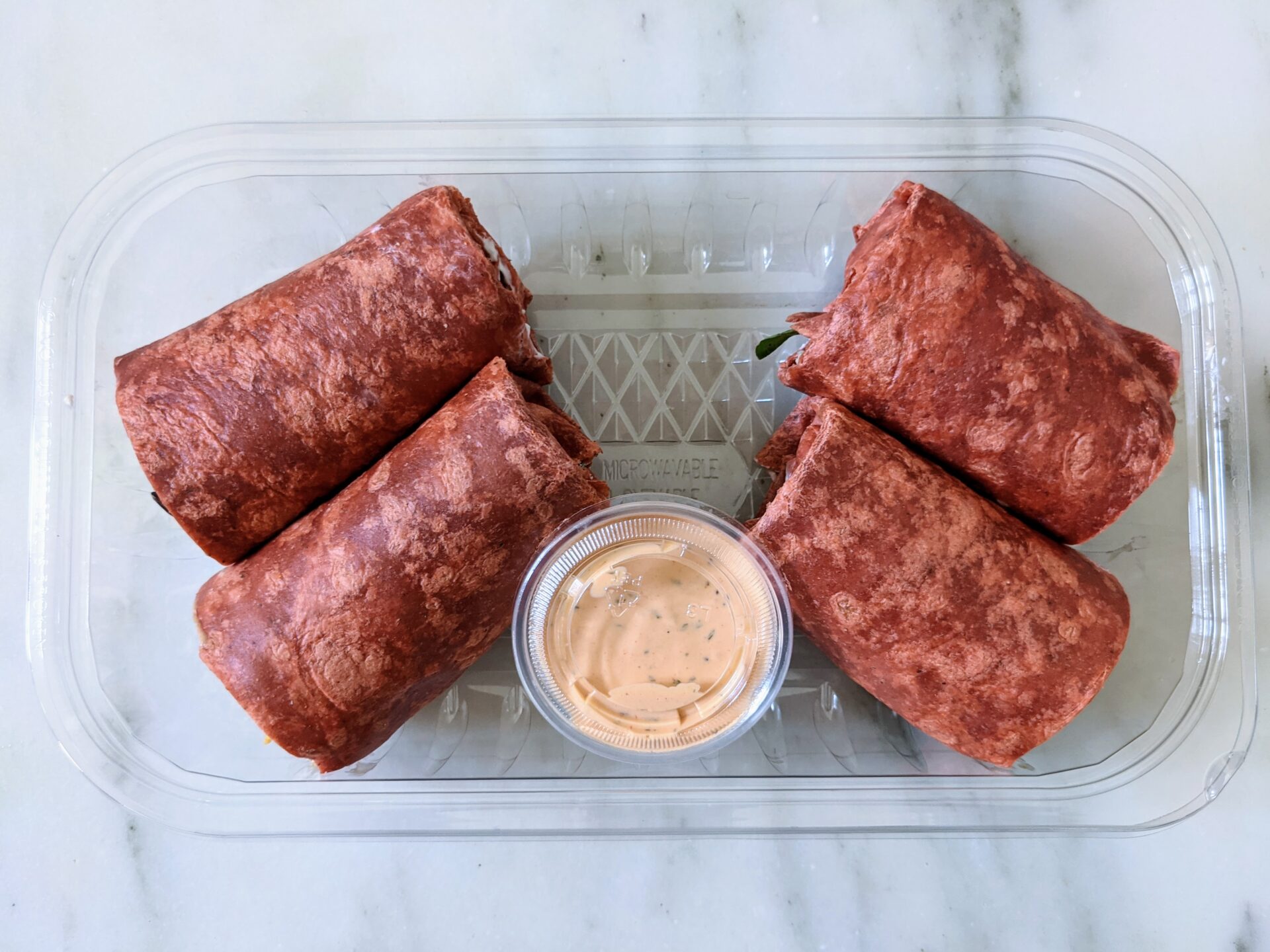 Each pack of southwestern style wraps will weigh between 2.25 pounds and 2.5 pounds and includes four half wraps and a small tub of chipotle flavored dipping sauce.
Have You Tried Costco Southwestern Wrap
Let the rest of the Costco Food Database community know what you thought of this product. Results and reviews are at the bottom of this page.
Please allow 24 hours for review moderation and approval.
What's In Costco's Southwest Wrap With Chicken?
The main ingredient in the Southwest wrap is chunks of Costco's famous $5 rotisserie chicken. The wrap contains black beans, corn, spinach, red onions, and bell peppers for the southwestern flare. 
Costco dresses the wrap with a creamy spread of sour cream, cream cheese, and mayonnaise. All of the ingredients are wrapped in a red tomato-flavored tortilla.
One issue I had with Costco's Asian chicken wrap was that it tasted much soggier the day after I brought it home. I didn't have this problem with the southwestern wrap, as it retained its freshness the next day when I finished it, but it was something that I had some concerns about.
Either way, for maximum freshness, purchase the Southwest wrap with a current pack date. My southwestern wraps had a sell-by date that was four days after the pack date, so make sure you don't get one that is four days old!
Costco's southwest chicken wrap costs $6.99 a pound or about $16-$17 per package. My package weighed 2.33 pounds and cost $16.29. 
I can't tell you why, but the Southwest wraps are actually $0.50 more expensive per pound than Costco's Asian Chicken Wrap.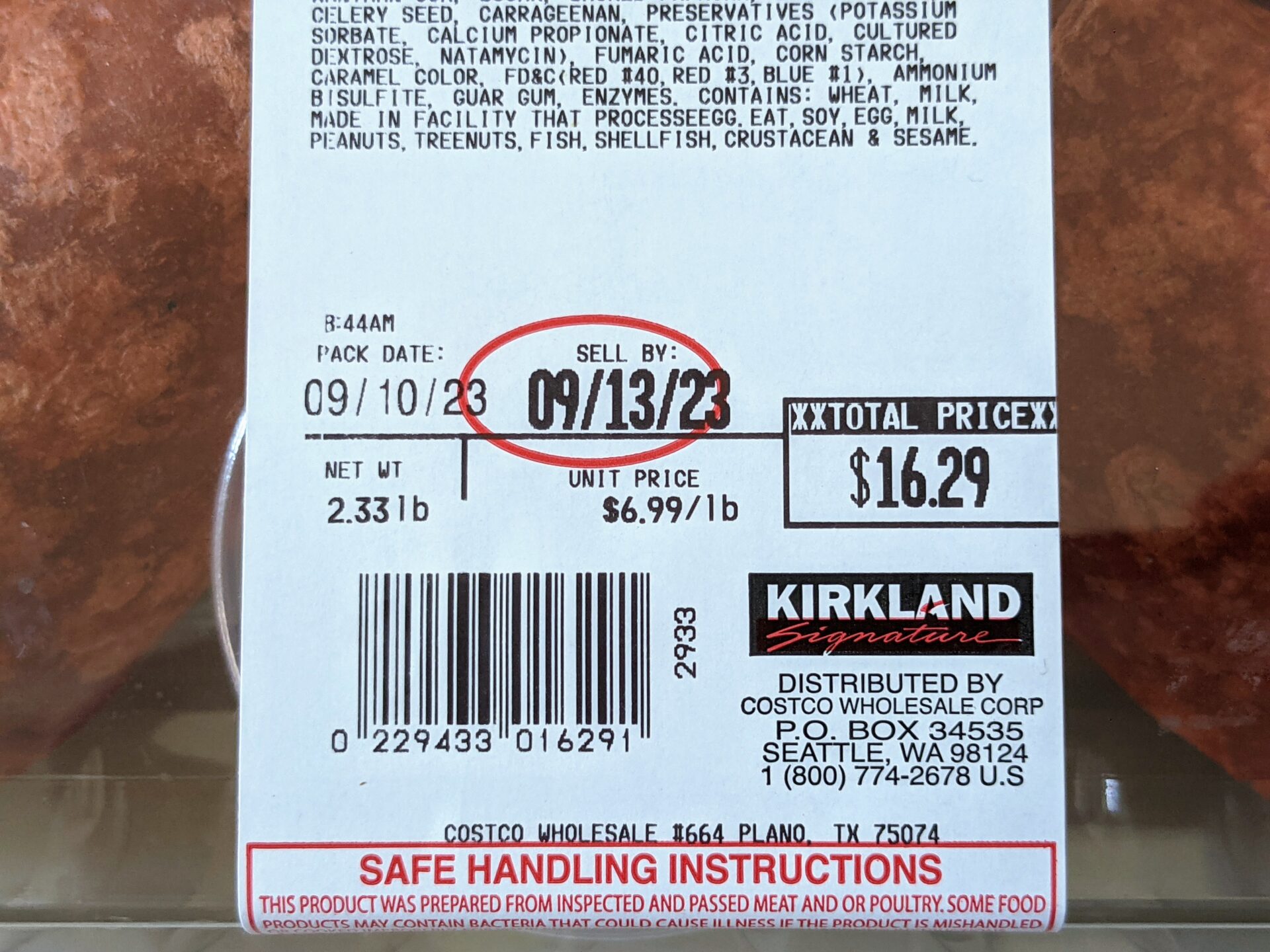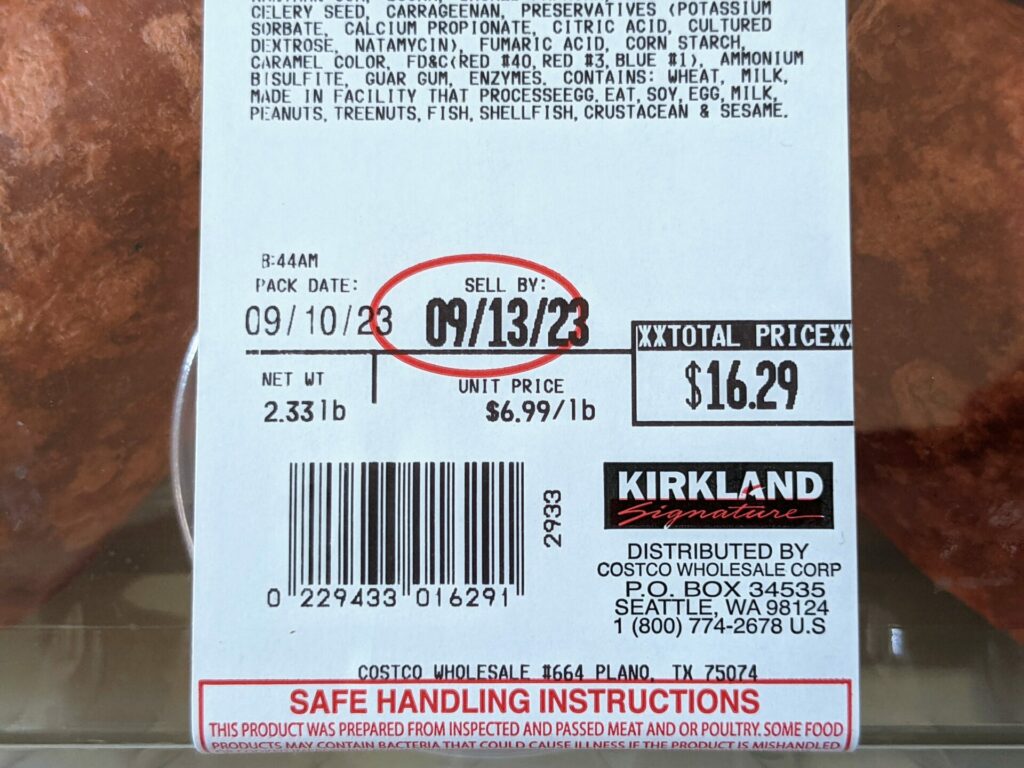 The Southwest Wraps are quite pricey at $6.99 a pound. Each half wrap weighs about 8 ounces, so you pay about $7 per full wrap (2 half wraps). Nowadays, this is cheaper than most other take-out places or restaurants and is a good bang for your buck.
The Costco Southwestern Wrap Taste Great
Overall, Costco's southwestern wrap is fantastic. I'm a big fan of the southwest flavor, and unlike the Asian Wrap, I am familiar with and a fan of the ingredients in this wrap. This is a wrap I could even see myself making at home!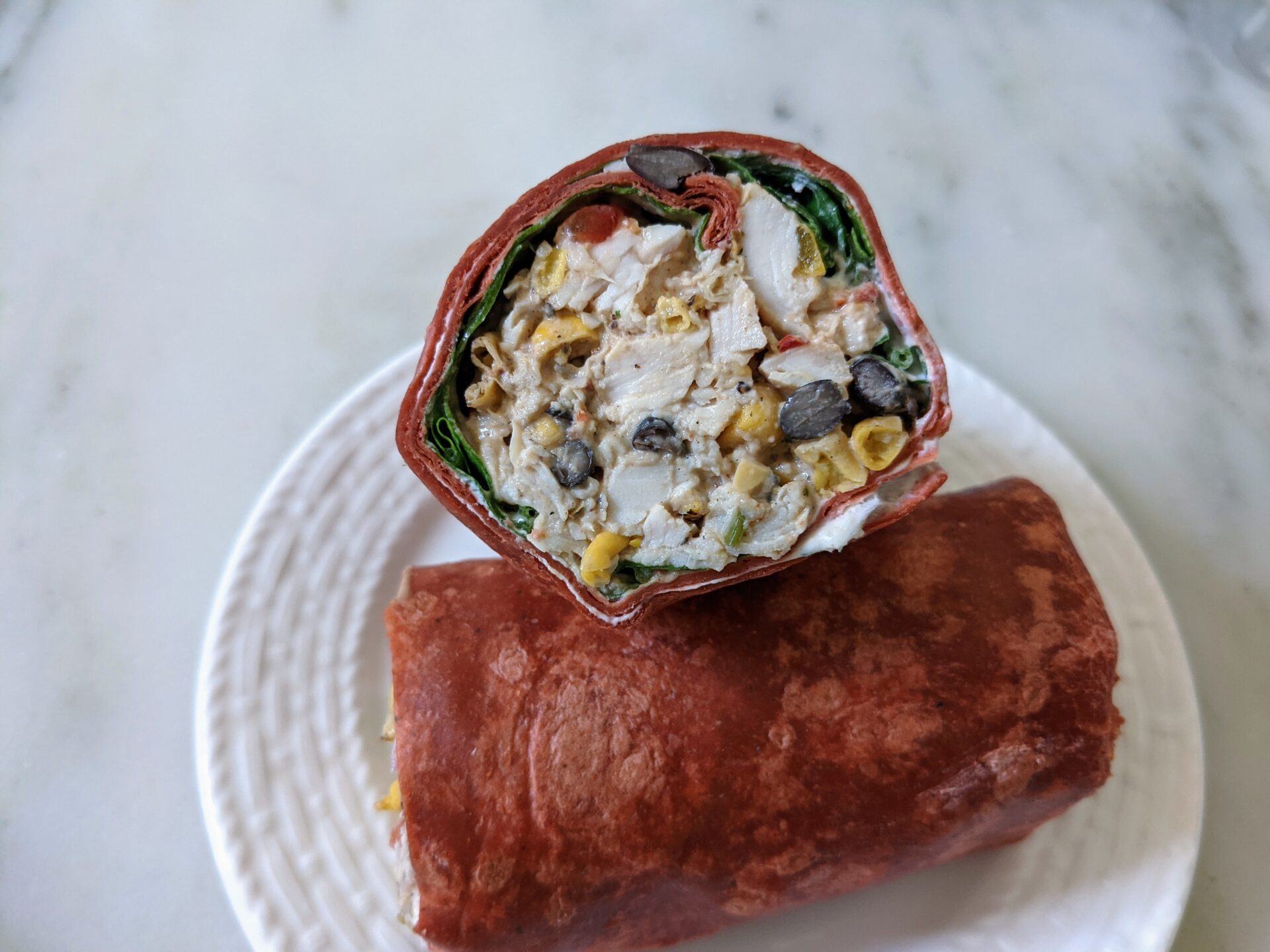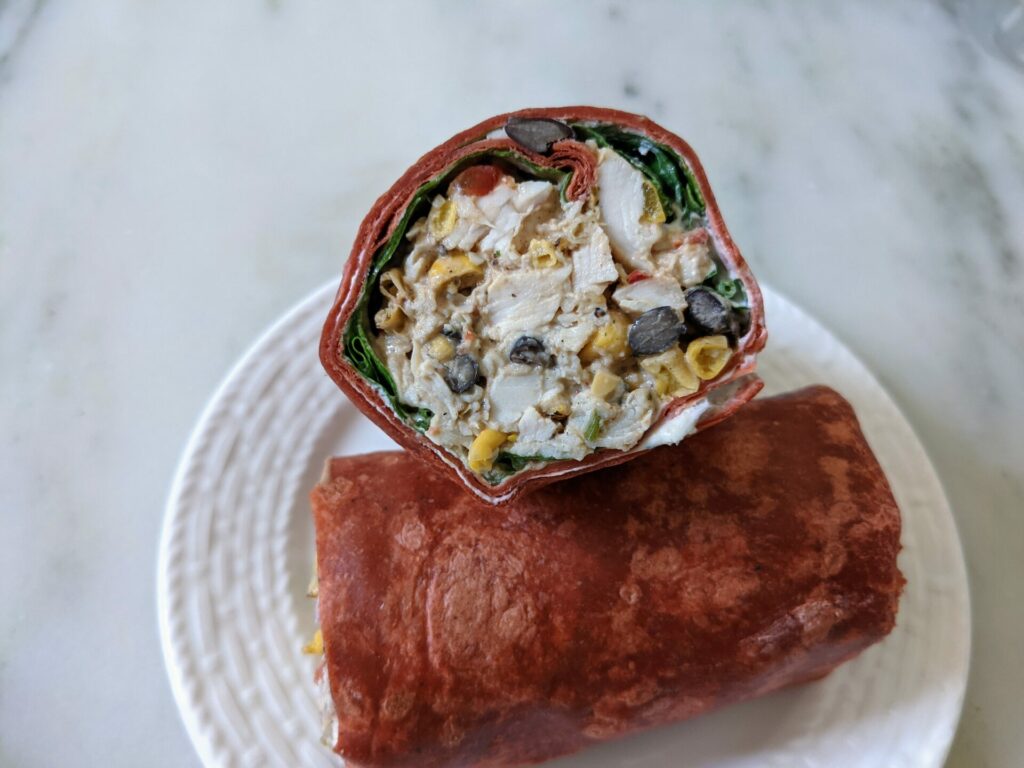 I'm only speculating when I call it a tomato tortilla. I can't necessarily taste any tomato, but I'm not sure what else could give the tortilla the burnt red color. Regardless, I do like the red tortilla as I feel it provides a very nice southwestern feel to the tortilla and gives it quite a bit of uniqueness.
Large Chunks of Rotisserie Chicken
Now, Costco does not skimp on the chicken for this southwest wrap. I'm a big-time meat eater, and when a product claims to have chicken, I expect to see some nice-sized chicken pieces in there.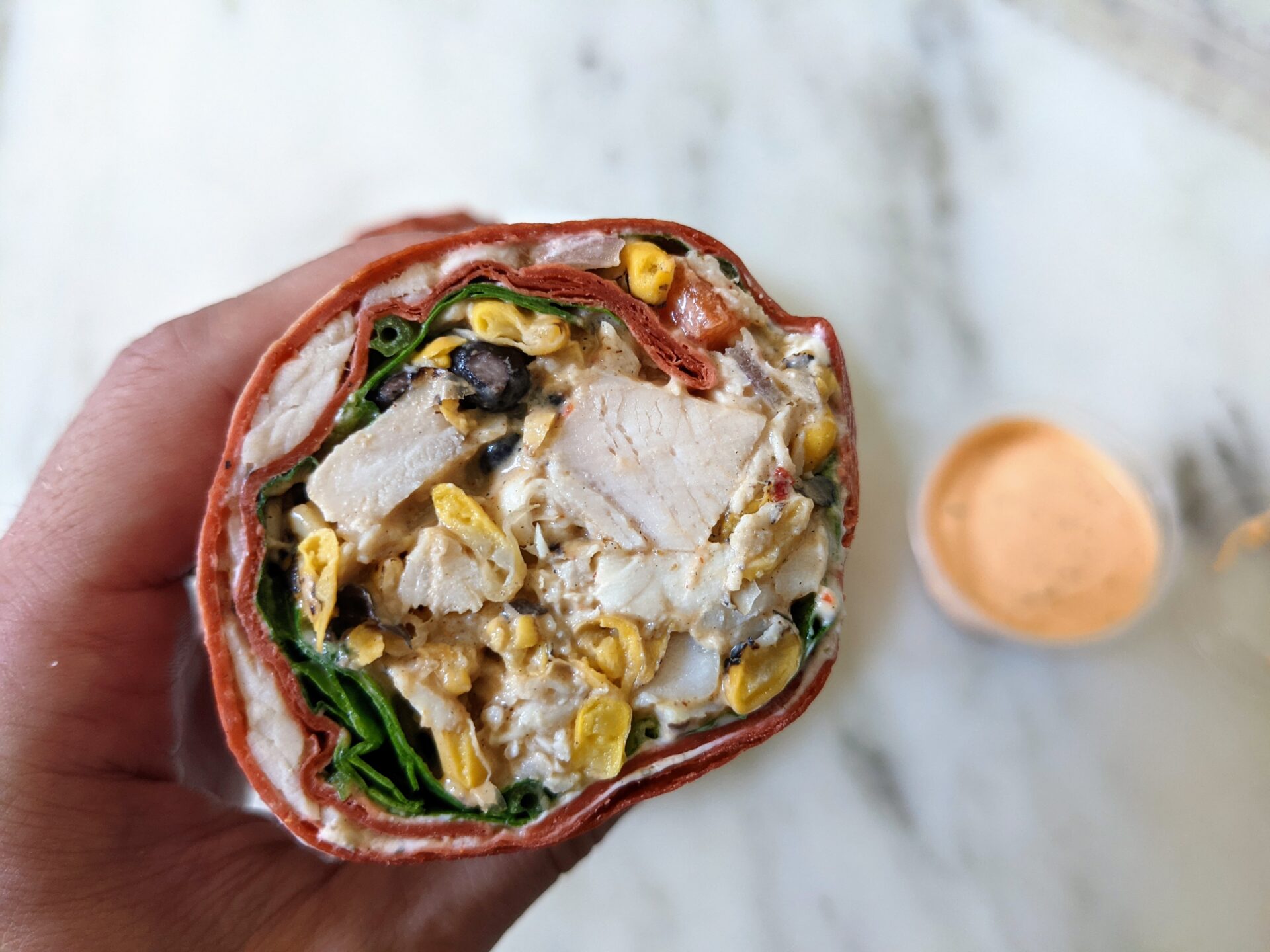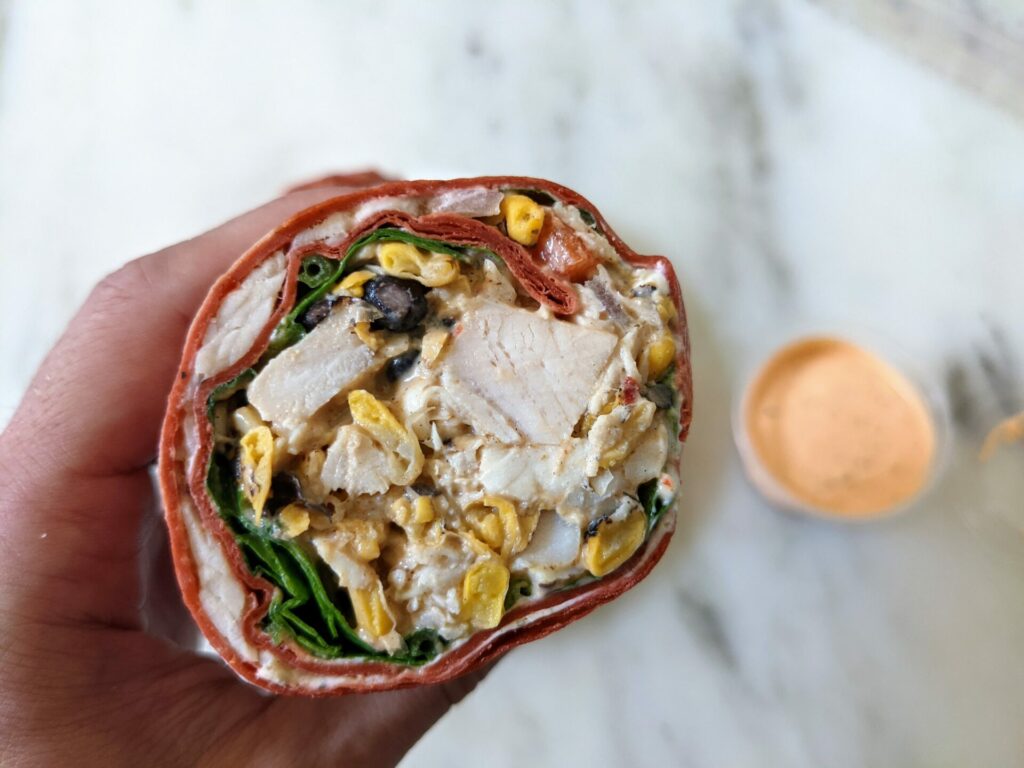 The southwest wraps live up to the claim and then some. Plenty of ½ inch cubes of rotisserie chicken breast are in every bite, and you won't feel like you ate mostly filler. The chicken pieces are also moist and tender, which makes the wrap very easy to eat. 
Costco also does a great job with the wrap's southwest flavor. I like the flavor combination of the onions, corn, and beans, which give the wrap a bold, smoky tex-mex taste. My wife and I thought the flavors were excellent and on par with what you would expect from a southwestern flavor wrap.
Costco does it again with the dipping sauce, which may be the star of the show. I can't seem to find out exactly what it is from the label, but it tastes somewhat like a chipotle mayo sauce. It's a great addition to the wraps, and I like it so much I would buy it by the bottle if I could. 
Southwest Wrap Calorie and Nutritional Information
Each Southwest Wrap Has 620 Calories
One serving of Costco's Southwest Wraps is 1 wrap; there are 4 servings in the entire tray. Each wrap has 620 calories, 35 grams of fat, 50 grams of carbohydrates, and 27 grams of protein. Here is the full nutritional label:
Nutrition Facts
Costco Southwest Wrap
Amount per Serving
% Daily Value*
* Percent Daily Values are based on a 2000 calorie diet.
Surprisingly, the calorie count is quite high for the southwest wraps. There is an ample amount of the three macronutrients of fat, carbs, and protein.
One thing that Costco doesn't clarify with their nutritional label is the dipping sauce. I have to assume the calorie count includes 1/4th of the dipping sauce.
Costco Food Database User Reviews
Have you tried this item? Let the rest of the Costco Food Database community know what you think. Leave a rating and review for this product.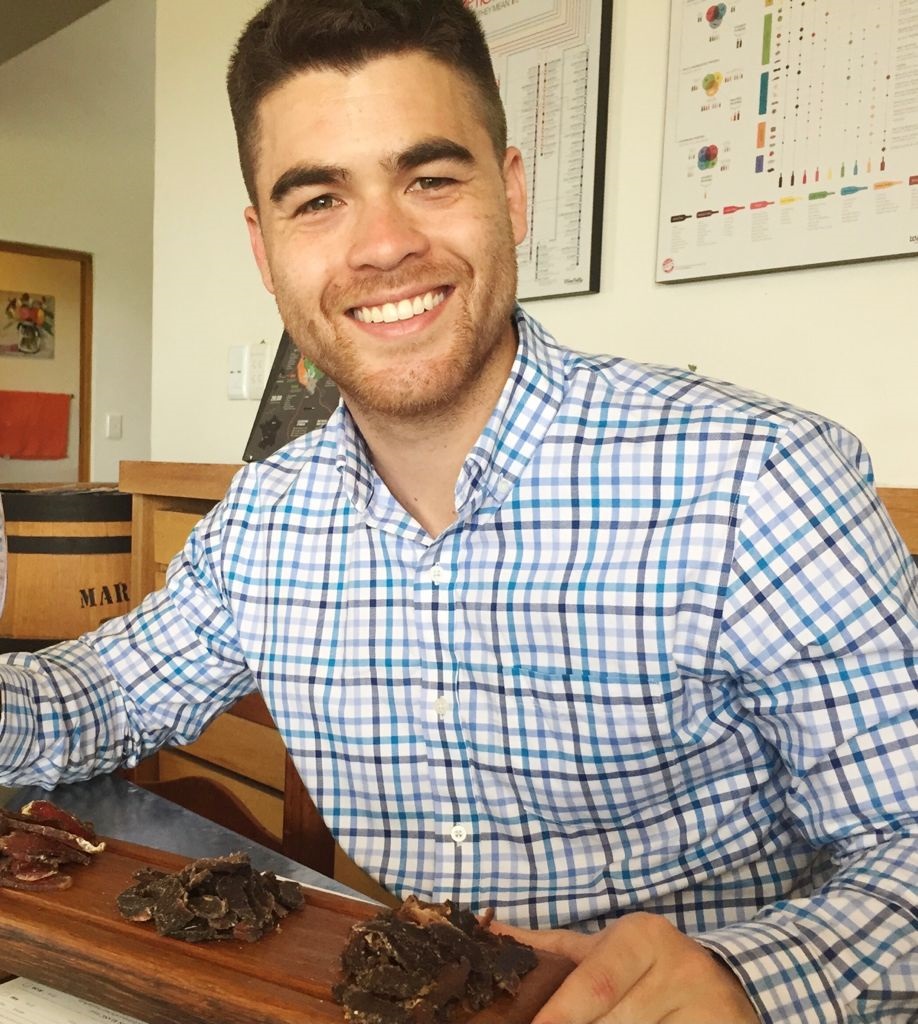 Greg Larkin is the founder and managing editor of Costco Food Database, the premiere site for honest takes on all things Costco food. A self-proclaimed Costco super-fan since childhood, Greg turned his obsession in a mission to properly rate and review all of Costco's delicious buys. When he's not busy navigating Costco aisles, you can find Greg smoking Kirkland Signature meats, meal prepping, or perfecting his homemade jerky recipes.