Morton's Frozen Hamburgers From Costco - Not Worth It!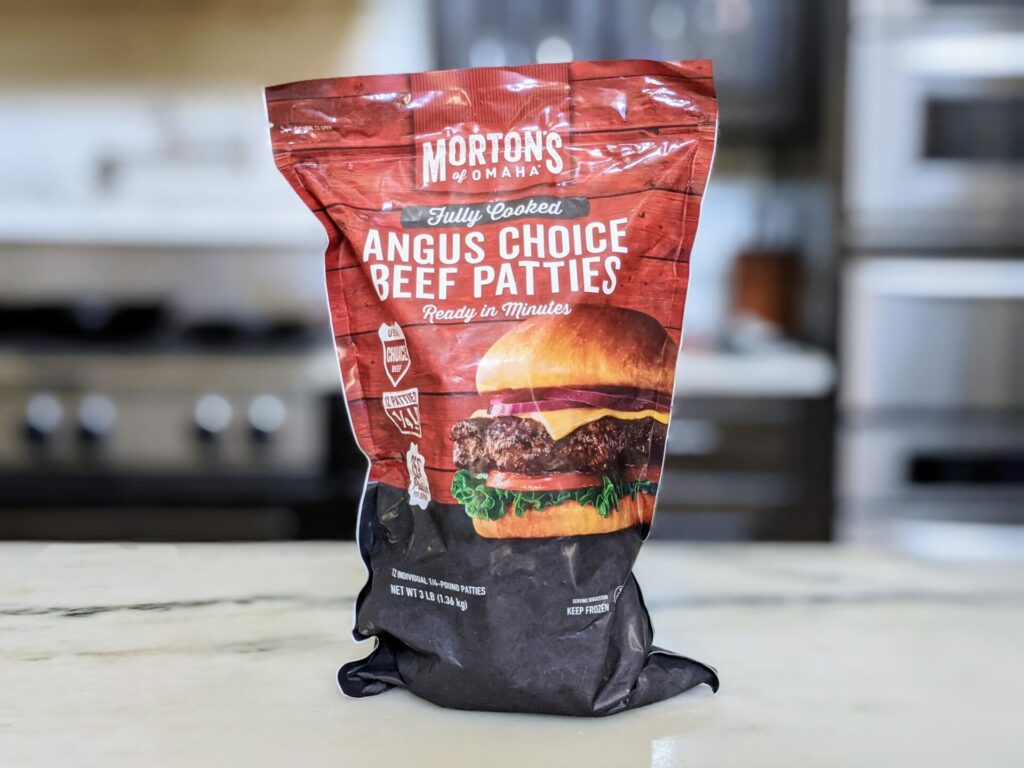 Morton's Fully Cooked Frozen Hamburgers at Costco
It's summer, and I've been having a burger kick lately, so I've also been eyeing the Morton's of Omaha Fully Cooked Angus Choice Beef Patties. Every time I would walk down Costco's frozen food aisles, they would catch my eye. 
The regular Kirkland signature frozen hamburgers are likely the better pick, but I wanted to try these. When the Morton's of Omaha frozen burgers went on sale, I didn't have a reason not to try them.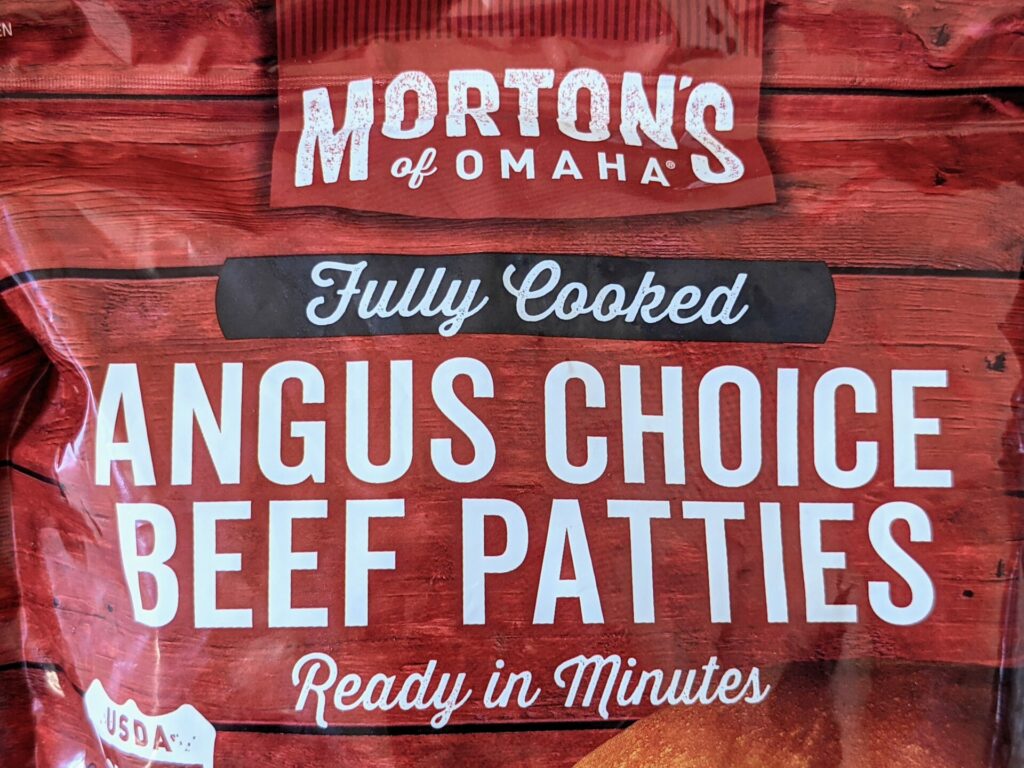 Each pack of Morton's frozen burgers weighs 3 pounds and contains 12 quarter-pound hamburgers. Morton's crafts these frozen hamburger patties with angus beef, and fully cooks them before freezing them.
Have you tried Morton's Fully Cooked Burgers From Costco?
Let the rest of the Costco Food Database community know what you thought of this product. Results and reviews are at the bottom of this page.
Please allow 24 hours for review moderation and approval.
The Burgers Are Super Convenient
The main selling point of these frozen burgers is that they are fully cooked. They just need to be reheated before eating, which makes them an ultra-convenient option. The burgers are also pre-seasoned, which makes them a perfect heat-and-go option.
Depending on the heating method you want to use, you can heat them in as little as 2 minutes in the microwave. Full reheating/cooking instructions are listed below. 
Morton's Frozen Hamburgers Cost $19.49
I hesitated to buy these precooked frozen burgers for a while because of the price. Costco retails the 12 pack of frozen burgers for $19.49 or $6.49 per pound. I finally picked up a bag when they were on sale for $14.99, bringing the per pound price down to $5.00. 
For comparison, Costco's high quality frozen hamburger, the grass fed beef burgers costs $4.99 a pound, the same as Morton's burgers sale price per pound. 
Morton's Angus Patty - Taste Test
I've eaten a few Morton's frozen hamburgers so far, and unfortunately, they are a big swing and a miss. They are more convenient than making your own hamburger patties or cooking frozen burger patties, but you will sacrifice taste.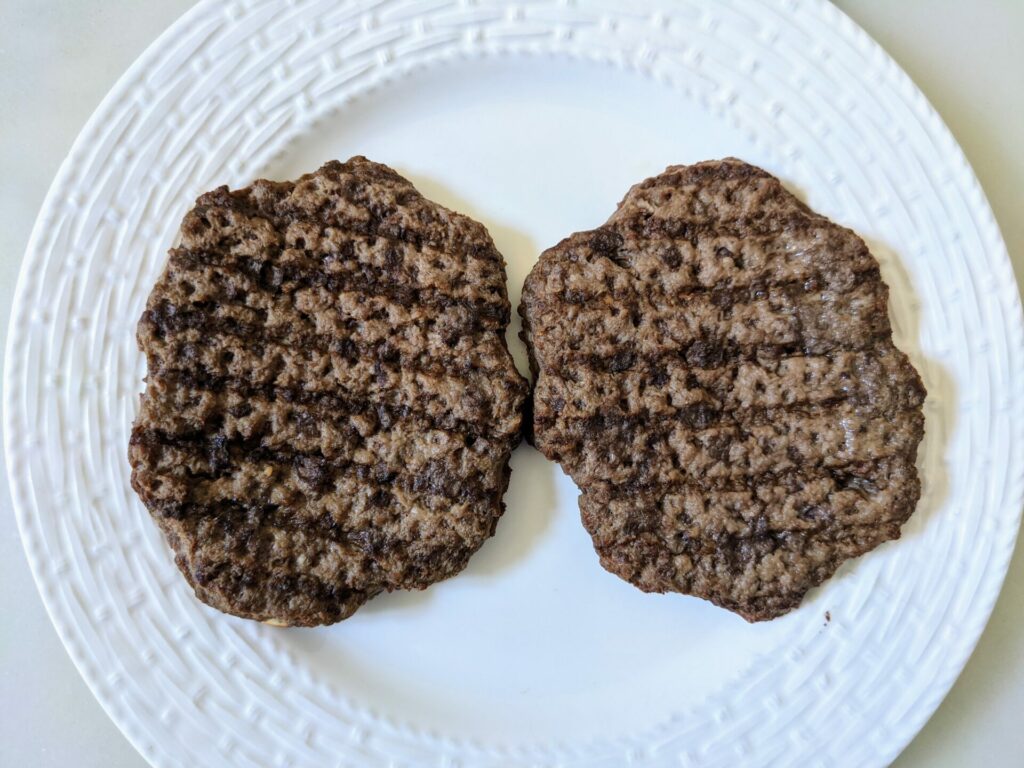 The Burgers Are Dried Out
There are a couple of things that I didn't like about the burger. First, they are dry. I've tried a few of the listed cooking methods, and the end result is always a dried-out burger. 
I'm not expecting a perfectly juicy medium rare burger, but these are a disappointment.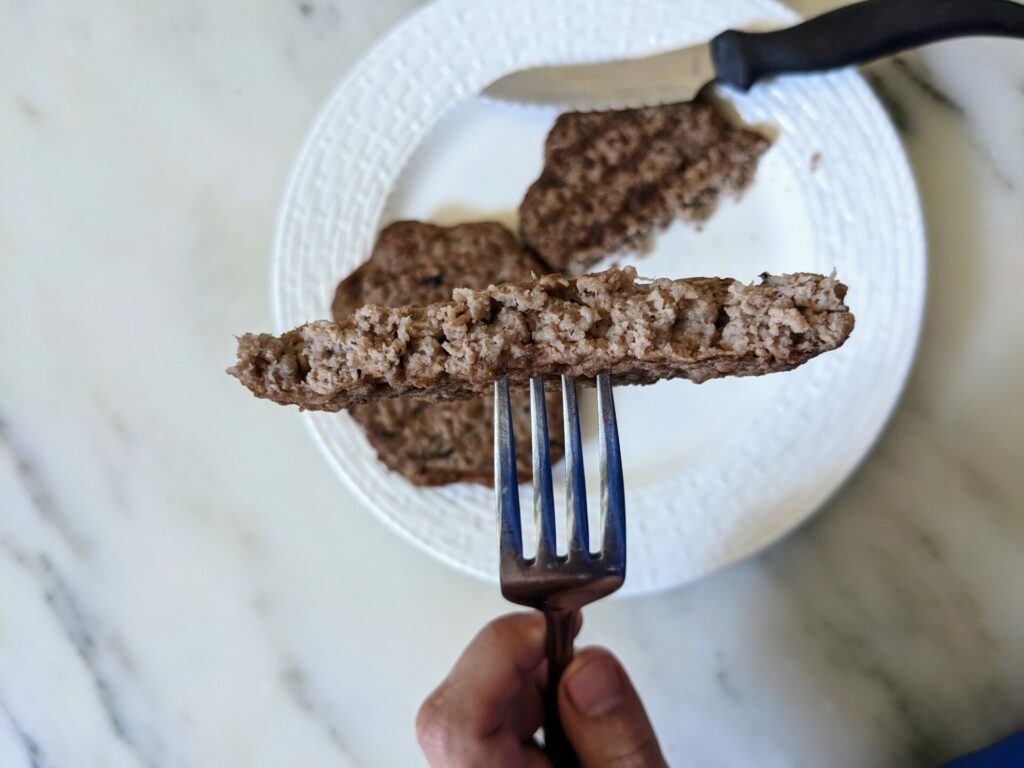 Tastes Like A Fast Food Burger
The taste is another issue. Something about the taste of these frozen burgers immediately reminded me of McDonald's. 
The ingredient list doesn't list anything other than the beef patties and some spices, but there is some flavor that I associate with McDonald's or fast food style burgers. The seasoning itself is light, but that frozen fast food burger flavor is there.
Overall, the Morton hamburgers are just not worth it. When on sale, they are the same price as the Kirkland Signature Angus Chuck Burgers, but you get a much lower-quality burger.
Another thing to note is that the burgers deceptively only have grill marks on one side. The other side is rather plain looking. Not a problem, as long as you don't flip the burger over.
How to Cook Morton's Frozen Angus Beef Patties
The bag of fully cooked Morton's burgers lists four different cooking methods: microwave oven, grilling, skillet, oven.
Microwave Oven: Microwave frozen patties on high for approximately two minutes or until warmed throughout. Turn once during heating. Caution: Microwaves vary.
Grilling: Grill frozen patties on a gas or charcoal grill on medium heat 5 minutes per side, or until warmed throughout.
Skillet: Place frozen patties in a preheated skillet with 1⁄4 cup water. Heat over medium heat for approximately 5 minutes on each side or until warmed throughout.
Oven: Heat in an oven at 375°F for 10-12 minutes.
Costco's Morton Fully Cooked Angus Beef Patty Calories and Nutrition
Each Burger Has 330 Calories
Although fully cooked and frozen, these are your typical frozen angus burger patties. Each 1⁄4 pound burger patty contains 330 calories. The 330 calories come from 25 grams of fat, 1 gram of carbohydrate, and 25 grams of protein. The full nutritional profile is:
Nutrition Facts
Costco's Morton's Fully Cooked Hamburgers
Amount per Serving
% Daily Value*
* Percent Daily Values are based on a 2000 calorie diet.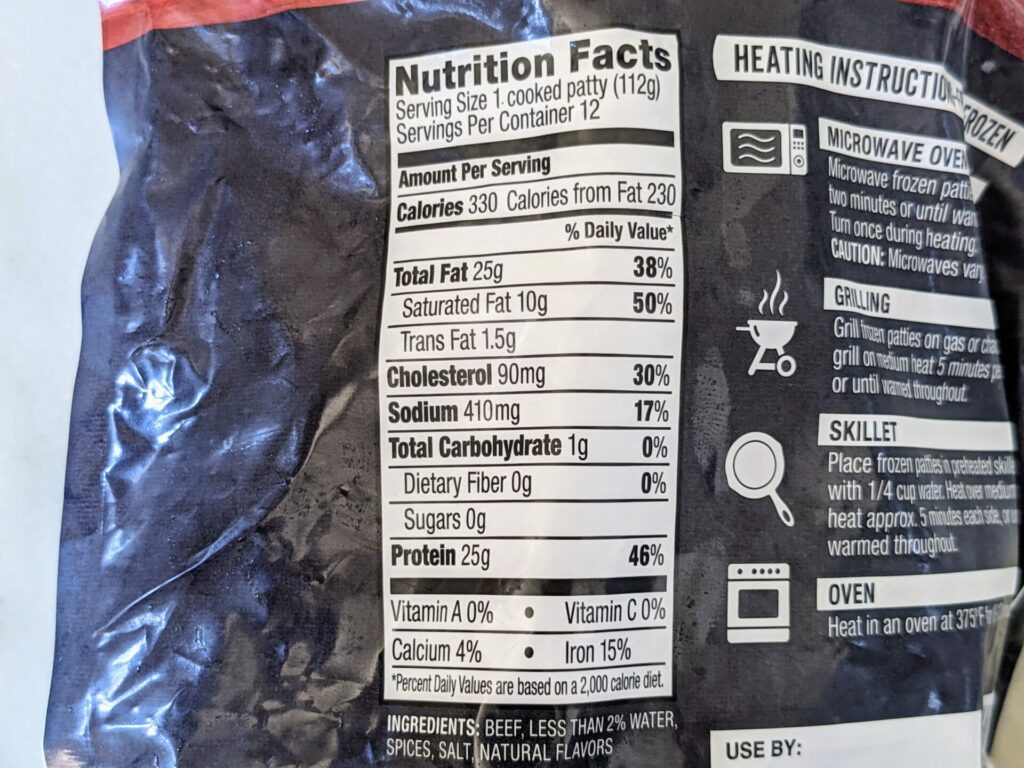 The nutritional label is standard for hamburgers with the fat content and protein content nearly identical. The 1 gram of carbohydrate comes from the hamburger patties' seasoning.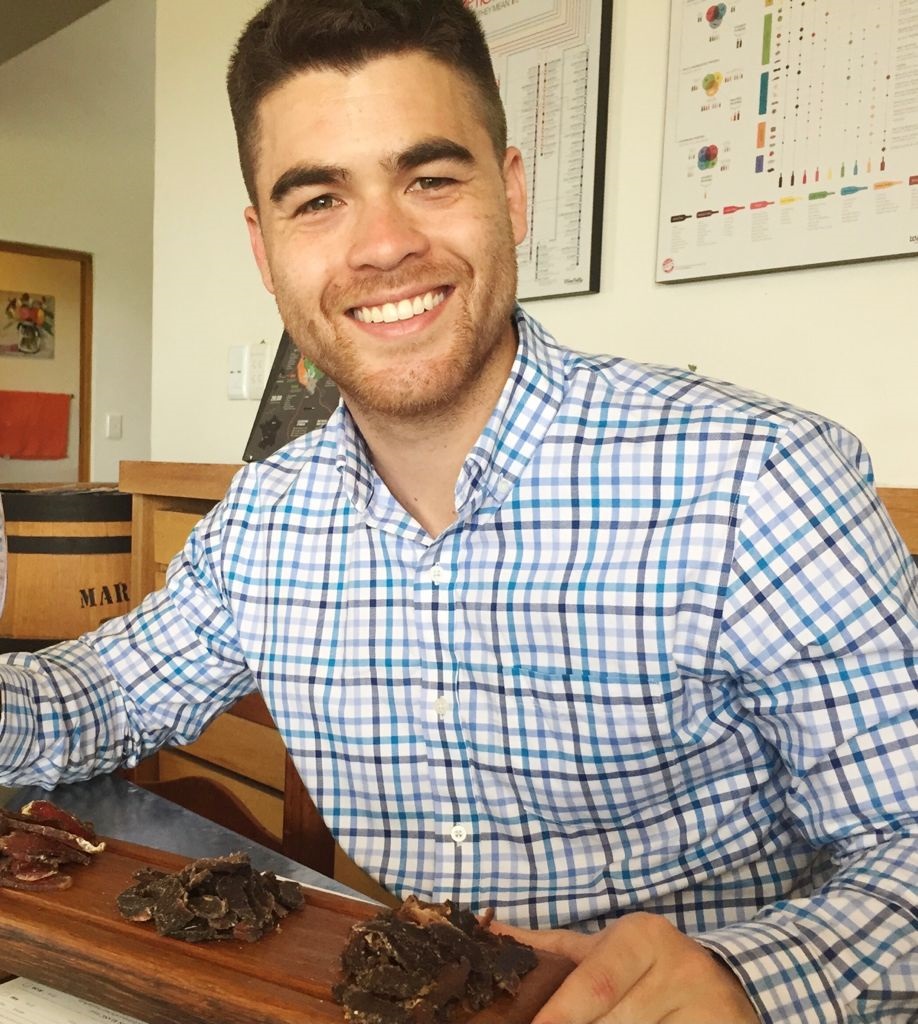 Greg Larkin is the founder and managing editor of Costco Food Database, the premiere site for honest takes on all things Costco food. A self-proclaimed Costco super-fan since childhood, Greg turned his obsession in a mission to properly rate and review all of Costco's delicious buys. When he's not busy navigating Costco aisles, you can find Greg smoking Kirkland Signature meats, meal prepping, or perfecting his homemade jerky recipes.