Costco Avocado Mayo - Healthy and Delicious!
Primal Kitchen Mayonnaise at Costco
I've started keto fairly recently, and I've added a lot more mayo to my diet compared to the past. Mayonnaise has somewhat of a bad or unhealthy reputation, and I wanted to limit the lower-quality ingredients, so I picked up a jar of Primal Kitchen's Avocado Mayonnaise from Costco.
Primal Kitchen's Organic Mayonnaise is made with avocado oil and contains no soybean or canola oil. The mayonnaise is also Whole 30-approved and keto and paleo friendly. And maybe just as importantly, Primal Kitchen's Avocado Mayo is Bobby approved!
Have You Tried Costco Avocado Mayo?
Let the rest of the Costco Food Database community know what you thought of this product. Results and reviews are at the bottom of this page.
Please allow 24 hours for review moderation and approval.
Costco thankfully carries a few Primal Kitchen options such as this avocado mayo, the most delicious buffalo sauce in the world, and even recently, I've spotted a Primal Kitchen Avocado Lime Sauce and dressing. 
It seems like their inventory at Costco is expanding, which is great for my wallet, but there is a drawback to buying the Primal Kitchen brand at Costco. 
Like many other large brands at Costco, there is only a small selection of flavors available at Costco. Primal Kitchen has plenty of sauces, dips, spaghetti sauces, and mayo flavors that are not sold at Costco.
The other flavors are available in nearly equally priced but smaller jars at traditional retailers.
Just looking at the avocado oil mayo flavors, there are other options like chipotle lime mayo, garlic aioli mayo, pesto mayo, and even buffalo mayo. I've been lucky enough to try the chipotle lime mayo, and it was delicious, and I demolished the entire jar in just about a week. 
Obviously, Costco can't carry all of the flavors, but I wouldn't be surprised If I ended up purchasing a few jars of mayonnaise or sauces elsewhere.
Costco sells the 32-ounce jar of Primal Kitchen Avocado Oil Mayonnaise for $9.99. This may seem on the pricier end for mayonnaise, as Costco also sells a 64-ounce jar of Hellman's Mayonnaise for the same price of $9.99. 
You will only get half as much Primal Kitchen Avocado Oil Mayo for the same price, but the quality of the ingredients is far superior.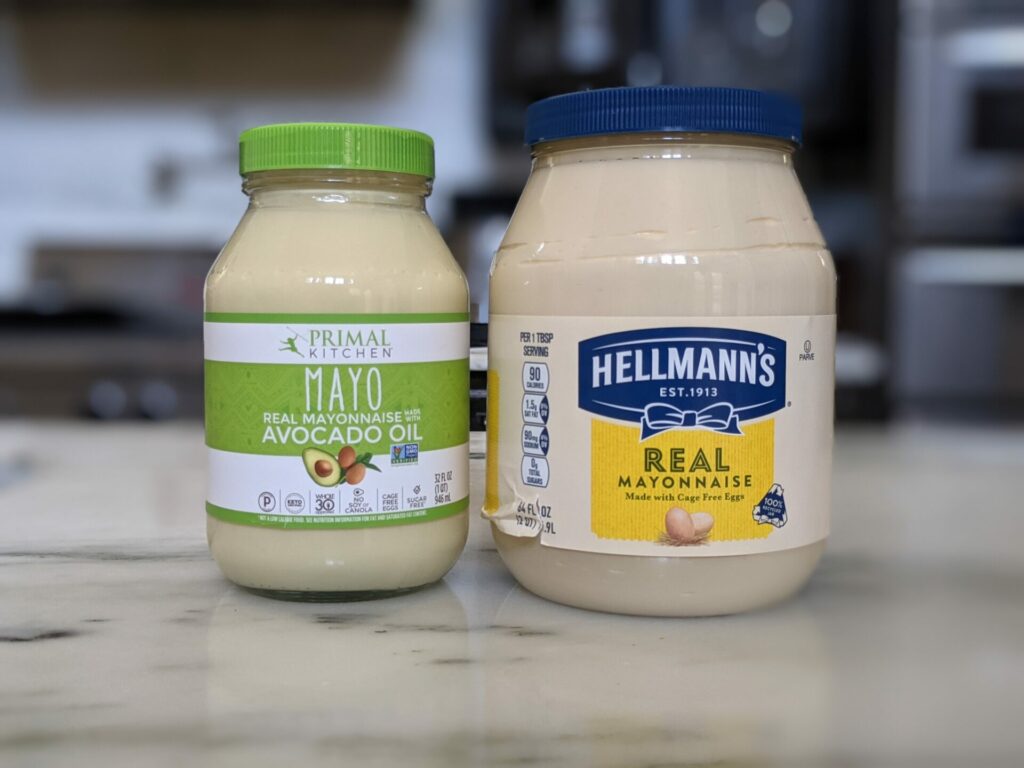 The Costco value lies in the quality of the ingredients and the comparison to what Primal Kitchen sells for at other retailers. Both my local Kroger and my local Sprouts sell a 12-ounce jar for $8.99. So for only $1 more at Costco, you can get nearly 3x the amount of avocado mayo. Hard to pass up on that deal! 

While the price is fantastic, the big drawback of purchasing at Costco is that they only carry the original flavor of avocado mayonnaise.
Costco Avocado Mayo Taste Test
I was a little hesitant the first time I tried Primal Kitchen's avocado mayonnaise as it was the first time I tried a non-traditional mayo, but all my concerns got put to rest on the first bite. The avocado mayo is thick, creamy, and tastes fantastic.
Primal Kitchen's avocado mayonnaise does have a unique taste. I thought the avocado mayonnaise was much more tangy than other mayonnaise that I have tried, but I actually didn't mind too much. 
It still went great in deviled eggs, tuna salads, and burgers. It's an excellent healthy substitute for soybean or canola oil mayo.
How to use Primal Kitchen's Avocado Mayo
The beauty of Primal Kitchen's mayonnaise is that it can be used anywhere else traditional mayonnaise is used. 

Here are some serving ideas and recipes on how to use this avocado mayonnaise straight from Primal Kitchen themselves.
Costco Avocado Oil Mayonnaise Nutrition and Calories
One serving of Costco Primal Kitchen Avocado Mayo is 1 Tbsp and contains 100 calories. Those 100 calories come from 12 grams of fat, 0 grams of carbs, and 0 grams of protein. Essentially this avocado mayo, like all other mayo options, is comprised of just fat. The full nutritional label is as follows:
Serving Size: 1 Tbsp

Calories: 100

Total Fat: 12g

Saturated Fat: 1.5g

Trans Fat: 0g

Polyunsaturated Fat: 1.5g

Monounsaturated Fat: 8g

Cholesterol: 15mg

Sodium: 125mg

Total Carbs: 0g

Dietary Fiber: 0g

Total Sugars: 0g

Protein: 0g
The calories all come from fat but have absolutely zero carbs. This is great for those on a keto diet, but those on a traditional diet may want to watch their consumption.
I'm a big fan of Costco Avocado oil Mayo by Primal Kitchen. I love the healthy avocado oil used to make this mayo instead of the soybean oil used to make Hellman's mayo, the other brand that Costco sells.

It is a little more pricey, but I will be going with Primal Kitchen or even making my own avocado oil mayo going forward.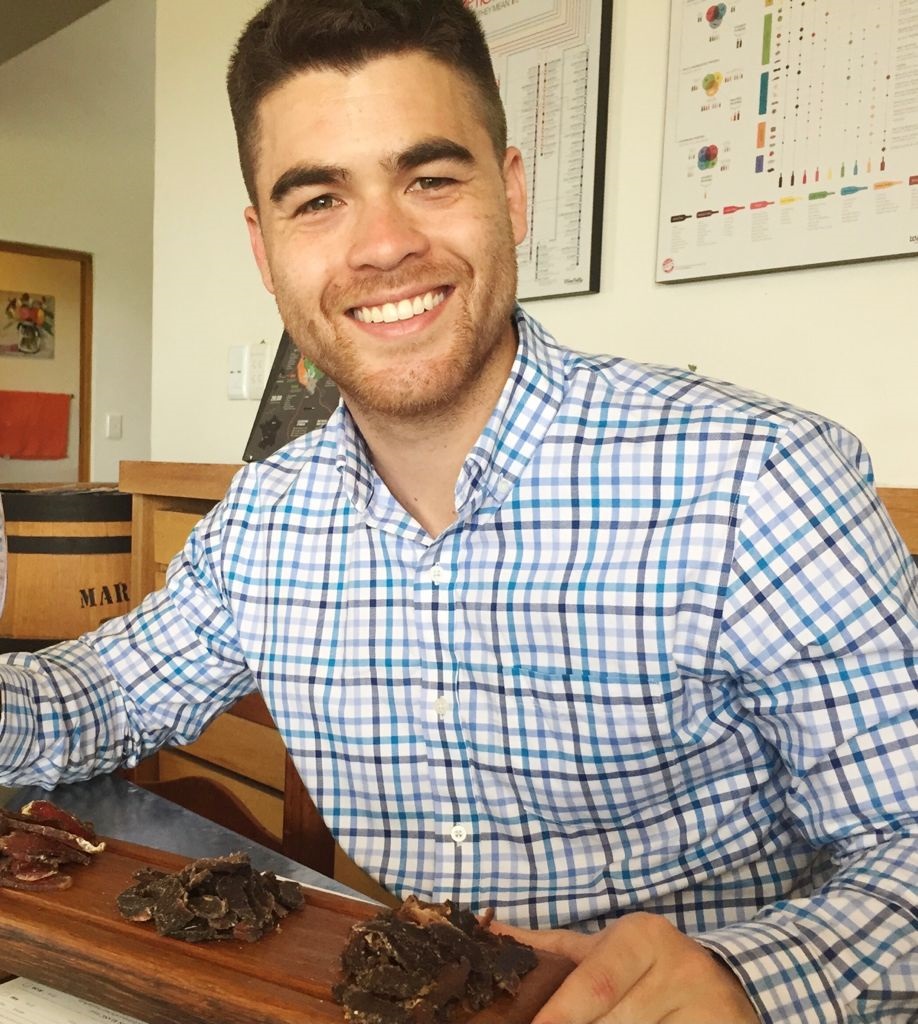 Greg Larkin is the founder and managing editor of Costco Food Database, the premiere site for honest takes on all things Costco food. A self-proclaimed Costco super-fan since childhood, Greg turned his obsession in a mission to properly rate and review all of Costco's delicious buys. When he's not busy navigating Costco aisles, you can find Greg smoking Kirkland Signature meats, meal prepping, or perfecting his homemade jerky recipes.