Costco Beef Pinwheels With Feta Spinach - Cooking Instructions and Calories
Beef Pinwheels With Feta Spinach Peppers at Costco
I was making my weekly Costco grocery trip and noticed a new prepared meal item. This Beef Pinwheels With Feta Spinach was new to my Costco location, and I just had to pick it up and try it.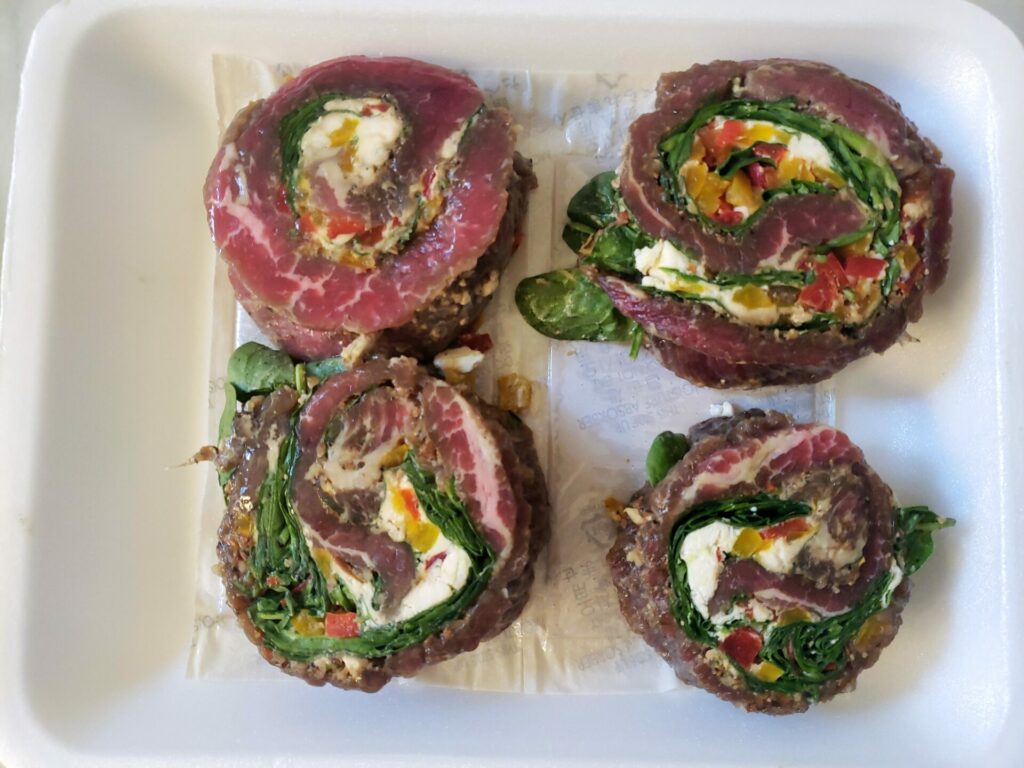 Have You Tried Costco's Beef Pinwheels?
Let the rest of the Costco Food Database community know what you thought of this product. Results and reviews are at the bottom of this page.
Please allow 24 hours for review moderation and approval.
What's Included In The Beef Pinwheel?
This Costco prepared meal is pretty simple and includes Beef Flank Steak rolled with Feta Cheese, spinach, and chopped bell peppers. This isn't too hard to make on your own, and Costco does carry all the ingredients if you want to make your own at-home copycat version.
One thing to point out is that this meal uses USDA Choice Flank Steak. Absolutely nothing wrong with USDA Choice Flank Steak, but for the price, I would have almost expected USDA Prime Flank Steak.
I understand that may not be feasible considering the prep work, and we'll take a more in-depth look at the cost in the next section.
Costco sells their Kirkland Signature Beef Pinwheel Dish for $13.99. The packages ranged in size from as little as 1.5 pounds to 2.5 pounds and in price from $20 to $35.
Normally Costco is pretty consistent with the weight and total price of their prepared meal options, but I do like that there is some variety with these Beef Pinwheels. I was able to pick out one of the smaller ones, which was the appropriate size for me and my wife.
At $14 a pound, the Beef Pinwheel dish is on the more expensive side. The Flank Steak will come cut, rolled, and filled with delicious ingredients, but you will pay for the convenience. 
The big appeal, at least for me, is that this is a beef dish with some unique flavors that will only take 10-15 minutes to prepare for an easy weeknight dinner but will also come with a hefty price markup. 
There will definitely be better value at Costco, and for a higher quality dish that can be put out in the same amount of time while only costing a few bucks more per pound, I would recommend Costco's Prime Ribeye. Here is our complete list of Costco Beef Prices.
The heating instructions recommend cooking the flank steak pinwheels on the grill, and that is exactly what I did. 
The beef came out nice, but my one complaint with the cooking process is that I did lose quite a bit of cream cheese and diced bell pepper pieces. As soon as I put the pinwheels down on the hot grill, some of the filling came out and was essentially considered lost at that point. 
You may be able to salvage a little more of the bell pepper and cream cheese if you are cooking these on a skillet.
For taste, these Costco Beef Pinwheels were quite the letdown. I love the idea of the pinwheel, but it just didn't do it for me with taste. 
I had no problem with the filling; everything was fresh and as it should have been. The bell peppers added a burst of flavor, and the cream cheese was great.
My problem with the meal lies with the steak and its marinade/flavoring. I've spoken about this a few times about a few different products, but it seems that all marinated/pre-seasoned beef has this same distinct flavor.
I'm not sure exactly what it is, but I noticed this beef, along with marinated beef options such as the Arrachera skirt steak and the grass-fed sirloin, have this taste that I can't seem to not notice.
In addition to that familiar marinated beef taste, the beef is also overly salty. Maybe it would be a little more tolerable if some of the filling didn't fall out, but as it was, it was just too salty for me. 
Overall, I'm not the biggest fan of Costco's beef pinwheel, and I think you'll be better off buying the ingredients separately and putting them together yourself. You'll save on costs and can control the flavor/seasoning to your liking.
Costco Beef Pinwheel With Feta Spinach Cooking Instructions
The big selling point for these Flank Steak Pinwheels from Costco is their convenience and how quickly they can be cooked. The meat only takes about 10 minutes to fully cook and be ready to be eaten.
Costco Beef Pinwheel Cooking Instructions
Remove the pinwheels from the packaging. 

Grill or sear pinwheels in a pan to desired temperature. 

Steak Pinwheels have been blade tenderized, and USDA recommends grilling product to a minimum of 165°F.
What is Blade Tenderized?
Costco is known for blade tenderizing its steaks. This means exactly what the name says, as they use sharp blades to puncture and tenderize the meat. This goes for this Beef Pinwheel prepared meal and most of the other steaks they sell. 
This, of course, sounds great, but there have been some claims that this can push bacteria that is only on the surface of the beef to deep within, and if the meat isn't cooked to 165°F, this could lead to illness. There seems to be very minimal risk and even almost non-existent risk, but I feel that Costco puts it on the label, and I should explain why.
Costco Beef Pinwheel Calories and Nutrition
Costco does make it difficult to gather the nutritional and calorie information for most of their prepared meals, but I was able to get the info for this beef pinwheel with feta and spinach. 
Each serving size is 6.25 ounces and contains 210 calories from 9 grams of fat, 3 grams of carbs, and 29 grams of protein. The full nutritional information is below.
Nutrition Facts
Costco Beef Pinwheel With Feta and Spinach
Amount per Serving
% Daily Value*
* Percent Daily Values are based on a 2000 calorie diet.
This is an extremely healthy dish as it's mostly protein. The fat is on the lower end for steak, and the carbs are kept to a minimum. This can fit most diets and is an excellent option for those on a keto/low carb diet.
Costco Beef Pinwheel With Feta and Spinach
Costco's Prepared Meal Beef Pinwheel with Feta and Spinach. Healthy and Easy to Cook.
Ingredients
1

Tray

Costco Beef Pinwheel With Feta and Spinach

1

tbsp

olive oil
Instructions
Grill on medium high heat until desired doneness

If Cooking on skillet, use 1 tbsp of olive oil and sear until desired doneness.

Note:Steak Pinwheels have been blade tenderized and USDA recommends grilling product to a minimum of 165°F.
Nutrition
Serving:
6.25
oz
Calories:
210
kcal
Carbohydrates:
3
g
Protein:
29
g
Fat:
9
g
Saturated Fat:
5
g
Trans Fat:
0
g
Cholesterol:
95
mg
Sodium:
830
mg
Potassium:
541
mg
Fiber:
1
g
Sugar:
1
g
Calcium:
175
mg