Costco Buffalo Sauce - Best Buffalo Sauce Ever?
Primal Kitchen No Dairy Buffalo Sauce at Costco
Costco sells a 2 pack of Primal Kitchen Buffalo Sauce made with Avocado Oil for $9.99. The buffalo sauce can be found in Costco's pantry and dry goods area near other items such as the teriyaki sauce, bbq sauce, and the Salsa.
Primal Kitchen's Buffalo Sauce is Keto friendly, paleo-friendly, whole 30 approved, vegan, and contains no xanthan gum. This buffalo sauce is probably one of the cleanest commercial buffalo sauces around. Thanks, Costco!

Primal Kitchen also sells its Avocado Mayo at Costco.
Have You Tried Costco's Buffalo Sauce?
Let the rest of the Costco Food Database community know what you thought of this product. Results and reviews are at the bottom of this page.
Please allow 24 hours for review moderation and approval.
Primal Kitchen Foods Philosophy
Mark Sisson, the founder of Primal Kitchen, believes that flavorful foods uplift and empower us as people.
He created this company to make foods with natural ingredients without compromising flavor and to make every meal exciting.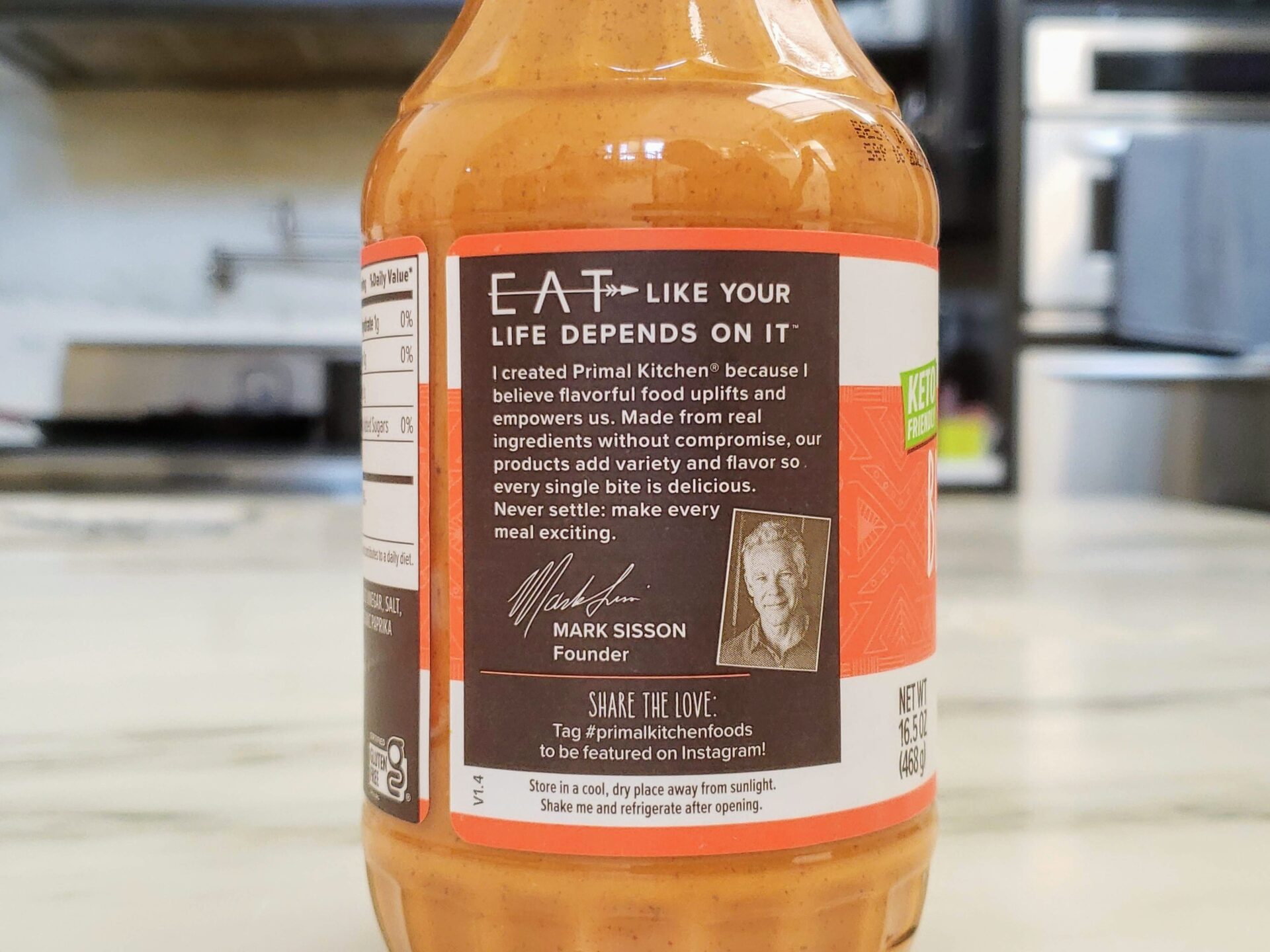 I often complain about how much marketing is done nowadays, but I think Primal Kitchen sells themselves short with their buffalo sauce packaging.
 
Their ingredients are excellent, the sauce looks beautiful, and it really does check off a lot of the boxes for specific diets.


This sauce looks high quality and very close to what you would make at home on your own.
How Much Does Primal Kitchen Buffalo Sauce Cost at Costco?
Costco sells this two-pack of 16.5-ounce Primal Kitchen Buffalo Sauce for $9.99. This breaks down to an easy price of $5 per bottle or $0.30 per ounce.
This will be a little pricey per bottle for buffalo sauce compared to some other brands, but an excellent deal for this Primal Kitchen's Buffalo Sauce.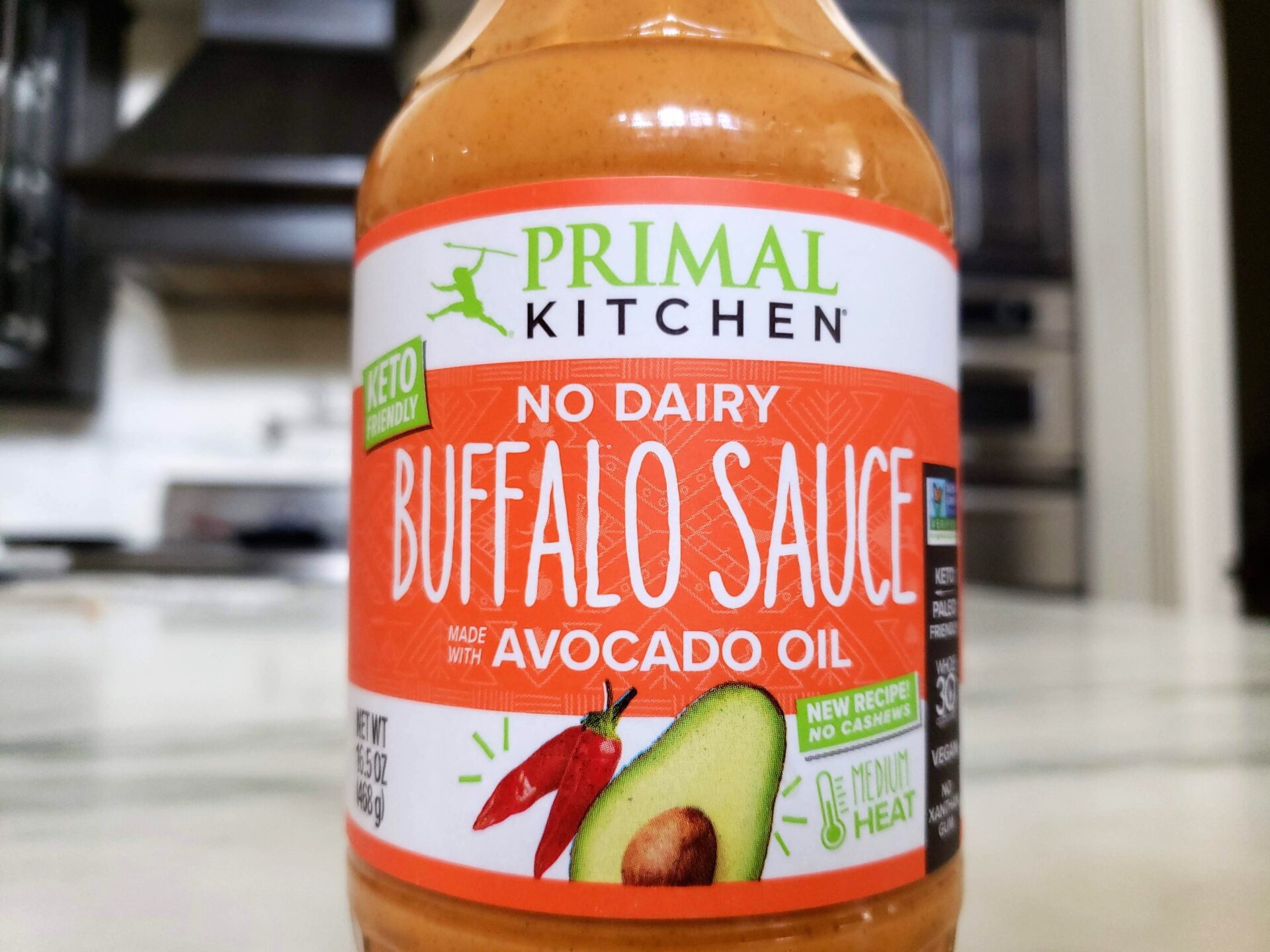 The most popular brand of buffalo sauce is Frank's Red Hot, and those bottles are sold in a variety of sizes and at different price points. 
For example, Walmart sells a 12-ounce bottle for $3.26 or $0.27 an ounce. To get Primal Kitchen Buffalo Sauce at Costco for $0.3 more per ounce seems like an excellent deal!
Costco vs The Competition
In addition to Costco, Primal Kitchen buffalo sauce is only available at select retailers and is often much higher priced.

Target sells an 8.5-ounce bottle of Primal Kitchen Buffalo Sauce for $6.69, and my local grocery store Tom Thumb sells the same 8.5-ounce bottle for $7.49. These prices are high but closer to what Primal Kitchen's buffalo sauce actually retails for. 
Costco buffalo sauce bottles are twice the size, costing $1.50-$2.50 cheaper per bottle. There is no reason to buy this buffalo sauce anywhere but Costco. 
Costco Buffalo Sauce Taste Test
The first thing I immediately noticed with Primal Kitchen's buffalo sauce is that it doesn't have that typical vinegar smell that most other buffalo sauces and some hot sauces have.

The vinegar smell seems to be neutralized by some of the other ingredients, and this buffalo sauce has a very full smell and smells absolutely delicious.
For looks, the sauce is exactly what you want to see in a high-quality buffalo sauce. The sauce is very smooth, has a beautiful orange color, and plenty of red and black seasoning specks are floating throughout the sauce.
For taste, the sauce is a mild buffalo sauce. Primal Kitchen calls it a mild sauce, which is about what it is. It's not too hot to handle but does have a nice little kick if you take in enough of it.
One of the major differences and a selling points of the Primal Kitchen buffalo sauce is that it uses avocado oil and pumpkin seed butter instead of traditional butter.
The result is a buffalo sauce that is much thicker and creamier than what you would typically find from other buffalo sauces, which makes it special.
The sauce's creaminess is enjoyable and a significant upgrade over other buffalo sauces.

I had the buffalo sauce with some chicken wings, and they were absolutely delicious.
The flavor is similar to that of traditional buffalo sauces, and like other sauces, it does have a very noticeable vinegar presence.
The avocado oil is a neutral-tasting oil, and the pumpkin seed butter does not detract from the buffalo sauce flavor profile.
I am a big buffalo sauce guy, and this is the best commercial buffalo sauce that I have ever tasted. No other brands come close. 
The creaminess elevates the flavors to another level and makes almost all dishes more enjoyable.
Primal Kitchen Buffalo Sauce Calories & Nutritional Information
How Many Calories in Costco Buffalo Sauce?
One serving will be 1 Tbsp or 15 grams of buffalo sauce. Each serving will contain 40 calories from 3.5 grams of fat, 1 gram of carbohydrate and 1 gram of protein.

Primal Kitchen Calorie Comparison
This Costco buffalo sauce will have quite a bit more calories than typical buffalo sauce. Most hot sauces or buffalo sauces have 0 calories or, at most, 5-10 calories per serving. 
This buffalo sauce is made with ingredients that aren't typically found in buffalo sauces, such as avocado oil and pumpkin seed butter, which seem to be the culprits for the higher than normal calorie count.
One of the big issues with any hot sauce or buffalo sauce is going to be sodium. This buffalo sauce from Costco has 350 mg per serving or 15% of the recommended daily value.
For a sauce, you are more than likely to use it with other food items containing their own sodium. Put all together, this will add up, which is one of the major drawbacks of buffalo sauce.
Amazing Buffalo Chicken Wings from Costco
Pair Costco's Kirkland Signature Fresh Chicken Wings with Primal Kitchens buffalo sauce for an amazingly delicious meal
Ingredients
2

Pounds

Chicken Wings

1

Cup

Primal Kitchen Buffalo Sauce
Notes
Nutritional label is for the buffalo sauce only
Nutrition
Serving:
1
tbsp
Calories:
40
kcal
Carbohydrates:
1
g
Protein:
1
g
Fat:
3.5
g
Saturated Fat:
0.5
g
Trans Fat:
0
g
Cholesterol:
0
mg
Sodium:
350
mg
Fiber:
0
g
Sugar:
0
g
Costco Food Database User Reviews
Have you tried this item? Let the rest of the Costco Food Database community know what you think. Leave a rating and review for this product.