Costco Blackened Chicken Strips - Review + Air Fryer Recipe
TYSON BLACKENED CHICKEN STRIPS AT COSTCO
Tyson's Blackened Chicken Breast Strips have been in Costco's frozen food aisle for a while now, and I haven't bought a bag of these in a few years so I figured I'd give them another try. The price has gone up a couple of bucks over the past few years, but I did manage to catch them while they were on sale.
The 3-pound bag of blackened chicken includes fully cooked boneless, skinless chicken with rib meat, coated with blackening spices. 
HAVE YOU TRIED COSTCO'S BLACKENED CHICKEN?
Let the rest of the Costco Food Database community know what you thought of this product. Results and reviews are at the bottom of this page.
Please allow 24 hours for review moderation and approval.
Just like Tyson's Rotisserie Chicken Strips, this bag of blackened chicken boasts several marketing points. The chicken is made with no antibiotics, it contains no added hormones or steroids, and it's 100% natural. 
I don't want to go too in-depth on it, but some of the claims are superfluous as regulations don't allow hormones or steroids to be given to chickens.
WHAT IS BLACKENED CHICKEN?
Blackened chicken is a cooking technique where chicken or other proteins are coated in a spice blend (usually paprika, garlic powder, onion powder, cayenne pepper, thyme, etc.) and cooked over high heat to give it a crispy, charred exterior. The chicken takes on a very dark brown/black color, but it isn't burnt.
Costco's Blackened Chicken Costs $17.49
Costco sells the 3-pound bag of Tyson blackened chicken strips for $17.49, or $5.83 a pound. At retail price, the blackened chicken strips do seem a little pricey, considering fresh chicken tenders can be had at Costco for $3.49 a pound and nearly take the same amount of time to prepare.
There doesn't seem to be much of a convenience factor unless you plan to microwave the blackened chicken strips.
Better To Wait For A Sale
I did pick up this blackened chicken at a discounted price of $12.49 during a Costco sale. The $5 discount makes the price much more palatable. At this sale price, the price per pound for the blackened flavored chicken is $4.16.
TYSON BLACKENED CHICKEN STRIPS TASTE TEST
I decided to air fry the blackened chicken strips and they came out well. The blackened chicken strips cooked a little faster than they would have in the oven and they even developed a nice little crust that I enjoyed.
The black-flavored chicken was also quite tasty and, dare I say, just a little bit spicy. Most mass-produced hot foods usually aren't very spicy, and these aren't necessarily "very spicy" either, but there is some heat to them and just a little kick.
These chicken strips have some very nice heat and are extremely flavorful!
I thought the 100% all-natural, hormone-free, and steroid-free meat was very tasty, tender, and moist. It's not freshly cooked chicken and doesn't taste like freshly cooked chicken, but it also doesn't have the rubberiness that frozen chicken can sometimes have.
Overall, the blackened chicken is flavorful and makes an excellent quick snack or light meal. I can see why Costco keeps the blackened chicken year-round.
HOW TO COOK COSTCO BLACKENED CHICKEN STRIPS
Tyson provides two cooking methods for their blackened chicken breast strips. They recommend heating them in a conventional oven or microwave.
The cooking instructions don't list the air fryer as a cooking method, but I've cooked mine in the air fryer and they turned out pretty darn good. I've included my air fryer instructions as well.
Conventional Oven (Preferred Method)
Preheat the oven to 375°F.
Place frozen strips on a baking sheet.
Cook for 18 to 22 minutes.
Arrange frozen strips onto a microwave-safe plate.
Cover with microwave-safe wrap, heat on high.
Microwave 2-4 pieces for 2 to 3 minutes. 
Do not overheat.
Let stand for 1 to 2 minutes before serving.

Tyson does say to not overheat, but they are kind of vague with their microwave directions
Preheat the air fryer to 350°F.
Place 2-4 blackened chicken strips in the air fryer.
Heat for 13-15 minutes until fully heated.

These are CostcoFDB air fryer instructions and not official heating instructions. Adjust them to your air fryer as needed.
WHAT TO SERVE WITH BLACKENED CHICKEN?
Blackened chicken is a cajun dish that goes well with southern/cajun side dishes. Some of my favorite options to pair with blackened chicken are mac and cheese, Brussels sprouts, and creamed corn.
I also like blackened chicken with starchy foods to soak up some of the spicy flavors. If you're looking for something a little lighter, blackened chicken pairs nicely with a fresh salad.
COSTCO BLACKENED CHICKEN STRIPS CALORIES AND NUTRITION
One Serving of Blackened Chicken Has 110 Calories
One serving of Costco's blackened chicken is 3 ounces, or 1/16th of the bag and contains 110 calories. The 110 calories include 3 grams of total fat, 1 gram of carbs, and 20 grams of protein. The full nutrition label is as follows:
Nutrition Facts
Costco Blackened Chicken
Amount per Serving
% Daily Value*
* Percent Daily Values are based on a 2000 calorie diet.
This is an amazing nutritional label as the fat and carbs are kept to a bare minimum while the protein count is an exceptional 20 grams. I'm currently on a low-carb diet so these are a great addition to that, and the protein count is great for almost any type of diet. A+ nutritional label for these Costco blackened chicken strips.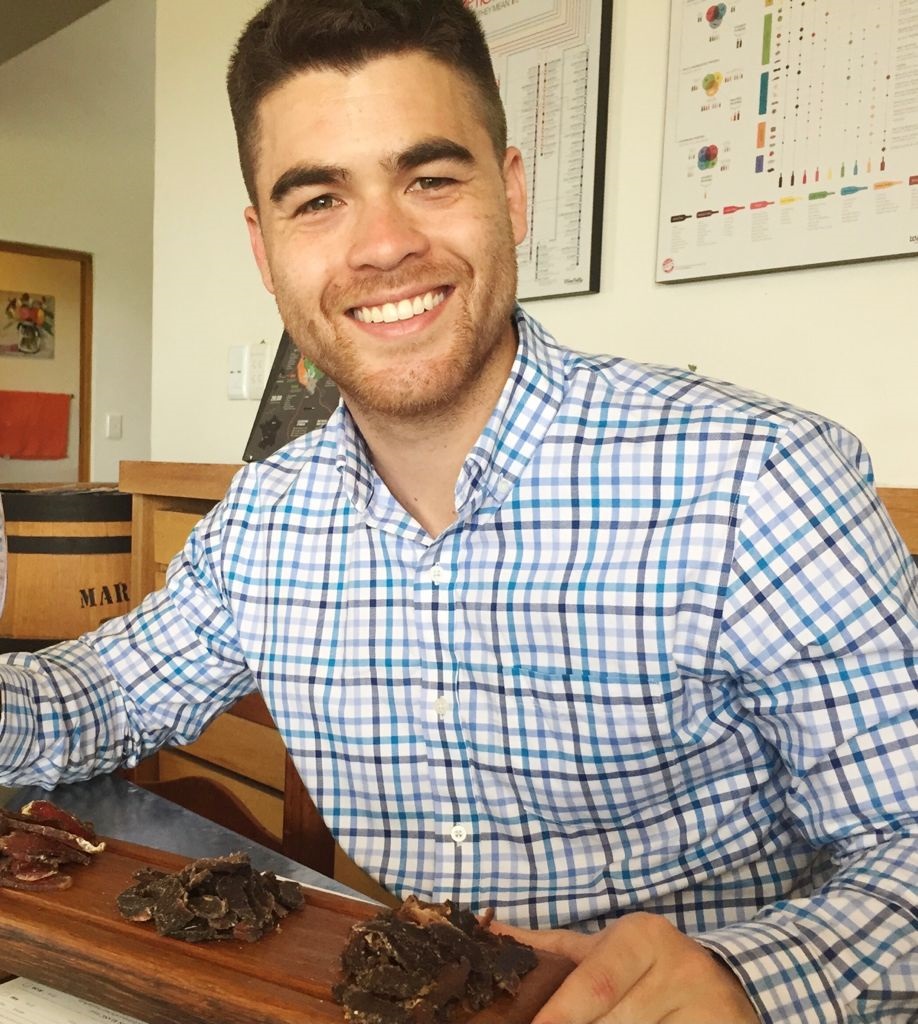 Greg Larkin is the founder and managing editor of Costco Food Database, the premiere site for honest takes on all things Costco food. A self-proclaimed Costco super-fan since childhood, Greg turned his obsession in a mission to properly rate and review all of Costco's delicious buys. When he's not busy navigating Costco aisles, you can find Greg smoking Kirkland Signature meats, meal prepping, or perfecting his homemade jerky recipes.