Costco Macaroni And Cheese - Price, Cook Tips, + Flavor Hacks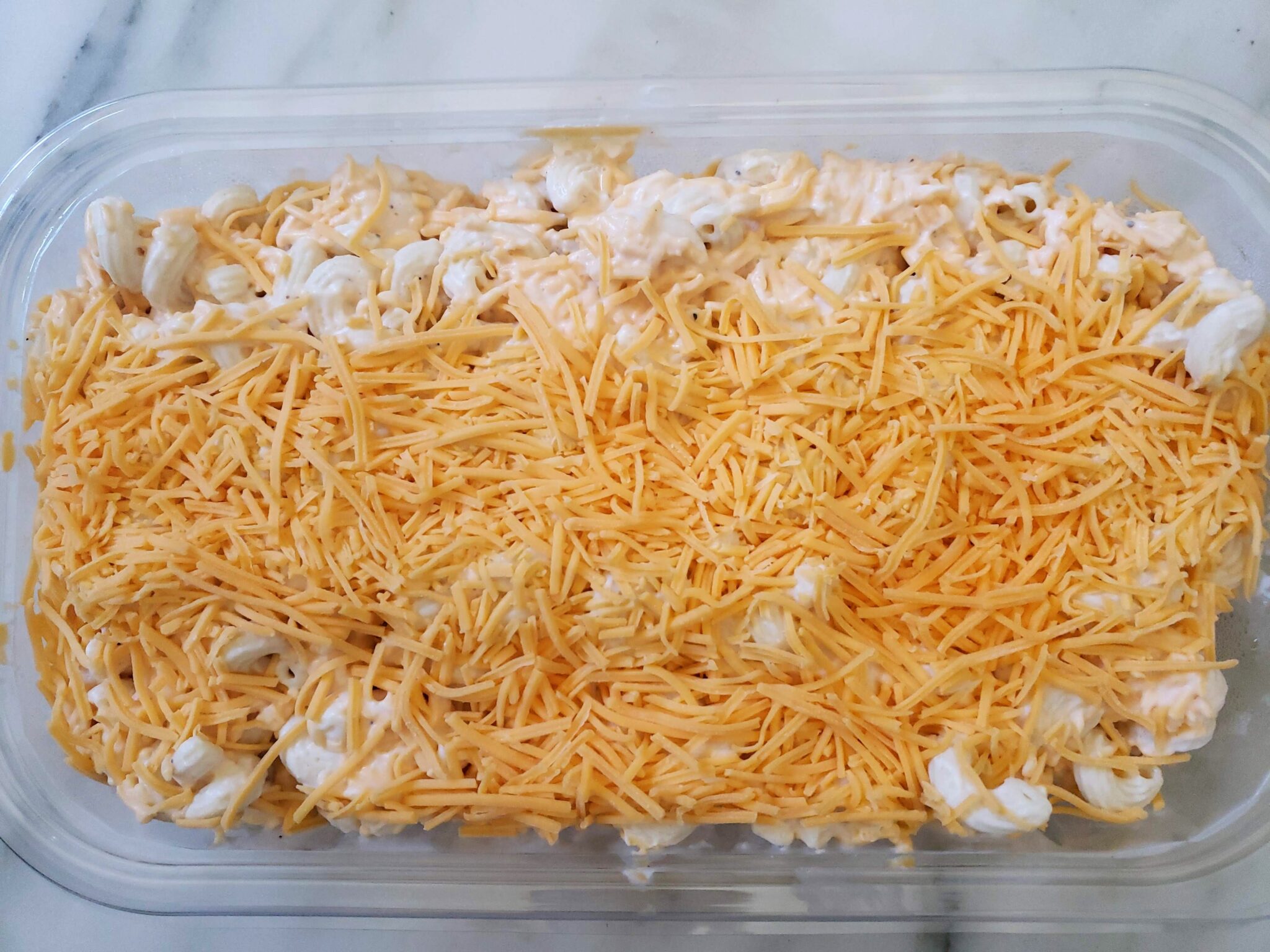 Kirkland Signature Macaroni and Cheese at Costco
Costco sells one of the all time class comfort foods, Mac and cheese as a prepared meal. You can find Costco's mac and cheese and in the deli area of the warehouse near some of the other prepared meal items like the chicken kebobs, caesar salad, and street taco kit.
Costco makes their macaroni and cheese with a creamy alfredo sauce and 3 different cheeses. Costco uses romano, parmesan, and shredded cheddar cheese.
Have You Tried Costco's Macaroni and cheese?
Let the rest of the Costco Food Database community know what you thought of this product. Results and reviews are at the bottom of this page.
Please allow 24 hours for review moderation and approval.
Costco Sized Macaroni and Cheese
Nearly 4 Pounds of Mac and Cheese
As expected, this Costco mac and cheese is Costco sized. This is a massive tray of mac and cheese and it weighs nearly almost 4 pounds. My tray weighed 3.74 pounds.
This mac and cheese meal is too much for one person to handle at 3.74 pounds and is better suited to be eaten over a few days or for a party. It is also a great option to pair with Costco's party platters. 
Costco's Mac And Cheese Cost $3.49/Pound
Costco sells their mac and cheese for $3.49 a pound and each package costs about $13-$14. This is a little pricey but is definitely still fair value considering that all you have to do is bake it! 

This massive side dish can easily feed 8-10 people, if not more!
Sam's Club sells their macaroni and cheese for the same price at $3.48 a pound. I haven't tried it and can't speak for the quality, but 9 times out of 10, I will go with the Kirkland Signature product over the Member's Mark item.

Costco Macaroni and Cheese Taste Test
I followed the instructions on the packaging and baked the mac and cheese at 400°F for 45 minutes. The mac and cheese was warmed through and the cheese was fully melted.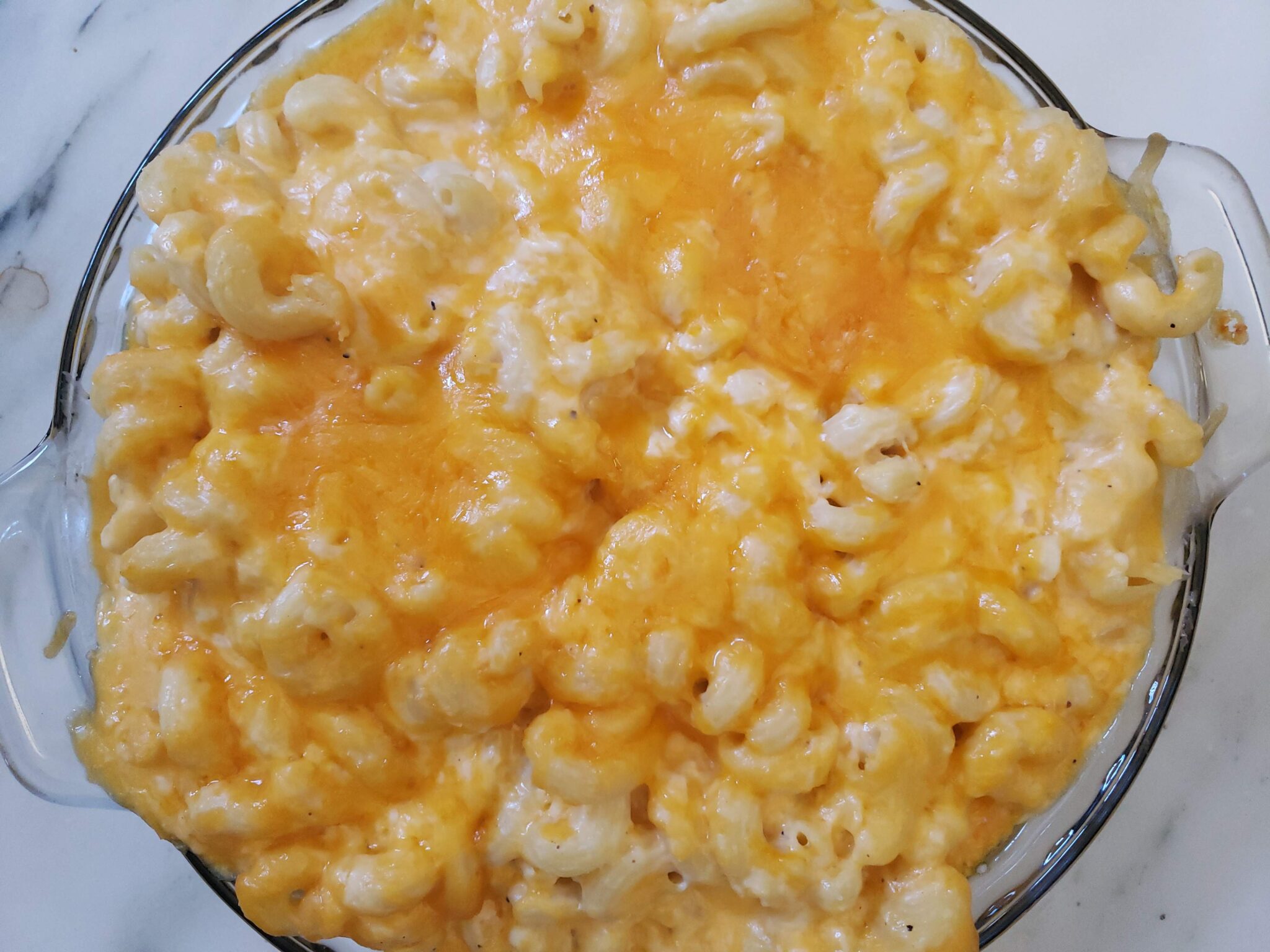 The mac and cheese came out looking beautiful, with perfectly melted cheddar cheese on top.
If you like your cheese on the crispier side, leave the dish in the oven for a few minutes longer. The cheese will crisp up nicely and will really enhance the mac and cheese. 
The Macaroni And Cheese Lacks In Flavor
The macaroni came out looking great, but unfortunately, the Costco macaroni and cheese was quite bland. There was plenty of cheese and creamy sauce in every bite, but was really lacking flavor. 
The ingredients were there, but for some inexplicable reason, the flavor wasn't. The macaroni and cheese left me yearning for more. 
I would have liked much more depth to the flavor and intensity. Adding simple seasoning such as salt, pepper, cayenne, or garlic powder goes a long way with this mac and cheese.
The dish is bland and won't turn anybody off, but also won't wow anybody. It's a very forgettable dish that I probably won't be purchasing again.
I ate the Costco Macaroni and Cheese with some super tender Tri-Tip.
I wouldn't serve this at a party without making significant flavor modifications. The good news is there are a couple of easy fixes to bring out the flavor in Costco's mac and cheese, and I have included a couple of serving suggestions and ideas below. 
How to Cook Costco Macaroni & Cheese
Be aware of the packaging for the Costco macaroni and cheese. It seems that Costco has gone away from aluminum foil trays and has transitioned to mostly all plastic containers for their prepared meals.
I'm not a fan of the change, as foil trays bring more of a feeling of quality while also being more convenient as they can be put directly into the oven.
You Cannot Bake The Mac And Cheese In The Tray
The new plastic tray can not be used to bake this macaroni and cheese. Costco has even included a large sticker stating so on the package.
In order to bake the mac and cheese, you would have to transfer it from the packaging into an oven safe dish. This isn't the end of the world, but you are going to have an appropriately sized dish on hand.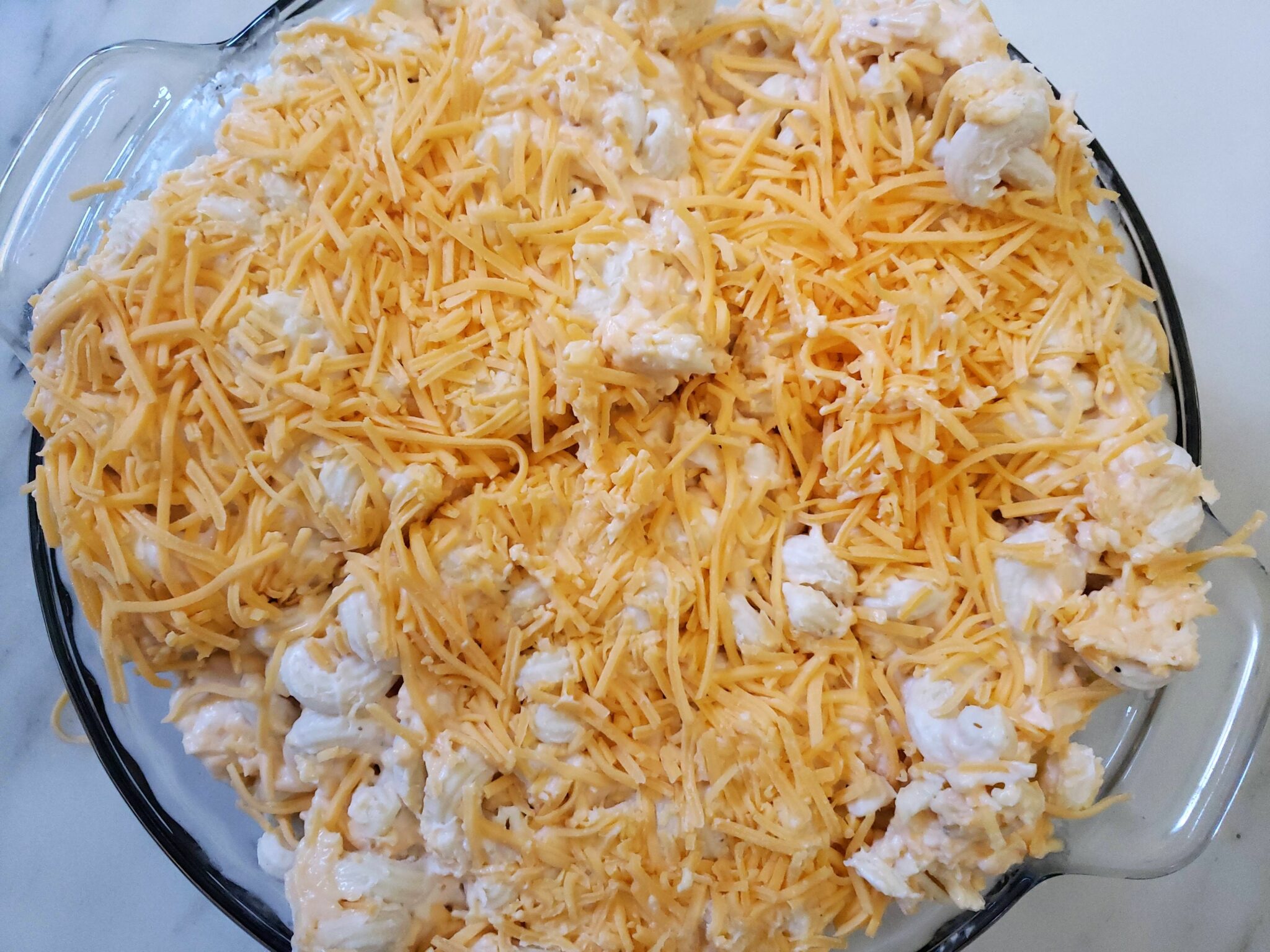 I used a glass pie plate that turned out to be a great size for this mac and cheese from Costco. 
Presentation is sacrificed, and there is also one additional dish that needs to be washed now as well.
Costco Mac And Cheese Cooking Directions
Aside from finding a suitable oven safe dish and transferring the mac and cheese, the dish is rather easy to make. You simply need to pop it into the oven for 40-60 minutes.
Preheat Oven to 400°F. 
Remove from the package.
Place into an ovenable pan and cover with foil. 
Place onto a baking sheet. 
Place on the center rack of the oven.
Bake for 40-60 minutes or until the internal temperature reaches 165°F.
Macaroni & Cheese Serving Suggestions
The Costco mac and cheese is bland and definitely needs some help. Luckily, there are a lot of options that will really go well with side dishes to spruce it up.

If you want to keep it basic, the mac and cheese will go well with some common seasonings. Any of these would add another layer of flavor.
Garlic Powder
Onion Powder
Smoked Paprika
Oregano
Basil
Crushed Red Peppers
Chili Powder
Cayenne
Macaroni and Cheese Balls
I originally intended to use a few of these recipes to spruce up the mac and cheese, but because none of us enjoyed the dish the night before, my wife took the liberty and used all the remaining mac and cheese to make mac and cheese balls.
Mac and cheese is good, but spicy mac and cheese is great. Crushed red peppers are a great option, but so is hot sauce. Tabasco or buffalo sauce would be great with the mac and cheese.
Bacon Ranch Macaroni and Cheese
A favorite of mine is going to be bacon, ranch macaroni and cheese. Fresh bacon is excellent, but bacon bits also work as well.
Combine the bacon with the macaroni and cheese and mix in some ranch for a delicious entree or side dish.
Pulled Pork Mac and Cheese
You could add some pulled pork to transform the mac and cheese from a side dish to an entree. There are many options to make your own pulled pork or buy some from Costco.
Chicken Sausage Mac and Cheese
Sausages are another great option to turn the Costco Mac and Cheese into an entree.
The sweetness of the Aidells' Chicken Apple Sausage would be a perfect addition to the meal.
For simple combine and eat options, mix the macaroni and cheese with some 505 hatch chiles or even some basil pesto.

Costco Nutritional Information - Macaroni and Cheese
How Many Calories in Kirkland Signature Macaroni and Cheese?
One serving of macaroni and cheese will be 1 Cup or 4.5 ounces. There are approximately 12 servings per container of mac and cheese. Each serving will have the following nutritional information:
Calories: 290
Total Fat: 18g
Cholesterol: 50mg
Sodium: 410mg
Carbohydrates: 23g
Dietary Fiber: 1g
Total Sugar: 1g
Protein: 10g
Nutrition Facts
Costco Macaroni and Cheese
Amount per Serving
% Daily Value*
* Percent Daily Values are based on a 2000 calorie diet.
This is actually a slightly better nutritional label than I expected for this Costco mac and cheese. I knew the fat would be slightly high because of the cheese, but the carbs were a little surprising to me as I thought there would be more carbs per serving. 
23 grams of carbs isn't great, but it also isn't bad for this macaroni and cheese.
The 10 grams of protein are as expected and help make this a slightly more well balanced side dish in terms of macronutrients.
Each serving will also contain 410 mg of sodium, or 18% of the recommended daily value.
This isn't the worst, but given that this is more of a side dish, the sodium will add up when combined with an entree.
I didn't care for the mac and cheese from Costco. The price is ok for the dish, but not stellar. 

The dish is very very light on flavor and needs a lot of help. Thankfully mac and cheese is pretty easy to improve with some seasoning or toppings. 
This is only a buy if you have a specific plan for the mac and cheese.
Costco Food Database User Reviews
Have you tried this item? Let the rest of the Costco Food Database community know what you think. Leave a rating and review for this product. 
Costco Macaroni and Cheese With Flavor Hacks
Costco's Macaroni and Cheese dish can be quite bland. Spruce it up with these easy to add ingredients!
Ingredients
1

Tray

Kirkland Signature Mac and Cheese
Optional Seasonings
2

tbsp

Garlic Seasoning

2

tbsp

Onion Powder

2

tbsp

Smoked Paprika

2

tbsp

Oregano

2

tbsp

Chili Powder

2

tbsp

Cayenne

Hot Sauce
Instructions
Remove Mac and Cheese from the package.

Place into an ovenable pan and cover with foil. 

Place oven safe pan onto a baking sheet. 

Place on the center rack of the oven.

Bake for 40-60 minutes or until the internal temperature reaches 165°F.

Mix in any of the preferred optional seasonings or hot sauce
Nutrition
Serving:
4.5
ounces
Calories:
290
kcal
Carbohydrates:
23
g
Protein:
10
g
Fat:
18
g
Saturated Fat:
11
g
Trans Fat:
0
g
Cholesterol:
50
mg
Sodium:
410
mg
Fiber:
1
g
Sugar:
1
g