Costco Brussel Sprouts & Bacon - Great Flavor!
Pura Vida Brussel Sprouts at Costco
Costco sells Pura Vida Fire Roasted Brussel Sprouts and Uncured Bacon for $12.79. The brussels sprouts can be found in the frozen food aisles near the other vegetable and fruit items such as the edamame, smoothie packs, and mixed berries.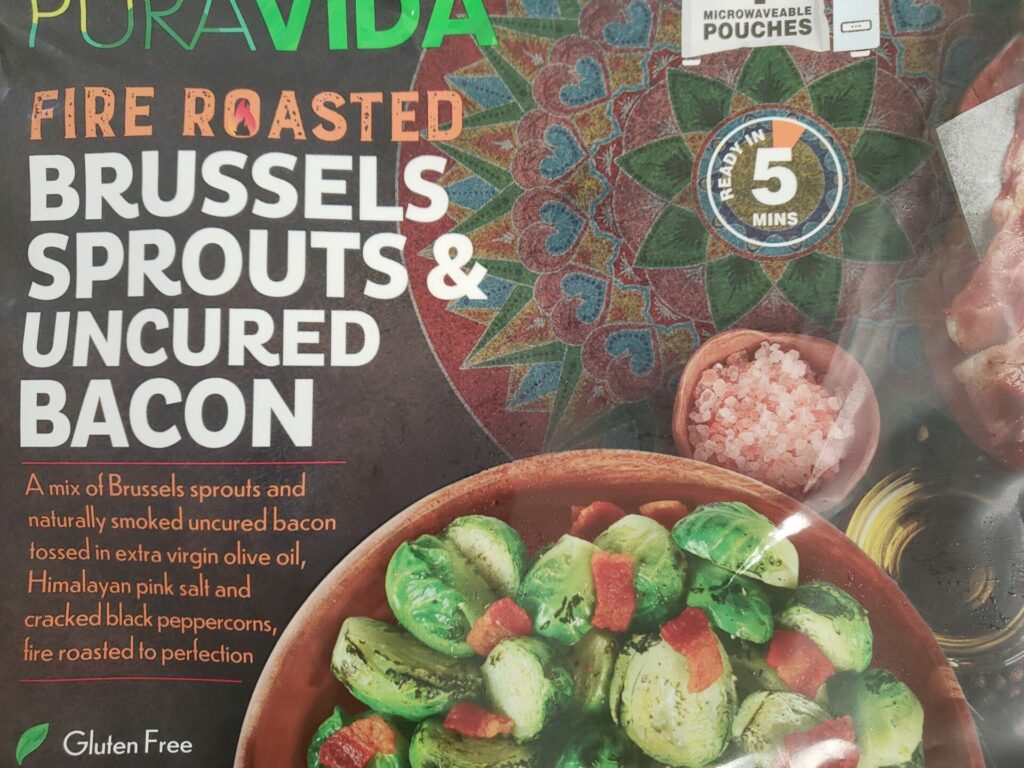 Each pack contains 4 individual steam pouches and weighs a total of 2.5 pounds or 40 ounces. The Costco brussel sprouts and bacon are tossed in extra virgin olive oil, Himalayan pink salt, and cracked black peppercorn.
They are also gluten-free, have no artificial colors, and do not include any nitrites.

How Much Do Costco Brussel Sprouts Cost?
Costco sells 2.5 pounds of Pura Vida Brussel Sprouts & Bacon for $12.79. On a per-pound basis, this is $5.11, and each of the 4 individual bags costs $3.19.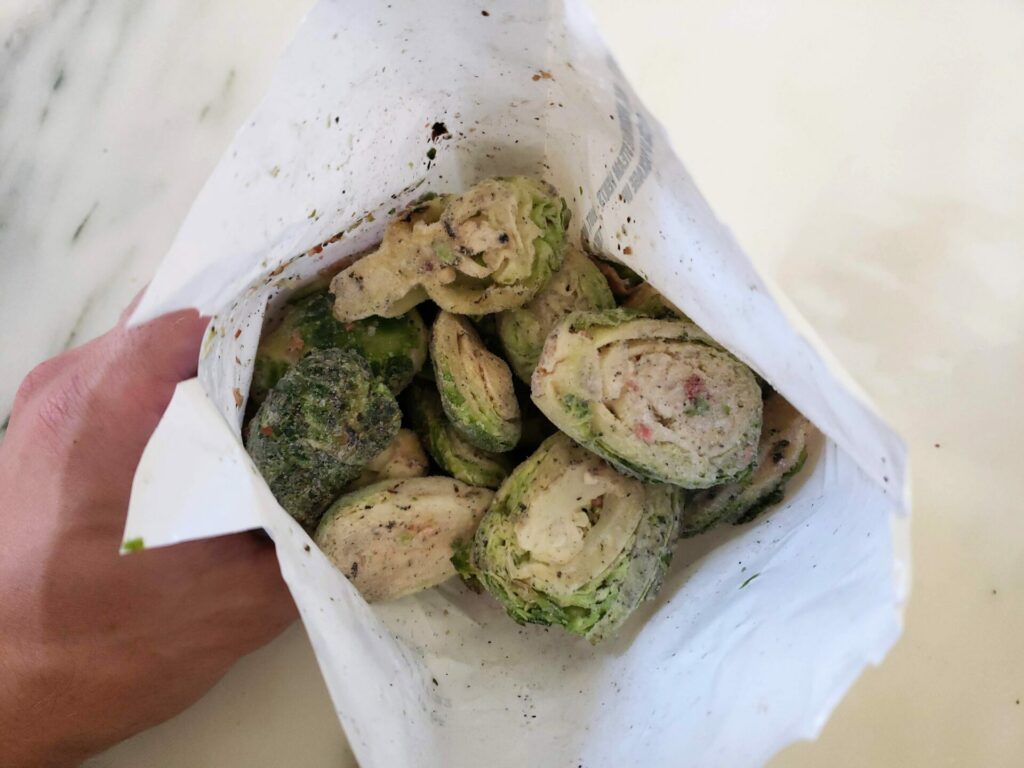 I consider this to be a little pricey for a vegetable dish and it is more expensive than some of Costco's proteins, such as their chicken, tilapia, and even their organic ground beef.
Costco vs. The Competition
Sprouts (The Grocery Store) sells one 10-ounce bag of Pura Vida Brussel Sprouts and Bacon for $5.49. 
This is about 75% more expensive than Costco's price on a per-bag basis. Of course, you will be purchasing 4 individual 10-ounce bags at a time at Costco, and you can purchase just 1 bag from Sprouts.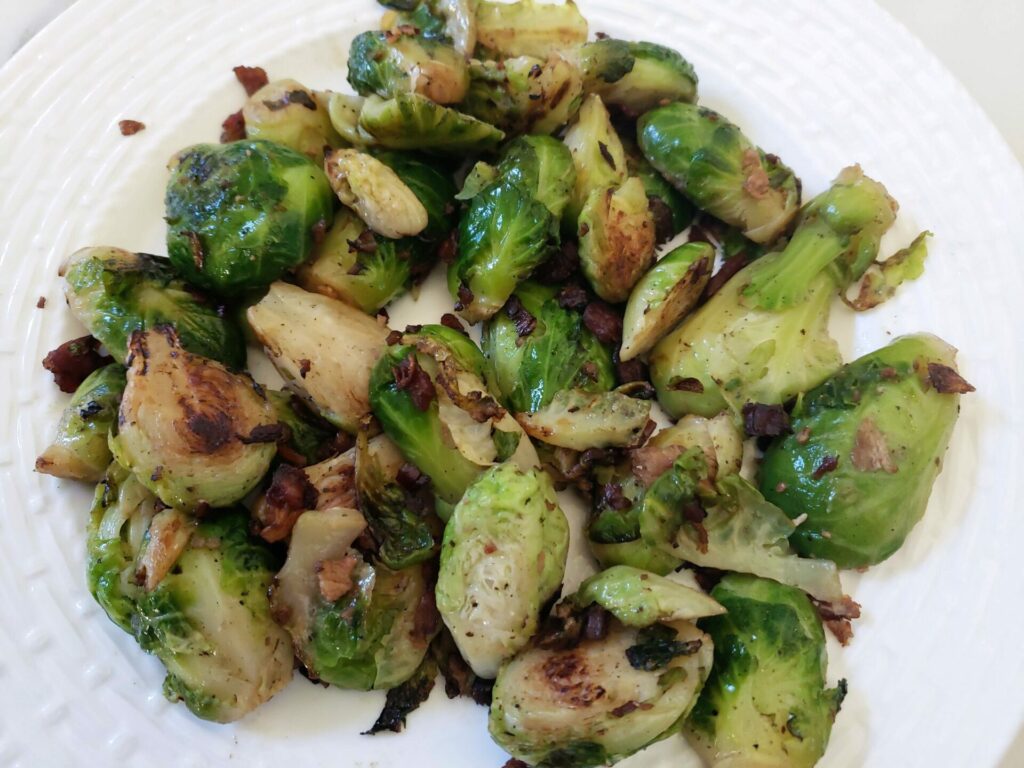 Walmart sells a different brand of brussel sprouts and bacon for $4.56 per 10-ounce bag. Again, this is nearly 50% more expensive than Costco's price.
If you like the Pura Vida Brussel Sprouts, Costco is the best option, and if you just want to try the item, you can purchase a more expensive individual bag elsewhere.
Brussel Sprout & Uncured Bacon Taste Test
I like crispy brussel sprouts, so I opted to cook these on the stovetop. I wasn't sure what I expected with frozen brussels sprouts, but they didn't crisp up as much as I would have liked. The brussel sprouts received a suitable char but were still a little soft.
Considering these were frozen, they weren't bad. The brussel sprouts had an enjoyable nutty and smoky flavor and complemented our ribeye meal perfectly. 
I like brussel sprouts, but I want them to be crunchy and with a nice bite, and the texture here just didn't hit that mark.
Good Bacon, But Falls Off
The bacon provided a sweet and salty taste and was a great addition to the brussel sprouts. I know the food will never look as good as it does on the packaging, but I expected the bacon to do a better job sticking to the sprouts. I had to scoop a significant amount of bacon off of the plate and onto the brussels sprouts before eating them.
The flavor profile for this meal is there, but the problem lies with the frozen brussel sprouts; they just won't get as crispy as freshly made ones. 
I'm not sure I will buy this meal again, but it is a great flavor combo that I can see myself making at home.
Pura Vida Brussel Sprouts and Bacon Cooking Directions
Pura Vida offers a few different cooking methods for their frozen brussel sprouts and bacon. You can microwave or cook them on the stovetop. 
For best results, keep the brussel sprouts frozen until ready to cook.
Place the individual steam pouch in the microwave with the steam vents facing upward (back side of the package facing up).

Microwave on high for 4-5 minutes or until the product is hot; carefully remove from the microwave. 

When removing the product from the package, avoid hot steam that may escape.
Add 1 tbsp of Extra virgin olive oil to a nonstick pan. 

Pour Contents of 1 individual steam pouch into a large nonstick pan. 

Cook over medium-high heat for 4-5 minutes or until hot, stirring occasionally.
Costco Brussel Sprouts Nutritional Information
How Many Calories in Costco Brussel Sprouts and Bacon
One serving of Pura Vida Brussel Sprouts will be 2/3 of a cup or 85 grams (3 ounces). Each serving will have the following:
Calories: 90
Total Fat 6g: (8%)
Cholesterol:0mg
Sodium: 350mg
Total Carbohydrates: 5g (2% DV)
Dietary Fiber: 2g (7% DV)
Total Sugars: 1g 
Protein: 4g
Brussel Sprout Health Benefits
Brussel Sprouts, on their own, are an exceptional vegetable to eat in terms of health benefits and flavor. While Pura Vida's Brussel Sprouts are combined with bacon, many of the benefits of brussels sprouts are still there. 
Brussel Sprouts are jam packed with nutrients such as vitamin K, Vitamin C, and many antioxidants.
They are also high in fiber which is excellent for overall health, and they also contain an abundance of alpha-linolenic acid (ALA) Omega 3 Fatty Acid. While not as great as Salmon, your body can utilize some of the ALA Omega 3.
Costco Brussel Sprouts Review
Product Name: Pura Vida Brussels Sprouts With Bacon
Product Description:
Price: $12.79
Quantity: 2.5 Pounds
Location Within Costco: Frozen Food Aisles
Price Per Pound: $5.11
Summary
I love the idea of Costco's brussel sprouts with bacon, but the execution falls just short. Frozen brussels just aren't capable of becoming as crunchy as fresh sprouts. 
If Pura Vida can fix the crunch problem, this would be a Costco winner.
Value -

7/10

Convenience -

7/10

Taste -

7/10

Nutrition -

7/10

CFDB Score -

6/10
Cons
Not Crispy

Bacon Falls Off