Costco Chewy Protein Bars - The Perfect Hybrid?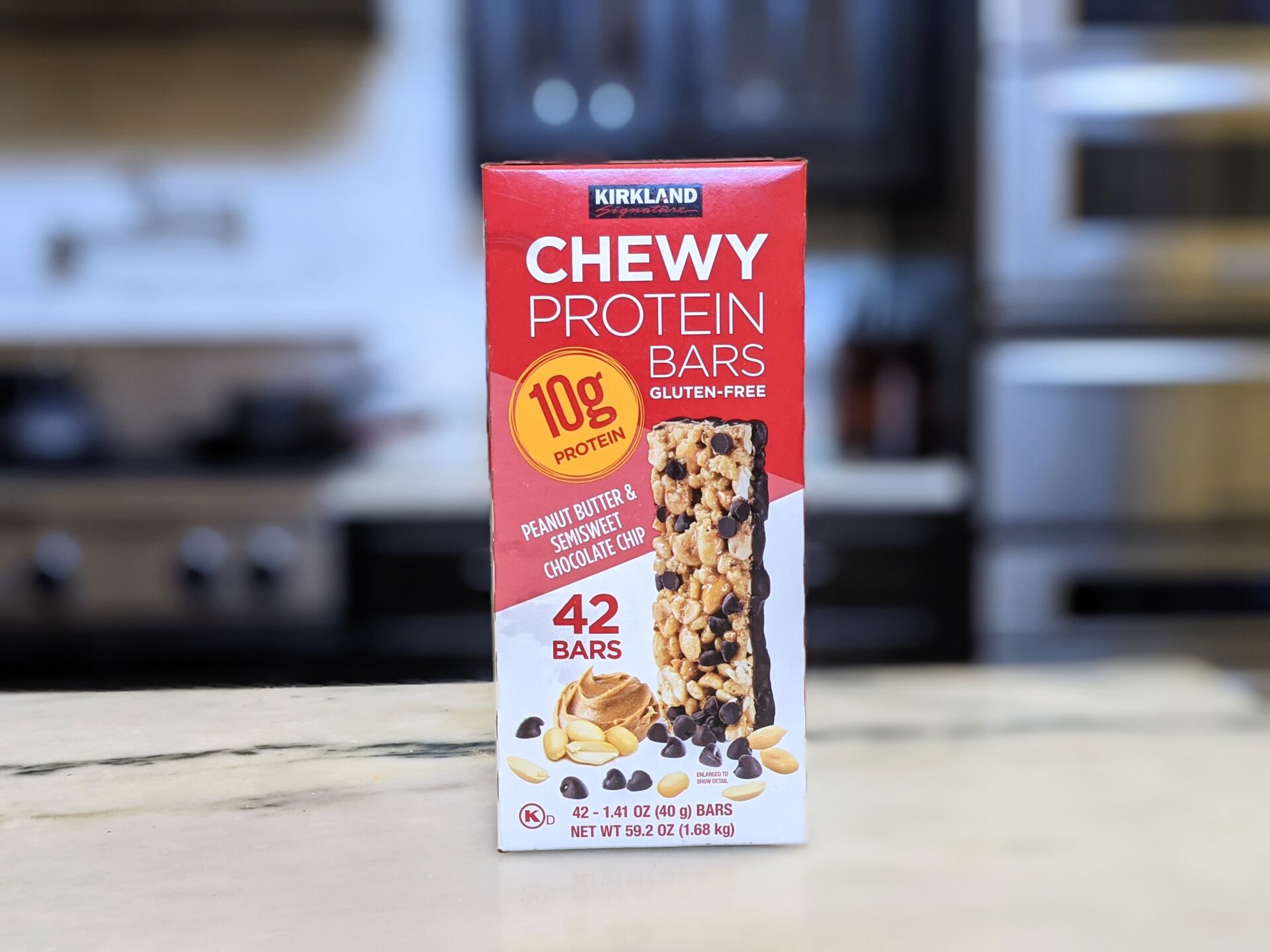 Kirkland Signature Chewy Protein Bars at Costco
Costco sells a box of 42 Kirkland Signature Chewy Protein Bars for $14.99. The protein bars can be found in the snack area of the warehouse near the checkout area. They are often located near the granola bars, protein bars, the trail mix, and heavenly hunks.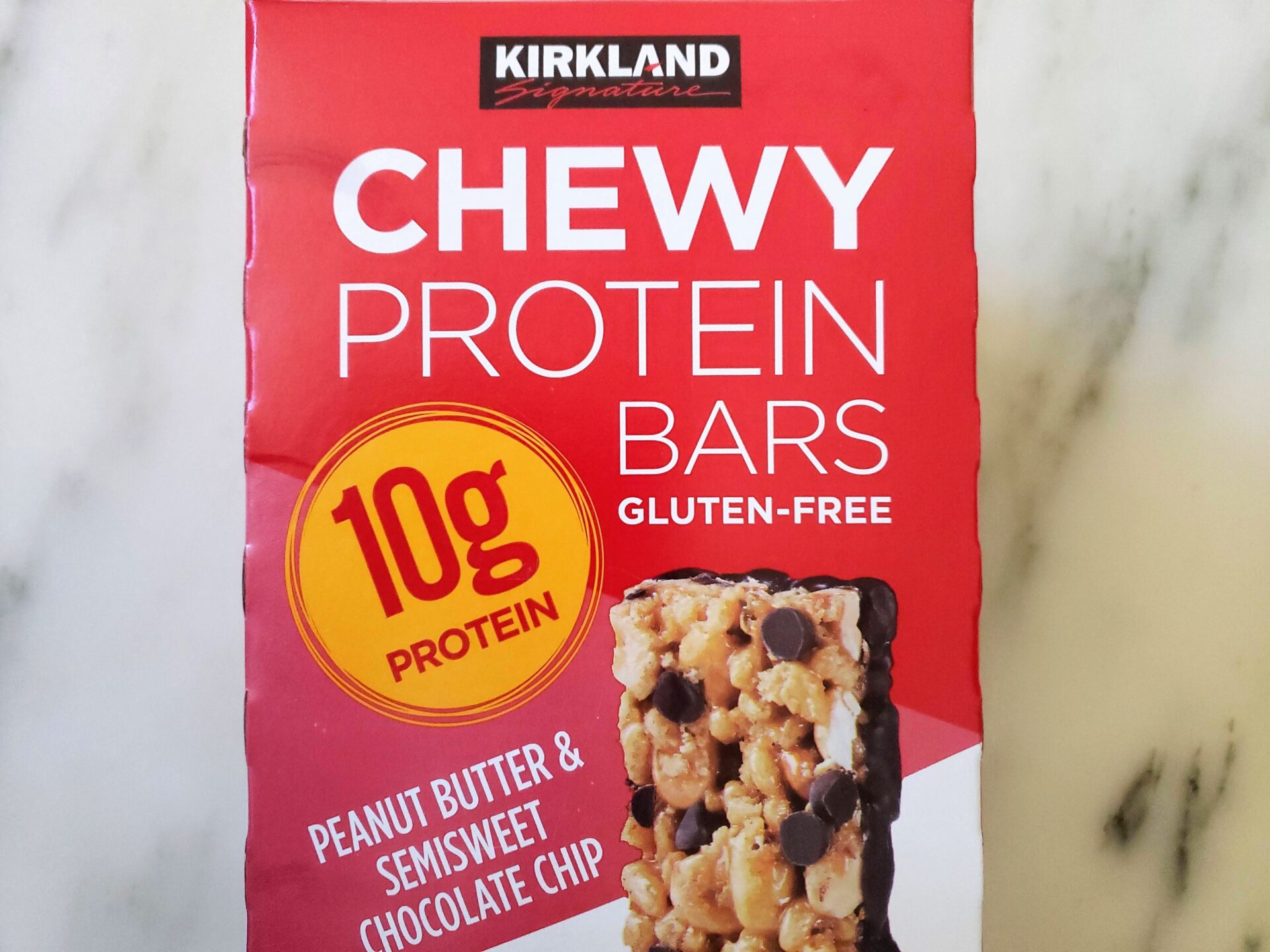 The Kirkland Signature Chew Protein Bars are made with peanut butter & semi-sweet chocolate chips. They are also gluten-free and contain 10 grams of protein.
Have You Tried Costco's Chewy Protein Bars?
Let the rest of the Costco Food Database community know what you thought of this product. Results and reviews are at the bottom of this page.
Please allow 24 hours for review moderation and approval.
What The Heck is a Chewy Protein Bar?
These Costco chewy protein bars appear to be the love child of a Quaker chewy bar and your typical protein bar. The quaker chewy bar mother brings the oatmeal and the granola while the protein bar father packs in the 10 grams of protein.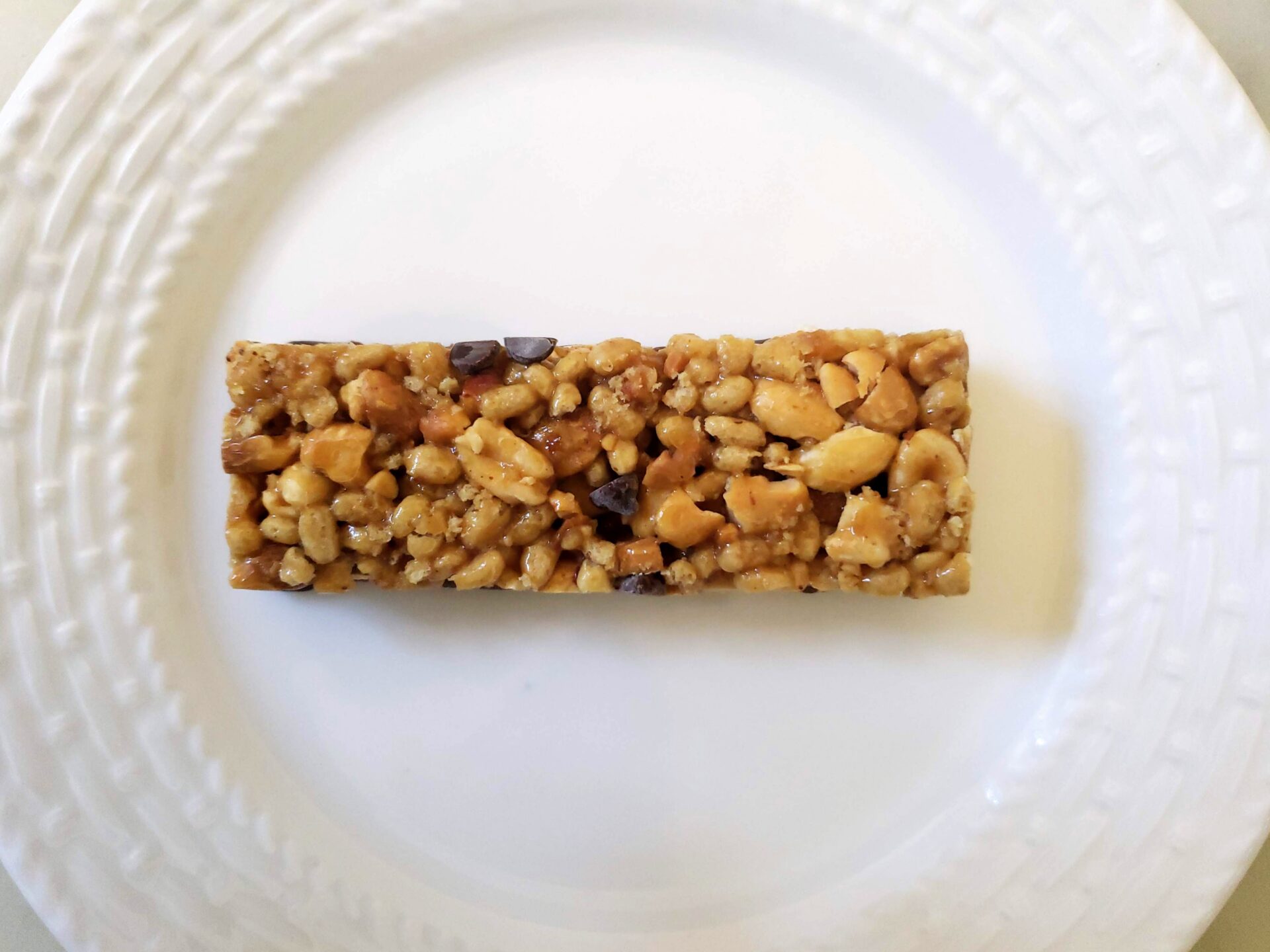 At first glance, I knew these weren't necessarily for me as I don't crave chewy bars or sweet snacks in general, and I'm also ok eating the driest untasty protein bars as long as the protein count is there. But it is an interesting combination that might actually fill a need.
This may not be the best option for those who require additional protein and are on a strict diet, but I see how these are beneficial for those who just want to add a little more protein to their diet. I'll go a bit more in-depth in the nutritional section of this post.
How Much Do The Costco Chewy Protein Bars Cost?
The large box of 42 Kirkland Signature Chewy Protein Bars sells for $14.99. This breaks down to $0.35 per chewy protein bar. 
This is on the more expensive end compared to traditional chewy bars but is fairly priced with the increased amount of protein. 
For reference, a 64-pack of Costco's regular chewy bars sells for $8.99 or $0.14 per bar. A 20-pack of Costco's Kirkland Signature protein bars sells for $19.99 or $1 per bar.
Costco vs. The Competition
This product seems to be closest to Nature Valley's Protein Chewy Bars. A 30-pack of the Nature Valley protein bars sells at Sam's Club for $15.98 or $0.53 per bar.
Target sells a 10-pack of the Nature Valley chewy protein bars for $8.69 or $0.87 apiece.
The Kirkland Signature Chewy Protein Bars come out way ahead in price when compared to the name-brand Nature Valley bars.
Costco Chewy Protein Bar Taste Test
These are an exciting combination of a protein bar and a granola candy bar. They are made with peanuts, packed with semi-sweet chocolate chips, and have a dipped layer of chocolate underneath it all.
The bar is comprised of peanuts covered with a sugary sheen that glistens and looks rather sweet. Visually, it looks mostly like a granola bar, and I never would have guessed that these are protein heavy.
These are on the sweeter end but have a nice combination of sweet and savory. The peanuts bring a nutty, earthy taste that blends very well with the sweetness but can sometimes be a little dry.
The semi-sweet chocolate chips are just that; they aren't absurdly sweet or overpowering by any means, but a great mix-up to the peanuts. 
The thin layer of dipped chocolate is light and, again, not overly sweet, but it provides an additional flavor that is much appreciated. Most of the sweetness will come from the sugar coating of the peanuts.
Overall, this is a great-tasting hybrid protein granola bar. They are easy to eat but not addicting or binge-worthy. 
After eating one, I am not interested in scarfing down another. This makes these a great snack to keep on hand in the pantry without being excessively tempting.
Kirkland Signature Chewy Bar Calories and Nutrition
How Many Calories in Kirkland Chewy Protein Bars?
Each one of the Costco Chewy Protein Bars will have 190 calories coming from 11 grams of fat, 16 grams of carbs (4 grams added sugar), and 10 grams of protein. This is a great nutritional profile for a granola-type bar, but it isn't necessarily healthy.
The 10 grams of protein make this a much better option than your regular chewy granola bar, but it has only about half the amount of protein that a typical protein bar might have. 
If you already snack on chewy granola bars, these are an excellent upgrade.
Are Chewy Protein Bars Healthy?
The Costco Chewy Protein Bars are healthy depending on how you look at them and what you are looking for. They are an all-around mediocre protein bar with modest calories, sugar, and protein. 
The sugar is manageable at 6 grams with 4 grams added sugar, and the 6 grams of fiber are a nice boost. The 10 grams of protein make up 16% of the recommended daily value which is awesome. 
They aren't necessarily healthy for you in the sense that you want to consume multiple in a day, but eating one or two here and there for some additional protein isn't a terrible idea. At a minimum, I consider it an occasional guilt-free snack.
The Best Part - High In Fiber!
The packaging doesn't make much note of it, but these chewy granola bars have a fantastic amount of fiber at 6 grams per bar. On average, it's recommended to consume about 30 grams of fiber per day; knocking off 6 grams or 20% with one granola protein bar is amazing. 
I consider this as or even more noteworthy than the 10 grams of protein.
Costco Food Database User Reviews
Have you tried this item? Let the rest of the Costco Food Database community know what you think. Leave a rating and review for this product.