Costco Beef Stew - Flawed, but Can Be Fixed
Choice Beef Stew With Vegetables at Costco
Costco's beef stew is the second prepared meal introduced this month after their chicken quesadillas. I'm really liking that Costco is keeping its prepared meals menu fresh
Have You Tried Costco's Beef Stew?
Let the rest of the Costco Food Database community know what you thought of this product. Results and reviews are at the bottom of this page.
Please allow 24 hours for review moderation and approval.
What's Included In Costco's beef stew?
The Costco beef stew is relatively simple, with only a handful of ingredients. It includes Beef Stew Meat, Creamer Potatoes, Carrots, Celery, Yellow Onions, Beef Stew Seasoning, Water, and Parsley.
There is nothing wrong with the ingredients, but they are pretty standard, and this is one of the more basic beef stews you could make. I list some suggestions below to help enhance the Costco beef stew.
How Much Is the Beef stew at Costco?
Costco sells its ~5-pound package of beef stew at $5.99 a pound. My beef stew weighed 5.53 pounds and cost $33.12. This is definitely expensive for what it is, but there is quite a bit of food included.
The meal will feed at least 8 people, and you would be looking at about ~$4 per person. Not the worst in the world, but it will be significantly cheaper if you prepare the meal yourself.
For this Costco beef stew, the most expensive component of the dish will be the USDA Choice stew meat. Costco sells its stew meat in the Meat and Seafood department in the $4.49-$4.99 range.
Of course, there is work involved in preparing the meat and vegetables for this meal, but I am not a fan of adding in lower cost ingredients and increasing the overall price. 
I can understand paying $5.99 a pound for the prepared stew meat, but I don't want to pay $5.99 a pound for potatoes, carrots, or onions as well. I always find that to be quite annoying.
Costco Vs. The Competition
After a bit of research, I was unable to find any other competitors who sell a prepared meal beef stew like this one. Costco will be the place if you are looking for a premade beef stew option.
Kirkland Signature Beef Stew Taste Test
I was pressed for time, so I cooked Costco's beef stew in the instant pot. It took a little over two hours in total and was extremely easy. 
I just had to mix in a bit of water with the beef stew ingredients and push a button to turn on the instant pot. I will give Costco points for convenience.
Homestyle Beef Stew Smell
The first thing I noticed about the Costco beef stew was the smell. It was maybe lacking a little in the aromatics, but it did have that home-style beef stew smell.
As a meal, I thought the beef stew was very flavorful, and it has a lot of potential. The stew gravy tasted as it should have, but the big issue I had was the salt level.
The flavors were great, but I couldn't finish my bowl because of the saltiness. I thought the meal was entirely too salty.
I have a high salt tolerance, and I love me some salty foods, but I just couldn't eat this beef stew.
If I could go back and cook it again, I would add some additional water during the cooking process to dilute the gravy. This is a huge problem for the beef stew that Costco will have to fix.
That said, I found the individual components of the beef stew to be commendable. The beef itself was great. It was tender, flavorful, moist, and melted in my mouth. I very much enjoyed the meat.
The vegetables could have used a little more time to soften up, but that's on me for using the alternate method of the instant pot instead of the slow cooker. 
I have no doubt the vegetables would have been extremely tender as well if cooked for 6-8 hours in the slow cooker.
Costco Beef Stew Cooking Instructions
Costco offers two methods to heat their Beef Stew with Vegetables. They recommend cooking the beef stew in the slow cooker, or if you are pressed for time, they also suggest using an instant pot.
The Slowcooker will take approximately 6-8 hours, while the instant pot can cook the beef stew in about an hour and a half (not including time to build pressure).
With either method, you will need to add 2.5 cups of water and fully remove the food from the plastic container. It shouldn't really have to be said, and it's not necessary to have a sticker on the container, but some knucklehead had to go out there and ruin it for the rest of us.
Remove Lid.

Place seasoned stew meat and fresh vegetables into a slow cooker. 

Add 2.5 cups of water and mix well.

Cover and set the slow cooker on high for 6 hours or low for 8 hours.
Remove Lid.

Place seasoned stew meat and fresh vegetables into an Instant Pot (or electric pressure cooker of your choice). 

Add 2.5 cups of water and mix well.

Cook for approximately 1.5 hours.
How Costco can Fix Their Beef Stew
I'll call it when I see it, and this beef stew doesn't live up to the Kirkland Signature name and standards. The dish was entirely too salty, and the dish was nearly inedible. 
If Costco can manage the salt level, they may be onto something with their beef stew.
The flavors of the beef stew are enjoyable, but there is just too much dang salt. Every bite was just overrun with saltiness. I added in the 2.5 cups of water as recommended, and realistically I should have doubled that.

I even tried eating the stew over a bed of plain white rice, but I still couldn't take it down. My recommendation to Costco would be to use less of the beef gravy. The gravy is good, but it can't be enjoyed when it's this salty. Fix the salt, and you fix the dish.
Flavor Enhancements for Costco's Beef Stew
The Costco beef stew is salty, but there is potential here. The gravy is solid, the meat is tender, and the vegetables are pleasant. 
That being said, here are some improvement tips to help maximize and improve the flavor of the beef stew.
Add a cup or so of red wine. This will help enhance the flavor of the meat and give it more of that rustic homemade feel. The red wine may also help with some of the saltiness of the meal.
I also recommend adding in an additional cup of water and then rethickening the sauce if needed. This will help dilute some of the gravy and disperse some saltiness. Just don't drink the gravy at the end.
Yes, this is a prepared meal, and the idea is to cook it and then eat it, but nothing says you can't flavor it to your liking. The meal could benefit from additional seasonings such as garlic powder, cayenne, and smoked paprika. Don't be afraid to spice up the dish.
Costco Beef Stew Calories and Nutrition
How Many Calories in Costco Beef Stew?
One of the big negatives with Costco's prepared foods is the lack of a nutritional label and how hard it can be to actually find the nutrition facts.
Luckily, I was able to secure the nutritional information for the Costco Beef Stew from a helpful employee.
Nutrition Facts
Costco Beef Stew
Amount per Serving
% Daily Value*
* Percent Daily Values are based on a 2000 calorie diet.
One serving will be 1/10th of a tray or about 9 ounces (249 grams). Each serving will have 7 grams of fat, 26 grams of carbs, and 26 grams of protein.
On a macro nutritional level, this is standard for beef stew and fairly reasonable. 26 grams of protein for 260 calories is quite respectable.
The big issue with Costco's beef stew is its saltiness and the extremely high sodium content. Each serving will have 1060mg of sodium, or 46% of the recommended daily value. 
This is mind-blowingly high, and I highly suggest eating the beef stew in moderation.
Costco Food Database User Reviews
Have you tried this item? Let the rest of the Costco Food Database community know what you think. Leave a rating and review for this product. 
Costco Beef Stew
Cooking Directions for the Beef Stew from Costco
Ingredients
1

Package of Kirkland Signature Beef Stew
Instructions
Pour 2.5 cups of water into slow cooker.

Add Beef Stew and mix thoroughly with water.
Nutrition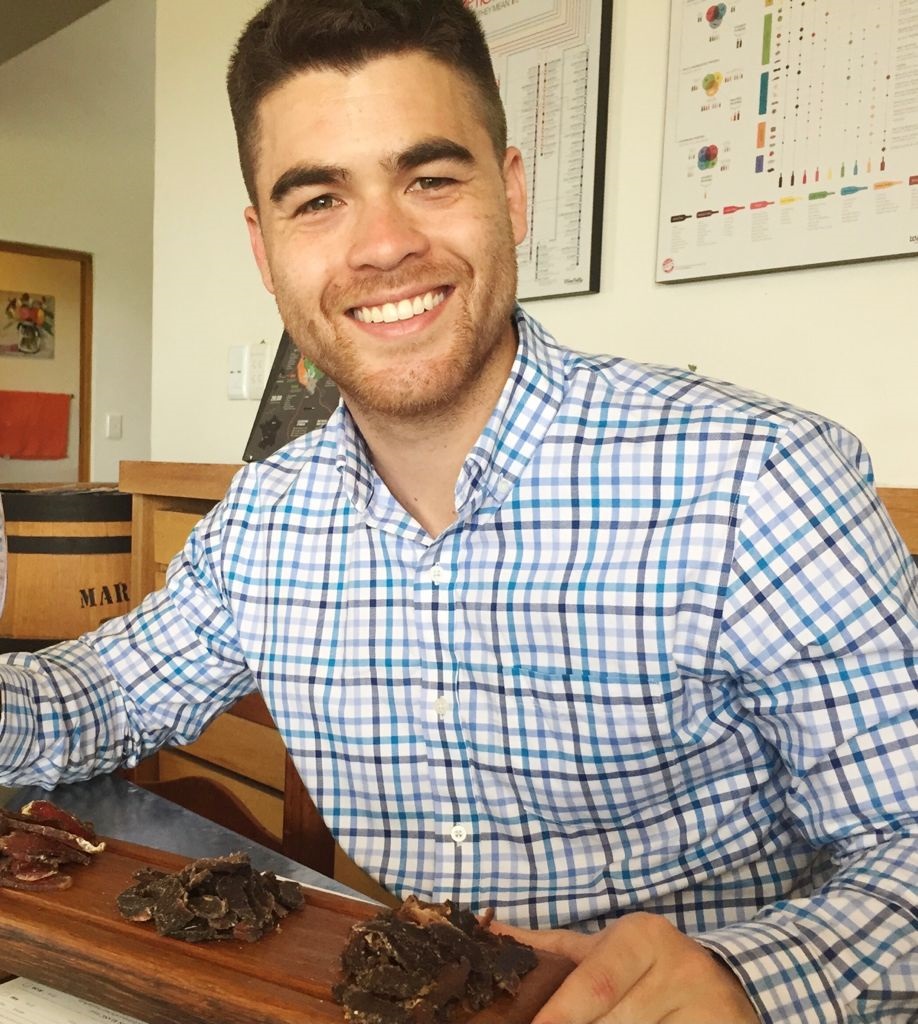 Greg Larkin is the founder and managing editor of Costco Food Database, the premiere site for honest takes on all things Costco food. A self-proclaimed Costco super-fan since childhood, Greg turned his obsession in a mission to properly rate and review all of Costco's delicious buys. When he's not busy navigating Costco aisles, you can find Greg smoking Kirkland Signature meats, meal prepping, or perfecting his homemade jerky recipes.