Costco Chimichangas - Worst Frozen Food at Costco?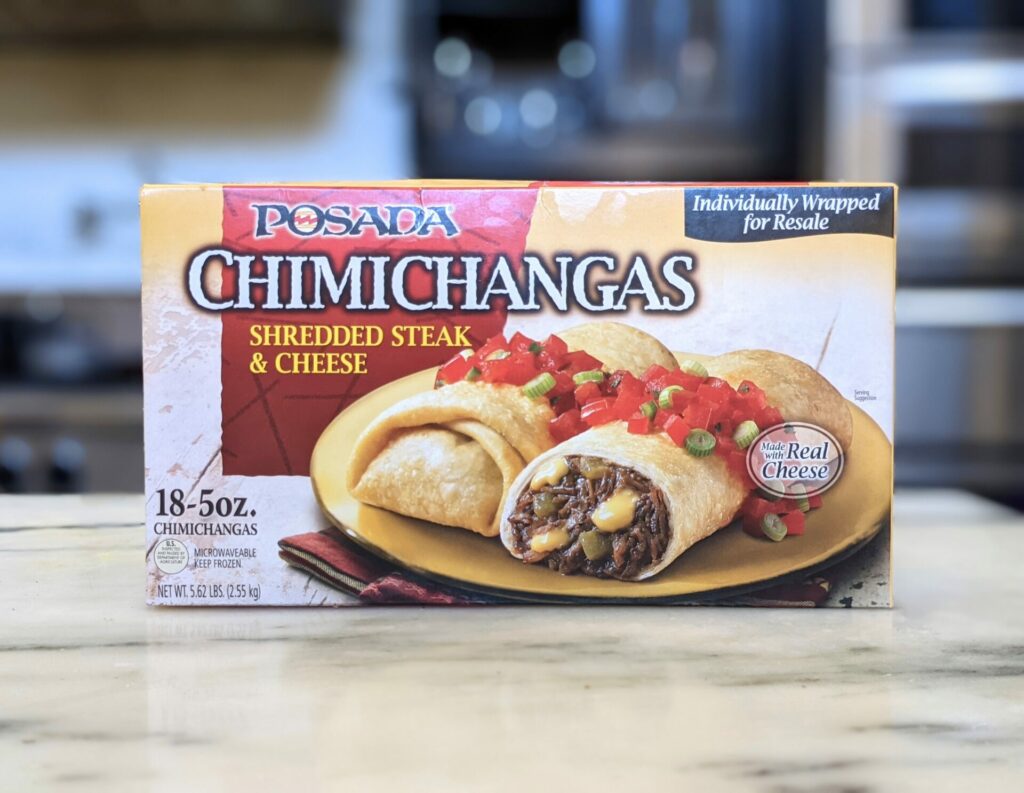 Posada Chimichangas at Costco
Costco sells an 18 count of Posada Chimichangas for $17.99. The chimichangas can be found in Costco's frozen food aisles near other Mexican inspired items such as Red's Burritos, mini tacos, and the taquitos.
Each Costco chimichanga weighs 5 ounces and will contain shredded steak, real cheddar cheese, and zesty green chiles.
Have You Tried Costco's Chimichangas?
Let the rest of the Costco Food Database community know what you thought of this product. Results and reviews are at the bottom of this page.
Please allow 24 hours for review moderation and approval.
Costco Chimichanga Expectations
Unfortunately, this is one item that I immediately had buyer's remorse for. I haven't tried them yet, but with over 30 years of experience eating frozen food, my expectations are quite low for this item.
Individually Wrapped For Resale
The first red flag is that the chimichangas are "Individually Wrapped for Resale." This is not an absolute, but typically when something is marked for resale, the quality is on the lower end. High-quality foods do not label their items for resale. 
Old School Packaging Design
The packaging design is also poor. It's very old school and looks like frozen packaging that teleported to 2022 from 1990. 
The graphics are minimal, retro, and the box just oozes 90s low quality frozen food.
These chimichangas are sold under the Posada brand, which is actually owned by Ajinomoto Foods. Ajinomoto is a food distributor that primarily deals with Japanese-style foods. Just at Costco, they sell frozen ramen, frozen fried rice, and yakisoba noodles.
Ajinomoto's Japanese frozen foods aren't bad, but I don't have a lot of faith in them to produce a chimichanga.
How Much Do Costco Chimichangas Cost?
The 18-pack of Posada Chimichangas sells for $17.99 or $1 a burrito. This is a reasonable price for a chimichanga of this size. I think $18 is a lot to spend on frozen chimichangas, but it's really hard to beat anything for $1 a piece nowadays.
Costco Vs. The Competition
My local Albertsons sells the same 18-count of chimichangas for $20.99 at retail and $16.99 when on sale. 
Albertsons' sale price beats Costco's retail price for these shredded beef steak chimichangas.
Costco Chimichanga Taste Test
I cooked these Costco chimichangas in the air fryer as that's the best way to create a crispy tortilla while quickly heating up the steak and cheese filling.
I've included my air fryer instructions in the heating section below.
Posada's chimichanga tortilla was average at best. The tortilla wrapper had a light golden brown color and was sufficiently crispy for a frozen chimichanga. 
The tortilla was quite doughy which was disappointing, and there was a lot of tortilla in the filling portion of the burrito.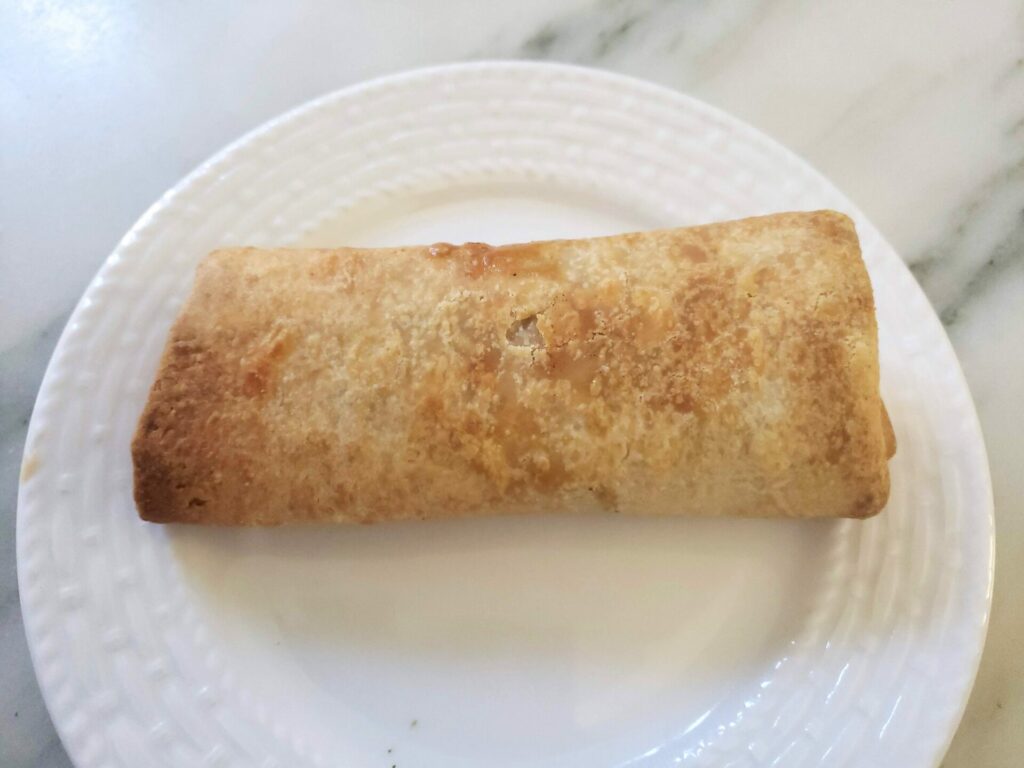 Where Is The Shredded "Steak"?
Posada uses the term shredded steak, which portrays a higher quality than shredded beef, but the filling was a massive letdown. The image on the box depicts a filling with visible strands of shredded beef, but the actual product was nothing like that. 
The beef and sauce filling looked a lot closer to slop than it did anything that resembles shredded beef.
I could taste a few strands of the shredded beef throughout the chimichanga, but it wasn't even close to the amount shown on the box and was even less than I expected this chimichanga to have. 
I would be surprised if there was even more than ½ an ounce of shredded beef in these chimichangas.
The real cheddar cheese was nice as it brought some much-needed flavor to the chimichanga and was the most flavorful ingredient. It's not the best cheddar cheese, but considering the rest of the filling, I would have liked quite a bit more of it. 
I also noticed a large green chile in the chimichanga, but I couldn't really taste anything from it.
As a whole, these are sad. The chimichangas might have a place at a Costco business center, but these don't belong on the shelves of a regular Costco. 
The chimichangas are made with low quality ingredients, and they just aren't good. 
How to Cook Costco Chimichangas
Posada/Ajinomoto recommends heating the chimichangas in the microwave or the oven. The chimichangas will be fairly quick to heat up in the microwave but will have a somewhat soggy burrito wrapper. 
My preferred option will be to heat the chimichangas in the air fryer.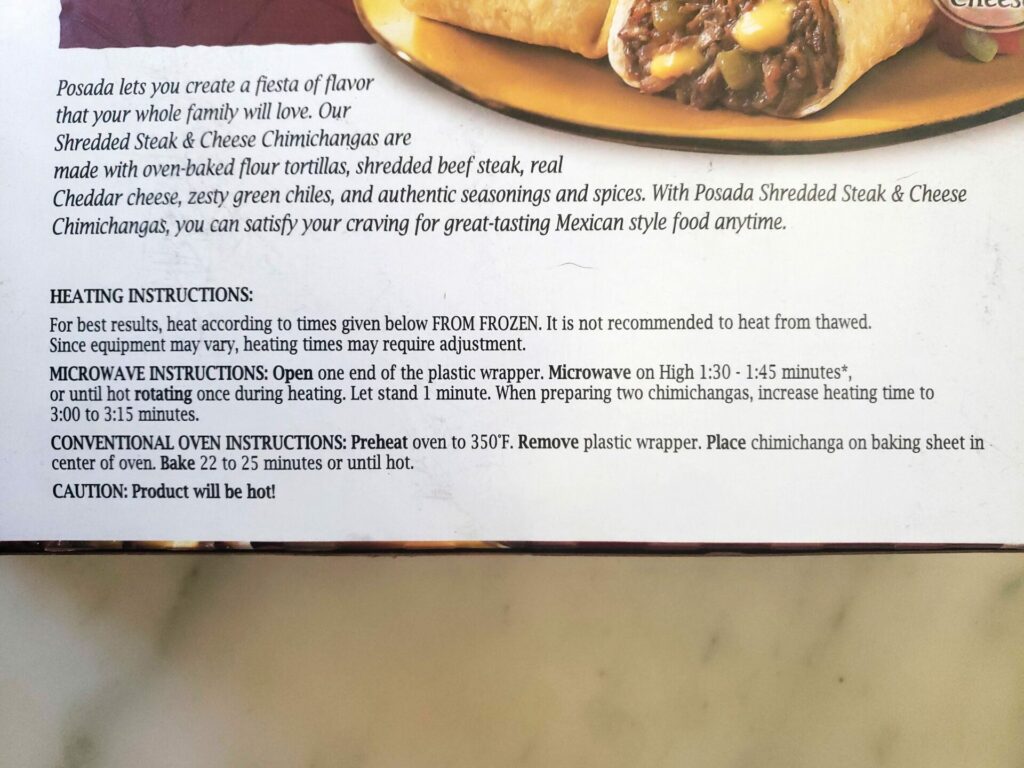 Open one end of the plastic wrapper. Microwave on high for 1:30 to 1:45 minutes or until hot, rotating once during heating.

Let stand for 1 minute.

When preparing two chimichangas, increase the heating time to 3:00 to 3:15 minutes.
Preheat the oven to 350°F. Remove the plastic wrapper. 

Place chimichanga on a baking sheet in the center of the oven. 

Bake for 22 to 25 minutes or until hot.
These are my personal air fryer instructions that will heat up the chimichanga and maximize crispiness. 
Preheat the airfryer to 370°F

Place Costco chimichanga in the air fryer

Cook for 13-15 minutes. 
If you cook these for too long, they will pop, and the filling will leak.
Chimichangas Calories and Nutritional Information
Each chimichanga will be 1 serving and will contain 350 calories. The 350 calories will come from 17 grams of fat, 36 grams of carbs, and 11 grams of protein.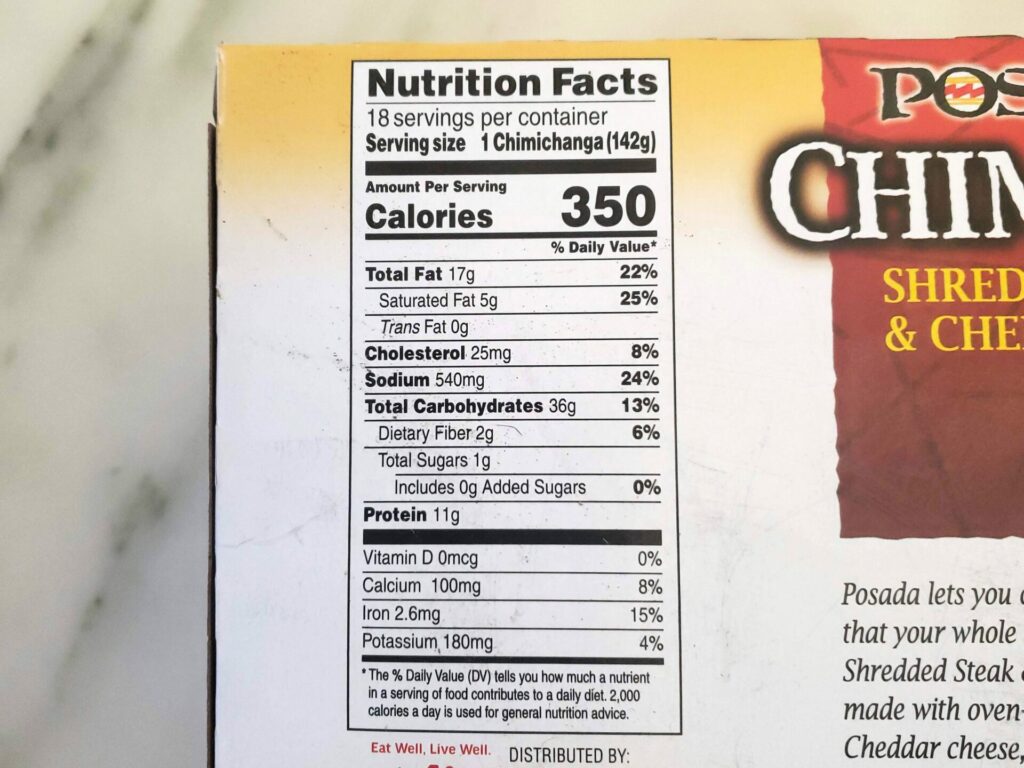 Surprisingly the nutritional label and calorie count aren't the worst. It's not a large chimichanga, but it is comparable nutritionally to Red's burrito, which is the same size. 
The nutritional label is just about average, but it might be the best thing about these Costco chimichangas.
Costco Food Database User Reviews
Have you tried this item? Let the rest of the Costco Food Database community know what you think. Leave a rating and review for this product.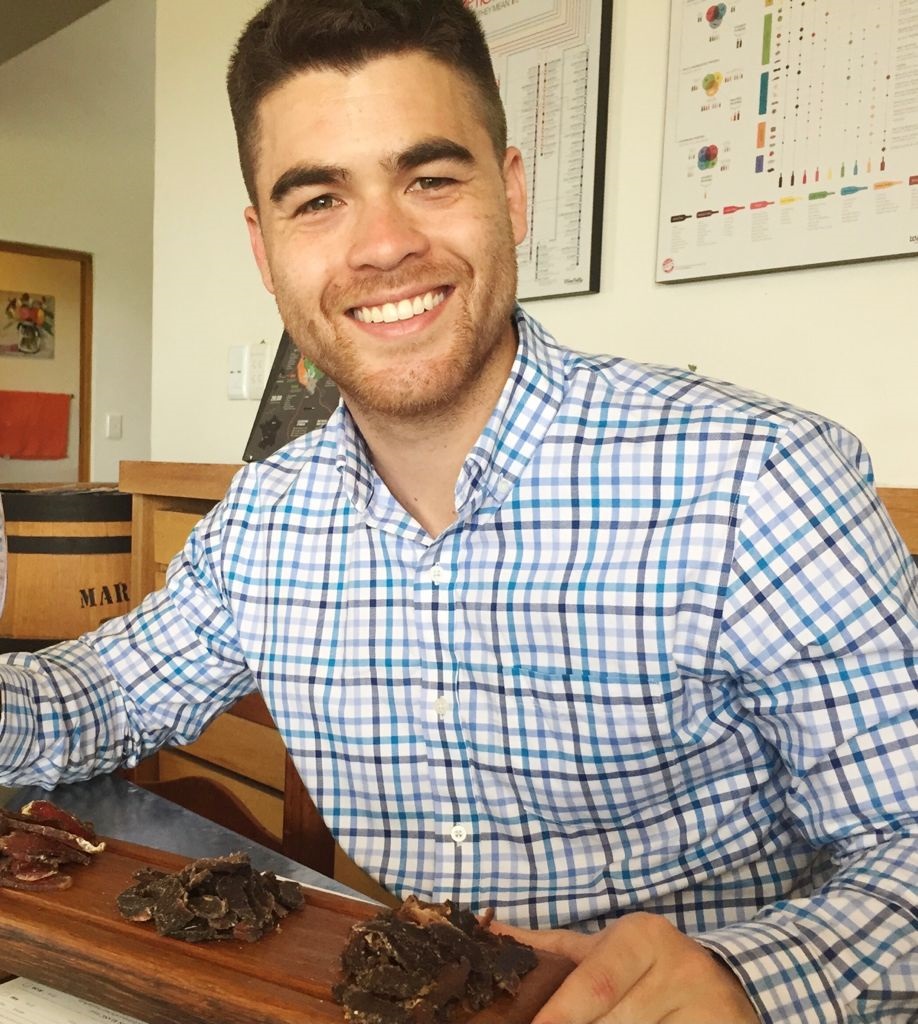 Greg Larkin is the founder and managing editor of Costco Food Database, the premiere site for honest takes on all things Costco food. A self-proclaimed Costco super-fan since childhood, Greg turned his obsession in a mission to properly rate and review all of Costco's delicious buys. When he's not busy navigating Costco aisles, you can find Greg smoking Kirkland Signature meats, meal prepping, or perfecting his homemade jerky recipes.