Costco Heavenly Hunks Oatmeal Dark Chocolate - Too Addicting?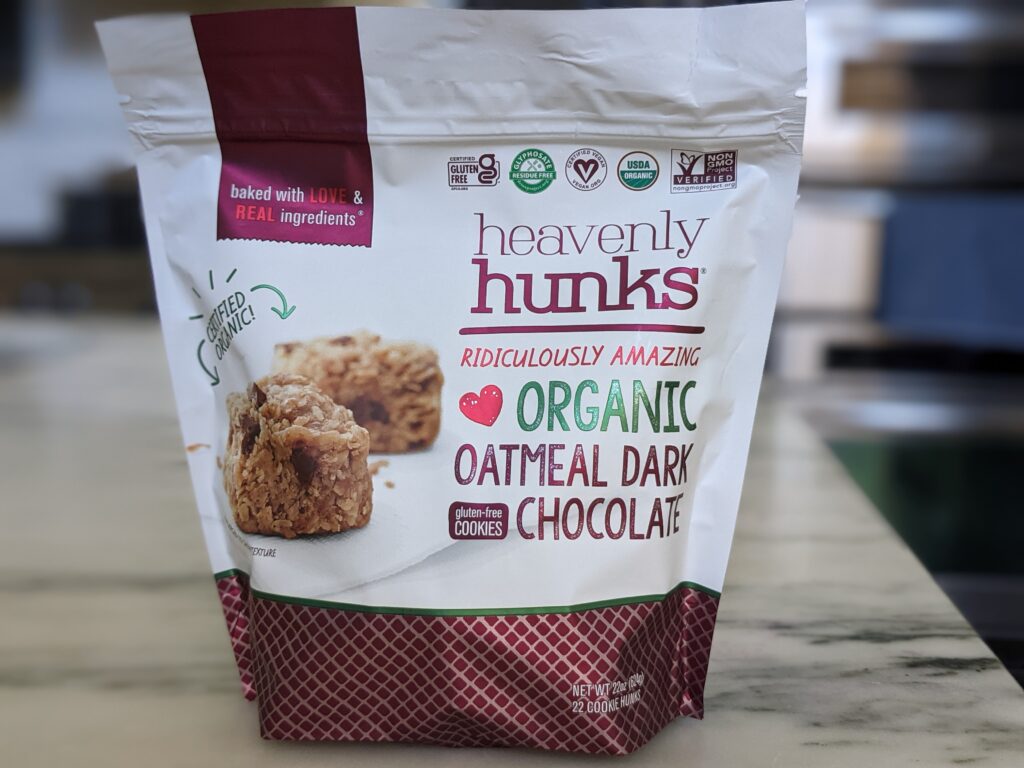 Costco sells a 22oz bag Heavenly Hunks Organic Oatmeal Dark Chocolate for $9.99. When on sale, the price of Heavenly Hunks drops to $6.99. These can be found in the snack aisles near the Brown Sugar Boba Mochi, Holiday Mingle Mix, and nuts.
Heavenly Hunks is a company focused on creating delicious snacks that are also gluten free, organic, and non dairy. All of their items are baked with love and real ingredients.
Each heavenly hunk is square shaped and about 1 inch by 1 inch in size. It looks like they baked oatmeal on a sheet pan and then cut out 1 inch squares.
Have You Tried Costco's Heavenly Hunks?
Let the rest of the Costco Food Database community know what you thought of this product. Results and reviews are at the bottom of this page.
Please allow 24 hours for review moderation and approval.
Of course, the one big difference is that at Costco, you don't get a selection of flavors.
From what I've seen, Costco only sells the Oatmeal Dark Chocolate Heavenly Hunk. Other retailers may have flavors such as Birthday Cake, Cranberry White Chip, Peanut Butter Chocolate and more.
COSTCO HEAVENLY HUNKS – PRICE COMPARISON
How Much Do Heavenly Hunks Cost at Costco?
Heavenly Hunks at Costco are sold in a 22oz bag and contain 22 pieces, so of course, each piece weighs 1 ounce.
At Costco's $9.99 retail price, each hunk cost $0.45 and at the discounted price of $6.99, each hunk goes for $0.32.
After eating a few of them, I would say they are fairly priced in the $0.30-$0.40 range.
Costco vs The Competition
For a little comparison, at grocery stores, I've seen 6oz bags of Heavenly Hunks sell for $4.99.
This is a price per hunk of $0.83, and nearly triple Costco's sale price. $4.99 for 6 or $6.99 for 22 at Costco, you decide.
HEAVENLY HUNKS DARK OATMEAL CHOCOLATE
I've been wanting to try these for a while and I was finally able to pick up a bag from Costco. The question is, what are these exactly. Are these cookies or are they some other type of baked good? What are they classified as?
The package says you get 22 cookie hunks, but other than that, the packaging doesn't really call these treats anything other than just hunks.
I originally thought these were baked sheets of oatmeal, but they also look like they could be a granola bar that is chopped up into bite sized pieces.
After eating a few too many and taking a closer look, I'm starting to think these were baked in a granola bar shape and then cut.
There seems to be some type of sugar sheen that surrounds the hunk on the exterior sides, but not the inner cut sides.
I was going to make the obvious joke about finally having a Heavenly Hunk (the cookie), while my wife has had a Heavenly Hunk (me) for the past 12 years, but my goodness, have you seen this guy Casey on the back of the package.
He is the real heavenly hunk here, and clearly this company is named after him.
HEAVENLY HUNKS AT COSTCO TASTE TEST
Wow, these little dark chocolate oatmeal squares are delicious. The packaging says these are ridiculously amazing and I agree. They are simple, yet so soft, chewy, and sweet.
I don't like overwhelming sweetness with cookies or other treats, but this gets balanced out so well by the oats.
The dark chocolate and the oats have a layer of sweetness (maybe that exterior sugar sheen), but once you get past that and get into the heart of oatmeal it all blends in rather nicely.
I can definitely eat two or three of these at a time, but my wife who doesn't binge often, but apparently loves these has had 11 in two days.
They aren't super sweet and may not satisfy your sweet tooth, but I think they are so good and well worth it.
Update: I'm not kidding when I said my wife loves these. I had to buy 3 more bags on my recent Costco trip.
HEAVENLY HUNKS NUTRITIONAL INFORMATION
How Many Calories in Heavenly Hunks?
Each hunk weighs 1 ounce and is considered one serving. There are 100 calories in each heavenly hunk with 5 grams of fat, 15 grams of carbs with 9 grams of added sugar, and 1 gram of protein.
This is fairly typical and kind of what I expected the nutritional facts of these hunks to look like.
Nutritional Profile Analysis
The calories are a little higher than I thought. I recently reviewed some Costco mochi and those each had 100 calories and were much more dessert-like than these heavenly hunk dark chocolate oatmeal pieces.
It is surprising that oatmeal and dark chocolate can have the equivalent amount of calories as ice cream covered in a sweet rice dough.
Are Heavenly Hunks Healthy?
These aren't exactly healthy per se, but they are healthyish and healthier than regular cookies. The ingredients are all organic and gluten free.
The Heavenly Hunk, Casey, does claim on their website that they "don't use any ingredient you couldn't find in your own kitchen". Of course, if you say that I'm going to have to check.
There were probably 20 ingredients on here and I would bet most people including me don't have and don't even know what all these ingredients are. Some of them include: brown rice syrup, palm shortening, sorghum flour, tapioca flour, and potato starch.
The Heavenly Hunk makes some great oatmeal and dark chocolate cookie snacks. They can be addicting and it is easy to eat multiple hunks per sitting.
Once again, Costco's Heavenly Hunks are sold at an amazing price where competitors cannot compete. If you enjoy the hunks, pick them up from Costco, especially when they are on sale. Your wallet will thank you, your waistline may not.
Costco Food Database User Reviews
Have you tried this item? Let the rest of the Costco Food Database community know what you think. Leave a rating and review for this product.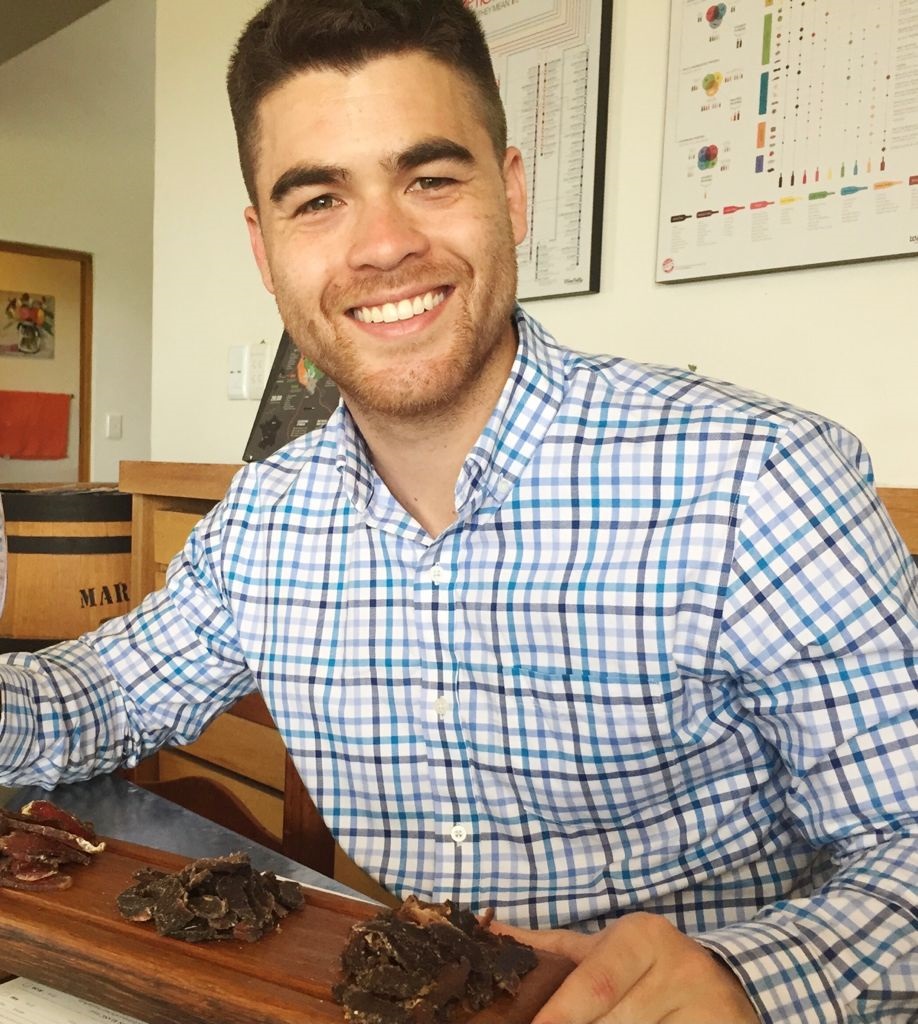 Greg Larkin is the founder and managing editor of Costco Food Database, the premiere site for honest takes on all things Costco food. A self-proclaimed Costco super-fan since childhood, Greg turned his obsession in a mission to properly rate and review all of Costco's delicious buys. When he's not busy navigating Costco aisles, you can find Greg smoking Kirkland Signature meats, meal prepping, or perfecting his homemade jerky recipes.