Costco Chicken Meatballs Teriyaki & Pineapple - AmyLu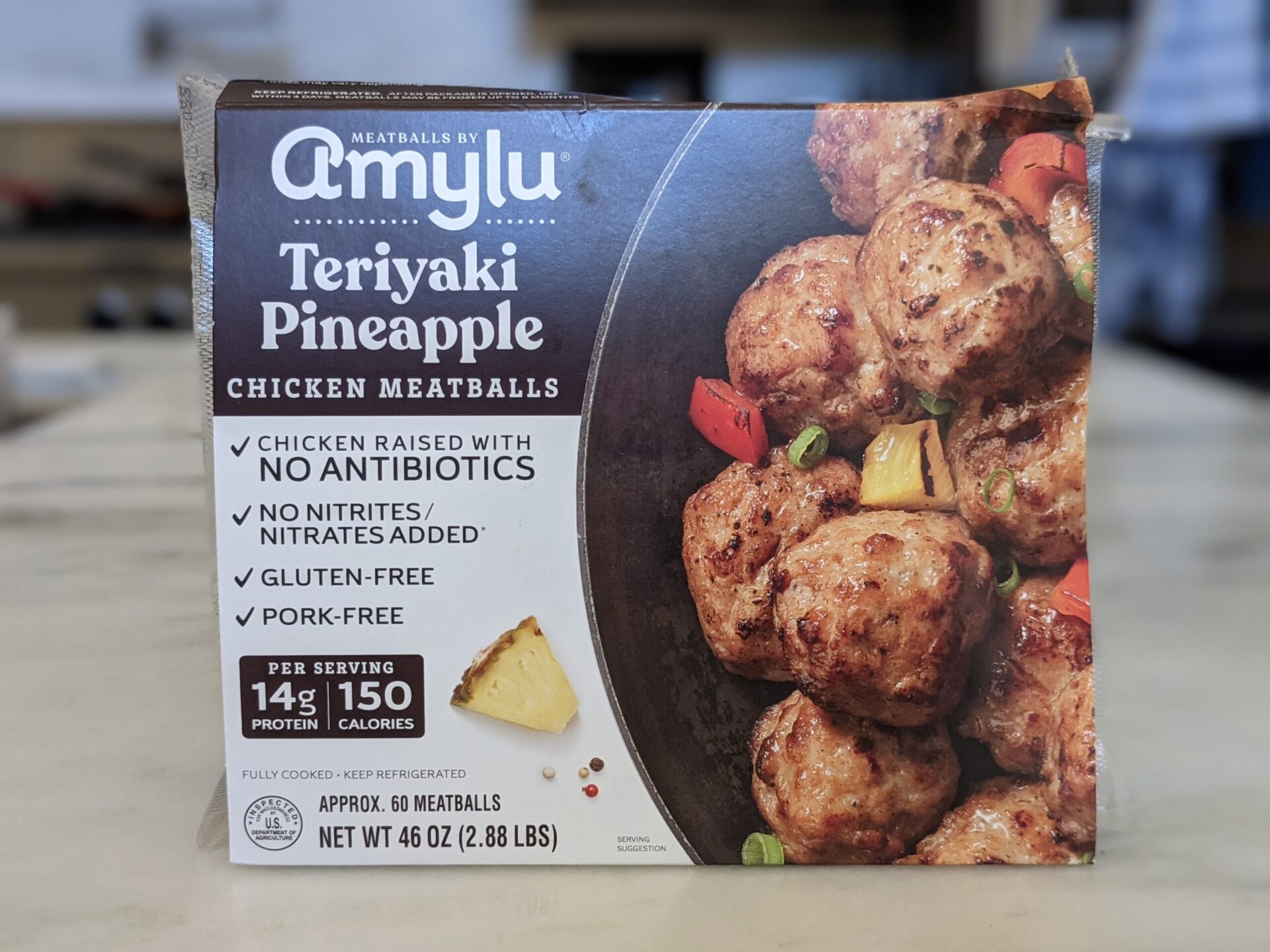 Teriyaki Chicken Meatballs at Costco
Costco sells AmyLu Teriyaki and Pineapple Chicken Meatballs for $14.89. When these are on sale, they can be had for $3.50 off at the price of $11.39. 
Each package of AmyLu Chicken Meatballs weighs 2.88 pounds and contains approximately 60 meatballs.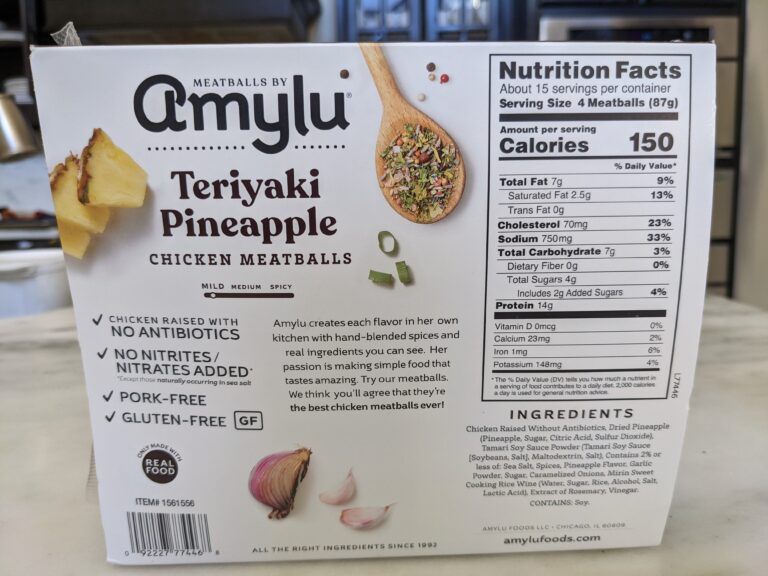 Have You Tried Costco's Chicken Meatballs?
Let the rest of the Costco Food Database community know what you thought of this product. Results and reviews are at the bottom of this page.
Please allow 24 hours for review moderation and approval.
These can be stored in the refrigerator up until the use by date. The use by date on my package was about a month a half from the date I purchased these meatballs from Costco. 
Once opened these need to be consumed within 4 days. The meatballs can be frozen for up to 6 months.
AmyLu Teriyaki Pineapple Chicken Meatballs
AmyLu's meatballs are made with chicken and without any pork. They are teriyaki flavored and actually will include chunks of real pineapple within the meatball. 
They are a little on the smaller side in size. Maybe about 1 and a half inches in diameter. All meatballs are fully cooked and look approximately the same in size and color.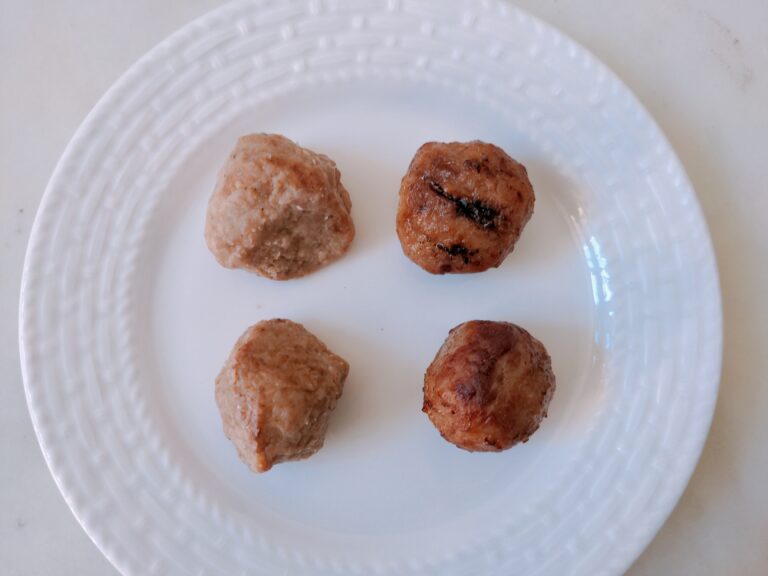 The Costco chicken meatballs are that grayish brown color that you typically find in precooked foods. These are going to look much better when they are cooked to a nice dark brown color. 
There are two different brands that sell teriyaki and pineapple chicken meatballs at Costco. We are looking at the AmyLu brand in this review, but depending on your Costco's location, you may have Aidells Teriyaki and Pineapple Chicken Meatballs instead. 
Why I'm Cautious with AmyLu
I did review AmyLu's Chicken Breakfast Sausage Links a little while back, and I personally did not care for those sausage links. There were a couple of key problems with the breakfast links. 
I didn't think they tasted that great when I tried them solo but they did taste better as part of a meal. 
The big problem was, that I found what I believe to be chicken bone chunks or fragments within some of the sausage pieces. 
That is going to be a big turnoff for any meal, so I'm hoping these chicken meatballs do not have the same issue.
Costco AmyLu Chicken Meatball Cost Breakdown
How much are AmyLu Teriyaki Chicken Meatballs at Costco?
Each package of AmyLu Teriyaki Chicken Meatballs retails for $14.89 at Costco. 
On sale, they cost $11.39. The 2.88 pound (46oz) package will cost $5.17 per pound at retail or $3.95 per pound when they are on sale. This is a huge discount and nearly 25% off. 
For a little further analysis, each meatball costs $0.25 each at retail or $0.19 when on sale. 
This is a fair price for an already cooked and flavored chicken meatball that is super convenient to make. A serving size is 4 meatballs, which cost either $1 or $0.76 if on sale.
AmyLu Chicken Meatball Review
AmyLu lists 3 different heating options for these already precooked chicken meatballs. I'll go over those in the next section, but for this review, I decided to air fry them. 
That isn't one of the recommended methods, but since these are precooked, they just need to be heated and browned. 
I cooked them in the air fryer at 350° for 7 minutes. I did a small batch and they came our more than warm and looking so appetizing.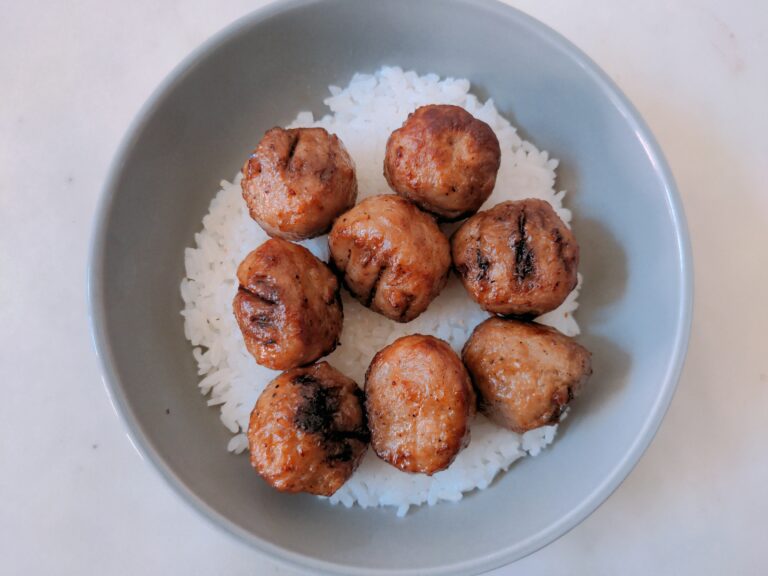 While these are plain looking in their original state, when they are cooked, they look delicious.
One major problem with these chicken meatballs
For this review, I ate them as is as well as served them with a bowl of rice. One thing, I'm always concerned about with store bought teriyaki meatballs is that they can be too sweet.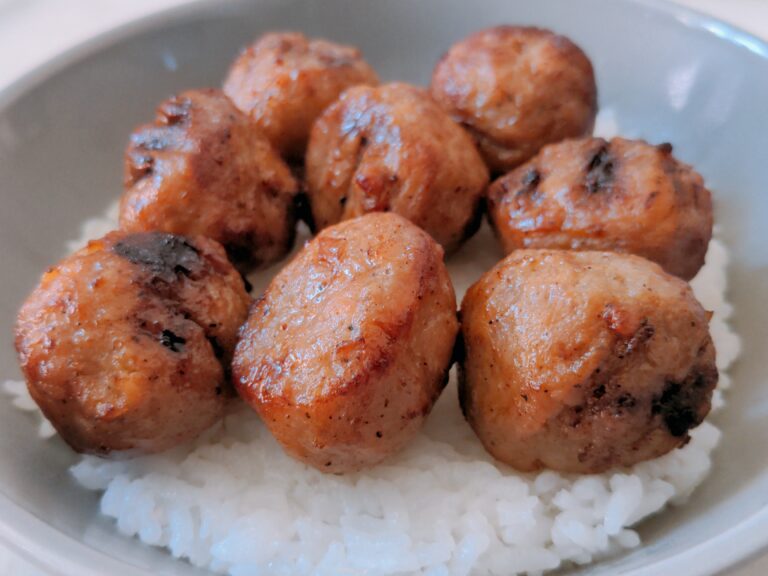 I didn't have that problem with these Costco chicken meatballs but when I ate just the plain meatball, I thought it was overly salty. It was nearly at the point where it was inedible.
There was definitely teriyaki flavor and some sweetness in the meatball, but the saltiness was overpowering.
These meatballs are better as part of a dish
It was a different story when I served the meatballs with plain white rice. The rice helped balance out some of the saltiness and brought it down to a level of just a touch too salty instead of overly salty.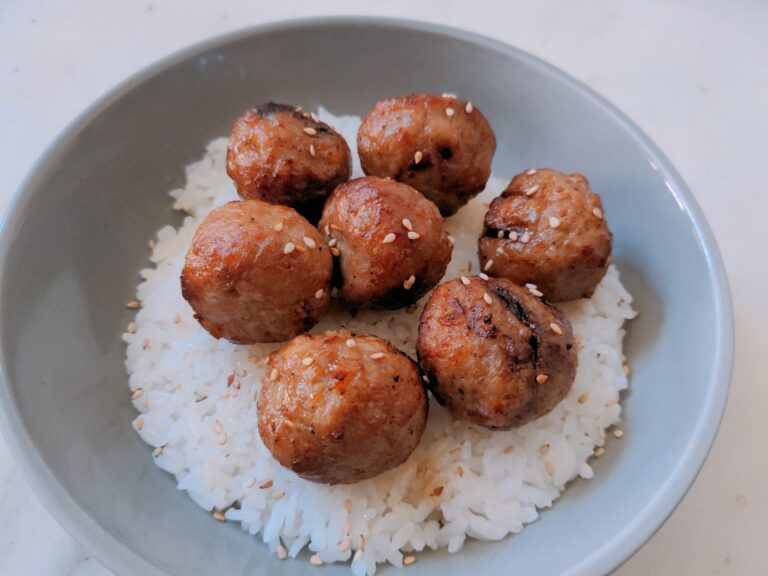 Just like AmyLu's other product the chicken breakfast sausage links, these in my opinion, cannot be eaten alone. 
They must be served with rice, bread, a tortilla, or anything that could help cut through some of that saltiness. 
These have a great teriyaki flavor and some large pineapple chunks
While salty, there is still an abundance of teriyaki flavor in each meatball. The teriyaki tasted good and didn't have any of the bitterness that teriyaki can sometimes have. 
These are teriyaki and pineapple meatballs, and AmyLu did include small chunks of pineapples inside of some of the meatballs. 
I would say 50% of the chicken meatballs contained at least 1 piece of pineapple.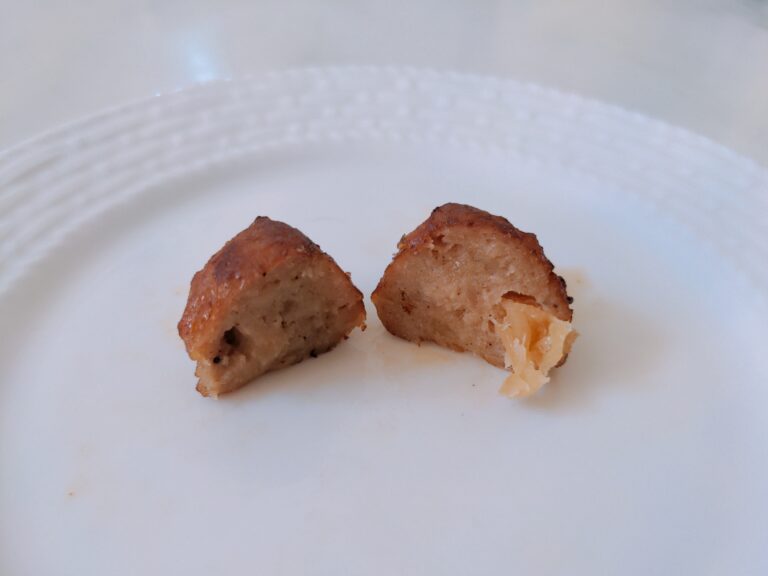 Maybe I'm still suffering through some trauma with the AmyLu breakfast links, but I was unaware that these meatballs included pineapples and the first time I tasted one I thought it was a chicken tendon.
Upon further inspection, it was a small pineapple with a little bit of core attached.
I like the flavor of pineapple and I think it goes well with teriyaki, but the texture of the pineapple threw me off when eating these meatballs. I would have much preferred pineapple juice or flavoring within the meatball instead of an actual pineapple piece.
The texture of the chicken meatball was fine. It's clearly a mass produced meatball, but I already knew that, so no complaints there. The meatball was a little spongey but didn't detract too much from the final product.
Overall the meatball looked great but was a little on the salty side. The teriyaki flavor was good but the inclusion of the pineapple chunks threw me for a loop.
AmyLu has 3 methods for heating these already precooked chicken meatballs and I'm including my own personal air fryer instructions for these meatballs. 
Oven – Preheat oven to 325°. Heat on baking tray or in baking dish for 15-20 minutes.

Stove Top: Coat pan with a tablespoon of olive or canola oil and saute meatballs on medium to high heat until warm and browned. Add water to steam as needed. 

Microwave: Heat a serving (4) of meatballs on high for 45 seconds. Times may vary depending on Microwave

CFDB Method – Air fry at 350° for 7 minutes. Shake once or twice during cooking process.
Costco Chicken Meatball Nutritional Information
How many calories in AmyLu Teriyaki Meatballs from Costco
Each Costco AmyLu Chicken Meatball package contains 15 servings of 4 meatballs each. One serving contains 150 calories, with 7g of fat, 7g of carbs, and 14g of protein.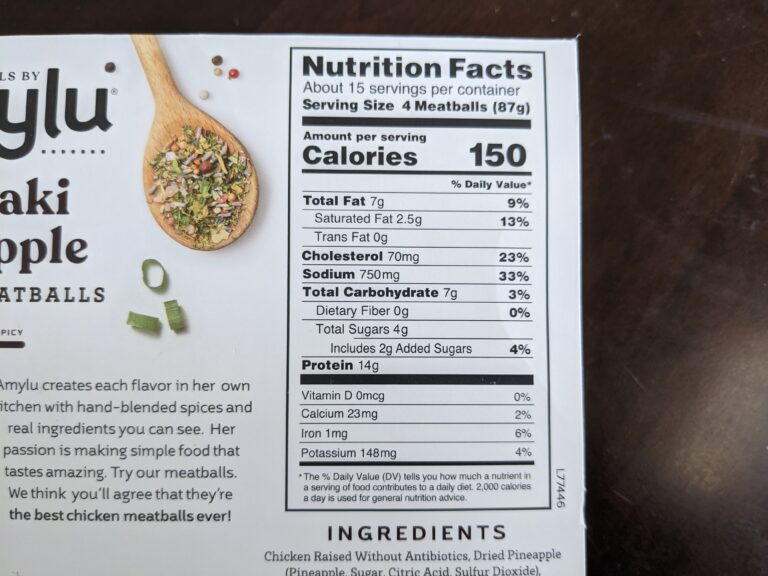 I personally consider this macro breakdown to be ideal. There is a sufficient amount of protein while keeping carbs and fats to a minimum. 
High Sodium Content - Be Cautious
Now, I already complained about the saltiness of the meatballs, and the sodium content explains exactly why. Each serving of 4 meatballs contains a mammoth 750mg. 
This is 33% of the daily recommended value in just 4 meatballs. This is astronomically high and one reason I would stay away from these meatballs even though the rest of the nutritional label looks pretty good. 
4 chicken meatballs are not enough for a full meal and in this review alone I ate at least 8 meatballs which is 67% of my daily recommended sodium intake. If the sodium content could be reduced, I would gladly eat these meatballs all day.
I hate to say it, but these Costco chicken meatballs by AmyLu are going to be a pass for me. The texture of the chicken was good, and the teriyaki flavor was acceptable, but they were just too darn salty. 
These meatballs are high in protein, low in fat and carbs, but the sodium content is through the roof.
Costco Food Database User Reviews
Have you tried this item? Let the rest of the Costco Food Database community know what you think. Leave a rating and review for this product.