Costco Chicken Skewers - Dip Ideas + Cooking Tips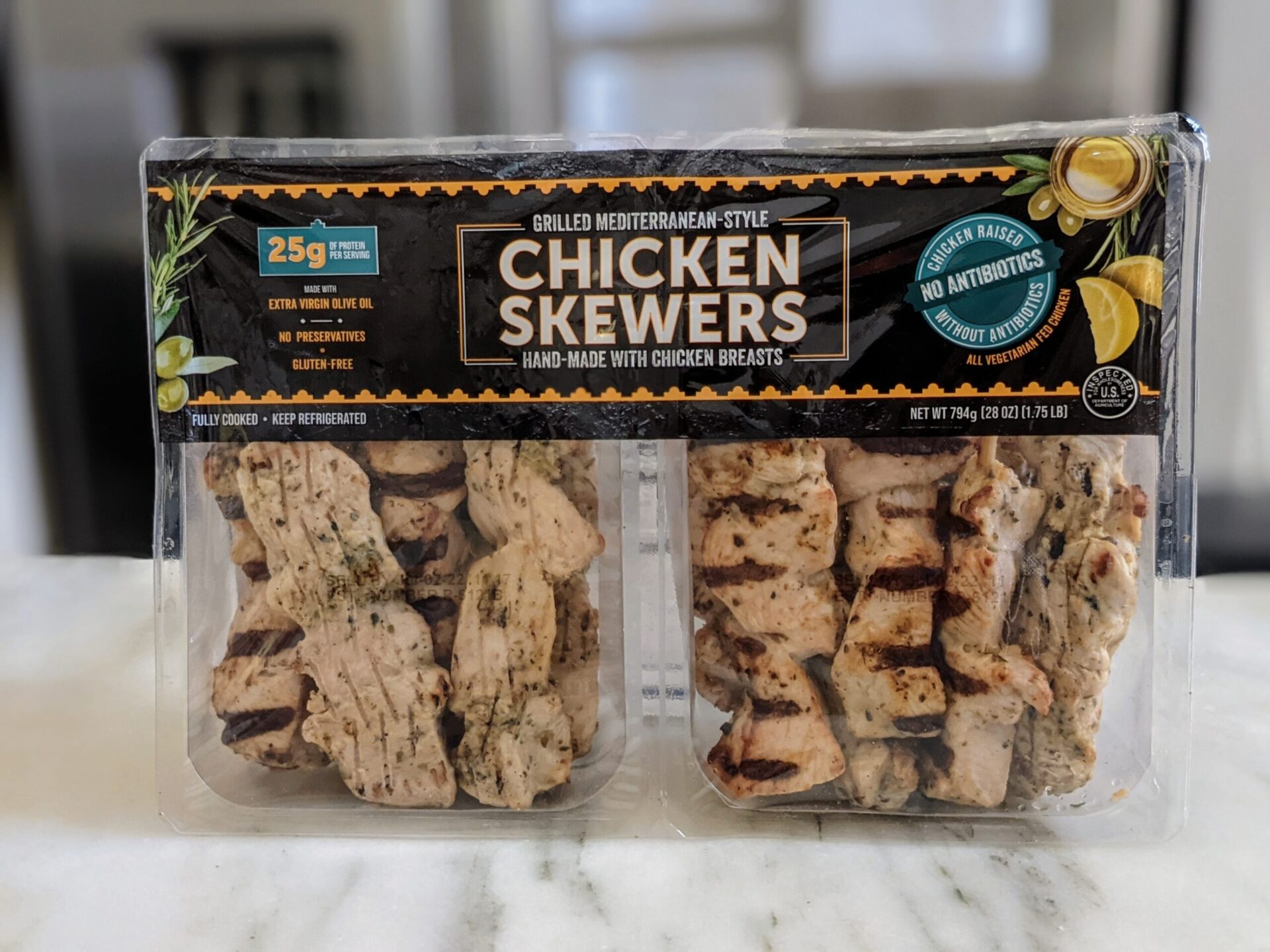 Grilled Mediterranean-Style Chicken Skewers at Costco
The package of chicken skewers is separated into two portions of 14 ounces each.
The chicken skewers are hand-made with chicken breast slices and are free from gluten, dairy, peanuts, soy, and preservatives.
Have You Tried Costco's Chicken Skewers?
Let the rest of the Costco Food Database community know what you thought of this product. Results and reviews are at the bottom of this page.
Please allow 24 hours for review moderation and approval.
The Chicken Skewers are made from chickens that are vegetarian fed and raised without antibiotics. 

What exactly does vegetarian fed mean? Well, after some quick research this means the chicken has been fed a diet that does not contain any animal by-products.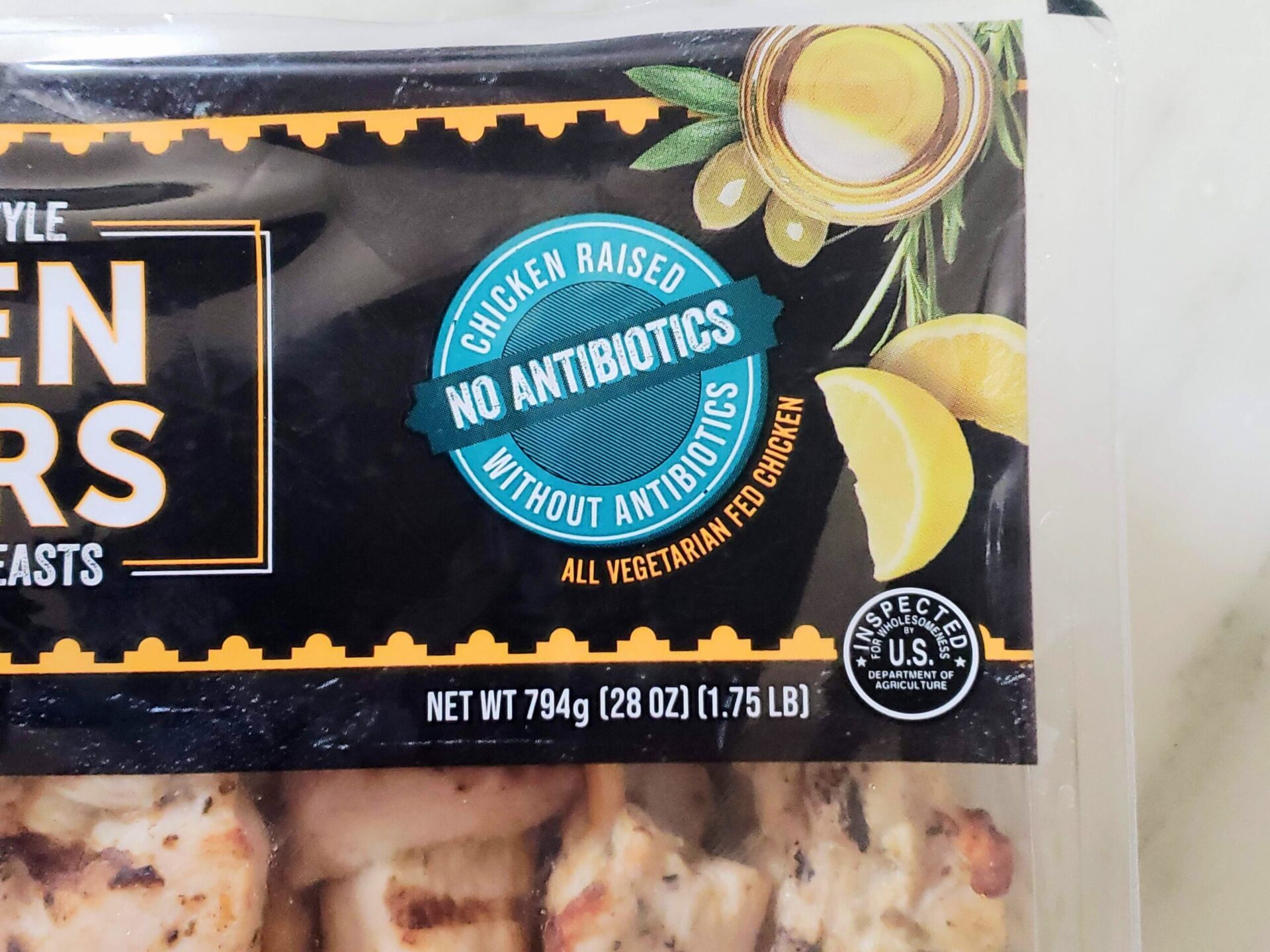 The problem is that chickens aren't vegetarians and their diet does consist of bugs and other small animals. Some critics vehemently oppose a vegetarian diet for chickens as it is just so unnatural. 

Remember, chickens evolved from dinosaurs, and I would bet that the raptors from a long time ago, aren't happy that their descendants live in tight living spaces and are fed a vegetarian diet. 
Who Makes the Chicken Skewers at Costco?
The packaging of the chicken skewers doesn't provide a lot of information about the manufacturer. The front label doesn't name the company making the chicken skewers, and only on the back label is there a small portion dedicated to the distributor American Foods Group.
I always wonder why some companies or organizations don't heavily advertise their name on the product.
How Much Do The Chicken Skewers Cost at Costco?
Costco sells the 1.75 pounds of chicken skewers for $13.99. This breaks down to a price of $7.99 per pound which is definitely on the higher end for chicken breast.

Other options in the $7.99 a pound range that are going to bring more value than these chicken skewers are the short ribs, tri-tip, and shrimp.

Costco sells their fresh chicken breast for $2.99 a pound, which means there's a $5 markup for the seasoning, skewering, and grilling of the protein.
That is too dang much!
Costco Chicken Skewers Taste Test
For this taste test, I tried the chicken skewers both heated as well as cold directly from the refrigerator. 
The cold chicken skewers were edible but not so enjoyable, and I much preferred the heated through chicken breast skewers. 
The cooking/heating brought the chicken breast back to life and really enhanced the flavor of the skewers.
The oven is the recommended cooking method for these Costco chicken skewers, but I opted to cook them in the air fryer. I used 375°F for about 6 minutes to get the chicken up to a nice and warm internal temperature.
I will talk about this more in the upcoming cooking instructions section, but these pre-cooked chicken skewers do not need to be heated to 165°F. 
Do the Chicken Skewers Taste Good?
When heated the chicken skewers are great. The breast is tender, juicy, and flavorful. The Mediterranean flare is definitely there and the spices and seasoning are nice.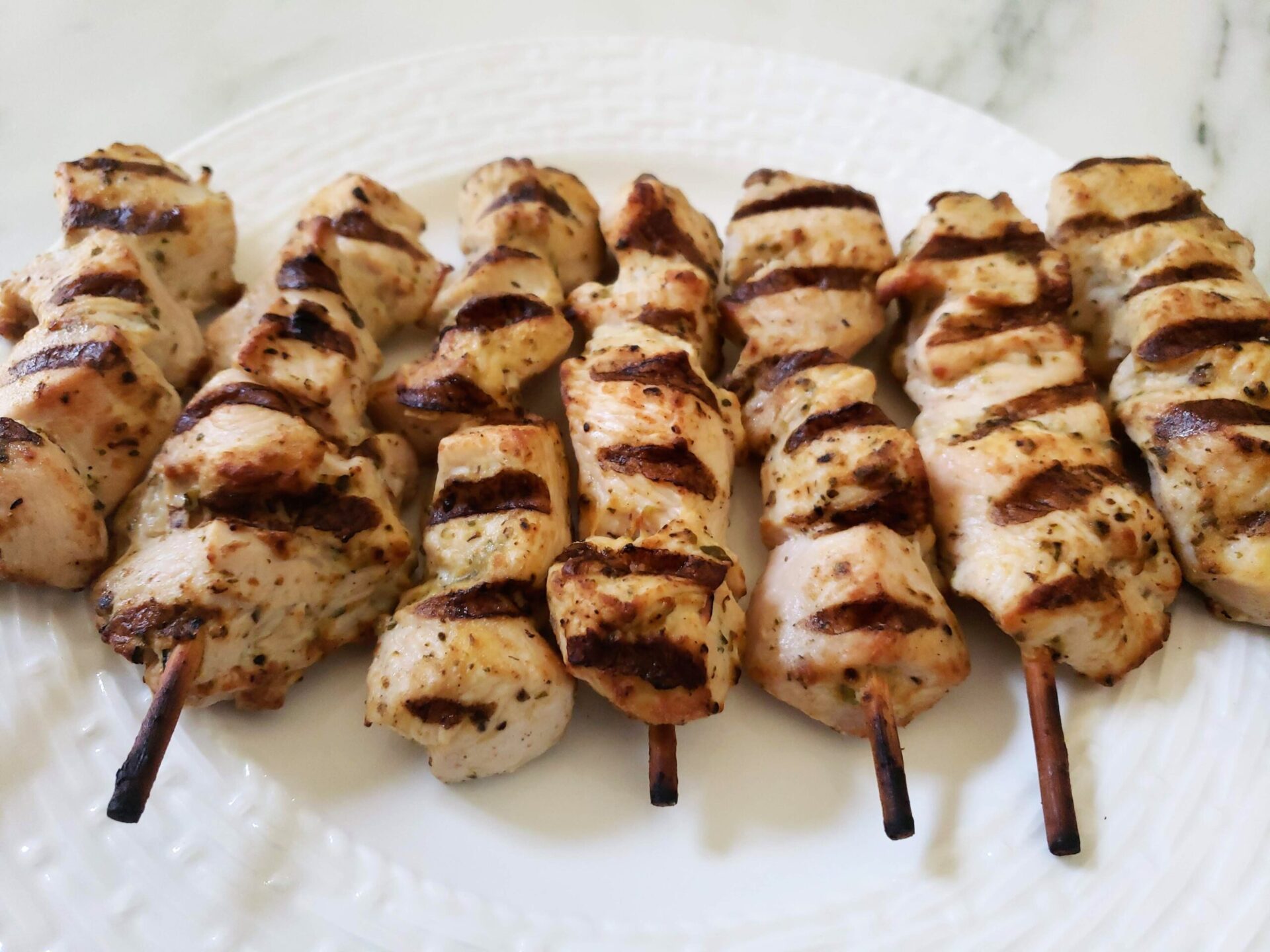 There are strong flavors of basil and rosemary in almost every bite of chicken. The chicken is easy to eat off the skewers and quite fun.
Goes Great with Dipping Sauces
The meat is tender, the seasoning is on point, and the skewers as a whole are more than adequate for any meal. While these are already flavored, they can be combined with dips and sauces to really enhance and customize the skewers.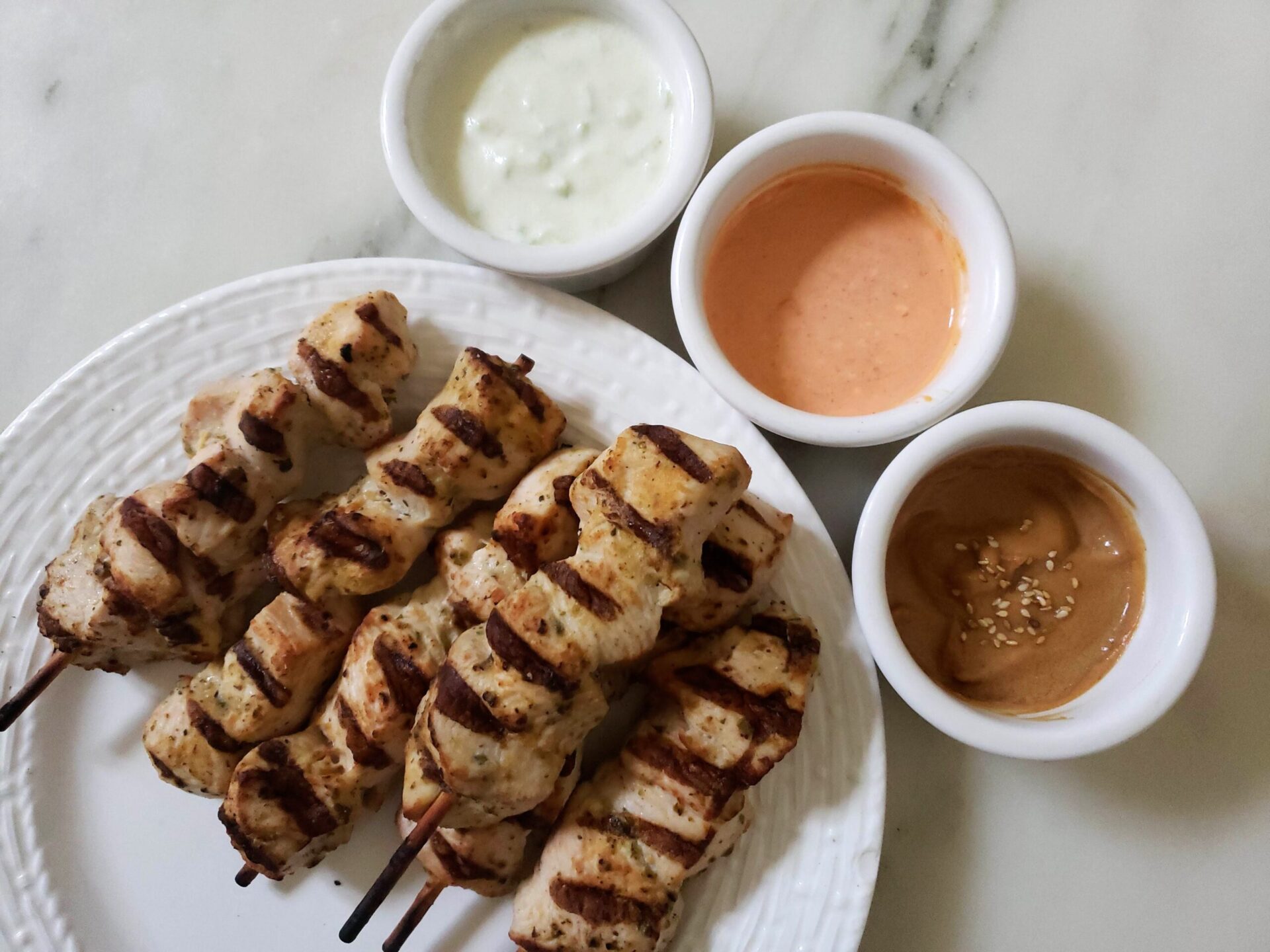 My favorite dip to pair with these Mediterranean chicken skewers is going to be a homemade tzatziki style sauce. This sauce takes just about 5 minutes and is so refreshing and flavorful. 
I highly recommend this tzatziki sauce with these skewers.
While these are Mediterranean flavored chicken skewers, they can be paired with non Mediterranean flavors to create a nice meal. 
I like using a homemade peanut sauce and even a simple mix of sriracha and mayonnaise to really change up the flavors.
Of course, these skewers will also go great with BBQ sauce or even teriyaki sauce.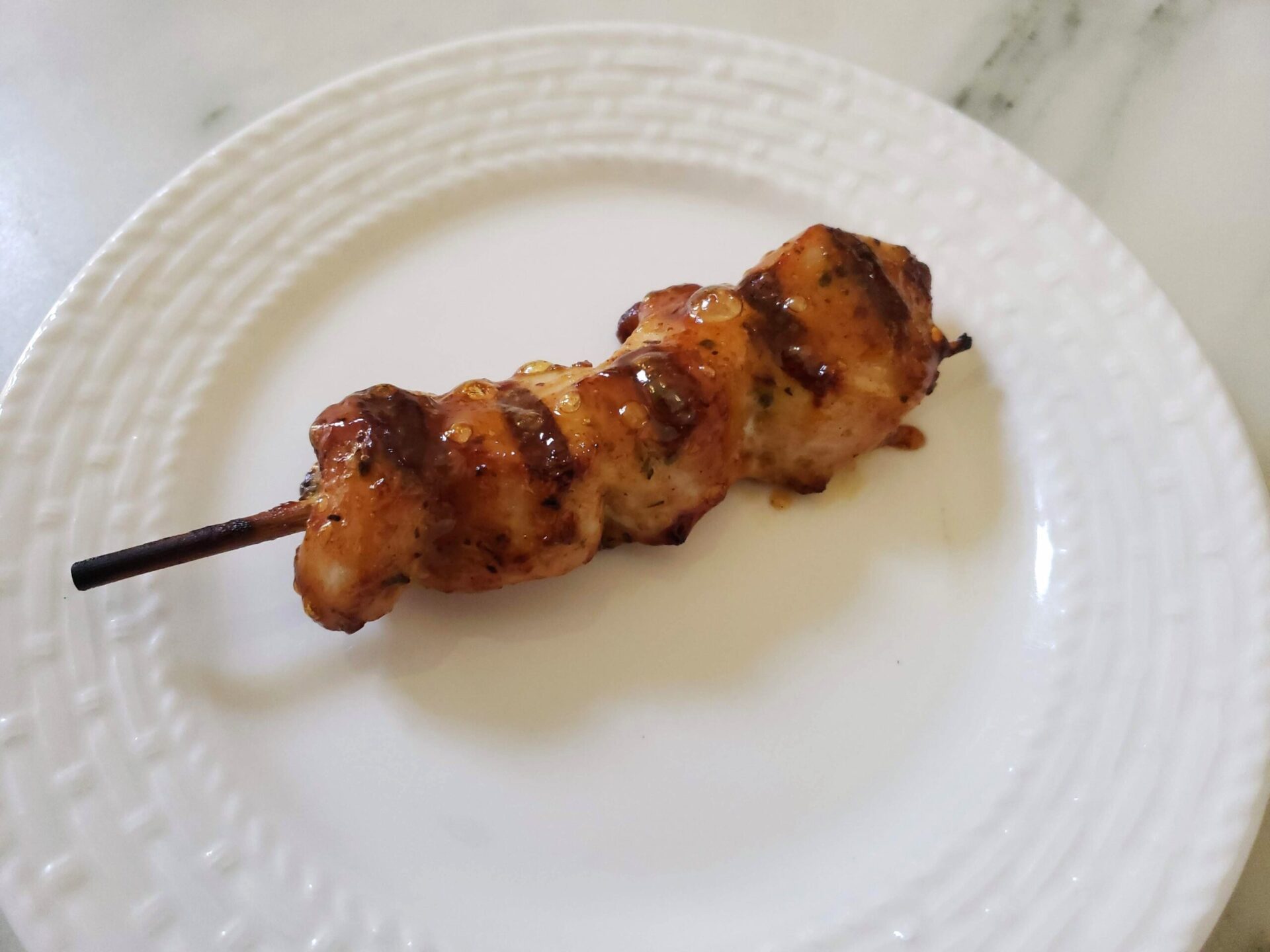 The sauces will override the Mediterranean flavoring that is already on the chicken which is good because the chicken skewers can then be used in a variety of different meal types.
Mediterranean Chicken Skewer Cooking Instructions
The label offers 3 heating or cooking instructions for these chicken skewers from Costco. You can oven bake them, grill/bbq the skewers, or even microwave them.
The Chicken Skewers Do Not Need To Be Heated to 165°F
The instructions do say to heat the chicken skewers to 165°F which is the temperature that chicken needs to be cooked to, but these chickens are already pre-cooked. 
They do not need to reach an internal temperature of 165° and in fact can be directly eaten cold from the packaging.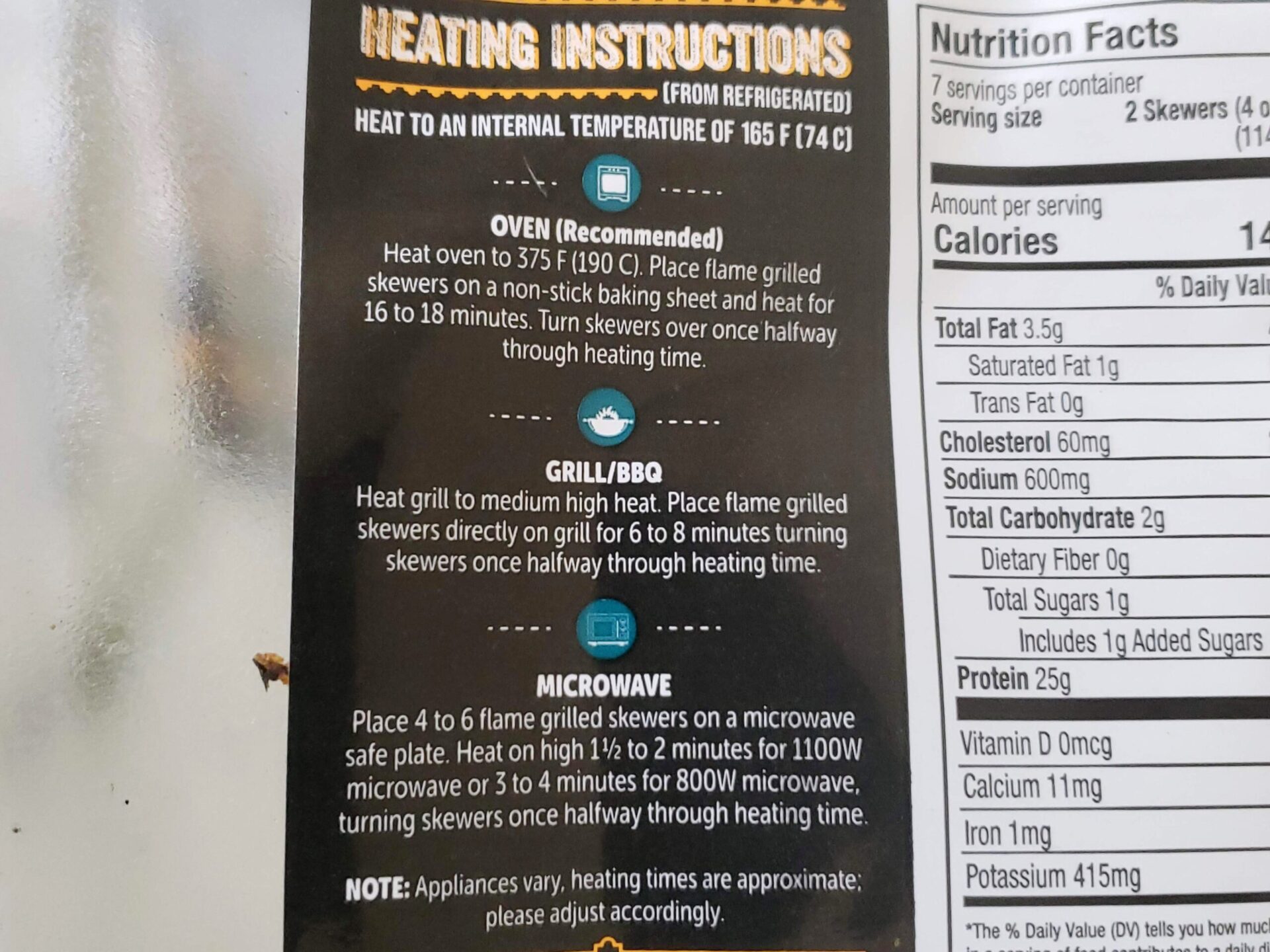 The packaging states these are fully cooked chicken skewers, but they must be recommending 165° as a precaution to any undercooked chicken. 
I would advise against heating the chicken up to 165° as it is unnecessary as well as it increases the risk of overcooking the chicken.
Preheat the oven to 375°F (190°C).

Place flame grilled chicken skewers from Costco on a non-stick baking sheet.

Heat for 16 to 18 minutes.

Turn the skewers over once halfway through the heating time. 
Heat grill to medium high heat. 

Place Mediterranean chicken skewers on the grill for 6 to 8 minutes. 

Turn skewers once halfway through heating time.
Place 4 to 6 Costco chicken skewers on a microwave safe plate.

Heat on high for 1 and a half to 2 minutes for an 1100W microwave or 3 to 4 minutes for an 800W microwave. 

Turn the grilled chicken skewers once halfway through cooking time.
Nutritional Profile - Costco Chicken Skewers
How Many Calories in Costco Chicken Skewers
Each serving is 2 chicken skewers and contains 140 calories with 3.5 grams of fat, 2 grams of carbs, and 25 grams of protein.
This is an absolutely all around fantastic nutritional profile. The carbs and fat and kept to an absolute minimum while there is a staggering 25 grams of protein in every 2 chicken skewers from Costco.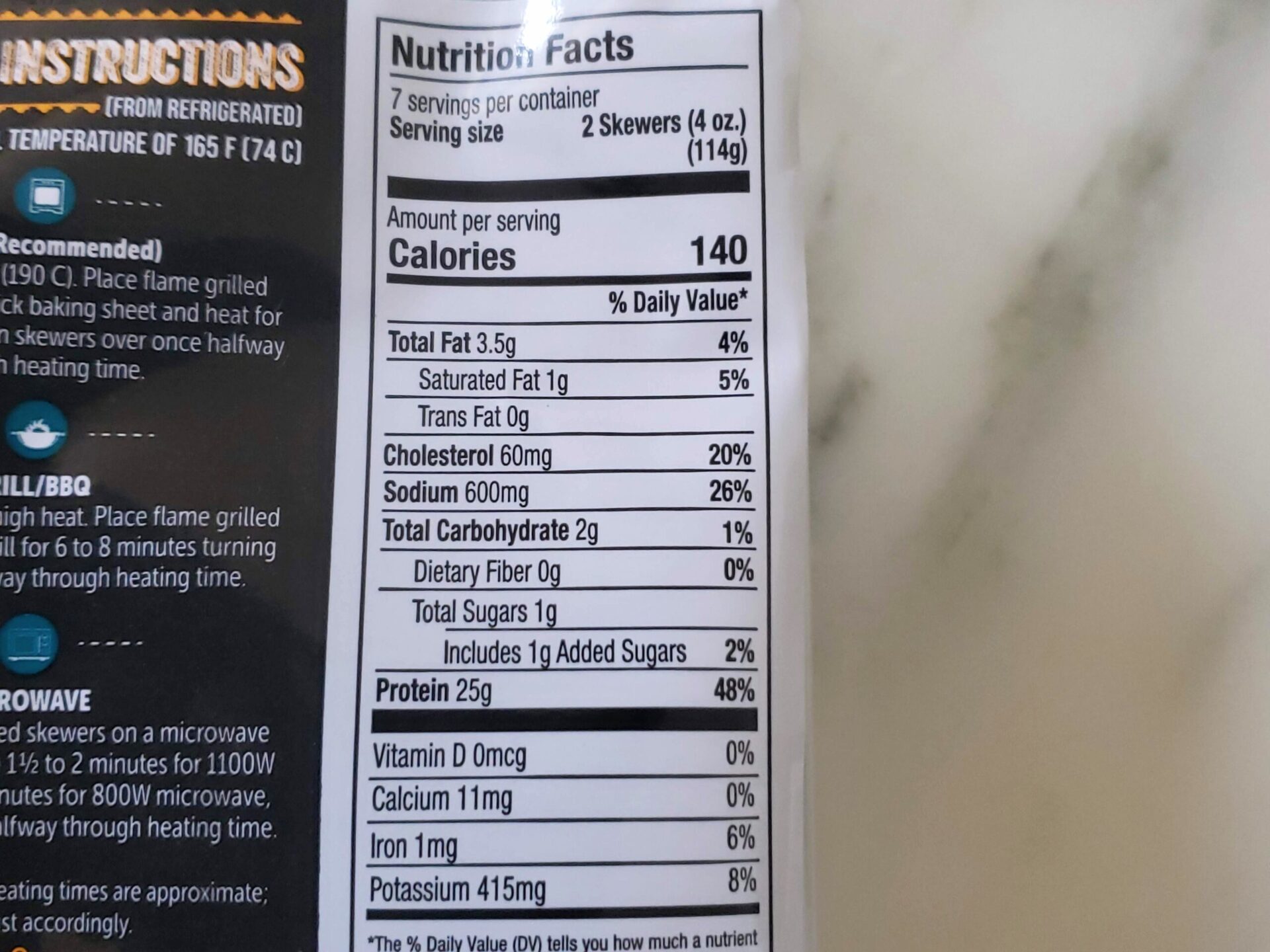 This is of course simply just seasoned and flavored chicken breast, but the nutritional profile is excellent.
Moderate Amount of Sodium
The one issue with the chicken skewers is going to be the moderate-high amount of sodium per serving. Each serving contains 600 mg of sodium or 26% of the recommended daily value. This isn't the worst, but it is easy to eat multiple servings of the chicken skewers.
There's a lot to like about Costco's chicken skewers but there are also some complaints. The taste is fine, the chicken is easy to heat, and is very healthy. 
The major drawback is going to be the price as there are better value options at Costco.
Costco Food Database User Reviews
Have you tried this item? Let the rest of the Costco Food Database community know what you think. Leave a rating and review for this product. 
Costco Chicken Skewers - How to Cook Perfectly
Costco's chicken skewers are a one of a kind item in uniequness and flavor. Cook them perfectly with this recipe and pair the skewers with some amazing dip options.
Ingredients
Dipping Sauce Options
Tzatziki Sauce

Sriracha Mayo

Peanut Sauce
Instructions
Oven(Recommended)

Preheat the oven to 375°F (190°C).

Place flame grilled chicken skewers from Costco on a non-stick baking sheet.Heat for 16 to 18 minutes.

Turn the skewers over once halfway through the heating time. 

Grill/BBQ

Heat grill to medium high heat. 

Place Mediterranean chicken skewers on the grill for 6 to 8 minutes. 

Turn skewers once halfway through heating time.

Microwave

Place 4 to 6 Costco chicken skewers on a microwave safe plate.

Heat on high for 1 and a half to 2 minutes for an 1100W microwave or 3 to 4 minutes for an 800W microwave. 

Turn the grilled chicken skewers once halfway through cooking time.

Air Fryer

Preheat Air Fryer to 375°F

Heat Chicken Skewers for 6 minutes or until sufficiently warm
Nutrition
Serving:
2
Skewers
Calories:
140
kcal
Carbohydrates:
2
g
Protein:
25
g
Fat:
3.5
g
Saturated Fat:
1
g
Trans Fat:
0
g
Cholesterol:
60
mg
Sodium:
600
mg
Fiber:
0
g
Sugar:
1
g