Costco Andouille Sausage (Chicken) - Super Healthy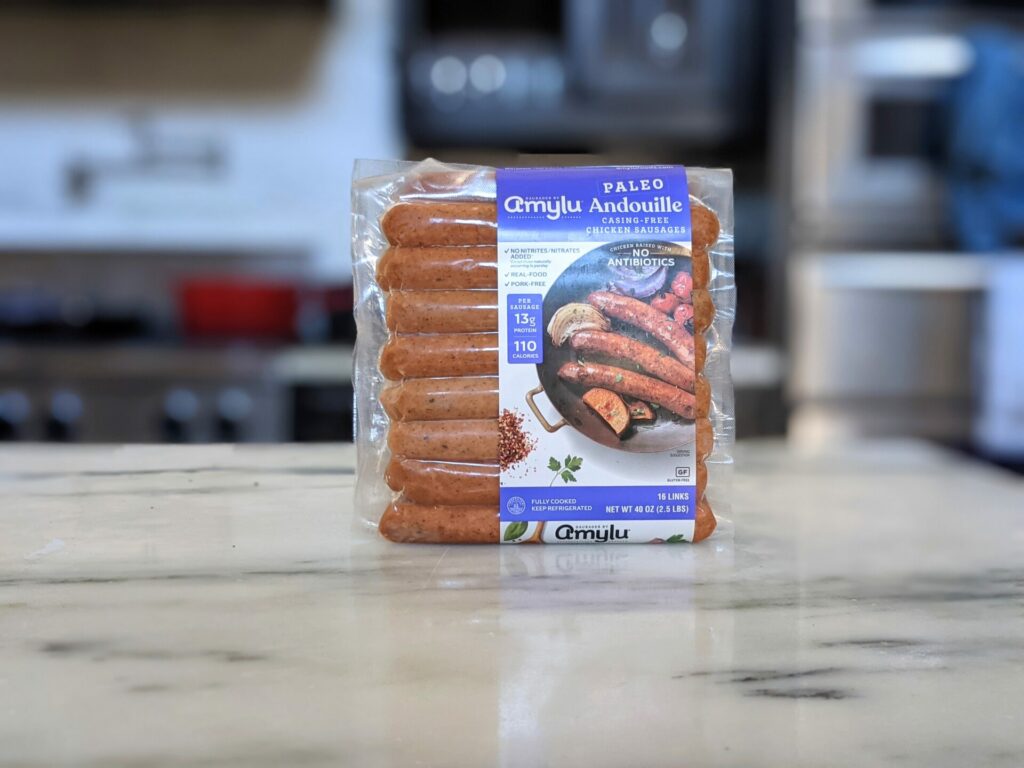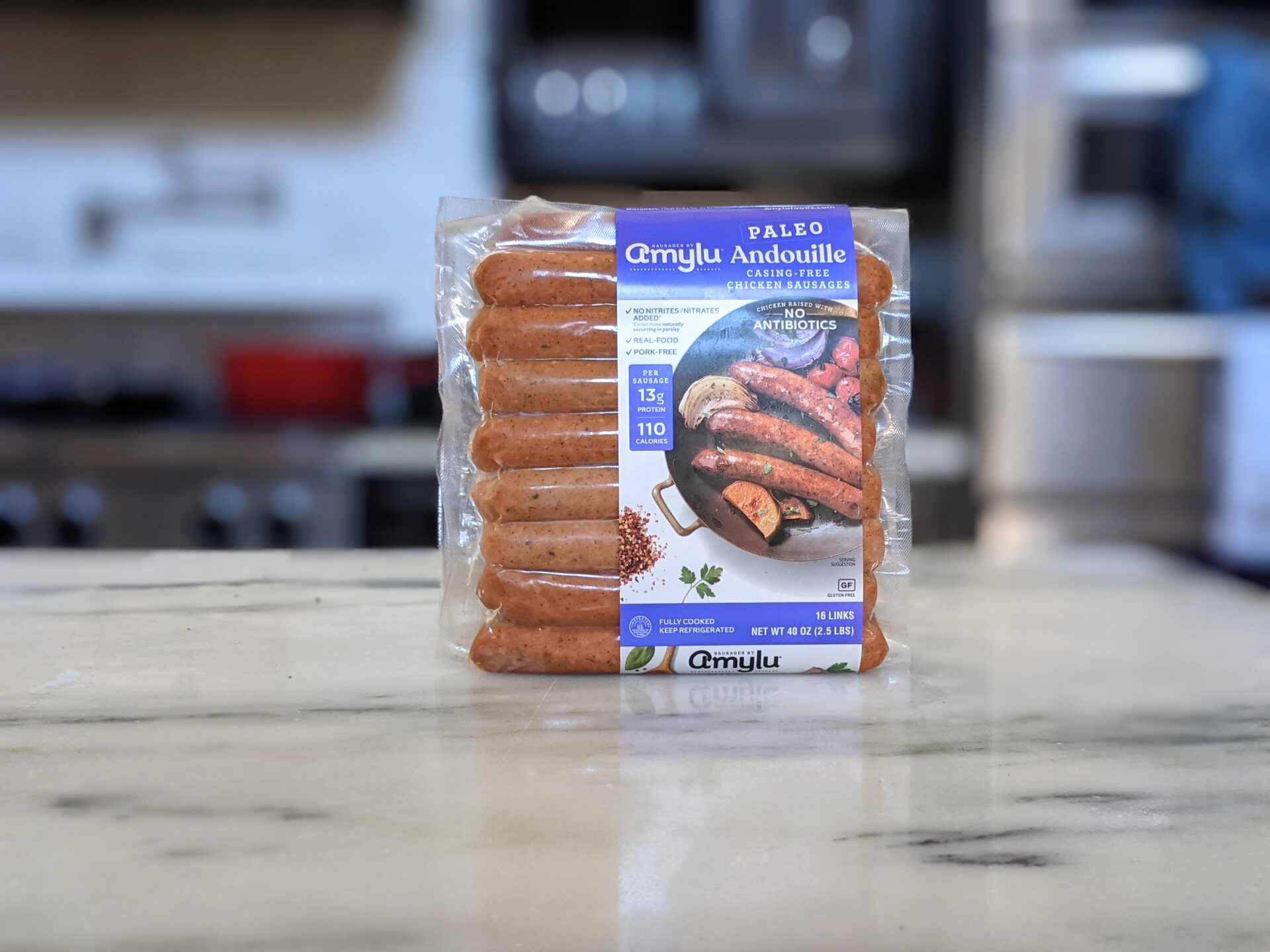 AmyLu Andouille Chicken Sausage at Costco
Costco sells a 2.5 pound pack of AmyLu Andouille Casing-Free Chicken Sausage for $15.59. The andouille sausage can be found in the refrigerated deli area near the meat and seafood department and the bakery. 
Each pack of AmyLu Andouille Sausages will contain 16 links that weigh about 6 ounces each. 
The sausages are made with chicken that are raised with no antibiotics, and there are no nitrites or nitrates added except for those naturally occurring in parsley. The product is also gluten free and paleo friendly.
AmyLu is a Chicago based brand that takes traditional pork or beef items and recreates them using only chicken. 
They often add some tasty flavors to their chicken products and they are typically much healthier than their pork or beef counterparts. The ingredient list to their food items is usually pretty clean as well. That is a great bonus! 
What is Andouille Sausage?
Andouille Sausage is a smoked pork sausage that originated in France. In America, the andouille sausage is usually found in cajun cuisine and is smoked.
An Andouille sausage has an intense and distinct flavor, and is packed with seasonings including garlic, pepper, and onions.
AmyLu's andouille sausage is made with chicken and is casing free. They also print on their label that this is a pork free product. 
Normally, I would expect any chicken sausage to automatically be pork free as there are many people who don't consume pork or beef and are eating the chicken version as an alternative.
I'm not sure if this is something they truly want to advertise or if they are taking a shot at their Costco rival brand, Aidells. 
Aidells is also a company that focuses on chicken based products, but their chicken sausage does include a pork casing.
How Much Does Andouille Sausage Cost at Costco?
Costco sells the 2.5 pound pack (16 count) AmyLu Andouille Chicken Sausage for $15.59. This breaks down to a per pound price of $6.24 and a per sausage price of $0.97.
AmyLu is a brand that goes on sale fairly often at Costco, and I purchased the andouille sausage at $4 off, bringing the total price down to $11.59. This is a large discount of 25% with the price per pound dropping down to $4.64, and the andouille sausage price dropping to $0.72 each.
The price is a little on the high end at retail, but is very reasonable when the andouille sausages are on sale. 
Costco vs The Competition
According to AmyLu's website, they do sell their Andouille Chicken Sausages at high end retailers such as Whole Foods and Sprouts, but unfortunately my local stores did not carry the sausage. 
I am unable to do a price comparison, but would bet large amounts of money that Costco has the better price. 
Costco Andouille Sausage Taste Test
I opted to cook the Costco andouille sausage on the stove top. I think that brings the best combination of convenience and quality, and will also char up the outside of the sausage just a little bit. 
The cook took about 7 total minutes and the andouille sausages were thoroughly heated.
Visually, the andouille sausage looked pretty good. They have a nice red color and definitely look the part. 
The sausage is on the thinner side, and like most I would prefer a sausage that had a little more girth. This feels a little bit like a link instead of a sausage.
Lacking Strong Andouille Flavor
The andouille flavor of the sausage is just ok. The flavor profile sausage is good but lacking. It didn't really wow me with any intense flavor. I would call this an andouille sausage lite.
I can see where AmyLu was going with the flavor, but it's just not enough to take over a dish like a traditional pork andouille sausage would.
AmyLu also does label their sausages to be spicy, but I consider the sausage to be closer to the medium side. There is some spice and a little kick, but it is minor at best.
The spice was a little uneven throughout the andouille sausage. Some of the bites didn't have any spice at all.
The use of chicken in this andouille sausage makes a very noticeable difference in the texture and taste. The chicken is moist and juicy, but even then it doesn't compare to a standard pork sausage.
The texture of the chicken is also a little more spongy than a pork sausage would be. It doesn't have the ground-up sausage feel that really makes sausage taste amazing. 
Purely in taste, this is where the sausage falls short, but it does make up for it with its nutritional benefits.
AmyLu Paleo Andouille Sausage Cooking Directions
AmyLu recommends 3 different methods for heating their Andouille Sausage. You can grill them, cook them on the stove top or even microwave them. They are already fully cooked! 

I think the stove top is the best option of the three.
Place sausages on grill over medium heat, turning them frequently until warmed through.
Pan fry sausages on medium heat until warm. Add water to steam as needed.
Heat links for 35 to 45 seconds.
Nutritional Information and Calories
How Many Calories in Costco's Andouille Sausage
Each individual andouille sausage from Costco is going to be 1 serving. Each sausage will contain 110 calories coming from 6 grams of fat, 13 grams of protein, and 1 gram of carb.
This is an excellent nutritional profile and is absolutely fantastic when compared to pork andouille sausage. The protein count is very high and I am big fan of foods that have higher protein than combined fat and carbs.

The calories are also very reasonable at only 110 calories per chicken andouille sausage. This andouille chicken sausage is going to be vastly superior nutritionally to a pork sausage.
Moderate Amount of Sodium
One thing to always be cautious about with Costco's deli or frozen foods will be their sodium content. These andouille sausage have 550 mg or 22% of the daily recommended sodium content.
This isn't necessarily bad, but at only 6 ounces and 110 calories, it is very easy to eat multiple sausages per meal. In that case, the sodium content can quickly and easily add up. 
Costco Andouille Sausage Review
Product Name: AmyLu Andouille Chicken Sausage
Product Description:
Price: $15.59 Retail / $11.59 Sale
Quantity: 2.5 Pounds (16 Sausages)
Location Within Costco: Refrigerated Deli Area
Price Per Pound: $6.24 / $4.64
Summary
Costco's chicken andouille sausage is fairly mediocre. I love that the chicken is a great healthy alternative to traditional sausages, but it is lacking in flavor and the texture is a little bit off. 
The sausage doesn't wow nor have the intense andouille flavor. It is also a little pricey for the quality of the food.
Value -

7/10

Convenience -

9/10

Taste -

6/10

Nutrition -

9/10

CFDB Score -

7/10
Pros
Great nutritional profile

Easy to make
Cons
A little pricey

Average Flavor