Costco Burritos (Chicken) - Organic and Hand Rolled?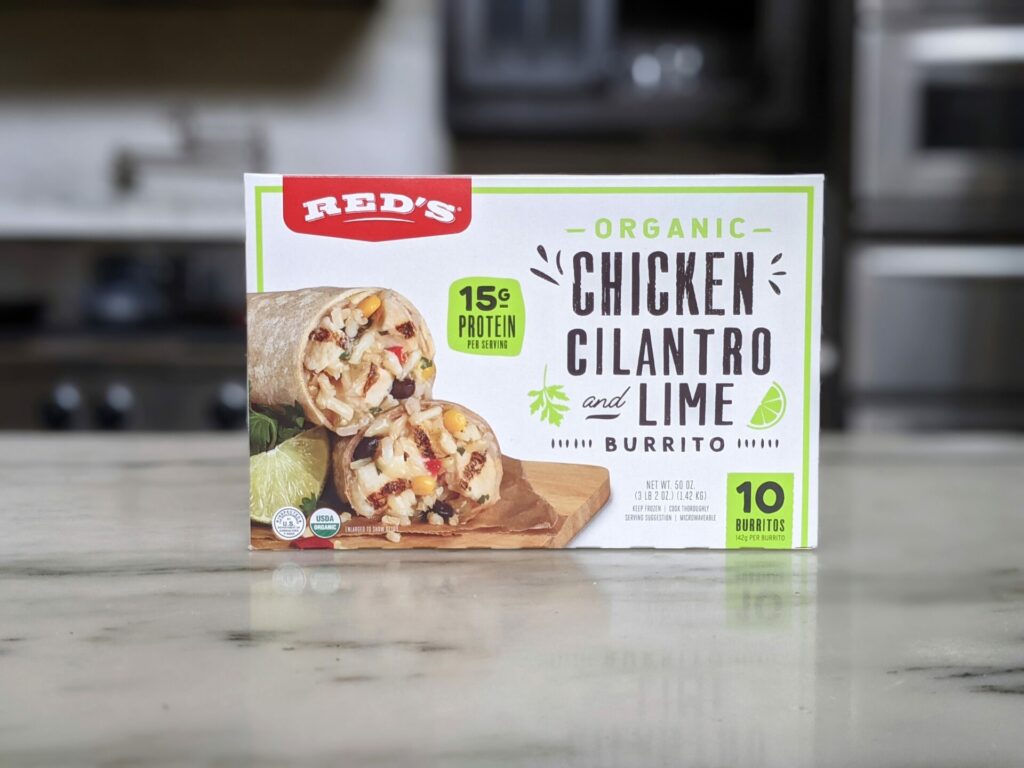 Red's Organic Chicken Cilantro and Lime Burrito at Costco
Costco sells a 10-pack of Red's Organic chicken Cilantro and Lime Burritos for $16.49. The organic chicken burritos can be found in Costco's frozen food aisles near other items such as the chicken nuggets, chimichangas, and the Mexican corn.
Red's Burritos are all organic and include free-range raised chicken, whole wheat flour, and brown rice. Each burrito also contains 15 grams of protein. This is a healthy burrito made with fantastic ingredients.
Have You Tried Costco's Burritos?
Let the rest of the Costco Food Database community know what you thought of this product. Results and reviews are at the bottom of this page.
Please allow 24 hours for review moderation and approval.
The individual burrito packaging surprisingly states that these burritos are rolled by hand. 
It is funny that the box itself does not mention anything about these tortillas being hand-rolled. This would be another great selling point for these burritos.
Well, the company is actually founded by a man named Mike who named the business after his loyal and trusted dog, Red. 
Mike started the business after eating one of his wife's delicious burritos and realized that these burritos were too good to not share with the masses.
Years later, they still sell burritos and various other food items. They even sell a Keto-friendly egg'wich sandwich at Costco as well.
How Much Do These Costco Burritos Cost?
Red's organic burritos sell for $16.49 at Costco. At 10 burritos per box, this breaks down to a price of $1.65 per burrito. Each burrito weighs 5 ounces, and this is a very nice price for a decent sized burrito made with all organic ingredients.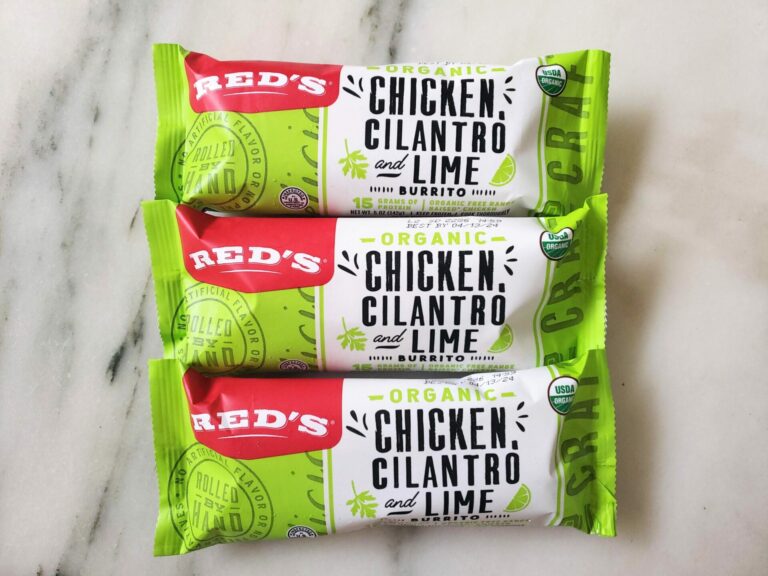 Costco vs. The Competition
Red's is a pretty popular burrito brand, and their burritos can be found at other retailers outside of Costco. 
Walmart sells a smaller 4.5-ounce chicken cilantro and lime burrito for $2.17. This burrito is 10% smaller than Costco's but 30% more expensive. Not a good deal! 
Target sells the same 4.5-ounce burrito for $2.39. Again, this burrito is more expensive and smaller than Costco's. 

Costco has by far the best deal on these Red's organic chicken burritos. It's never fun to pay more and get less; buy these from Costco to get the best deal.
Red's Burrito from Costco - Taste Test
The first bite of a burrito tells a lot about the burrito, and I have to say that the first bite of Red's organic chicken burrito was solid. 
The whole wheat tortilla tasted great, but it was just a little too thick. There was a little more tortilla than I would have liked, but still very tasty overall.
The burrito filling was extremely delicious and had great flavors. The ingredients came from whole foods and were very high quality.
I found the filling to be moist and enjoyable.
This is a chicken burrito, and the burrito was somewhat lacking in chicken. I would have liked a few more chicken pieces, but that is something I've said about every burrito I've ever eaten.
There is rice in this burrito, which I am never a fan of. To me, rice is just a filler and an opportunity to skimp on some other burrito ingredients. That being said, the brown rice was still very tasty. 
The beans and the corn were both great, and there were only a handful of each in the entire burrito. They added a nice texture and are great additions.
Red's does call this a cilantro lime burrito, and it lived up to its name as well as a frozen burrito could. There are a lot of visible seasoning specks throughout the burrito, and the cilantro and lime flavors were there, but not the most intense. 
Altogether, Red's chicken burrito doesn't really make enough for a full meal, but it is a fantastic snack. It's tasty and has some quality organic ingredients. This is an excellent Costco buy.
How to Cook Red's Burritos from Costco
Red's provides two different methods for cooking their chicken burritos; in the oven or in the microwave. If I can avoid the microwave, I will, but unfortunately, both cooking instructions involve the microwave.
Remove wrapper.

Thaw by covering it with a microwave-safe plate and microwaving on high for 1 minute.

Place on a spray-coated baking sheet and cook at 375°F for 12-14 minutes or until the internal temperature reaches 165°F. 

Flip halfway through cooking for even crispness. 

Let sit for 1 minute.
Remove Wrapper

Place on a microwave-safe plate and cover with a microwave-safe plate or lid. 

Cook for 50-55 seconds

per side

or until internal temperature reaches 165°F. 

Let sit for 1 minute.
Please Note: Red's Burrito will need to be microwaved for 50-55 seconds per side. Bringing the total microwave time to nearly 2 minutes. The burrito will be cold if only microwaved for 55 seconds.
CFDB Red's Burrito Air Fryer Instructions
Red's doesn't provide air fryer instructions, and they suggest the use of the microwave when heating the burritos in the oven. I'm not a fan of that. 

If you want to defrost the burrito, you can leave it in the refrigerator overnight. If you didn't prepare in advance, (I normally don't), you can still throw the burrito directly into the air fryer.
Remove wrapper

Preheat the air fryer to 350°F.

If thawed, cook the burrito for 9 minutes; if completely frozen, cook for 12-13 minutes or until internal temperature reaches 165°F. 

Let sit for 1 minute.  
Avoid cooking at too high a temperature, as the filling could burst out of the whole wheat tortilla. Don't ask me how I know this.
Costco Burrito Calorie and Nutritional Information
One serving of Red's organic chicken burritos from Costco is going to be one burrito. Each burrito weighs 5 ounces and contains 300 calories. Those calories come from 11 grams of fat, 36 grams of carbs, and 15 grams of protein.
Overall, it's a solid nutritional profile for a burrito. Nothing jumps out at me or is shocking to me. The protein count is nice at 15 grams, and the 300 calories make this a nice snack.
The issue with the nutritional label is the high amount of sodium at 630mg or 27% of the recommended daily value. 
This is relatively high for a snack-sized burrito, and if you were to eat two of the chicken burritos, you would be at over 50% of the daily recommended value.
Costco Food Database User Reviews
Have you tried this item? Let the rest of the Costco Food Database community know what you think. Leave a rating and review for this product. 
Costco Chicken Burritos - Air Fryer
How to Prepare Red's Organic Chicken Cilantro Burritos from Costco
Instructions
Preheat the air fryer to 350°F.

If thawed, cook the burrito for 9 minutes; if completely frozen, cook for 12-13 minutes or until internal temperature reaches 165°F. 
Nutrition
Serving:
1
Burrito
Calories:
300
kcal
Carbohydrates:
36
g
Protein:
15
g
Fat:
11
g
Saturated Fat:
3
g
Trans Fat:
0
g
Cholesterol:
30
mg
Sodium:
630
mg
Fiber:
4
g
Sugar:
2
g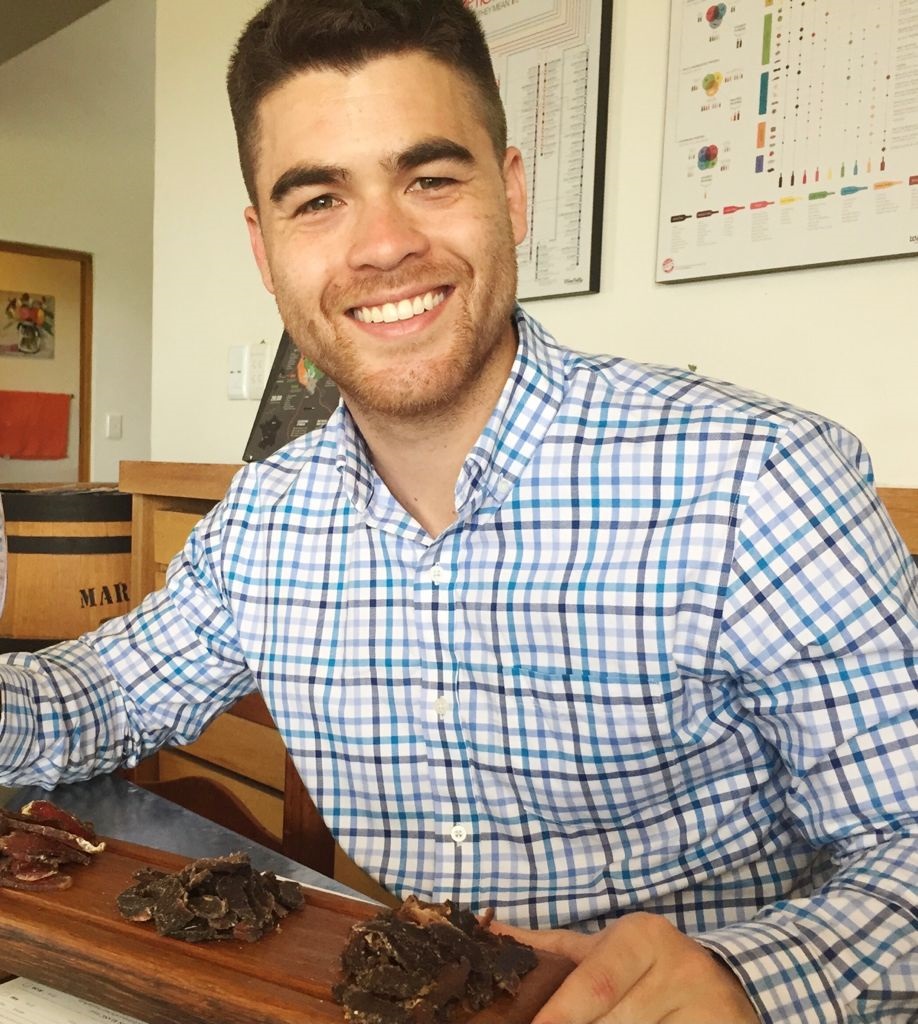 Greg Larkin is the founder and managing editor of Costco Food Database, the premiere site for honest takes on all things Costco food. A self-proclaimed Costco super-fan since childhood, Greg turned his obsession in a mission to properly rate and review all of Costco's delicious buys. When he's not busy navigating Costco aisles, you can find Greg smoking Kirkland Signature meats, meal prepping, or perfecting his homemade jerky recipes.