Costco Frittatas (Egg White) - Better than Egg Bites?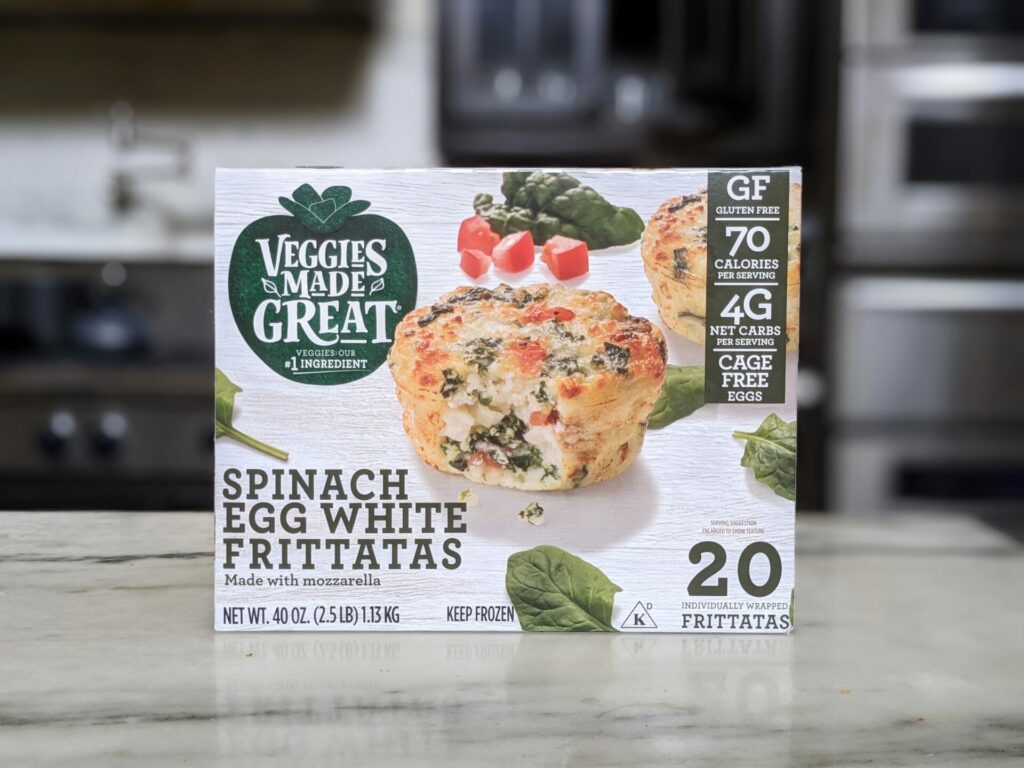 Veggies Made Great Spinach Egg White Frittatas at Costco
Costco sells a 20-pack of Veggies Made Great Frittatas for $13.99. The egg white frittatas can be found in Costco's frozen food aisles near some other breakfast options like the Bacon Gouda Egg Breakfast Sandwich, the Keto Egg'Wich and the Protein Bites.
Veggies Made Great frittatas are individually wrapped and made with spinach, tomatoes, onions, red bell peppers, and mozzarella cheese.
The frittatas are gluten-free (GF), have only 4 grams of net carbs per serving, and are made with cage-free eggs.
Another extremely popular item that Costco sells is their Three Bridges egg bites (sold as a bacon & cheese egg bite and a spinach & bell pepper egg white bite).
The egg bites, a Starbucks food clone, are essentially the same as these Costco frittatas. Both are omelets or quiches made to the size of a small muffin. Another similar option would be Costco's frozen mini quiche.
Costco's egg bites, sold by Three Bridges, are not frozen and are found in the warehouse's deli section.
Why Frittatas Are An Awesome Breakfast Food
There are a few key things that make an excellent breakfast option, and those are price, convenience, and taste. 
If I can find something affordable, quick, easy to make, and taste good, then I'm satisfied at breakfast. I'm not asking for a lot, and the egg white frittatas check off those boxes.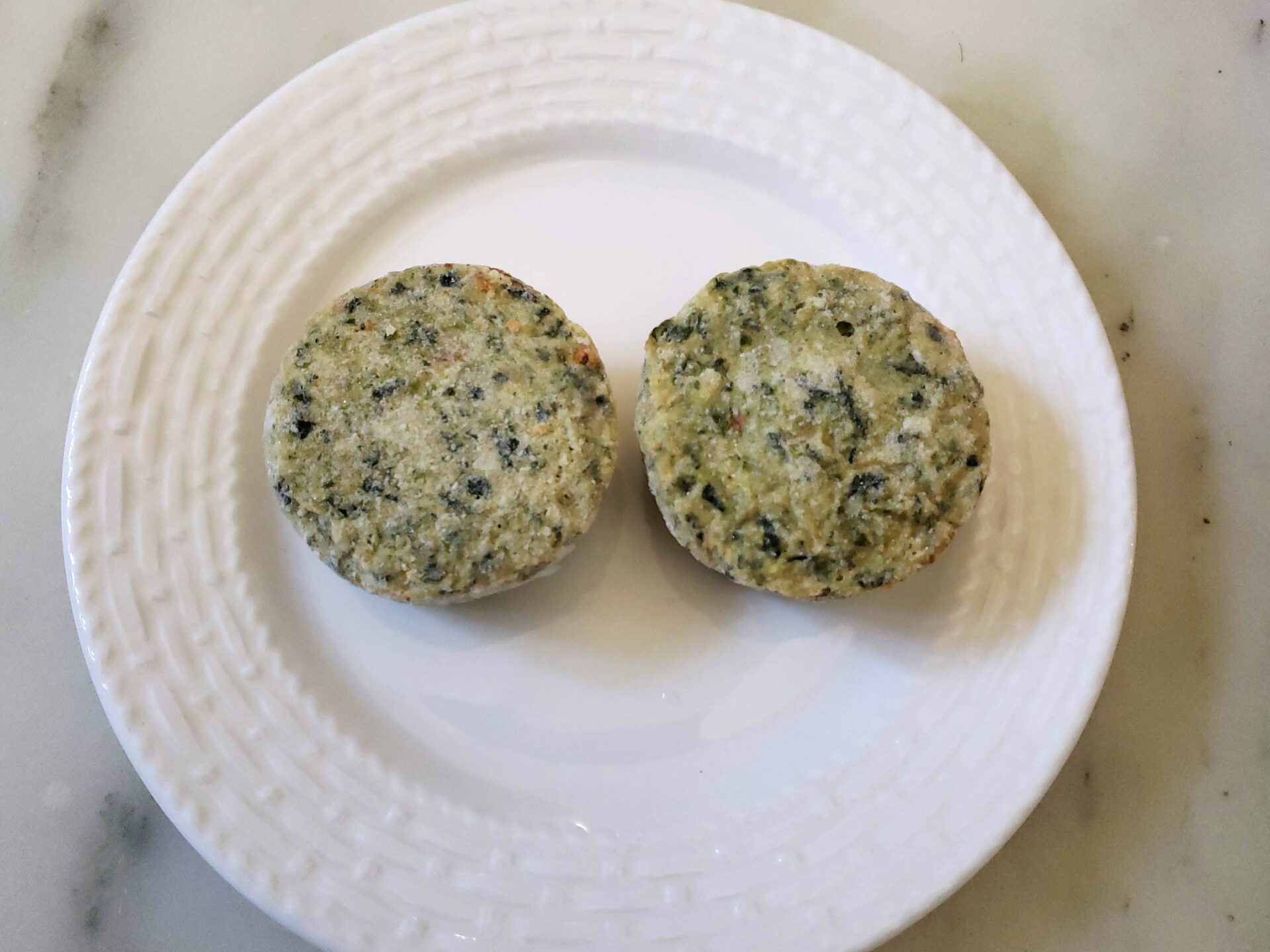 In addition, the Costco frittatas have a solid amount of fat and protein, which helps keep the body full longer. Each frittata may not have the most calories, but it will keep you more full than something that is pure carbs like a bagel or a muffin.
How Much Do Costco Frittatas Cost?
Costco sells this 20-pack (40 ounces) of egg white frittatas for $13.99. Each 2-ounce frittata costs $0.70.
Costco's egg bites are 4 ounces each and sell for $2.25. This is about 50% more expensive per ounce than Veggies Made Great Frittatas. 
The more economical option will be the egg white frittatas.
Costco vs. the Competition
Walmart sells a smaller 6-count package of Veggies Made Great Egg White Frittatas for $6.94 or $1.15 each. This is $0.45 or 64% more expensive than the Costco Egg White Frittatas. 

HEB, an amazing local grocery store in Texas, sells the same 6-pack of Egg White Frittatas for $6.16. This is a per frittata price of $1.02 and is about 45% more expensive than Costco's price. 

Once again, Costco comes out ahead in price, and it isn't even close. Other retailers will charge about 50% more for the same item.
Egg White Frittata - Taste Test
There are a few cooking options with these Costco frittatas, but my favorite method is to cook them in the air fryer. It does take a little longer, at 14 minutes, but the frittata egg bites came out with a nice crust. The microwave option at 45 seconds is also very suitable.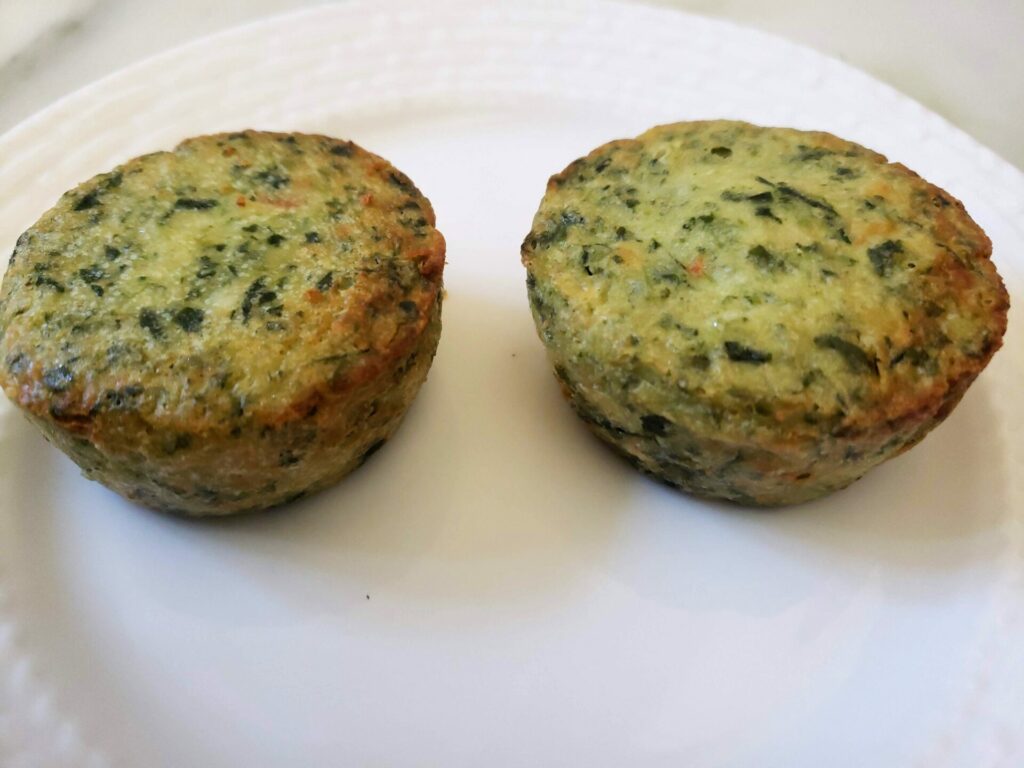 One of the first things I noticed about the frittatas was how different in color they looked compared to the packaging. 
The package shows a predominantly yellow (egg) frittata with pieces of spinach and tomato, but my actual frittatas were very green (spinach) and had only one or two tomato pieces.
For taste, the egg white frittatas are fantastic. They aren't super amazingly delicious, but they do have the right ratio of egg, vegetables, and cheese.
My one complaint with the Costco egg bites was how it was overrun with cream/cheese.
These frittatas are much more balanced, and you can clearly and distinctly taste each ingredient. 
Yes, the frittatas aren't as flavorful as the egg bites, but I would say tasting the individual components is much more enjoyable. 
There are plenty of vegetables in the frittatas, which is very nice. The flavors blend together very well, and everything is seasoned appropriately. Egg whites and vegetables don't really bring a lot of flavor, but the salt and garlic seasonings do a great job of livening up the frittatas. 
Overall, these little egg white frittatas are great. They are small but flavorful and filling. This is a great breakfast option that will give you a morning boost.
How to Cook Costco's Frittatas
These Costco egg white frittatas are super easy to cook, and Veggies Made Great offers 3 different cooking options.
The quickest will be the microwave at 45 seconds, but if you have a little extra time in the morning and want to avoid the microwave, you can cook them in the air fryer (14 minutes) or in the oven (18 minutes).
Heat the bag on high for approximately 45 seconds.

Caution: Bag will be hot!
Oven/Toaster Oven (Veggies Made Great Recommended)
Preheat oven to 350°F. Remove frittata(s) from all packaging. Place Costco frittata(s) on a baking sheet and heat for approximately 18 minutes.
Air Fryer (Costco Food Database Recommended)
Remove frittata(s) from all packaging. Place egg white frittata(s) in the air fryer at 300°F and heat for approximately 14-16 minutes.
There is nothing revolutionary about this box of Costco frittatas. They are convenient but also quite simple to make on your own. 
Making your own is an excellent option if you have a little bit of time on the weekend and want to customize the egg cups to your liking. Here is a great starter recipe to build off of.
Costco Frittata Calorie and Nutritional Information
How Many Calories in Costco's Egg White Frittatas
One serving of these Veggies Made Great frittatas will be one frittata and will contain 70 calories. The 70 calories will come from 4 grams of fat, 5 grams of carbs, and 5 grams of protein.
This is an excellent nutritional profile and a great way to start the day. The 70 calories are on the low end, but this is great because you can pick out as many frittatas as needed to meet your caloric demands. 
The 5 grams of total carbs are actually only 4 grams of net carbs (1 gram of fiber). The 4 grams of fat and 5 grams of protein will help keep you full longer. 
For those doing Weight Watchers, these egg white frittatas are worth 2 smart points each.