The Ultimate Guide to Costco Coffee + Prices
Does anything beat a nice hot cup of coffee in the morning? The only thing that may come close is an iced cold coffee in the afternoon or an after dinner coffee to close out the night. 
But, no matter when you enjoy your coffee, Costco has you covered with its wide selection of top brands and incredible value. With everything from whole bean coffee, ground coffee, instant coffee or K-Cups, Costco has it all.
Costco Coffee Brands and Selection
Costco Carries Big Brands, Local Brands, and Of Course Kirkland Signature Coffee
At Costco, you'll find an impressive lineup of popular coffee brands that are synonymous with quality and flavor. From Starbucks to Peet's Coffee and Dunkin' Donuts, these well-known names offer a consistent and familiar taste at an incredible value.
In addition to the big brands, Costco will of course, carry its own private label brand, Kirkland Signature. Kirkland Signature Coffee offers a variety of roasts and flavor options, satisfying a range of preferences, and provides a balance of quality and affordability.
Costco often features regional brands for those seeking specialty and local coffee options. These specialty regional brands showcase the unique flavors and roasts that highlight local coffee cultures. It's a fantastic opportunity to explore and support local coffee artisans in your area. 
Expect Each Costco Bag Of Coffee To Weigh at Least 2 Pounds
Costco is famous for its bulk offerings, and its coffee is no exception. At Costco, you can find large bags of whole coffee beans or ground coffee, perfect for those with a large household or who just consume coffee regularly. 
These jumbo-sized Costco coffee bean packages allow you to easily stock up and ensure that you won't be left one morning without your beloved brew.
Costco Coffee Prices Are Hard To Beat
While Costco may not always have the lowest prices across the board, when it comes to purchasing coffee beans in bulk, their prices are truly unbeatable. 
Costco's coffee offers exceptional value, and I can confidently say that I'm getting a great deal without even needing to compare prices at local grocery stores.
Costco Coffee Inventory Varies By Location
My Local Costco Will Have Different Coffee Inventory Than Your Costco
It's important to note that Costco's coffee inventory can vary by location. While most warehouses carry the big coffee brands as well as the Kirkland Signature brand, they will also usually carry some regional coffee options. 
This adds some exciting variety to the mix and allows you to support your local coffee producers. Even if you do pledge allegiance to one of the big coffee brands, it's worth giving your regional coffee option a try. You never know; you may just find your new favorite cup of joe.
The Ultimate Costco Coffee Guide
The Focus of This Coffee Guide is Big Brand Names and Kirkland Signature
There's so much that can be written about Costco's coffee, but in order to keep the article at a reasonable length, I will be focusing on the Kirkland Signature coffee options and the major name brands that are available nationwide. Unfortunately, this means I won't be covering some of the regional coffee favorites.
The article will be broken up by type of coffee (Instant, Ground Coffee, Whole Beans, and K-Cups) and will include the price and description of each of the Costco coffee offerings.
Costco Coffee Pricing and cost Information
The Pricing In This Coffee Guide Will Be Close But Not 100% Accurate
I am providing the pricing of the Costco Coffee selection for informational purposes only.  The coffee pricing is accurate for my local Costco warehouse only; the Costco coffee at your warehouse may vary in price. 
Please just use this information as a basis or reference and double-check with your local Costco for the most up-to-date pricing. Costco Food Database does not sell coffee; please purchase the coffee beans directly from your local Costco.  
Costco Instant Coffee Inventory And Pricing
Do not expect an extensive variety of instant coffee at Costco. In fact, most Costco locations typically just stock two brands – Nescafe and Folgers. While they only have two options, they do carry some of the biggest names in coffee.
Keeping a jar of instant coffee in the pantry for easy preparation of coffee when time or equipment is lacking isn't the worst idea.
Folgers Instant Coffee - $10.69
Folgers Classic Roast Instant Coffee crystals let you get that familiar Folgers flavor without the brewing. This instant medium roast is perfect for drinking on-the-go or when camping/hiking – just add hot water! A 16-ounce jar makes around 240 six-ounce cups and sells at Costco for just $10.69.
Nescafe Taster's Choice - $16.49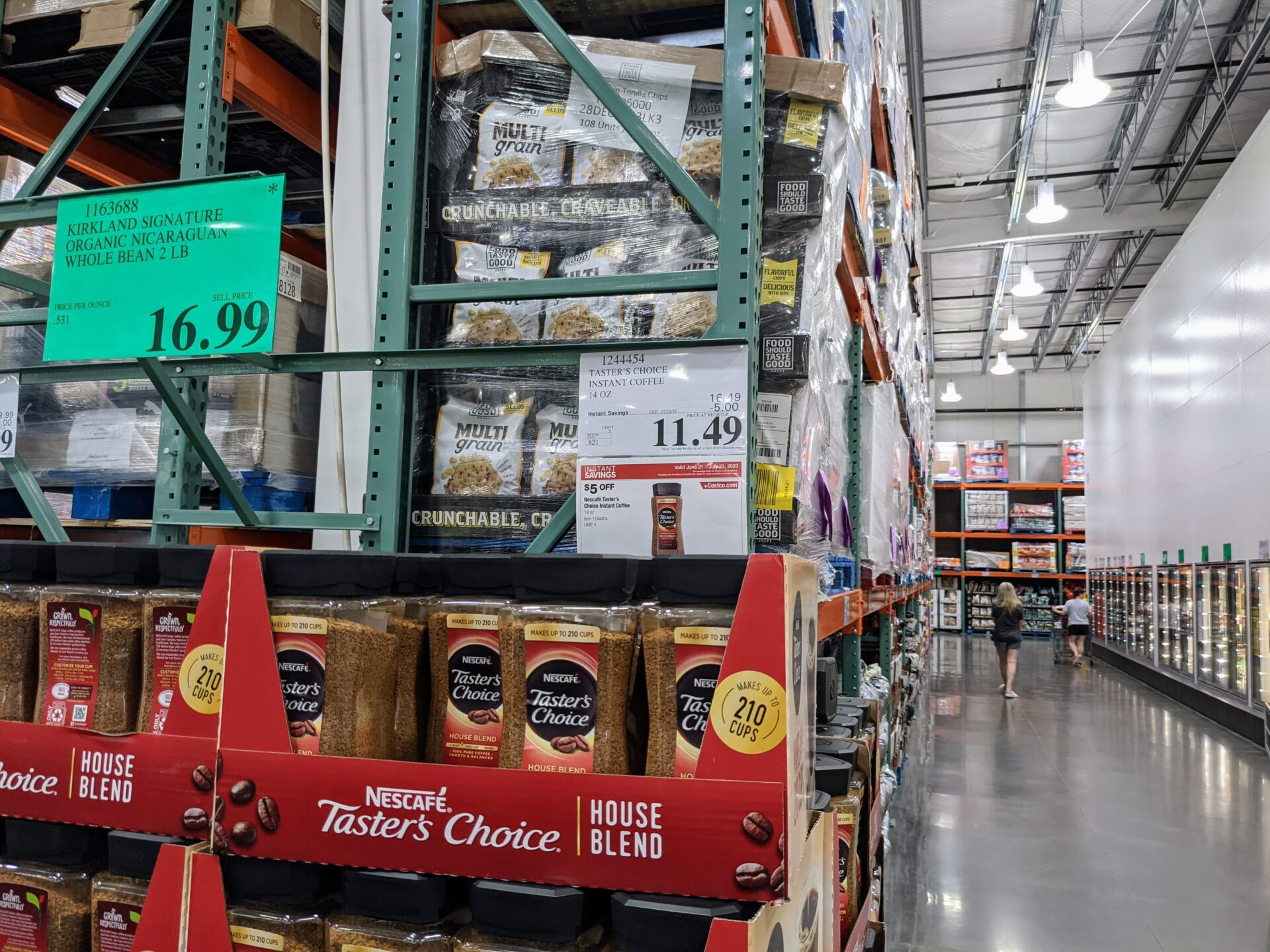 Nescafe Taster's Choice is a light-medium roast instant made from responsibly sourced 100% pure coffee beans. This popular instant coffee comes in a 14-ounce jar containing enough to make around 120 servings and costs $16.49 at Costco. 
If you keep an eye out, you'll see Costco discount the instant coffee to $11.49 instead of the full price of $16.49. Can beat a 30% discount! 
Costco Ground Coffee Options and Pricing
When it comes to ground coffee, Costco carries a handful of options, including major brands like Folgers and Dunkin, plus their own Kirkland Signature line. The ground coffee options vary in roast and flavor and are available in manageable bulk sizes. (At least for a caffeine fiend like me) 
And, of course, the value is top-notch. If you aren't one to grind your own beans, Costco's instant coffee is the way to go.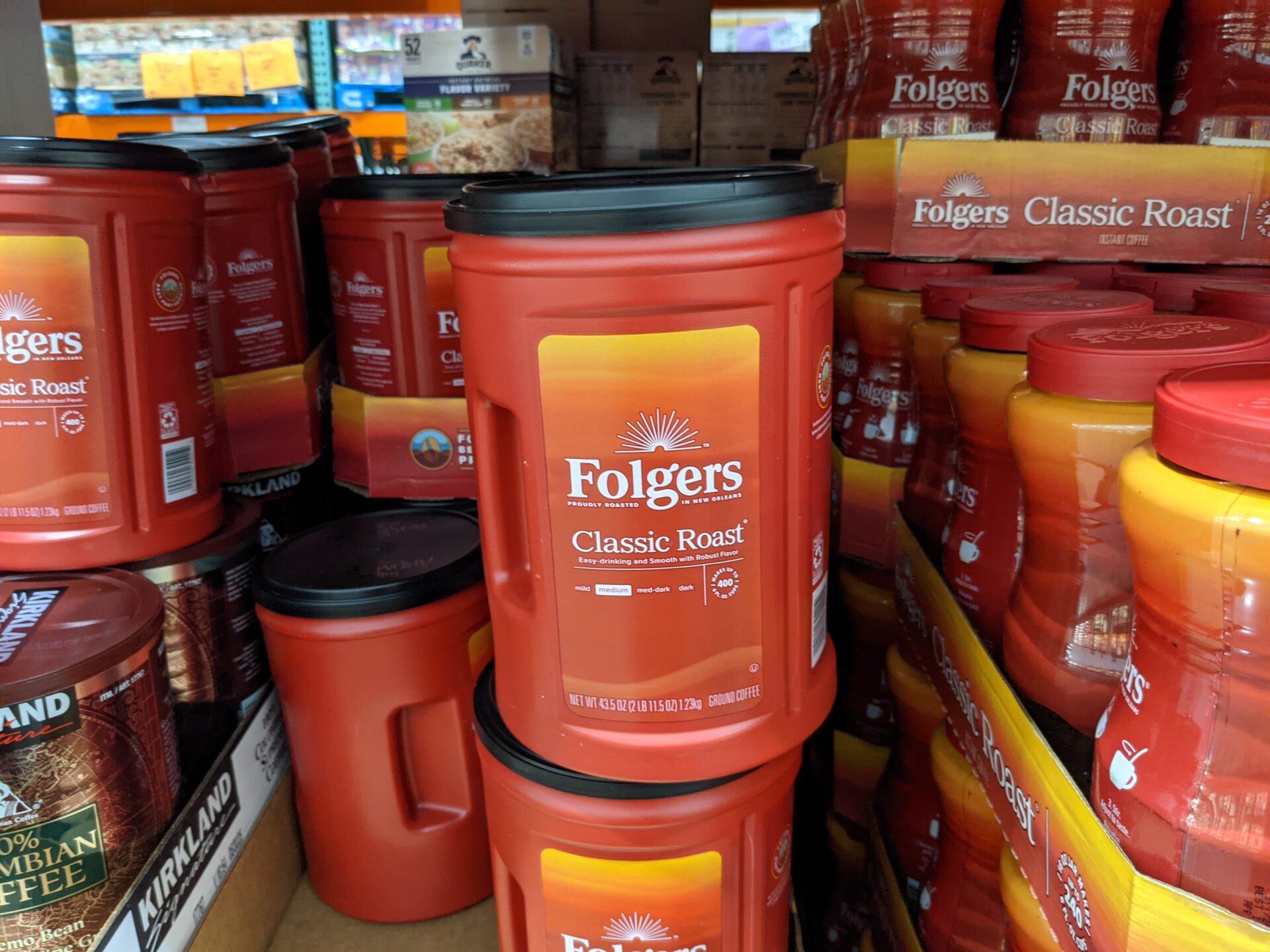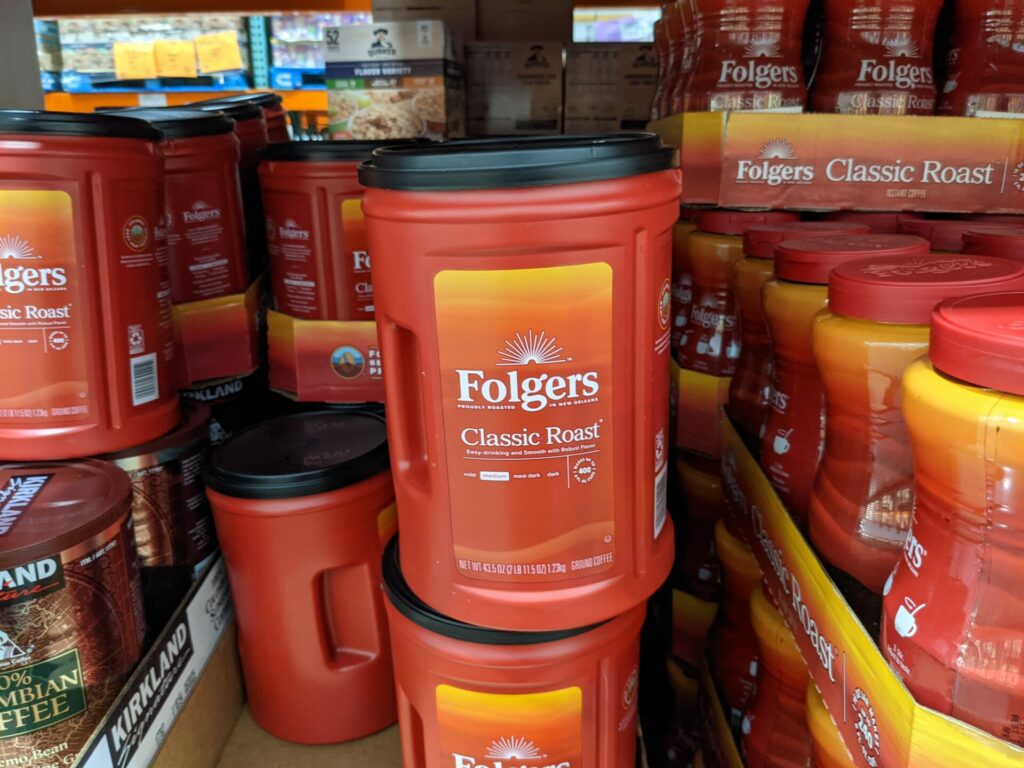 Amazing Value For Ground Coffee
Folgers is an all-time classic coffee brand, even if it's not as popular as it used to be. The 51 ounce tub of classic medium roast coffee stays fresh thanks to Folger's unique flavor-locking seal. The large size is great for Folgers fans who enjoy the nostalgic cups of diner-style coffee and want to buy in bulk.
You can buy Folger's classic roast in a 51 ounce tub at Costco for $11.99.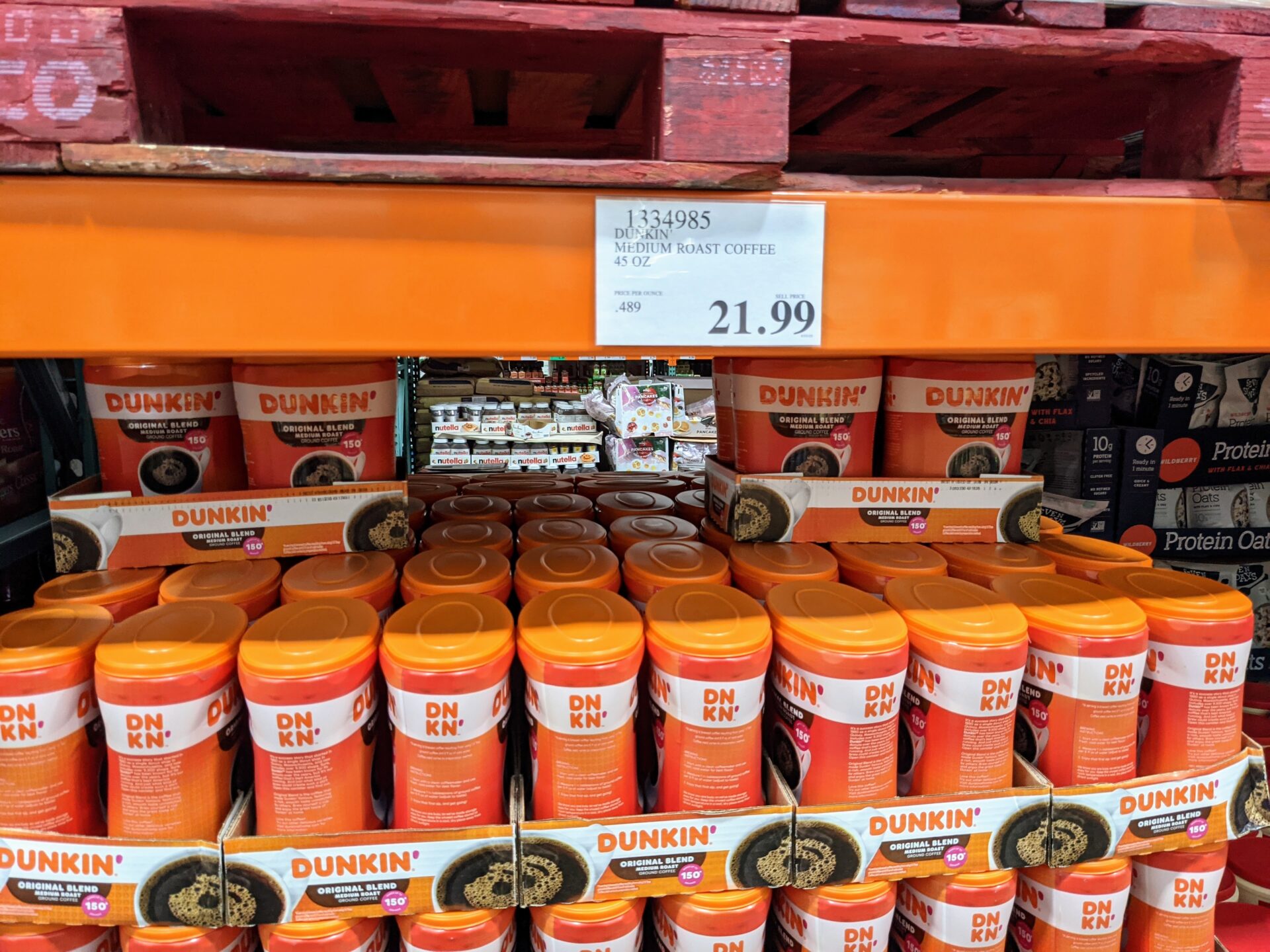 The Classic Dunkin' Flavor
For the folks who run on Dunkin', Costco's got you covered with jumbo tubs of Dunkin' coffee. You'll get their signature smooth, aromatic blend in pre-ground 45 oz bags making 150+ cups of goodness. Brew the iconic Dunkin' taste at home for only 22 bucks. 

Perfect for those who want to enjoy Dunkin' Donuts Coffee flavor from home.
Kirkland Signature Ground Coffee Medium Roast - $13.99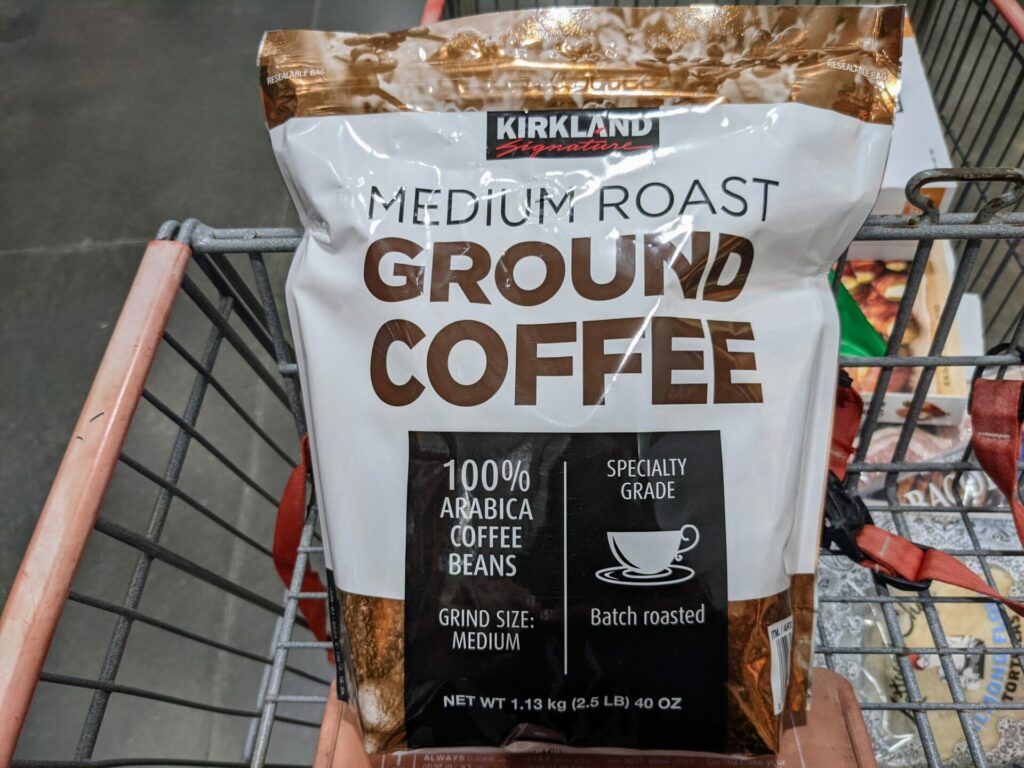 Kirkland's medium roast ground coffee gives you 2.5 pounds of mild, smooth Arabica for under $14. It's custom batch roasted to bring quality flavor for office or home. A solid, affordable choice from Costco's signature brand.
Costco keeps it simple with this drinkable go-to medium roast perfectly suited for everyday enjoyment.
Kirkland Signature 100% Colombian Coffee & Decaf Version - $13.99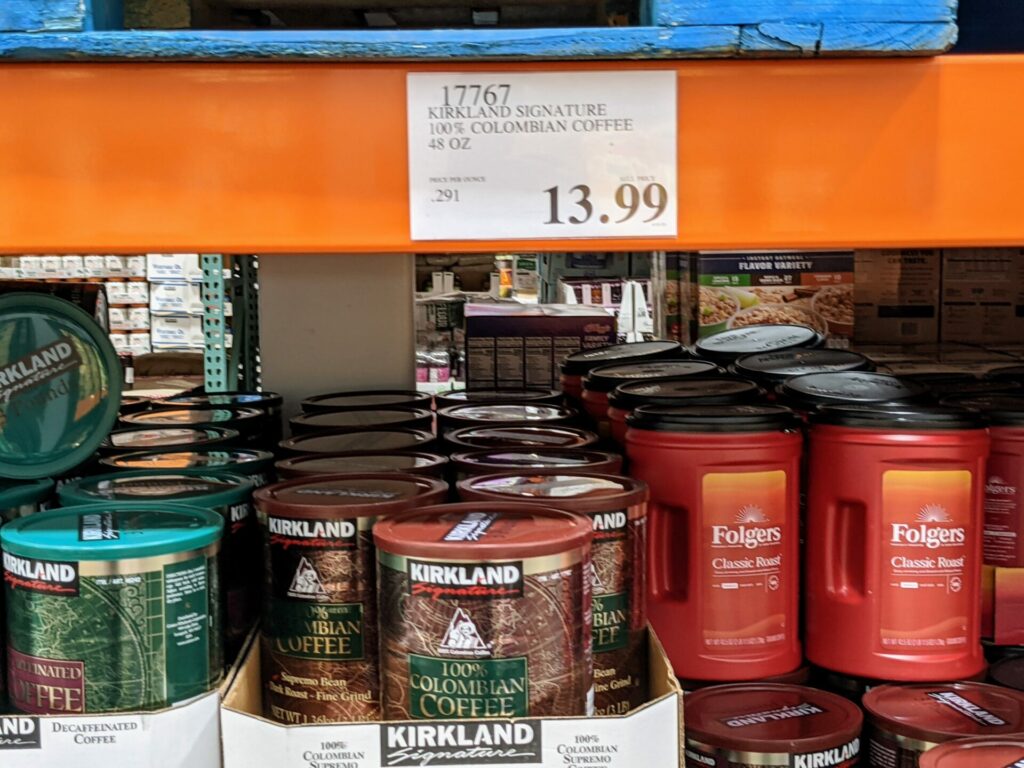 Premium Pre-Ground Colombian Coffee
Priced at $13.99, The 3-pound container Kirkland Signature 100% Colombian Coffee is quite the steal. Packaged in a sturdy tin can, Costco's ground Colombian coffee is bold, full of flavor, and packs quite the punch. An excellent alternative to Costco's ground medium-roast coffee.
The decaf version of this Costco coffee is also available for the same price of $13.99
Costco Whole Bean Coffee Inventory and Pricing
For at-home coffee drinkers, Costco offers an impressive selection of premium whole-bean coffees at budget-friendly Costco prices. My Costco location has over 15 different whole coffee bean options! 
You'll find popular dark roasts like Starbucks French Roast and Peet's Major Dickason's Blend in multi-pound bags for less than $20. The Kirkland Signature brand will have single-origin Ethiopian Imported beans, espresso roasts, 100% Colombian beans, and much more. Whether you prefer a light, medium, or dark roast, nutty or chocolatey notes, Costco will have a premium coffee that fits your taste.
Kirkland Signature Organic Ethiopia - $17.99
Light Roast Ethiopian Coffe
This USDA organic light roast highlights Ethiopia's incredible coffee pedigree. The beans from the Jimma region offer a bright, clean cup with refreshing citrus and floral notes for an invigorating morning jolt. 
At just $18 for 2 pounds, Kirkland Signature's Ethiopian is an affordable way to experience the complex flavors that make Ethiopian coffee so unique. 
Kirkland Signature Organic Sumatra - $17.99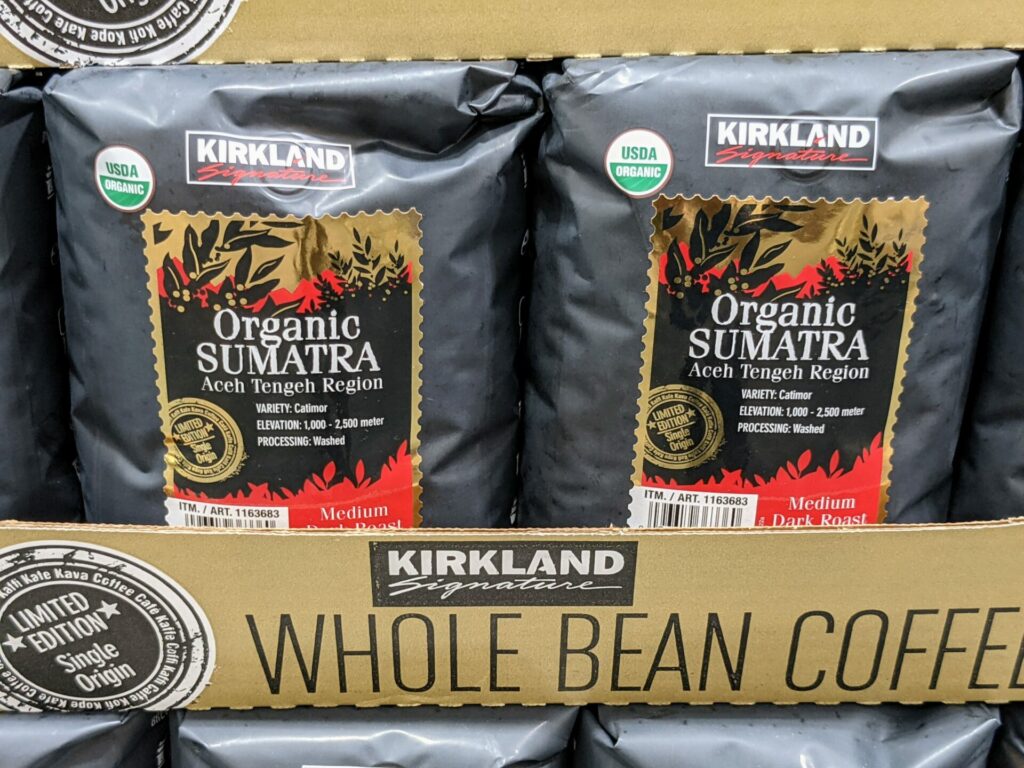 Grown By A 345 Farmer Co-Op
Costco's Kirkland Signature Organic Sumatra comes from a 345 farmer four village co-op in the Takengon region of Aceh, Indonesia. The Sumatra coffee yields a  deep, intense, and full-bodied flavor that is balanced with low acidity and smoothness.
The result is a remarkable cup of Costco coffee that showcases the finest flavors of Sumatra. Each 2-pound bag of Kirkland Signature Sumatra coffee sells for $17.99.
Kirkland Signature Organic Nicaragua - $16.99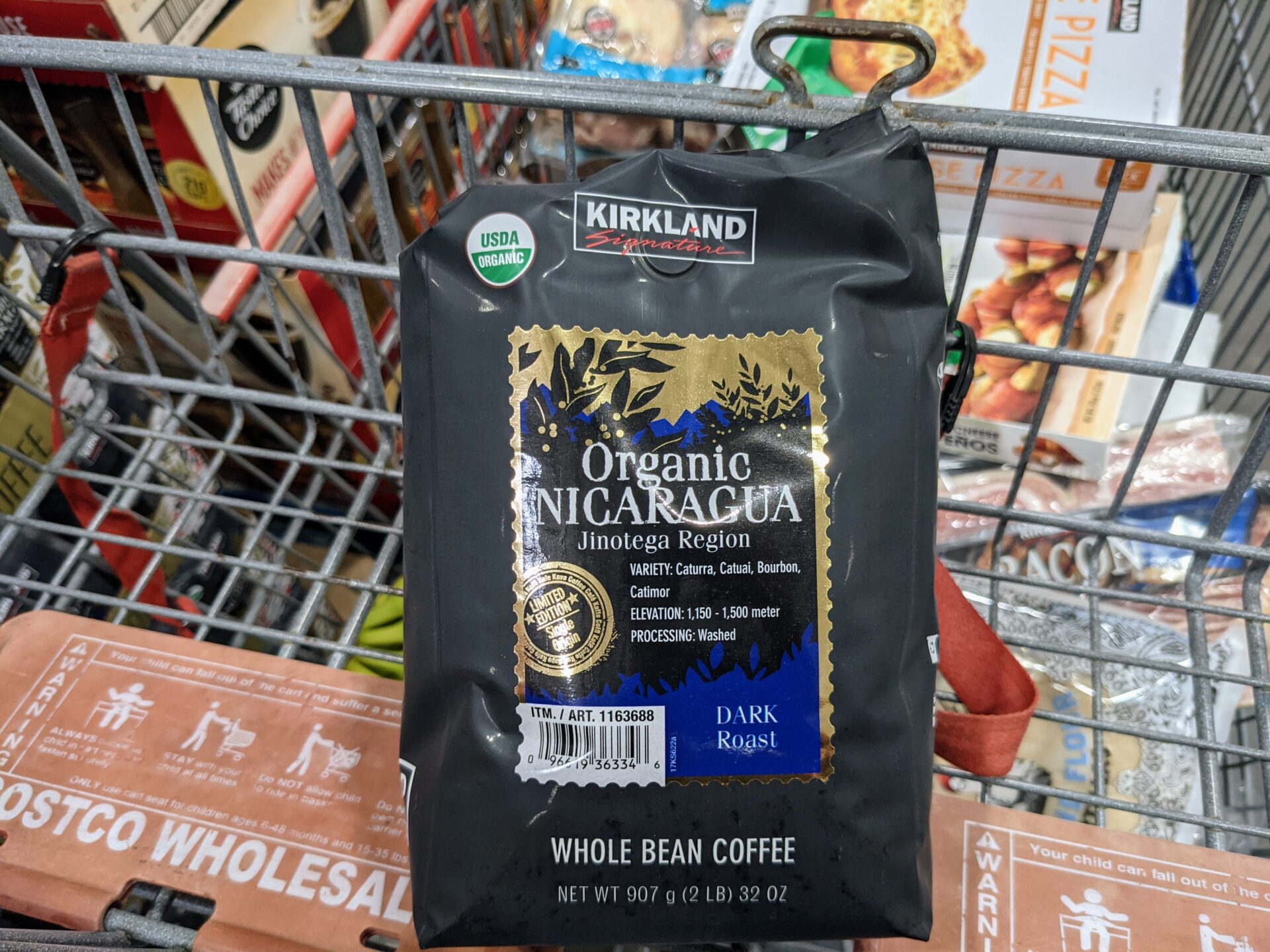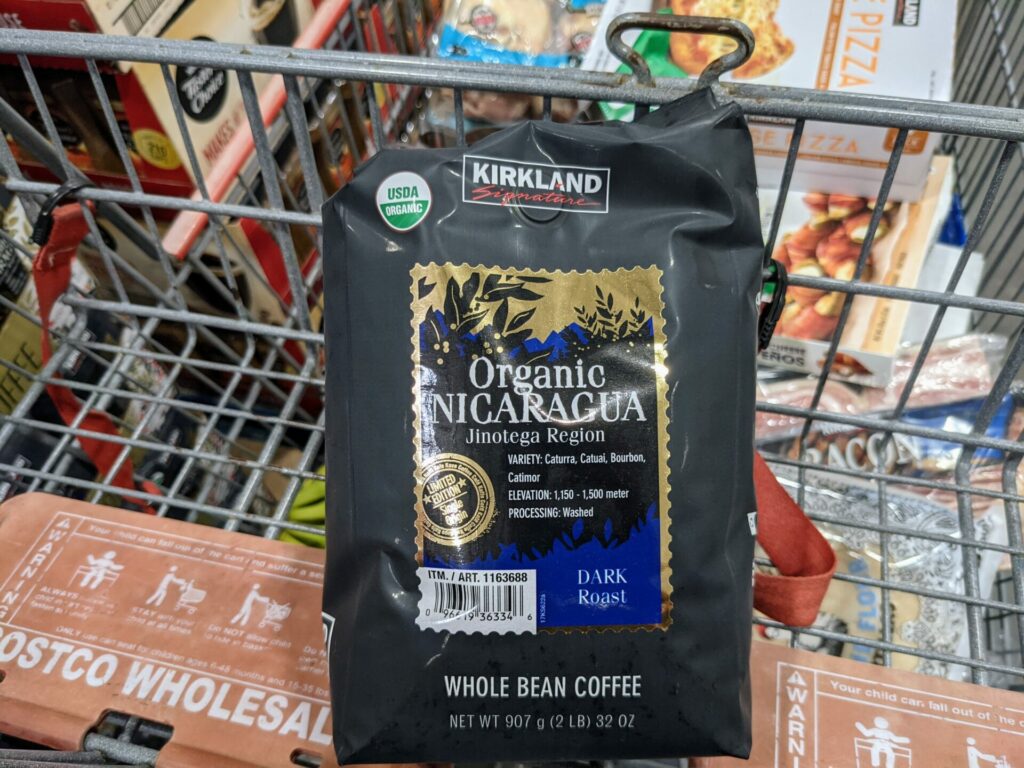 Unique Coffee Beans From Nicaragua
Costco's Organic Nicaraguan Coffee hails from the Jinotega region and is known for its distinct flavor profile. The coffee has a full body feel with medium acidity and a delicate sweetness.
This dark roast coffee is extremely versatile and can be enjoyed by a wide range of coffee enthusiasts. The 2-pound bag of Kirkland Signature Organic Nicaraguan sells for $16.99.
Starbucks French Roast at Costco - $19.99
The Most Popular Coffee Beans At Costco
Starbucks dark roast beans are the go-to option for folks who like strong, bold coffee. Roasting the beans long and slow amps up those natural oils, giving the beans a slick, shiny look. The Dark roast also boosts the robustness of the flavor with hint of bitterness and smoke. An intense cup of joe not for the faint of heart!
You can grab a 2.5 pound bag of Starbucks French Roast at Costco for $20. But keep an eye out for sales dropping it to $15 or under – that's when you stock up! Based on what I've seen from other member's shopping carts, this Starbucks dark roast seems to be one of, if not the most popular whole bean pickup at the warehouse.
Peet's Coffee Major Dickason's Blend at Costco - $16.99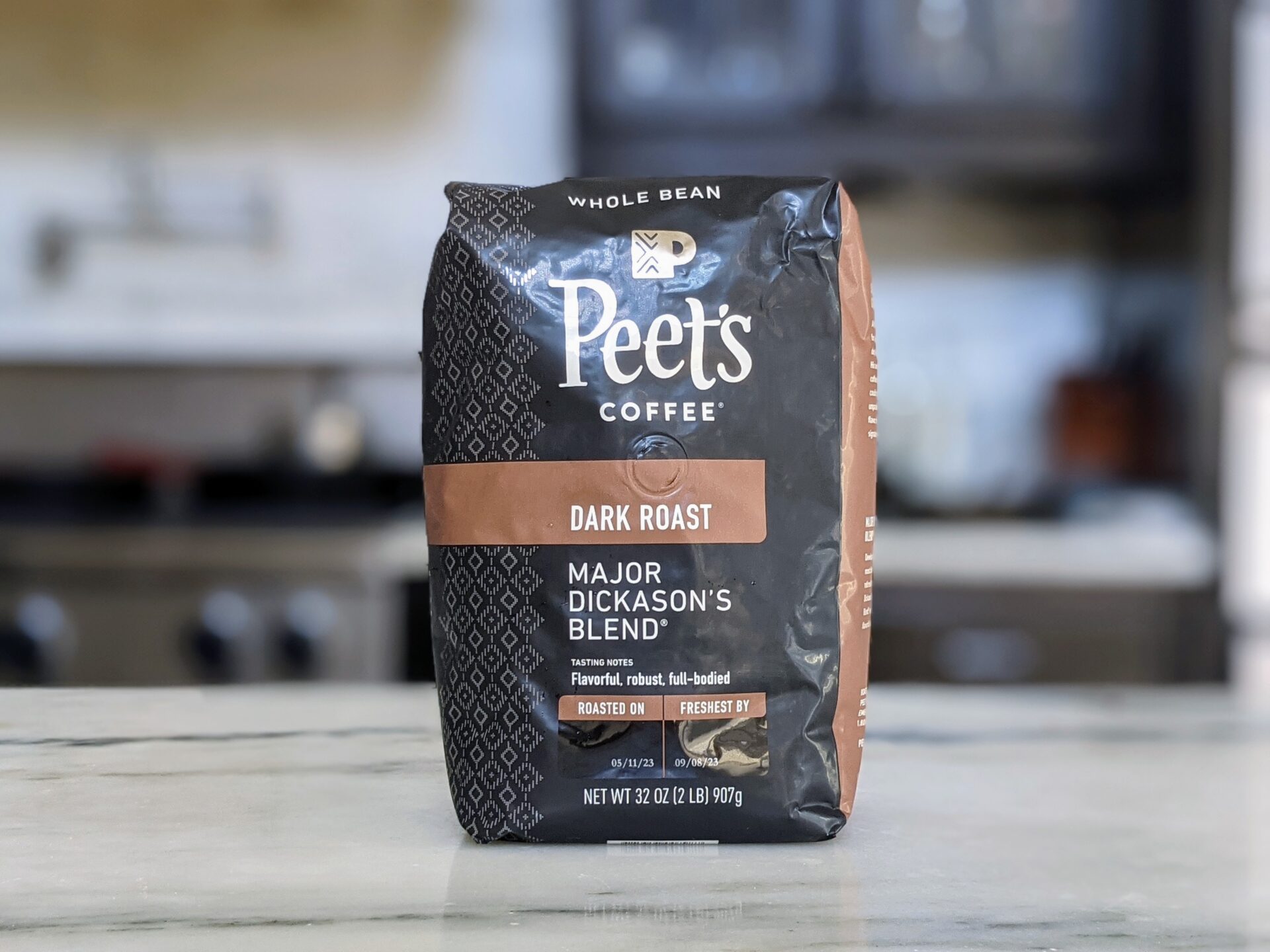 The Best Tasting Whole Coffee Beans At Costco
Another Costco fan favorite, Peet's Coffee Major Dickason's Blend, is a beloved and iconic dark roast coffee that delivers a rich and flavorful cup of coffee. With a full bodied profile and notes of smoky sweetness, the Major Dickason's Blend provides a balance of boldness and smoothness.
Costco's 2-pound bag of Major Dickason's Blend sells for $16.99. Many consider Major Dickason's Blend to be the best tasting coffee bean option at Costco.
Kirkland Signature Starbucks House Blend - $15.99
Combines Starbucks Flavor and Costco Value
The Kirkland Signature House Blend brings together the best of both worlds in a joint collaboration between Starbucks and Costco. Combining the tasty Starbucks flavor at Costco prices is a hard combination to beat.
The medium roast coffee offers a balanced flavor profile with subtle hints of cocoa and nuts. The 2.5-pound bag of Kirkland Signature House blend retails for just $15.99.
Kirkland Signature Whole Bean Coffee French Roast - $11.99
Exceptionally Value at $11.99 Per Bag
An alternative to Starbucks' version, The Kirkland Signature French Roast Coffee delivers an intense experience full of bold flavors for those who enjoy a robust morning coffee. The whole bean Arabica Coffee is roasted to perfection bringing out notes of smoky dark chocolate. 
At only $11.99 for a 2.5 pound bag, the Kirkland Signature French Roast Coffee Beans provide the best coffee value in the entire Costco warehouse. 
Kirkland Signature Whole Bean Blend - $16.99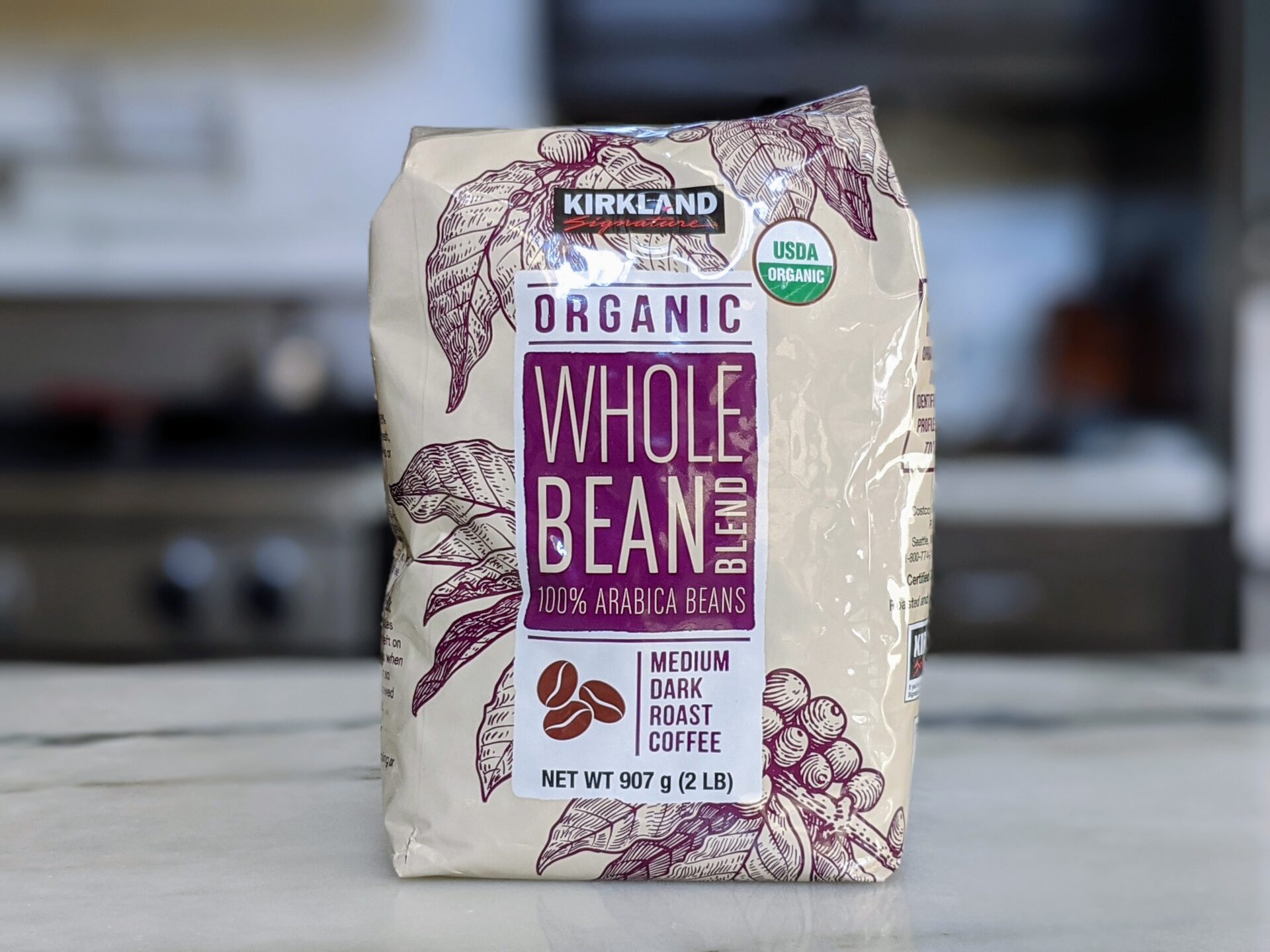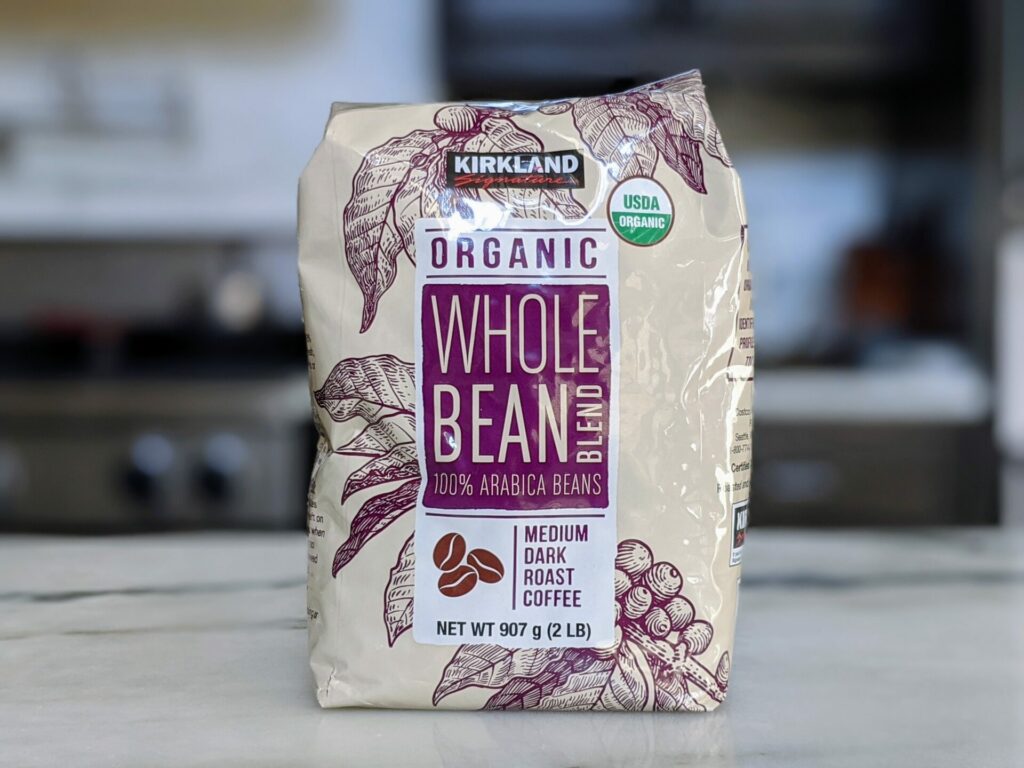 Great All Around Costco Coffee Option
The Kirkland Signature Whole Bean Blend is a flavorful, versatile, and affordable Costco coffee option for home brewing. The Costco Coffee Whole Bean Blend has been batch roasted and comes from 100% Arabica beans to create a specific flavor profile that Costco's buyers want to share with you. 
A 2-pound bag of the Kirkland Signature Organic Whole Bean Blend costs $16.99.
Kirkland Signature Espresso Blend -$15.99
Strong and Bold Espresso Flavors
Craving strong espresso for a morning pick-me-up? Costco's Kirkland brand beans are roasted dark and long for a powerful, robust espresso flavor. The intense taste and full body create a rejuvenating and authentic espresso experience.
The Costco espresso beans sell for $15.99, making them an affordable option for a quality DIY home espresso.
Kirkland Signature Whole Coffee Colombian - $17.49
Colombian Coffee At It's Finest
Costco's Kirkland Signature Whole Bean Colombian Coffee captures the essence of Colombia's world-renowned coffee-growing regions. The 100% Arabica beans are carefully selected and perfectly roasted to showcase the rich, well-balanced flavor that Colombian beans are known for. This Kirkland Signature Colombian Coffee is for those who are seeking a premium and flavorful coffee experience.
The Kirkland Signature Whole Bean Colombian Costco Coffee retails for $17.49 and is also my pick for best tasting Costco coffee.
Costco K-Pods Inventory and Pricing
Costco carries plenty of whole-bean options for traditional brewing and coffee machines, but they most certainly haven't forgotten about the Keurig owners. From Donut Shop Coffee, Starbucks blends, and Newman's Own organic, Costco carries all the big K-pod names along with their ever popular Kirkland Signature brand. 
Most boxes of Costco's K-Pods or K-Cups will range in size from 72 pods all the way up to 120 pods.
The Original Donut Shop - $44.89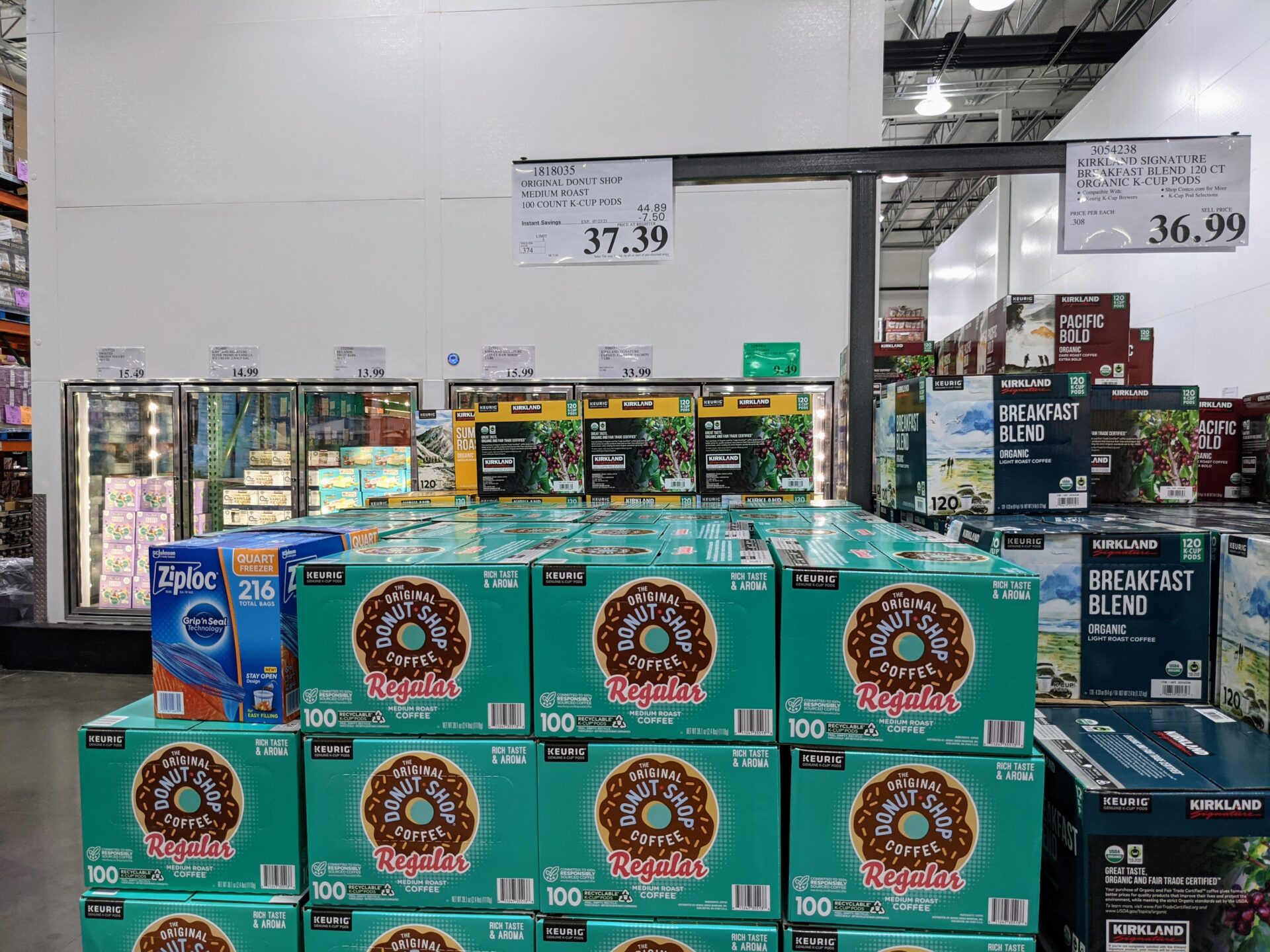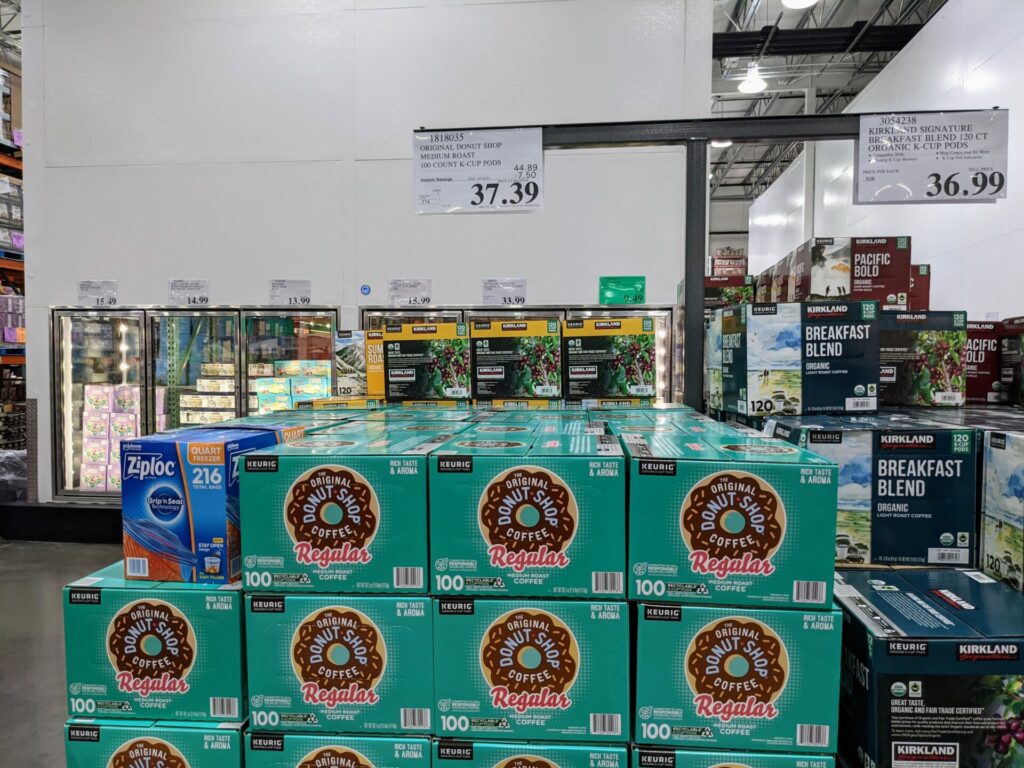 Keurig's Own Original Donut Coffee Rivals Dunkin'
Owned by Keurig, The Original Donut Shop, is also available at Costco. A 100-count box of Medium Roast Donut Shop Coffee Costs $44.89. 
The medium roast coffee is full-bodied, flavorful and, as Keurig puts it, a cup full of happiness. 
Starbucks French Roast - $39.89
Starbucks' Dark Roast For Keurig Owners
Just because you have a Keurig coffee maker doesn't mean you are out of luck when it comes to Starbucks' French Roast. The bold smoky flavors of the famous French Roast are available in K-Cup form. Costco sells a 72 Pack for $39.89 or $0.55 per pod.
Starbucks Pike Place Roast - $39.99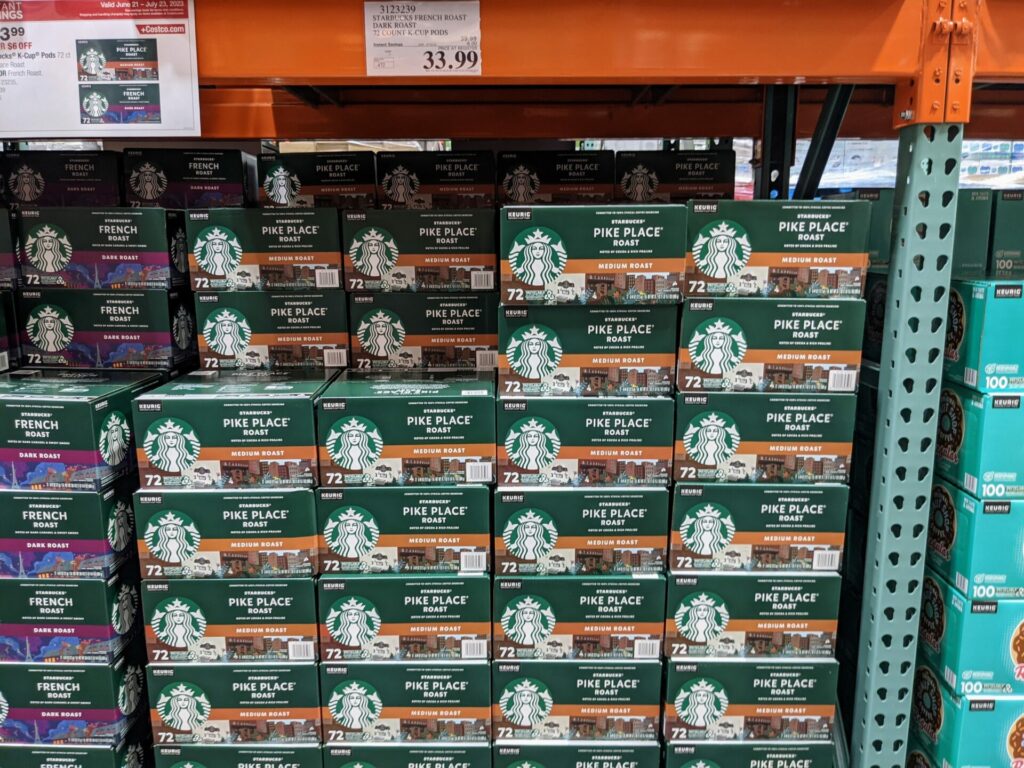 The Starbucks Classic Flavor
The Keurig owners are going to have more coffee pod flavor options when it comes to Starbucks brand coffee at Costco. Unavailable in whole bean or ground form, the Pike Place Roast is Starbucks' signature blend. This roast embodies the brand's essence by delivering a smooth and balanced flavor profile. 
A box of 72 K-pods of Starbucks Pike Place Roast sells for $39.99 at Costco.
Peet's Coffee Major Dickason's Blend - $39.99
Just like Starbucks French Roast, Peet's Coffee Major Dickason's Blend is also available in K pod form at Costco. A 75-count box of 100% Arabica Coffee sells for $39.99 or $0.53 per cup at Costco. Not a bad deal for a cup of joe that perfectly balances the smoky and sweet.
Newman's Own Organics Coffee Special Blend - 44.49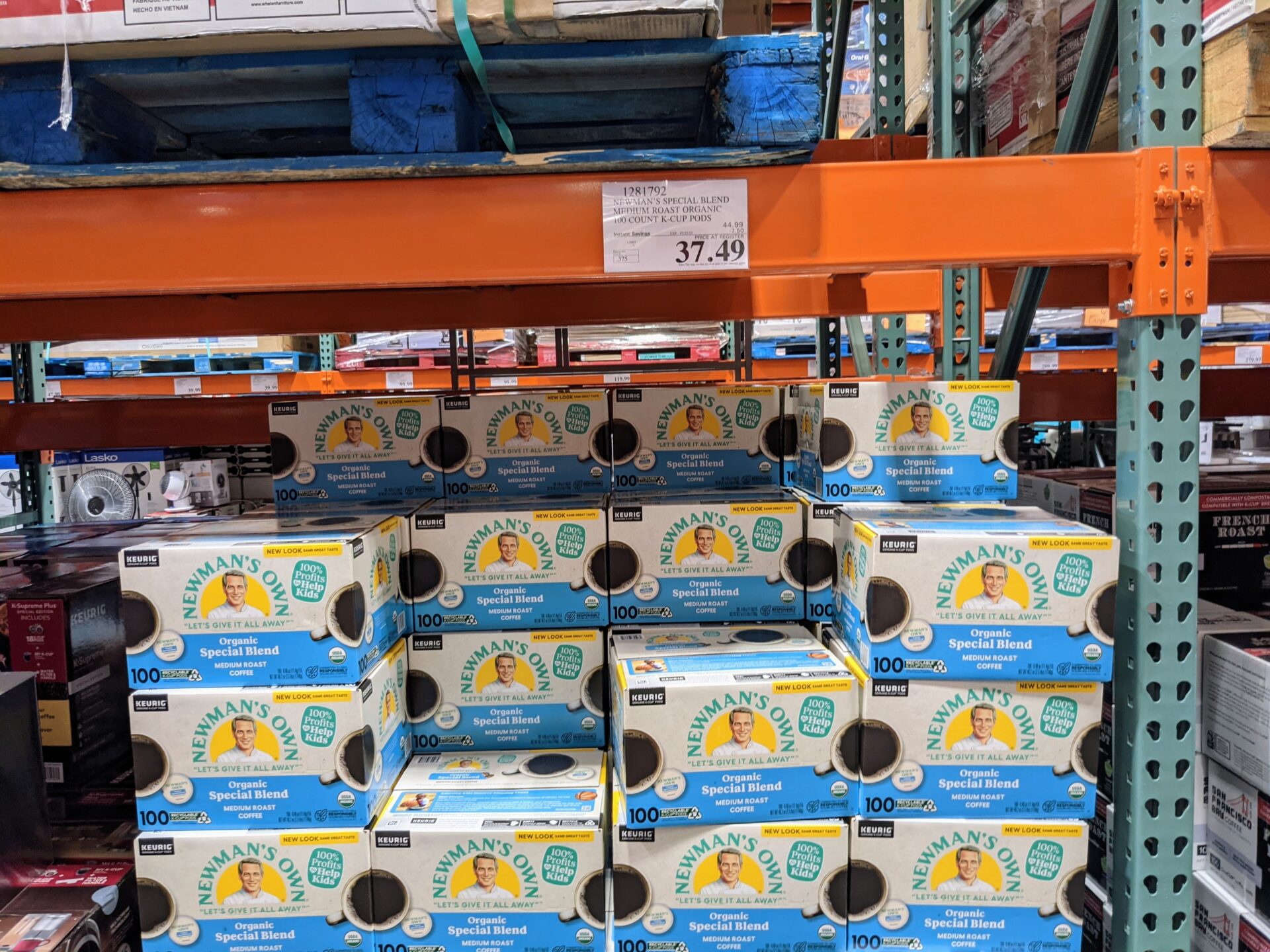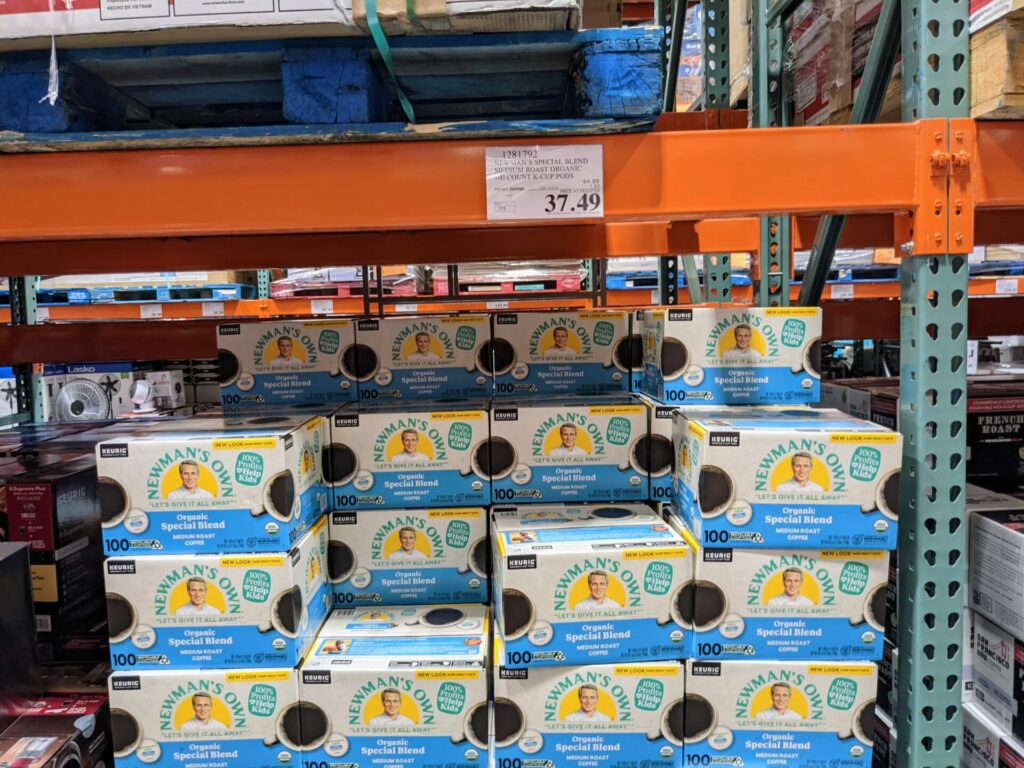 Great Coffee And Great Causes
Newman's Own Special Coffee Blend is a medium roast crafted from high-quality organic coffee beans that are sourced from sustainable farms. The Newman's Own K Cups deliver a chocolatey caramel flavor that is sure to delight. 
A 100-count box at Costco sells for $44.49 or $0.45 per K Pod. And Remember, Newman's Own donates 100% of after-tax profits to charity. Can't complain about that!
Kirkland Signature Breakfast Blend - $36.99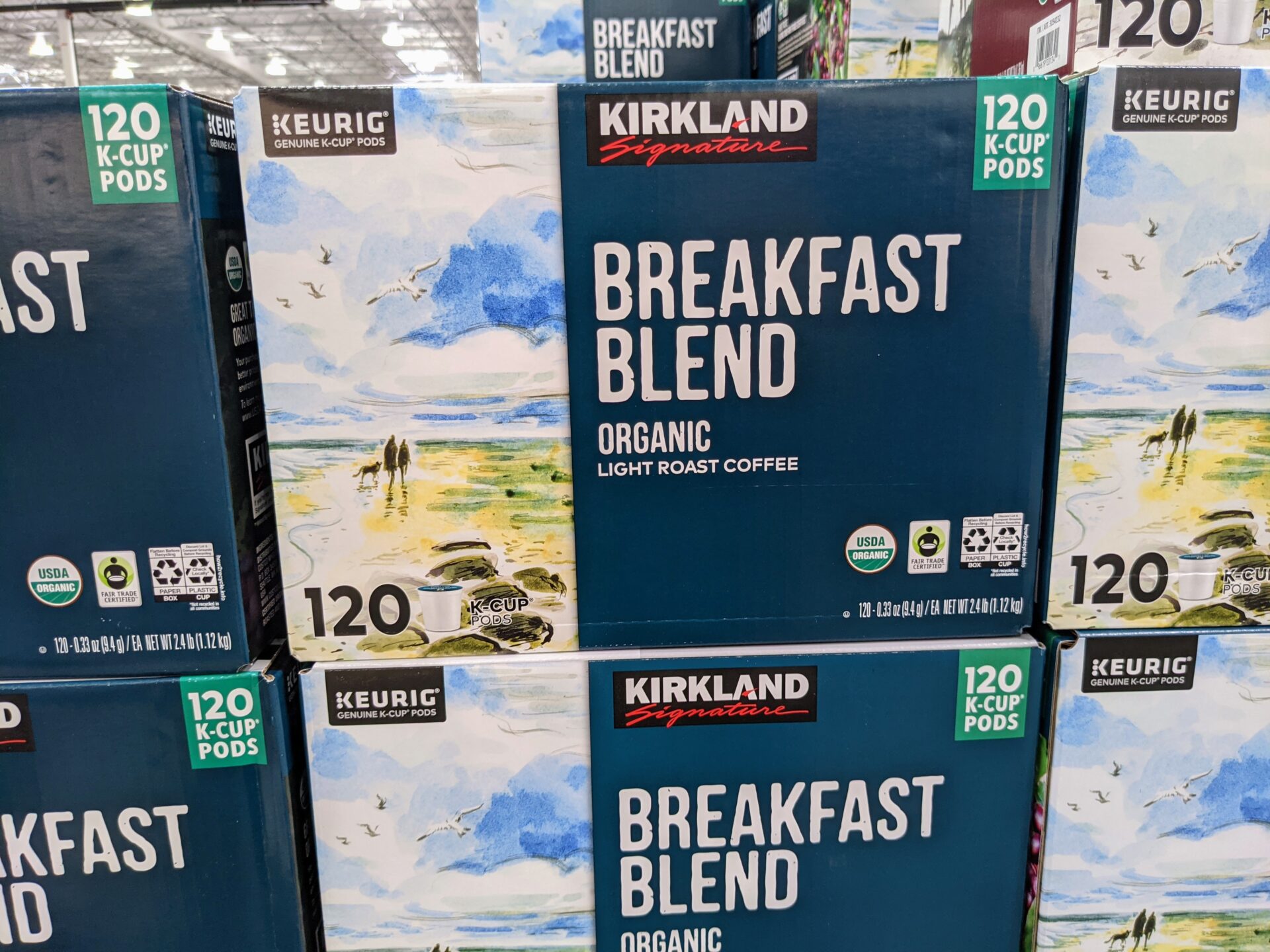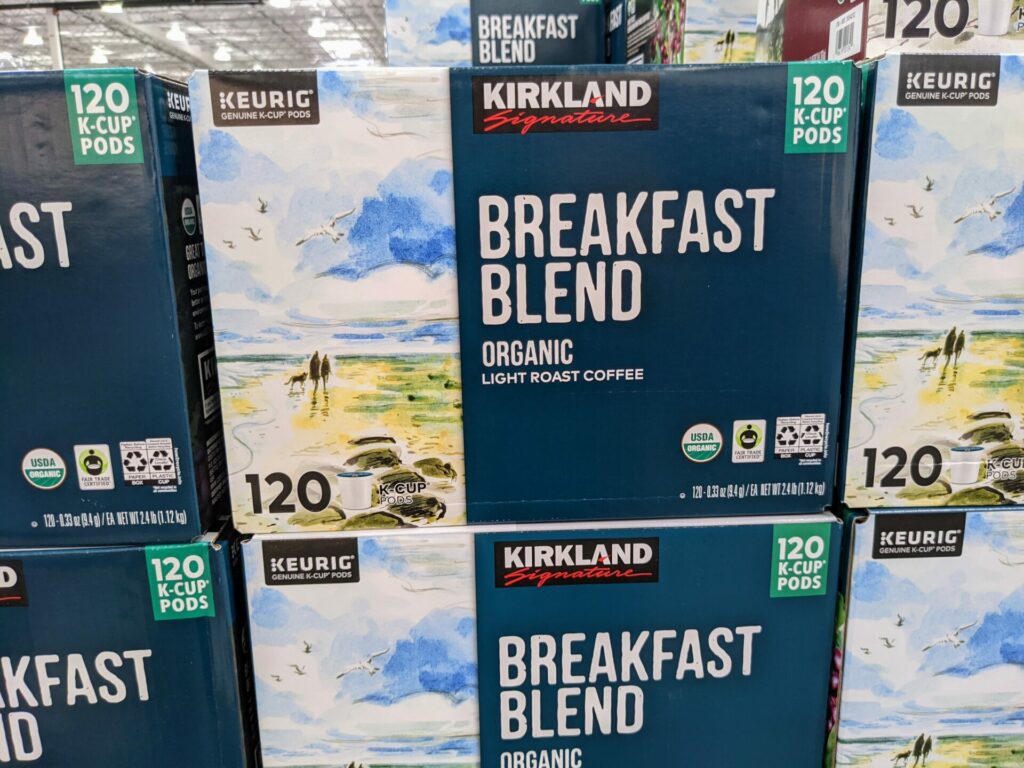 A Light Roast Coffee That Gets The Job Done
Just like with their whole bean coffee, there is no shortage of Kirkland Signature brand K Cups. The breakfast blend is a light roast blend that features a smooth and mellow flavor profile. The subtle notes of citrus and mild acidity make this coffee perfect for those who prefer a gentle easy-going brew. 
A 120-pack of K pods sells for $36.99. The Kirkland Signature brand will provide the best value amongst Costco's K-Pod Selection. 
Kirkland Signature Medium Roast K-Cups - $36.99
Medium Roast - Great For All Occassions
Costco's Kirkland Signature Medium Roast K Pods, also called Summit Roast, deliver the Just right coffee flavor. Without being too bold nor too mild, the smooth and rich taste is well-balanced and a great option for home or office.
A 120-count box of Kirkland Signature Medium Roast (Summit Roast) K Pods sells for $36.99 or $0.31 per pod.
Kirkland Signature Pacific Bold - $36.99
Affordable Dark Roast K-Pods
The Kirkland Signature Pacific Bold is Costco's dark roast K-Cup Blend. The Pacific Blend's Arabica beans deliver a bold, smoky, full-bodied flavor profile. A delicious Costco coffee that also provide some extreme value. 
Costco sells the Pacific Bold coffee in a pack of 120 for $36.99 or $0.31 per K cup. Many reviewers also consider to be one of the best Costco Coffee K-pod picks. 
Kirkland Signature Cold Brew - $15.99
Costco's canned cold brew coffee is made with 100% Colombian coffee. Each 11-ounce can of Kirkland Signature cold brew contains unflavored and unsweetened coffee and packs quite the punch at 225mg of caffeine (The equivalent of 2 and a half cups of traditional coffee). 
The cold brew is super convenient, transportability, and great to have on hand for any caffeine emergency. A 12-pack of Kirkland Signature Cold Brew Coffee from Costco sells for $15.99 or $1.33 per can.
Starbucks Frappuccino - $19.99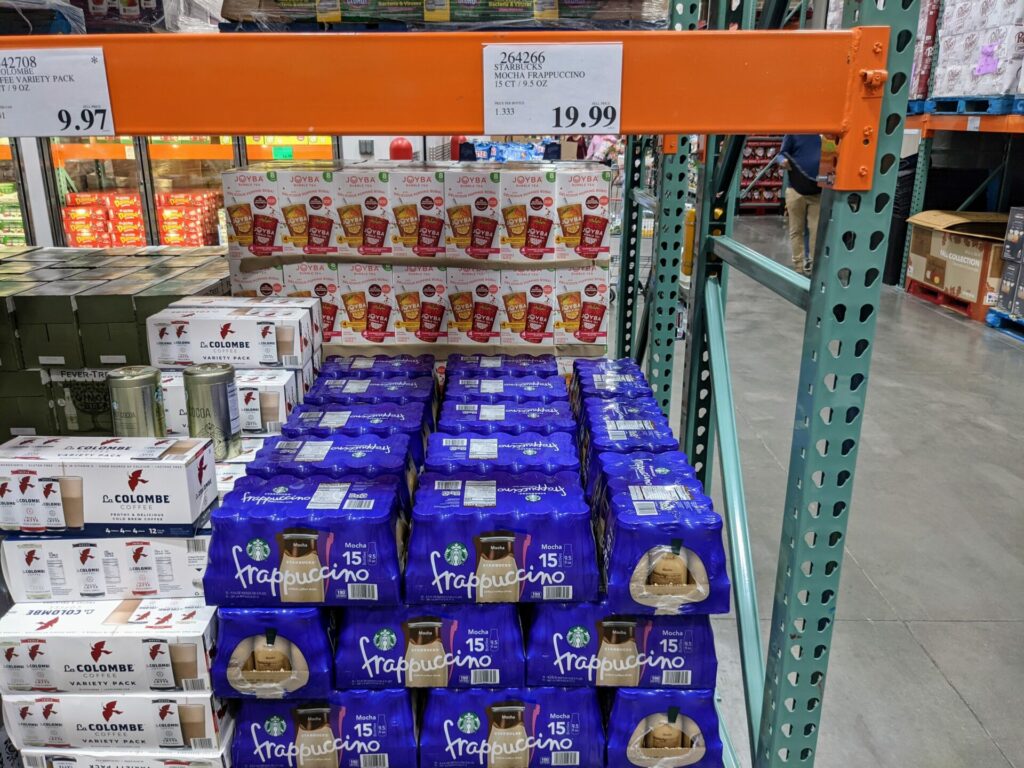 A Tasty and Fun Caffeine Treat
Every teenage girl's favorite Starbucks drink is available in bottle form at Costco locations across the country. The Mocha Frappuccino Coffee Drink is extra delicious, just like the real drink, but can be had for just a fraction of the cost. Costco sells a 15-count pack of Starbucks Frappuccino Drinks for $19.99 or $1.67 per bottle.
Like this coffee guide? Check out our Costco hamburger guide and our Costco Sausage guide.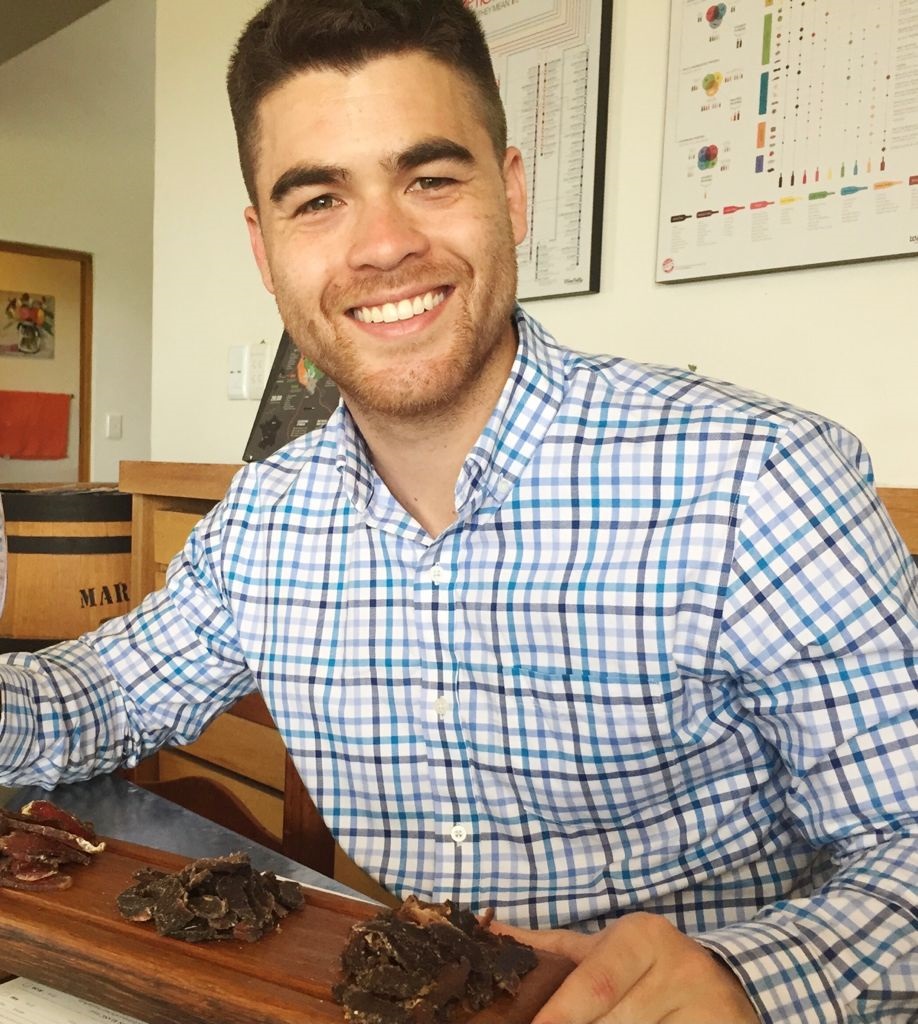 Greg Larkin is the founder and managing editor of Costco Food Database, the premiere site for honest takes on all things Costco food. A self-proclaimed Costco super-fan since childhood, Greg turned his obsession in a mission to properly rate and review all of Costco's delicious buys. When he's not busy navigating Costco aisles, you can find Greg smoking Kirkland Signature meats, meal prepping, or perfecting his homemade jerky recipes.