The 10 Best Costco Sausages - Tasted and Ranked!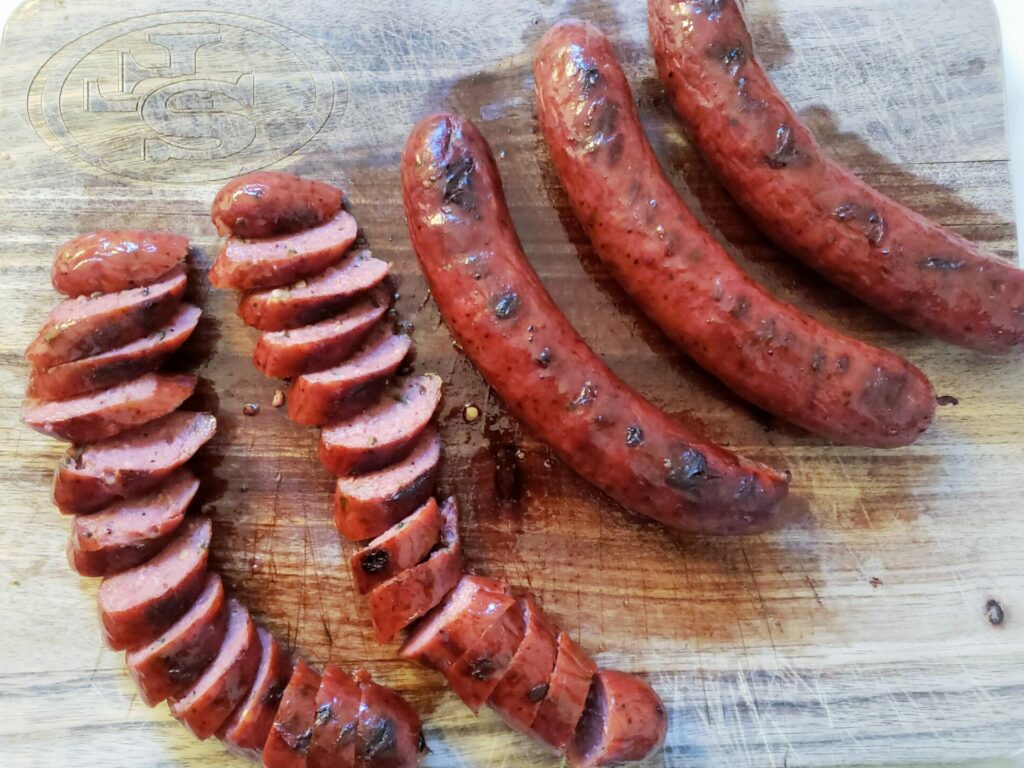 Costco Sausages - Overflowing With Options
Sausages, Sausages, Sausages. Everywhere you look at Costco, you can find sausages. Whether you are in the refrigerated deli, frozen food aisles, or even in the pantry and dry goods aisles, you will find sausages of all types. Costco carries traditional pork sausages, beef sausages, chicken sausages, and even chinese sausages. 
The 10 Best Costco Sausages
There is no sausage shortage at Costco, and to be honest, at times, it can be overwhelming with how many options there really are. 
Knowing this, I want to make your sausage shopping experience easier the next time you set foot in Costco, so here are 9 of Costco's most exciting and unique sausages.
10. AmyLu Chicken Breakfast Links - $13.99 - 40 OZ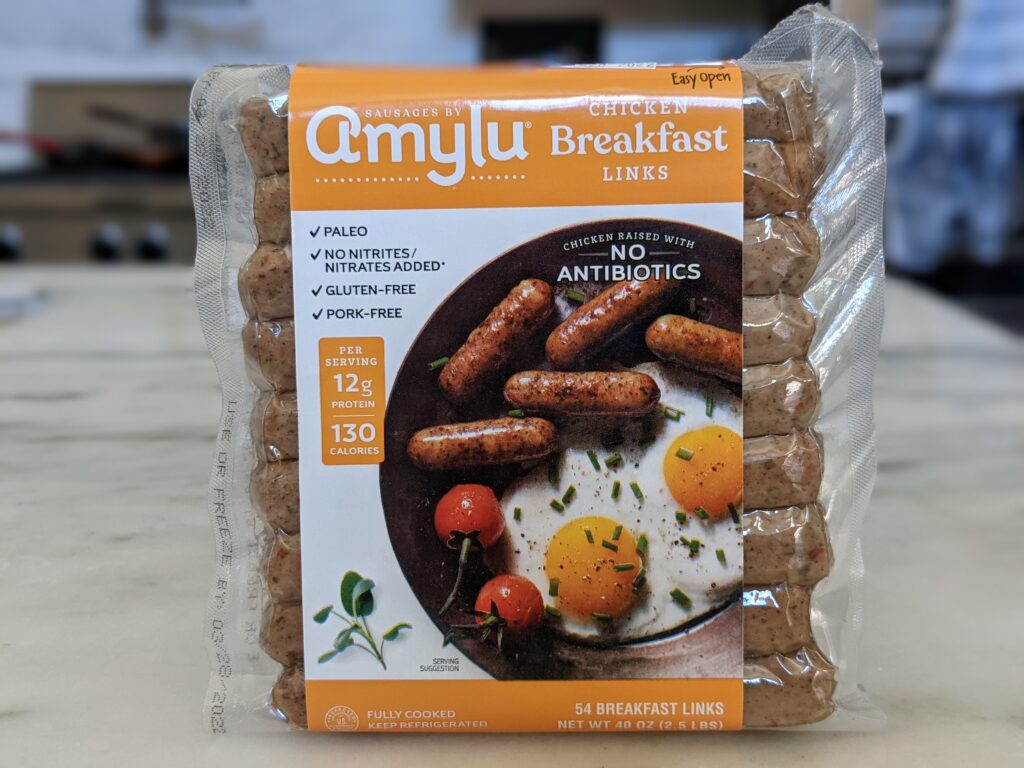 Unfortunately, the chicken breakfast sausage links from Amylu come in last in my best Costco sausage rankings. 
On paper, these breakfast links seem perfect. They are paleo, nitrate-free, gluten-free and made from chicken raised with no antibiotics. But the end result just doesn't deliver on flavor or texture.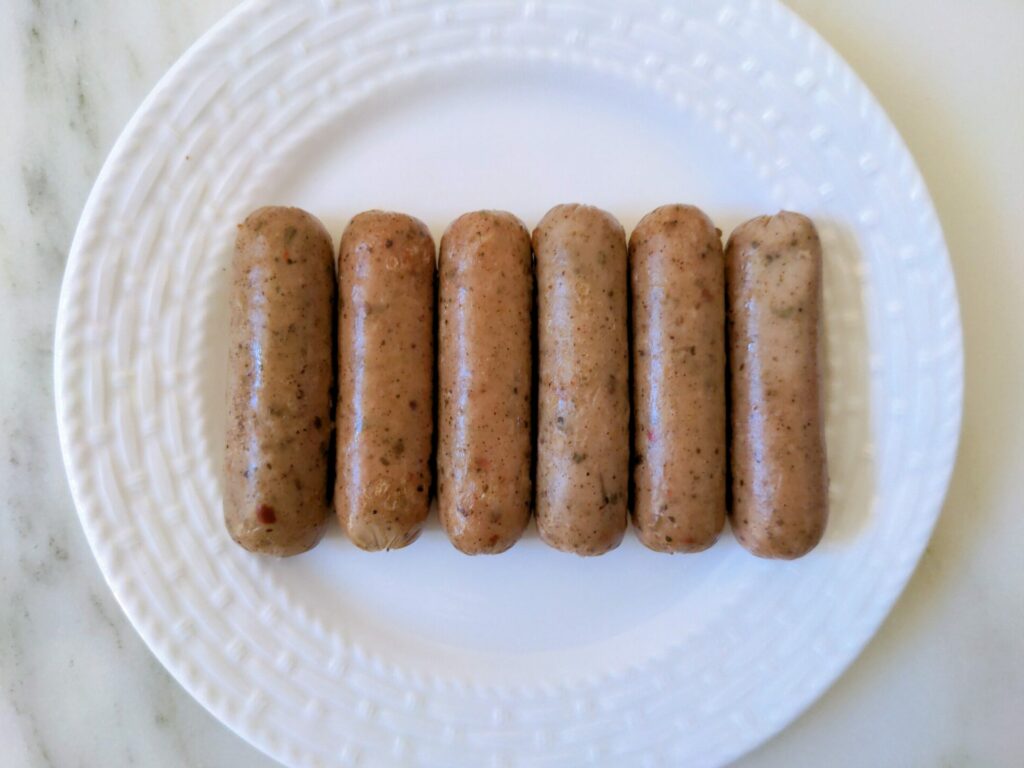 Lacks Flavor And Watch Our For Chicken Bones!
The breakfast sausages look well seasoned, with flecks of spices visible throughout. However, the flavor ends up seriously lacking. The texture is processed and unnatural, almost like a chicken nugget sausage link. 
The worst of all, I found numerous hard pieces in the sausages that might have even been chicken bone fragments.
A Very Healthy Alternative to Pork Sausages
The upside is the solid nutrition profile with only 130 calories per 3 links, along with 12g of protein and 1g of carbs. I really wanted to love these convenient little breakfast sausages, but the poor execution ruined the experience. For me, this is one Costco sausage to avoid.
9. Kam Yen Jan Chinese Sausage - $12.49 - 21 OZ
Kam Yen Jan Chinese Style Sausage available at Costco provides an authentic sweet and salty Chinese sausage flavor. However, the unique Chinese sausage comes with a few caveats. 
The jerky-like texture is different from the rest of Costco's sausage offerings, and it requires steaming instead of grilling or pan-frying.
But if you are a fan of Chinese sausage, Kam Yen Jan's version sold at Costco does offer satisfying flavor and convenience. Just don't expect it to be a standard sausage texture and experience. 
I consider it a special purchase sausage for when I'm craving the real deal Chinese sausage flavors for some fried rice.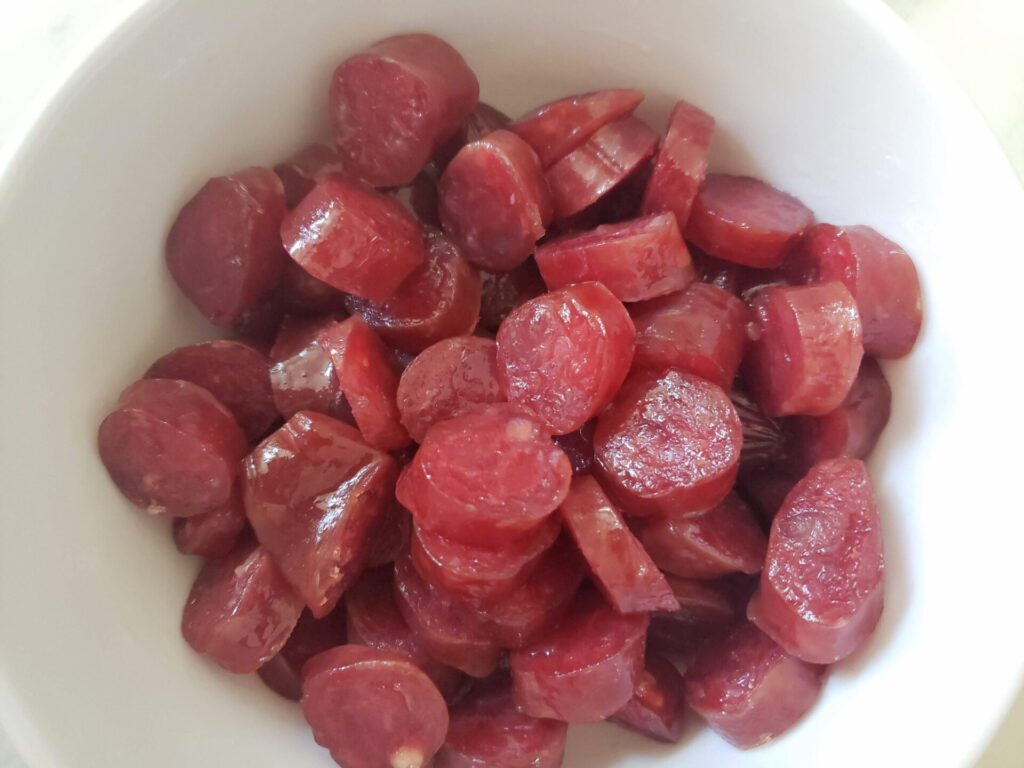 Can Be Stored In Your Pantry
You get 24 sausage links in a 21 oz pack for $12.49. The unique taste profile makes it worth the price, and they are convenient to store as they don't need to be refrigerated.
8. Aidell's Chicken and Apple Sausage - $14.99 48 OZ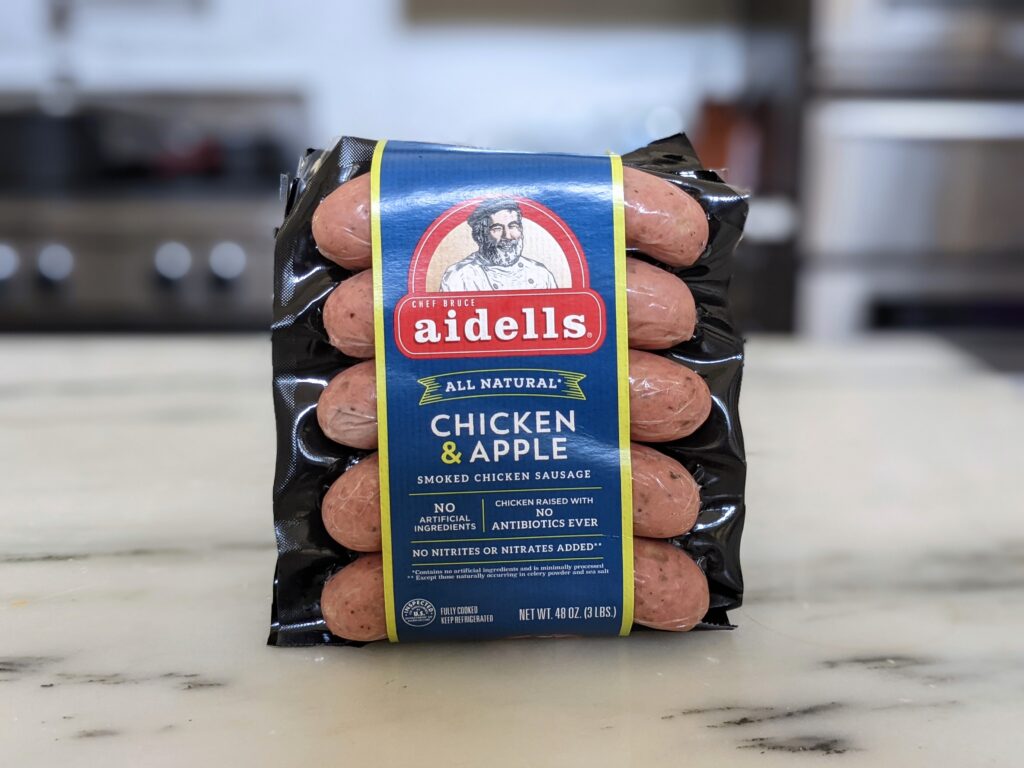 Aidells makes a nicely flavored sweet and smoky Chicken and Apple Sausage. The apple flavor is subtle, but the sweetness and savory smoke combine nicely. 
It's a very tasty chicken sausage, but there are a few drawbacks that prevent it from ranking higher on our list of Costco's best sausages.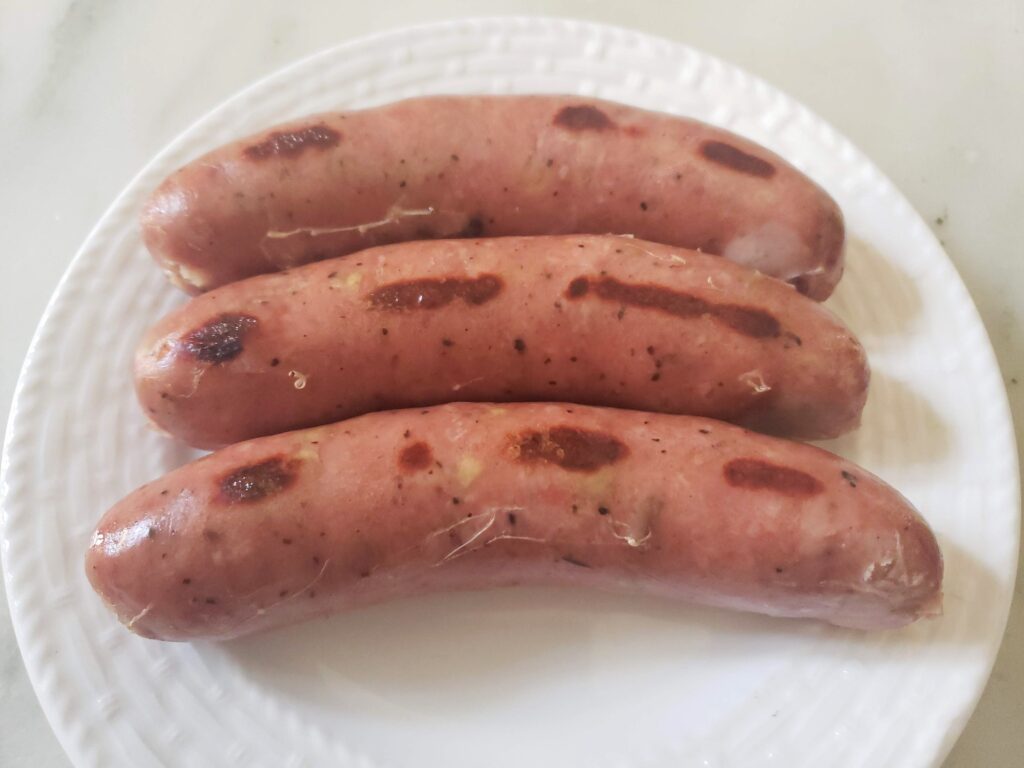 First, despite being a chicken sausage, it does contain a pork casing. Some customers likely buy chicken sausage to avoid pork. My sister-in-law is one of these people, and these sausages are a no-go for her because of the pork casing.
There is also a more processed mouthfeel to the texture. And at 690 mg sodium per link, the salt content adds up quickly. But the seasoning is tasty, and the price is reasonable at $3.56 per pound when on sale. So overall a good chicken sausage option, but not the best Costco offers
7. AmyLu Andouille Sausage - $15.59 - 40 OZ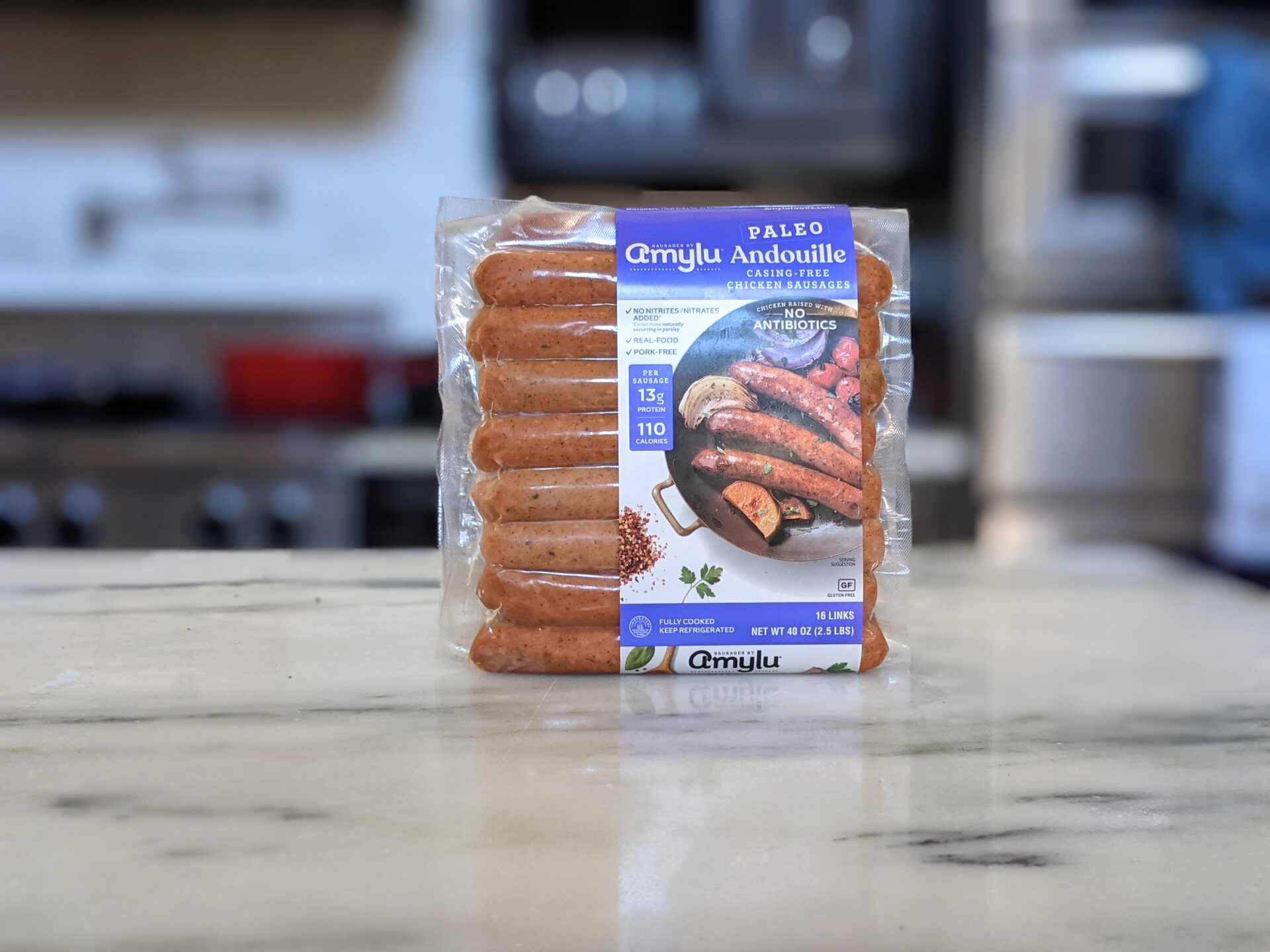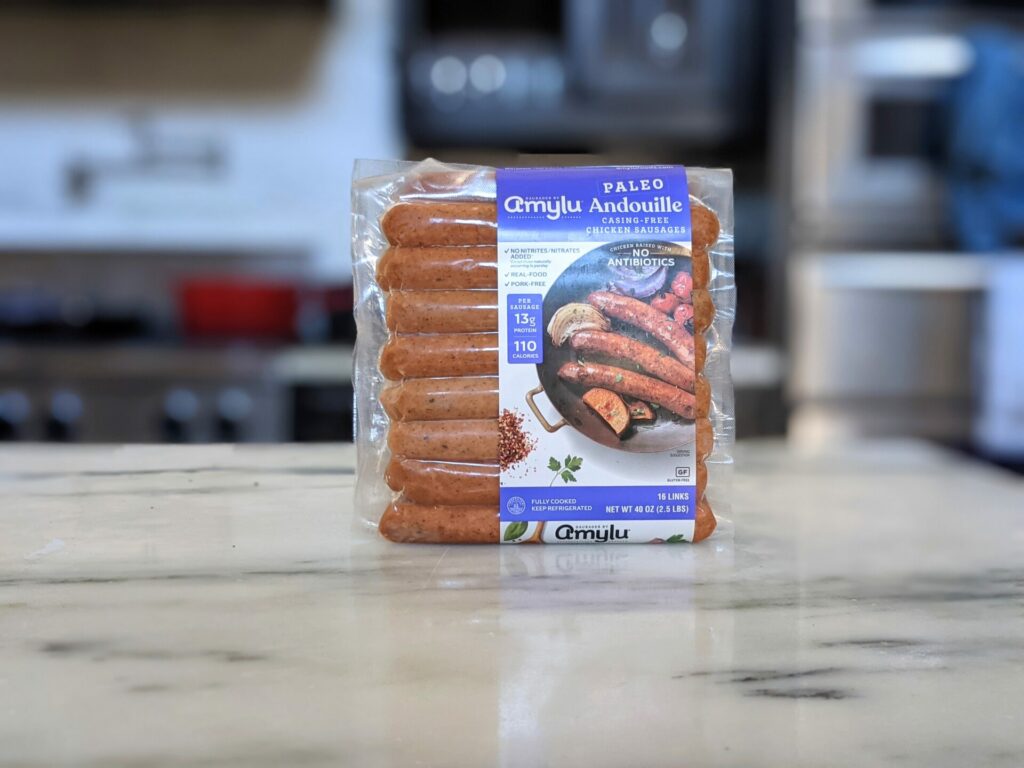 Healthy Chicken Cajun Sausage
AmyLu's Andouille Sausage takes the number 7 spot on our list. The chicken andouille sausage links provide a healthier take on a classic Cajun favorite. Just don't expect an authentic, robust smoky andouille flavor from this chicken sausage.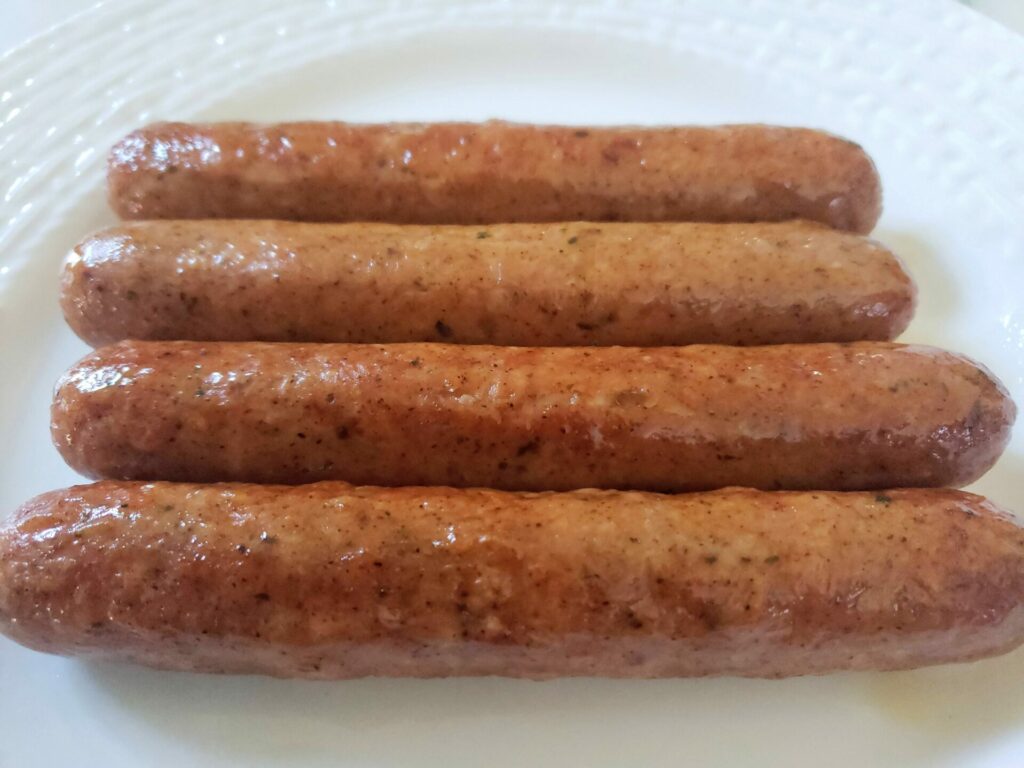 Mild Cajun Flavor Profile
The subtle seasoning and chicken itself don't allow for the same intensity as pork andouille sausage, but there are some nice Cajun spice flavors present.
If you are looking for a milder, cleaner-tasting chicken-based andouille sausage, AmyLu's version is a great pick; it just won't compete with real Cajun sausage flavors.
Each 16-count pack of andouille sausages retails for $15.59 at Costco. This works out to $0.97 or just under $1 per chicken andouille sausage.
6. Kirkland Signature Bratwurst - $11.49 - 56 OZ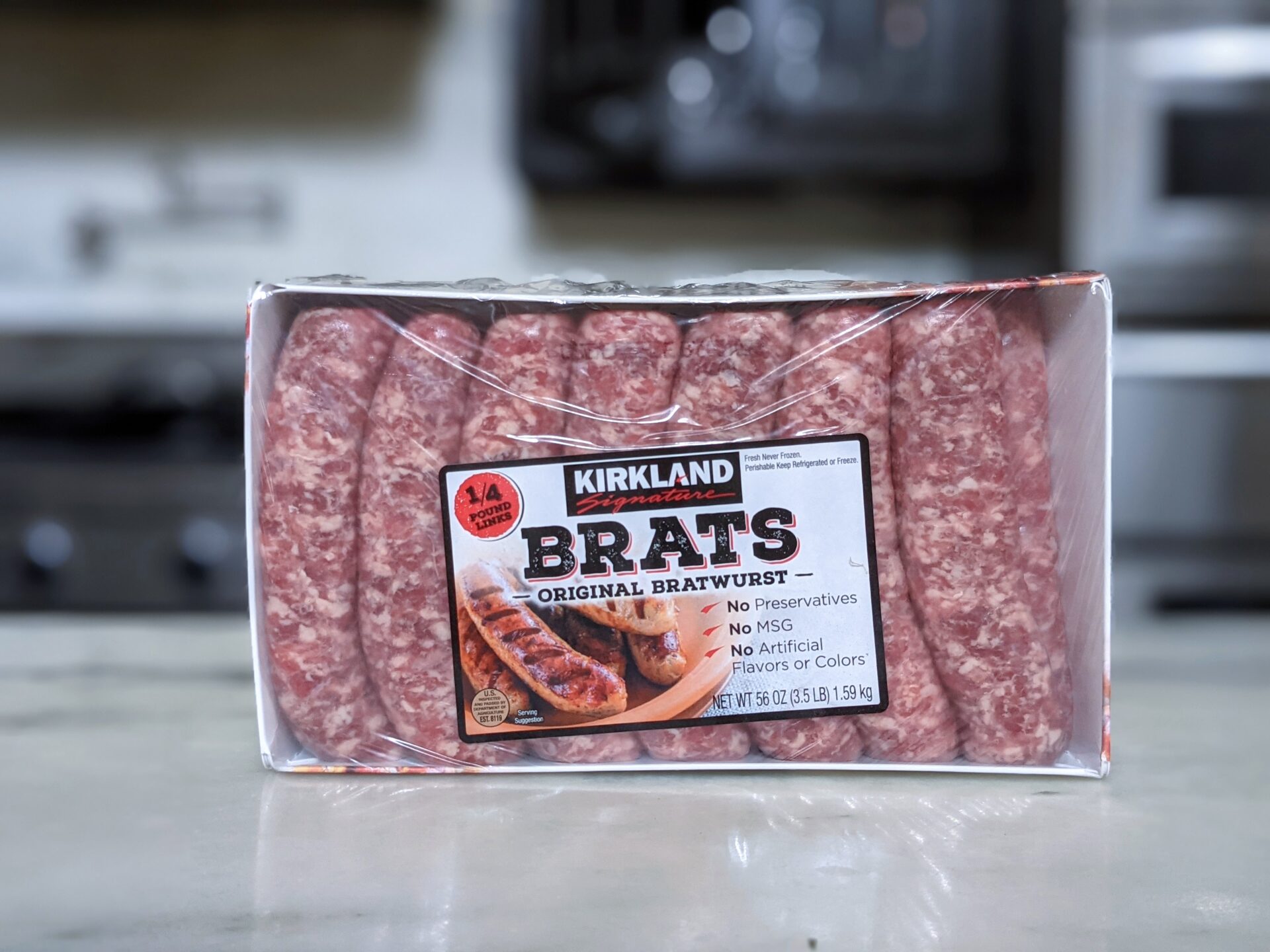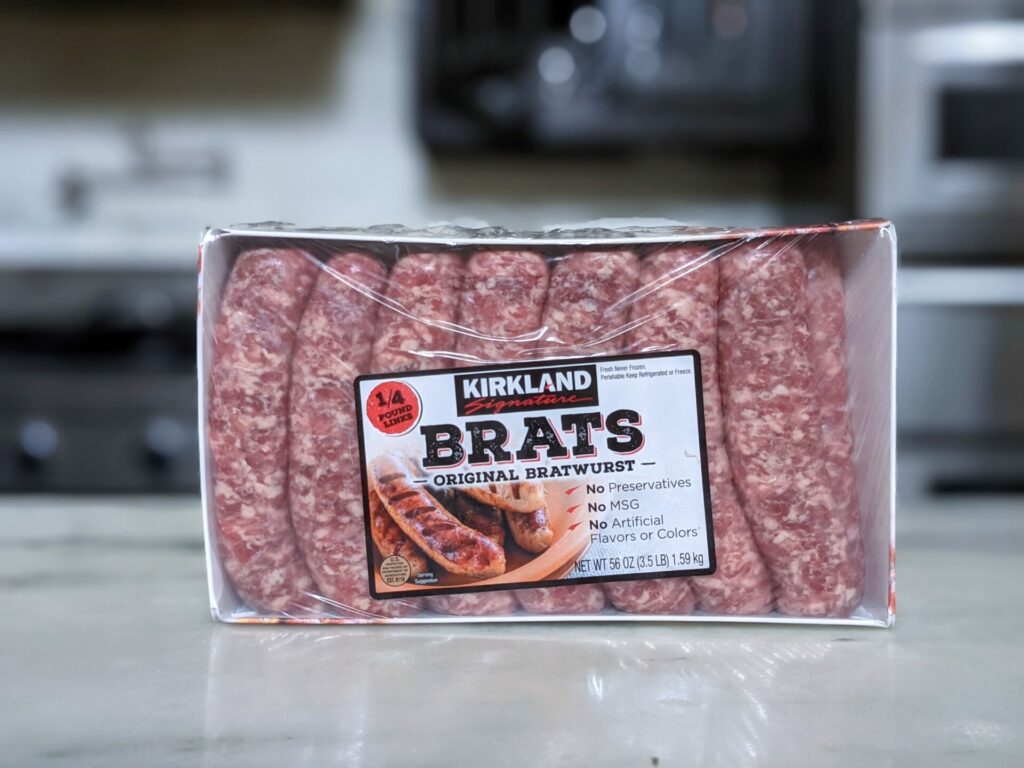 Costco's house brand Kirkland Signature Bratwurst sausage is a solid choice for a classic pork bratwurst sausage. These brats have a nice juicy texture and flavorful seasoning blend. 
They are easy to cook on the grill or stove and super convenient to heat up for brats anytime you want.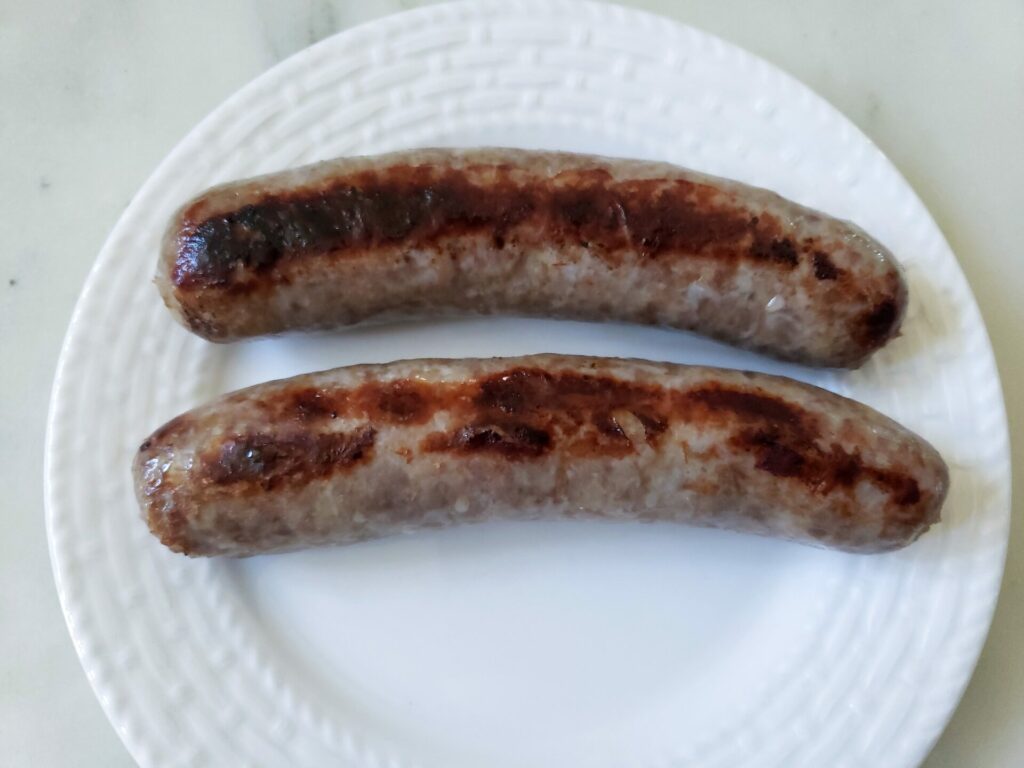 Light On Traditional Flavors
While the Kirkland bratwurst doesn't have quite as much spice and traditional German flavors as an authentic bratwurst, it still satisfies any bratwurst craving.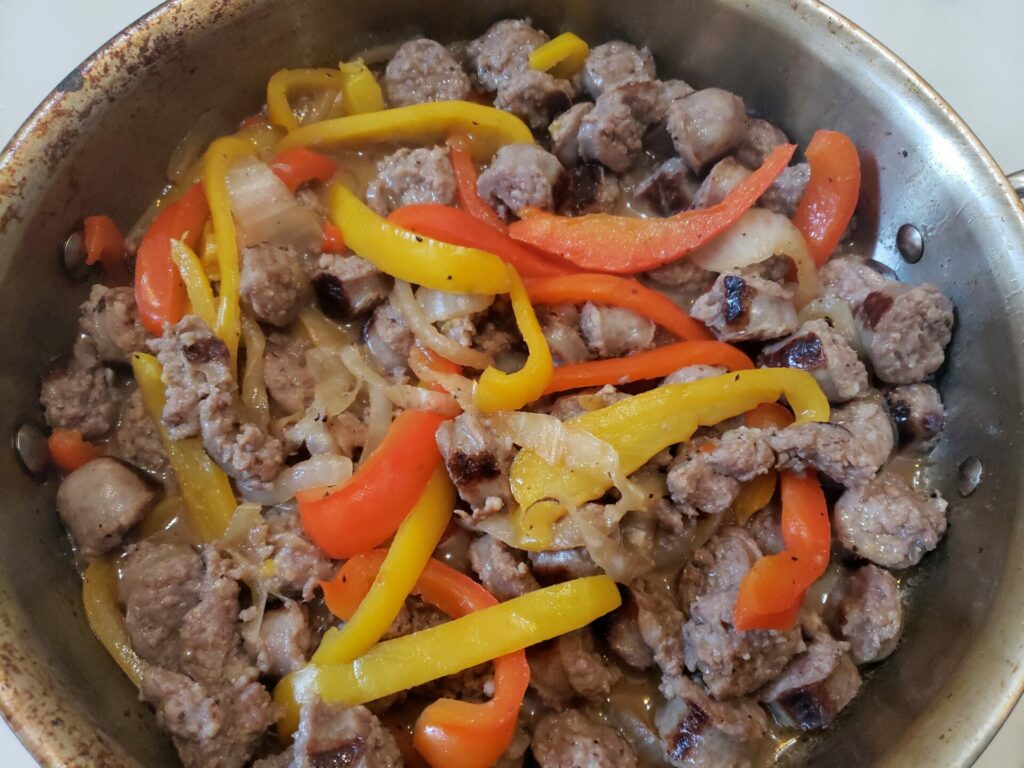 2023 Price Increase, But Still Affordable
The only real downside besides the lack of authentic German flavor is the 35% price increase from last year (2022). You get 14 quarter-pound bratwurst links in a 3.5-pound package for $11.49 (Still one of the more affordable Costco sausage options). If grilled brats are your go-to summer sausage, then Kirkland Signature bratwursts are the way to go. 
5. Jones' Farms Chicken Breakfast Sausage - $14.99 - 48OZ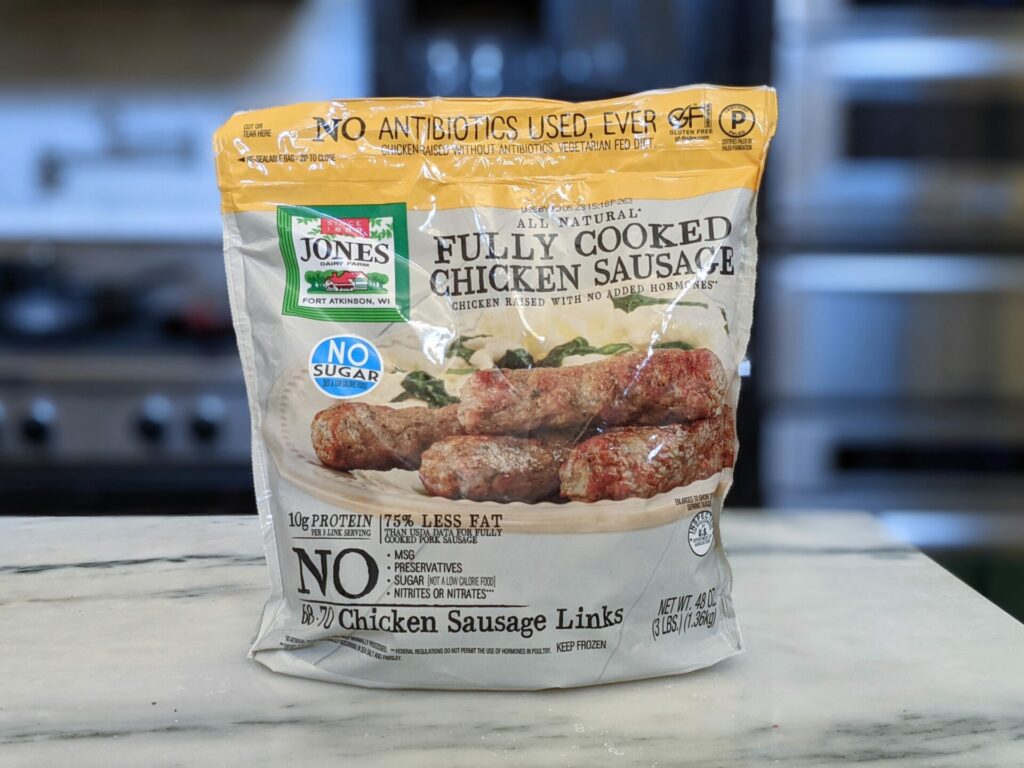 Best Breakfast Sausage At Costco
My favorite breakfast chicken sausage at Costco comes from Jones Farm. This breakfast sausage has all the traditional flavors you expect in a tasty breakfast sausage but with a chicken base.
Compared to pork sausages, Jones' breakfast chicken sausage packs in plenty of flavor without being overly greasy or heavy.
Extremely Healthy Nutritional Label
Nutritionally, each sausage link has only 30 calories with 1.5g of fat and 3g of protein, making them a fantastic lighter breakfast option. A serving of 3 links offers an impressive 10g of protein for only 90 calories and 5g of fat. 
My only complaints are the moderately high sodium content (15% DV per serving) and the slightly odd cooking directions. But overall, this is a delicious chicken sausage perfect for starting your day.
Fairly Priced And Easy To Cook
Each 3-pound bag contains 68-70 breakfast chicken sausage links for just $14.99 at Costco. That comes out to just $0.22 per sausage link, a bargain for a convenient, tasty, and healthy breakfast sausage link.
4. Teton Waters Ranch Grass Fed Beef Polish Sausage - $17.39 - 36 OZ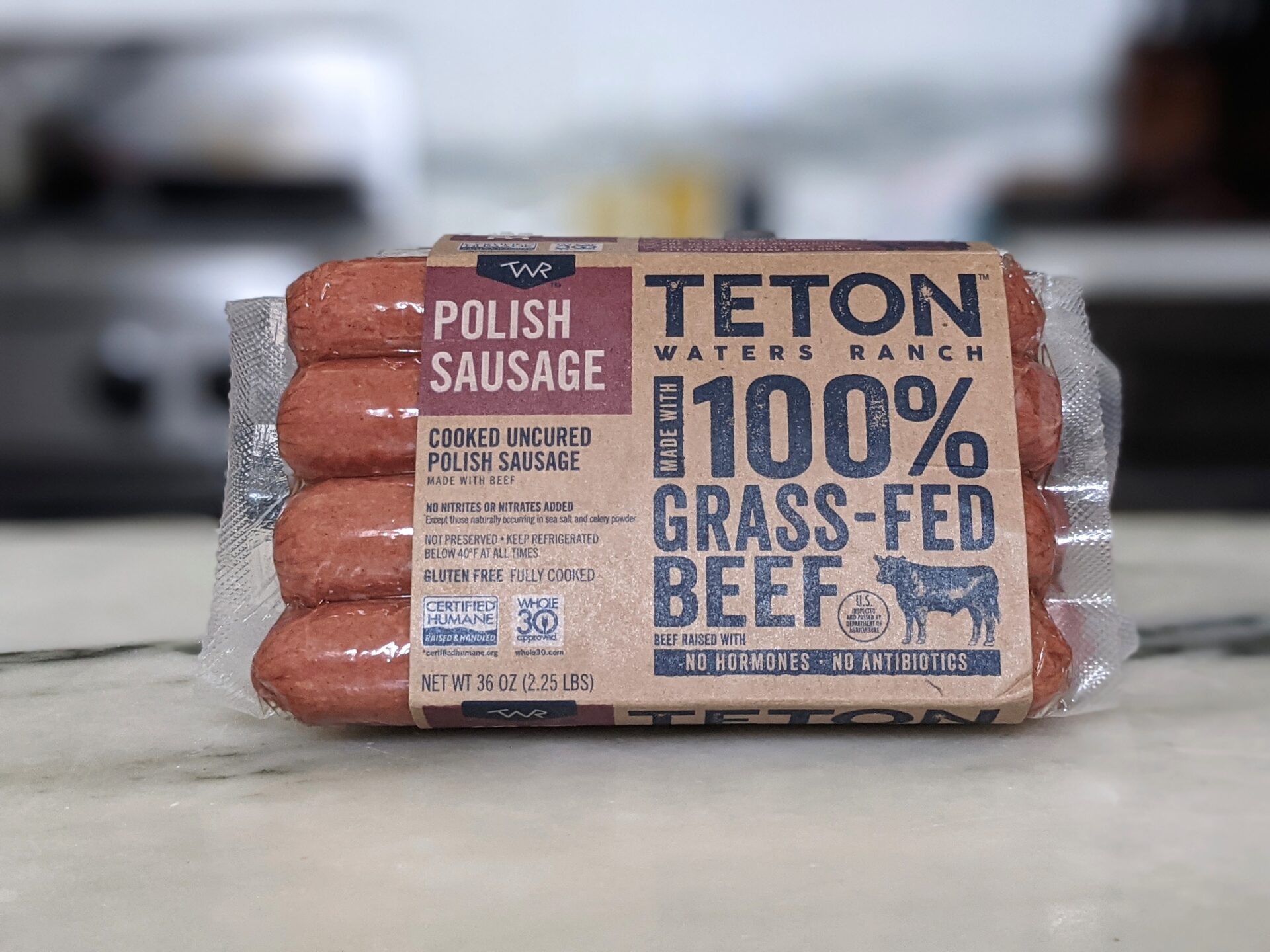 An Elevated Polish Sausage
For those looking for an elevated premium take on a traditional polish sausage, then Teton Waters Ranch's 100% Grass-Fed Beef Polish Sausage is what you are looking for. 
These Polish sausages contain beef from cows that are pasture-raised and grass-fed for their whole lives, and you can definitely taste the difference.
Each plump polish sausage has an amazing feel and juiciness that you expect from high-quality grass-fed beef. When you bite into the sausage, the satisfying snap and crunch from the beef collagen casing adds great texture.
The seasoning on these polish sausages is on the mild side. So those looking for a strongly flavored or smoked polish sausage may be a bit disappointed.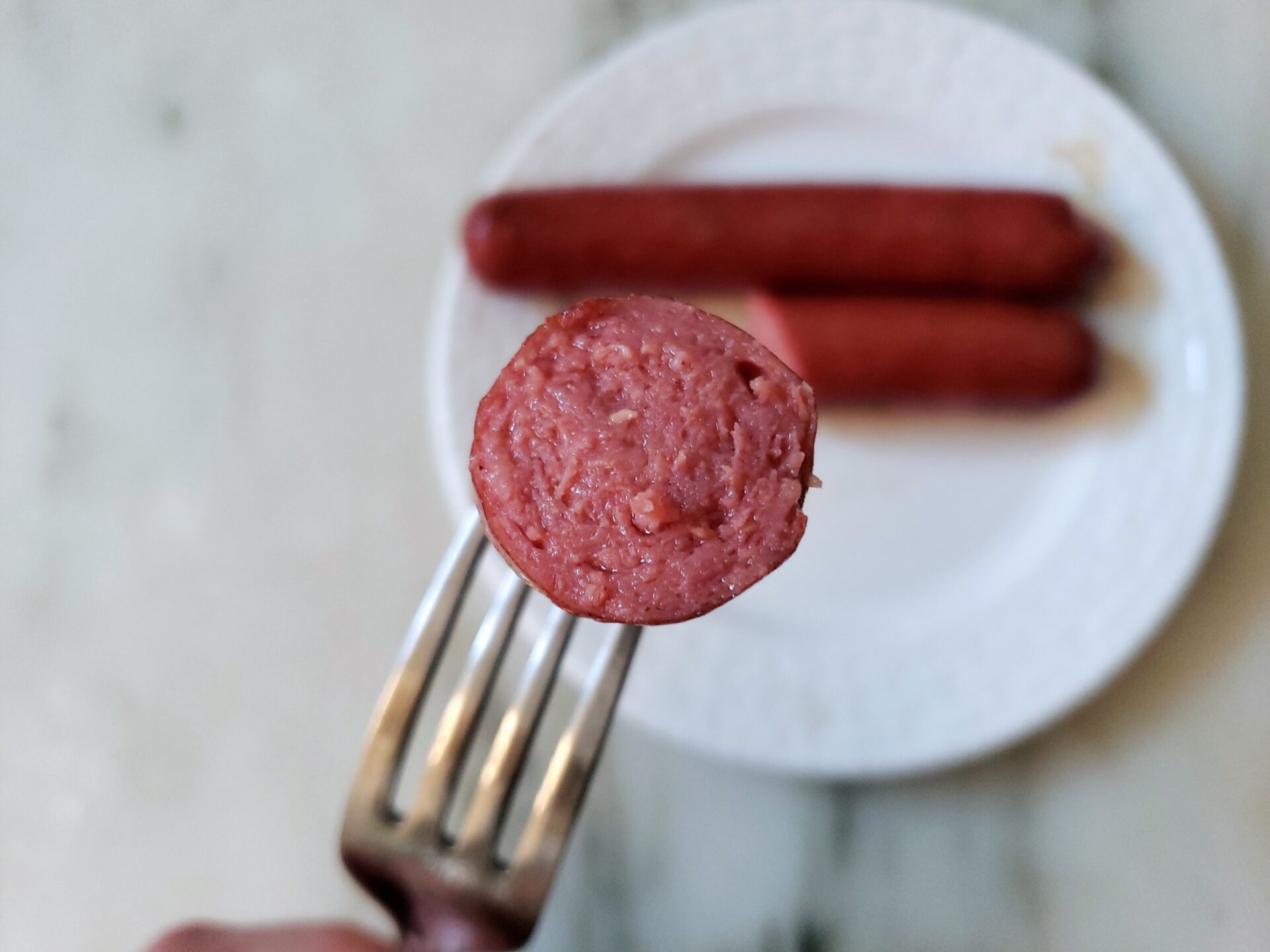 While Costco's polish sausage is premium sausage, so is the price; a 12-pack retails for $17.39 or $1.45 per polish sausage. Keep in mind these do go on sale, and just recently, I picked up the Teton Waters Ranch Sausages from Costco for $12.99 or $1.08 per polish sausage.
3. Silva Linguica Portuguese Sausage - $14.99 - 48OZ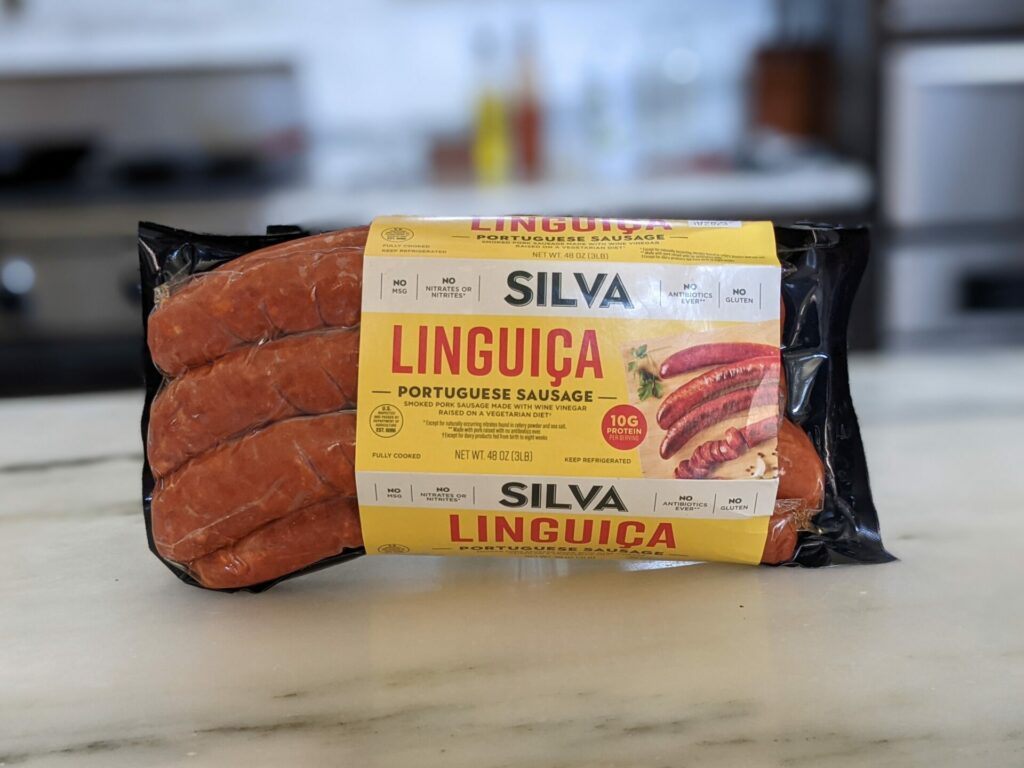 A Portuguese Sausage Made in Gilroy CA
If you haven't had popular Portuguese sausage before, you are going to have to try Silva's linguica from Costco. The Portuguese style sausage is made with smoked pork and wine vinegar and is bursting with flavor. 
Yes, this sausage is based on a traditional Portuguese sausage, but Silva is located and manufactures the sausage in Gilroy, CA. 
Rich, Oily, And Full Of Flavor
The one thing about linguica is that you can't say that it is bland. This is a heavy, rich, hearty, flavorful, and oily sausage that is full of robust and intense flavors. The smokiness hits your taste buds first, followed by the spikes of garlic, paprika and other spices.
The sausage makes a flavor statement and is well deserving of the #3 spot on our list of Best Costco Sausages.
A Premium Sausage At A Fair Price
The sausage is unique and artisanal like, but Costco sells it at a fair price. Costco sells the 3 pound pack of Silva Linguica for $14.99 or $4.99 a pound. There are 7 sausages per pack with each sausage comes out to a little more than $2. Definitely worth a buy!
2. Sabatino's Basil and Pepper Chicken Sausage - $14.99 - 36 OZ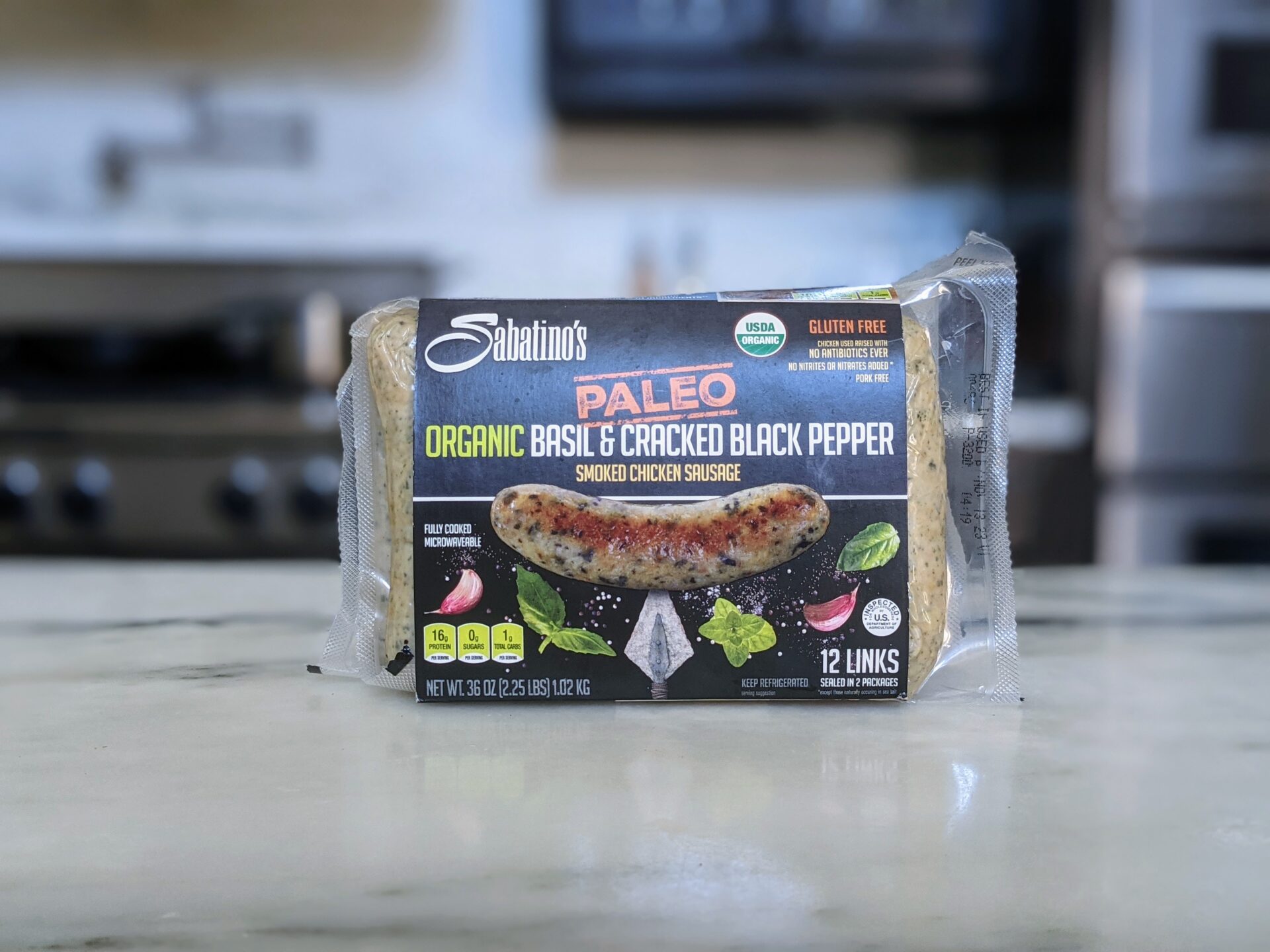 Amazing Nutritional Profile
If you're looking for a healthy chicken sausage, Sabatino's Organic Basil and Black Pepper Chicken Sausage is the top choice at Costco. These paleo and gluten-free chicken sausages have a fantastic clean ingredient list with no artificial flavors or preservatives. 
Each link has only 160 calories with 16g of protein and 9g of fat, making it one of the best nutrition labels out of all the Costco sausages.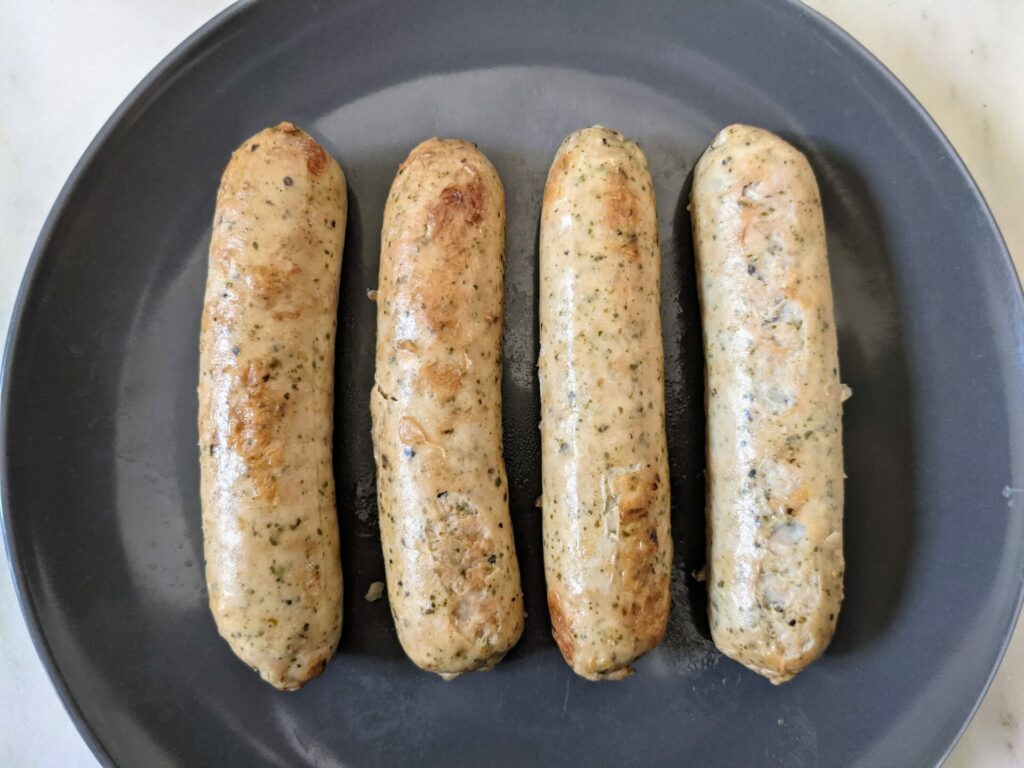 The basil and black pepper flavors give the chicken sausage a nice herby and savory flavor profile; however, these flavors are subtle and can even be called lacking. The texture is also a bit more processed than I like to see in higher-end chicken sausage. 
But for a convenient, fully cooked organic and healthy chicken sausage, this Sabatino's option is still an excellent choice.
A 2.25-pound pack containing 12 sausages retails at Costco for $14.99. That comes out to $1.25 per sausage link, which is reasonable for an organic chicken sausage. If you can be patient, the chicken sausages do go on sale for $10.99.
1. Costco Jalapeno Beef Smoked Sausage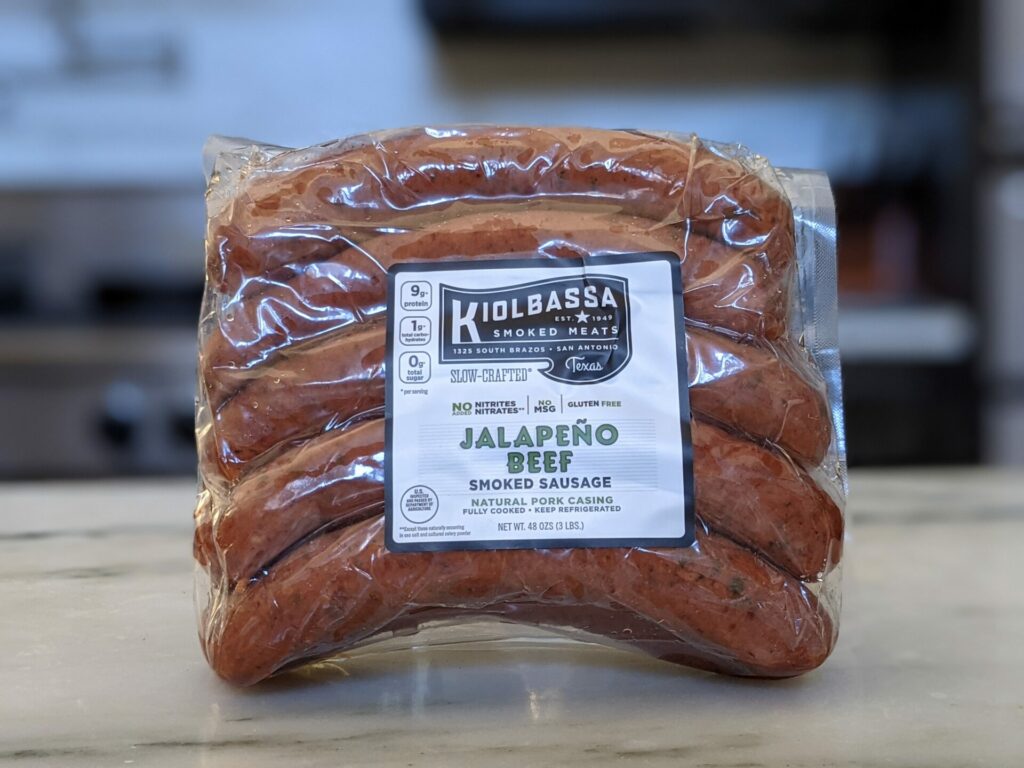 The Kiolbassa Jalapeno Beef Smoked Sausage from Costco is hands down the best sausage option available. These fully cooked smoked sausages have an incredible smoky flavor paired with a nice kick from the diced jalapenos.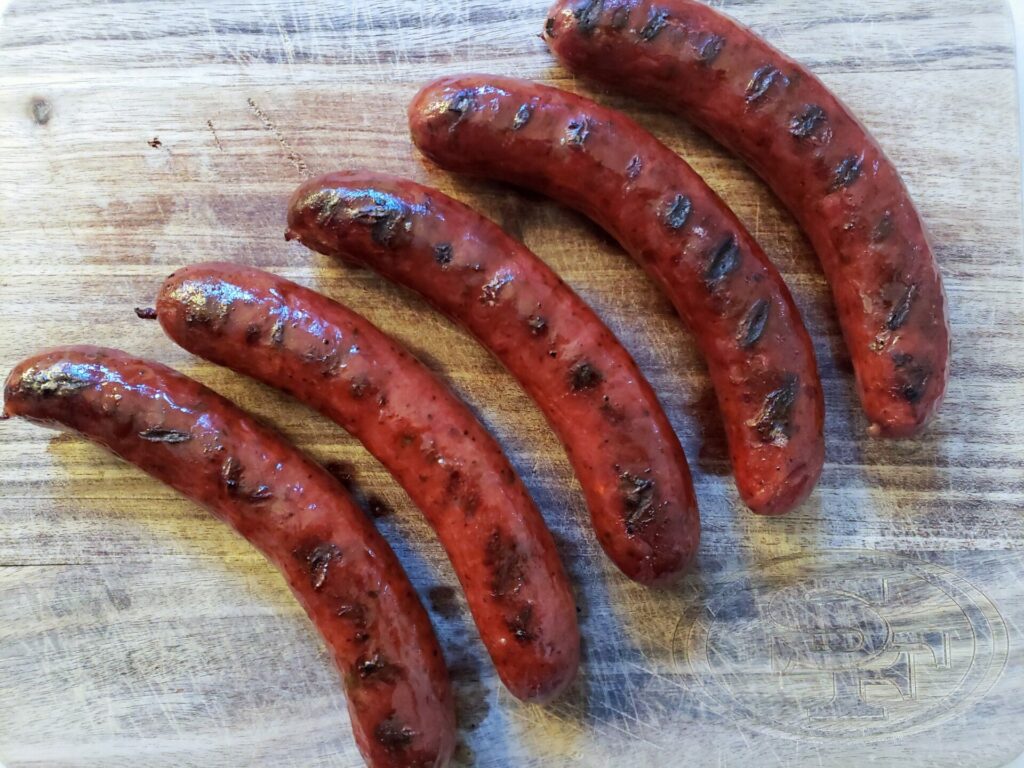 Each juicy jalapeno sausage link has a wonderful snap and texture thanks to the natural pork casing.
The seasoning on these sausages is absolutely perfect, with just the right amount of smoke, spice and savory beefy flavor. This is what all sausages should strive to be.
The jalapeno smoked sausages are sold in a 10-pack for a retail price of $17.89 but do go on sale at $12.89. This comes out to $1.79 or $1.29 per sausage, which is very reasonable for a high-quality top-tier sausage.
Moderate To High Calories
The only downside is that with 410 calories per sausage, it is easy to overeat and overindulge. Easily the best-flavored sausage at Costco and well deserving of the #1 spot on our Costco sausage rankings.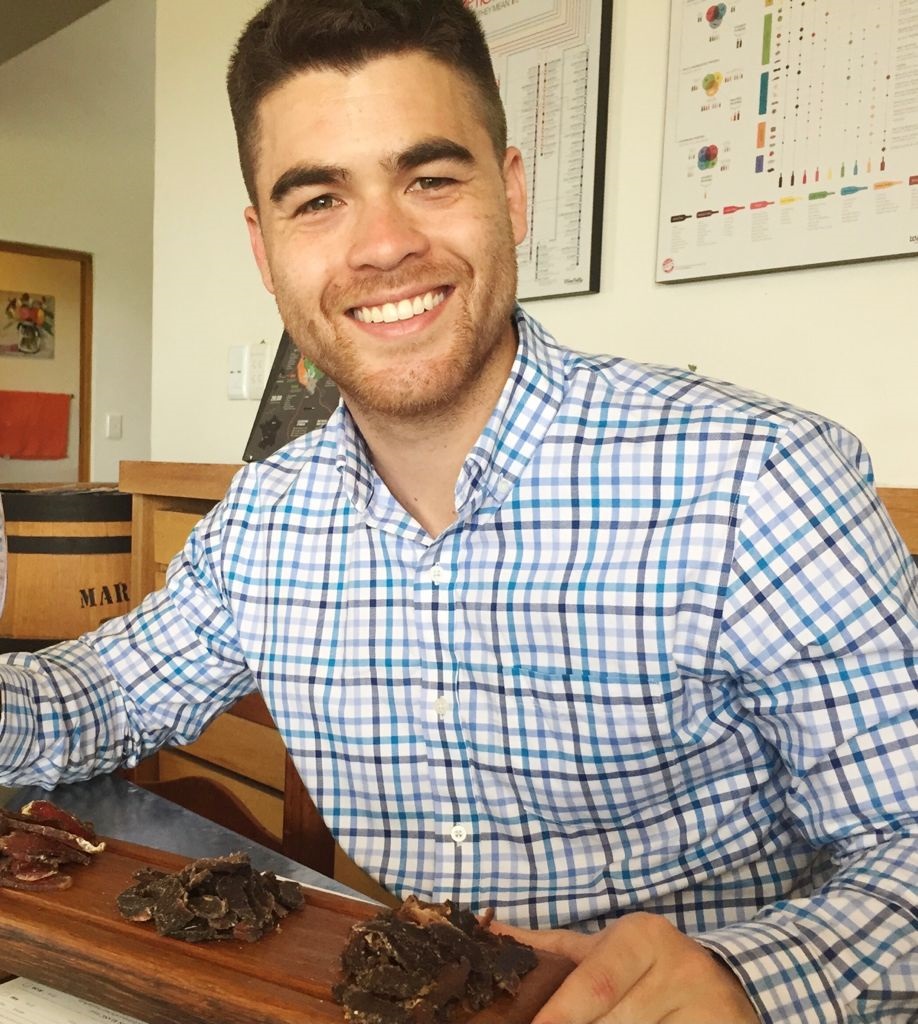 Greg Larkin is the founder and managing editor of Costco Food Database, the premiere site for honest takes on all things Costco food. A self-proclaimed Costco super-fan since childhood, Greg turned his obsession in a mission to properly rate and review all of Costco's delicious buys. When he's not busy navigating Costco aisles, you can find Greg smoking Kirkland Signature meats, meal prepping, or perfecting his homemade jerky recipes.