The Best Chicken Sausage at Costco? Healthy and Delicious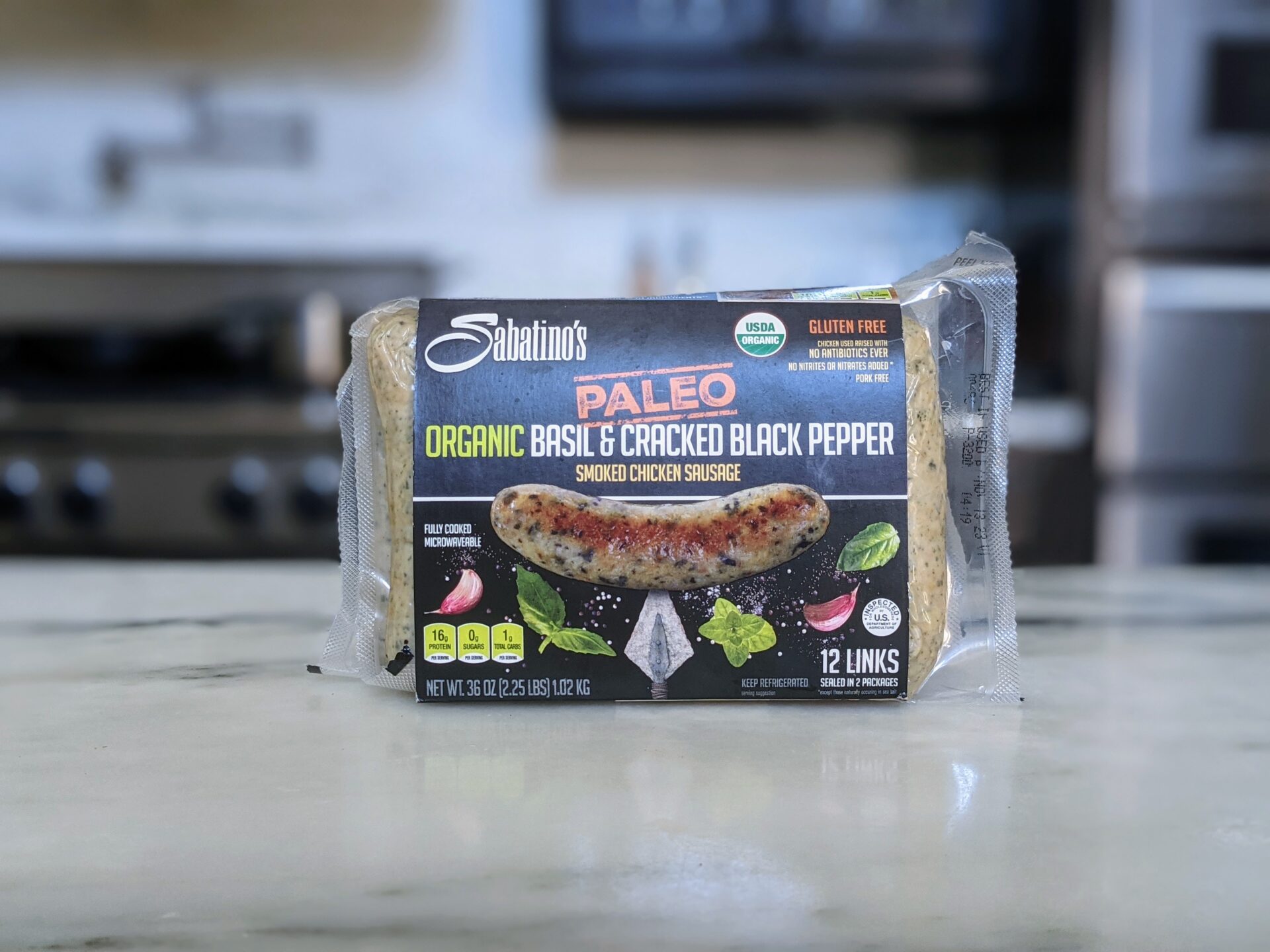 Sabatino's Basil and Black Pepper Organic Chicken Sausage at Costco
I've been eyeing Sabatino's Organic Basil & Black Pepper Chicken Sausage at Costco for quite a while now, but I finally was able to pull the trigger when I saw them on sale.
These smoked chicken sausages are located in the refrigerated deli area of the warehouse near some of the other sausage products and heat and eat meals.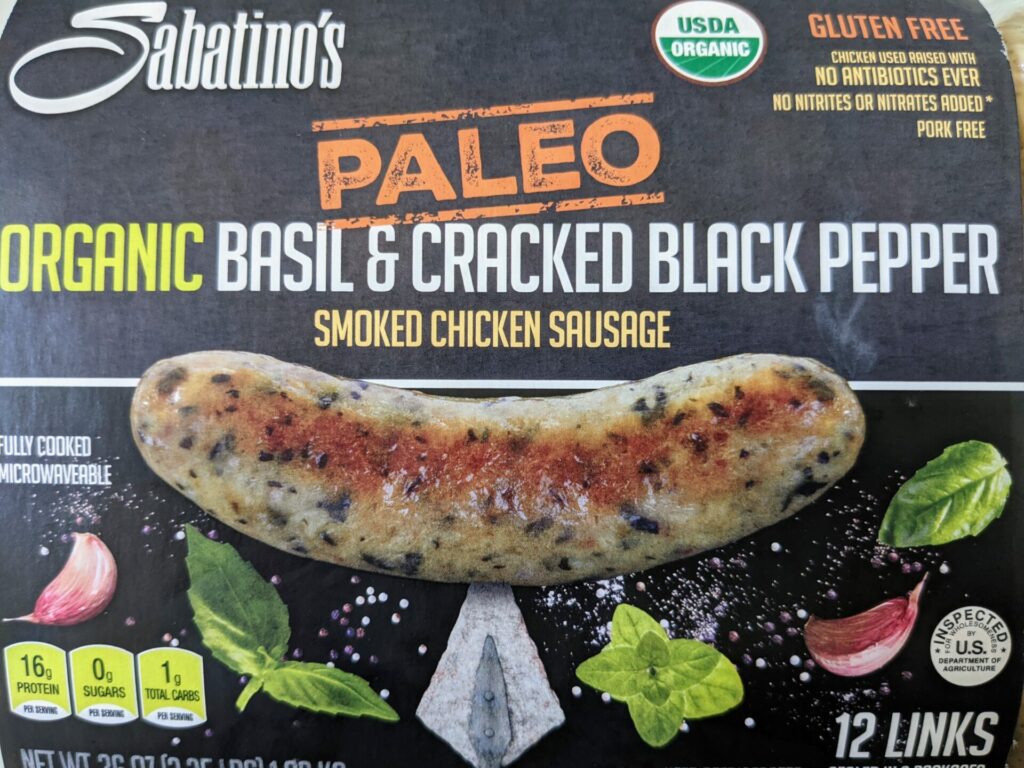 Depending on your Costco location, the flavor of Sabatino's paleo chicken sausage may vary. I've seen Sabatino's sell a similar chicken sausage flavored with smoked mozzarella, artichokes, and garlic. 
This package is also a little different in quantity and price compared to Costco's basil black pepper chicken sausage.
Have You Tried Costco's Organic Basil Pepper Chicken Sausage?
Let the rest of the Costco Food Database community know what you thought of this product. Results and reviews are at the bottom of this page.
Please allow 24 hours for review moderation and approval.
The Do It All Chicken Sausages
There is a lot to like about Sabatino's chicken sausages from Costco, and I really mean a lot to like. It seems like this chicken sausage checks off all the boxes and can fit into almost nearly everyone's diet. I'll give you a quick rundown of what makes this Costco chicken sausage so special:
Gluten-Free

Organic

Paleo

Keto Friendly

Chicken raised with no antibiotics ever

Pork Free (See Next Section)

Milk Free

Grain Free

Soy Free

No Added Sugar

Non-GMO Ingredients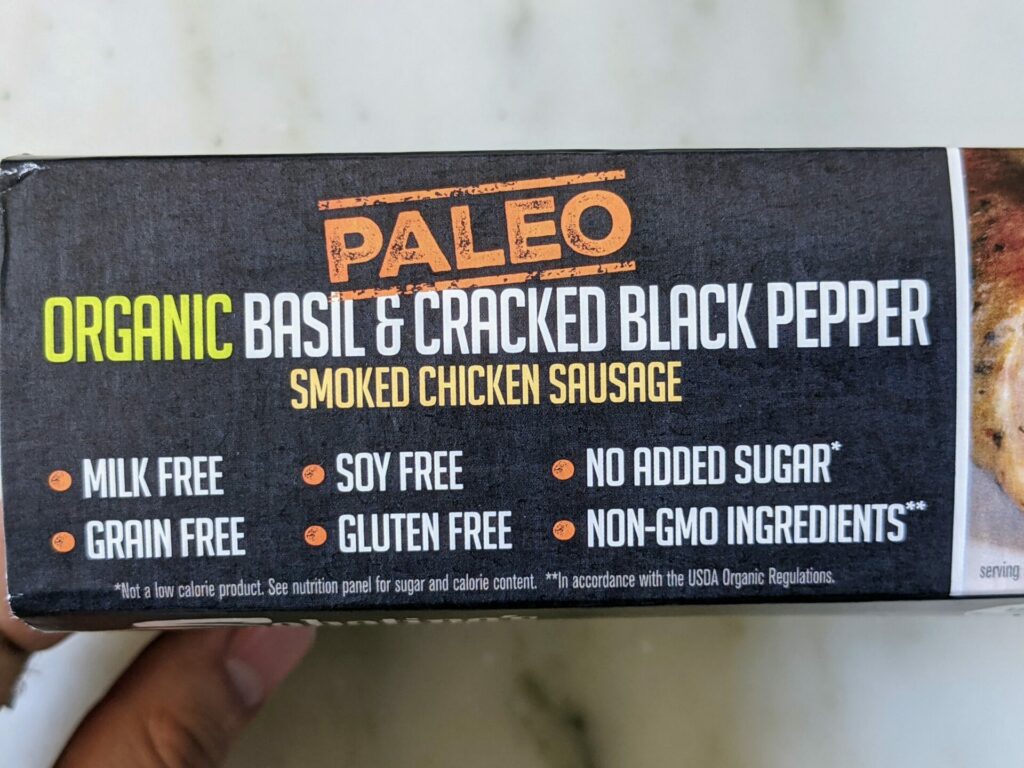 Sabatino's chicken sausage seems like it can fit almost everybody's diet and is extremely healthy all around. I like that the sausage uses Non-GMO ingredients and no sugar is added.
Pork Free Chicken Sausage
I thought it would be a given that a chicken sausage is pork-free. Many people choose chicken sausages because they don't like the taste of pork or beef or simply want to avoid those meats in general. 
However, Sabatino's biggest chicken sausage competitor at Costco, Aidells, actually uses a pork casing for their chicken sausage.
I'm not an expert on the chicken sausage market, but it seems that this would be counterintuitive for those in the market for chicken sausages.
Costco retails the 2.25 package of Sabatino's basil and pepper smoked chicken sausage (12 links per package) for $14.99. This breaks down to a price of $6.66 per pound or $1.25 per chicken sausage link at retail prices.
From what I've seen, this chicken sausage doesn't go on sale often, but I was able to pick it up at a discounted price of $10.99. This is a discount of $4 or 25%, and the discounted Costco price brings the price per pound for these chicken sausages down to $4.88 and the price per chicken sausage link to $0.91. 
The chicken sausages seem fairly priced at retail (like most things at Costco) but become an absolute steal at the $10.99 sale price.
Costco Chicken Sausage Taste Test
Sabatino's chicken sausage may give you plenty of reasons to buy it, but the taste may not be its strongest selling point. 
Chicken sausage will always be less flavorful than pork sausage, and there's no way around that, but I still expected the sausage links to have more of a flavor burst.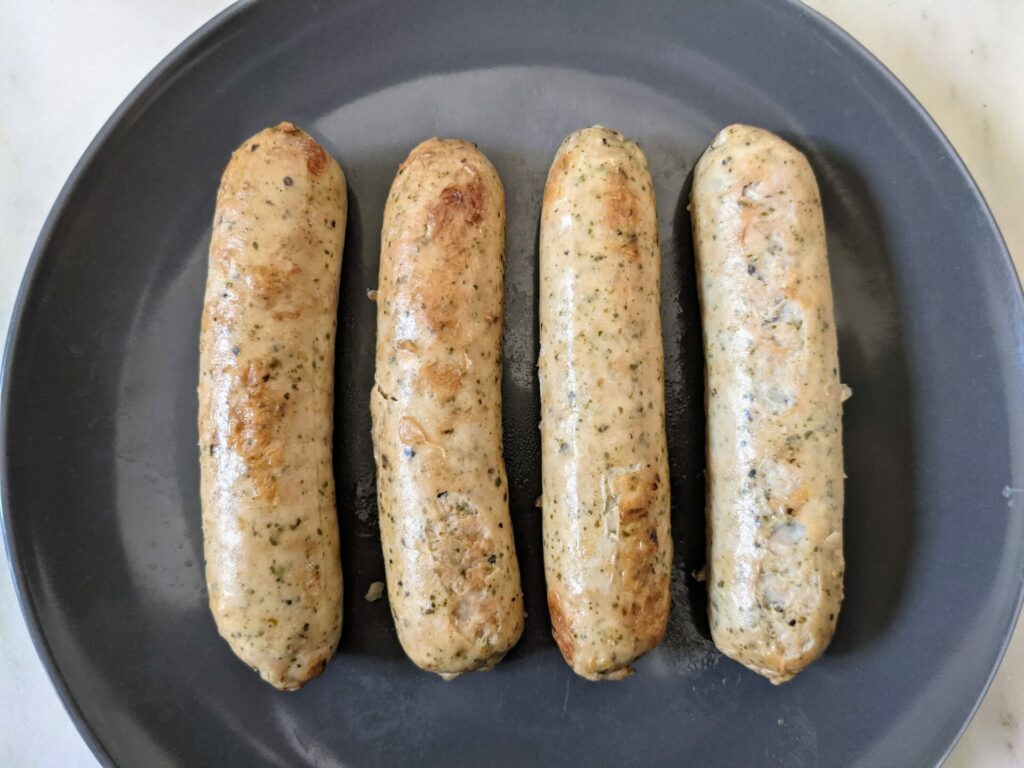 Both basil and pepper can be pretty strong overpowering flavors, but they failed to elevate the taste of the sausage as much as I expected them to. The basil and pepper were definitely present in the chicken sausage, but their impact on the overall flavor of the sausage was minimal. 
The smoke flavor is also non-existent and I completely forgot about it until reading the label again. I wouldn't classify these as having any smokiness or smoke flavor.
Considering all the positives of the sausage, including its great organic ingredients, I hoped for a less processed sausage. The inside of the chicken sausage felt very uniform and lacked the texture and variation that you might expect from a more artisanal or less processed sausage.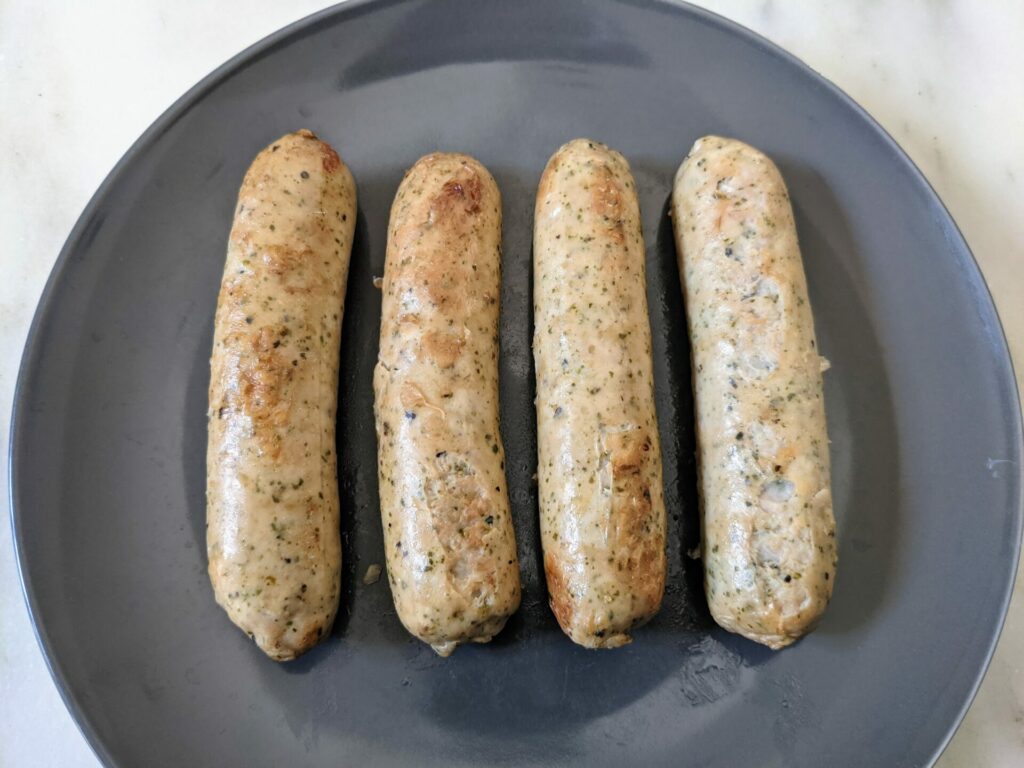 All that being said, I didn't hate the sausage, but I'm not going to devour these Sabatino's chicken sausages like I would some other sausages such as Costco's Jalapeno Sausage or the Grass Fed Beef Sausage. 
These chicken sausages are a great option for those with any dietary restrictions or who are looking for a healthier sausage option.
How to Cook Sabatino's Costco Chicken Sausage
The Sabatino's chicken sausages are already pre-cooked, so they just need to be reheated before being eaten. Sabatino's provides four different heating instructions for their sausages, and the chicken sausages can be ready in as little as 40 seconds.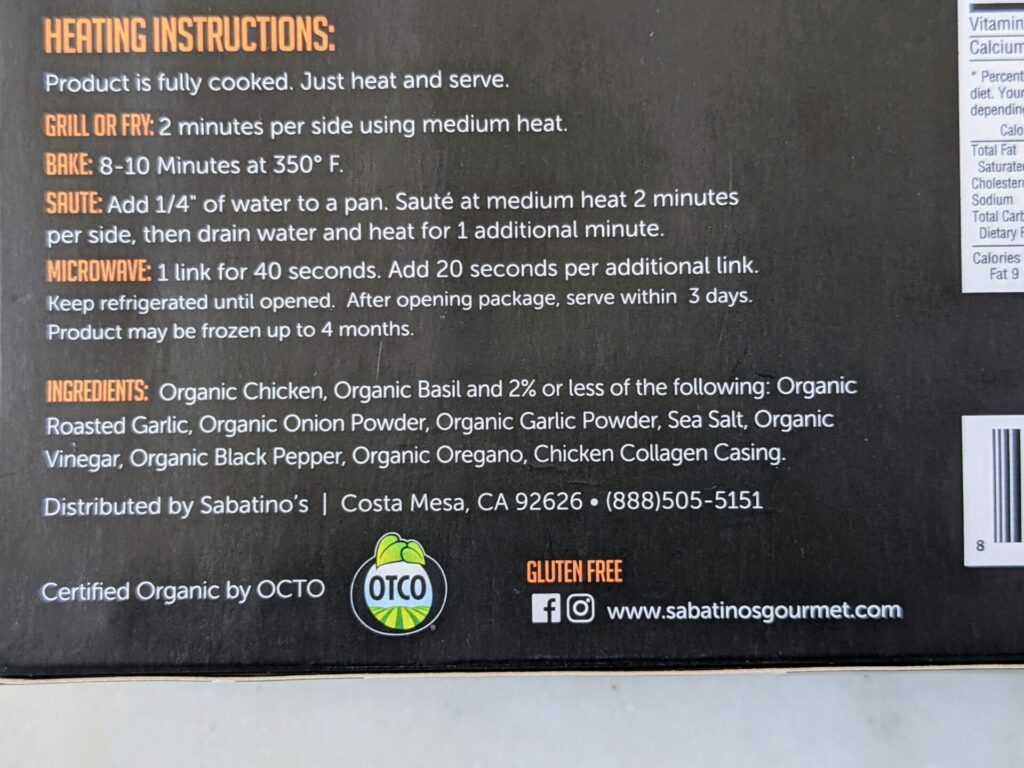 2 minutes per side using medium heat
Add ¼" of water to a pan. Saute at medium heat 2 minutes per side, then drain water and heat for 1 additional minute.
1 link for 40 seconds. Add 20 seconds per additional lin
Storage Instructions - Costco Basil Pepper Chicken Sausage
Keep refrigerated until opened. After opening the package, serve within 3 days. Products may be frozen for up to 4 months. 
Keep in mind the chicken sausages are broken up into two packages of 6, so the 3 days to eat six sausages should be plenty.
Sabatino's Basil & Cracked Black Pepper Chicken Sausage Calories and Nutrition
I've been singing the praises for this Costco basil pepper chicken sausage; the nutritional label is no exception. Chicken sausage will always be less fatty than pork, and this nutritional label is quite outstanding for a sausage. The full nutritional label is below:
Nutrition Facts
Costco Basil Pepper Chicken Sausage
Amount per Serving
% Daily Value*
* Percent Daily Values are based on a 2000 calorie diet.
Overall, excellent calorie information and nutritional label for this chicken sausage from Costco. The calories are minimal for a dinner sausage at only 160 per chicken sausage link. The 9 grams of fat are about half of what you would find in a pork sausage, and the 16 grams of protein are fantastic. 
The Sabatino's chicken sausage also has no added sugar and only 1 gram of carb per chicken sausage link, making this a very keto-friendly food option at Costco.
Costco Basil Pepper Chicken Sausage
Costco's Basil Pepper Chicken Sausage is super healthy and is an easy eat. Cook them properly for a healthy sausage that you can add to any meal.
Ingredients
6

Sabatino's Basil Pepper Chicken Sausages
Instructions
Grill or Fry: 2 minutes per side using medium heat

Bake: 8-10 minutes at 350°F

Saute: Add ¼" of water to a pan. Saute at medium heat 2 minutes per side, then drain water and heat for 1 additional minute.

Microwave: 1 link for 40 seconds. Add 20 seconds per additional link.
Nutrition
Serving:
1
Link
Calories:
160
kcal
Carbohydrates:
1
g
Protein:
16
g
Fat:
9
g
Saturated Fat:
3
g
Trans Fat:
0
g
Cholesterol:
75
mg
Sodium:
590
mg
Fiber:
0
g
Sugar:
0
g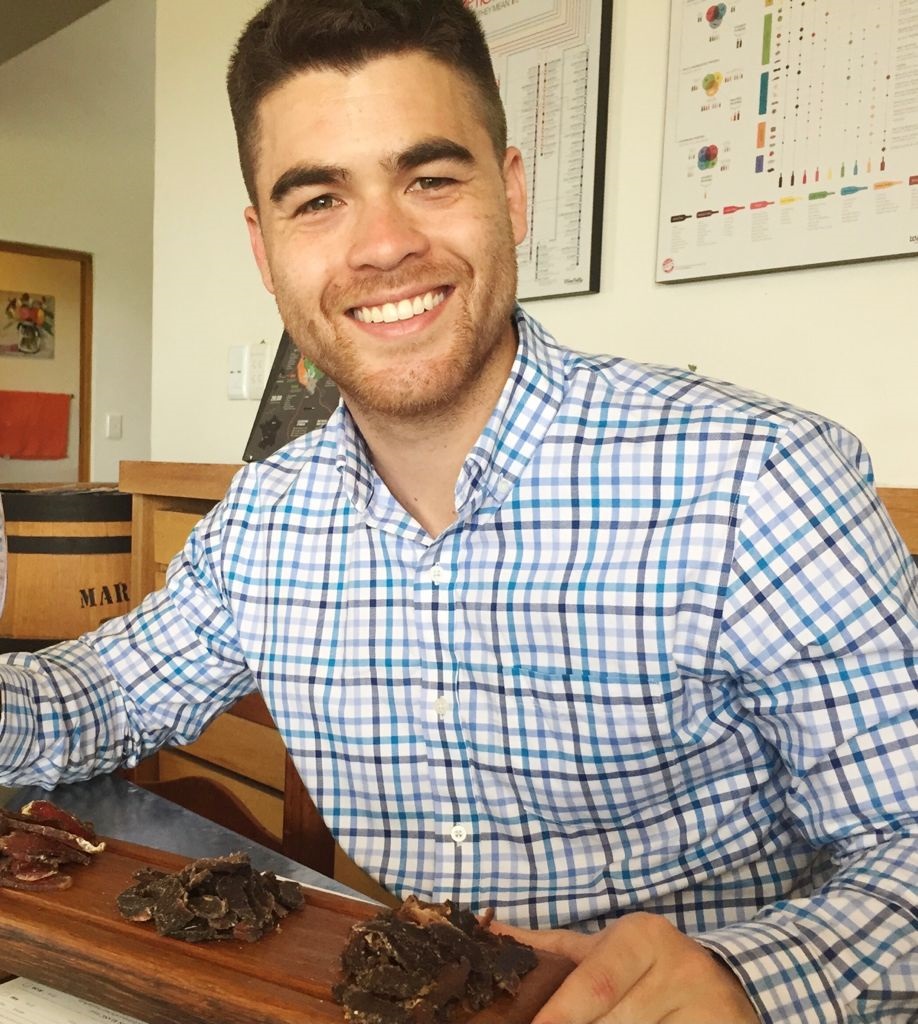 Greg Larkin is the founder and managing editor of Costco Food Database, the premiere site for honest takes on all things Costco food. A self-proclaimed Costco super-fan since childhood, Greg turned his obsession in a mission to properly rate and review all of Costco's delicious buys. When he's not busy navigating Costco aisles, you can find Greg smoking Kirkland Signature meats, meal prepping, or perfecting his homemade jerky recipes.