Costco Creamy Dill Pickle Chopped Salad Kit from Taylor Farms
Costco's Dill Pickle Chopped Salad Kit by Taylor Farms is jam packed with pickle flavor. If you like pickles, you'll love this salad from Costco.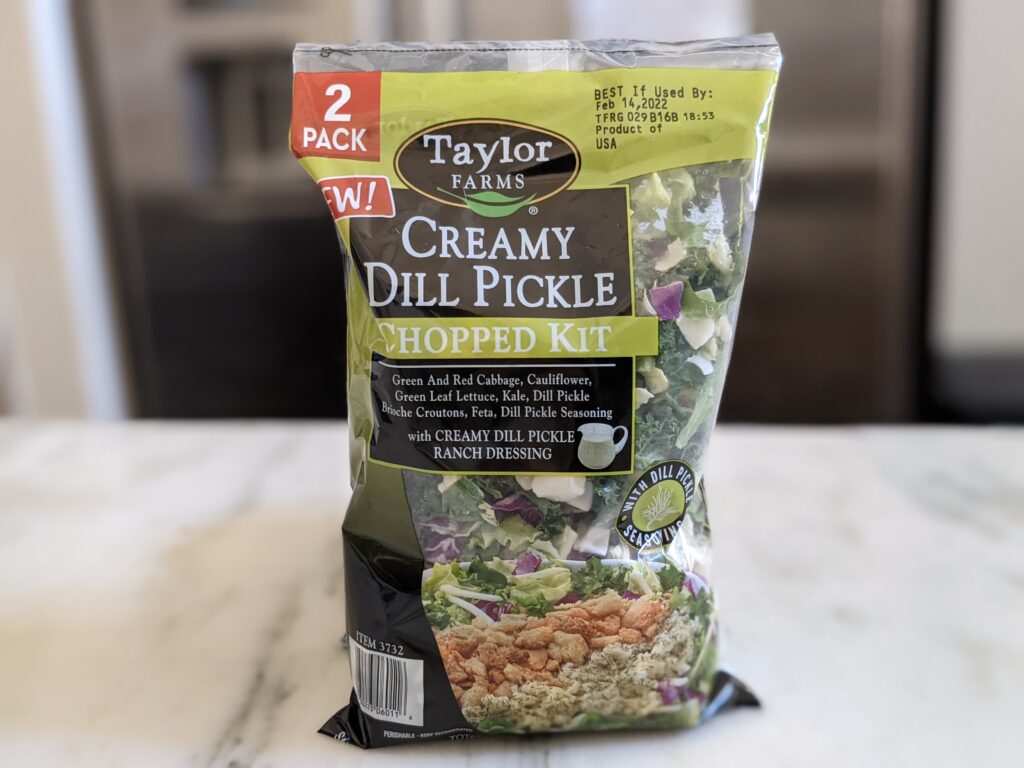 Creamy Dill Pickle Salad at Costco
Costco sells a 2 pack of Taylor Farms Creamy Dill Pickle Chopped Salad Kit for $5.99. The salad is usually located in the large refrigerated room with the fruits, vegetables, and other salad kits. 
Each pack contains 2 bags of 12.42 ounces of salad and dressing. 
Most Costco salads are sold in large bags that can be too much for one meal. 
The Costco dill pickle salad is a 2 pack, which is very nice because it allows for smaller salad portions. You don't have to feel rushed to eat a giant bag of salad.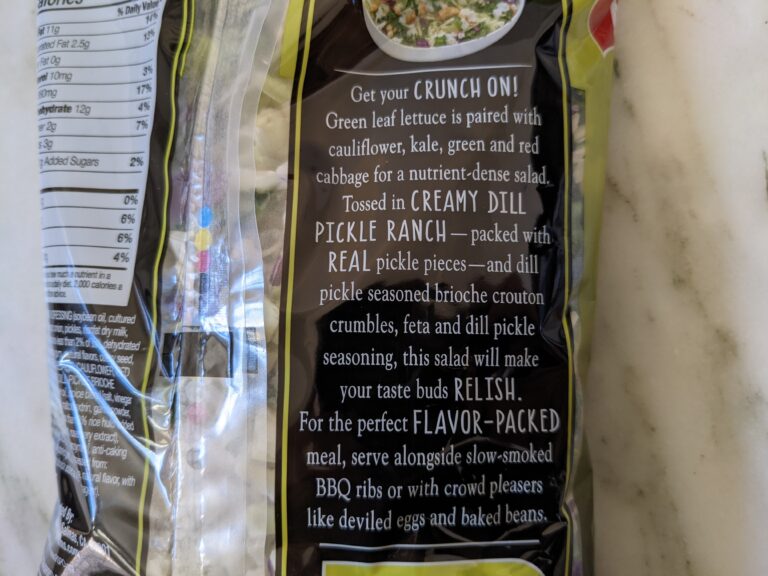 The salad is made up of a variety of fresh vegetables including green leaf lettuce, cauliflower, kale, and green and red cabbage. 
Now, what makes this salad so unique are the toppings and flavorings. The salad kit contains dill pickle brioche crouton crumble, feta cheese, dill pickle seasoning, and a creamy dill pickle ranch. This is going to be a very pickley salad.
Taylor farms recommends pairing this salad with slow cooked BBQ ribs, deviled eggs, or baked beans. 
I can understand how a dill pickle salad may go well with those items, specifically the BBQ ribs. The issue is that it can take hours and hours to properly slow cook some ribs. Doesn't seem like a realistic pairing for people to enjoy on a regular basis.
I'm not really a salad guy and I'm definitely not a pickle guy, but for a reason I can't explain, I am excited to try out this salad. I'm a little picky when it comes to vegetables, but nothing in this salad is a deal breaker for me.
The salad looks really fresh and the ingredients sound great. I'm intrigued to try the pickle flavored toppings including the ranch and the croutons. 
Even though I don't care for pickles, I do appreciate that Costco is always carrying unique food items.
Taylor Farms Pickle Salad Review
I wasn't a pickle guy before this salad, and I'm still not a pickle guy after this salad. The salad was actually packed with pickle flavor, and I'm sure pickle lovers are going to really enjoy this salad. It just wasn't enough to convert me to a pickle person. 
As far as salads go, the vegetables were very fresh and refreshing. I was pleasantly surprised how fresh the salad was considering this is a bagged salad. Kudos to Taylor Farms for that.
The vegetables compliment each other very well. There was plenty of green leaf lettuce and the cabbage provided a nice crunch. 
I didn't care for the kale much, and found it to be quite dry. I think the salad would have been better without the kale. 

The pickle-flavored croutons were actually crumbled croutons and not the typical full size croutons. 
The croutons shown on the image of the bag are not full sized croutons, but the croutons I received were actually much smaller than pictured. 
The dill pickle seasoning was a nice touch to add additional flavor to the salad. I spread the seasoning evenly over the salad and then mixed well. 
I wanted to be certain that the dill pickle flavor was going to be on each bite and not heavily congregated in certain areas.
The dill pickle ranch was great. The flavors were on point and it was a very tasty dressing. The biggest problem I had was that there was not enough dressing. I don't need a lot of dressing, but I would say the dressing pack would need to be 50% larger to adequately cover the salad. 
Because of this, and combined with the kale, the salad did feel a little dry. You do get quite a bit of vegetables, and I wasn't able to finish the salad because of how dry it got near the end of the meal. 
The feta cheese was also a nice addition to the salad. The feta went well with the pickle flavors that were present with each bite. 
There were large clumps of feta in my salad which were a little much at times.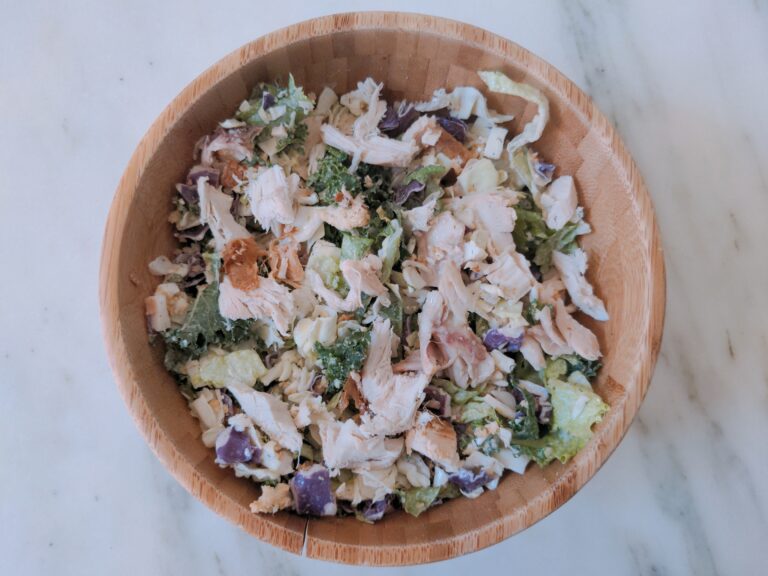 Overall the salad was tasty and the pickle flavors were present without being overpowering. I ate my salad with a Costco rotisserie chicken and It was a great combination. 
The salad needed to have quite a bit more dressing as it was dry. I personally thought the salad was just fine, and I'm sure those who like pickles will enjoy it.
Costco Dill Pickle Salad Nutritional Information
How Many Calories in Costco Dill Pickle Salad?
Each bag of Costco dill pickle salad is made up of 3.5 servings each with 150 calories. Each serving has 11g of fat, 12g of carbs, and 3g of protein. 
This includes the dressing and all other toppings.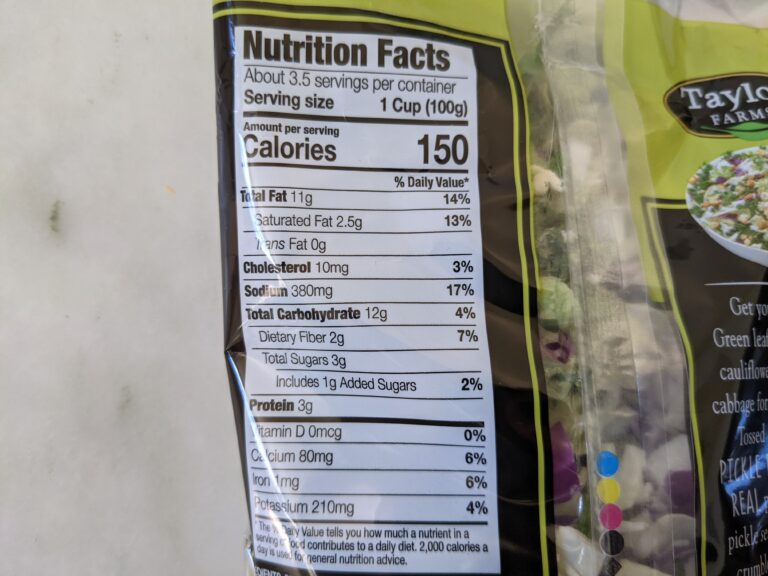 If you ate the entire bag, it would be 525 calories, 38.5g of fat, 42g of carbs, and 10.5g of protein. 
The fat count is a little high, mostly due to the ranch dressing. Everything else looks pretty standard.
Surprising Sodium Content
Each serving will contain 380 mg of sodium which is 17% of your recommended daily value. The entire bag has 1330 mg of sodium or 59% of your daily value. Yikes!
I didn't love it, I didn't hate it, but there could be some improvements. Not my favorite salad at Costco. If I were to improve this salad, I would remove the kale and add in more dressing. It's a good buy at $5.99 for a 2 pack and if you like pickles, you will enjoy this salad.
Costco Food Database User Reviews
Have you tried this item? Let the rest of the Costco Food Database community know what you think. Leave a rating and review for this product.