Costco Croissants - Taste Hacks, Storage Tips, and Recipe Ideas
Kirkland Signature Croissants at Costco
How much do Costco Croissants Cost? (Price Increase)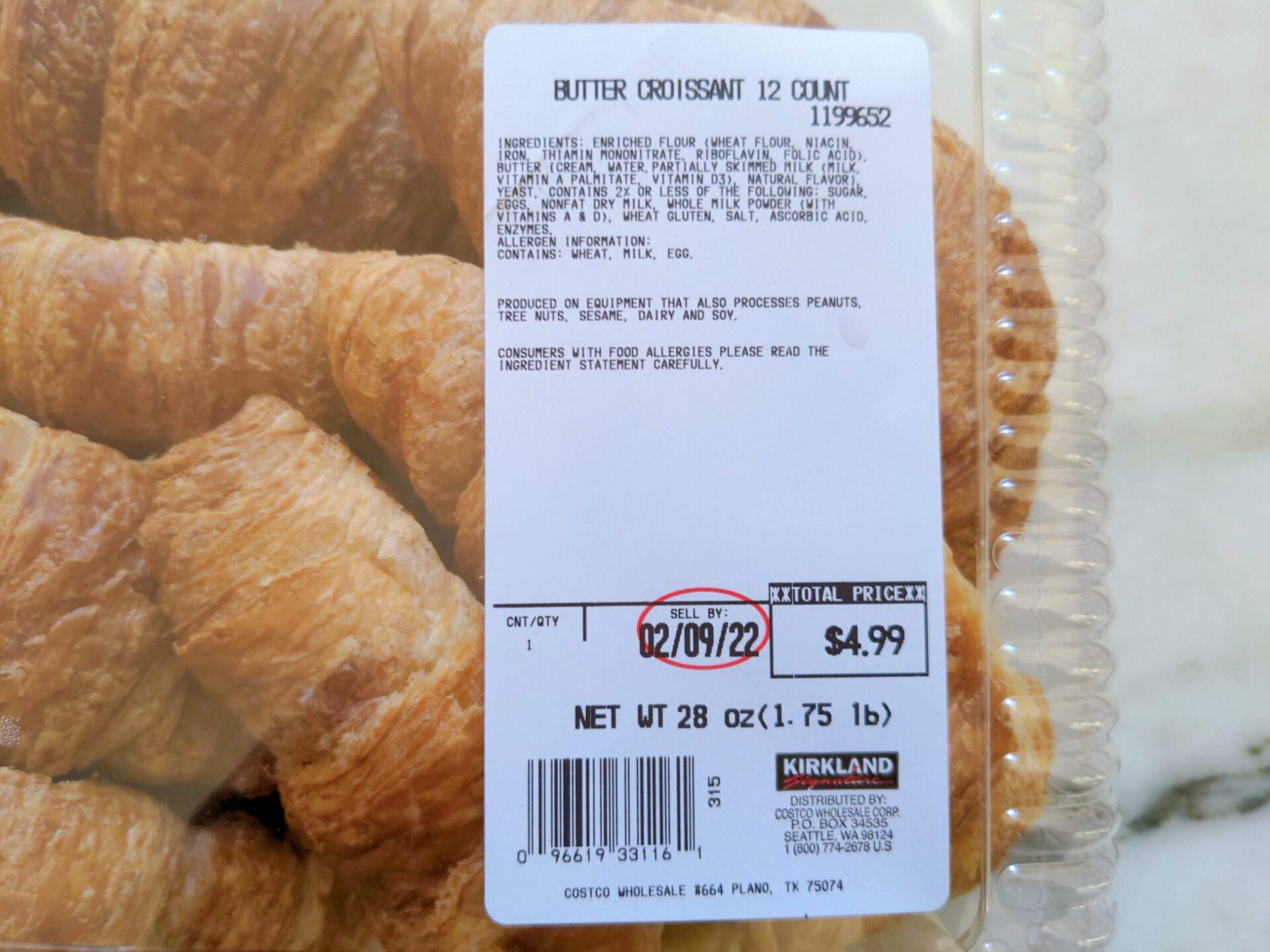 A 12 pack of freshly baked croissants sells for $4.99. This breaks down to $0.42 per croissant which is a fantastic price for a fresh baked good. The 12 pack of bagels or muffins at Costco each go for $7.99 or $0.66 each. The croissant is one of the more affordable options at Costco's bakery.
UPDATE: Unfortunately, the price has since changed to $5.99 and each Costco croissant now costs $0.50 each. Still a very fair price, but its always disappointing to see price increases.  
Have You Tried Costco's Croissants?
Let the rest of the Costco Food Database community know what you thought of this product. Results and reviews are at the bottom of this page.
Please allow 24 hours for review moderation and approval.
Just like in France, these Costco croissants are light, flaky, buttery and have a hint of sweetness. These can be eaten as-is right out of the box, or they can be spruced up to fit a variety of meals.
The Croissant Shape Change - New & Improved?
Long time Costco members will know that the shape of the croissant has changed over the years. For as long as I can remember, the Costco croissant has always been the crescent shape.
A few years ago, Costco transitioned from the crescent shaped croissant to one that is now essentially straight, as you can see in the pictures. 
Why The New Croissant Shape Is Better
A Costco baker posted on reddit that the change is actually good for consumers. They stated that the straight croissant is now made only with butter, while the crescent croissant was made with a butter oil combination. 
Butter is better than oil in croissants because it can puff up the pastry and really soak into the flakey layers. 
Kirkland Signature Croissant Taste Test
For this review, I've reheated my Costco croissant in the air fryer. These can be eaten cold from the box, but are much more flavorful when warmed up. I've included my air fryer heating instructions below. 
When I pulled my croissant out of the air fryer, the first thing I noticed was how much more crispy the pastry was. Out of the packaging, they are rather soft and pliable.
Once sufficiently warmed up, the outside really crisped up and was much more firm. You could literally hear and feel the crisp on every bite.

The inside was soft, flaky, and so so buttery. It's a delicious treat, when the croissant layers just melt in your mouth. The layers were both light and doughy with just a touch of sweetness. The croissant is very tasty and without a doubt one of the best store bought croissants you can get.
Now, there is nothing wrong with eating a plain croissant, but there are many ways to get more value and use out of these Costco bakery favorites. The best part is, there's no wrong way to eat a croissant. 
When many people think of a croissant, they think about breakfast. These Costco croissants are absolutely delicious for breakfast, but can also be combined with other ingredients to create an elevated breakfast meal.
I made an all Costco breakfast sandwich using the croissants, Costco Organic Pasture Raised Eggs, Tillamook cheddar cheese slices, and AmyLu Chicken Sausage. Took about 5 minutes to make this savory and filling breakfast dish. Definitely give it a try with bacon too.
Using the Croissant for Desserts
And of course, you can't forget about dessert. Croissants pair well with all sorts of sweets including chocolate, nutella, berries, bananas and more. 
All you have to do is slice open the croissant, add your filing, and toast for a few minutes to get a warm and decadent desert. My personal favorite is a croissant filled with cream cheese and berries!
Keeping your Costco Croissant Fresh
Because this is a fresh baked good, the shelf life is actually quite short. These aren't from the frozen food aisle and aren't packed with preservatives, so they need to be stored appropriately. 
Once baked, the Costco croissants are at their freshest for about 2 days. Since you are purchasing a dozen croissants per package, it can be difficult to finish them all in 2 days. 
Kirkland Signature butter croissants can be stored in the refrigerator for up to 7 days. We put them in the fridge almost immediately here at home. We simply reheat them when we are ready for a croissant or two. Heating methods are listed below.
Can you Freeze Costco Croissants?
How To Freeze The Croissants from Costco?
Yes! Croissants can be frozen and will maintain the freshness for 1-2 months in the freezer. Wrap them in saran wrap and place the croissants in a Ziploc freezer bag. Squeeze as much air out of the bag for placing it into the freezer.
To defrost, you can simply place them in the refrigerator overnight or use your microwave to quickly defrost them. If you want to go to the microwave route, use the defrost button or microwave on 50% power for 1 minute. 
After defrosting, they can be heated using any of the methods listed below. My personal reheating option for the Costco croissants is going to be with the air fryer.
Croissant Deliciousness Hack - Heating Tips
While these can be eaten straight out of the packaging, they do taste infinitely better when they are heated. 
All you have to do to transform this croissant from a soft-baked good to a delicious flakey pastry is to heat/crisp it. The end result is a croissant that is much more reminiscent of a fresh-baked French pastry. 
There are no official heating directions from Costco for their croissants, but there are some quick and easy ways to warm them and make them taste as if they were freshly baked. 
Before I get into the specific warming instructions, I want to warn you to be very careful and delicate when handling a croissant. They are very light, and flaky and can be damaged or dented rather easily. 
Additionally, they burn very quickly as well. I learned that lesson the hard way when reheating/crisping these on the stove. I'm sure it can be done, but there are other more foolproof methods out there. 
Air Fryer Croissants Trick
I personally like to use my air fryer, as it only takes 5 total minutes to preheat the air fryer and warm and rejuvenate a Costco croissant. I warm mine at 325° for 3-4 minutes. 
The end result is an amazingly delicious butter croissant that is crispy yet fluffy. So so good. 
Everybody's air fryer is a little different, so keep a close eye on the croissants to ensure they don't burn.
If you have time for the oven to preheat, you can reheat these croissants at 350° for 3-4 minutes. It doesn't take a long time at all to warm a croissant.
I personally avoid the oven just for the fact that it can take 10+ plus to preheat the oven. 
The most common way to reheat a croissant is going to be in the microwave. It doesn't need long, and depending on your microwave about 45 seconds to 1 minute should do the trick.
How Much are Costco Croissants?
Costco's 12 pack of fresh baked croissants now cost $5.99. Each croissant cost $0.50. Pair the Kirkland Signature Croissants with a hot $4.99 rotisserie chicken to make multiple meals for a little more than $10.
These Costco croissants are packed full of flavor and a true steal at only $4.99 for a dozen. They are great to eat in so many different ways and make a nice dish at breakfast, lunch, dinner, or even dessert. These are a Costco classic that the whole family loves.
Here is our guide for the calorie information on the croissants and the rest of Costco's bakery.
Costco Food Database User Reviews
Have you tried this item? Let the rest of the Costco Food Database community know what you think. Leave a rating and review for this product.