15 Minute Homemade Gyro and Tzatziki Dip - Costco Ingredients
Can't make it to Greece tonight? No problem! Bring the taste of Greece home with these easy, affordable, and delicious homemade gyros using simple Costco ingredients. A popular Greek street food, gyros are a meat dish served on a pita bread (we use naan bread in this recipe) topped with fresh vegetables and a refreshing creamy greek yogurt sauce.

And as always, these are Costco only recipes meaning all ingredients, seasonings, and sauces can be found and purchased in Costco's throughout the United States.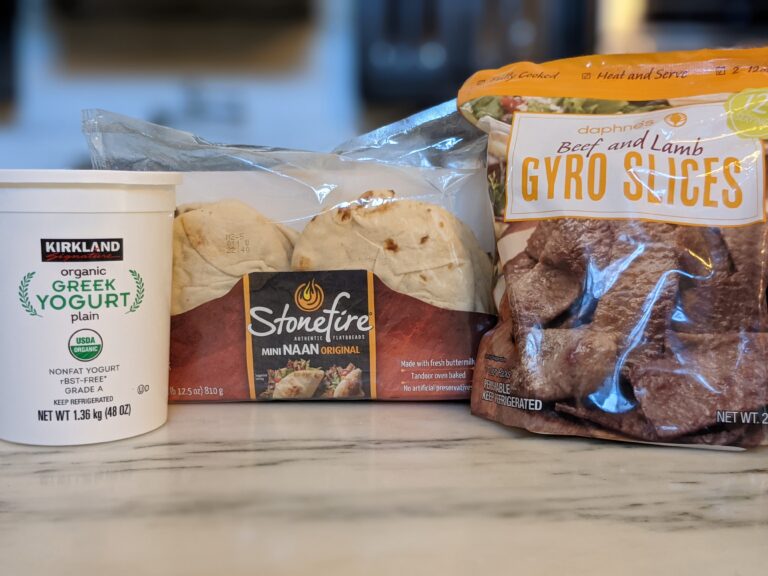 In my family we like to have what we call "Mix Up Meals". These are meals that we don't eat very often and didn't really have a chance to enjoy growing up. We use these types of dinners to shake up the routine a little and put some fun back into the weeknight. These homemade gyros from Costco are perfect for us as they are easy to make, unique, refreshing, and delicious. With just a few simple multi purpose ingredients that we buy from Costco, we can turn a weeknight chore into a fun and festive mealtime.
This a great alternative to Costco's gyro kit.
I like to use Daphne's Beef and Lamb Gyro slices from Costco. These are sold in a 2 pack of 12oz portions and can be found in the deli section. These are already cooked and just need to be reheated. I like to fry these up on a skillet to give them a nice browning. 
In this recipe, I use the Stonefire Naan bread which is going to be a little different from the traditional Pita bread that is used in gyros. I feel the pita that Costco sells is a little too thick and I prefer the taste and softness of the Stonefire Naan breads. They are also super versatile and can be used in a variety of other meals. 
| Tzatziki Sauce | Cost | Cost Per Serving |
| --- | --- | --- |
| Kirkland Signature Greek Yogurt | $5.99 | $2.25 |
| Cucumber | $1.50 | $.75 |
| Kirkland Signature Extra Virgin Olive Oil | $10.99 | $0.10 |
| Lemon | $0.50 | $0.25 |
| | Cost | Cost Per Serving |
| --- | --- | --- |
| Stonefire Mini Naan Bread 18ct | $5.89 | $0.32 |
| Daphne's Beef/Lamb Gyro Meat | $11.49 | $0.95 |
| Tomato | $1 | $0.25 |
| Onion | $1 | $0.25 |
| Kirkland Signature Extra Virgin Olive Oil | $10.99 | $0.10 |
Some Costco locations do sell a 30oz tub of  organic Tzatziki for $7.99. We don't use Tzatziki sauce very often at our home and found it more economical to make our own using Kirkland Signature Greek Yogurt
Tzatziki is a sauce/dip that is made from greek yogurt that is combined with cucumbers, garlic, oil, lemon, and salt. Tzatziki is a very simple sauce to make and can be whipped up in about 5 minutes. Follow this recipe and season as you please, and you will surely create a sauce that elevates these gyros to the next level. 
Before we get to the recipe, it is imperative I mention to remove the excess water from the cucumber after grating it. This prevents the tzatziki from getting watered down and allows it to keep the creamy yogurt texture. 
Feel free to make as much as you like, Tzatziki goes well with a wide variety of vegetables and will keep for a few days in the fridge.
Tzatziki Ingredients 
2 cups of greek yogurt

3/4 cup of grated cucumber

1 tablespoon of lemon juice

1½ cloves of garlic grated

2 teaspoons of extra virgin olive oil

½ teaspoon of salt

½ teaspoon of smoked paprika (optional)
Grate or finely chop 1 cup of cucumber. No need to peel or deseed. 

Gently squeeze out any water from the cucumber (you can use your hands or press with a paper towel).

Combine cucumber with greek yogurt and stir in all other ingredients. 

(Optional) Drizzle with additional extra virgin olive oil.
Now let's get to the hero of the meal. This gyro recipe is extremely easy and takes about 15 total minutes to cook the gyro meat, slice the veggies, and assemble. While you are getting the Tzatziki done, the next step will be to heat the pita or naan. 

It may be less authentic, I use Costco's Stonefire Mini Naans for this recipe. I really enjoy the soft and buttery texture of the naan, and it goes great with the gyro meat and tzatziki sauce. I cook these on the stove for about 1-2 minutes each and depending on the size of your pan, you can cook about 10 individual naan breads in about 5 minutes.
After the naan is warmed up, we can go ahead and throw Daphne's gyro meat into the pan. I try to use the same pan to cut down on dishes. While those are heating up, I will go ahead and slice the tomatoes and onions. Slicing the vegetables should take only a few minutes and can be done in between flipping the gyro meat.
The gyro meat usually takes about 5-10 minutes. I like to cook mine on the longer side to give the meat a nice brown crust. Once the gyro meat is properly browned and cooked through, we are ready to assemble and serve. 
Putting the gyros together is as simple as placing the meat on the naan, then covering with the sliced vegetables and then tzatziki dip. Enjoy!
Costco Homemade Gyros with Naan Bread
Quick and easy 15 minute homemade gyros using ingredients from Costco.
Ingredients
12

oz

Daphne's Beef and Lamb Gyro Meat Slices

5

Stonefire Mini Naan Flatbreads
Instructions
Heat pan to medium-high heat and add in Daphne Gyro meat. Stir occasionally until meat is browned and heated through. Remove gyro meat.

Heat Mini Naan Flatbread for 1-2 minutes until sufficiently warm and crispy.
Tzatziki Dip
A 5 minute Tzatziki dip that you can make from home with simple everyday ingredients.
Ingredients
2

Cups

Kirkland Signature Organic Greek Yogurt

3/4

Cup

Grated Cucumber

Make sure to press dry

1

tbsp

Lemon juice

1 1/2

Cloves

Grated or finely chopped garlic

2

tsp

extra virgin olive oil

1

tsp

salt

1

tsp

smoked paprika

optional
Instructions
Grate or finely chop 1 cup of cucumber. No need to peel or deseed.

Gently squeeze out any water from cucumbers (you can squeeze with your hands or press with a paper towel)

Combine cucumber with Greek yogurt and stir in all other ingredients

Drizzle with additional extra virgin olive oil and season to taste