45 Easy Costco Dinner Meals (Ready In 15 Minutes Or Less)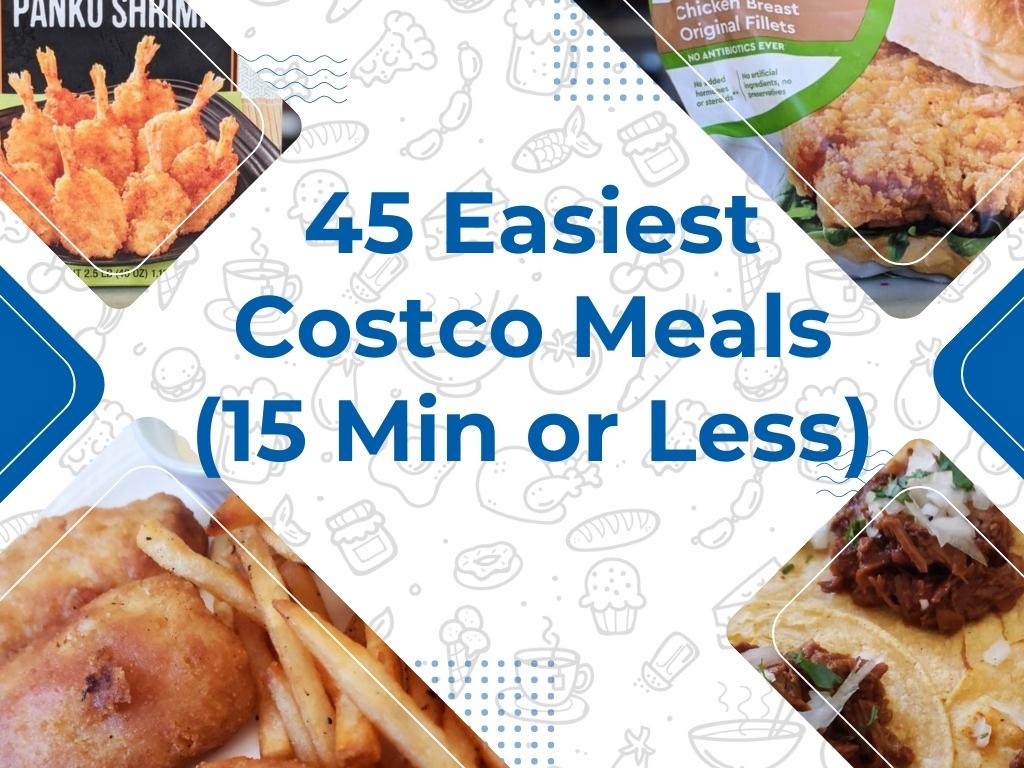 Easy Weeknight Costco Dinners
We get it; dinner time is stressful. After a long day of work, the last thing you want to do is spend hours in the kitchen trying to get dinner on the table. That's why we've put together this list of the 45 easiest Costco dinner options. 
We didn't just throw this list together – we carefully curated it to bring you the tastiest, most convenient, and most unique weeknight dinner options at Costco. We hand-picked items that minimize cook time but maximize flavor. You'll find a lot of your favorites on this list of easy Costco dinners, and hopefully, you find some new, unexpected gems that you can add to your weeknight dinner rotation.
Costco Makes Dinner Time Fun And Easy
While Costco offers many high-quality foods, the main focus of this article is easy Costco dinners and meals. We aren't necessarily highlighting the tastiest or best value Costco meals overall – our goal is to provide you with quick and convenient dinner solutions for hectic weeknights.
Keep in mind, your favorite Costco dinner may not be on our list, and the most likely reason is that it just takes too long to prepare.
These Costco Meals Can All Be Prepped In 15 Minutes Or Less!
The key factor tying together all 45 meals featured here is prep and cook time. You can cook every item on this list from start to finish in 15 minutes or less. From heat and eat proteins to skillet sides, these fast Costco picks help you get dinner on the table in a flash. 
When you need a hassle-free meal that fits your busy lifestyle, turn to these quick and effortless meals that go from freezer or fridge to table in just minutes flat.
Kirkland Signature Pulled Pork - $13.99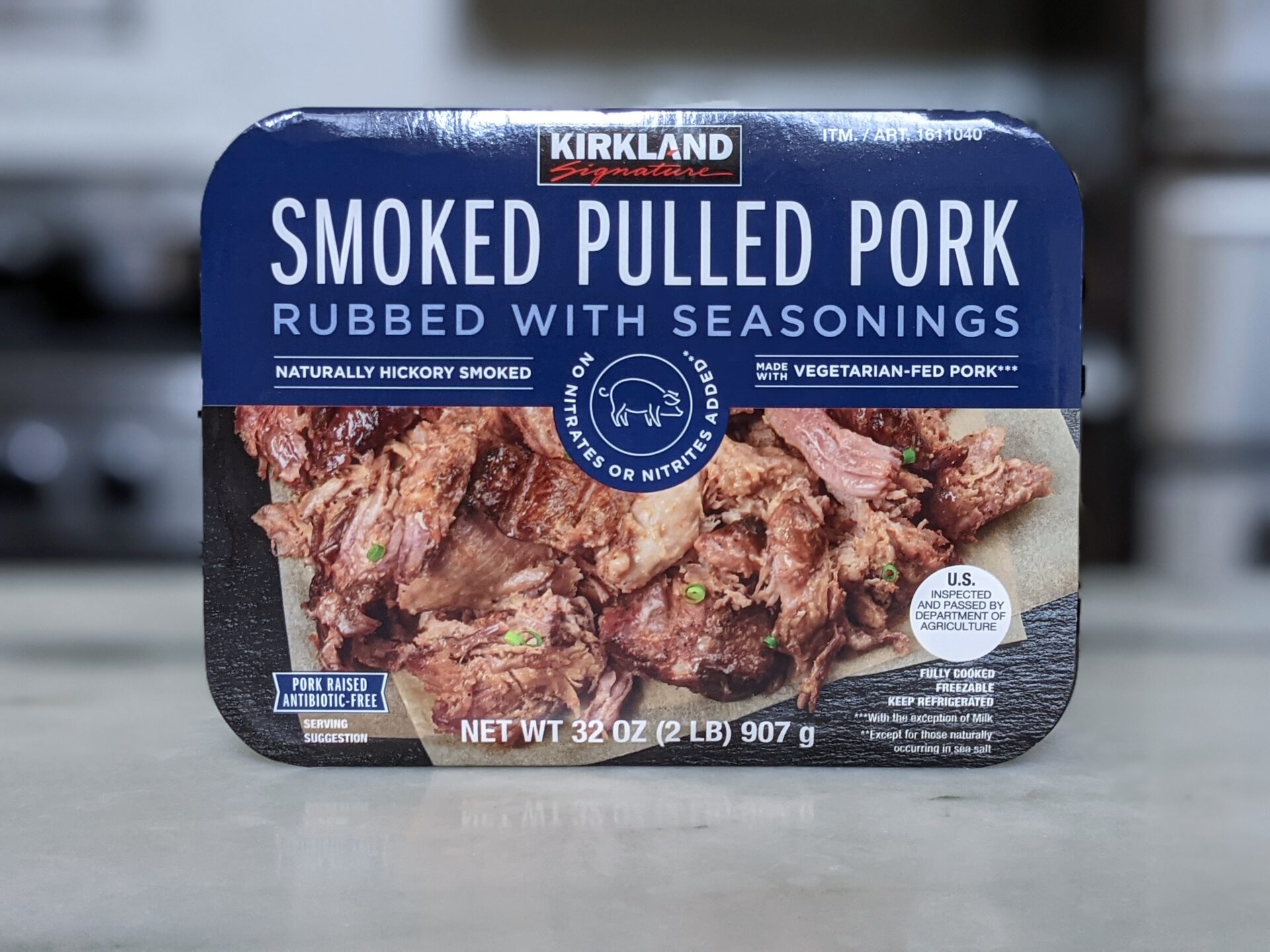 Costco's new smoked pulled pork saves you hours of smoking time and can easily put dinner on the table in less than 15 minutes. The juicy shredded pork just needs a quick zap in the microwave or stovetop to heat and eat. 
At $7 a pound, it's pricier than DIY, but the tender meat infused with hickory smoke flavor is worth it when you factor in convenience. It's definitely better smoked pulled pork than I can make! Comes in a handy 2-pound pack, so you might even have leftovers for tomorrow. Throw it on a bun with some slaw, and you've got tasty sliders on the table in no time.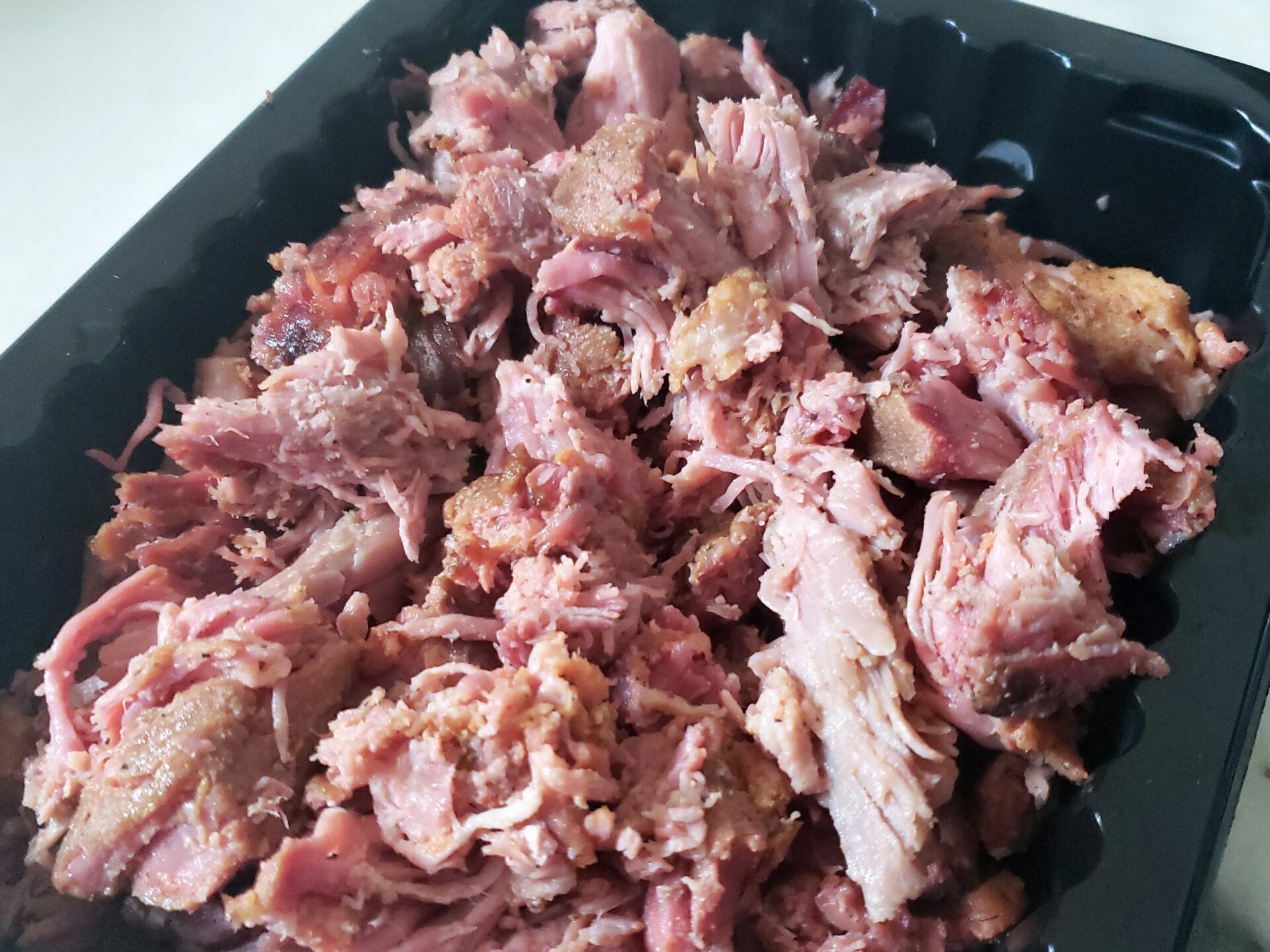 Kirkland Signature Garlic Butter Shrimp - $15.99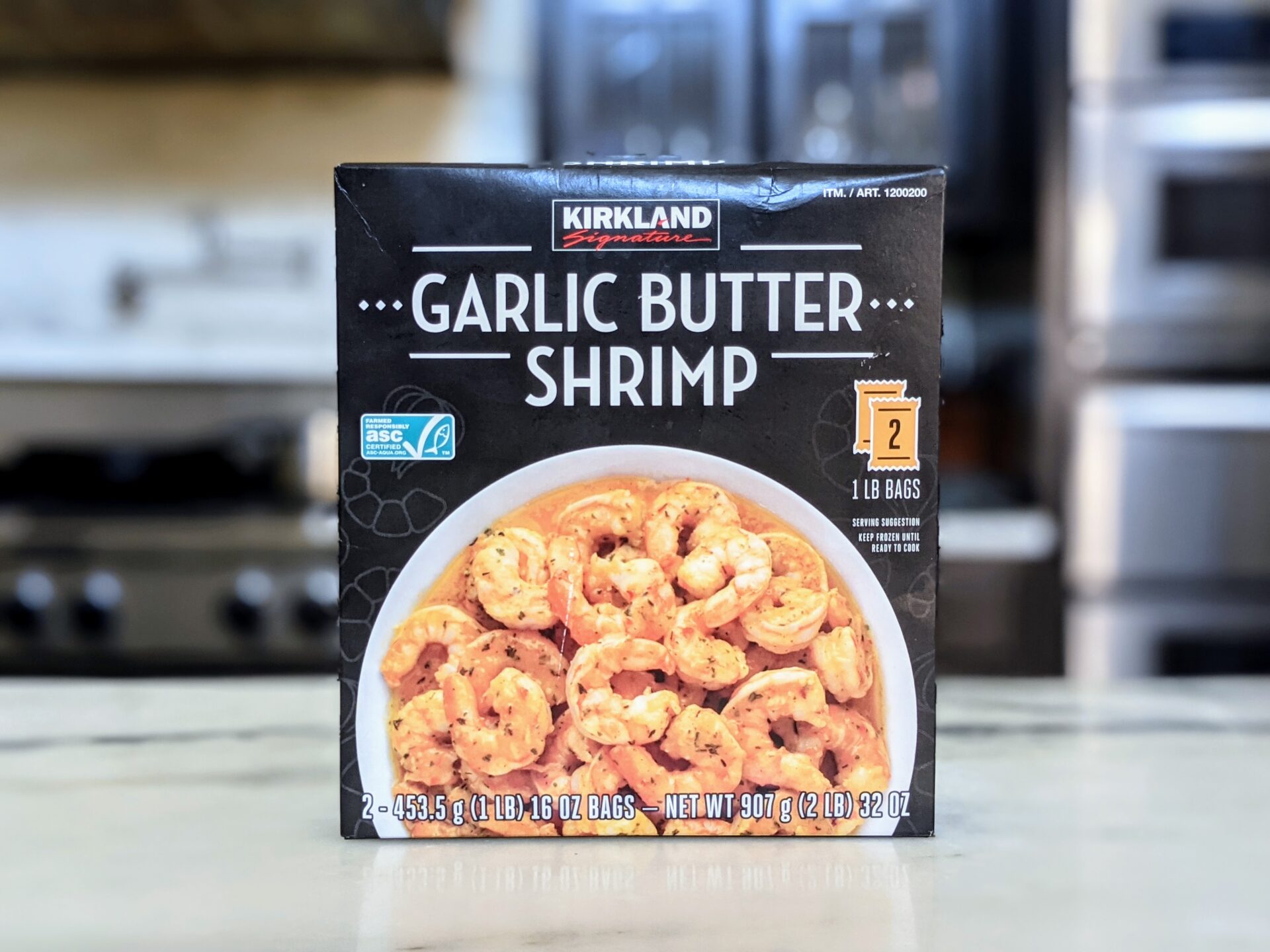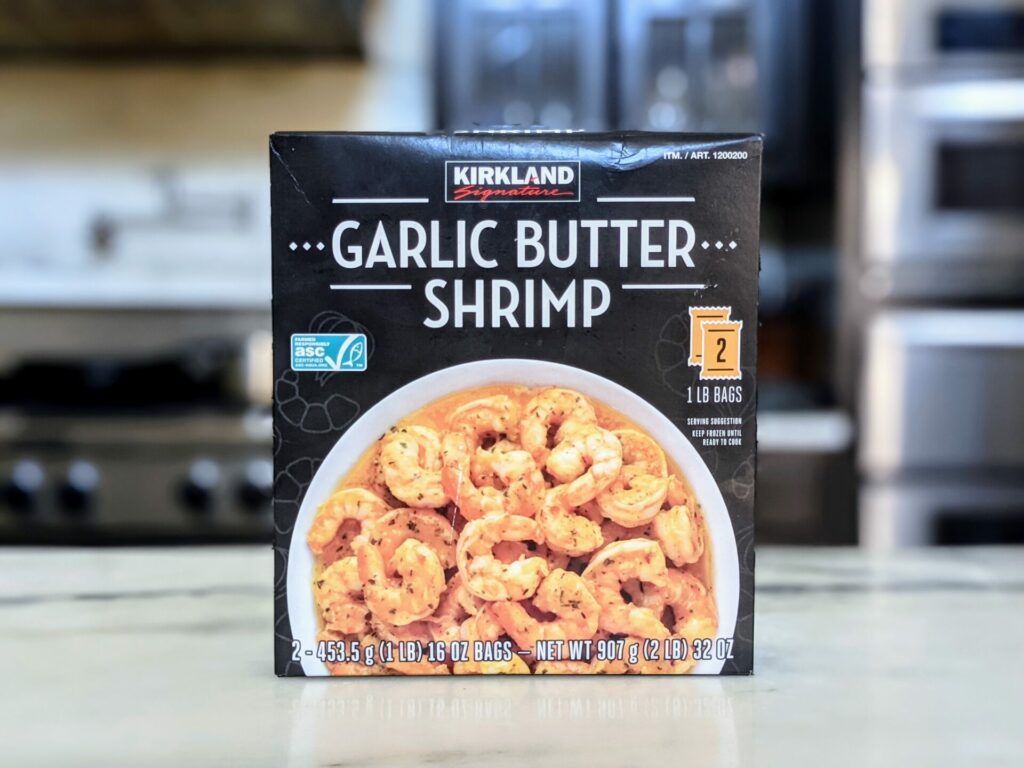 Buttery, garlicky shrimp is a breeze with Costco's pre-sauced frozen shrimp. The shrimp cook up so moist and tender in the skillet(You can also bake them in the oven or heat in the microwave). At $8 a pound, including the sauce, they're decently priced for delicious shrimp swimming in rich, flavorful butter. 
The sauce really makes these shine, and they are perfect over pasta, rice or salad. Delish as an app or entree.
Kirkland Signature Yakisoba Stir Fry - $6.49/Pound - $22-$25 Per Package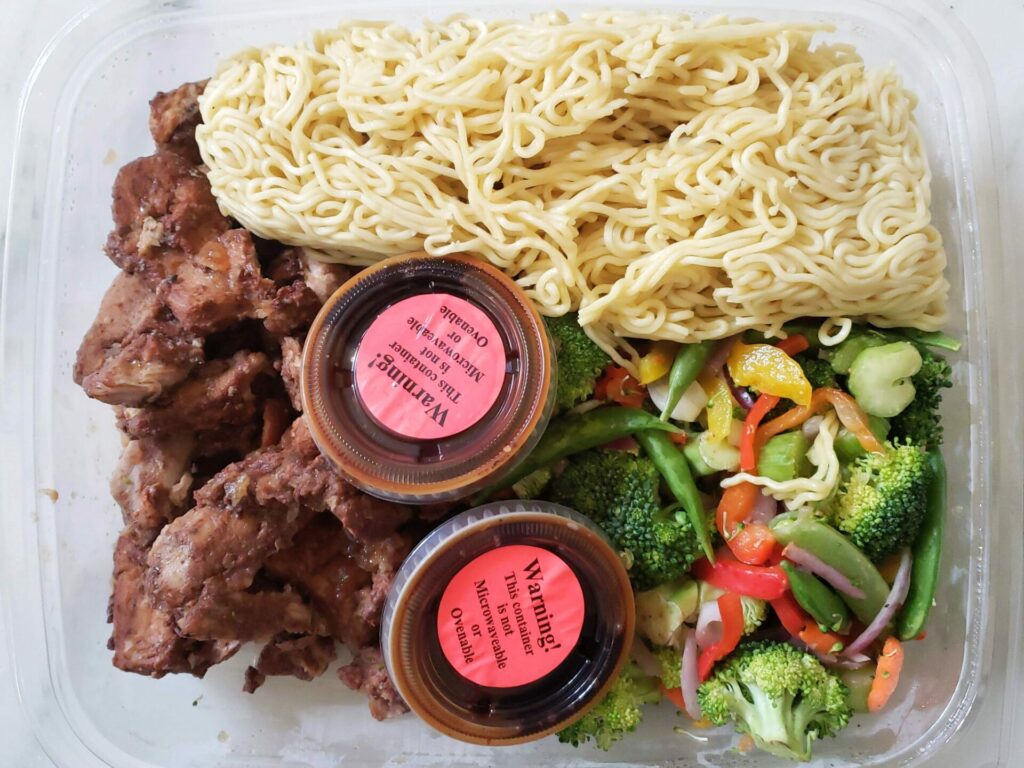 Costco's ready-made yakisoba stir fry kit is perfect for a fast Japanese-style dinner. It's loaded with noodles, chicken, broccoli, carrots, and more – just sauté with the included sauce and serve! At $20-$25 for a huge tray ($6.49/pound), it feeds the whole family.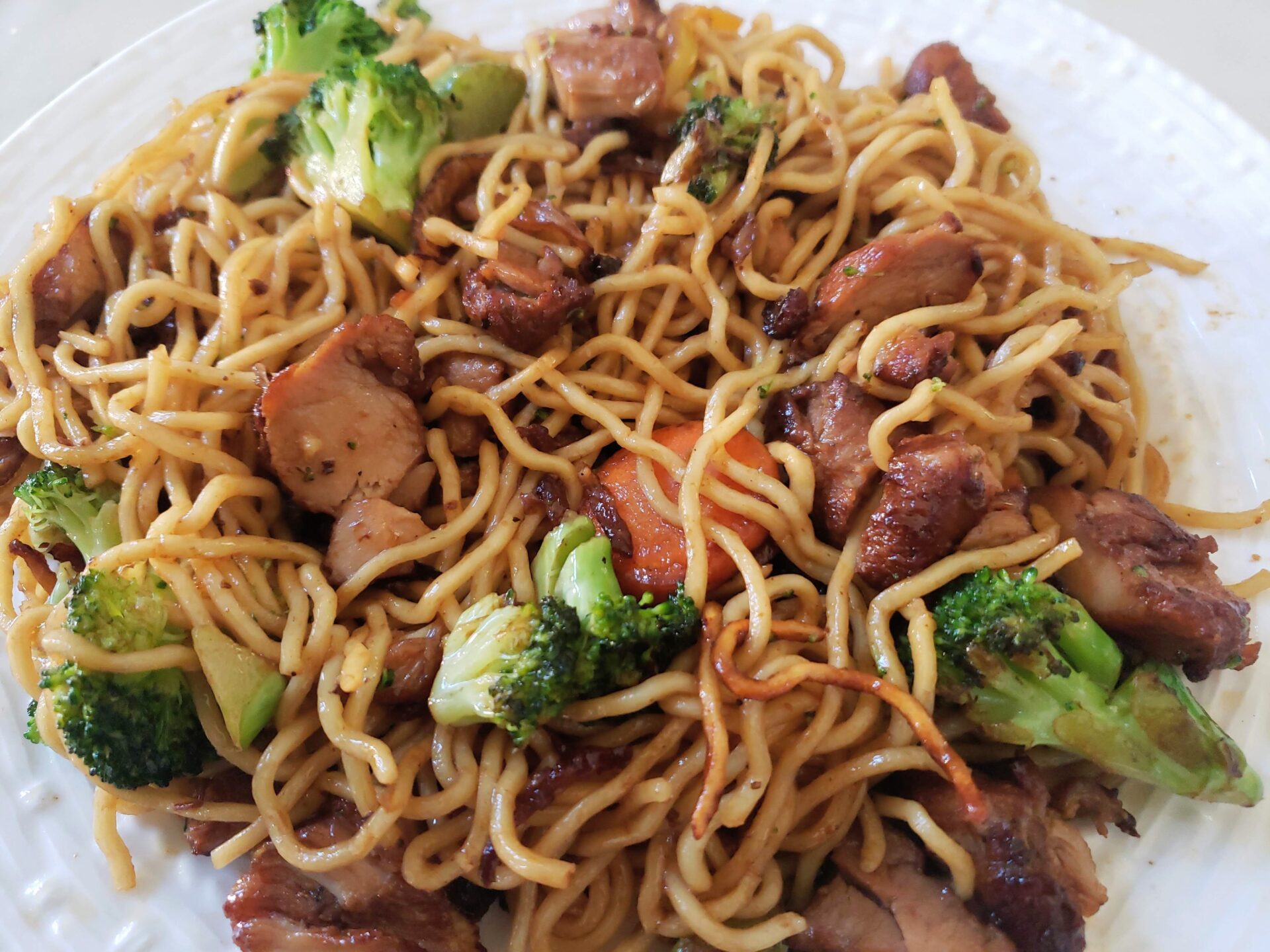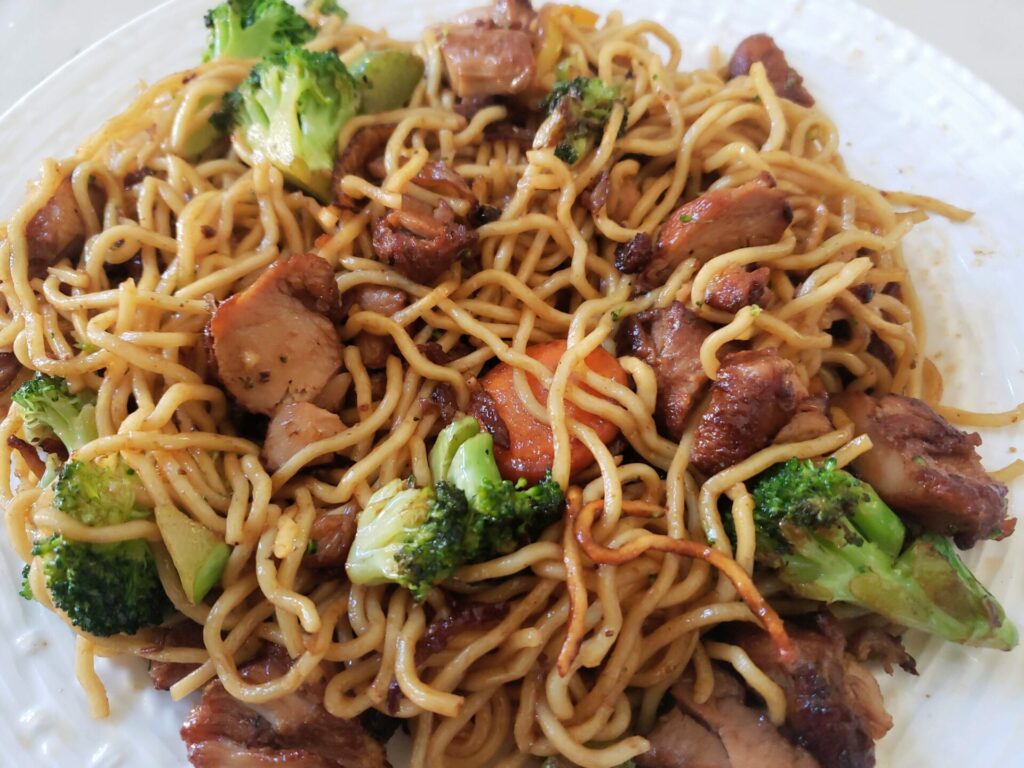 Sukhi's Tikka Masala - $16.99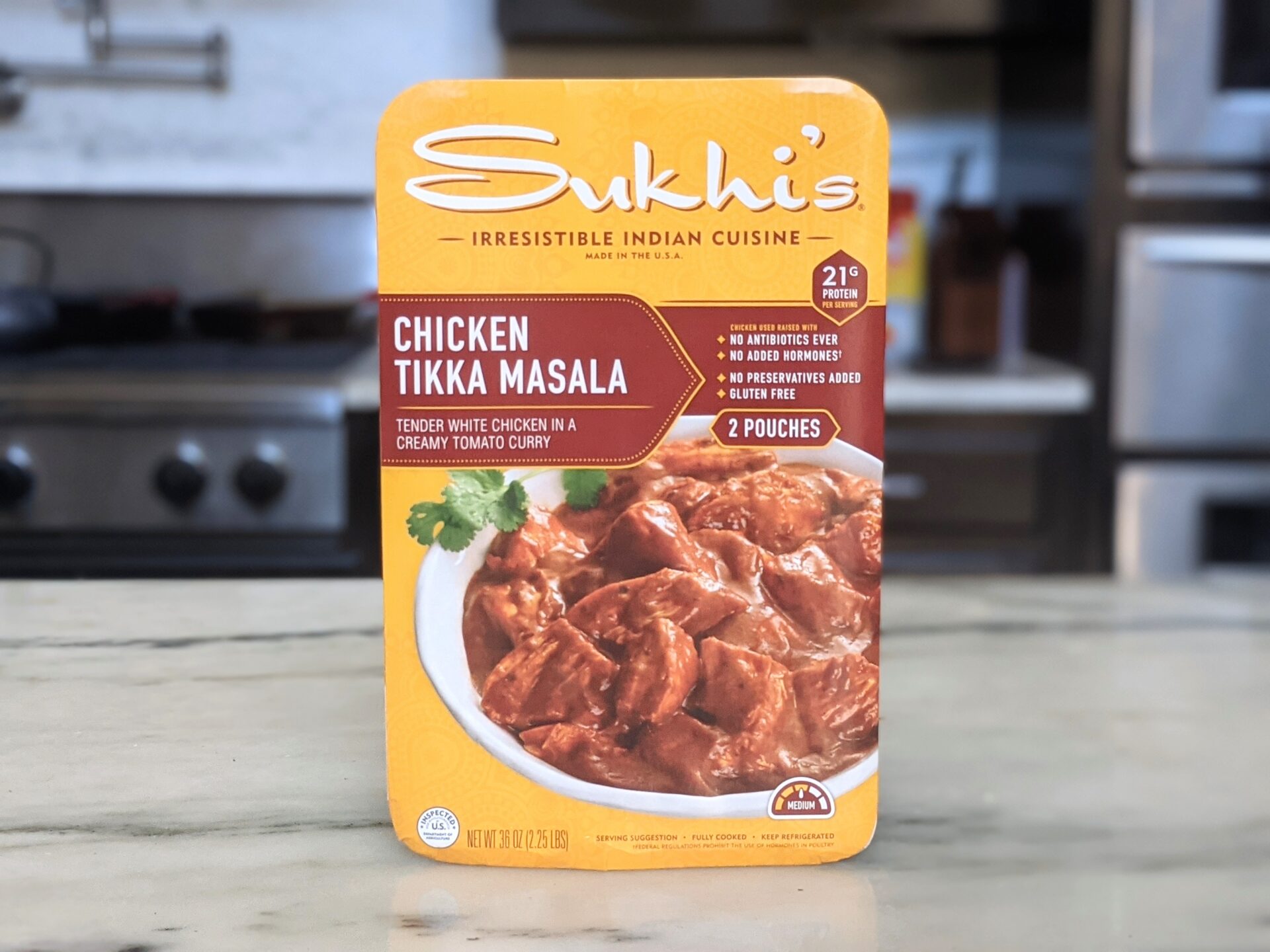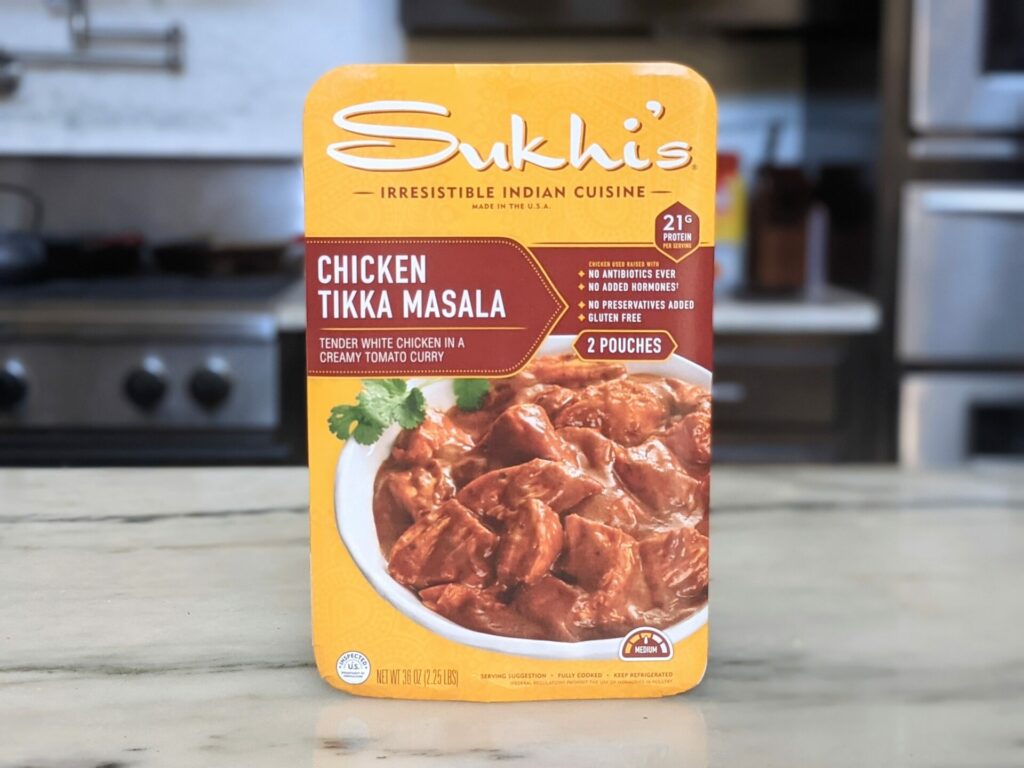 Skip the takeout and enjoy tender chicken in creamy tomato curry sauce at home with Costco's heat and eat chicken tikka masala. The $17 two-pack serves around 3-4 hungry people and is quite the bargain when you can catch it on sale for $12. The chicken tikka masala is super moist and convenient – just warm in the microwave or stove. 
The tikka masala has great Indian flavor, and the rich, creamy sauce is delicious over rice or with naan bread. Kick it up with extra garlic and spices if needed. Much cheaper than a restaurant, and it makes an easy weeknight curry feast.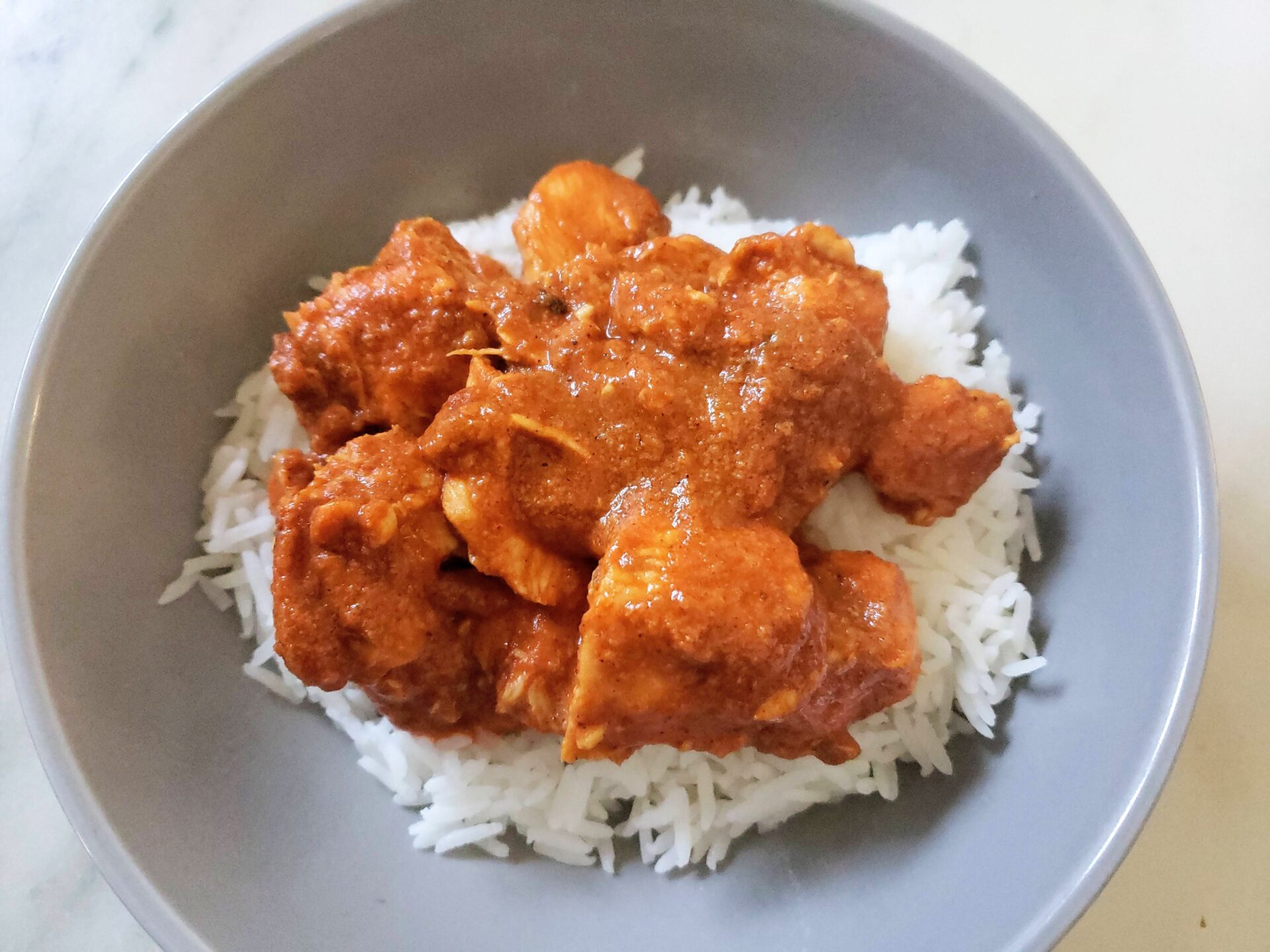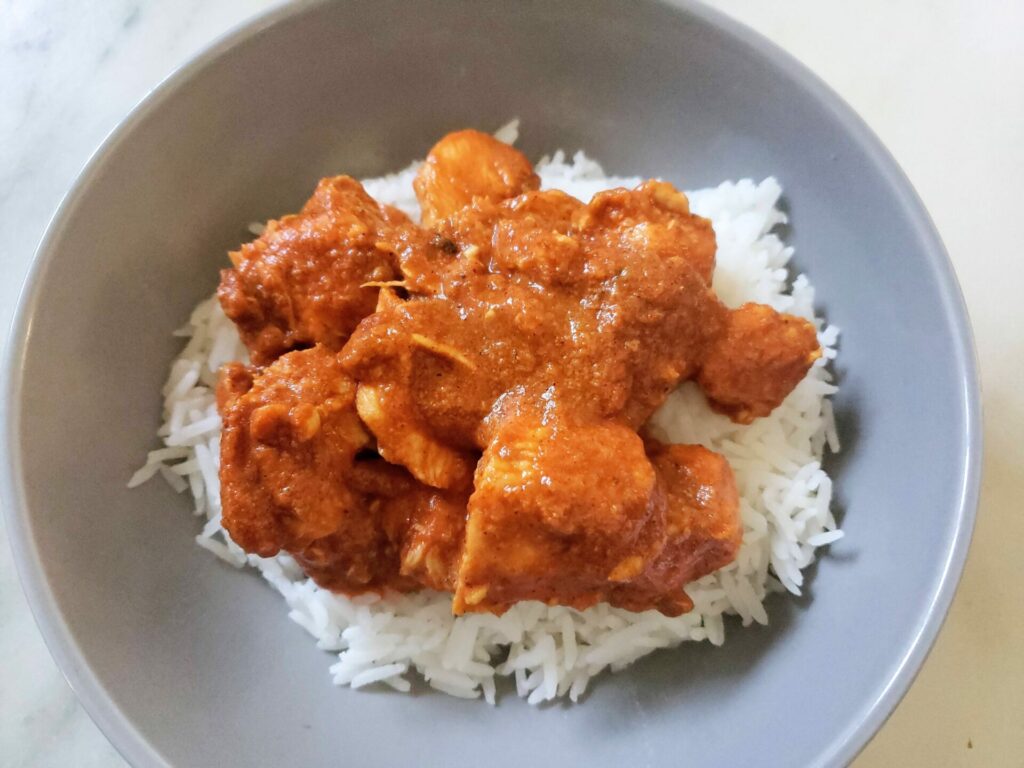 Sushi Rolls - $9.49 - $14.89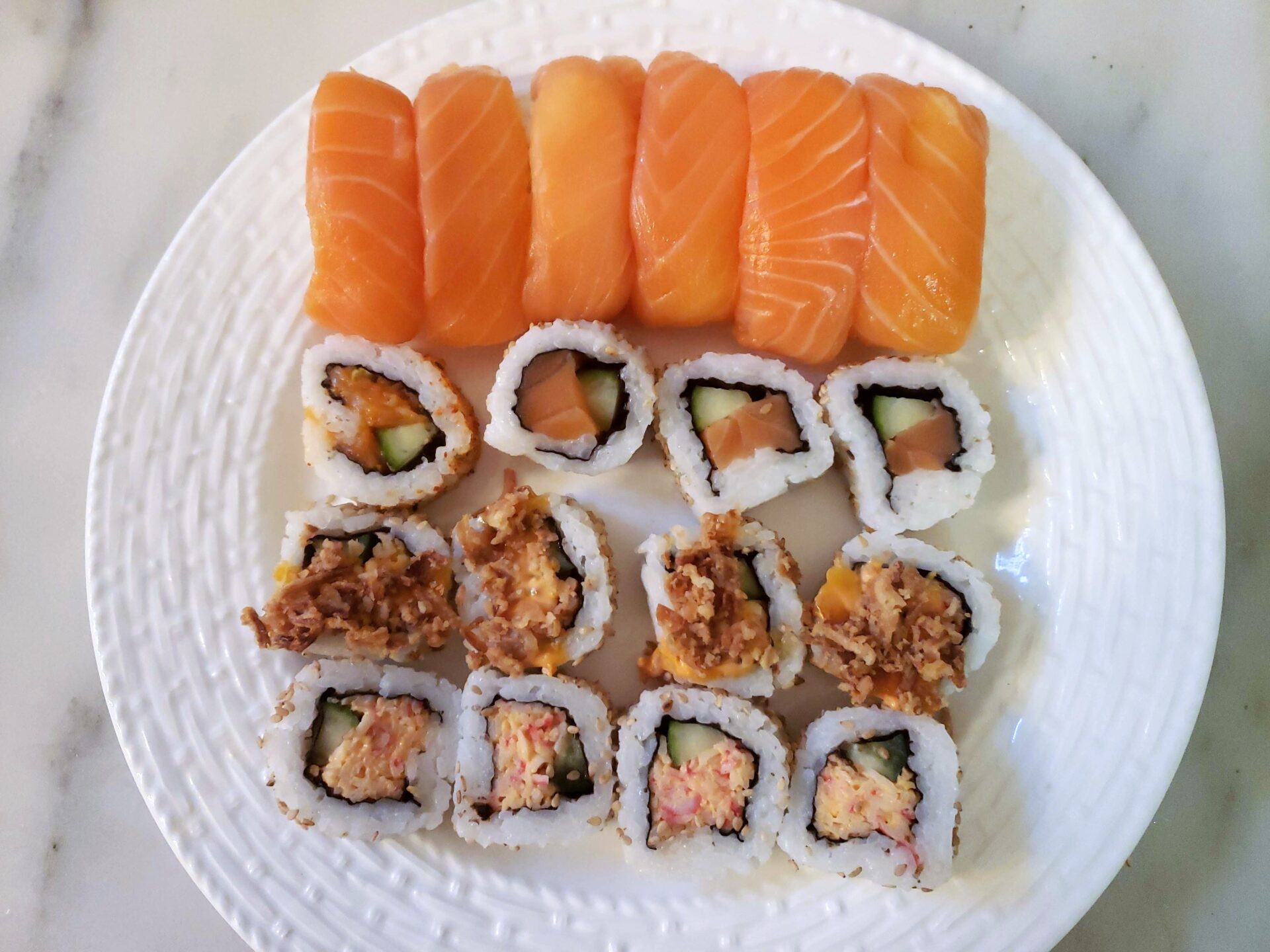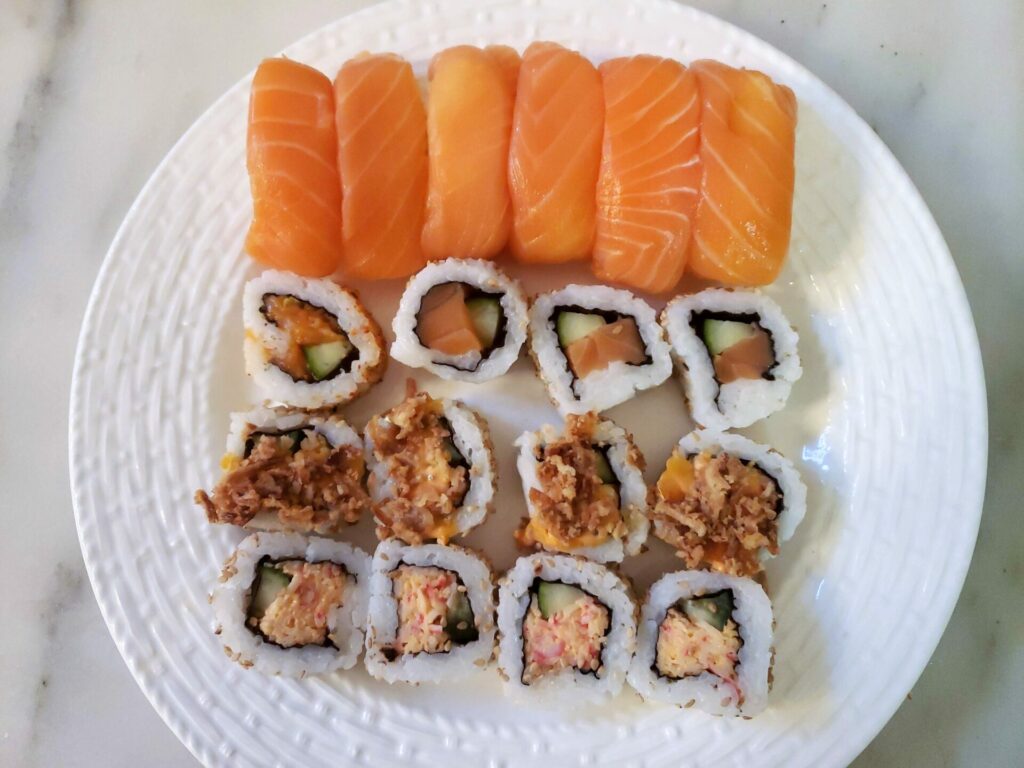 While not the most authentic, Costco's premade sushi platters can make for a convenient and fun meal. The $15 salmon and $10 California rolls offer easy finger food for parties or make great weeknight meals when you don't feel like cooking.
It's not top-quality sushi, but a dunk in soy sauce and wasabi helps. It likely won't satisfy true sushi cravings, but with tempered expectations, it can be a tasty treat for the family.
Kirkland Street Taco Kit ~$15 Per Kit - $5.49/POUND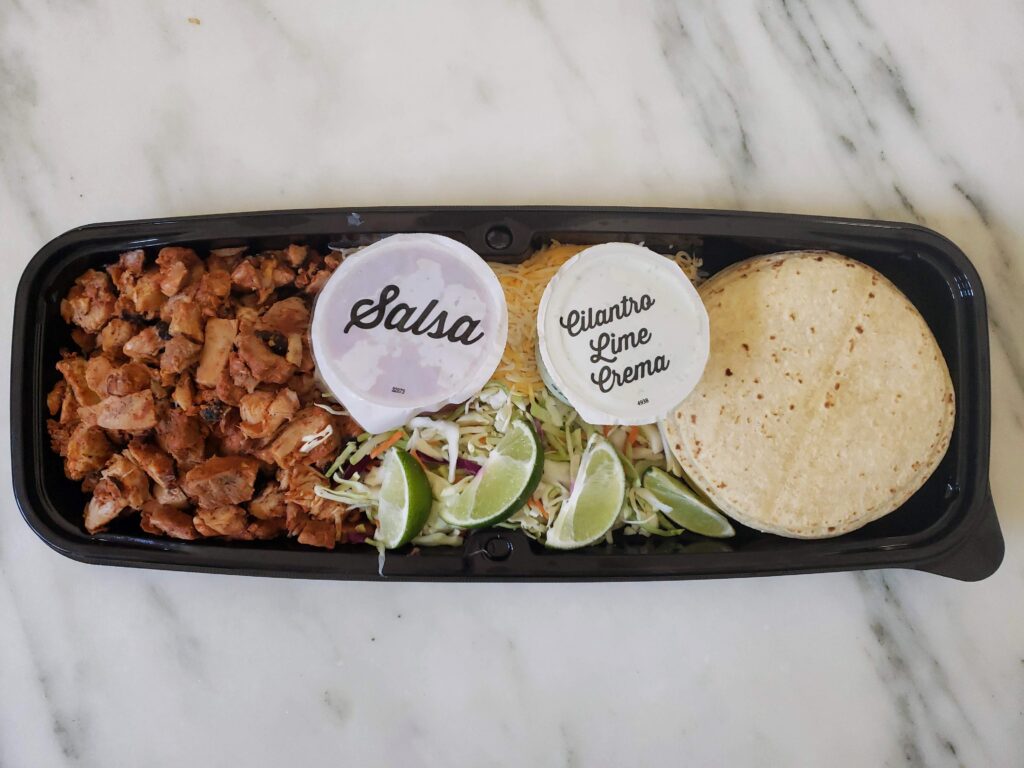 Throw together tasty tacos in minutes with Costco's premade street taco kit. It packs all the fixings – tortillas, chicken, cheese, salsa – to DIY your own Mexican street taco dinner. 
It's more than decent for a weeknight meal and pairs well with some added guacamole. While not 100% authentic, Costco's street taco kit makes dinner fun, easy, and flavorful.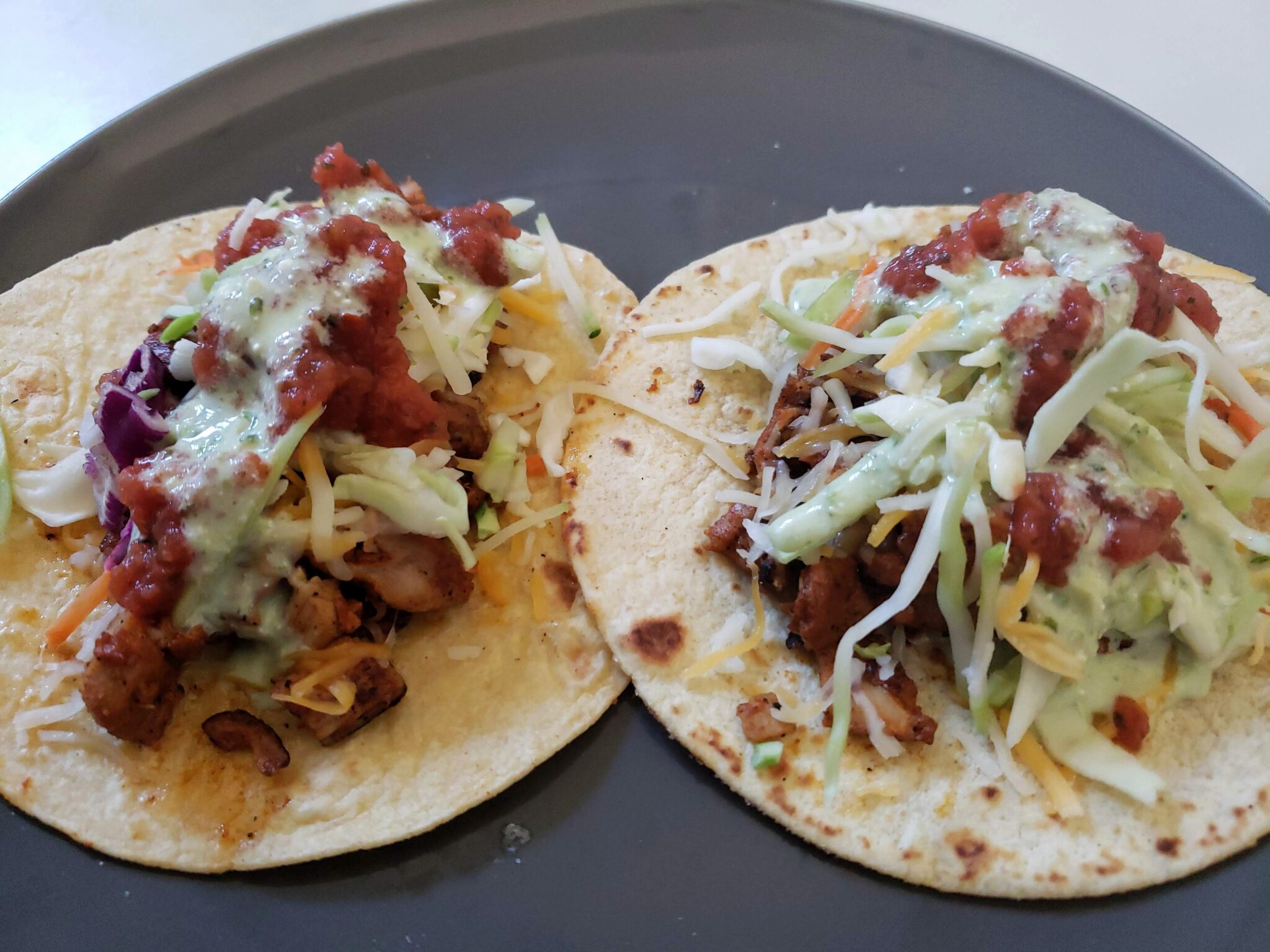 Kirkland Signature Panko Breaded Shrimp - $19.99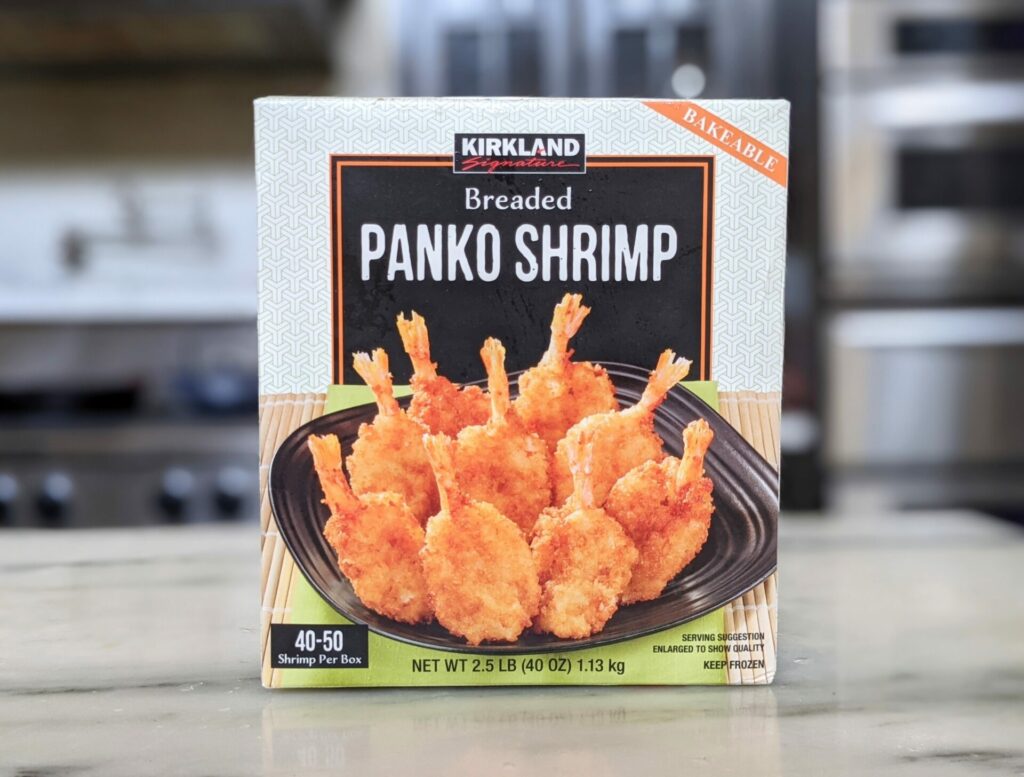 Crispy, Crunchy Golden Brown Shrimp with a tail to hold them by; what else can you ask for? The Kirkland Signature Panko Breaded Shrimp can be used as an appetizer or a full meal. They are fantastic when cooked in the air fryer and take just 10 minutes to go from frozen to crispy perfection.
Kirkland Signature Everything Seasoning Cod - $17.89
No need to season or bread; Costco's Everything Seasoning Cod has everything done for you. The wild-caught filets have a coating of everything bagel seasoning, which includes sesame, poppy seed, and garlic flavors.
Just bake or air fry till flaky for an easy dinner in under 15 minutes! Serve with rice or over salad to make a full meal.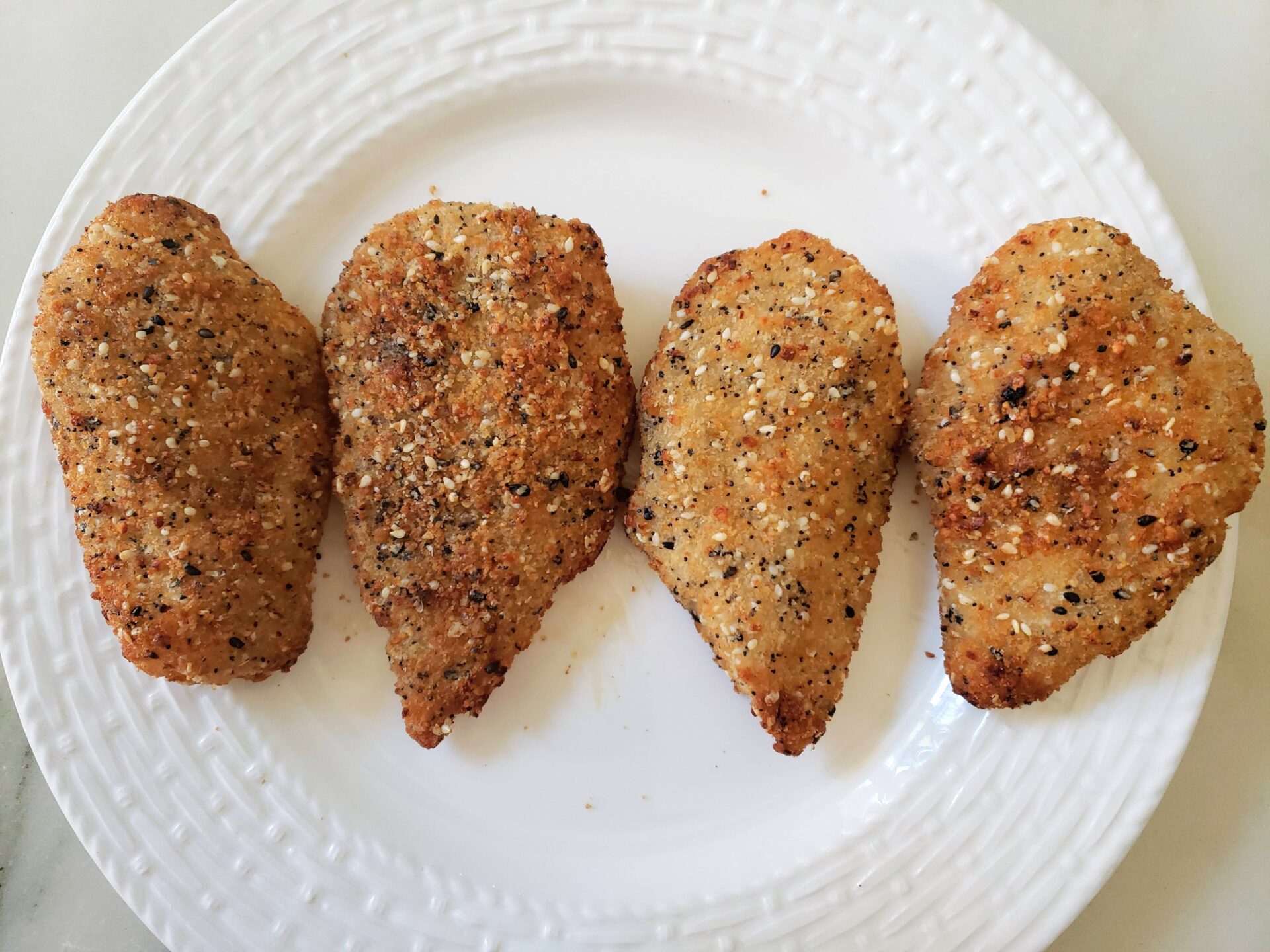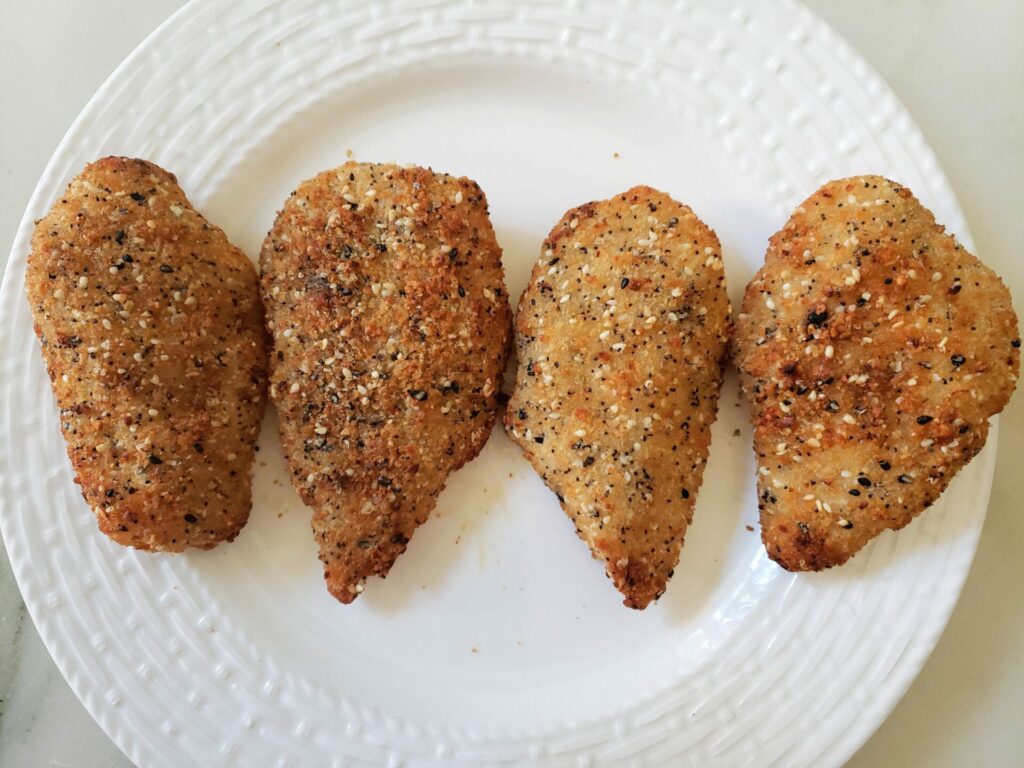 Kirkland Chicken Tortilla Soup - $9.99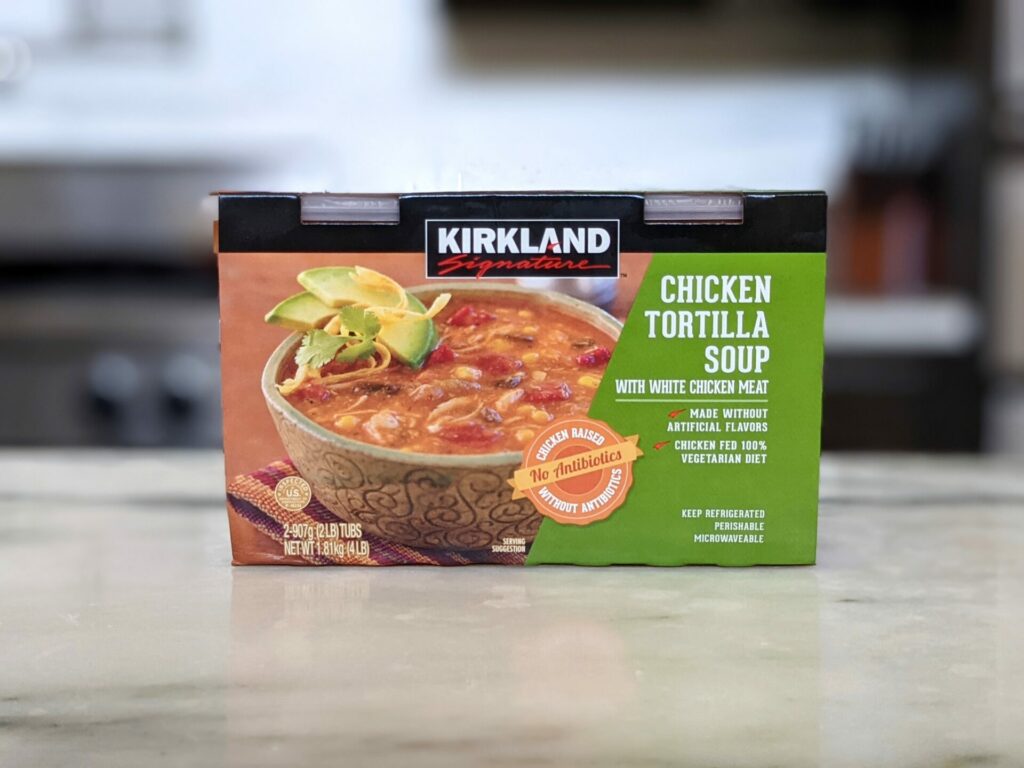 Costco's two-pack of ready-to-heat chicken tortilla soup is tasty and budget friendly at just $10. The broth tastes fresh with a nice kick of spice, and the soup has lots of chicken. I add avocado, tortilla chips and lime for a little extra flavor and crunch. Works as an appetizer but also filling enough to be the entire meal.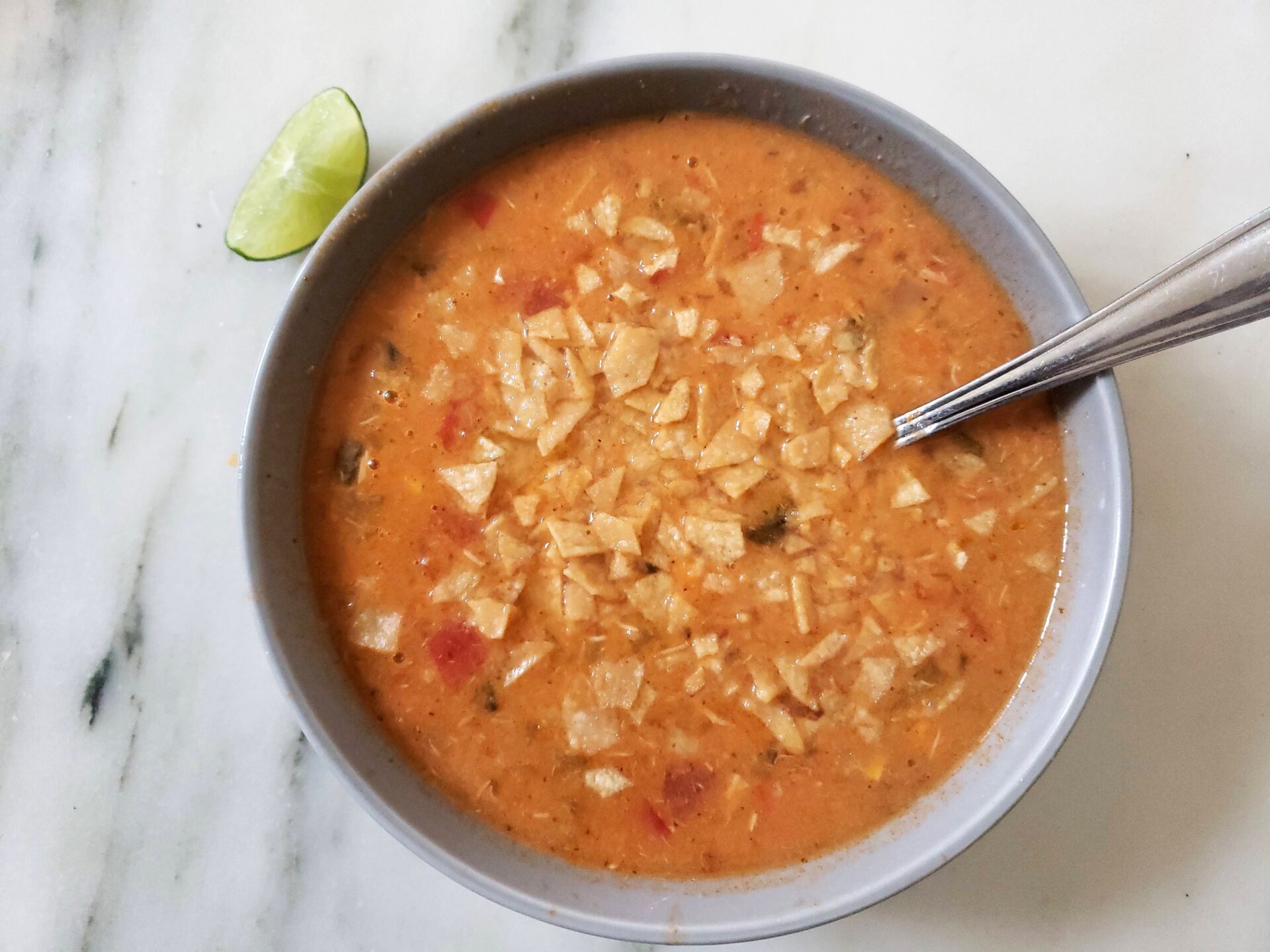 La Terra Fina Quiche - $13.99
I love quiche, but I absolutely hate making quiche. It's a long, tiresome process that seems almost unnecessary when I can pick up a two-pack of La Terra Fina Quiche at Costco for $14. 
The quiche comes in two flavors (spinach & artichoke and broccoli cheddar) and doesn't disappoint. They heat up quickly in the air fryer and are great for breakfast, lunch, or dinner.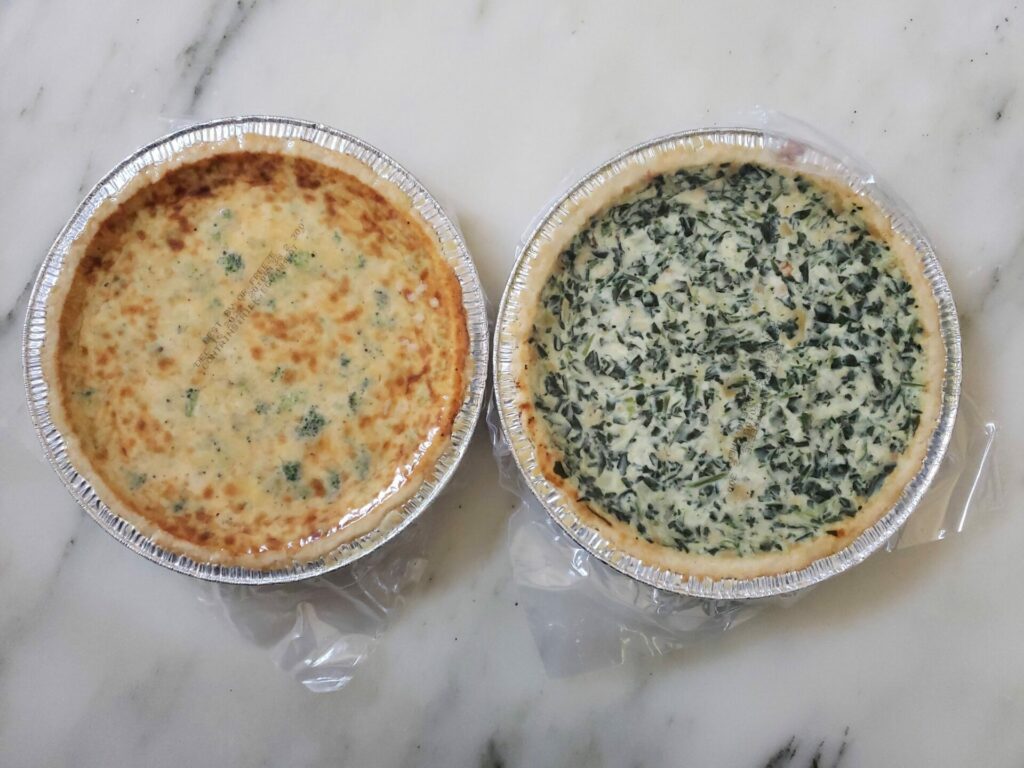 Lobster Roll Kit - $42.99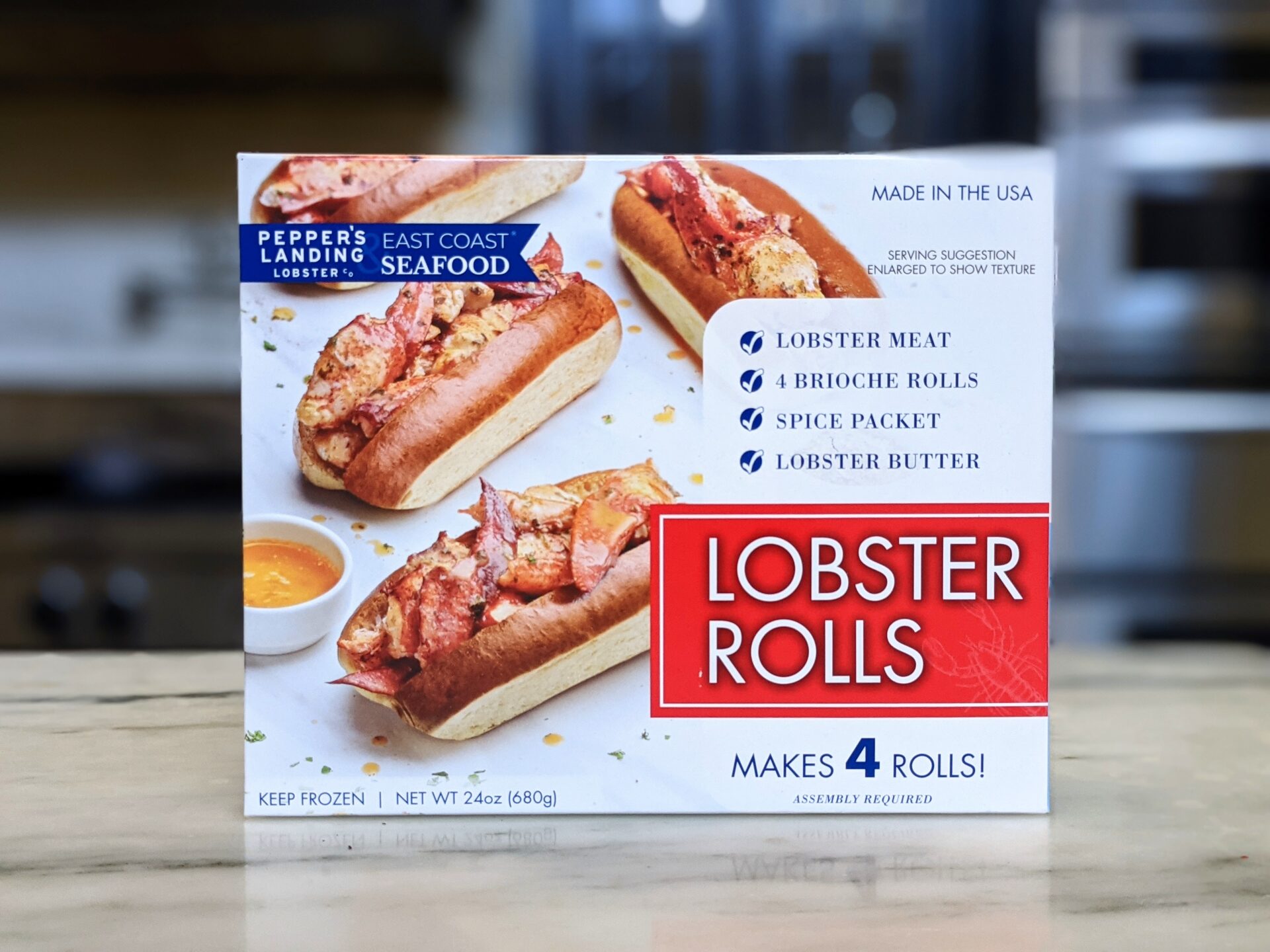 The perfect summertime meal, Costco's 4-pack lobster roll kit is a steal at $43. It may seem pricey, but for quality lobster meat, butter, rolls and seasoning, it costs a fraction of restaurant prices. 
While not quite as tasty as Maine Lobster, the large chunk claw and leg meat tastes delicious when piled high on the soft rolls and covered with the lobster flavored butter. An absolutely delicious Costco meal!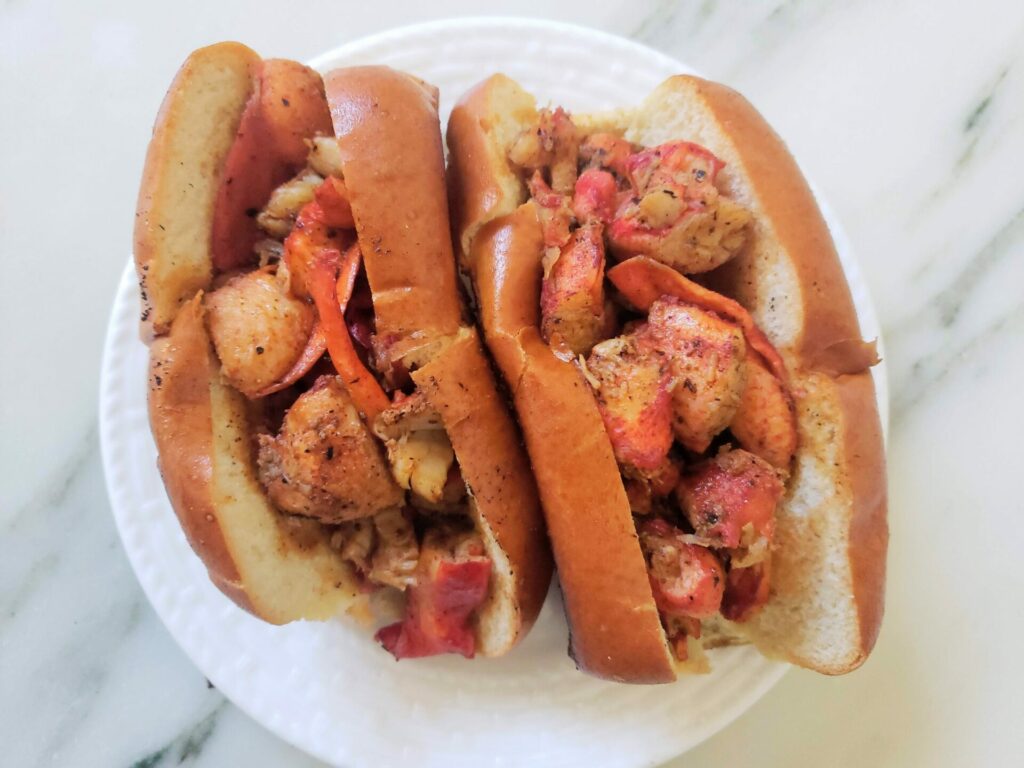 Just Bare Chicken Sandwich Filets - $16.99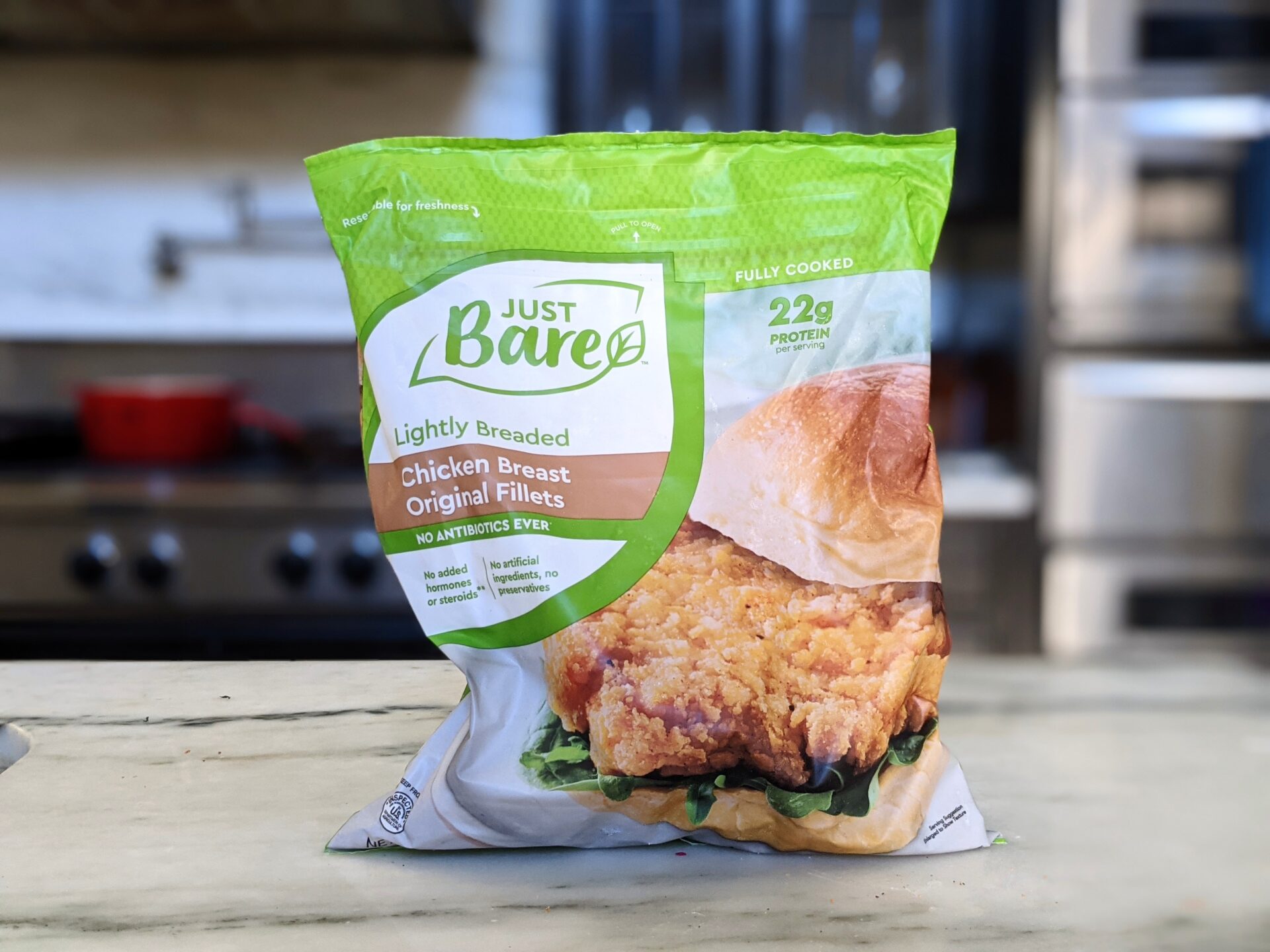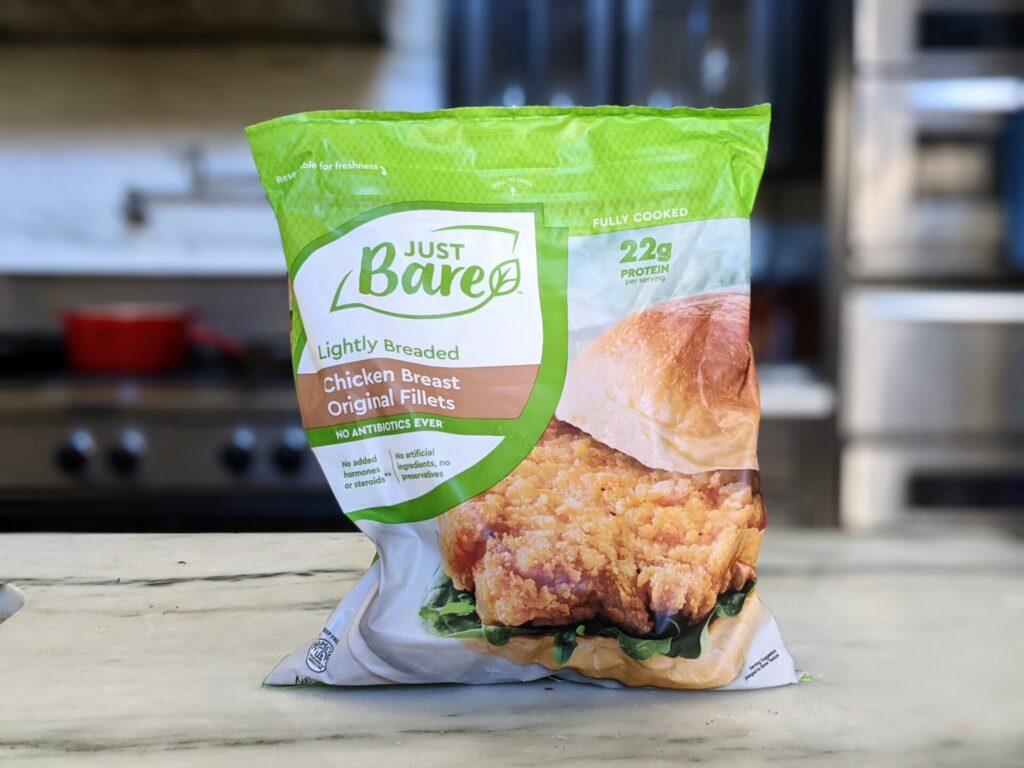 Craving chicken sandwiches? Skip the drive thru and go with the Just Bare Chicken Filets from Costco. A bag costs $17 and contains 11 juicy breaded chicken breasts that will rival even the best chicken fast food restaurants. 
Air fry them until they are crispy golden brown and pair with bun, lettuce, and tomato for a delicious dinner the whole family will love.
Kirkland Signature Gyro Kit ~$20 -$6.49/Pound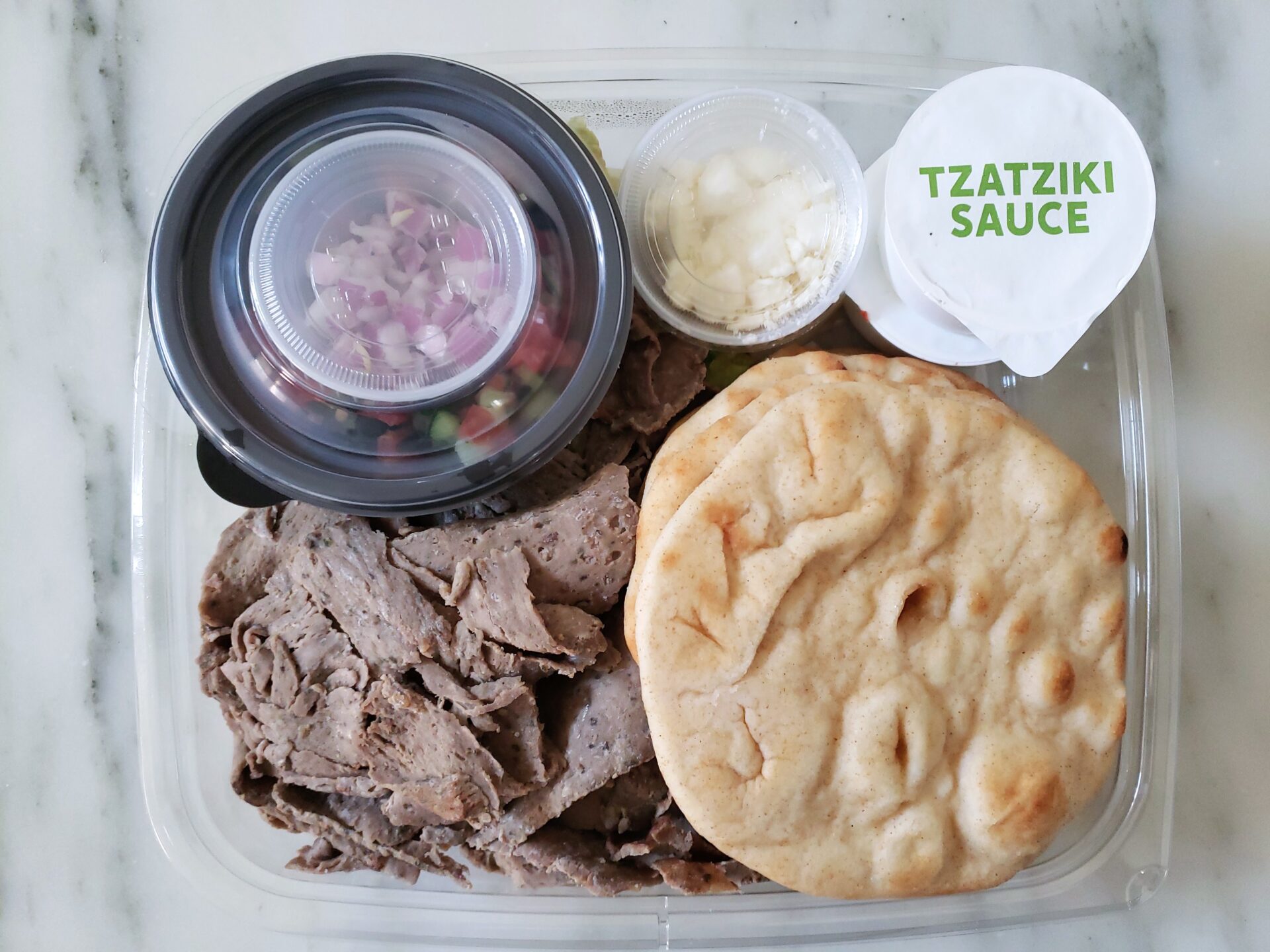 For Greek food with ease, grab Costco's $20 premade gyro kit. It packs fresh pita, a pound of sliced gyro meat, tzatziki sauce and toppings for six filling pitas. The blend of lamb and beef offers an authentic flavor that's tender and juicy. 
Super easy to prepare, and you can have your own DIY gyro bar ready to go in 5 minutes.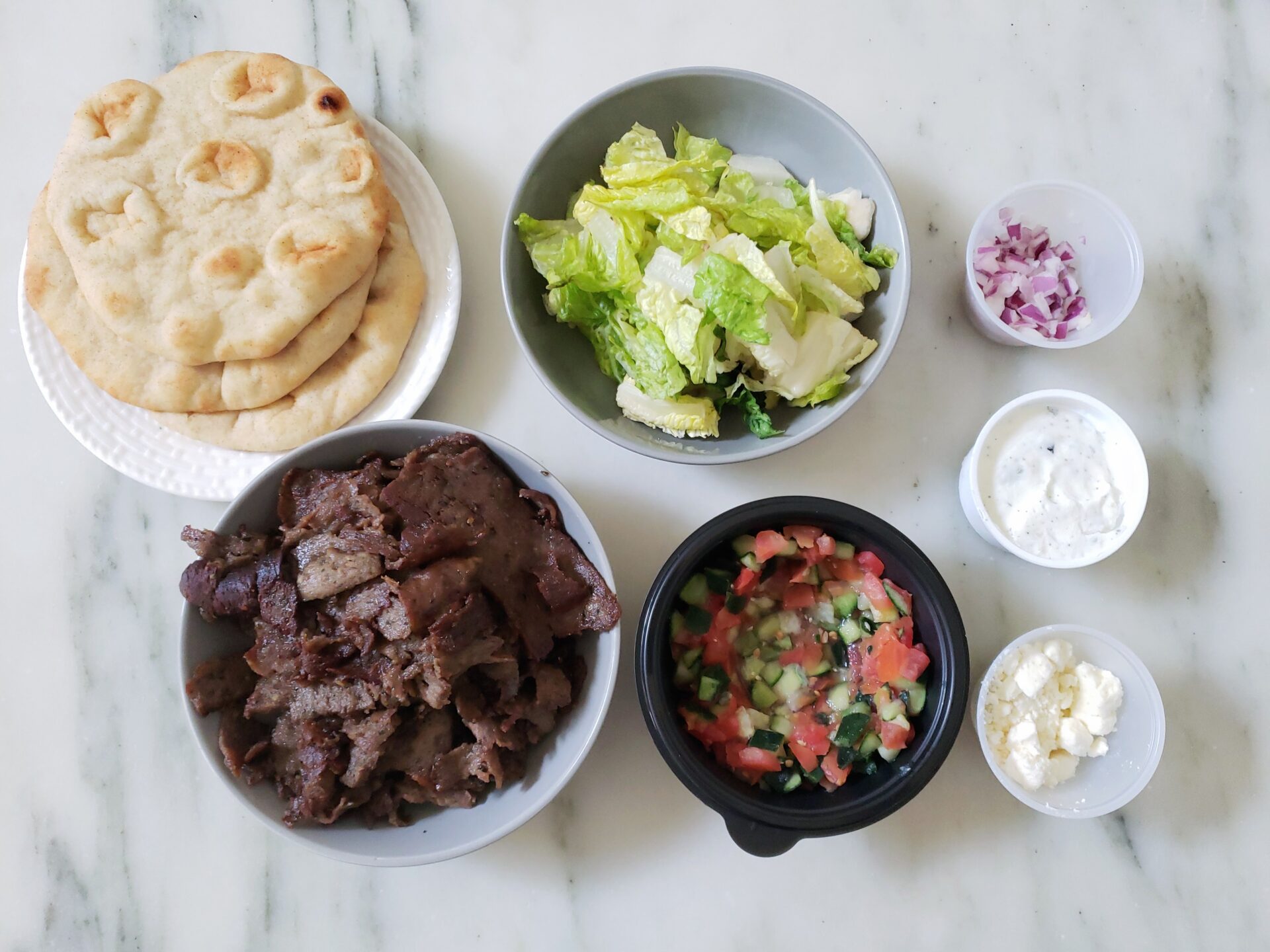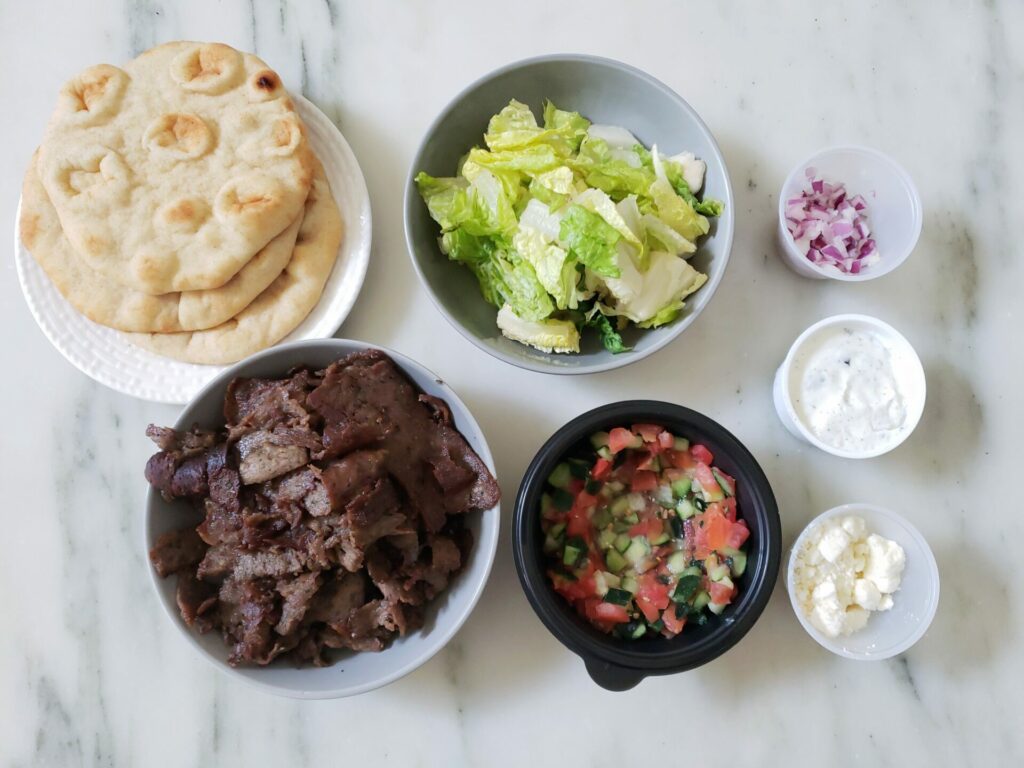 Daphne's Gyro Meat Slices - $11.79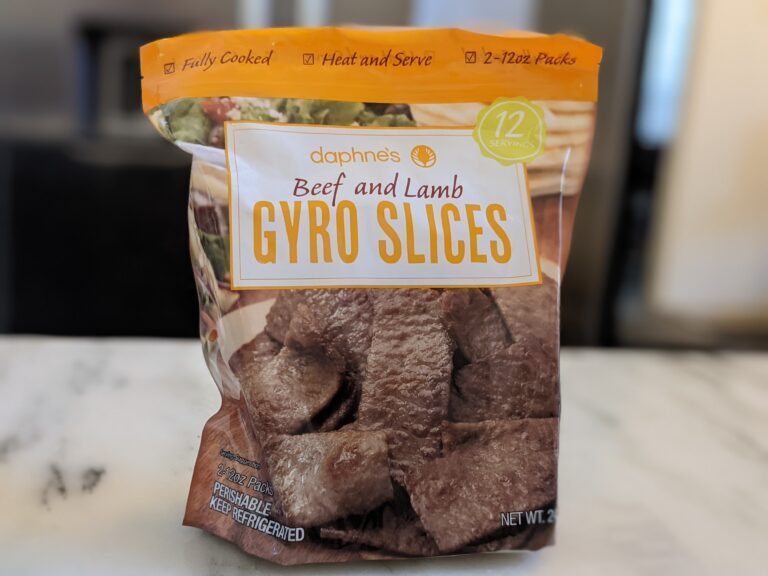 Another fun and almost just as easy gyro option is Daphne's gyro meat. Daphne's gyro meat isn't a full kit like the Kirkland Signature version but does provide a little more value while keeping the convenience relatively the same. 
Pair the meat with some of Costco's naan bread and tzatziki sauce for a fresh and tasty gyro meal or mix it up and use the meat in a salad.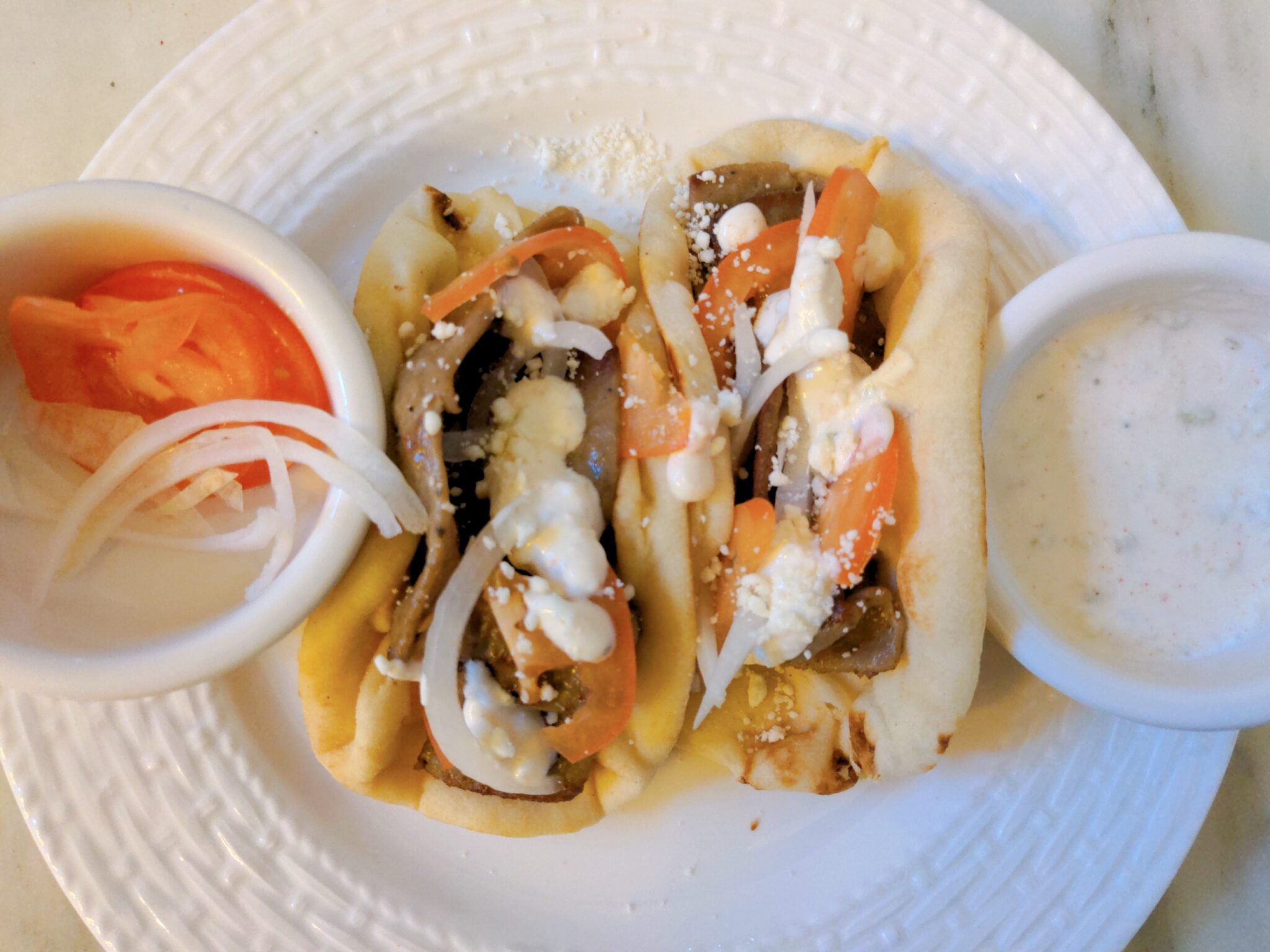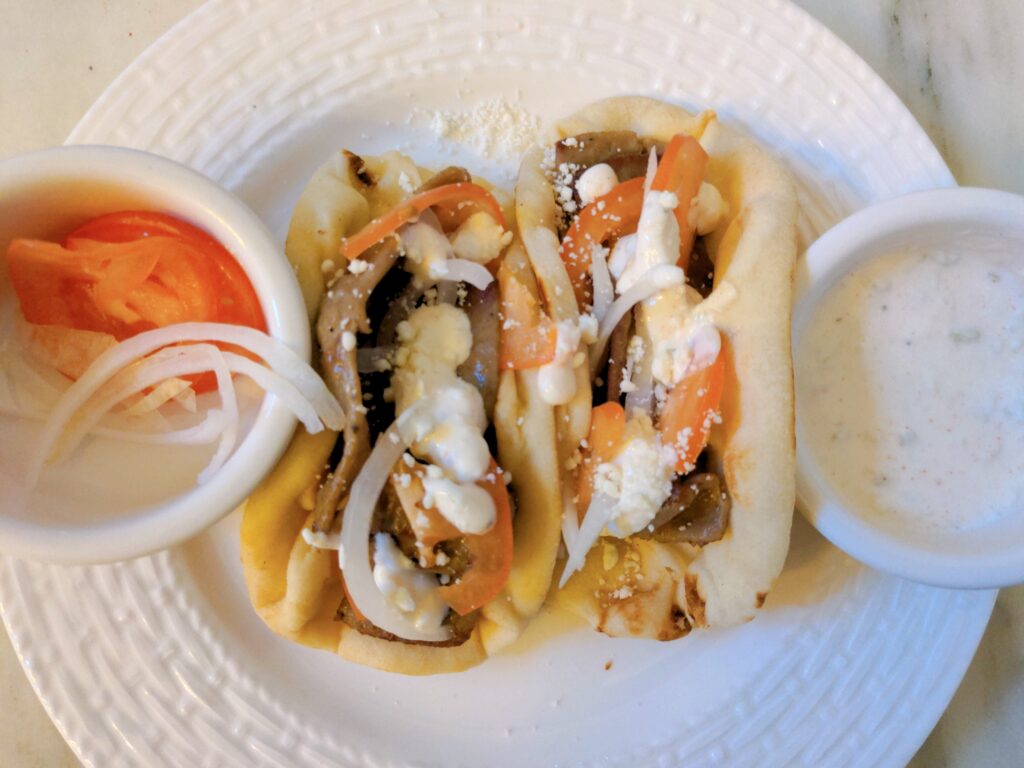 Kirkland Signature Bratwurst - $11.49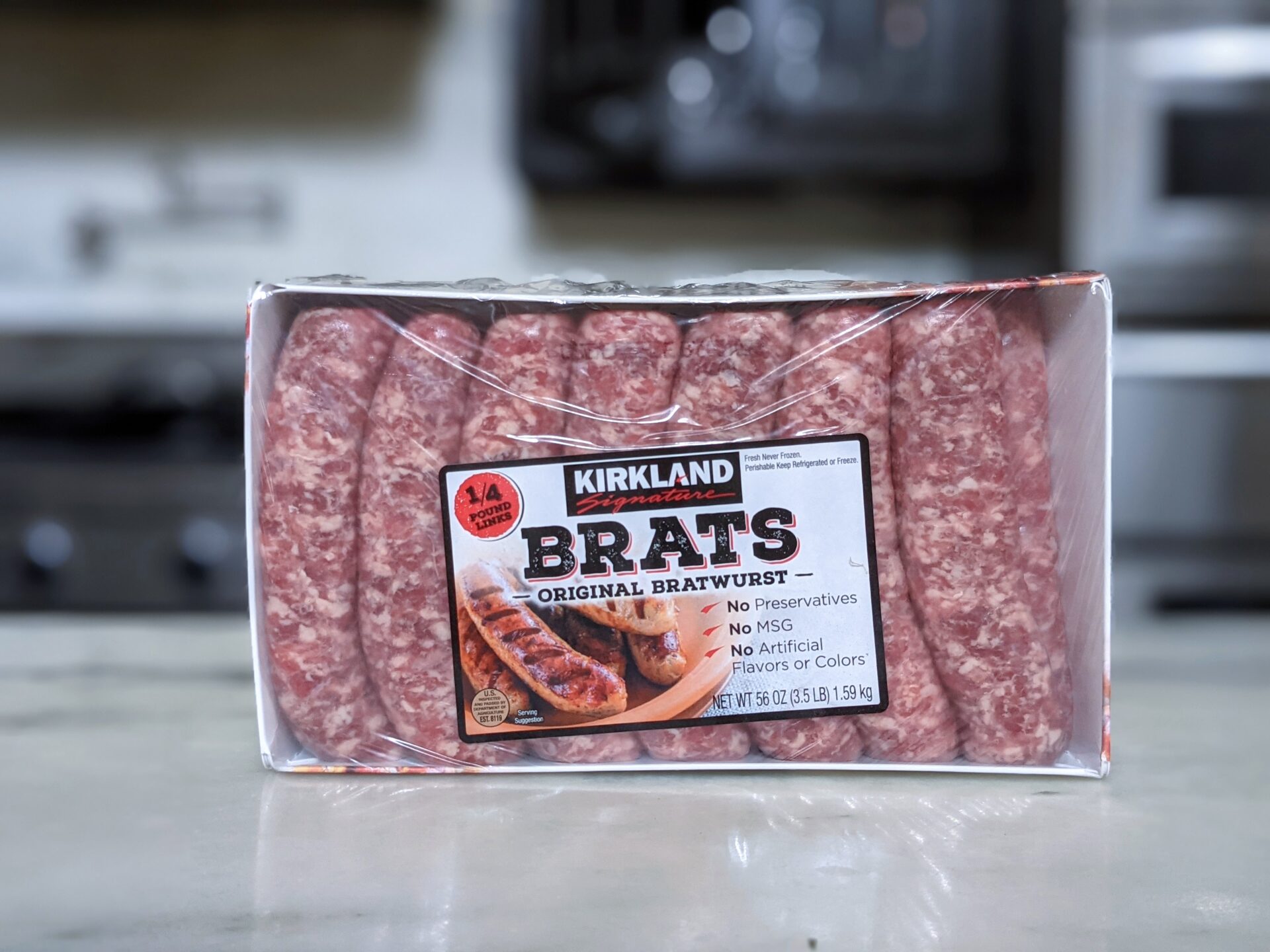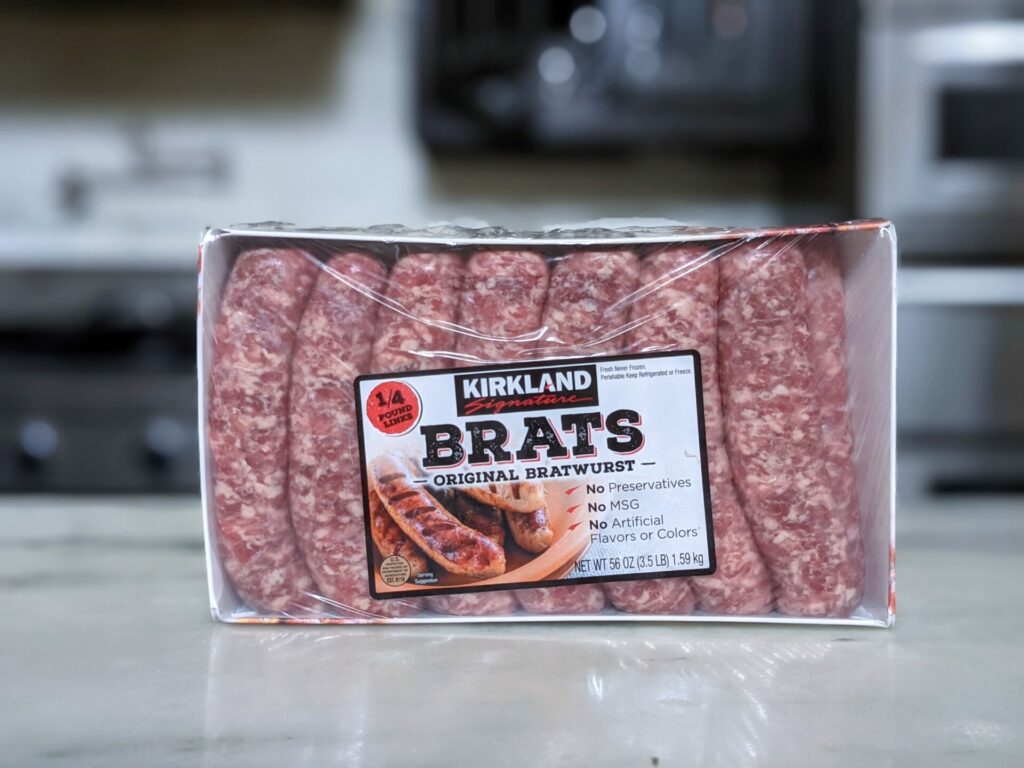 Grilling season is even tastier with Costco's pack of plump bratwursts for just $11. The pack of 14 German-style seasoned pork sausages needs only 10-15 minutes on the grill. Their smoky flavor and a touch of sweetness taste delicious in buns with your favorite toppings. 
At less than a dollar per link, it's an affordable dinner option that will leave the family happy.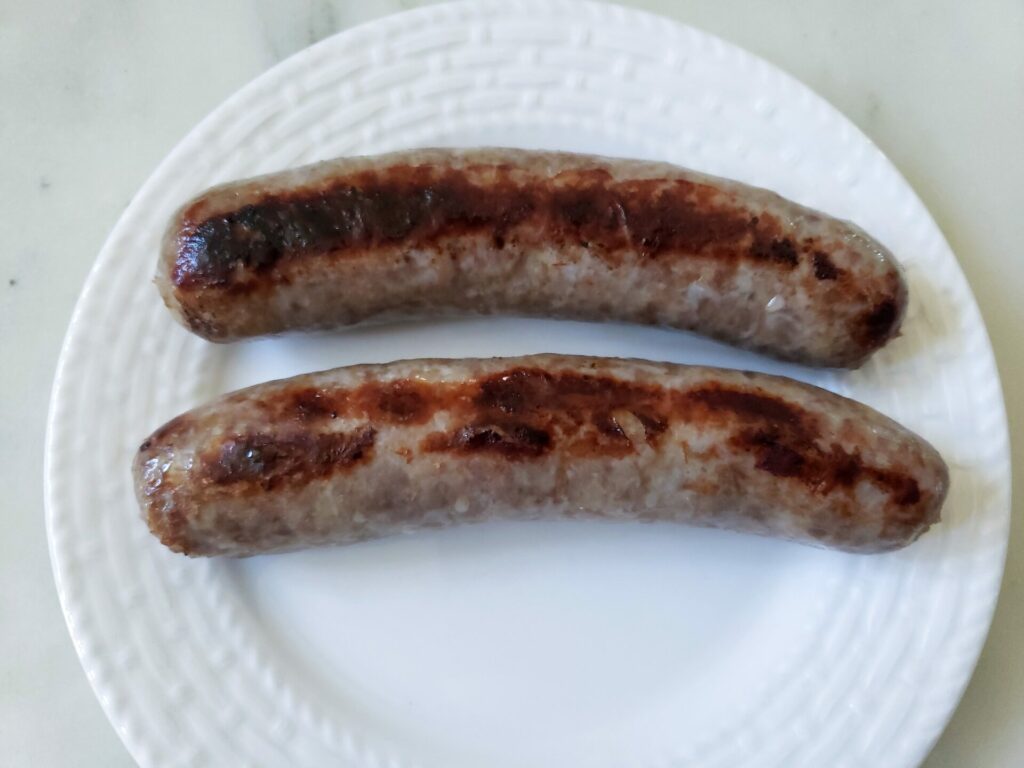 Kirkland Signature Stuffed Peppers - $5.49/Pound - ~$20 Per Pack
Costco stuffs orange, red, and yellow bell peppers to create this handy weeknight dinner. You get 6 bell peppers packed full of savory ground beef and rice filling, melted cheeses and Mediterranean flavor. 
If you have an air fryer, you can cook the stuffed peppers in just 14 minutes, even though the official Costco directions recommend baking them for an hour. They'll also develop a beautiful chewy crust in the air fryer. I highly recommend them as they are one of my favorite Costco meals.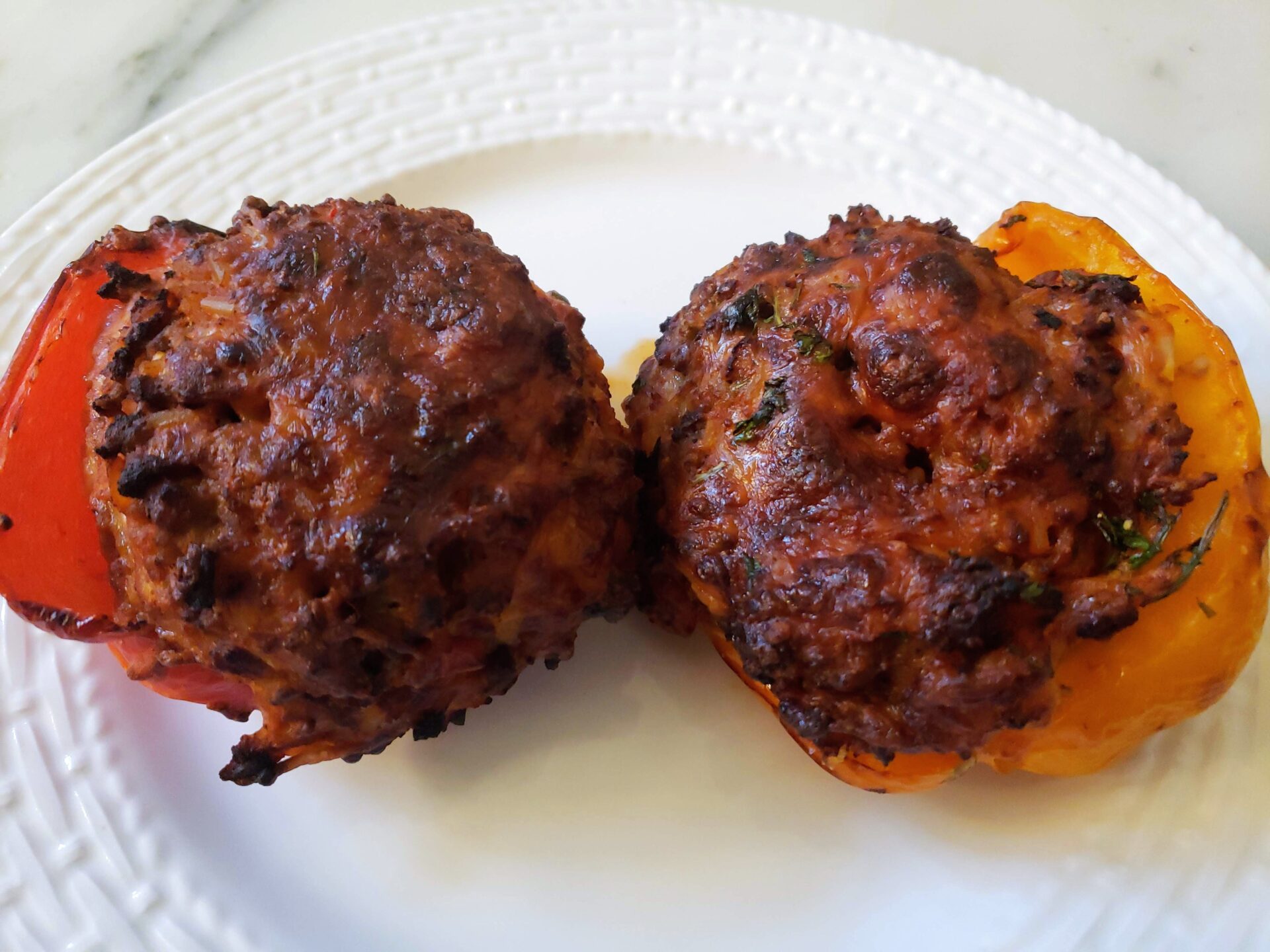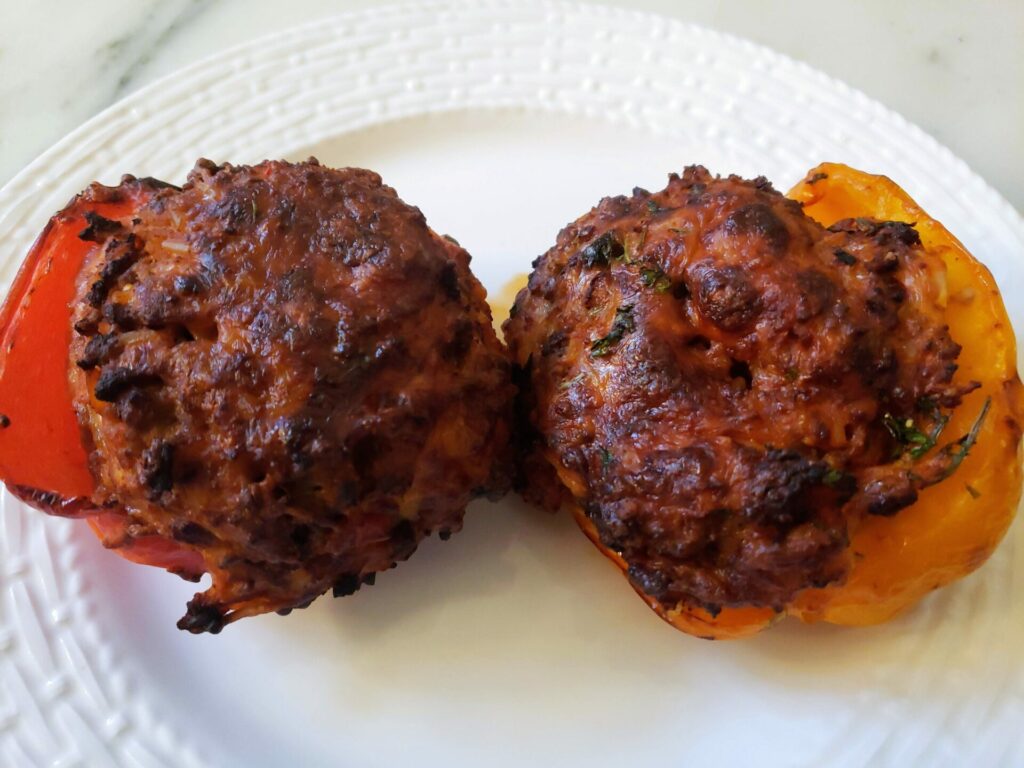 Kirkland Signature Quesadillas - $5.99/Pound - ~$17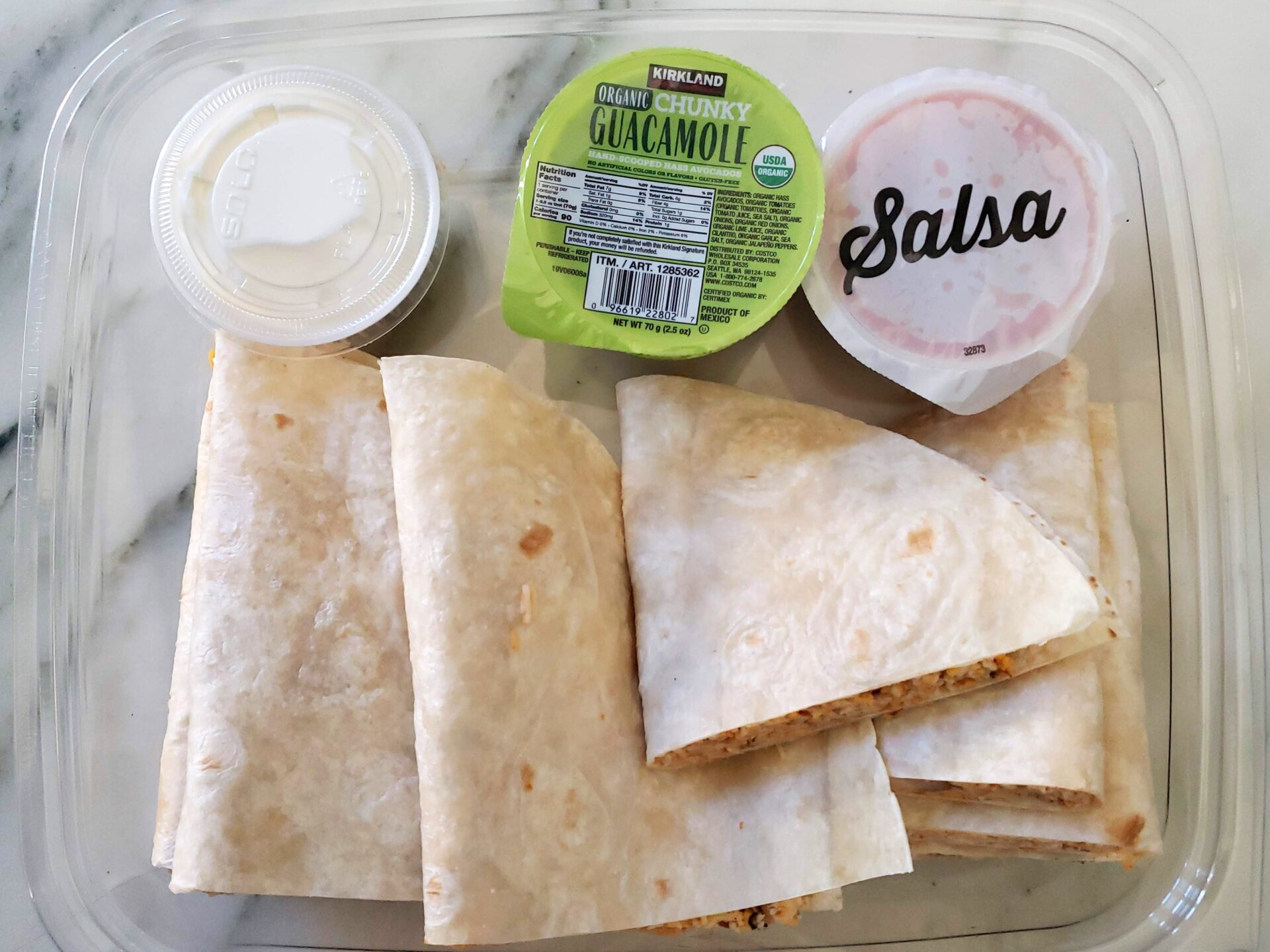 Technically you can probably make your own chicken quesadillas in about 15 minutes, but Costco's premade quesadilla kit will cut total preparation and cook time down to 5 minutes or so.

Throw these premade chicken quesadillas on the skillet for just a few minutes until golden brown and dinner is ready. Serve with a trio of sauces; guacamole, salsa, and sour cream.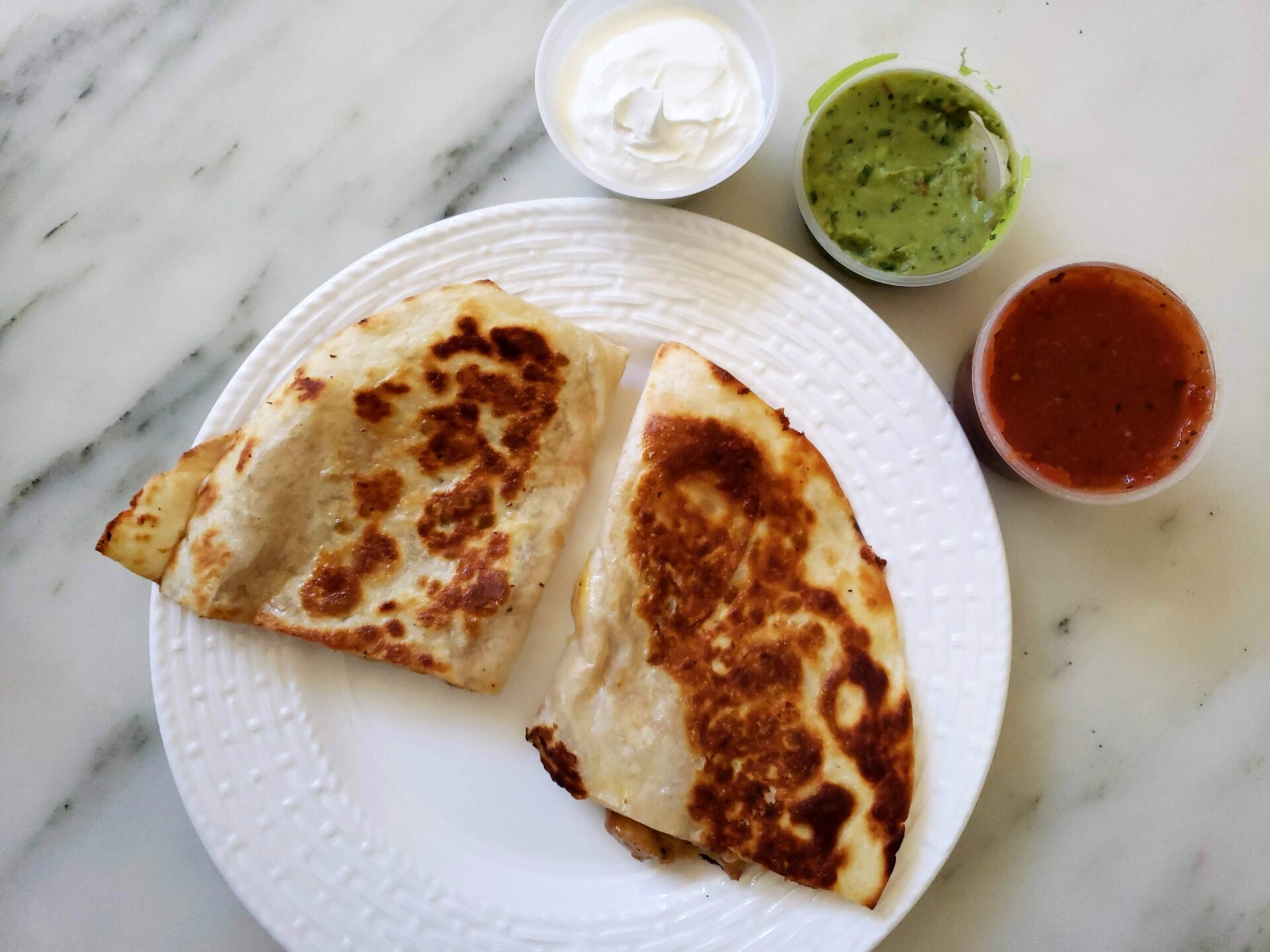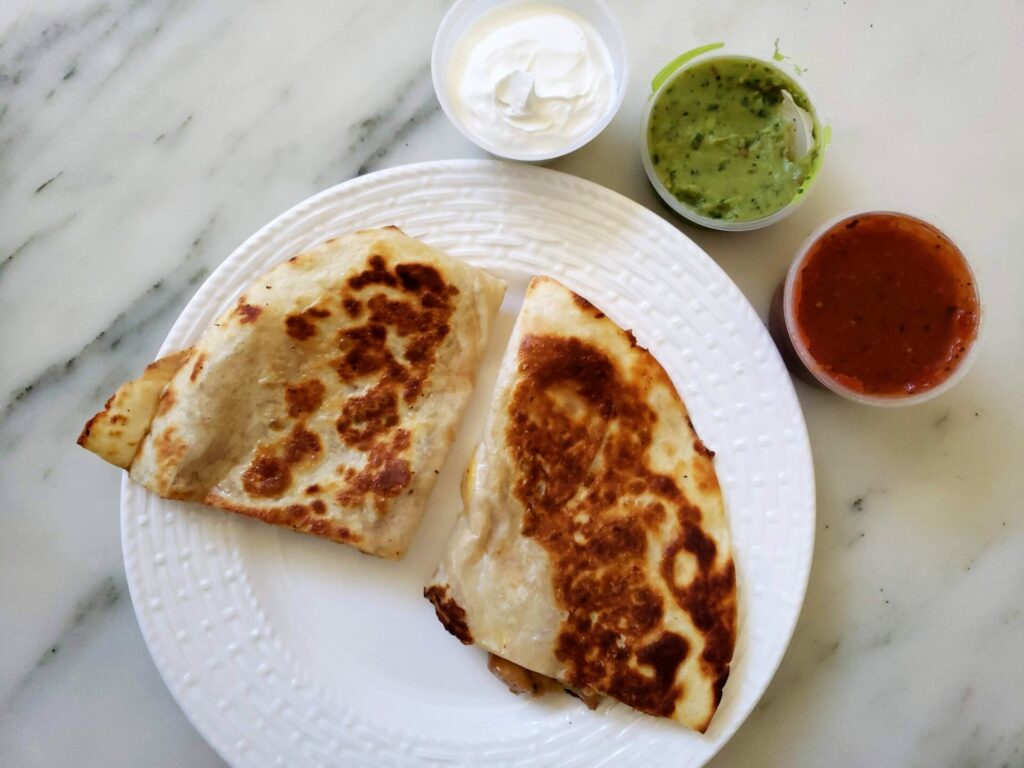 Kirkland Signature Chicken KAbobs - $4.99/Pound - $10 Per Pack
Costco seasons chicken thighs, bell peppers and onions in a Cuban-style rub to create their latest premade item – chicken kabobs skewers.
Heat up the BBQ and grill these tasty little kabobs for 15 minutes. Pair with some tzatziki sauce for a light and refreshing meal.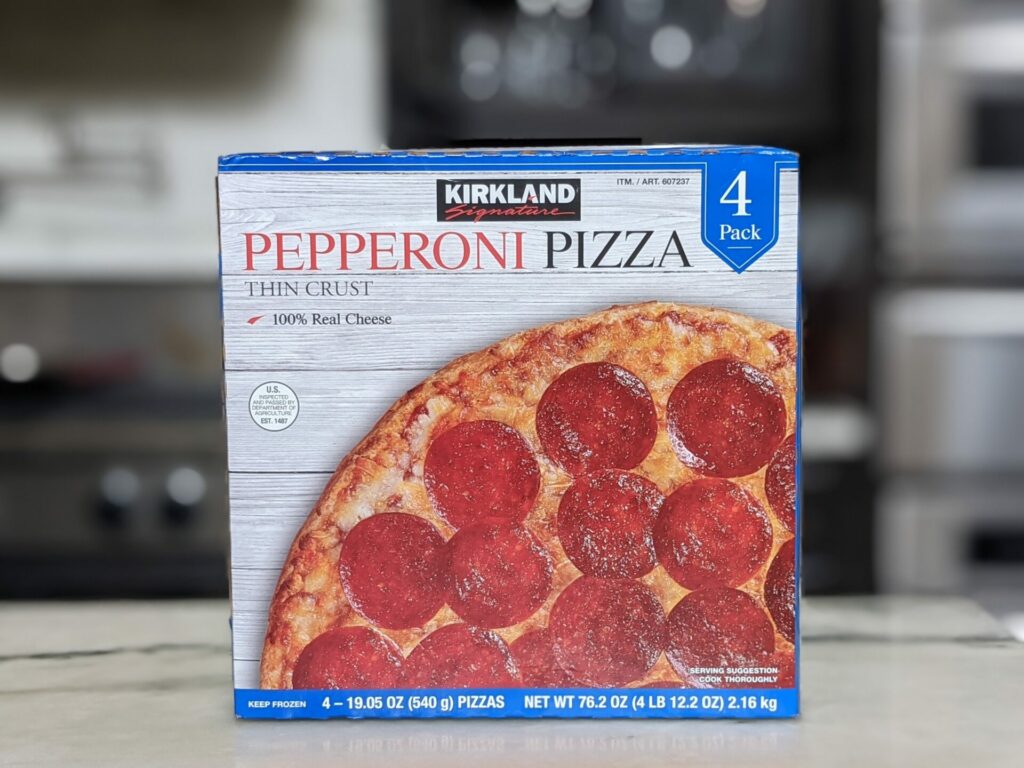 No easy Costco dinner list is complete without Costco's frozen pizzas. Costco has a wide selection, including classics like pepperoni pizza and cheese pizza. 
They also carry a meat lover's Detroit City Motor Co pizza and even some gluten-free cauliflower options. Don't overlook Costco's pizzas as a quick weeknight meal.
Bibigo Korean Fried Chicken - $14.49
I love fried chicken and I especially love Korean Fried Chicken. Bibigo's frozen Korean fried chicken is the perfect way to satisfy the crispy crunch cravings. Each box includes 56 ounces of juicy chicken chunks with a light crispy coating that air fries perfectly. 
Costco has two flavors: gochujang style and soy garlic.
Frontera Beef Baracoa - $7.69 a pound ~ $17 Total
Bet you haven't had some Barbacoa tacos in a while. Try out Rick Bayless's Beef Barbacoa cooked in roasted tomatoes, onion, garlic and chipotle chiles. 
The barbacoa has a unique sweet flavor and is a great mix-up for mundane weekday dinners. Throw the meat on some tortillas and top with onions and cilantro.
Kirkland Signature Smoked Salmon ~$20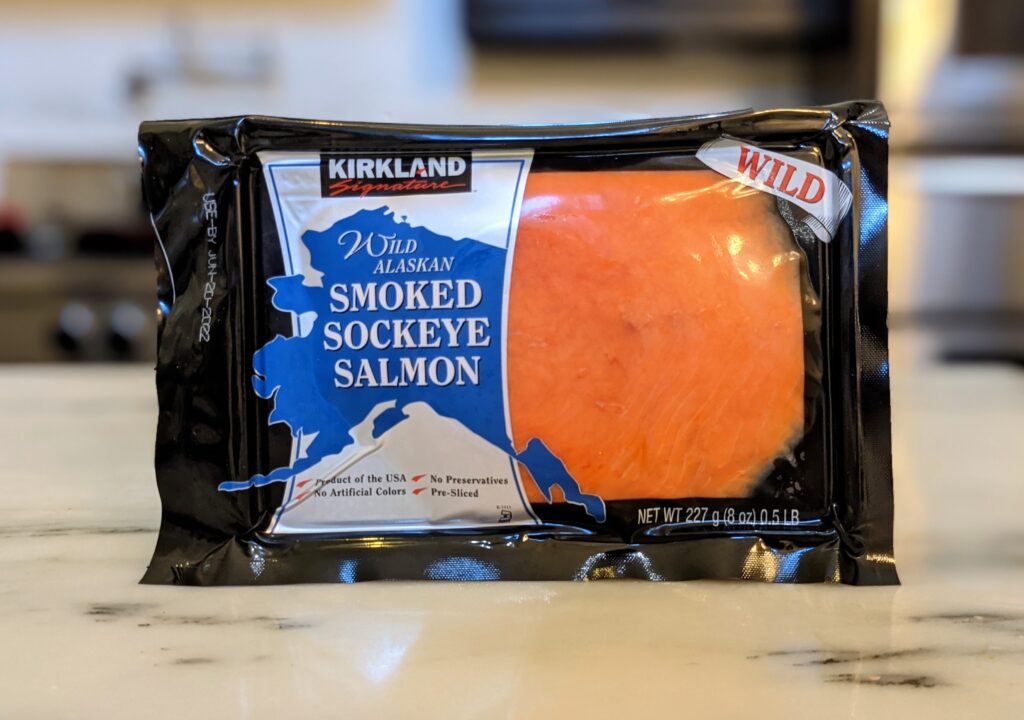 Most people think of breakfast or lunch when it comes to smoked salmon, but don't be afraid to use it for dinner as well. Dice up Costco's smoked salmon and pair it with some pasta or a salad and let those smoky flavors shine through. 
Go with the wild sockeye smoked salmon for maximum flavor or the hot smoked salmon for a more natural salmon texture.
Ajinomoto Chicken Ramen Bowls- $14.99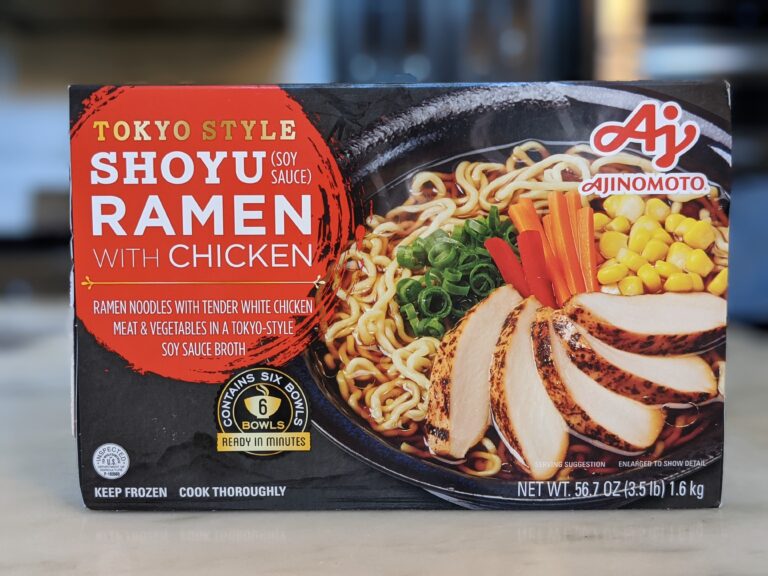 Ajinomoto's frozen chicken ramen is a convenient but also elevated ramen bowl. The shoyu broth is delicious, and there is more chicken than I would have imagined. Pair with a soft boiled egg or some seaweed to make it a full and satisfying meal.

My only complaint is the odd ingredient choice of corn, carrots, and bell peppers. Ajinomoto calls it a Tokyo Style Ramen, but because of the ingredients, I consider it something closer to a USA Style ramen bowl.
Trident Seafoods Fish Sticks- $12.99
Trident Seafoods' frozen fish sticks from Costco become fun, crunchy tacos with very little effort. Air fry or oven bake the panko covered pollock sticks till golden brown and crispy. Their mild flavor pairs nicely with spicy sriracha mayo and crisp cabbage in warm tortillas.
Just 10 minutes takes fish sticks from the freezer to tacos bursting with flavors the whole family will love.
Kirkland Beef Bulgogi - $7.49/Pound ~$23-$25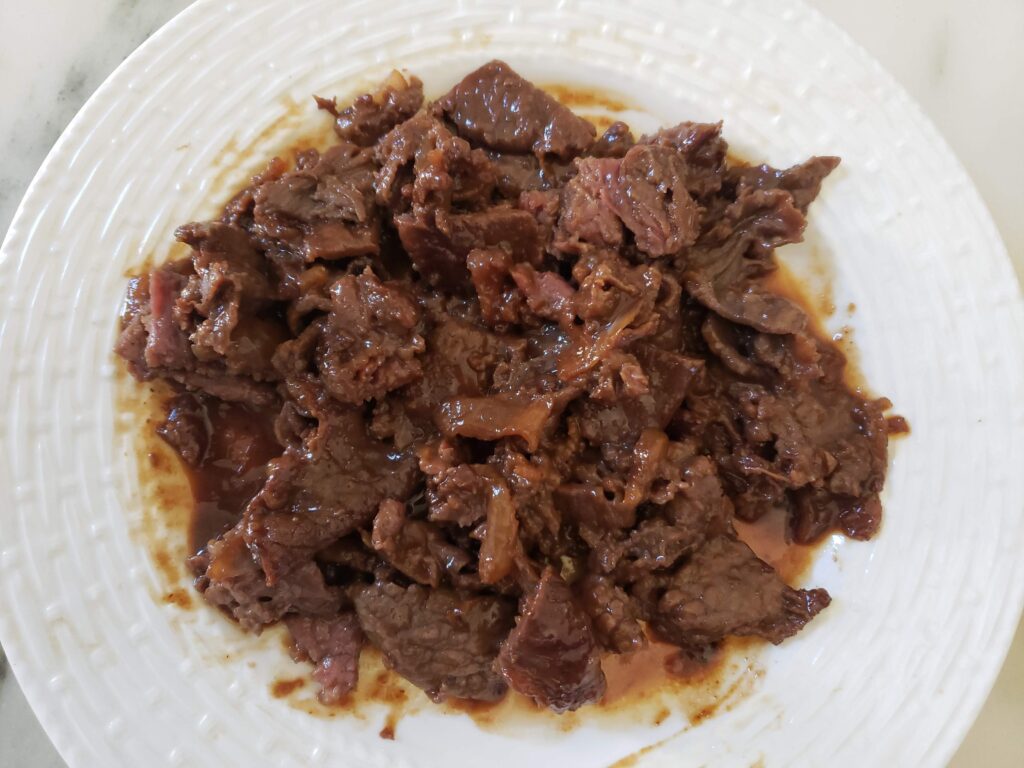 For easy Korean BBQ, grab Costco's beef bulgogi kit. The premade tray includes marinated beef and chopped white onions. It takes just a few minutes to sear up the beef and onions.
Serve with rice for a unique, fast weeknight meal with fun Korean flair. One of my go to prepared Costco meals.
Kirkland Signature Meatballs - $19.99
The Kirkland Signature Frozen Meatballs are the ultimate in value and convenience. The beef meatballs have mild seasoning but decent flavor. 
I like them a lot because they are extremely versatile and can be used in everything from appetizers to spaghetti to subs. For busy families who just want to get food out on the table, these are a must have!
Trident Seafoods Beer Battered Cod - $17.99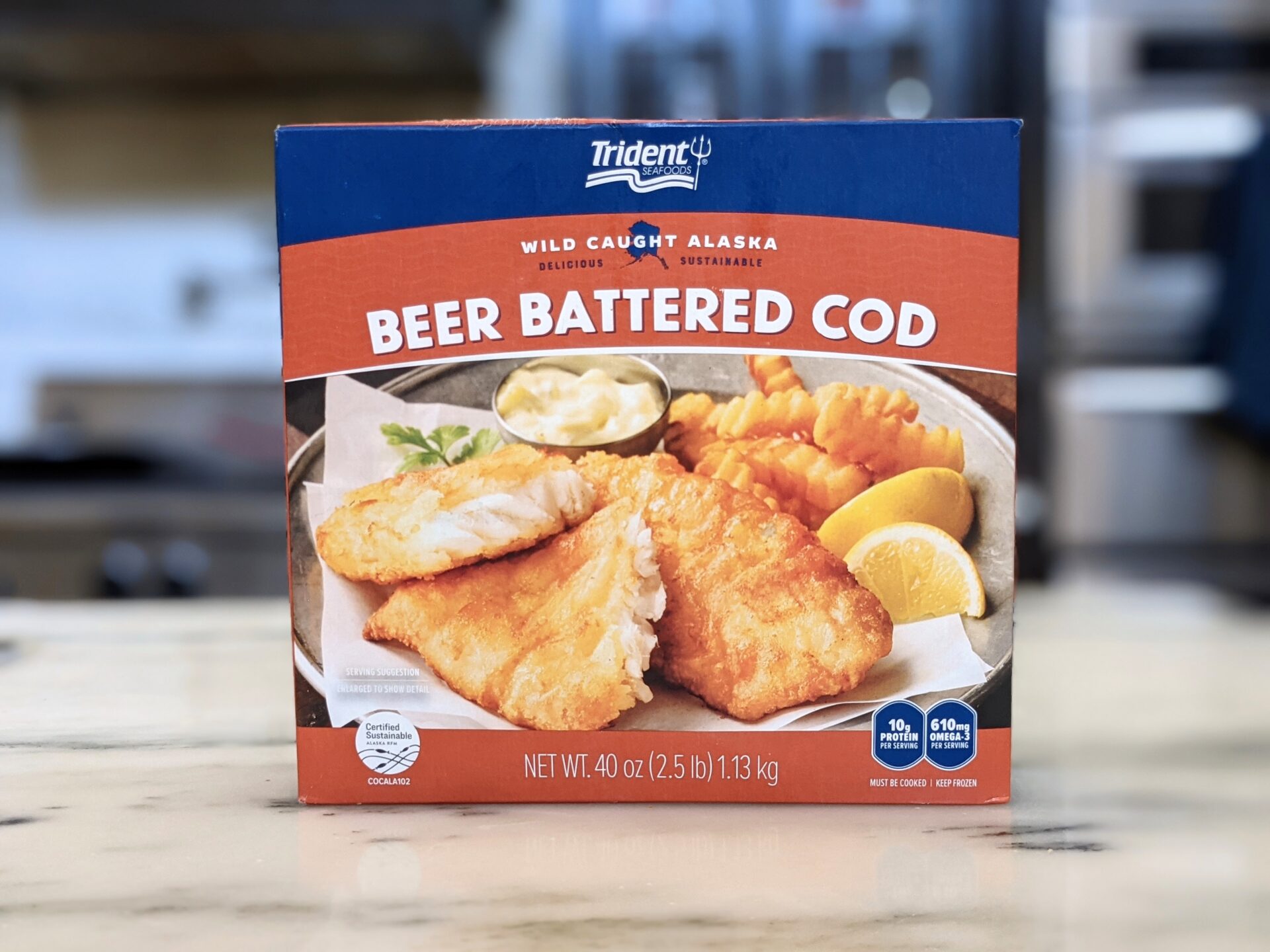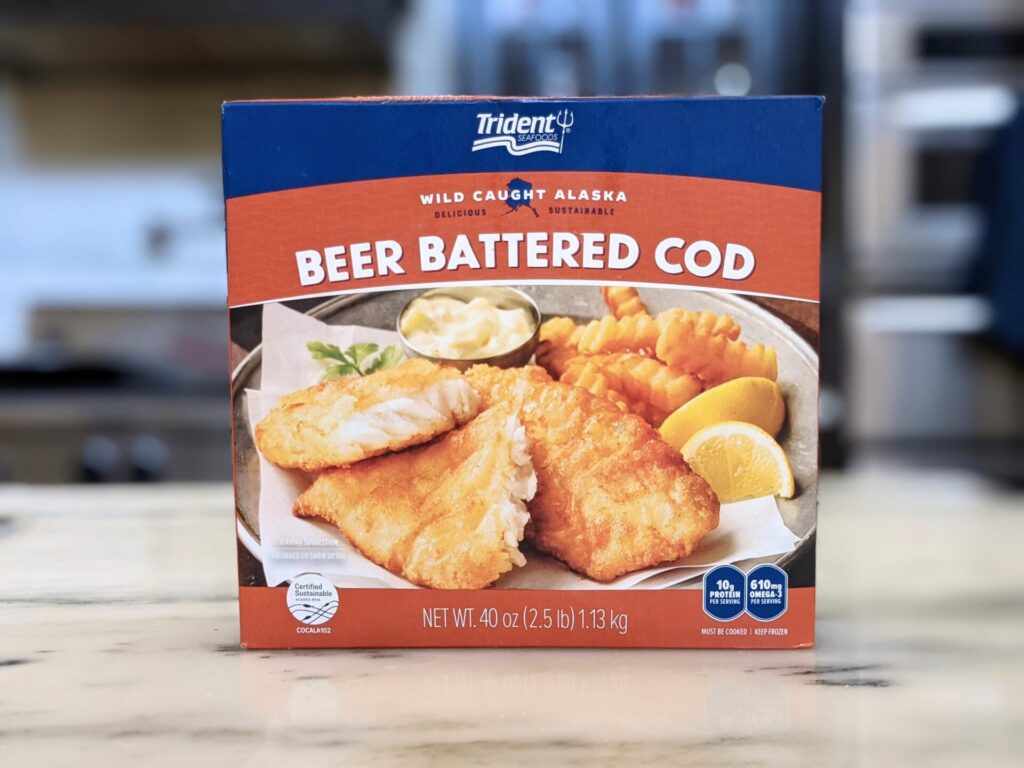 The Beer Battered cod is another fun breaded fish meal from Costco. Save yourself a trip to London and enjoy these tasty pub style fish at home. 
The beer batter provides the perfect combo crunch and flavor. Pair with some fries or coleslaw and douse in malt vinegar or tartar sauce for the complete experience.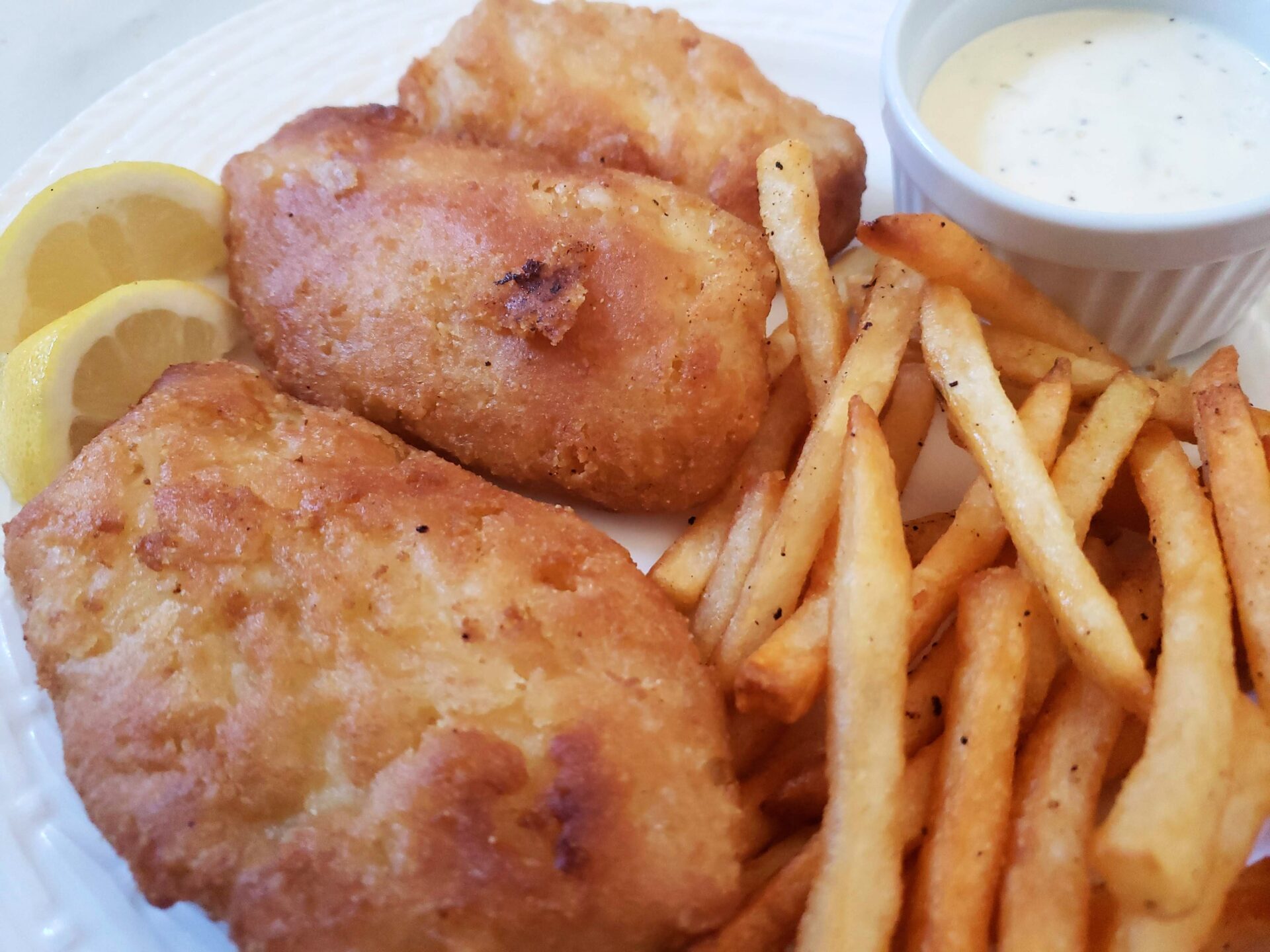 Grilled Cheese Sandwiches - $9.49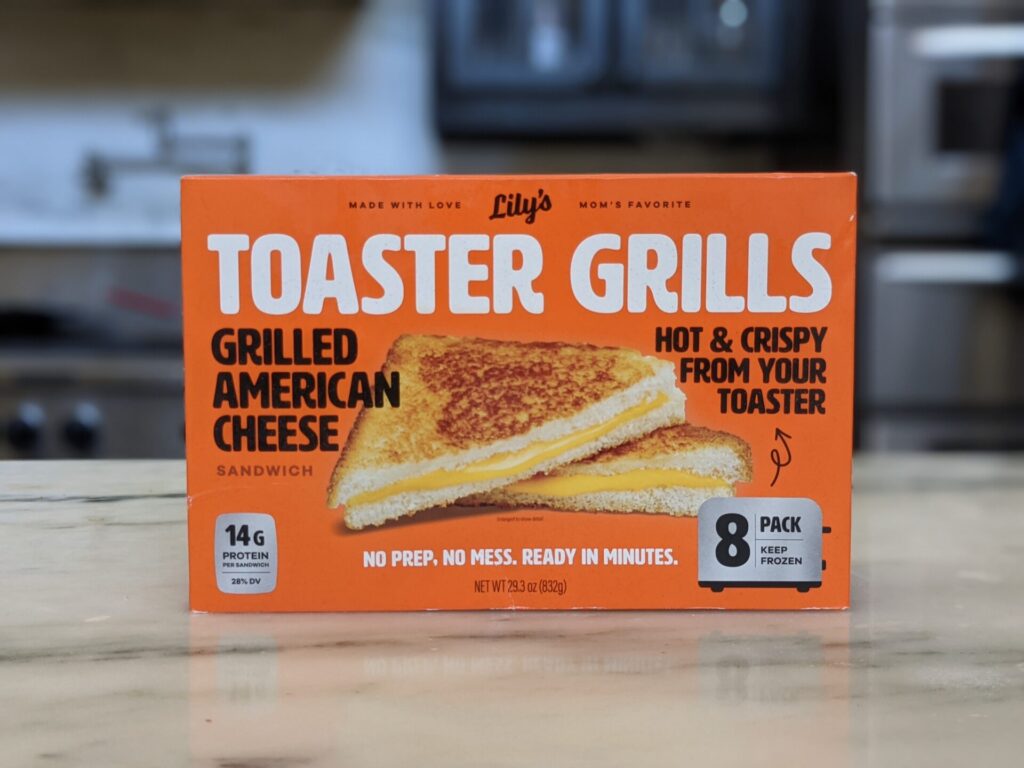 It doesn't take long to make grilled cheese sandwiches, but sometimes you really don't want to go through the hassle. Lily's frozen grilled cheese sandwiches are for those times when you just need to throw something in the microwave for a quick bite.

The grilled cheese sandwiches are easy to store in the freezer and take just a minute to heat up. You can use them for lunch, dinner, or even as a snack.
Del Real Pork Carnitas - $17.99
Pick up Del Reals' carnitas from Costco and make saucy pulled pork tacos or fajitas in just minutes. $18 gets you a 2-pound tray of slow-cooked shredded pork with some authentic Mexican flavor. 
I use the carnitas to make tacos, burritos, chipotle style bowls or even fajitas.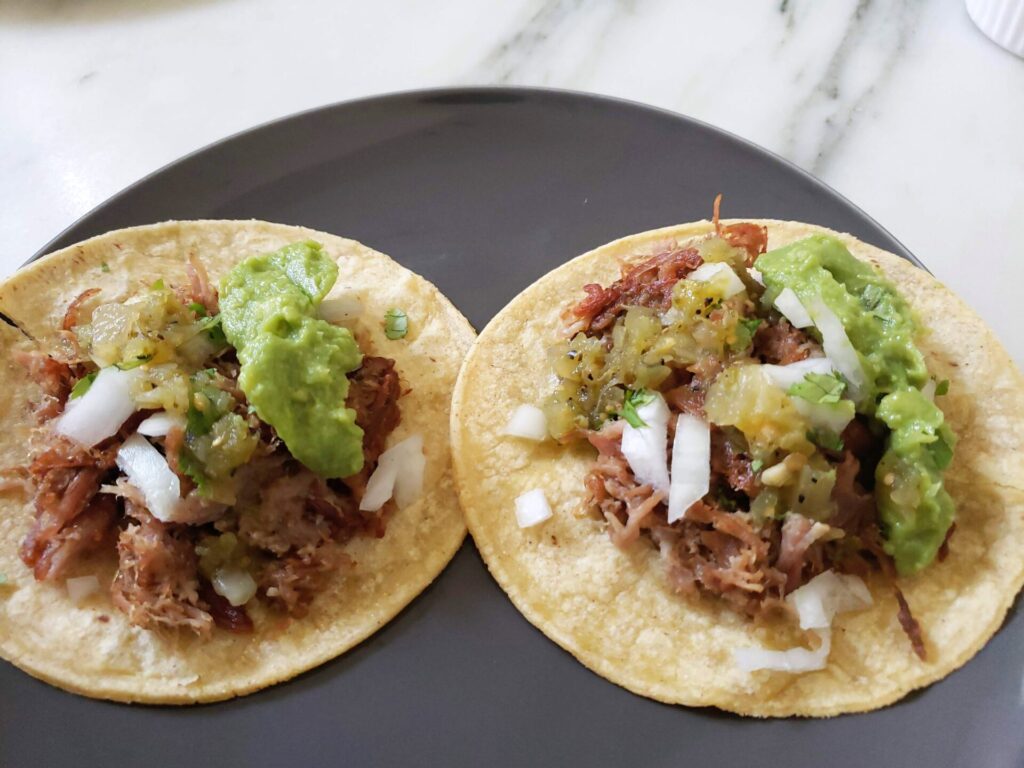 Kiolbassa's Jalapeno Smoked Sausage - $17.89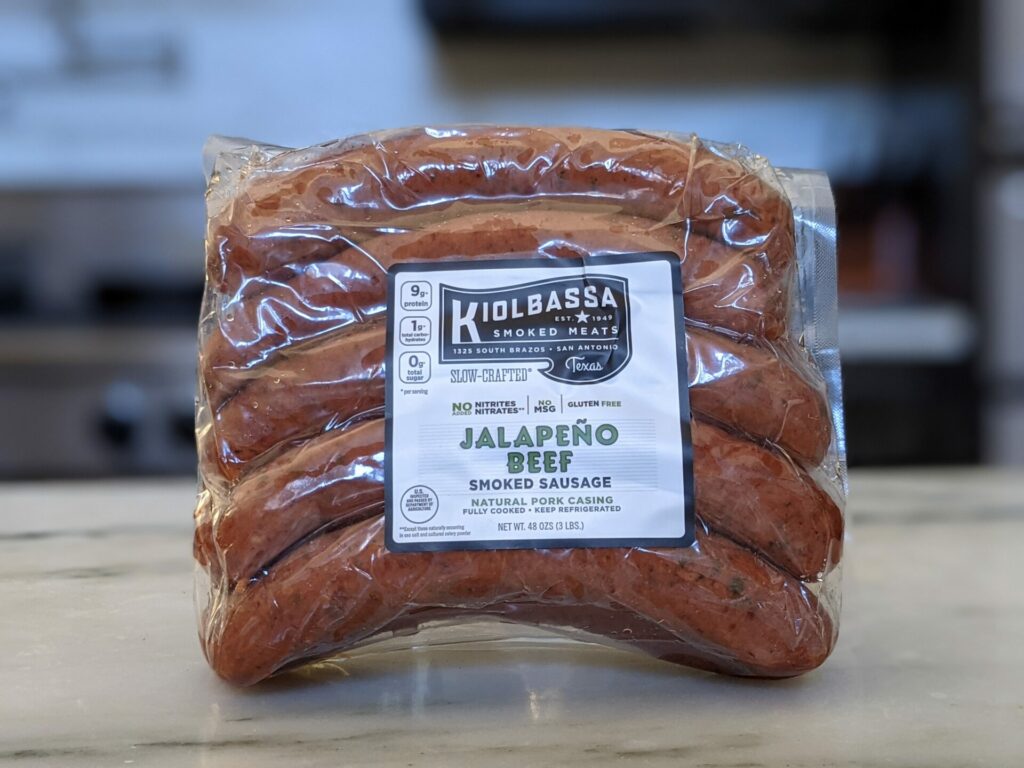 My personal favorite Costco sausage. Kiolbassa's jalapeno smoked sausage offers a mild kick and smoky beef flavors. Grill, BBQ, or even bake these bad boys in the oven and then throw them on your favorite hot dog bun for a tasty and quick dinner.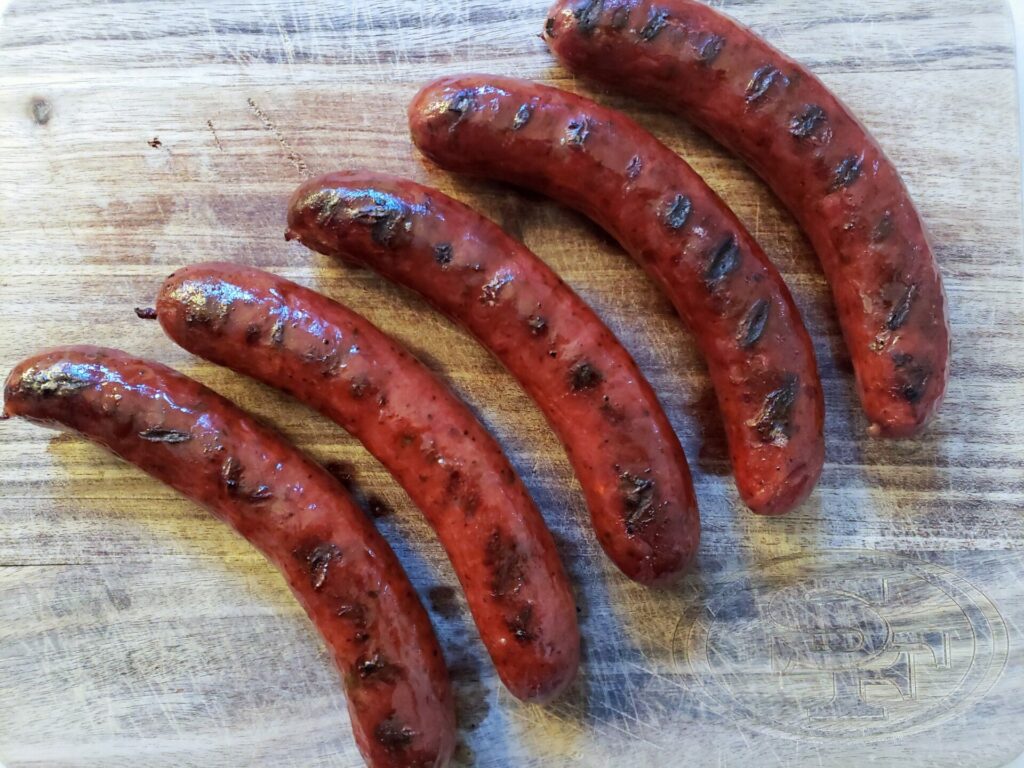 Kirkland Signature Ahi Tuna Poke - $21.99/Pound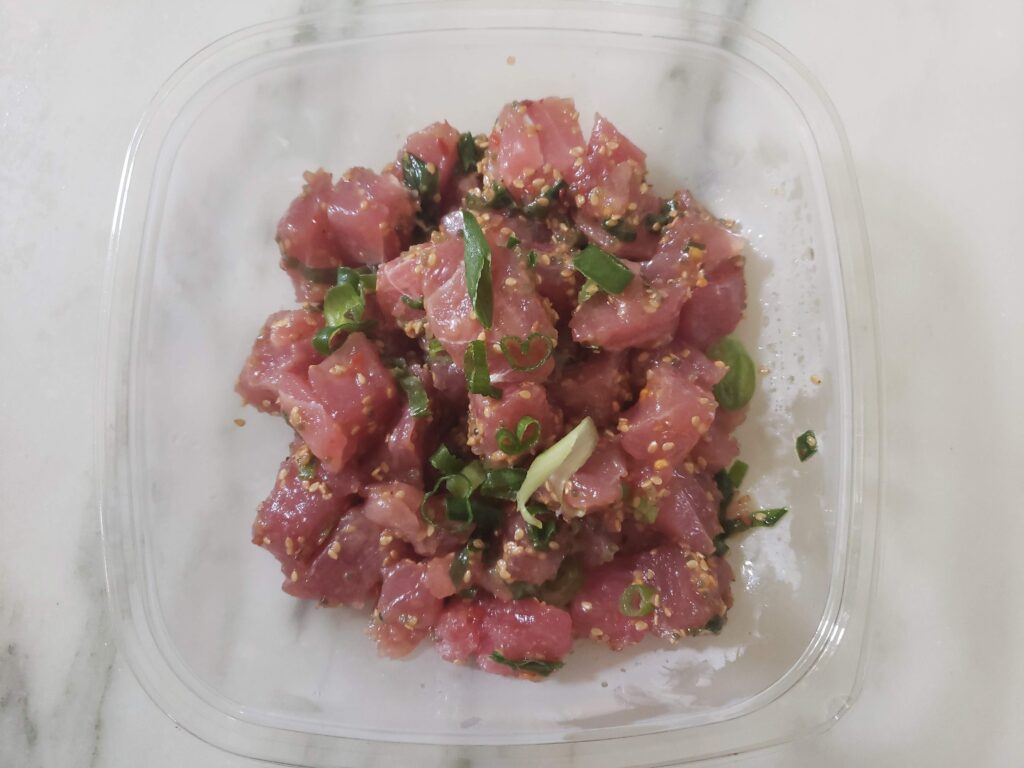 For fresh, restaurant-style poke at home, try Costco's ahi tuna poke. The $22 a pound wasabi ahi tuna offers thick chunks of fresh tuna seasoned with sesame and green onion. Eat as is, or pair with rice, sauce, and desired toppings for a DIY poke bowl.

If you can't make it to the poke bowl shop, Costco's poke will do the trick. Great for lunch or dinner!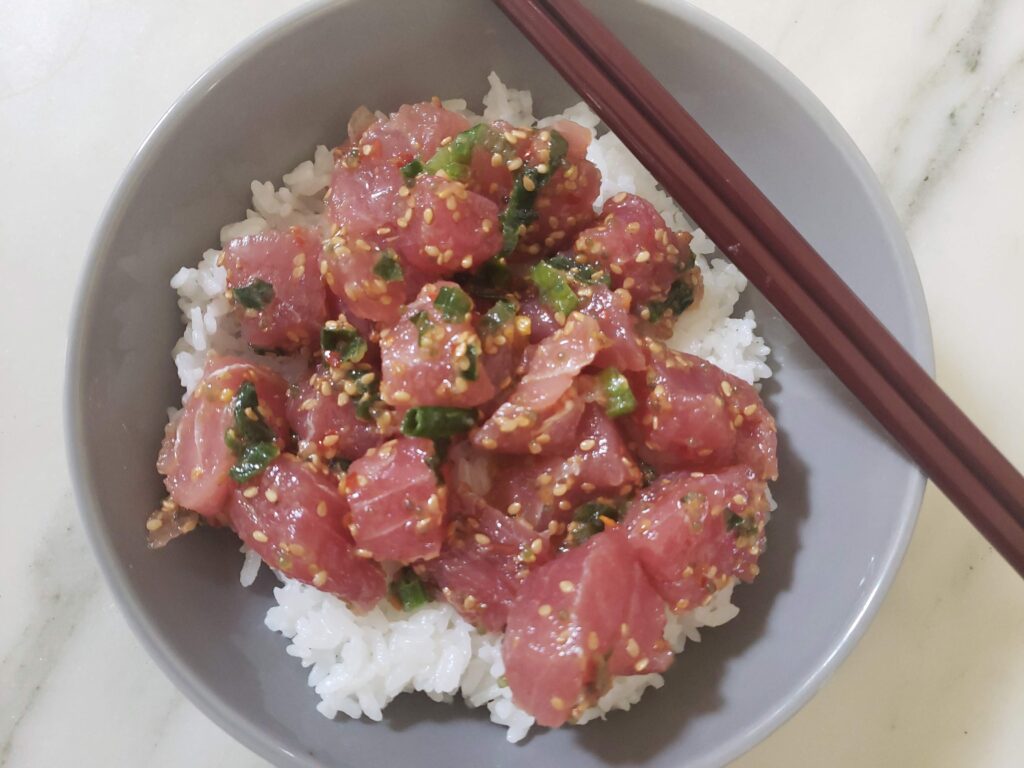 Grilled Chicken Skewers - $13.99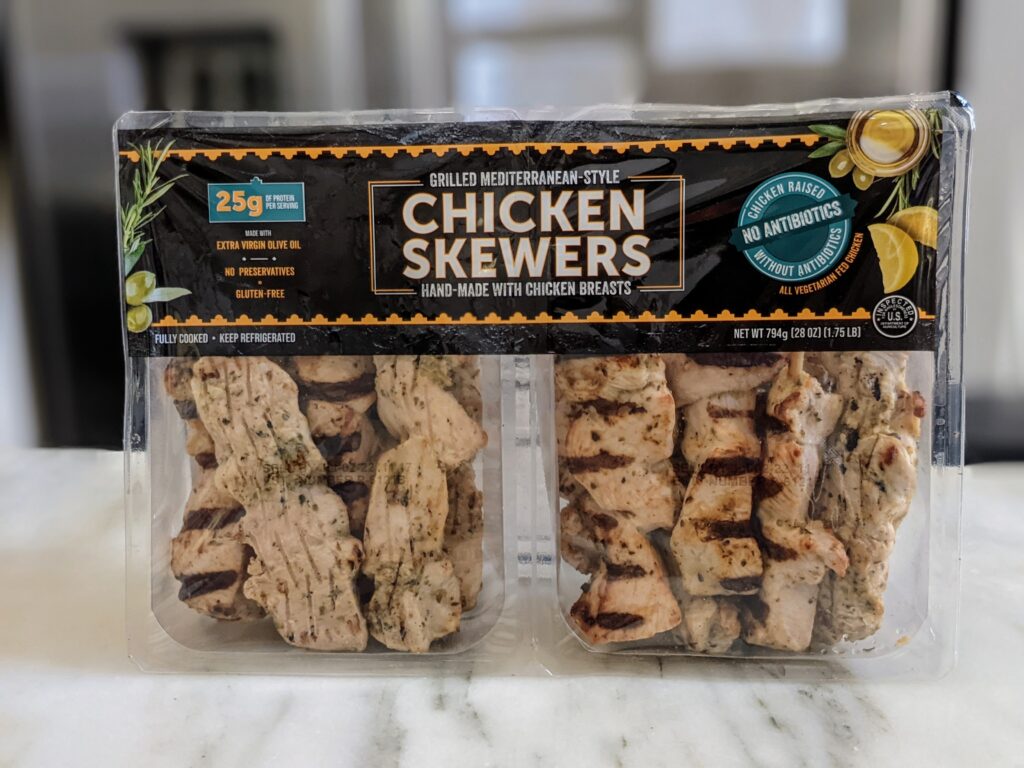 Pre Cooked and ready to be eaten hot or cold, these Mediterranean flavored chicken skewers are a true lifesaver. The chicken has a subtle Mediterranean flavor that pairs with traditional dips and sauces such as hummus and tzatziki. It even goes well with chimichurri or even a classic bbq sauce.
Kirkland Signature Shrimp Tempura - $17.99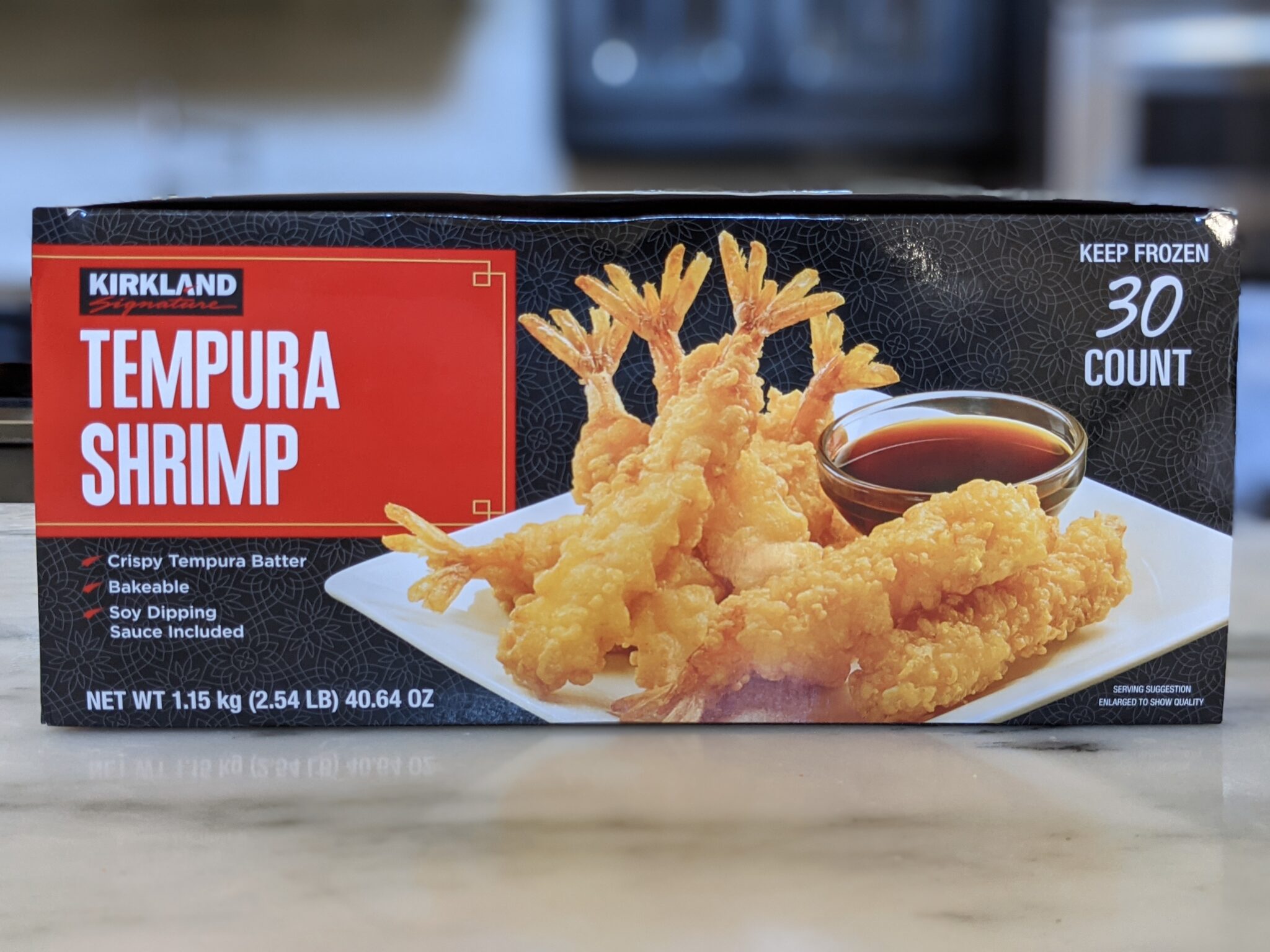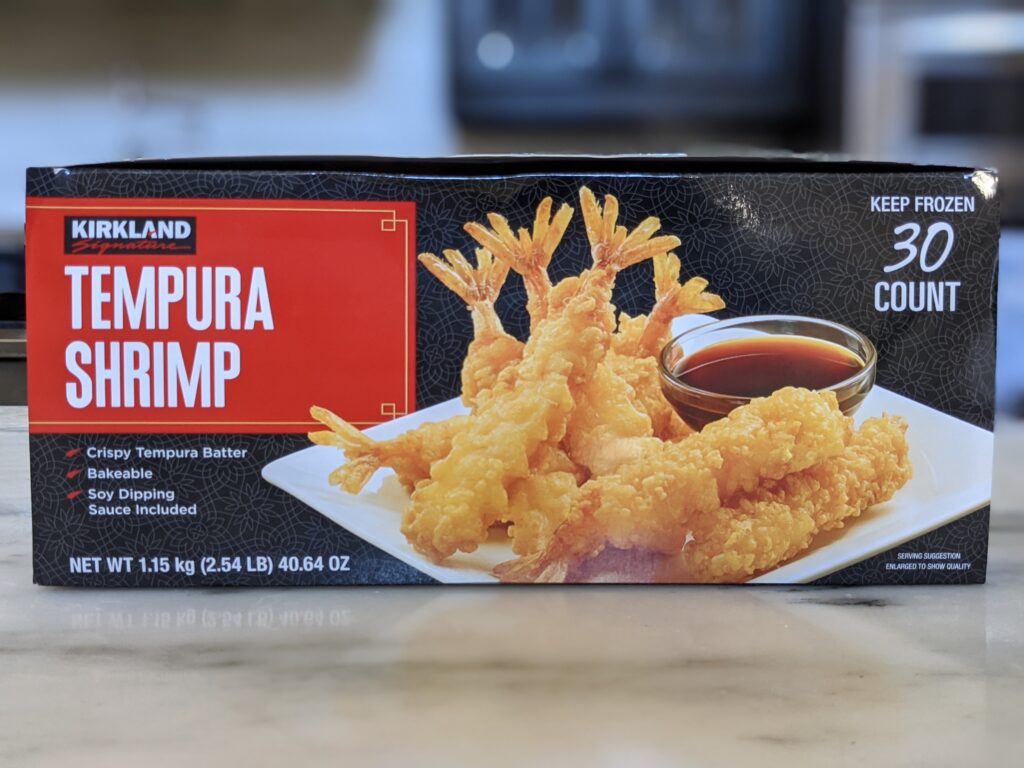 Shrimp Tempura is a pain to make, so I really appreciate the convenience and value of Costco's Kirkland Signature shrimp tempura. 
For $17.99, you get 30 jumbo and tender battered shrimp. They air fry beautifully, just try not to eat them all in one sitting. Without a doubt, one of the best frozen foods from Costco.
Teriyaki Chicken Meatballs - $14.89
Amylu's Costco chicken meatballs pack flavor into every bite. Studded with real pineapple chunks, the sweet teriyaki glaze offers a tasty Asian twist on Italian tradition. 
Throw the meatballs on a bed of rice for the easiest meal you'll make this week.
Mini Chicken Egg Rolls - $10.99
Minh's mini chicken egg rolls offer snackable Asian flavor from the frozen aisle. The egg rolls are filled with chicken, cabbage, carrot and onion. Cook them in the oven or air fryer for a crispy appetizer or pair them with rice and veggies for a light dinner.
Ajinomoto Chicken Fried Rice - $14.99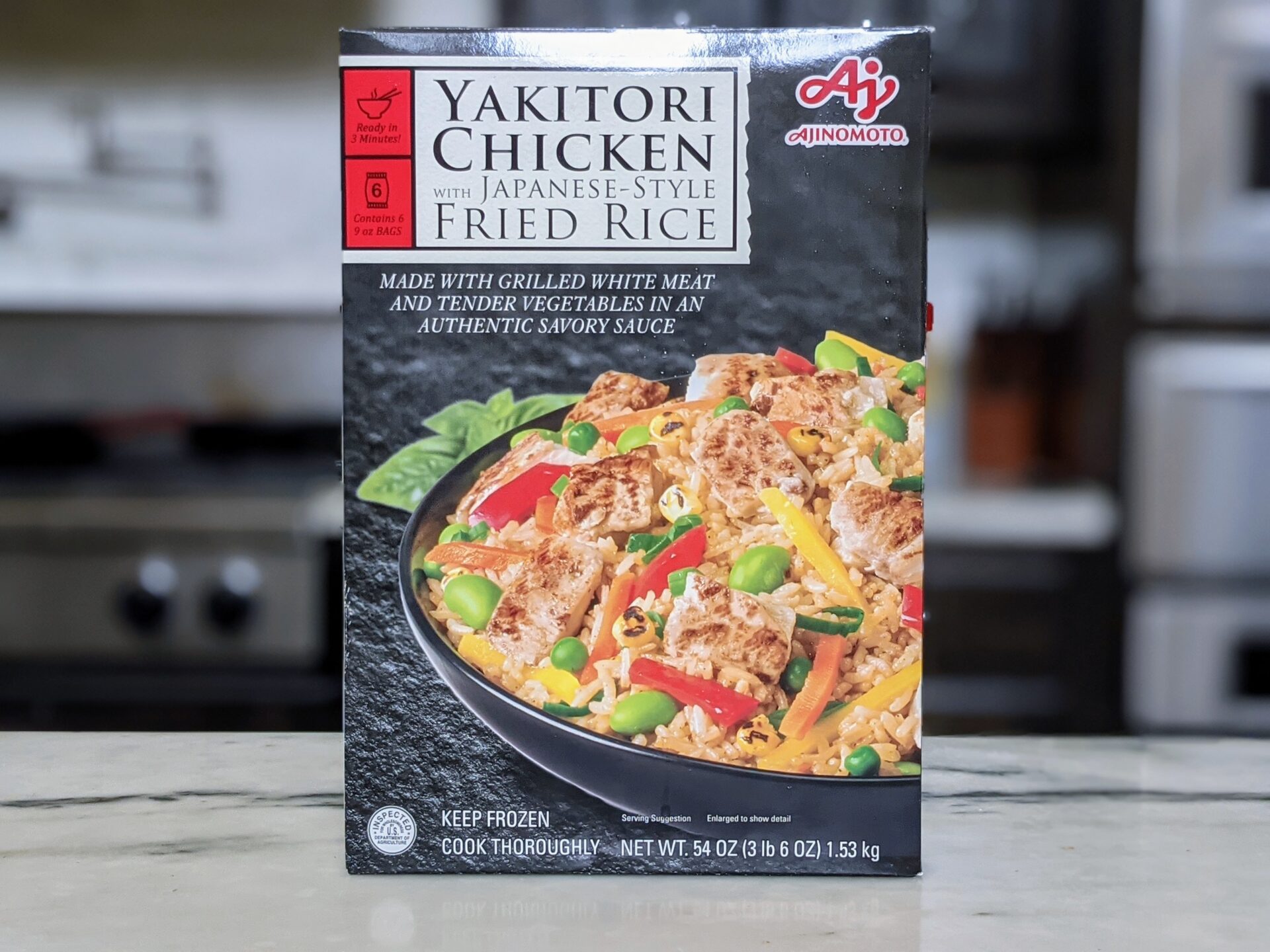 Ajinomoto's frozen chicken fried rice offers an easy Asian-inspired dinner. The single serve pouches include savory soy chicken and a medley of veggies over fluffy rice. They take just 3 minutes to heat up in the microwave and include everything you need for a full meal. Perfect for the busy weeknight meals. 
Arrachera (carne Asada) - $9.99/Pound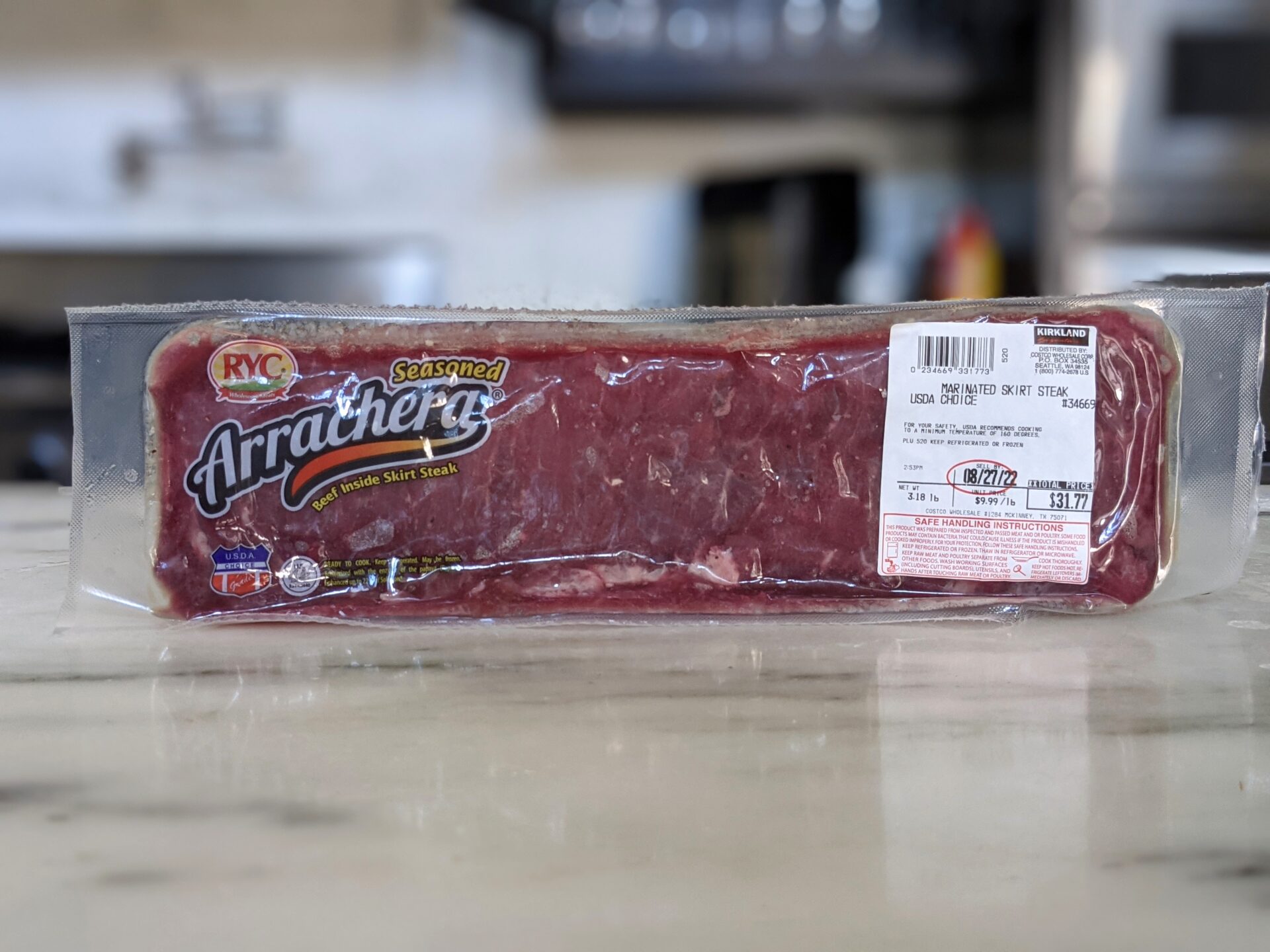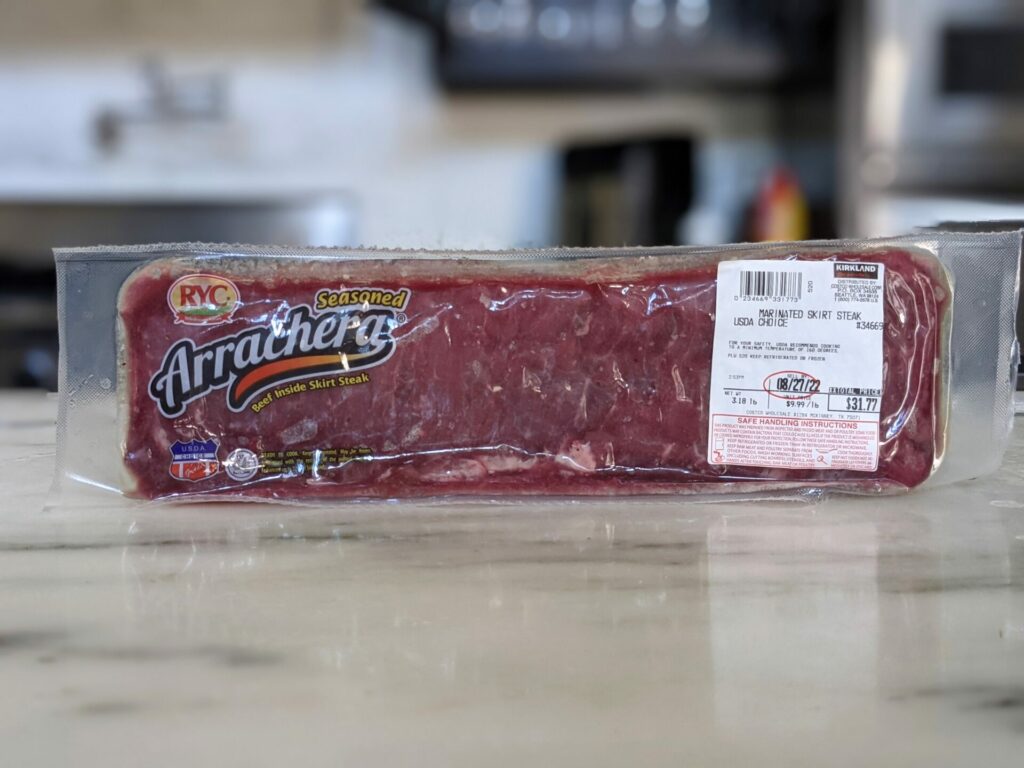 Costco's Arrachera might just be one of the most underrated gems in the entire warehouse. The marinated steak is delicious and makes for a quick and easy weeknight dinner. Grill up the steak in 10 minutes and slice and dice the meat onto some warm tortilla for delicious carne asada tacos.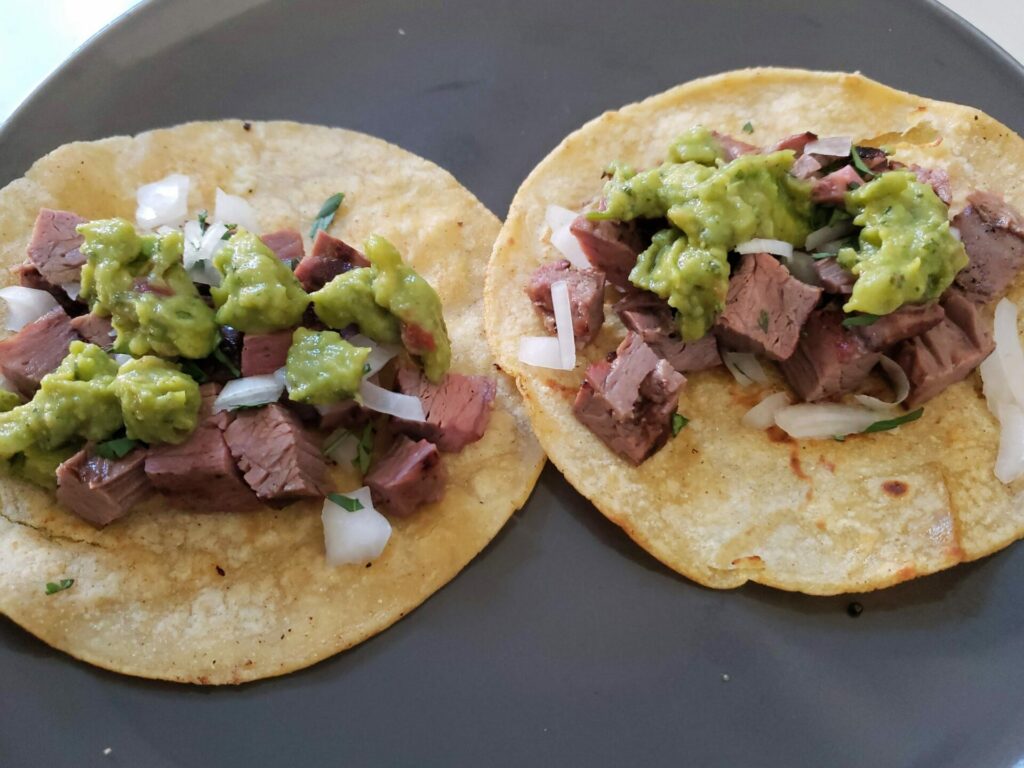 Kirkland Signature Frozen Hamburgers - $24.99-$28.99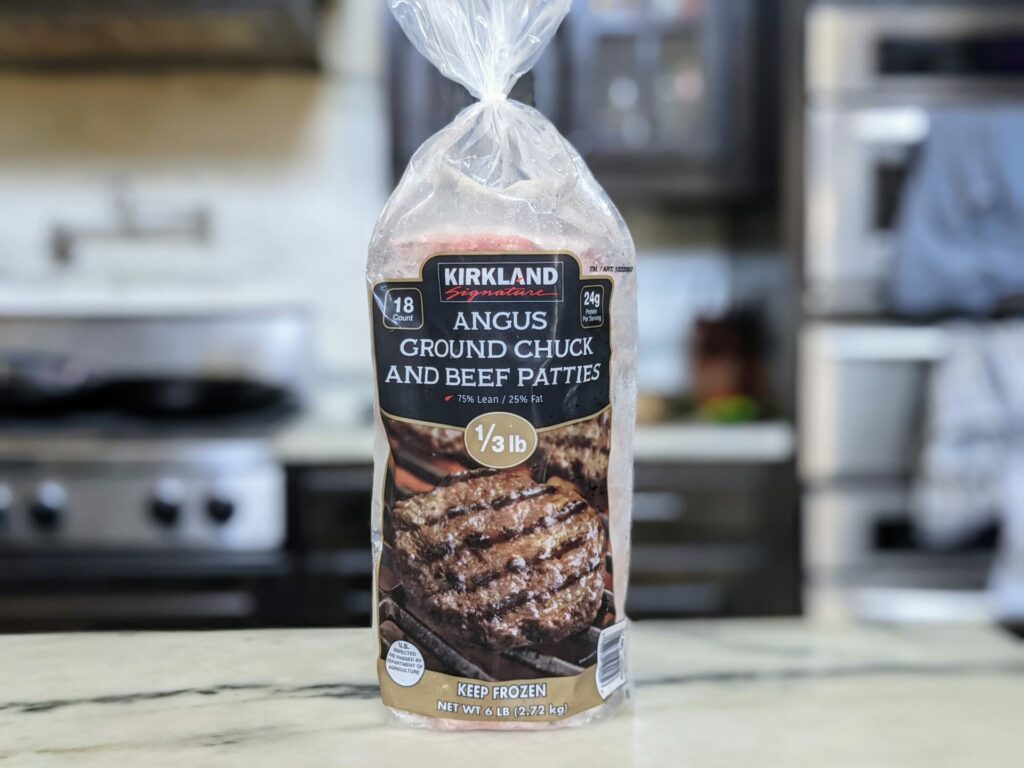 There are four different frozen hamburger options at Costco, each with its own unique qualities. The burgers range from lean sirloin hamburger patties to high quality grass fed patties. 
Costco's hamburgers are fairly priced and make for convenient meals.
Trident Seafoods Salmon Burger Patties - $17.99
I can't include hamburger patties on the list of best Costco dinner meals without including the Salmon Burger Patties. Costco's salmon patties are a much healthier alternative to ground beef hamburgers while still delivering flavor and juiciness. 
Pop these wild-caught salmon patties on the grill or pan-fry them for an easy, nutritious weeknight meal.  
Costco Food Court Pizza - $9.95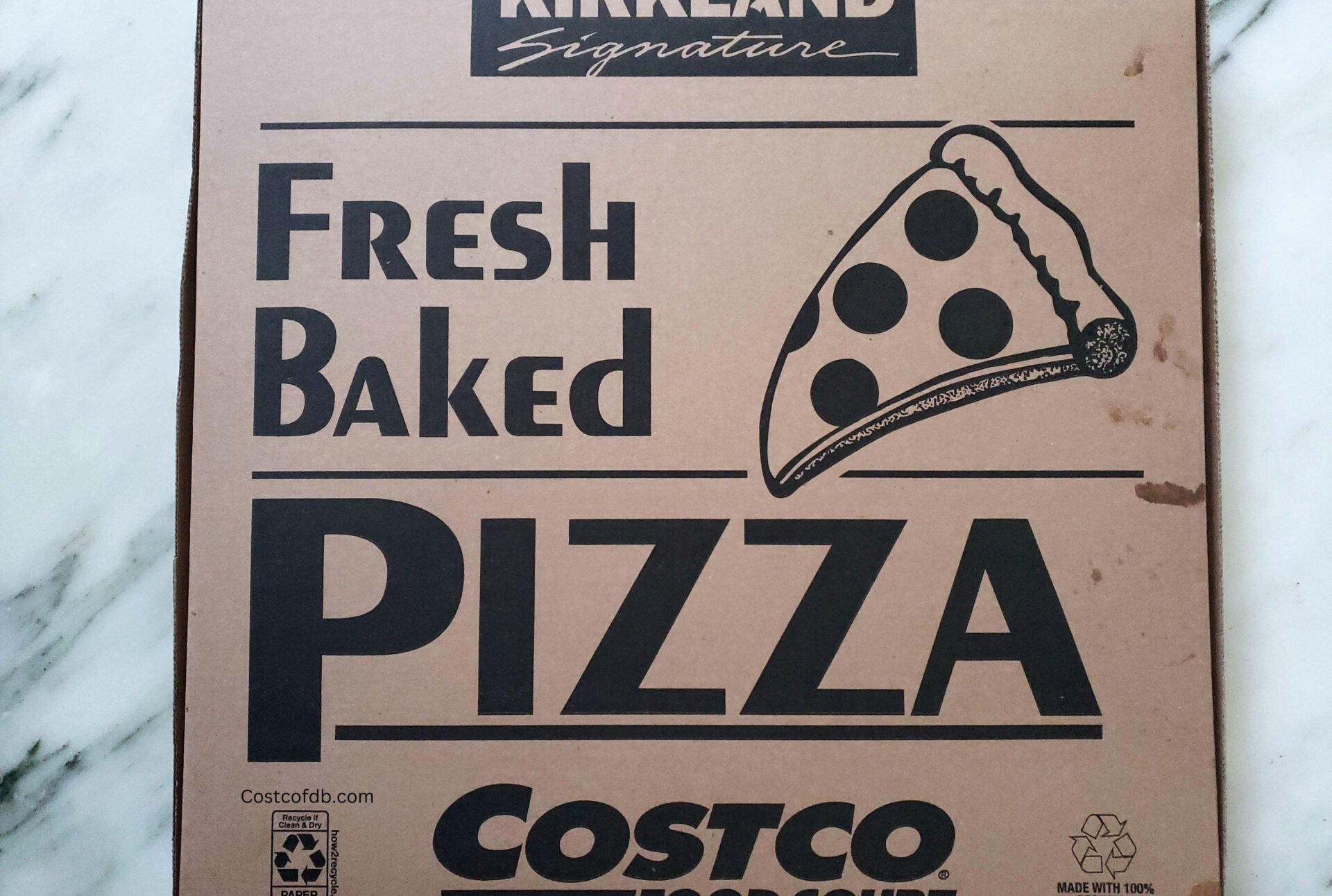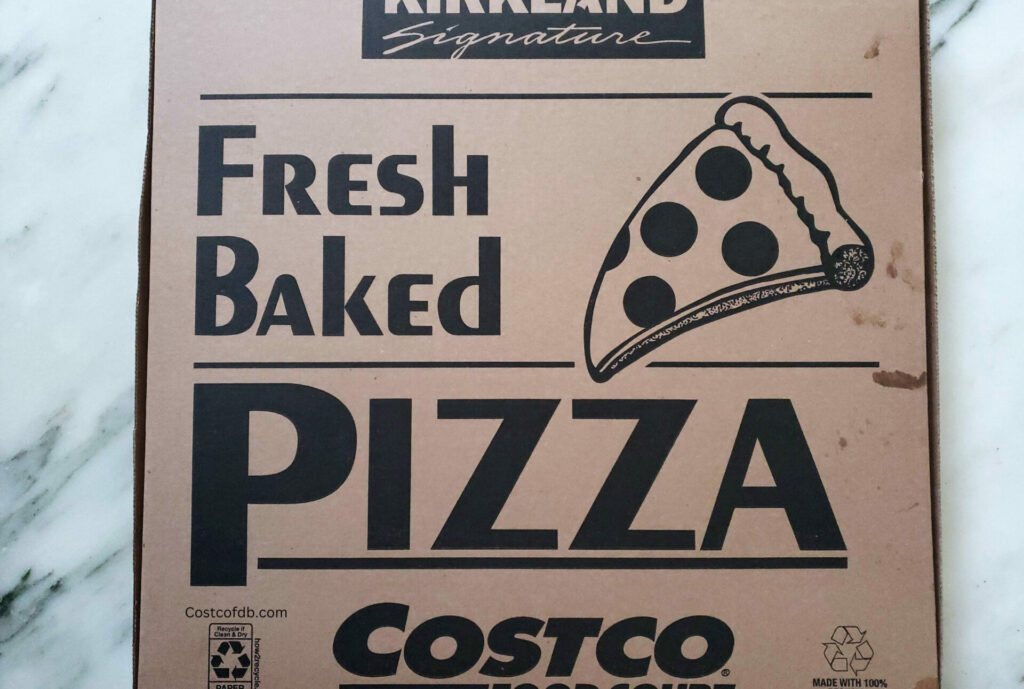 A Giant 18″ Pizza for $9.95; how can anybody say no? Costco's pizza is affordable, huge, and no cooking is required. Grab a hot, cheesy pizza at the food court after you finish shopping.
I know for me, the last thing I want to do after a unloading the groceries from a long Costco shopping trip is to cook a meal.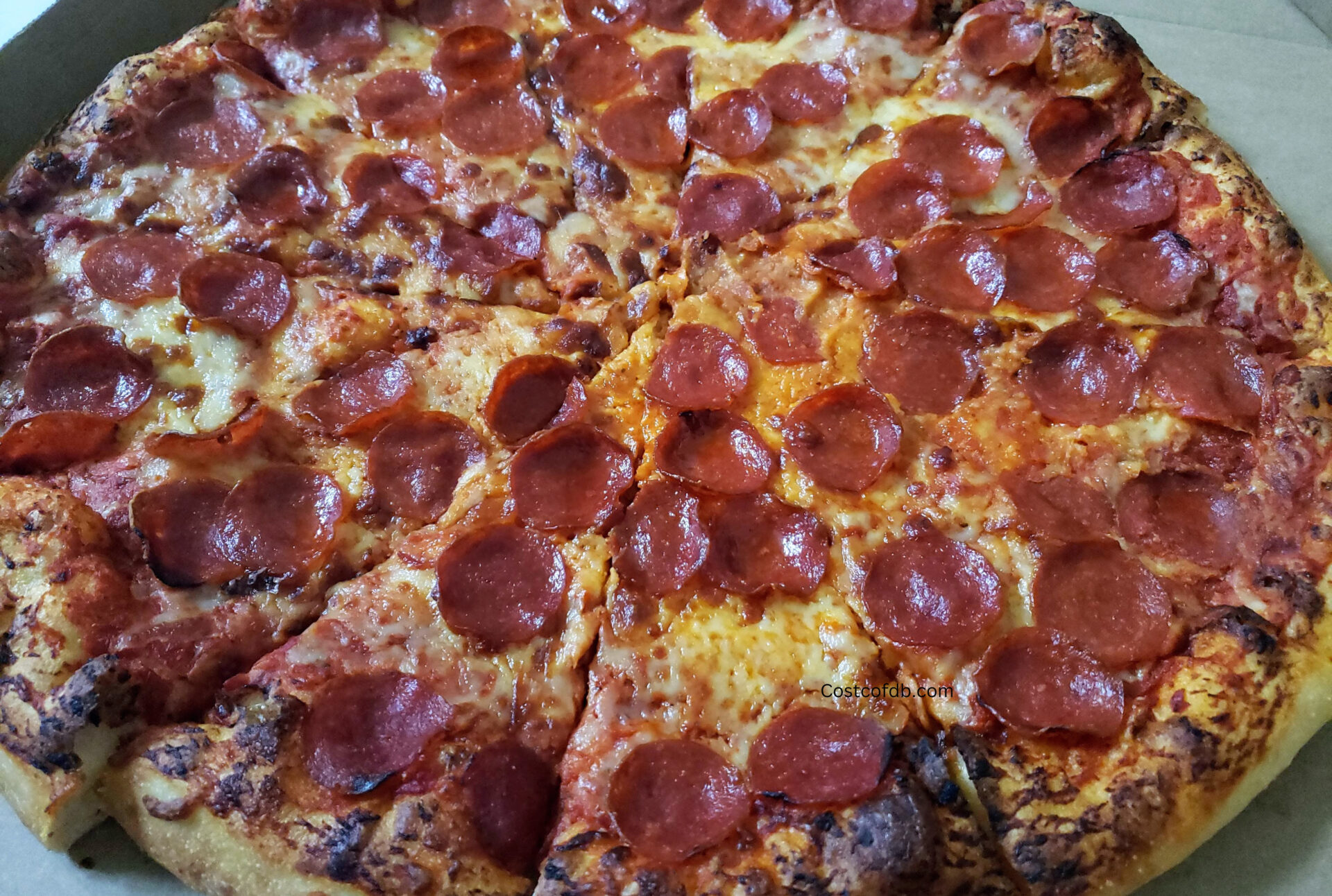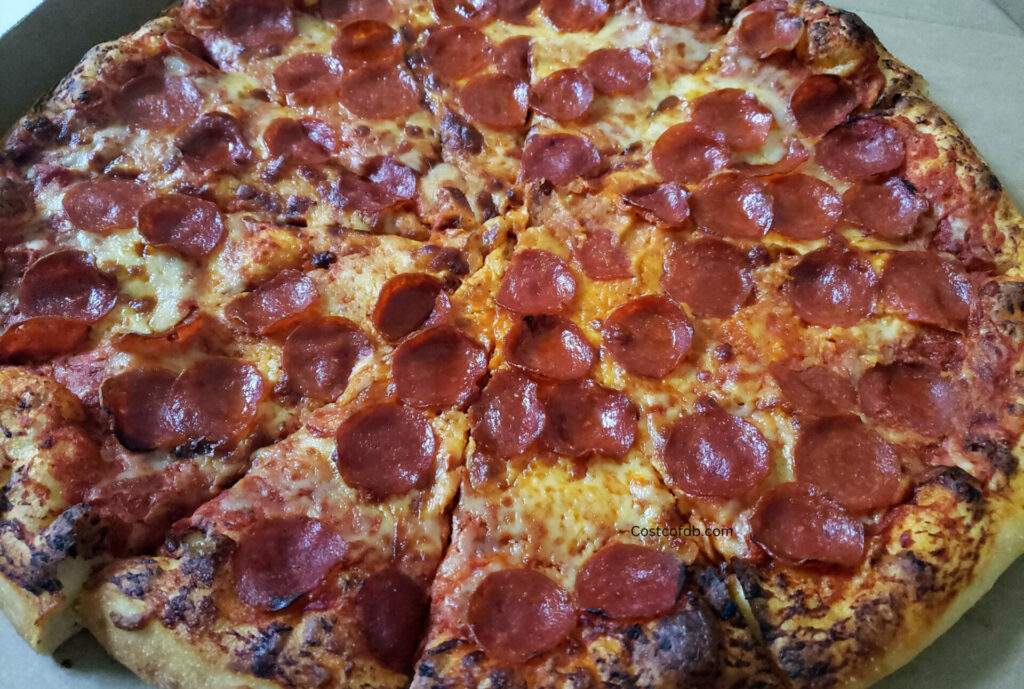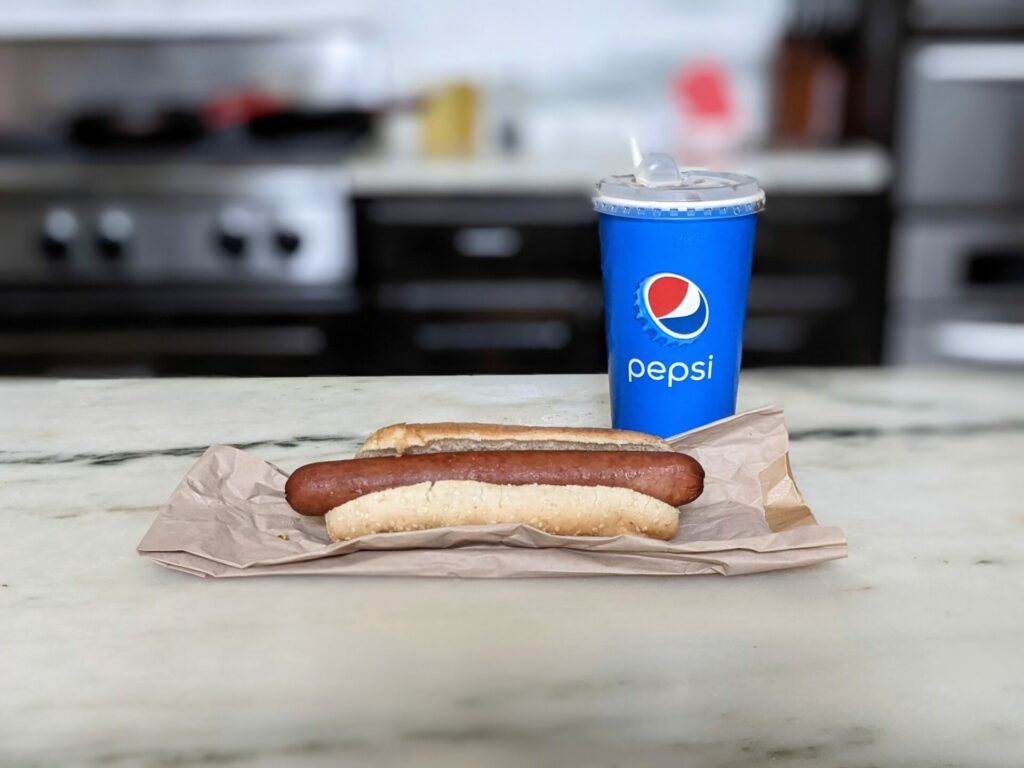 When you're not in the mood for pizza, go with the classic $1.50 Costco hot dog. You aren't going to beat the price, and you can even eat on the way home!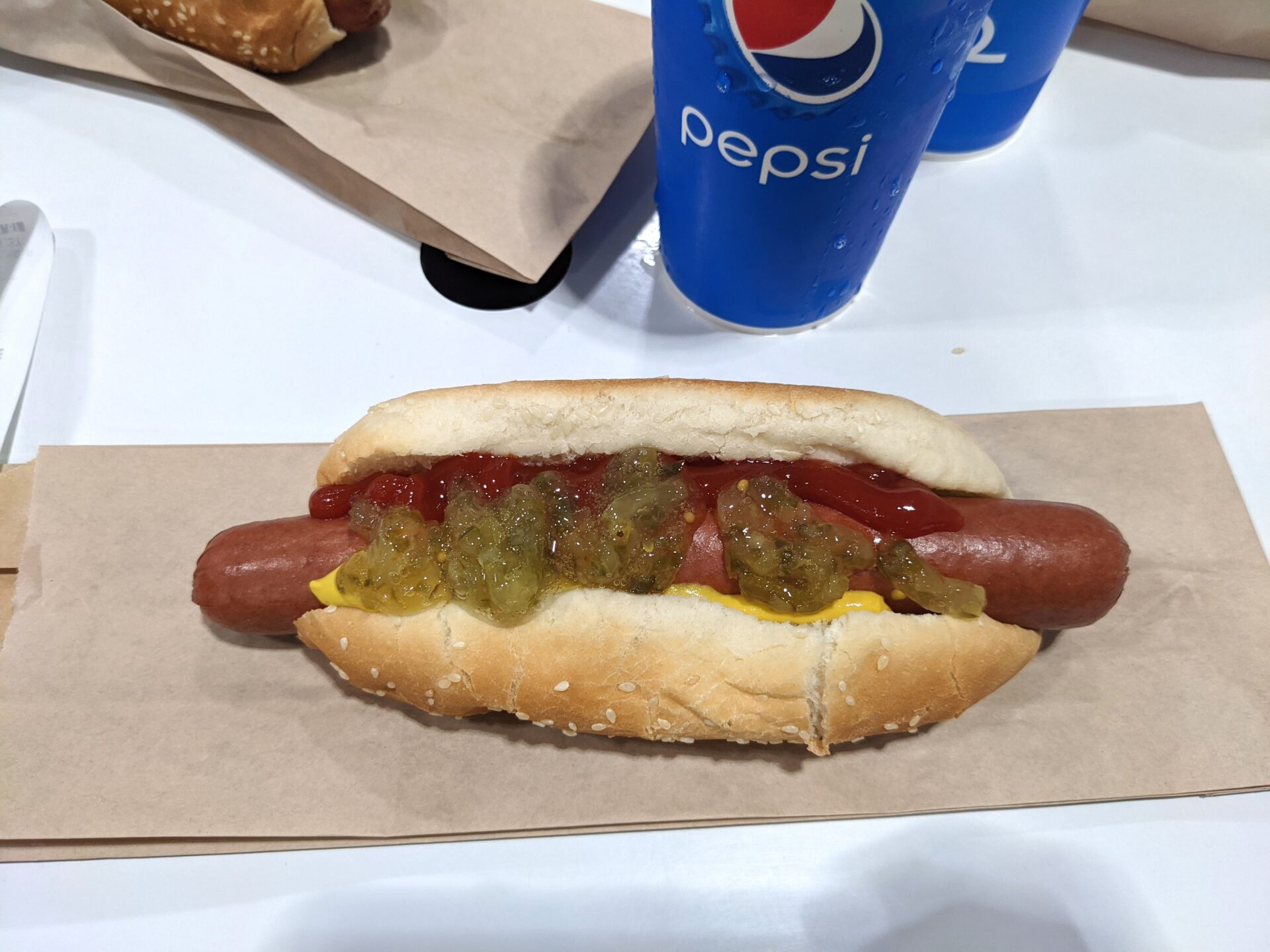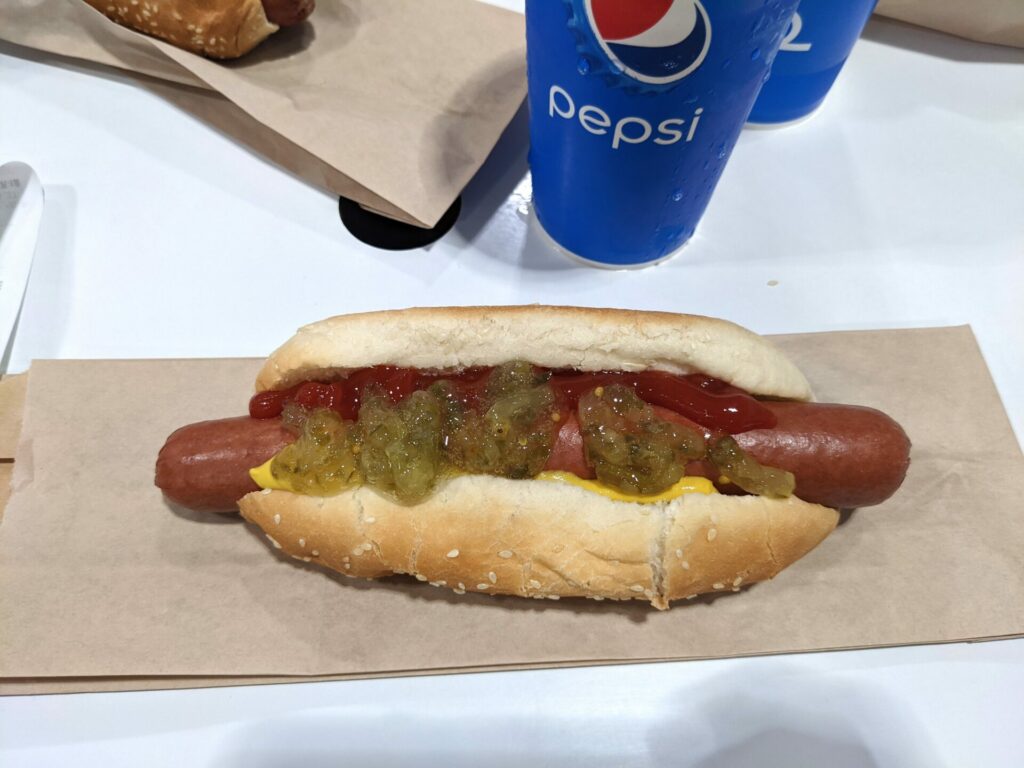 Crazy Cuisine's orange chicken combines crispy breaded chicken and sticky-sweet, tangy orange sauce. Skip Panda and get your Chinese takeout fix with one of the all-time great Americanized Chinese foods. The chicken is super easy to cook in the air fryer and will have the family begging for more. 
Pair the orange chicken with some Bibigo sticky rice and make an all Costco meal. 
Kirkland Signature Wild Argentine Red Shrimp - $21.49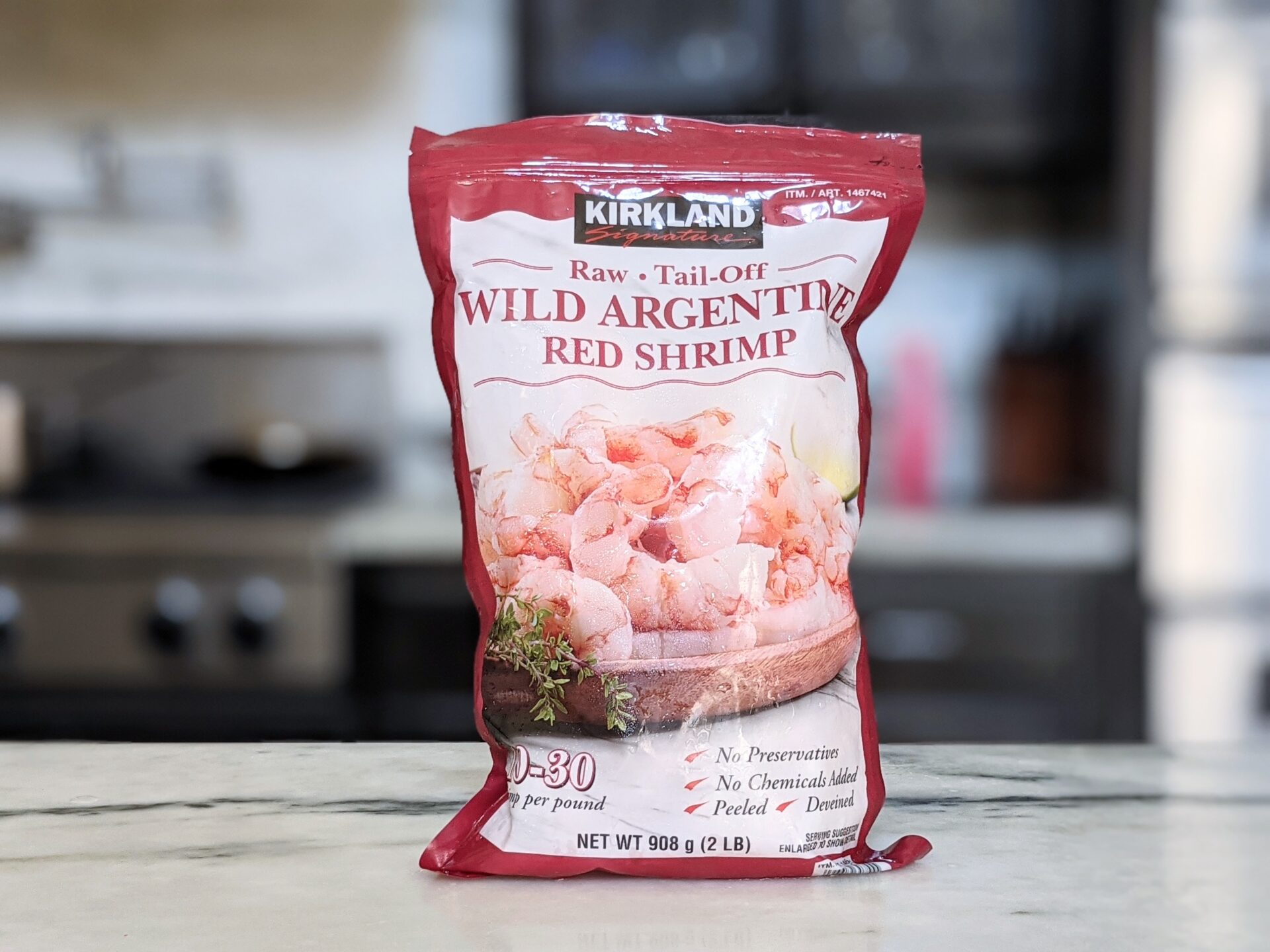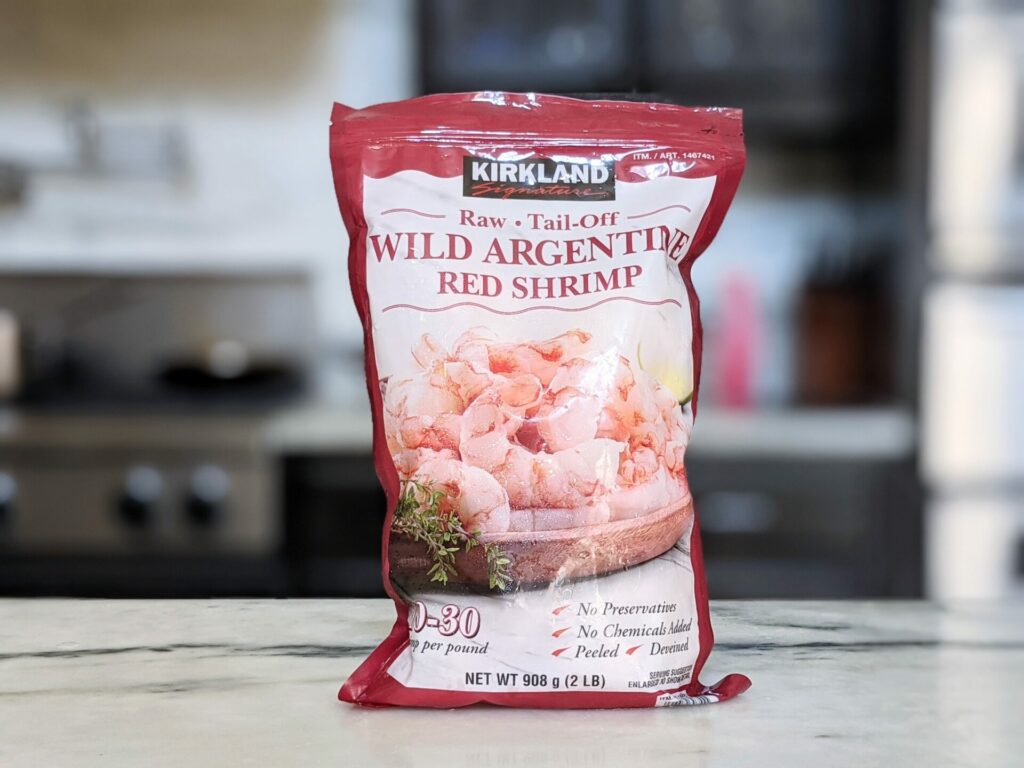 Kirkland's wild-caught Argentine red shrimp are sweet as can be with a delicate lobster-like flavor. Hailing all the way from the Argentinian coast, these jumbo-sized bad boys boast a pretty pink hue and crazy succulent taste that is more reminiscent of lobster than it is shrimp. A delicious dinner time treat!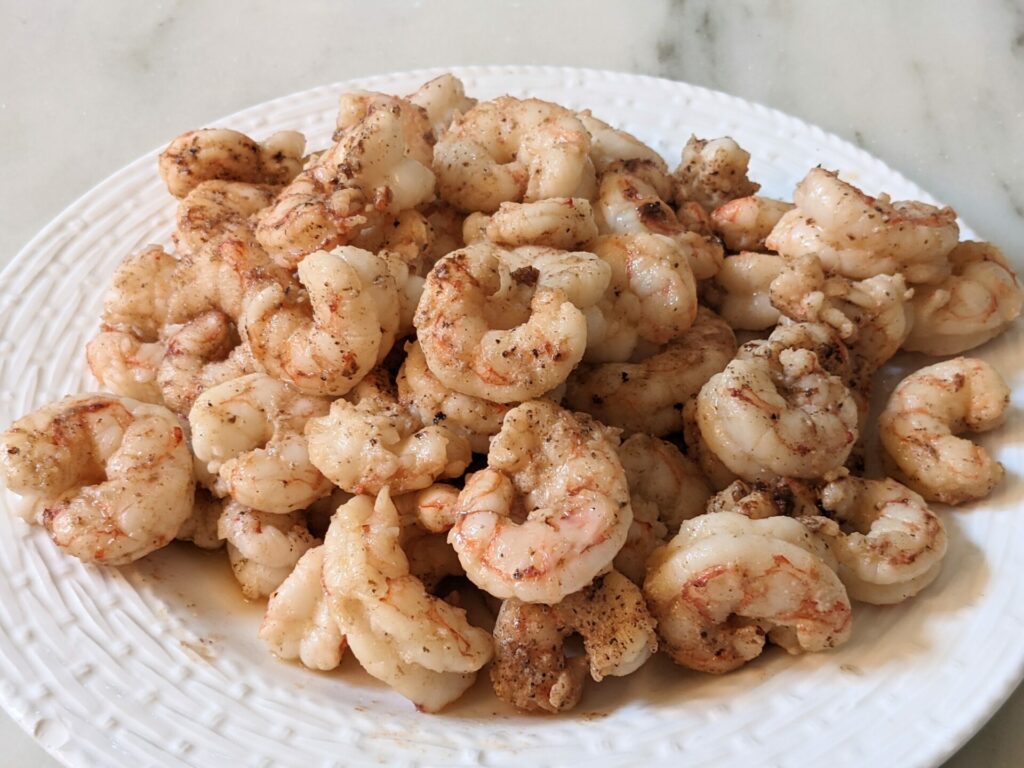 Kirkland Signature Chicken Salad - $12.99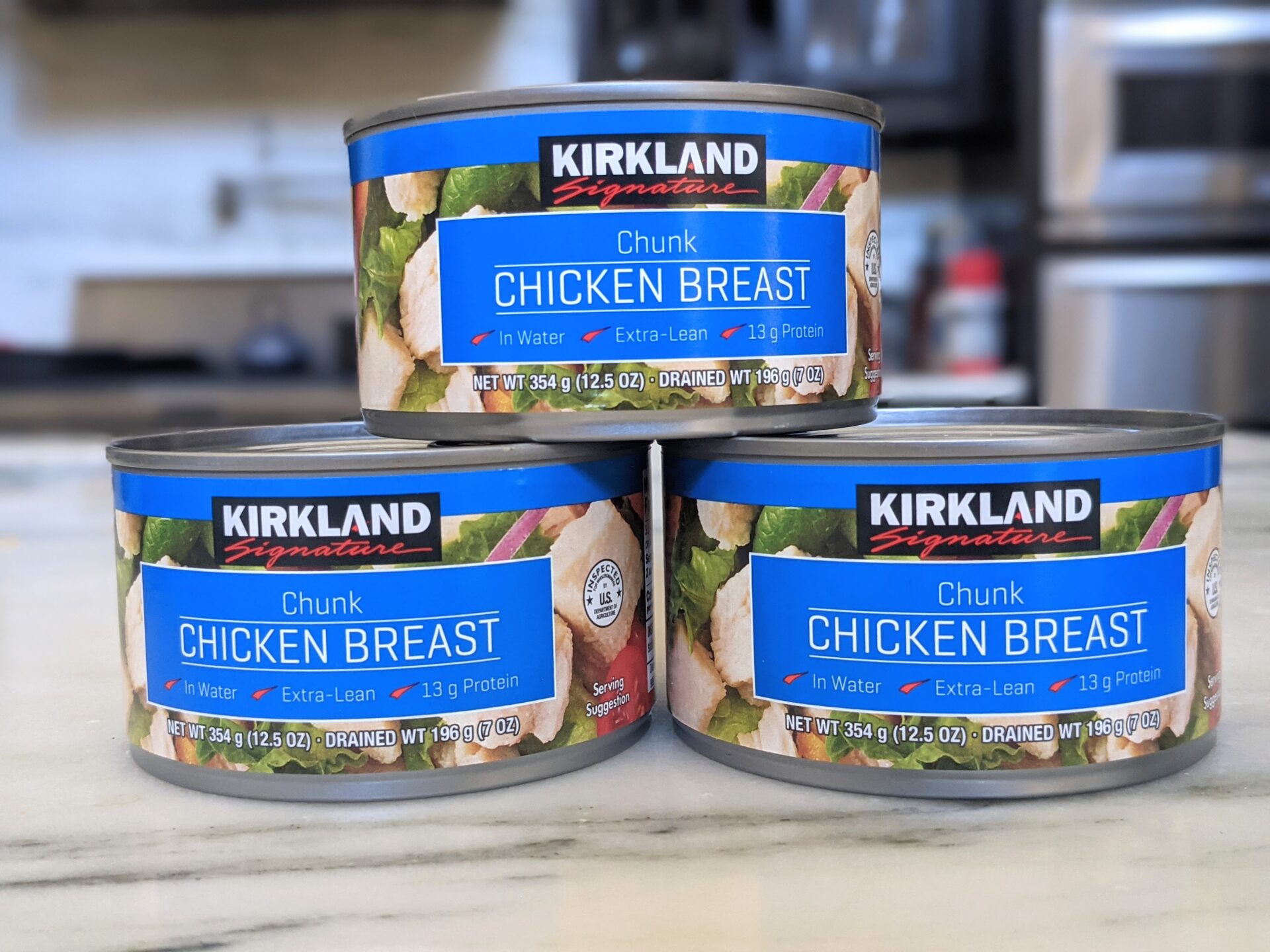 Canned chicken isn't the most appealing canned food, but I can tell you the Kirkland Signature canned chicken is handy in your pantry. This pre-cooked chicken breast is super versatile for quick meals and snacks. 
You can shred the chicken right out of the can to use it in chicken salads, lettuce wraps, or even buffalo chicken dip.
Kirkland Signature Cilantro Lime Shrimp - $10.99/Pound
Kirkland's cilantro lime shrimp spices up fresh shrimp with the Mexican flavors of cilantro, lime, and garlic. These pre-cooked shrimp offers big, bold flavors. 
Eat Costco's cilantro lime shrimp as-is or pair it with tortillas, salads, and more. Pick up a tray, and you'll see how easy it can be to use them for a quick meal.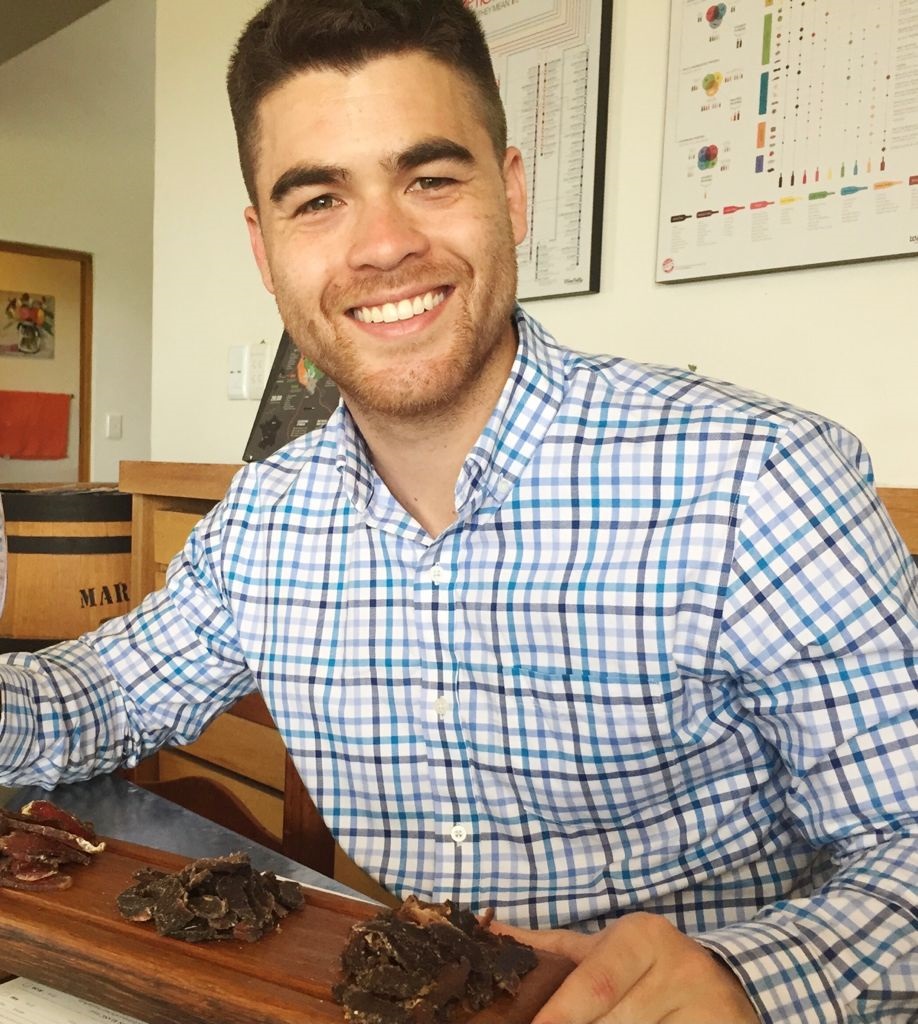 Greg Larkin is the founder and managing editor of Costco Food Database, the premiere site for honest takes on all things Costco food. A self-proclaimed Costco super-fan since childhood, Greg turned his obsession in a mission to properly rate and review all of Costco's delicious buys. When he's not busy navigating Costco aisles, you can find Greg smoking Kirkland Signature meats, meal prepping, or perfecting his homemade jerky recipes.