Costco Kirkland Signature Hard Seltzer - FAQ and Review
Kirkland Signature Hard Seltzer at Costco
Costco sells a 24-pack of Kirkland Signature Hard Seltzer for $20.99. The hard seltzer can be found in Costco's alcoholic beverage area near other items such as the Kirkland Signature French Vodka, tequila, and champagne.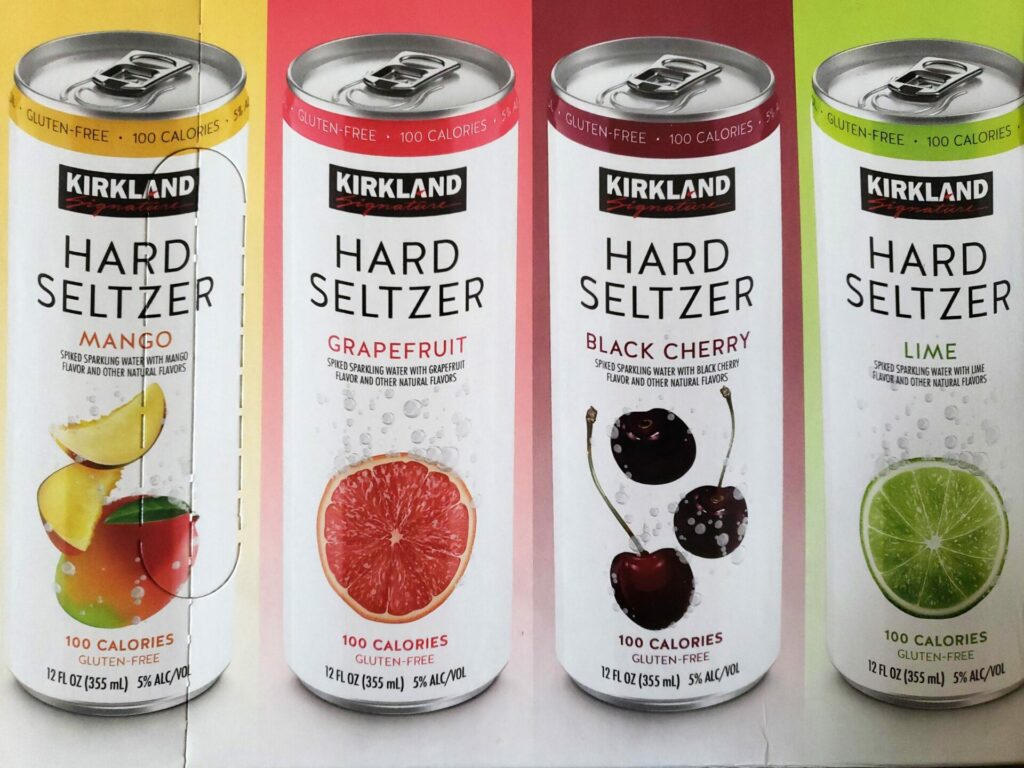 Kirkland Signature Hard Seltzer is sold in 4 flavors Mango, Grapefruit, Black Cherry, and Lime.
Looking for more alcoholic beverages? Check out our Costco Liquor and Hard Alcohol guide.
Have You Tried Costco HArd Seltzer?
Let the rest of the Costco Food Database community know what you thought of this product. Results and reviews are at the bottom of this page.
Please allow 24 hours for review moderation and approval.
Costco Cost Comparison - Hard Seltzer
Costco sells the 24-pack of Kirkland Signature Hard Seltzer for $20.99 or $0.88 per can. This is a phenomenal price for hard seltzer as most other brands like Truly or White Claw will charge around $1.00-$1.50 per can, depending on the retailer.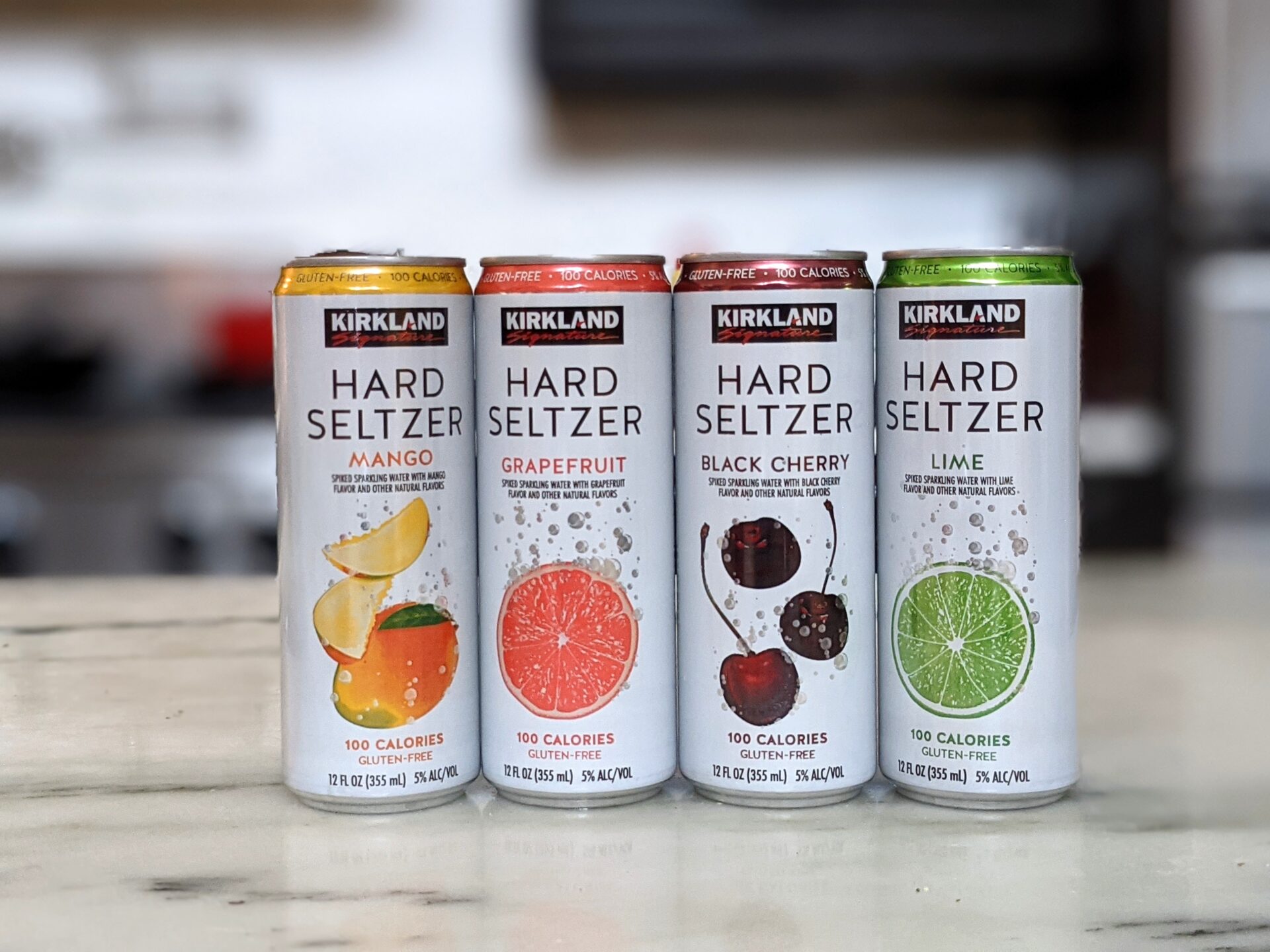 Kirkland Signature Vs. White Claw Vs. Truly Vs. Topo Chico
Compared to the costs of other hard seltzers, the Kirkland Signature brand comes out ahead.
Costco does sell a 30-pack of Truly Hard Seltzers for $32.99 or $1.09 per can. This is an excellent price for Truly, as most other major retailers average about $1.30 per can of Truly.
White Claw Hard Seltzer at Costco costs $26.99 for a 24-pack or about $1.12 per can. A 24-pack of Topo Chico Hard Seltzer sells for $28.99 or $1.20 per can.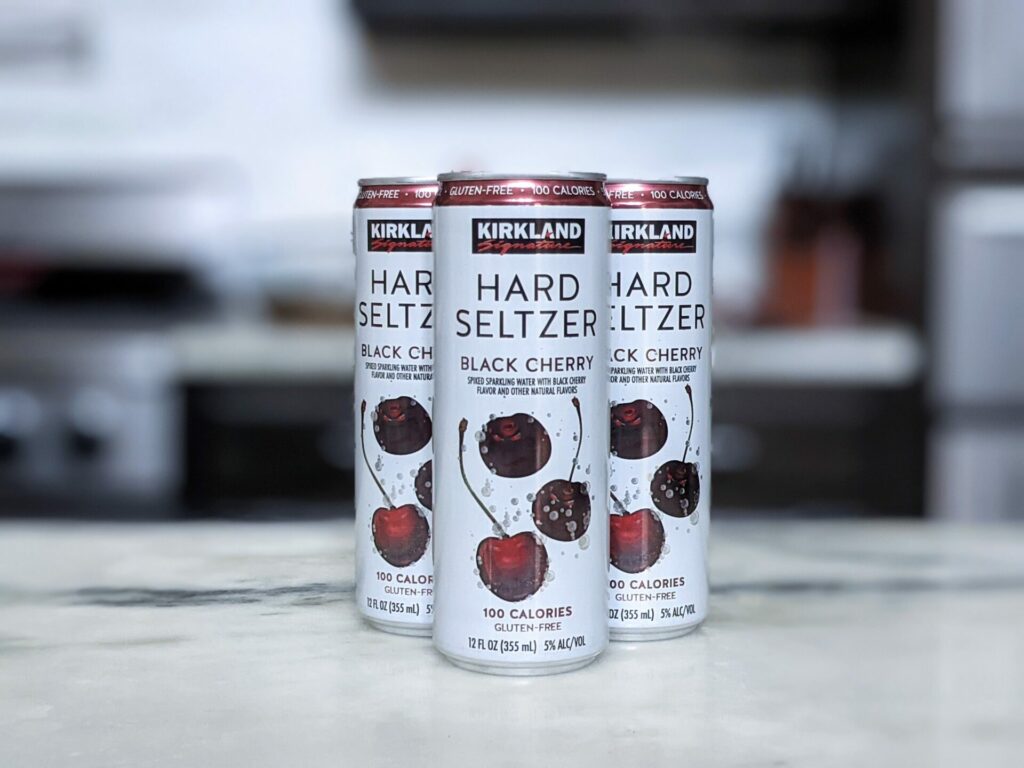 Costco Kirkland hard seltzer is easily the best deal at $0.88 per can, while competitors are at least 25% more expensive. Keep in mind this is the Costco price for the name brand seltzers. 
Other retailers such as Target, Bevmo, or Total Wine and More will charge significantly more, which widens the price gap between the Kirkland Signature Hard Seltzer and the rest of the field.  
Costco Hard Seltzer Review
Many people consider the Kirkland Hard Seltzers to be nearly identical to White Claw, but I consider them closer to a substitute rather than a clone or copycat. 
I found the flavors to be solid, with my personal favorite flavor being the Black Cherry.

From what I read online, everyone seems to disagree about which flavors are good and which ones are misses, so I'm not going to go too in-depth on which I liked since it will probably be different for you.
I thought the flavors were spot on with their name, and it was easy to distinguish the different flavors from one another.
Most importantly, the hard seltzers are extremely easy to drink, and if you drink enough of the seltzers, you will feel it.
Who makes Kirkland Signature Hard Seltzer?
There's no ambiguity about who makes the Kirkland Signature Hard Seltzer, and that is Patco Brands in Hood River, Oregon. Patco Brands makes other well-known hard seltzer brands, such as Mystic River and Texas Ranch Water.
The Mystic River brand and the Kirkland hard seltzer share the same flavors and nutritional profile, which leads me to believe that they may be the same drink.
How Many Calories in Costco Hard Seltzer?
Each can of Kirkland Signature Hard Seltzer has 100 calories. Most of the calories (90%) will come from the alcohol, with the remaining coming from 2 grams of sugar.
The full nutritional profile is shown below.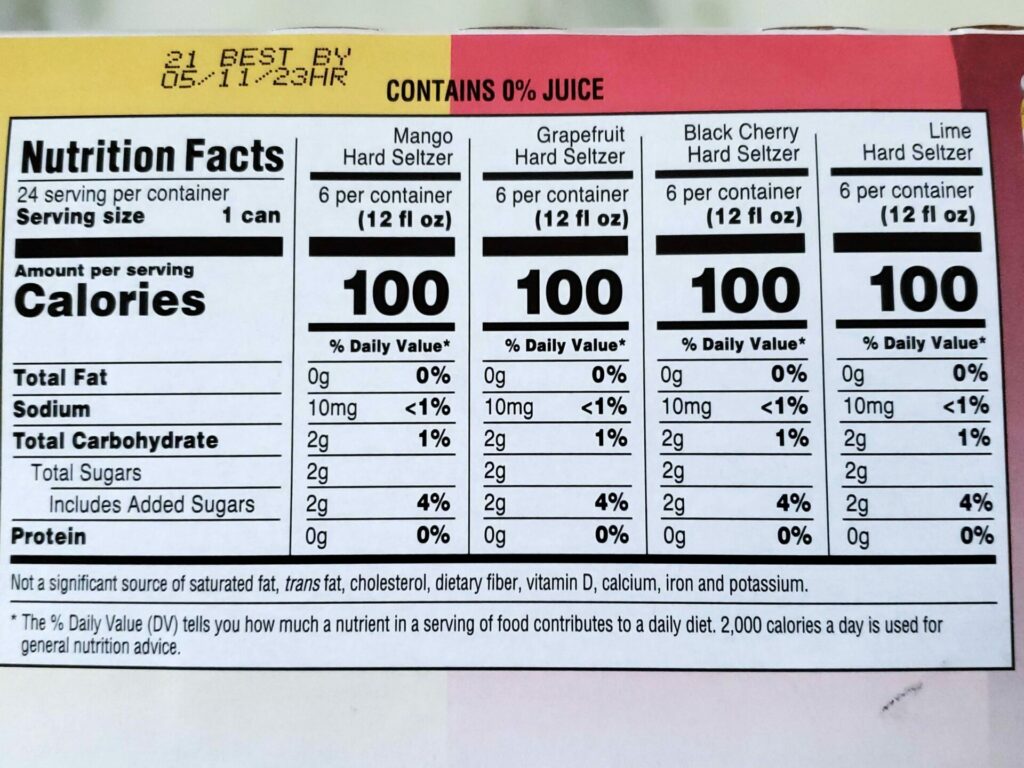 What Alcohol is used to make Kirkland Signature Hard Seltzer?
Costco Hard Seltzer doesn't specifically state what type of alcohol is used in the production, and that is because it doesn't use any liquor such as vodka, tequila, gin, or whiskey. 
Hard seltzer is made simply with fermented cane sugars, which are converted into alcohol.
Is Costco Hard Seltzer Gluten-Free?
Yes, The Kirkland Signature Hard Seltzer (All 4 Flavors) are gluten-free. The alcohol in the hard seltzer is derived from fermented cane sugars. This makes the hard seltzer 100% gluten-free and an acceptable option for those with gluten intolerances.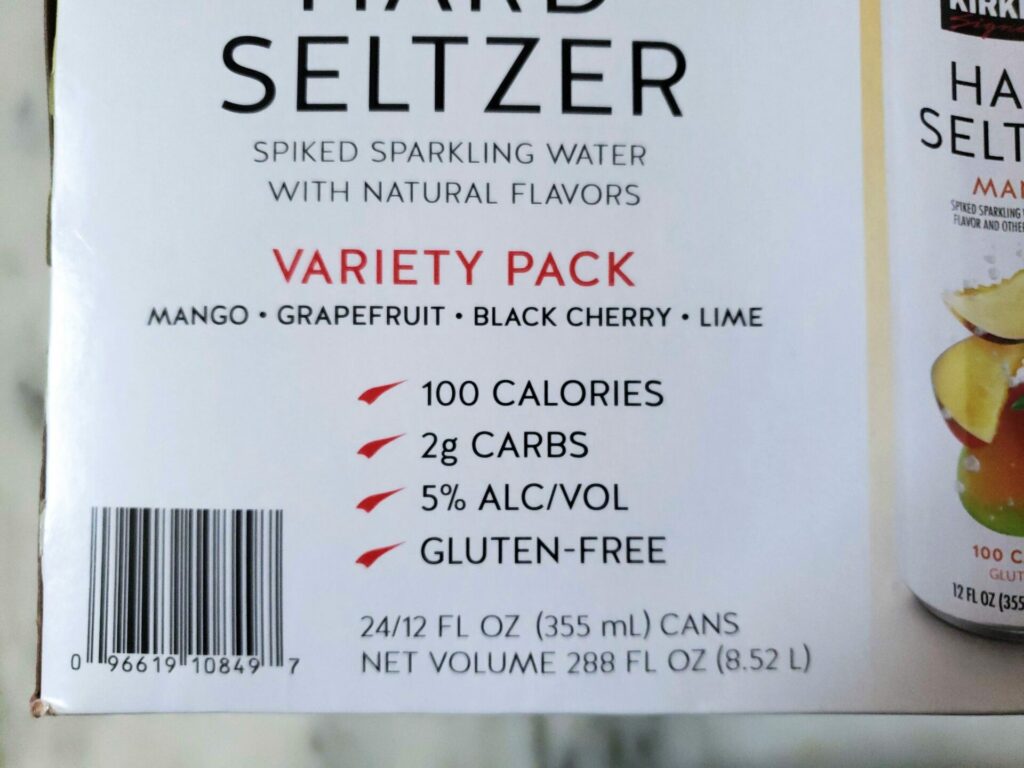 Does Costco Hard Seltzer Contain Vodka?
Costco Kirkland Hard Seltzer does not contain any Vodka and is instead made with fermented cane sugar. The cane sugar is combined with yeast and fermented into alcohol. Costco hard seltzer does not contain any vodka, tequila, or gin.
How Much Alcohol is in each can of Kirkland Signature Hard Seltzer?
Each can will contain 5% alcohol by volume. This means that each drink contains as much alcohol as your typical beer.  
If you haven't drank these before, this is a great way to estimate your personal tolerance.
Costco Food Database User Reviews
Have you tried this item? Let the rest of the Costco Food Database community know what you think. Leave a rating and review for this product.