Costco Sparkling Water (Kirkland) - Best Costco Option?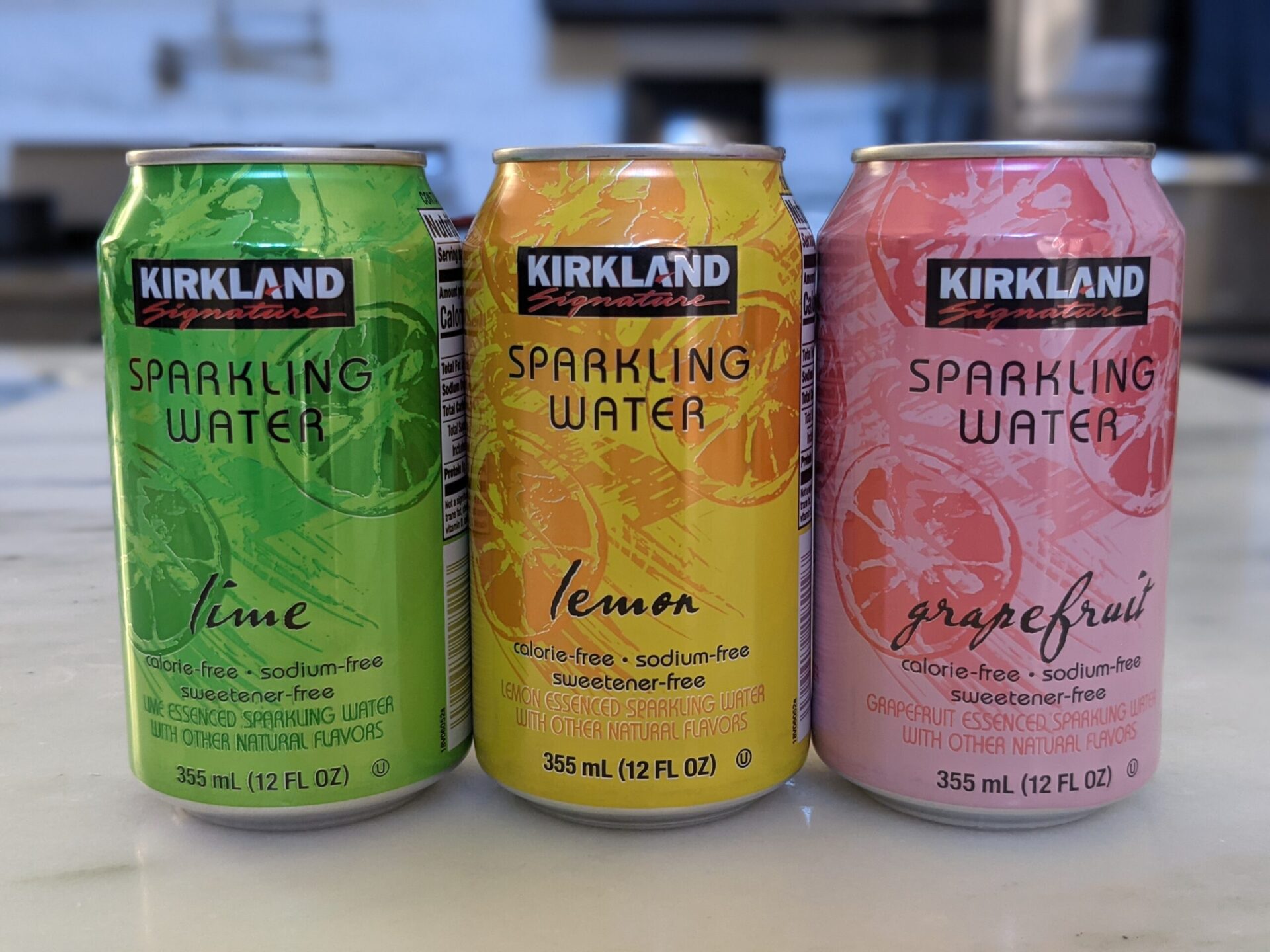 Kirkland Signature Sparkling Water at Costco
There are plenty of sparkling water options at Costco, and it's no surprise that Costco has their own Kirkland Signature Sparkling Water. I counted at least 7 different sparkling water options on my last trip to the warehouse. 
These Costco sparkling waters are located in the beverage section of the store. Which is generally past the refrigerated deli area and in the back of the warehouse, near some other options such as the Perrier or Body Armor Sports Drinks.  
Have You Tried Costco's Sparkling Water?
Let the rest of the Costco Food Database community know what you thought of this product. Results and reviews are at the bottom of this page.
Please allow 24 hours for review moderation and approval.
What Flavors are Included with Costco's Sparkling Water?
Not an Equal Amount of Each Flavor
In Costco's 35 pack of sparkling water, there are three different flavors- lemon, lime, and grapefruit. If you do the math really quick, you'll notice that 35 is not divisible by 3 and in order to get 12 cans of each flavor, you'll need a total of 36 cans.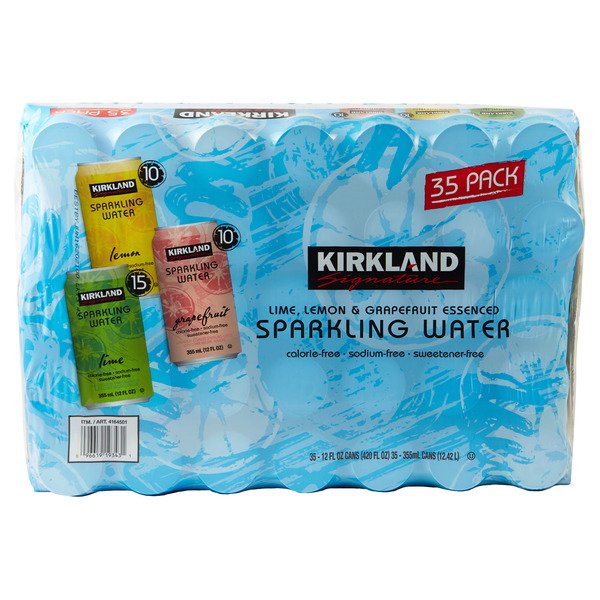 In fact, the split between the flavors is 15 lime, 10 lemon, and 10 grapefruit. The lime is my personal favorite and I'm going to assume because of this split that it is also the consensus favorite amongst the population as well.
Costco Cost Comparison - Sparkling Water
How Much Does the Sparkling Water Cost at Costco?
Costco sells their version of sparkling water for $9.99 and that includes 35 cans each with 12oz of the bubbly water. This breaks down to $0.28 per can and the per ounce price is 2.37 cents. 
This is not a significant discount to other sparkling water brands that you would expect with Kirkland Signature. La Croix, the top dog in the sparkling water world right now actually has a per can price of $0.30. 
Kirkland Sparkling Water Taste Test
Carbonation, Flavor, Calories
Is it possible to drink sparkling water without saying "Ahhhh" after each large sip? For me it's not. There is just something about the way an ice cold sparkling water hits your throat, and I love it.
There are a few reasons that people drink carbonated water. Some drink it for its light flavor to make water more palatable, some like the fact that it is 0 calories, some enjoy the carbonation.
I am in the third group and I drink it for the hit of carbonation. I used to be addicted to diet cokes for the longest time, but eventually was able to transition solely to seltzer water to satisfy the carbonation cravings.
I'll have at least one of these a day if not more. The Kirkland sparkling water pairs well with other Costco items such as Costco's mixed nuts, hamburgers, chicken sandwiches, and even Costco ramen bowls.  
Kirkland Signature Water is Heavily Carbonated
The big reason I love Costco sparkling water so much is because the water is heavily carbonated. The bubbles are abundant, large, and hit harshly. 
When you drink a Kirkland signature sparkling water, there are no doubts that you are drinking a carbonated beverage. Other sparkling water and diet coke included, have lighter bubbles that barely tickle the throat. 
How Does the Carbonated Water taste?
The flavor of each can is actually quite light. I'm personally not here for the flavor, so I think the flavoring is on point. The can describes it best as "lime essenced sparkling water". I know it's not a juice and I'm not using this Costco sparkling water to satisfy any sort of flavor desires. There is a big difference between the three flavors, but the flavors are not overpowering and instead just some background noise to the bubbly hit. 
Flavor preferences are very subjective in terms of sparkling water. For most brands, I'm going to like the lime flavor the most and there usually isn't much a company can do to change that. Regardless, here are my thoughts on the three flavors.
Lime: The clear cut hands down best flavor. Crisp and refreshing.
Grapefruit: Definitely does taste like grapefruit. Its an above average taste. 
Lemon: Its not very lemony. I don't love it, I don't hate it. I will drink it. 
Costco Sparkling Water Nutritional Information
How Many Calories in Kirkland Signature Sparkling Water?
Now the fun part. Kirkland Signature sparkling water and sparkling water in general is calorie free, sugar free, and sodium free. 
This particular drink is also sweetener free. The two ingredients listed are carbonated water and natural flavors. 
The label does state there is 0% juice, and I'm not really sure what they mean by natural flavors. Essentially there is zero nutritional value in this can of seltzer water.
The age old debate rages on. Some people are carbonation people, some are flavor people. I'm a carbonation guy and the Kirkland Signature Sparkling Water from Costco hits the spot for me. 
The flavors are light and mediocre at best, but the carbonation is heavy. These are my go-to Costco beverage.
Costco Food Database User Reviews
Have you tried this item? Let the rest of the Costco Food Database community know what you think. Leave a rating and review for this product.