Costco Chicken Potstickers - Ling Ling - All Dough, No Chicken?
Ling Ling Potstickers at Costco
Costco sells a 4.2 pound of Ling Ling Potickers for $10.99.  The potstickers are found in the frozen food aisle near some of the other Asian meals such as the frozen ramen bowls, tempura shrimp,  or wontons.
The Costco potstickers are made with tender chicken, fresh vegetables, and seasonings. This package of Ling Ling potstickers will also include a savory dipping sauce.
Have You Tried Costco's Potstickers?
Let the rest of the Costco Food Database community know what you thought of this product. Results and reviews are at the bottom of this page.
Please allow 24 hours for review moderation and approval.
Potstickers or pan fried dumplings have been a staple of northern chinese cuisine for thousands of years and are often eaten all throughout china during Chinese New Years.
Potstickers are typically filled with a protein (chicken, beef, pork, shrimp, or fish) and chopped mixed vegetables including cabbage, scallions, celery, carrots, garlic, and mushrooms. They are often served with a dipping sauce or a chili oil.
Costco Cost Comparison - Potstickers Ling Ling
Costco retails the bag of Ling Ling potstickers for $10.99 and $7.99 when on sale. . The price per pound for these Costco potstickers is $2.62 and $1.90 when on sale. 
Each bag contains approximately 60 potstickers which cost $0.18 or $0.13 each
The potstickers will weigh about 3.8 pounds of the 4.2 pound package weight. The remaining 0.4 pounds will be attributed to the dipping sauce. 
When looking at the per-pound price, you always have to factor in the fact that you are paying for the potstickers and the dipping sauce. 
Some companies will provide way too much sauce because it's cheaper than the actual food item. In this case, I feel that about 6.5 ounces of savory sauce for 3.8 pounds of potstickers is a fair portion.
First Impressions of Ling Ling POtstickers
The first thing that jumped out to me when I opened the bag of potstickers was just how white the dough of each potsticker was. 
These potstickers aren't pre-cooked at all, and I guess I'm going to be responsible for properly cooking these potstickers and giving them that perfect golden brown crunch. 
We'll see how much of a challenge that will be.
There are also a lot of potstickers in this bag. Obviously the bag is big, but I was still surprised to see so many potstickers. 
It's a lot of food and it's clear that I'm going to get quite a few meals out of this bag of Costco potstickers. The value is definitely there. 
Easy One Pan Prep is Not so EasyI
I opted for the recommended Easy One Pan Prep method listed on the packaging of these potstickers. The one pan method involves simmering the potstickers for 8 minutes and then uncovering the pan to let the rest of the water evaporate. 
The full one pan prep instructions will be listed below in the cooking methods section. 
I'll start off by saying that the Easy One Pan Prep wasn't so easy. The photos in this review were my 3rd attempt at making the potstickers. 
The first attempt I didn't follow the instructions perfectly and that was on me. 
The second attempt came out a little burnt as I really wanted a crispy exterior. 
This third attempt is where I put my full concentration into the cook. While not hard, you will have to pay close attention when cooking these potstickers from Costco.
For my third batch the potstickers came out looking decent enough. I did not get the uniform golden brown dough as pictured on the bag, but I am satisfied enough with how these came out.
For taste, the Costco potstickers are about average. There was a lot of dough, and the dough was fairly thick. The dough tasted fine, but there was just a lot of it. 
When I got to the second half of my portion of potstickers, I stopped eating the empty top dough sections, and was left with a bunch of leftover dough pieces. 
Average Potsticker Filling
The chicken and vegetable filling again was just average. Nothing really special about it. The flavor was mild and it was almost a necessity to eat with the sauce.
The vegetables were noticeable visually and by taste. The chicken was a little more bland and forgettable.
The sauce packet is what truly salvaged these Ling Ling potstickers from Costco. I loved the sauce! The potsticker sauce was deep, rich, savory and had a hint of sweetness.
Ling Ling provides plenty of sauce, so feel free to dip away. I'm a heavy sauce dipper, but there was still quite a bit leftover after my meal. 
Overall, the potstickers from Costco are mediocre. I originally was excited about the large bag and the 60+ potstickers, but it seems to me that the potstickers might become a chore to eat. 
They aren't extremely flavorful and they were a little doughy. The sauce was excellent and the highlight of the meal.
Thing to Know: Each bag contains 5 packets of dipping sauce meant for 12 Ling Ling Potstickers. If you are consuming less than 12 potstickers per sitting, you may end up with some leftover potstickers and no sauce.
LING LING COSTCO FROZEN POTSTICKER COOKING METHODS
Ling Ling lists a few different cooking methods for these potstickers. Their recommended method is the "easy one-pan prep". This is the method that I used to cook these frozen potstickers from Costco. Essentially with all 3 methods, you will be boiling the potstickers. 
Easy One-Pan Prep
Place sauce in hot water to warm.

Add 1 Tbsp. oil to non-stick skillet and coat skillet evenly. 

Place frozen potstickers in a single layer, flat side down, leaving space between potstickers. 

Add water (using chart below). Bring to a boil. Cover and simmer on medium-high for 8 minutes.

Uncover. Continue cooking until water has evaporated and bottoms of potstickers are lightly browned. Do not move potstickers during cooking. 
Alternative Methods of Cooking Costco Potstickers
Place sauce packets in hot water to warm.
Fill saucepan three-quarters full with water. 
Bring to boil; add frozen potstickers
Return water to boil; boil 5 to 6 minutes. Drain well
To Brown (Optional) – Ling Ling says optional, but CFDB says mandatory.
Coat nonstick skillet evenly with oil. Place potstickers in a single layer in the skillet, flat-side down. Cook over medium heat for 4 to 5 minutes or until the bottoms are golden brown. Do not move potstickers during cooking. 
Place sauce packets in hot water to warm.

Place 5 frozen potstickers in a 1-qt microwaveable bowl; add 1 cup of warm water (enough to cover the potstickers). Place bowl on a microwavable plate.

Microwave on high 4 to 5 minutes or until cooked through, stirring after 2 minutes.

Drain potstickers. Be careful – bowl and water will be very hot!
Pro Tip: Microwave a small bowl of water for 1 minute. Place sauce packets in bowl to warm. When sufficiently warmed, empty the water and pour the sauce into the bowl. 
Potsticker at Costco - Nutritional Information
Are Costco Ling Ling Potstickers Healthy?
Not exactly. They aren't too bad for you considering they are potstickers, but they are high in carbs and sodium. They are fairly decent with 13g of protein per serving and the low fat helps even it all out. These shouldn't really be a staple of your diet, and there are definitely going to be healthier frozen foods at Costco.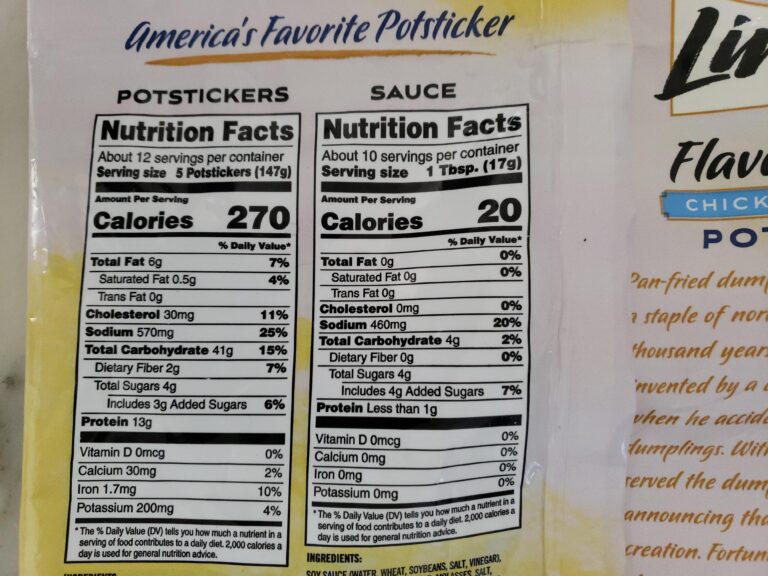 One serving is 5 potstickers and there are 12 servings in each bag. There are 270 calories in each serving which is broken down into 6g of fat, 41g of carbs, and 13g of protein. 
Each individual potsticker consists of 54 calories, 1.2g of fat, 8g of carbs, and 2.5g of protein.
Each serving of potstickers will also contain 570 mg of sodium which is 25% of your daily recommended value. I always expect to see a little extra sodium in frozen foods, but this is maybe on the higher end considering one serving is only 5 potstickers. 
Keep in mind, this is not including the sauce packet which contains an additional 460mg per serving. Eat these Costco potstickers in moderation! 
Ling Ling frozen potstickers have been around at Costco for quite some time. They aren't really what I'm looking for in a frozen food, and I found them to be just average at best.
The dough was overwhelming, and the chicken filling was bland. The savory dipping sauce saved the day and at least made the Costco potstickers palatable.
Costco Food Database User Reviews
Have you tried this item? Let the rest of the Costco Food Database community know what you think. Leave a rating and review for this product.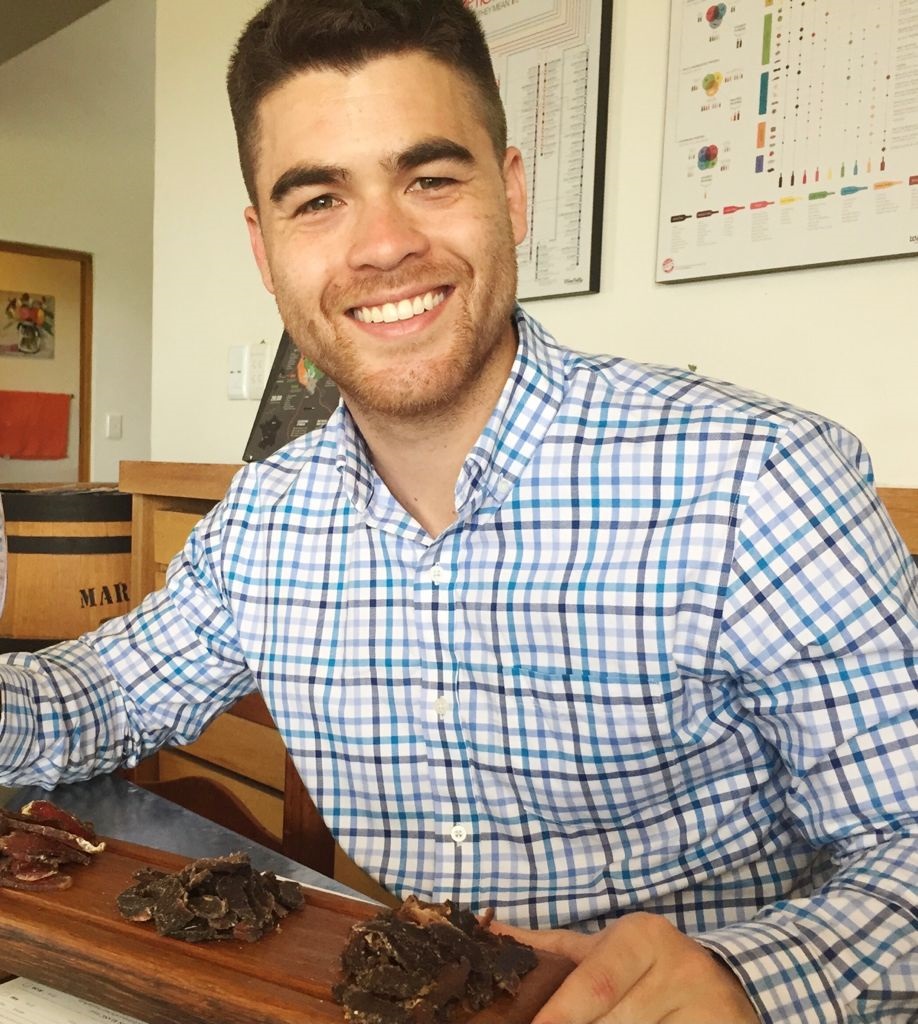 Greg Larkin is the founder and managing editor of Costco Food Database, the premiere site for honest takes on all things Costco food. A self-proclaimed Costco super-fan since childhood, Greg turned his obsession in a mission to properly rate and review all of Costco's delicious buys. When he's not busy navigating Costco aisles, you can find Greg smoking Kirkland Signature meats, meal prepping, or perfecting his homemade jerky recipes.