Costco Balsamic Glaze - Nonna Pia's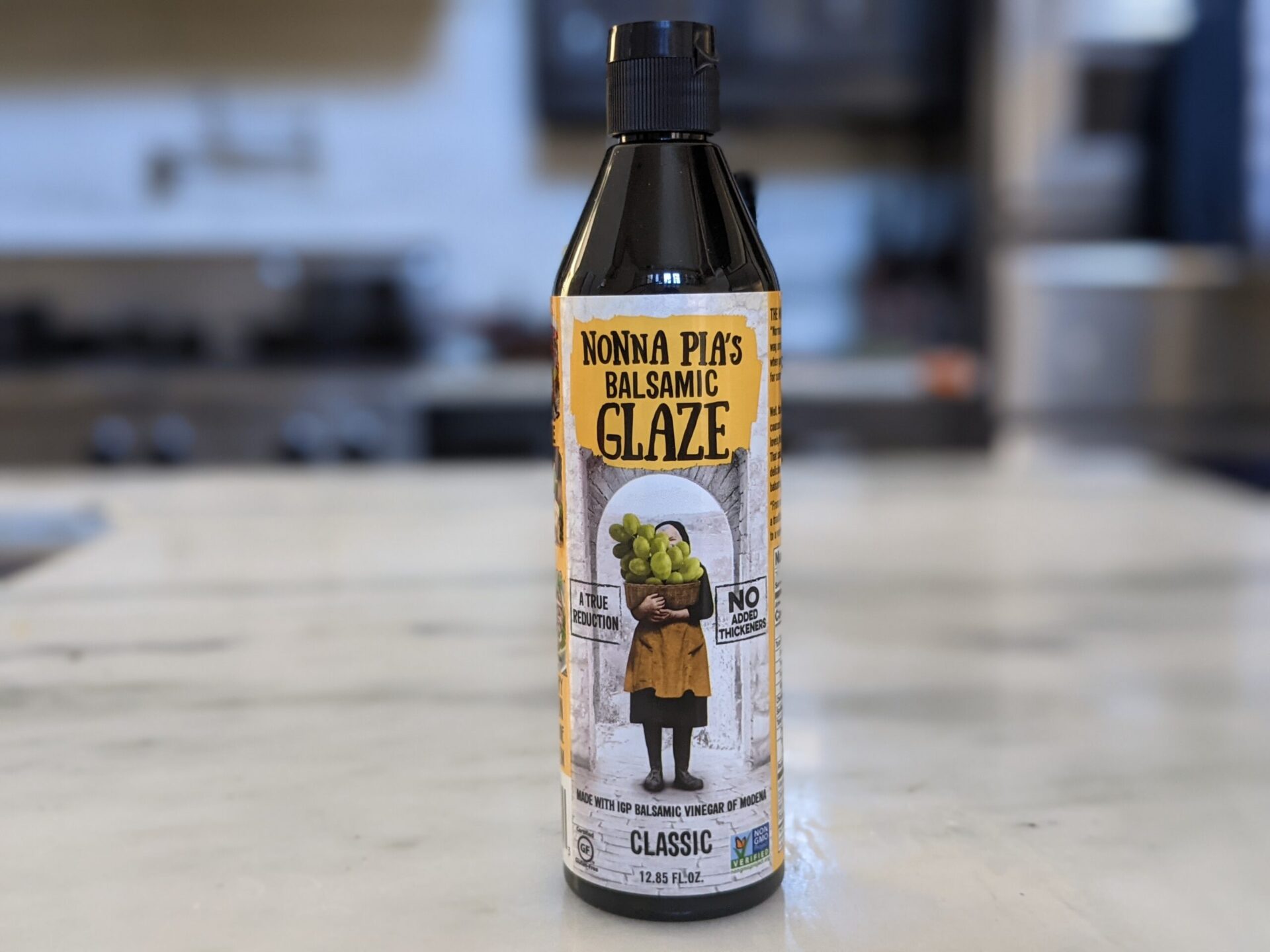 Nonna Pia's Balsamic Glaze at Costco
Costco sells Nonna Pia's Balsamic Glaze in a 2 pack for $12.49. The balsamic glaze can be found in the pantry and dry goods section of the store generally near the other sauces.
This glaze can be used on almost anything to add a balsamic vinegar flavor to the dish.
Balsamic Vinegar vs Balsamic Glaze
Most people are familiar with balsamic vinegar but not so much with balsamic glaze. Balsamic glaze is essentially a reduced and thickened version of balsamic vinegar combined with granulated sugar. 
It's a sweetened version of balsamic vinegar that many purists seem to look down upon.
Balsamic Vinegar from Modena
Nonna Pia's Balsamic Glaze is actually a very high quality glaze made from some of the best balsamic vinegar. True traditional balsamic vinegar can only be produced in Italy from the regions of Modena and Reggio Emilia. 
Costco's Nonna Pia's Balsamic Glaze is made with IGP balsamic vinegar from Modena. Only the best at Costco! 
The aged balsamic vinegar used in this Costco balsamic glaze is imported directly from Italy and it is a true reduction and there are no added thickeners. Nonna Pia slowly simmers the balsamic and adds some sugars for taste.
The product is meant to be used on almost any type of food. The images listed on the bottle show the glaze being drizzled on a piece of toast, a burger, and even a chicken salad.
Costco Balsamic Glaze Cost Breakdown
How Much Does the Balsamic Glaze at Costco Cost?
Costco sells a 2 pack of Nonna Pia's for $12.49. Each bottle weighs 12.85 oz, making a total of 25.7oz for the 2 pack. 
The price per ounce is $0.49 which is rather low considering that this is a balsamic vinegar reduction and you'll need just a small amount to add in big flavors to any dish.
Long Shelf Life to Get Your Moneys Worth
A two pack consisting of over 25oz of Nonna Pia's Balsamic Glaze may seem like a lot, but if you love the taste, you'll be using it often. 
If you're not the biggest fan, the product does have a 4 year shelf life. I purchased my two bottles mid 2020, and the product has a best by date of April 2025.  
Nonna Pia's Balsamic Glaze from Costco Review
The first thing I noticed after opening the bottle was the smell. The distinct smell of acidic balsamic vinegar was present, but not overpowering. 
I then took a whiff of my aged balsamic vinegar and the smell was much more intense with the vinegar than the glaze. 
Nonna Pia claims this glaze can be drizzled on almost anything so I did go ahead and test it on a few different food products. 
For this review, I've added it to a personal pizza, some octopus, and air fried tilapia. All items of course purchased from Costco.
Pizza
If this balsamic glaze can go on anything then it can go on pizza. I gave it a try on a few slices of Kirkland Signature's Frozen Pepperoni Pizza.
Without a doubt, it adds a layer of sweetness that taste great. I don't necessarily want it on all my slices of pizza going forward, but it is tasty.
Octopus
We recently had "home cooked" octopus for the first time in years and we served it as an appetizer dish with a balsamic vinegar and oil dip. We also tasted one of octopus' tentacles with Nonna Pia's balsamic glaze.
My wife and I thought the glaze was tasty with the octopus and added a nice tangy sweetness, but was not as good overall as the balsamic vinegar and oil.
Tilapia
My least favorite use of the balsamic glaze was drizzling it over a piece of air fried tilapia. 
Tilapia has a very mild flavor and often will need butter, seasoning, herbs or sauce to really liven up the fish. 
I figured that a balsamic glaze might be a great addition, but unfortunately, I wasn't really diggin the combination. I finished the meal and it wasn't terrible, but not something I would do again.
Costco Sample with Chicken and Crackers
Costco also did sample Nonna Pia's one time at my local warehouse and they served the balsamic glaze with their Kirkland Signature Canned Chicken and a Ritz cracker.
The canned chicken is pretty plain so it went well with the tartness and sweetness of the balsamic glaze. I'm not sure if it's a snack I would eat often, but it was enjoyable nonetheless.
The balsamic glaze from Costco puts me in a weird spot. It tastes great and I enjoy the glaze, but it's never a must for me. It can really spruce up a meal, but I just don't really crave it
Costco Balsamic Glaze Nutritional Information
A serving size of this balsamic glaze is only 5 ml, so the 12.85oz bottle has 78 servings. I'm not kidding you when I say you are going to get a lot out of this product. Each serving has 20 calories with 0g of fat and protein. 
All the calories come from the 5g of carbs including 4g from sugar with 0*g added sugars. Yes, the nutritional label did include the asterisk when mentioning the 0 grams of sugar. 
The ingredients listed on the bottle are balsamic vinegar of Modena and granulated cane sugar. So it appears there must be some sugar that is being added but not enough to count as 1 g of added sugar per serving. I looked all over the bottle, but I couldn't find what the asterisk referred to. 
Regardless, we are looking at a total of 20 calories per serving which is rather low for a sweet glaze that can transform and elevate any dish. While it does pack a big flavor, most dishes will require more than one serving.
Nonna Pia's Balsamic Glaze from Costco is a very interesting product. It kind of falls in that if I have it is good, but If I don't have it, I'm not missing it. I can see the appeal and it's understandable that many Costco members are in love with this glaze. For me, It's nice to have every once in a while, but if I didn't already own it, I wouldn't go and buy more. 
For record-keeping, I've purchased this twin pack of Costco Balsamic glaze in August of 2021. I will update when or if I finish the first and second bottles of the two-pack.
Costco Food Database User Reviews
Have you tried this item? Let the rest of the Costco Food Database community know what you think. Leave a rating and review for this product.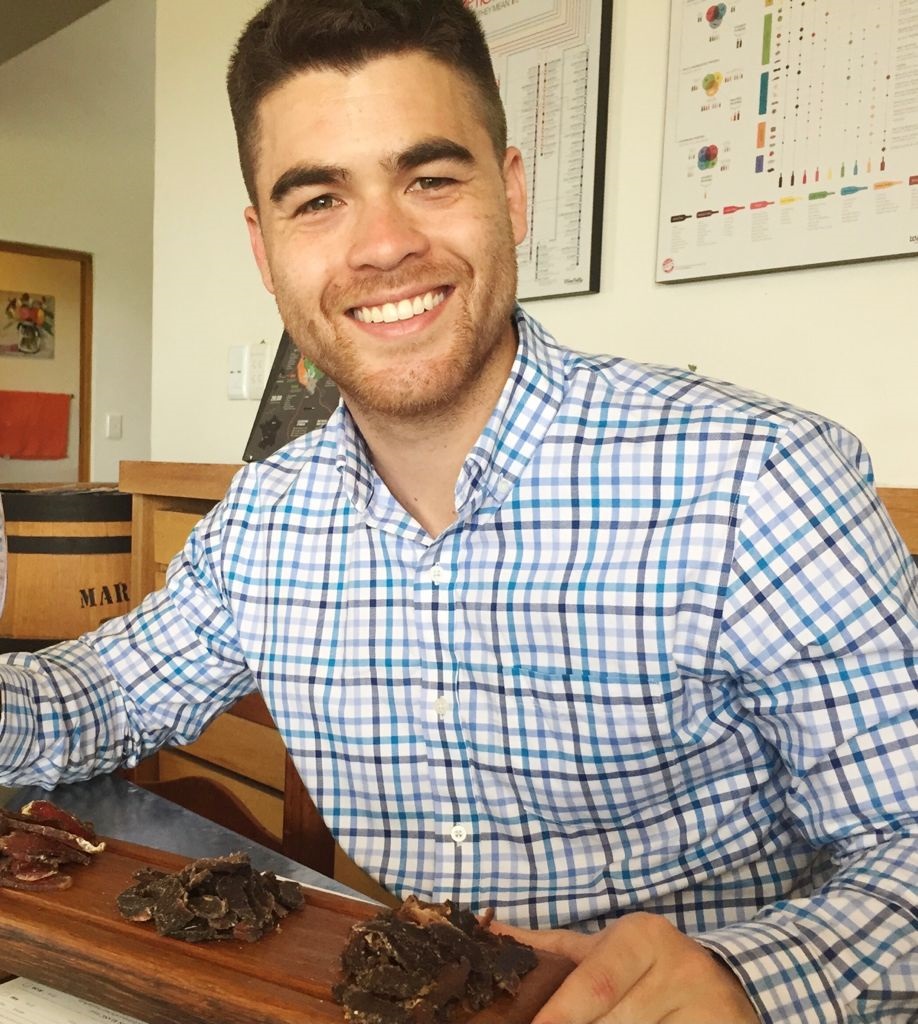 Greg Larkin is the founder and managing editor of Costco Food Database, the premiere site for honest takes on all things Costco food. A self-proclaimed Costco super-fan since childhood, Greg turned his obsession in a mission to properly rate and review all of Costco's delicious buys. When he's not busy navigating Costco aisles, you can find Greg smoking Kirkland Signature meats, meal prepping, or perfecting his homemade jerky recipes.