Costco Mini Wontons - Bibigo Chicken and Cilantro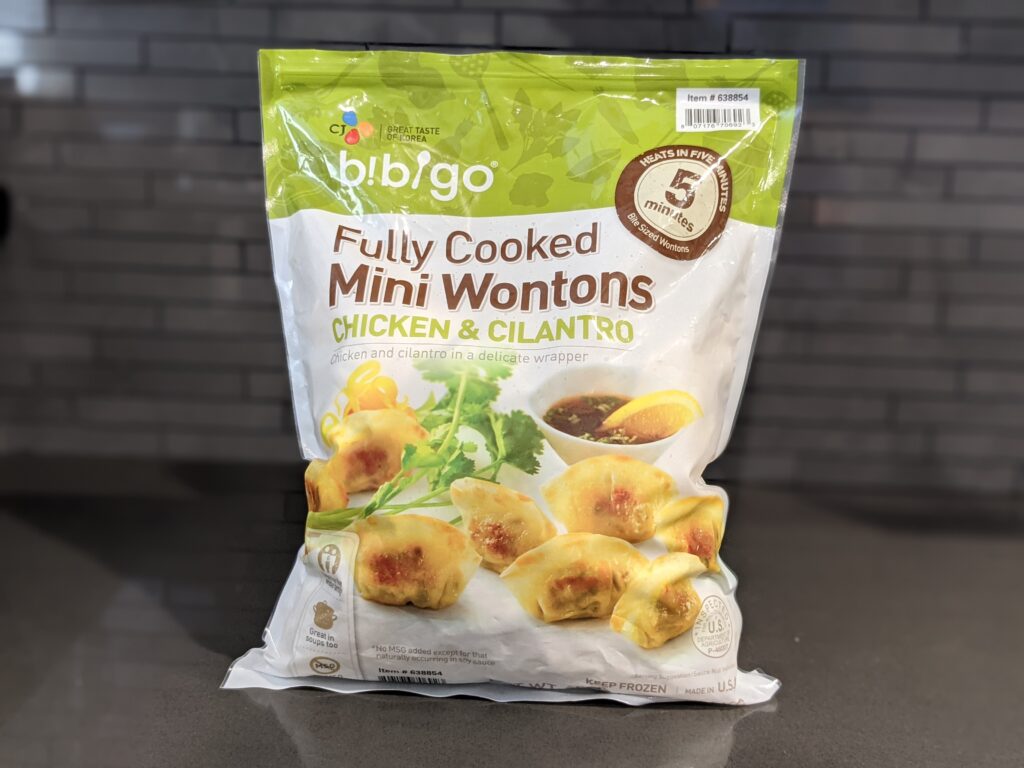 Bibigo Mini Chicken and Cilantro Wontons at Costco
Costco sells a 3 pound bag of Bibigo Mini Wontons – Chicken & Cilantro for $9.99. The mini wontons can be found in the frozen food aisle near some of the other items such as the frozen fried rice, egg rolls, or the frozen ramen bowls.

These are bite sized frozen wontons that are great for the whole family. The 3 pound bag contains approximately 150 mini wontons. Each wonton contains chicken, cabbage, onion, and cilantro in addition to other seasonings.
Bibigo, a Korean company, sells a few different frozen products at Costco. They sell potstickers, dumplings, beef bulgogi mandus, and these mini wontons with chicken and cilantro.
Outside of Costco, they sell a wider variety of products including frozen fried chicken, fried rice, and korean sauces.
Wontons are technically part of the dumpling family of foods. Wontons are made of dough and generally have a meat/seafood and veggie filling.

Wonton dough is usually thinner than dumpling dough and can often be transparent or see-through when cooked. 
Dumplings, such as potstickers, are made with thicker dough. Dumplings are typically eaten with a dipping sauce, while wontons are traditionally served in soups.
Costco Cost Comparison - Bibigo Wontons
What is the Price of Bibigo Wontons at Costco?
Costco sells the 3 pound bag of Bibigo Mini Wontons for $9.99. This is $3.33 per pound or about $0.07 per mini wonton. 7 cents for almost any food is a pretty darn good deal.
Other frozen foods in this per pound price range include the chicken patties, orange chicken, and the mozzarella sticks.
Costco vs The Competition
It appears that Costco may be the only company that sells the Chicken and Cilantro version of the mini wontons by Bibigo. Other retailers sell Bibigo's mini wontons with chicken and vegetables. 
While slightly different in name, I'm going to compare prices between the chicken and vegetable wontons and the chicken and cilantro wons. 
Bj's sells a 2 pound bag of chicken and vegetable mini wontons for $9.99. That's one pound less than you get at Costco for the same price. Or you can break it down to $5 per pound. Target sells a 24 ounce bag for $6.99, which is $4.66 per pound. 
None of these even compare to Costco's $3.33 per pound price for Bibigo Mini Wontons. 
Costco Bibigo Mini Wontons - Taste Test
I opted to use the pan fry cooking method for the Costco wontons. It's a fairly simple heating method, and I usually prefer a little crisp to my food. 
I used a light amount of oil and it took about 5-7 minutes to fully cook and char up the Bibigo chicken and cilantro wontons. 

The wonton dough was thin, and did crisp up nicely. Each piece had at least a little bit of golden brown somewhere on the wonton and it was fine tasting.
I have to say, I was left extremely disappointed with the wonton filling. Expectations should always be tempered for a $3.33 per pound bag of frozen wontons, but I still longed for more.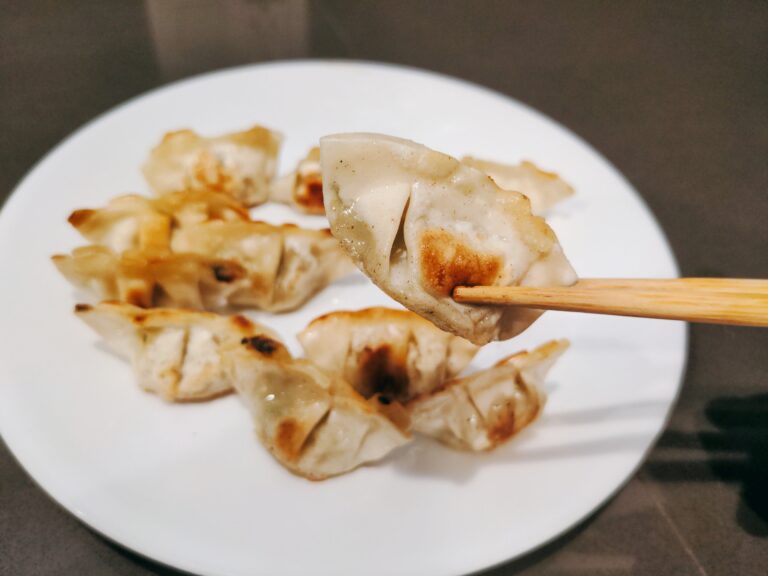 There was very little chicken in each of the "chicken" and cilantro wontons. It was barely noticeable visually and in taste. 
The majority of the filling was made up of cabbage and strong presence of cilantro. I love cilantro in Mexican cuisine, but I'm normally not a fan of cilantro in Asian cuisine. 
In this case, I didn't enjoy the cilantro flavor of these Costco wontons.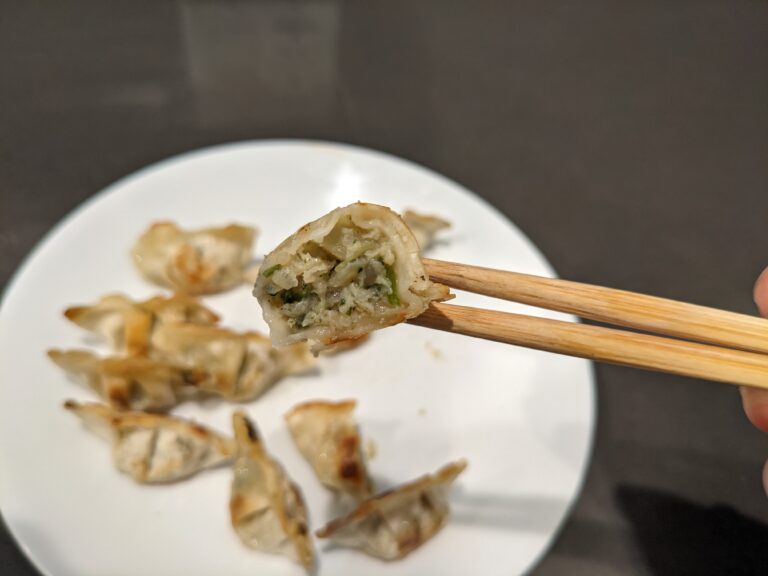 One nice surprise was the inclusion of small glass noodle pieces in the wonton. The noodles added a nice texture to the mushy chicken, cabbage, and cilantro filling.
Perfect Bite Size, But Lots of Dough
In regards to size, the bite sized wontons were fantastic. They were easily one biteable and the perfect size for snacking. 
The big issue with mini dumplings or wontons is that there are more mini pieces per pound than there would be if the wontons were regular sized. 
This increases the dough to filling ratio which lowers the overall quality of the wontons.  
For me, the wontons were not enjoyable. I didn't enjoy the flavor profile of the chicken and cilantro wontons from Costco. 
The filling/stuffing was sub-par and was packed with filler. The amount of chicken was minimal and the wontons felt low quality and lacking. 
Costco Wonton Cooking Instructions
Bibigo lists 3 different heating options for their chicken and cilantro mini wontons. To eat just the wontons as is, you can either microwave, boil, or pan fry them. I opted for the pan fry method in this review.
How to Cook Bibigo Wontons
Add enough vegetable oil to cover the bottom of a small non-stick frying pan and heat on a medium heat. Add 10-12 Frozen chicken and cilantro wontons and heat until golden brown, about 5 minutes.
Place 12 Frozen Costco wontons from Costco on a microwave-safe dish lined with a wet paper towel. Cover with another wet paper towel and heat on high for 1-2 minutes.
Add 10-12 frozen mini chicken and cilantro wontons to a pot of boiling water and heat for 1-2 minutes. Drain to remove excess water and serve.
Bibigo also recommends using the wontons in a wonton soup. To create the soup, you will need to bring a chicken or vegetable broth to a boil.
Add some frozen wontons and heat for 2 minutes. Add baby bok choy as well as green onion and season to taste. You can optionally add in ramen or udon noodles for a heartier meal.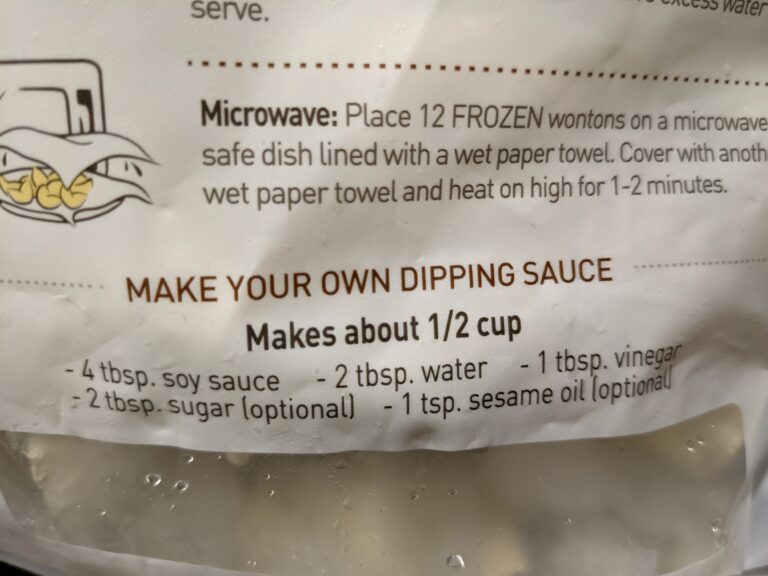 Make your Own Wonton Dipping Sauce
Unfortunately, this bag of wontons from Costco doesn't include dipping sauce. Its always nice to have a dipping sauce, but in this case, I am ok making my own homemade wonton or dumpling dipping sauce. This simple wonton dipping sauce needs just 3 ingredients. 
4 tbsp soy sauce
2 tbsp water
1 tbsp vinegar
2 tbsp sugar (optional)
1 tsp sesame oil (optional)
Costco Bibigo Wonton Nutritional Information
How Many Calories in The Wontons from Costco?
Each serving of Bibigo's mini wontons with chicken and cilantro is 4 pieces or 36 grams. 36 grams is the equivalent of 1.27 ounces, meaning each mini wonton weighs about a third of an ounce.
Each serving contains only 50 calories with 1 gram of fat, 8 grams of carbohydrates, and 3 grams of protein. There is also 150 mg of sodium in each serving which is 6% of the recommended daily value.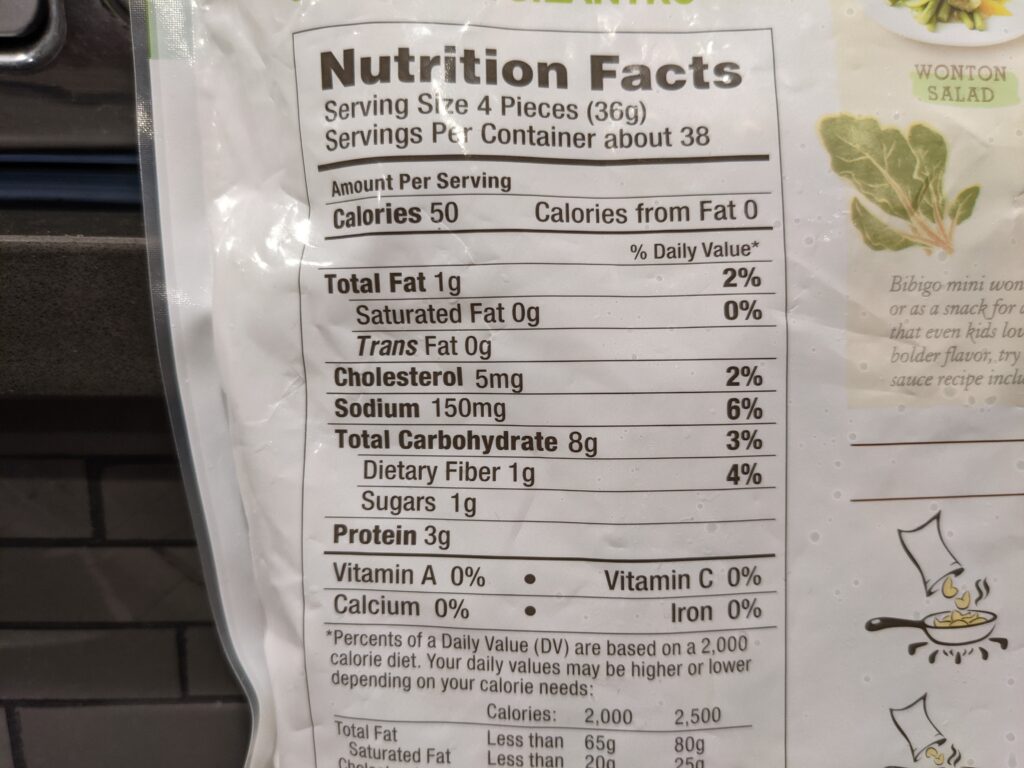 Are the Wontons Healthy for You?
The 50 calories are definitely not a high amount for a food like this, but I would expect to eat at least 12 per meal if not more. 
Even the Bibigo instructions mentions heating 10-12 Costco wontons at a time. A realistic portion would include at least 3 servings or 12 Bibigo wontons. 
At 3 servings, you are still looking at only 150 calories with 3 grams of fat, 24 grams of carbs, and 9 grams of protein. Nevertheless, this is still a fairly low calorie food that can get you full.
Just for comparison's sake, Costco's Skinny pop advertises 150 calories for 1 ounce of popcorn. I would much rather have nearly 4 ounces of Costco mini wontons at 150 calories instead.
Costco Wontons
Product Name: Bibigo Chicken and Cilantro Mini Wontons
Product Description:
Price: $9.99
Quantity: 3 Pounds
Location Within Costco: Frozen Food Aisles
Price Per Pound: $3.33
Summary
I'm not a fan of Bibigo's mini wontons from Costco. There was next to no chicken in the filling and it was primarily a vegetable wonton.
The flavors were not my favorite, and this is a Costco item that I will not be purchasing again.
Value -

9/10

Convenience -

8/10

Taste -

3/10

Nutrition -

6/10

CFDB Score -

5/10
Pros
Bite Sized
Easy to cook
Good Price
Cons
Terrible filling/stuffing
Heavy cilantro flavor
The Bibigo Mini wontons are a value item at Costco and a freezer filler. If you want a solid amount of food for a great price, then this is the item you are looking for.  If you like good tasting food, then you might want to keep on walking. 
I personally didn't find these very tasty or pleasing. There was hardly any chicken in the wontons, and these would be more aptly named cabbage and cilantro wontons. I'll be finishing the bag, but I won't be purchasing these again.