Costco Prosciutto Di Parma - Amazing Value & Flavor!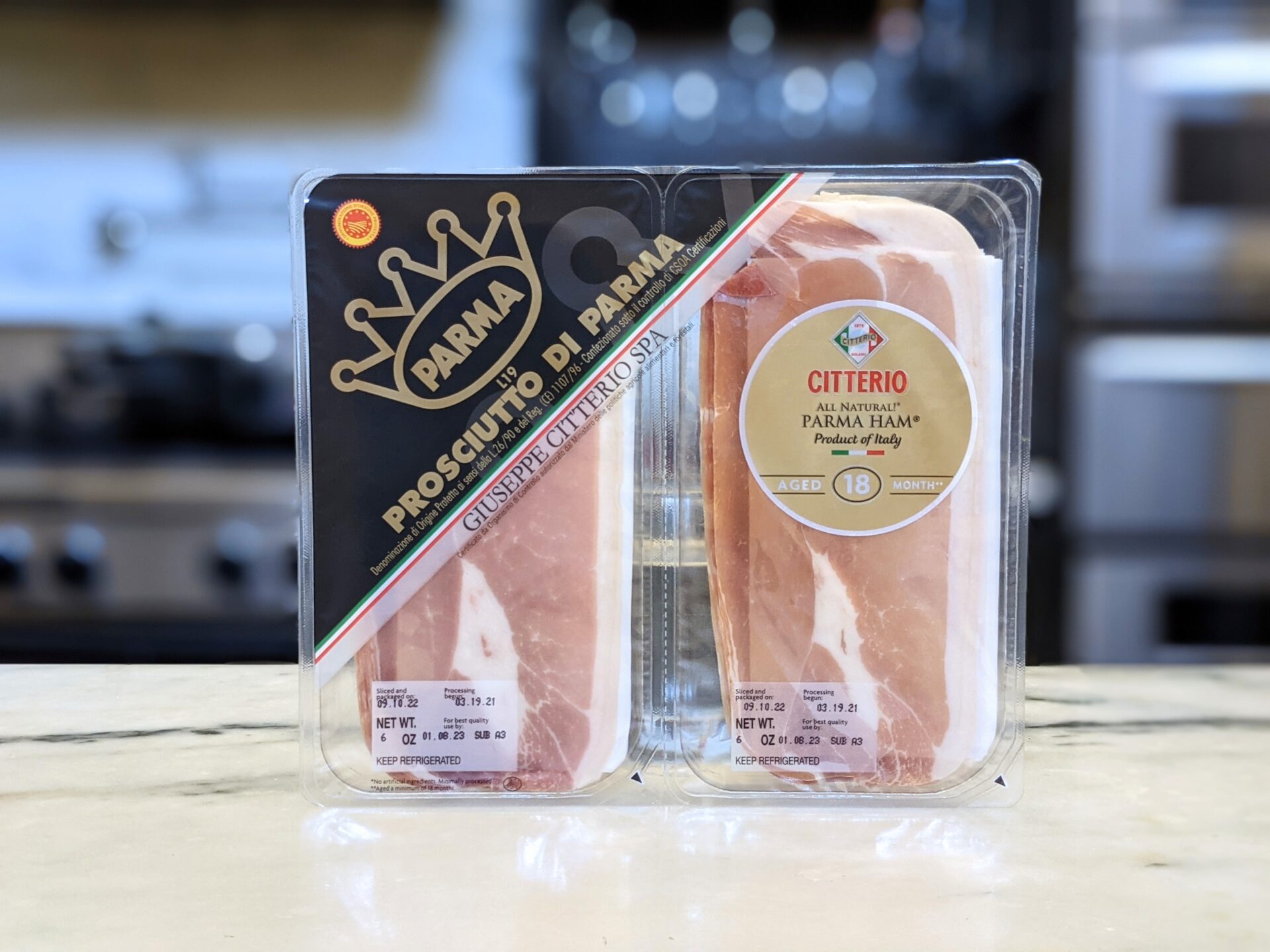 Prosciutto Di Parma at Costco
Costco sells 12 ounces of Giuseppe Citterio Spa Prosciutto Di Parma for $10.49. The Prosciutto Di Parma can be found in the deli section of the warehouse near other meats such as the spiral ham, turkey breast, and salami.
The prosciutto is imported from Italy and has the Denominazione di Origine Protetta (DOP Label), which guarantees the prosciutto is produced, processed, and packaged in Italy. 
Have You Tried Costco Prosciutto?
Let the rest of the Costco Food Database community know what you thought of this product. Results and reviews are at the bottom of this page.
Please allow 24 hours for review moderation and approval.
Prosciutto vs Prosciutto Di Parma
Prosciutto Di Parma, also called the "King of Hams," is a particular variety of prosciutto or cured pork made to certain traditions. 
All Prosciutto Di Parma is 100% natural with no additives, with the only additional ingredients being air, sea salt, and time. The process is extremely strict and even overseen by a governing body.
Prosciutto Di Parma can only be produced from the hind legs of heritage breed pigs raised in 11 approved regions of Italy. 
The pigs are allowed to freely roam the farm and have a forage-based diet mixed with some leftover whey from the production of Parmigiano Reggiano. Not a bad way to live.
During production, the pig legs are salted multiple times over a 3-week period and will rest in a humidity-controlled room for 2-3 months. This allows the meat to absorb the salt before continuing on to the curing process.
The pig legs are then transported to a controlled zone around Parma, where they are hung in well ventilated rooms. The dry aromatic air from the mountains cures the pig leg and imparts the flavor of Parma. 
The legs are then covered in lard, salt and pepper, which prevent the meat from drying out and then allowed to cure for at least 14 months. 
Costco Prosciutto Di Parma Aged 18 Months - Or Is It?
According to the packaging, Costco's Prosciutto Di Parma is aged for at least 18 months. I really like the transparency of the date for which the processing of the pig leg began as well as the sliced and packaged date.
The time between the processing date and packaging date for my Prosciutto Di Parma is a little short of 18 months, at 17 months and 22 days. Uh Oh.
How Much Does Costco Prosciutto Di Parma
The 12-ounce pack of Prosciutto Di Parma at Costco sells for $10.49 or $13.99 per pound. This is an incredible price for top quality Prosciutto Di Parma, and it would be difficult to find even regular prosciutto in this price range.
Costco vs. The Comparison
This is a high-quality item, and most other national retailers won't carry Prosciutto Di Parma. 
My local Whole Foods sells its prosciutto di parma for $25.99 a pound, nearly double Costco's price!
Prosciutto Di Parma Taste Test
A Delicious Italian Treat
My wife is a big time Italian food fan, and we decided to splurge a little and try the Costco Prosciutto Di Parma. 
We had a few ideas of how we wanted to use it before we purchased it, and we ended up devouring the whole package of prosciutto over the course of a couple days.
It doesn't seem like a tough task for multiple people to eat 12 ounces of Prosciutto Di Parma over a few days, but a little bit goes a long way with this meat. 
It is extremely thinly sliced and super flavorful. We needed just one or two pieces to maximize flavor and to create some amazing dishes.
The Costco Prosciutto Di Parma is full of robust flavors with a nice fat content that yields a delicate salty, and sweet taste. 
The flavors are complex, and the prosciutto provides both a rustic and elegant experience.
My wife and I enjoyed our Prosciutto Di Parma in various meals over the past few days. My favorite meal was the prosciutto pizza, while my wife enjoyed the mozzarella and prosciutto sandwich.
Costco Prosciutto Di Parma Calories and Nutritional Information
One serving of Costco Prosciutto Di Parma will be 2 slices or 28g (1 Ounce). Each serving will have the following nutritional information:
Calories: 62

Total Fat: 3.5g (5% DV)

Cholesterol: 20 mg (7% DV)

Sodium 520 mg (21%)

Total Carbohydrates: 0g 

Protein: 8g
Costco Food Database User Reviews
Have you tried this item? Let the rest of the Costco Food Database community know what you think. Leave a rating and review for this product. 
Top 3 Uses for Costco's Prosciutto
Costco's proscuitto is one of the best values in the entire warehouse and is also amazingly delicious. Here are my 5 favorite ways to use Costco's proscuitto.
Instructions
Prosciutto Melon

Wrap Prosciutto around sliced melon and drizzle with balsamic glaze.

Prosciutto Sandwich

Toast Bun

Add fresh mozzarella, tomato slices, argula and sliced prosciutto.

Sprinkle mozzarella cheese with salt and pepper

Prosciutto Pizza

Add pizza sauce, prosciutto, mozzarella slices to pizza dough and cook at 450°F until done.

Drizzle with balsamic vinegar and top with arugala.
Nutrition
Serving:
2
Slices
Calories:
62
kcal
Carbohydrates:
0
g
Protein:
8
g
Fat:
3.5
g
Saturated Fat:
1.5
g
Trans Fat:
0
g
Cholesterol:
20
mg
Sodium:
520
mg
Fiber:
0
g
Sugar:
0
g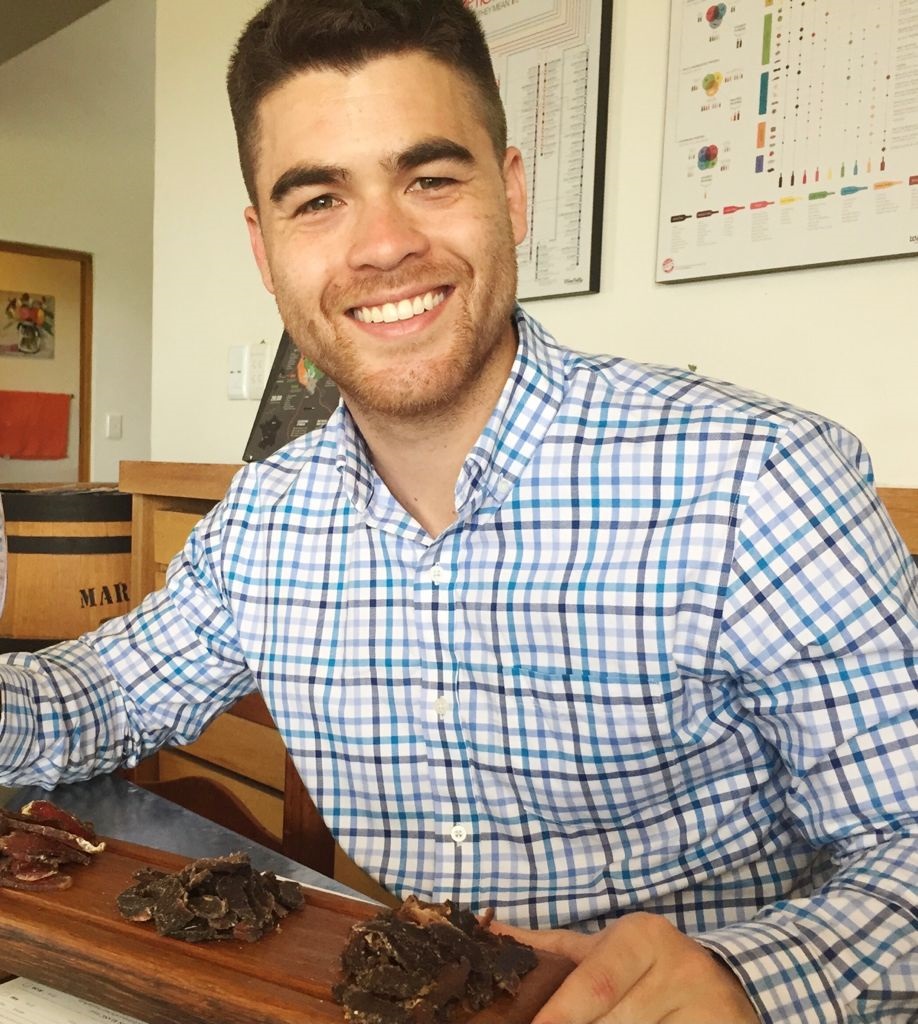 Greg Larkin is the founder and managing editor of Costco Food Database, the premiere site for honest takes on all things Costco food. A self-proclaimed Costco super-fan since childhood, Greg turned his obsession in a mission to properly rate and review all of Costco's delicious buys. When he's not busy navigating Costco aisles, you can find Greg smoking Kirkland Signature meats, meal prepping, or perfecting his homemade jerky recipes.