Costco Teriyaki Stir Fry Udon Noodles - Review + How to Cook
Pulmuone Teriyaki Stir Fry Udon Noodles at Costco
Costco sells a 4-pack of Pulmuone Teriyaki Stir Fry Udon Noodles for $8.59. The stir fry udon noodles can be found in Costco's deli area of the warehouse near other items such as the healthy noodles and the ravioli. 

For a fancier meal, check out Costco's premade chicken yakisoba stir fry.
What Is Included In Costco's Teriyaki Udon Stir Fry?
Each package contains 4 individual udon noodle packets, 4 teriyaki seasoning packets, and 4 vegetable topping packets. The included vegetables are peas, carrots, and green onions, and will contain sesame seeds.
The packets come with everything you need to make a vegetable teriyaki stir fry.
Pulmuone is a South Korean company and, as they put it, one of the most respected food brands in South Korea. Other items they sell in America are dumplings, pad thai, ramen, and tofu.
Thing to Know: This teriyaki udon stir fry is not actually imported from South Korea but will be fully assembled here in the United States.
The 4 pack of Pulmuone's Teriyaki Stir Fry Noodles sells at Costco for $8.59. I picked up the teriyaki udon noodle stir fry when they went on sale for $5.99, which was a very nice 30% discount of $2.60.
You don't really see products at Costco in this price range very often, and I figured for $6 I couldn't really go wrong.
Teriyaki Stir Fry Udon - Taste Test
The Udon stir fry took me about 5 minutes to cook, and the noodle dish was quite tasty. The teriyaki powder seasoning had some great flavor, and the udon noodles were their perfect springy squishy self. 
Udon noodles are all about the texture, and Pulmuone nailed it with this udon stir fry.
I do have to say that I didn't care for the dehydrated vegetables. The dehydrated peas tasted off, and the carrots didn't do much for me. 
The dish would greatly benefit from adding fresh or frozen vegetables instead.
I paired the teriyaki udon noodles with a piece of furikake crusted cod (also from Costco), and it was a great combination. I'm not one to just eat noodles, and I think adding protein is a must.
Chicken, beef, or even fish would be a great addition that turns this noodle stir fry dish into a meal.
The udon noodles are the main reason to buy this meal kit, and they do make a great starter or base for a stir fry. I wouldn't bother with the dehydrated vegetables; instead, I would add veggies and some chicken to elevate the meal.
How to Cook Costco Teriyaki Stir Fry Udon
Pulmuone lists two cooking methods for their teriyaki stir fry udon noodles. The noodles can be cooked in the microwave or on the stove. Both cooking directions will be for 1 serving at a time.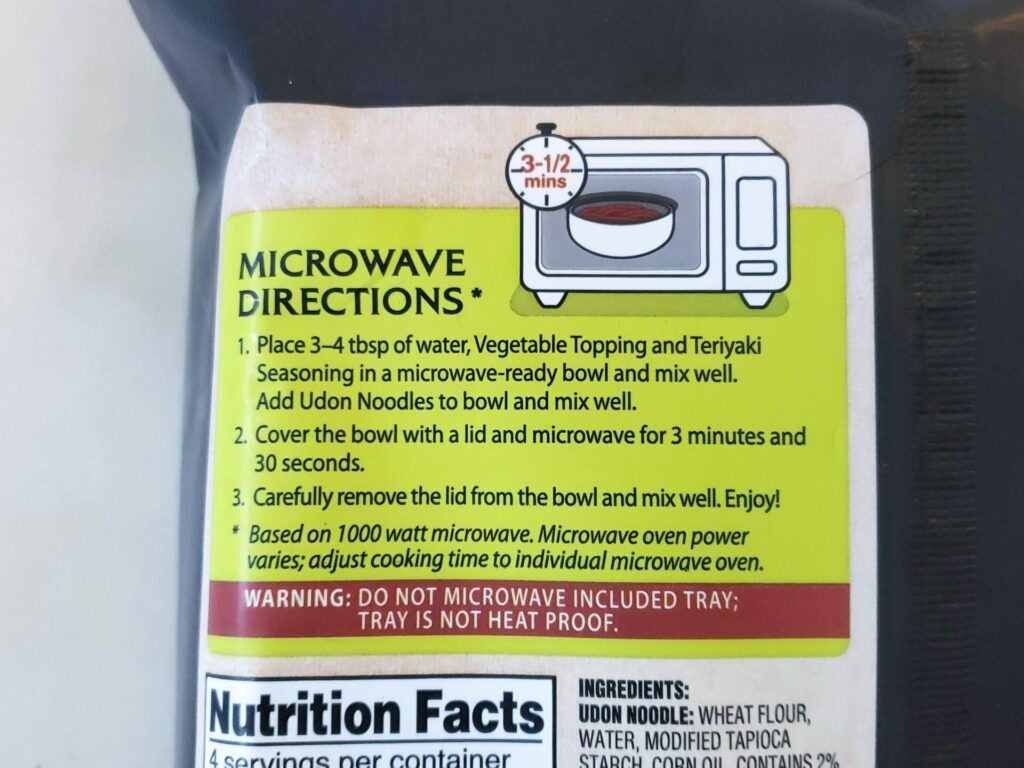 Microwave Heating Instructions
Place 3-4 tbsp of water, vegetable topping and teriyaki seasoning in a microwave-ready bowl and mix well. Add Udon Noodles to the bowl and mix well. 

Cover the bowl with a lid and microwave for 3 minutes and 30 seconds. 

Carefully remove the lid from the bowl and mix well. Enjoy!
Stove-Top Cooking Directions
Add 1 tbsp of oil, 4 tbsp of water, vegetable topping and udon noodles in a saucepan. 

Then turn on the heat and stir fry for 1-2 minutes over high heat. 

CAUTION:

To prevent burns, do not add oil and water together into a heated pan. 

Add Teriyaki seasoning and stir fry for 1 minute more over low heat. Enjoy!

Tip: Add your favorite vegetables and/or meats for a heartier meal.
Teriyaki Udon Noodles Nutrition and Calories
One serving of Costco Teriyaki Udon Noodle Stir Fry will be 1 packet of udon noodles, 1 packet of teriyaki seasoning, and 1 packet of vegetable toppings.
Each serving makes about 1¼ cup prepared and will have the following nutritional information:
Calories: 370

Total Fat: 6g (8% DV)

Saturated Fat: 1g (5%)

Cholesterol: 0mg

Sodium: 820mg (36%)

Total Carbohydrates:72g (26%)

Dietary Fiber:3g (11%)

Total Sugars: 9g

Added Sugar: 5g (10%)

Protein: 7g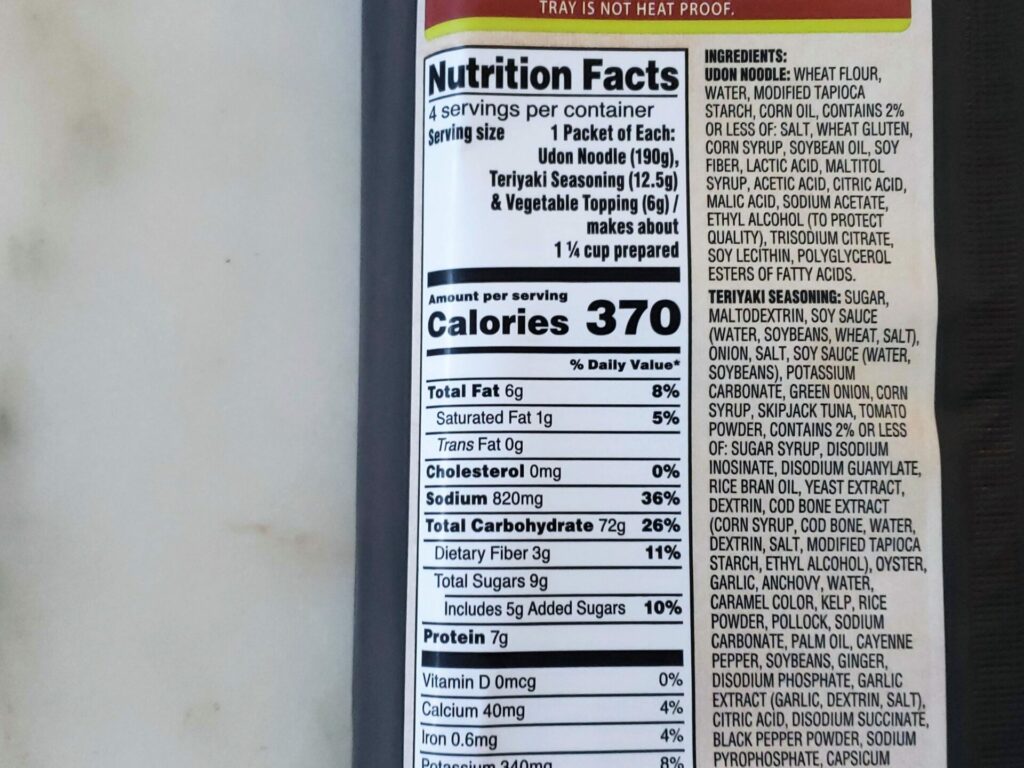 This isn't going to be a great nutritional profile, but it is fairly normal for a noodle bowl type of meal. The carbohydrates are on the very high end, while protein and fat are kept to a minimum. 
I would highly recommend adding protein to this meal.
Each serving of stir fry udon noodles will have 820mg or 36% of the recommended daily value. This is typical of instant noodles but is on the high end and should be noted.
I recommend cutting down on some of the teriyaki seasoning to reduce the sodium impact.